Thisday Newspaper News Today

Saturday 10th October 2020

Top Nigeria news Dailies Update from Thisday Newspaper News Today 10/10/20

Read also The Nation Newspaper Today Headline Saturday 10th October 2020
Lift Suspension on Consultant Pharmacists, PSN tells Sanwo-Olu
Pharmacists under the aegis of Pharmaceutical Society of Nigeria (PSN) Lagos State, have appealed to the Governor Babajide Sanwo-Olu to lift the suspension of the approved Consultant Cadre for Pharmacists in the state civil service. Chairman of PSN, Lagos State, Gbolagade Iyiola, said non-implementation of the Consultancy Cadre for Pharmacists in Lagos State approved by …
THISDAYLIVE.
Ondo Guber: IG Deploys DIG, AIG, 11 CPs
Kingsley Nwezeh in Abuja Ahead of the October 10 governorship election in Ondo State, the Inspector-General of Police, Mr. Mohammed Adamu, yesterday ordered the deployment of DIG Adeleye Olusola Oyabade, Deputy Inspector General of Police in charge of Research and Planning to administer the general security arrangement for the election in the state. The IG …
THISDAYLIVE.


I Don't Get Why We Want to Sacrifice Our Children
COUNTERPOINT By Femi Akintunde Johnson I get it: the children have been home for more than four months, with a worrying potential that their education may be stunted to such a degree that they may be clutching air in an attempt to catch up with their contemporaries universally, in this frenetic digital age, where we …
THISDAYLIVE.
3 Common Reasons for 'Check Engine Light'
If you are driving and your check engine light came on, do not panic. It might not be as big of an issue as you think! There are many issues that can lead to the check engine light activating, some of which are rather easy to fix and not at all that serious. Continue reading …
THISDAYLIVE.
How Black will These Ember Months Be?
ROAD SAFETY ARTICLE Jonas Agwu, amnipr, mcipr,mprsa,arpa Assistant Corps Marshal When I wrote a fortnight ago on, ''How to Nail Killer Drivers which was followed by ''Death Penalty for Killer Drivers'', I never had the faintest premonition that the Akaeze and Felele tragedies would occur. In the two write-ups, my position was that killer drivers …
THISDAYLIVE.
Thankyou Invites P&G, Unilever
Australia-based social enterprise, 'Thankyou' has extended invitation to leading consumer goods companies, Procter&Gamble and Unilever to make and distribute Thankyou products, as part of efforts to tackle poverty globally. In realising this goal, the organisation is asking people around the world to get involved in its 'No Small Plan' campaign. Thankyou offers consumer products – …
THISDAYLIVE.
Trump Admitted to Walter Reed Medical Centre
United States President Donald Trump Friday evening arrived at Walter Reed Military Medical Center, where he will be hospitalised for the next few days after testing positive for COVID-19. The White House had earlier in a statement described the move as precautionary. Trump walked out of the White House, wearing a mask and waved to …
THISDAYLIVE.


Pension Fraud: I Don't Know Maina's Whereabouts, Ndume Tells Court
Alex Enumah in Abuja Senator Ali Ndume, on Friday told Justice Okono Abang, of the Abuja Division of the Federal High Court that he currently has no knowledge of the whereabouts of the former Chairman of the Pension Reformed Task Team, Mr Abdulrasheed Maina. Maina is standing trial on a 12-count criminal charge bordering on …
THISDAYLIVE.
Trump Set to Leave for Walter Reed Medical Centre
President Donald Trump is being taken to Walter Reed Military Medical Center following his positive test for the coronavirus. The White House has said Trump's symptoms are mild and that he is in good spirits, but he has not been seen in public since the news of the positive COVID-19 test. "President Trump remains in …
THISDAYLIVE.
Chevron Nigeria Set to Lay off 25% of Its Staff in Major Reorganisation Move
Emmanuel Addeh in Abuja Oil giant, Chevron Nigeria Limited (CNL), operator of the joint venture between the Nigerian National Petroleum Corporation (NNPC) and CNL together with its affiliates, Friday confirmed that it was reviewing its manpower requirements in the light of the changing business environment. To this end, the International Oil Company (IOC), said it …
THISDAYLIVE.
Read also Nigerian Newspapers Today and Nigeria News Today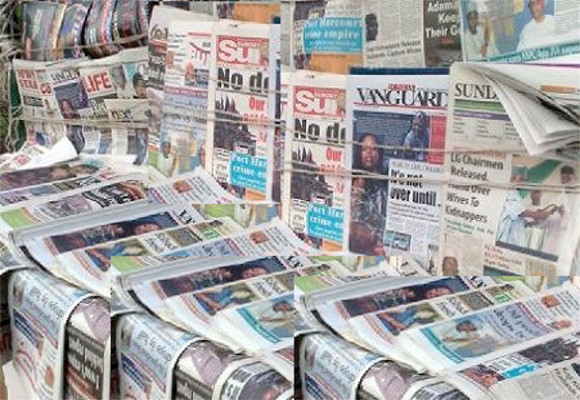 You can also check Thisday Newspaper News Today