Vanguard Latest News

Thursday 8th October 2020

Vanguard Latest News Today and headlines on some of the happenings and news trend in the Country, today 08/10/20

Read also The Nation Newspaper Today Headline Thursday 8th October 2020
#EndSARSProtest: More than 3,000 Nigerians sign petition
By Rasheed Sobowale As the #EndSARSProtest proceeded across Nigeria, some Nigerians joined the public expression of discontent at the unprofessionalism of Nigerian Police Unit, Federal Special Anti-Robbery Squad (FSARS), by signing an online petition. The number of Nigerians that have signed the petition on Change.org, as at the time of filing this report were 3,464.Read More
Vanguard News.
How agric research institutions can boost food production — Ijewere
By Gabriel Ewepu – Abuja With the impact of novel Coronavirus, COVID-19 pandemic, on food production including climate change, the Vice President, Nigeria Agribusiness Group, NABG, Emmanuel Ijewere, has stated how agricultural research institutions can boost food and agribusiness in the country. Speaking on a telephone chat with Vanguard, Ijewere also asserted that most agriculturalRead More
Vanguard News.


Video: Moment Buhari presented 2021 budget in NASS
Vanguard News.
Ondo APC has formidable structures to win Ondo 2020 election, says Adetimehin
Mr Ade Adetimehin is chairman of the All Progressives Congress, APC, in Ondo State. In this interview, he expressed optimism that Governor Rotimi Akeredolu will defeat those contending against him in the October 10, governorship election adding that the APC has what it takes to win the poll.
Vanguard News.
How SARS went off course, own POS machines for easy 'transaction'
•Amnesty International insists on reform of police Note: This article was first published Jul 25, 2020 at 07:21 By Evelyn Usman The name – Special Anti-Robbery Squad, SARS, usually sent cold shivers down the spines of criminals who saw the unit not just as an antidote to their atrocious acts, but capable of sending themRead More
Vanguard News.
Runtown, Falz take #EndSARS protest to streets of Lagos
Victor Ogunyinka Runtown, Falz have lead Nigerians in their numbers to protest the unacceptable spats in harassment of Nigerian youths by members of the Special Anti-Robbery Squad (SARS). Expressing his displeasure to what is generally termed as unjust harassment, Runtown, had, on 4th October, tweeted that "This has gone long enough and now we MUSTRead More
Vanguard News.
E2%80%95-ex-iyc-president-counsel-ijaws/ We're our own problem, not Buhari ― Ex-IYC president counsel Ijaws
By Perez Brisibe – Ughelli Former President of the Ijaw Youth Council, IYC, Oweilaemi Pereotubo has counseled his Ijaw kinsmen from the Niger Delta region that they should stop seeing President Muhammadu Buhari as their problem stating that the Ijaws are their own problem. Pereotubo in a statement yesterday, also ask the Ijaws to expungeRead More
The post We're our own problem, not Buhari ― Ex-IYC president counsel Ijaws appeared first on Vanguard News.


VIDEO: Deji Adeyanju, Sowore lead ENDSARS protest in Abuja
Deji Adeyanju and Omowole Sowore leading ENDSARS protest at the Force Headquarters
Vanguard News.
27-year-old kidnaps, rapes 13-year-old girl in Lagos
By Funmi Ajumobi Mohammed, 27, a bike repairer in Agbowa, Ikorodu, Lagos State has been alleged of rape of a 13-year-old girl on Monday night. According to a mandated reporter, the survivor was kidnapped by Mohammed while on an errand for her parents and he forcefully raped her in a nearby bush path close toRead More
Vanguard News.
BREAKING: Police rescue kidnapped Port Harcourt lawyer
By Egufe Yafugborhi POLICE in Rivers State have confirmed that Bisola Paulette Ajayi, the female lawyer abducted by unknown gunmen at her residence in Rumuokwurusi, Obio-Akpor Local Government Area of Port Harcourt has been rescued by Operatives of the Anti-Kidnap Unit of Rivers State Police Command. CSP Nnamdi Omoni, Police Public Relations Officer, Rivers Command,Read More
Vanguard News.
Read also Nigerian Newspapers Today and Nigeria News Today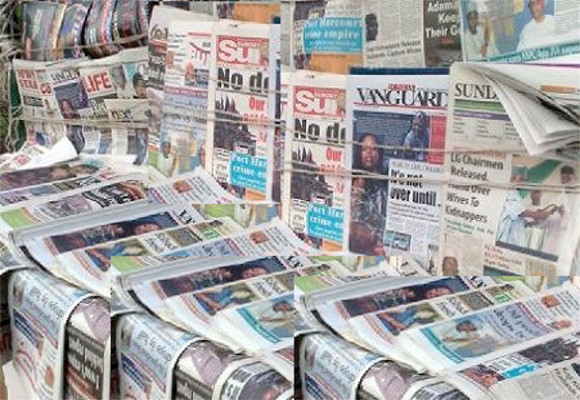 You can also check Vanguard Newspaper Headlines Today