Sports News Today Headlines

Sunday 2nd August 2020

Top Sports News Today Headlinese from Newspapers

Read also Punch Newspaper Headlines Today Sunday 2nd August 2020
'Dreams do come true' as Immobile revels in stunning goalscoring season
Lazio star Ciro Immobile said "dreams do come true" after equalling Serie A's goalscoring record and claiming the European Golden Shoe for 2019-20. Immobile tied Gonzalo Higuain's record for most goals in a Serie A season with 36 after scoring in Saturday's 3-1 loss to Napoli. The 30-year-old Italy forward matched the feat achieved byRead More
Vanguard News.
Milan boss Pioli hails impact of 'champion' Ibrahimovic
Milan head coach Stefano Pioli lauded "champion" Zlatan Ibrahimovic after the Rossoneri star made more Serie A history in the 3-0 win over Cagliari. Ibrahimovic – aged 38 years and 302 days – became the oldest player to score 10-plus goals in a Serie A season with his strike against Cagliari in Saturday's 2019-20 finaleRead More
Vanguard News.


Inter boss Conte hits out at club management after Serie A conclusion
Inter head coach Antonio Conte claimed he and his squad received "little protection" from the club amid criticism as he hit out at the Nerazzurri. Conte's Inter ended the 2019-20 Serie A season runners-up, just a point behind champions Juventus, following Saturday's 2-0 victory at Atalanta. Danilo D'Ambrosio and Ashley Young scored first-half goals as InterRead More
Vanguard News.
FA CUP: Arteta grateful to Guardiola for 'best moment in career'
Mikel Arteta thanked Manchester City boss Pep Guardiola after Arsenal beat Chelsea 2-1 in the FA Cup final to give the head coach what he described as the best moment of his career. Arteta left his position as City assistant in December after three years alongside Guardiola to take over from Unai Emery at EmiratesRead More
Vanguard News.
Juventus boss Sarri picks positives from Roma defeat
Maurizio Sarri believes "a little fear can do us good" after seeing Juventus prepare for their crucial Champions League tie against Lyon by losing 3-1 to Roma on the final weekend of the Serie A season. Juve saw a 39-match unbeaten home league run dating back to April 2018 ended as Diego Perotti scored twiceRead More
Vanguard News.
Porto defeat Benfica to win 17th Portuguese Cup
Democratic Republic of Congo (DR Congo) international Chancel Mbemba scored twice as FC Porto defeated old rivals Benfica 2-1 on Saturday to win the Portuguese Cup for the 17th time. Mbemba, a 25-year-old defender, scored both his goals in the second half of the final played behind closed doors in Coimbra. Victory allowed Porto toRead More
Vanguard News.
Juve crash on season finale, Inter second in Serie A
Juventus crashed to their second consecutive defeat since sealing a ninth Serie A title in a row, falling 3-1 at home against Roma in their final match of the season on Saturday, days before their Champions League campaign resumes.
Vanguard News.


Former Middlesbrough boss appointed as Birmingham manager
Aitor Karanka has been appointed as the new head coach of Championship side Birmingham City. The Spaniard, who has signed a three-year deal, replaces compatriot Pep Clotet, who was dismissed with four games of the Championship remaining. Karanka led Middlesbrough out of the second tier in the 2015-16 campaign and spent a year as NottinghamRead More
Vanguard News.
Ferran Torres eyes new challenge as Man City deal inches closer
Ferran Torres believes he is ready for a new challenge, with Manchester City and Valencia this week agreeing a fee for the winger. Stats Perform News understands City will pay an initial £21.3million (€23m), plus further add-ons, for the Spain Under-21 international. Talks between the clubs are on-going, but an agreement on the wider termsRead More
Vanguard News.
FA Cup victory won't hasten Aubameyang's Arsenal decision
Pierre-Emerick Aubameyang won the FA Cup for Arsenal with his Wembley double but left Gunners fans guessing about his future. The Gabon striker dropped the trophy amid the celebrations but it was his only clanger of the day, after his two goals guided Arsenal to a 2-1 victory over Chelsea. His first goal was a confidentRead More
Vanguard News.
FIFA reacts as Arsenal defeat Chelsea to win FA Cup
FIFA has congratulated Arsenal for winning this year's FA Cup final. The Gunners beat London rivals Chelsea 2-1 at an empty Wembley Stadium on Saturday. Pierre-Emerick Aubameyang was the star of the show with two goals, cancelling out Christian Pulisic's opener. The world football governing body took to their official Twitter feed, to hail Arsenal's …
FIFA reacts as Arsenal defeat Chelsea to win FA Cup
Sarri blasts Ronaldo, other Juventus players over attitude after winning Serie A title
Juventus manager, Maurizio Sarri, has hit out at his players, over their "mental decline" after they won the Serie A title. The Italian champions finished their league campaign with a 3-1 defeat to Roma on Saturday night. It saw a 39-match unbeaten home run dating back to April 2018 coming to an end. Juve were …
Sarri blasts Ronaldo, other Juventus players over attitude after winning Serie A title
FA Cup final: Arteta thanks Guardiola after Arsenal's 2-1 win over Chelsea
Arsenal coach, Mikel Arteta, has thanked Manchester City boss, Pep Guardiola for his part in moulding him as a manager after the Gunners' FA Cup final 2-1 win over Chelsea on Saturday. Arsenal defeated Chelsea at Wembley, thanks to a brace from Pierre-Emerick Aubameyang. Christian Pulisic did score for Frank Lampard's side. Arteta was Guardiola's …
FA Cup final: Arteta thanks Guardiola after Arsenal's 2-1 win over Chelsea
Champions League: Three key Chelsea players to miss Bayern Munich second leg
Chelsea will be without Christian Pulisic and Cesar Azpilicueta for their Champions League clash with Bayern Munich, after limping off in Saturday's 2-1 FA Cup final defeat to Arsenal with hamstring issues. Azpilicueta pulled up five minutes after giving away a penalty, that Pierre-Emerick Aubameyang converted to make it 1-1 following Pulisic's opener. Pulisic himself …
Champions League: Three key Chelsea players to miss Bayern Munich second leg
Arsenal to play Liverpool in Community Shield after winning FA Cup
Arsenal will take on Liverpool in the Community Shield on August 29. This follows their 2-1 win over Chelsea in the FA Cup final on Saturday. The Reds have booked their place in the Shield game by emerging Premier League champions for the first time in 30 years. In 2019, they took part due to …
Arsenal to play Liverpool in Community Shield after winning FA Cup
Rio Ferdinand speaks on Aubameyang leaving Arsenal after FA Cup final win over Chelsea
Manchester United legend, Rio Ferdinand believes Arsenal captain, Pierre-Emerick Aubameyang has already decided to leave the club, despite winning the FA Cup final following his side's 2-1 victory over Chelsea on Saturday. Aubameyang scored two goals as Mikel Arteta's side came from a goal down to beat Chelsea at Wembley after Christian Pulisic had opened …
Rio Ferdinand speaks on Aubameyang leaving Arsenal after FA Cup final win over Chelsea
Immobile beats Messi, Ronaldo, Lewandowski, wins European Golden Shoe
Lazio striker, Ciro Immobile, has won the European Golden Shoe award for this season. Immobile was confirmed as winner, after Juventus manage,r Maurizio Sarri chose to rest Cristiano Ronaldo out of his squad for their final Serie A clash. This is the first time that the Italian striker has won the award. He takes it …
Immobile beats Messi, Ronaldo, Lewandowski, wins European Golden Shoe
FA Cup final: Ozil reacts as Arsenal beat Chelsea 2-1
Arsenal playmaker, Mesut Ozil, has congratulated his team-mates after they won the FA Cup on Saturday. A brace from Pierre-Emerick Aubameyang saw the Gunners come from a goal down to beat Chelsea 2-1 at Wembley, after Christian Pulisic had opened the scoring. Ozil was absent at the game, having been told by manager, Mikel Arteta …
FA Cup final: Ozil reacts as Arsenal beat Chelsea 2-1
FA Cup final: What Aubameyang said about Arsenal future after scoring twice against Chelsea
Arsenal captain, Pierre-Emerick Aubameyang, has said he is not thinking about his future at the club, following a match-winning performance in the FA Cup final. The Gabon striker netted twice, as the Gunners came from behind to beat London rivals Chelsea 2-1 at Wembley on Saturday. Aubameyang's current contract at the Emirates is in its …
FA Cup final: What Aubameyang said about Arsenal future after scoring twice against Chelsea
Aubameyang breaks three records as Arsenal defeat Chelsea to win FA Cup
Pierre-Emerick Aubameyang netted twice on Saturday, to help Arsenal win the FA Cup. The Gunners beat London rivals Chelsea 2-1 at Wembley, to clinch the cup for the 14th time in their history. Firstly, Aubameyang became the first African player to ever captain a side in the FA Cup final. Also, the 31-year-old is the …
Aubameyang breaks three records as Arsenal defeat Chelsea to win FA Cup
Read also Nigerian Newspapers Today and Nigeria News Today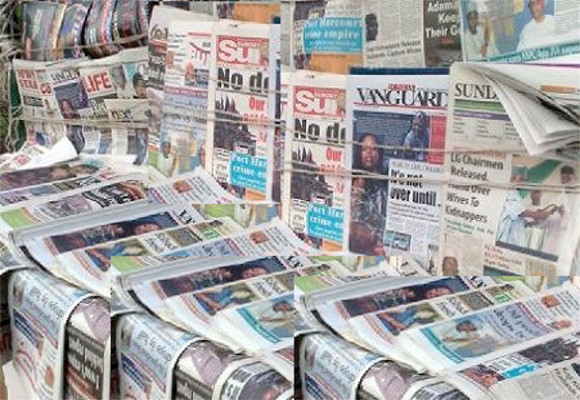 You can also check Sports News Today Headlines