Thisday Newspaper News Today

Friday 31st July 2020

Top Nigeria news Dailies Update from Thisday Newspaper News Today 31/07/20

Read also The Nation Newspaper Today Headline Friday 31st July 2020
AGF AbdulRazaq: Glorious Exit of the Last of the Titans
By Abubakar Imam Saturday,July 25,2020 was a unique date in the annals of Ilorin Emirate. It was not like any other day. It was a memorable date that would remain permanently secured in the warehouses of chroniclers of history. It was a day the people of Ilorin Emirate, and indeed, humanity "conspired to do away …
THISDAYLIVE.
Prioritise Reopening of Private Varsities, Afe Babalola Tells FG
The founder of Afe Babalola University, Ado Ekiti, Chief Afe Babalola, has expressed disappointment with the federal government for not giving consideration to private universities in the plan to reopen schools that were shut in March due to the outbreak of COVID-19. Babalola, who said both private and public universities had been left out by …
THISDAYLIVE.


Gunmen Kill Illegal Miner, Injure Five Others in Niger
By Laleye Dipo Unknown gunmen yesterday morning killed one illegal miner and injured five others in the Tunga area of Minna the Niger State capital. The incident was said to have occurred at about 4.00a.m. when the miners numbering over 50 embarked on their usual illegal mining business. An eyewitness gave the name of the …
THISDAYLIVE.
Sanwo-Olu Promises Improved Traffic in Lagos
Lagos State Governor, Mr. Babajide Sanwo-Olu, spent an ample time, weekend, at the popular Allen Junction on Obafemi Awolowo Way in Ikeja, monitoring flow of vehicular traffic at the newly re-designed junction. The governor expressed satisfaction with the new layout of the ever-busy junction, following the removal of a broad roundabout to create seamless flow …
THISDAYLIVE.
Akpabio Fires Back, Lists Senators, House Members Awarded NDDC Contracts
•He is confused, says Nwaoboshi •Tunji-Ojo: Allegation spurious By Deji Elumoye and Adedayo Akinwale Minister of Niger Delta Affairs, Senator Godswill Akpabio, has finally picked up the gauntlet thrown down by the National Assembly to name lawmakers who got contracts from the Niger Delta Development Commission (NDDC). The minister, in a document attached to his …
THISDAYLIVE.
South-east Govs Set to Unveil Regional Security Outfit
•Urge Anyim, Eze to sheathe sword By Benjamin Nworie in Abakaliki The governors of South-east geo-political zone yesterday expressed their readiness to unveil a security outfit for the region. They said the name of the security outfit would be made known to the public during the South-east Governors' Forum next meeting, adding that all the …
THISDAYLIVE.
Magu Denies Misappropriating N332bn Recovered Funds
•Dismisses alleged false asset declaration as untrue By Kingsley Nwezeh Suspended acting Chairman of the Economic and Financial Crimes Commission (EFCC), Mr. Ibrahim Magu, yesterday denied alleged misappropriation of N329 billion recovered for the Nigerian National Petroleum Corporation (NNPC) and another N3 billion recovered for the Federal Inland Revenue Service (FIRS). Magu spoke through his …
THISDAYLIVE.


APC, PDP Intensify Battle for Edo, Trade Words over Violence
•Ruling party accuses opposition of plotting to eliminate its govs, leaders By Chuks Okocha in Abuja Adibe Emenyonu The battle for the soul of Edo State became intensified yesterday as the two leading parties in the September 19 governorship poll, All Progressives Congress (APC) and the Peoples Democratic Party (PDP), traded accusations over Saturday's clash …
THISDAYLIVE.
14 Airports Now Open for Domestic Operations, Says Sirika
By Kasim Sumaina The Minister of Aviation, Senator Hadi Sirika, has said 14 airports nationwide are now open for full domestic operations. Sirika, in a tweet on his Twitter handle, @hadisirika, said ministerial approvals in and out of those airports were not required. He tweeted: "Glad to announce that the following airports are open for …
THISDAYLIVE.
Report: Lagos' IGR Surpassed 20 States Combined in 2019
•Katsina, Borno, Bayelsa, four others on bottom ranking By Peter Uzoho A new report by the Economic Confidential, an intelligence magazine, has indicated that the N398 billion generated as Internally Generated Revenue (IGR) by Lagos State in 2019 is higher than those of 20 other states put together. The report, which was released yesterday, showed …
THISDAYLIVE.
Read also Nigerian Newspapers Today and Nigeria News Today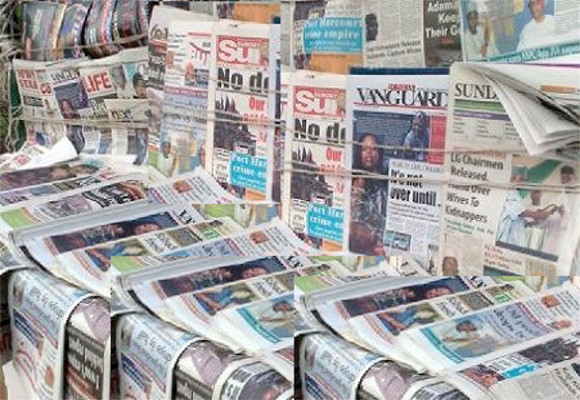 You can also check Thisday Newspaper News Today