Sahara Reporters Latest News Today

Friday 24th July 2020

Sahara Reporters Latest News Today and headlines on some of the happenings and news trend in the Country, today 24/07/20

Read also nigeria newspapers Friday 24th July 2020
Rights Activist Demands Investigation Into Unlawful Arrest Of 16-year-old, Extortion By Imo Police
Executive Director of the Rule of Law and Accountability Advocacy Centre, Okechukwu Nwanguma, has called on the Imo State Commissioner of Police, Isaac Akinmoyede, to order an investigation into the case of illegal arrest, torture and detention of 16-year-old Chimezie Wisdom.
Nwanguma held that Wisdom was illegally arrested by members of the community's vigilante group led by the Youth Leader, Camilus Ike, on July 6, 2020 and taken before the traditional ruler of Umuoma, Ogbe, Ahiazu Mbaise LGA.
He said the traditional ruler and members of the vigilante group tortured the boy, inflicted grievous bodily injuries on different parts of his body, hit him with sticks and used fire from a burning wood to burn his body in a bid to force him to confess that he was an armed robber.
He also said members of the vigilante group also used machetes to brutalise the boy even as he continuously denied the allegation.
He stated that when the intervention of the police was sought, officers of the Imo State Police Command extorted the boy's father.
Nwanguma said, "Mr Chimezie Joseph said he went to the traditional ruler and pleaded for the release of his son and the traditional ruler demanded the sum of N5000 from him in addition to another sum of N2500 which he said was in lieu of traditional hot drink for him as a traditional ruler to go and 'beg' the police to release his son.
But it turned out that the traditional ruler merely defrauded him.
"Mr Chimezie Joseph said on one of the days he visited to see his son, Officer Tom directed him to one lawyer identified as Iwu whom he said asked him to bring the sum of N80,000 for him to facilitate the release of his son. He said he had to call his brother who is based in Lagos to send him the money, which he handed over to the lawyer yet his son was not released.
"Officer Tom continued to ask him to bring an additional N250,000 without which, he would not release his son and further threatened that his son will go to jail if he doesn't bring the money.
"Mr. Chimezie Joseph said he had to approach the traditional ruler again, still pleading the innocence of his son and appealing for his release. He said the traditional ruler asked him to give up his 'land or company' or give him the sum of five hundred thousand naira for his son to be released."
The Executive Director of RULAAC said while processing the bail of the boy, because the boy's father did not provide the additional money which office Tom demanded for bail, he threatened that he would re-arrest the boy and hand him over to SARS.
He stated that the boy find was still bearing untreated serious bodily injuries.
"He needs serious medical including psychological rehabilitation.
"He said he was detained bare-bodied and was untreated of the injuries and hardly ate or had any bath during the period of 16 days of his unlawful detention," he said.
He urged CP Akinmoyede to investigate the conduct of officer Tom for indefinite detention, inhumane treatment, intimidation and extortion of bribe.
"He should return all the money he and his lawyer-ally extorted from Mr Chimezie Joseph.
"We also call for an investigation of the activities of the the traditional ruler of Umuoma, Ogbe, Ahiazu Mbaise LGA Eze Patrick Ihuoma, and members of the community vigilante group led by the Youth Leader, Camilus Ike, for extortion and torture," he added.
Human Rights
Police
News
AddThis
:
Original Author
:
SaharaReporters, New York
Disable advertisements
:
E2%80%94lagos-government We Spend N1m Daily On Each COVID-19 Patient With Severe Illness —Lagos Government
Lagos State Commissioner for Health, Prof Akin Abayomi, has said that the government spends up to N1m daily on each COVID-19 patient in critical condition.
Speaking at a press briefing on Thursday, Abayomi said the state may experience the peak of Coronavirus by August.
According to him, the government spends averagely about N100,000 daily to treat a mild patient while it costs about N500,000 to N1,000,000 to treat a patient with a serious case.
He said, "To treat mild to moderate case patients in our isolation centre is somewhere in the region of N100,000 per day.
"That gives you an idea of the amount of money the government is spending on COVID-19 isolation facilities and COVID-19 care.
"If you require high care or intensive care, that amount can go up to anything from N500,000 to even a million naira per day, depending on the complications of the case.
"Do you need ventilation, dialysis, intravenous antibiotics; every case is different, so it is difficult to calculate exactly how much a patient in high care or intensive care would cost."
According to the Nigeria Centre for Disease Control, Lagos currently has 13,806 confirmed cases of the deadly virus.
PUBLIC HEALTH
News
AddThis
:
Original Author
:
SaharaReporters, New York
Disable advertisements
:


Police Arrest Two Officials Involved In Harassment Of Lady In Viral Video
Two personnel of the Nigeria Police Force have been arrested in connection with a video on social media showing police officers molesting and harassing a lady caught at the residence of a kidnap and armed robbery suspect.
The policemen from Lagos had gone for operation in Ibadan, Oyo State, to arrest the suspected armed robber and met the lady, who gave her name as Towobola, there.
The policemen after taking the kidnap suspect away, faced Towobola, handcuffed and accused her of sleeping with him.
Video of Perverted Police Officers Molest And Harass Lady Allegedly Caught With A Violent Criminal
Perverted Police Officers Molest And Harass Lady Allegedly Caught With A Violent Criminal
WATCH VIDEO: "Where Is The Man That Deflowered You, You Wouldn't Agree If I Woo you" -How Perverted @PoliceNG Officers Molested And Harassed A Young Nigerian Lady Allegedly Caught With A Violent Criminal…
The Inspector-General of Police, Mohammed Adamu, while condemning the act of the officers, ordered a discreet investigation into the circumstances surrounding the dehumanising treatment meted out to the lady.
The police said following an investigation, three police officers and one civilian accomplice, who participated in the unprofessional act were identified, while two have been arrested.
"Two suspects, ASP Tijani Olatunji and Inspector Gboyega Oyeniyi, have been arrested for their role in the discreditable conduct and incivility to a member of the public.
"They are currently being detained at the Lagos State CID detention facility, Panti, Yaba. Preliminary investigations show that the policemen who are attached to Area 'A' Command, Lion Building, Lagos, were on legitimate investigation activities to Ibadan, Oyo State where the incident took place.
"Effort is being intensified to arrest the two other accomplices," the police said.
The police stated that an appropriate disciplinary procedure would be initiated as soon as investigation was concluded.
Police
News
AddThis
:
Featured Image
:
Original Author
:
SaharaReporters, New York
Disable advertisements
:
Police Disrupt FCT Mobile Court Sitting With Gunshots Over Arresting Of Colleague
Policemen on Thursday in Abuja fired gunshots to disperse the FCT Mobile Court sitting in Dei-Dei, a suburb of the Federal Capital Territory, to free their colleague suspected to have violated the COVID-19 safety protocol.
The incident led to confusion among residents and motorists in the area as the magistrate, prosecutors and other officials scampered for safety.
Trouble started when personnel of the FCT Ministerial Joint Enforcement Task-Team on COVID-19 Restrictions arrested the policeman for not wearing a face mask in public and for overloading his vehicle with passengers.
The culprit, Agada Gabriel, who was arrested around the premises of the court, was said to have made a phone call to his colleague, one Smart Jacob, to help him resist arrest.
He was held and sentenced by the court but refused to pay the fine slammed on him or engage in community service as directed.
SaharaReporters gathered that while an altercation ensued between the offender and court officials, some policemen from a nearby barracks stormed the area and shot sporadically to scare people.
The irate policemen were said to have dismantled the court's canopy and vowed that they would no longer allow any sitting in the area.
Confirming the incident, Chairman of the task force team, Ikharo Attah, expressed confidence in the ability of the FCT Commissioner of Police, Bala Ciroma, to apprehend the erring personnel and mete out appropriate sanctions.
Police
News
AddThis
:
Original Author
:
SaharaReporters, New York
Disable advertisements
:
One Person Killed, Many Injured As Police Invade Lagos Community Over Land Dispute
Police officers engaging in extra-judicial activities have killed one person, leaving many others injured and hospitalised in Ibeju-Lekki area of Lagos State.
Residents of Igbogun community, Ibeju-Lekki, accused the police of working with some land grabbers to take over their lands for personal gains.
Speaking with SaharaReporters after the attack by the police, residents of the community stated that ACP Gbolahan Olugbemi, Area Commander of Area J Police Station, ordered his men along with some thugs to invade the community to launch a vicious attack on residents.
One resident, who simply introduced himself as Mr Saheed, narrated his ordeal, saying strange persons began showing interest in lands in Ibeju-Lekki following the establishment and commencement of work at Dangote Refinery and other state projects in the area.
He stated that the Ojumiri Osunaike and Bello Ayo families also showed up to lay claims to some lands in the community.
He said the community resisted them and instituted a legal process against them but rather than obey the court proceedings, they invaded their area.
He stated, "While the case is ongoing, they went to meet Area Commander of Area J Police Station, ACP Gbolahan Olugbemi, they induced him with money and land to overrun our community and grab the land for them.
"ACP Olugbemi has been giving the families police officer to storm the community to brutalise residents.
"On Wednesday, the police came again with anti-robbery squad, OP MESA and about 10 civilian soldiers and thugs, they attacked the residents and shot sporadically at people."
Another resident revealed that the police shot one person and went away with his corpse in order to cover-up their illegal action.
"The most pathetic of it all is that they killed one Adams Monsuru and took his corpse away.
"They shot him in the neck and while people tried to rescue him, the police shot at the people again.
"Many wounded people are being treated at different hospitals; some are at the Federal Medical Centre, Abeokuta; some are at Akodo Police Station Hospital," he lamented.
In bid to seek justice against the impunity of ACP Olugbemi, the community residents said they had submitted a petition and also written to the Police Complaint Unit, Abuja, analyzing the role of the area commander in attacking the community.
In court documents sighted by SaharaReporters, the High Court of Lagos State, Epe Division, had granted an order of interim injunction restraining the police – ACP Gbolahan Olugbemi; Orire Rahman, Divisional Police Officer of Akodo Police Station and Femi Adeoye, O/C SARS, Ise Police Division – and 12 other respondents from making any move in acquiring the land.
"An order of interim injunction is hereby granted restraining the respondents, their agents, privies and servants from further inviting, arresting or detaining the applicants in respect of this matter as contained in the affidavit attached to this motion pending the determination of the substantive suit," Justice G. A. Safari ruled.
Court Documents by Sahara Reporters on Scribd
The community has also petitioned the Lagos State Commissioner of Police reporting ACP Olugbemi's actions by ordering officers under him to unleash mayhem in Igbogun community in Ibeju-lekki.
"Since the year 2019, ACP Gbolahan Olugbemi purportedly acting on fictitious petitions full of false information, is often engaged by notorious land grabbers to forcibly take over other people's land, intimidate, harass, arrest and detain them.
"Unfortunately and to our greatest surprise, on the 22nd day of July 2020, the ACP Gbolahan Olugbemi again led his men to Igbogun community with the aid of some soldiers who came in a vehicle with an inscription Operation Messa" were led by the land grabbers who also were armed with cutlasses and dangerous weapons to attack the community.
"While the attack was going on against our client, our client reported to the Divisional Police Officer of Akodo Police Station, Ibeju Lekki. The said DPO told our client that the police were from the Area Command and that they have already registered with his office, so the attack continued unchecked.
"It is our humble submission that no one no matter how highly place is allowed to take the law into his own hand.
"The ACP Gbolahan Olugbemi is notorious for arresting our clients on the ground that he is investigating an allegation of gun-running, threat to life and so on.
"Our clients have never been confronted with any petition in all these illegal arrest and detention.
"A land dispute, pending before a High Court is a pure civil matter that does not warrant the intervention of the police force or other security agencies," the petition by the community read partly.
PETITION by Sahara Reporters on Scribd
They urged the police to call to order ACP Olugbemi and advise him to refrain from backing persons with ill motives by brutalising and assaulting residents of the state.
"We want the whole world to hear it. We are not in military era. Even in military era, there is decency in the way they do things.
"Police cannot come and be harassing people over their properties," the community residents added.
Human Rights
Police
News
AddThis
:
Original Author
:
SaharaReporters, New York
Disable advertisements
:
Septuagenarian Bags 30-year Jail Term For Raping Eight-year-old Girl Twice In Niger State
A magistrate court in Minna, Niger State, has sentenced a septuagenarian, Mohammed Sani Umar, to 30 years in prison for raping an an eight-year-old girl in Chanchaga area of the state.
SaharaReporters had reported how Umar raped his victim twice before giving her N80 not to tell anybody about the incident.
Umar, who admitted before the magistrate court on Wednesday, said he raped the little girl twice because he loved her.
Delivering judgment on the case, Senior Magistrate Safuratu Abdulkareem of Magistrate Court III, Minna, found Umar guilty of the offence.
The magistrate sentenced him to 30 years in prison, adding that the jail term was in line with Section 18, Subsection 2 of the Child Right Act (2010) of Niger State.
See Also
CRIME
70-year-old Rapes Eight-year-old Girl In Niger, Gives Her N80 To Stay Silent
0 Comments
2 Weeks Ago
Niger State rights activist, Abubakar Saidu Arah, hailed the court for the prompt judgment delivery on the case.
He urged the government to strengthen the National Human Right Commission and Niger State Child's Right Agency, stating that the state government should take proactive steps in ensuring the implementation of the child's right act in the state.
He said, "The federal and Niger State governments should empower the National Human Right Commission and Niger State Child's Right Agency to do better than keeping statistics and records (as shown in this case) and be proactive in handling offences of such magnitude as some victims lack the strength to follow up such cases to the desired conclusion without their support."
News
AddThis
:
Original Author
:
SaharaReporters, New York
Disable advertisements
:
No Street Or Highway Named After Saro-Wiwa But The Criminals Who Killed Him Are Living Well —SaharaReporters Publisher, Sowore
SaharaReporters Publisher, Omoyele Sowore, has wondered why the late environmentalist, Ken-Saro-Wiwa, was yet to be immortalised.
Sowore while speaking on the latest episode of The Green Room tagged 'Environmental activism and its role towards achieving sustainable development: Lessons from Ken Saro-Wiwa, said the country owes history a duty to investigate who and who were responsible for killing Saro-Wiwa and disclosed the conspiracies behind the oil company site or the multinationals.
The human rights activist said environmental protection agencies in Nigeria were working for the violators of the environment.
He said, "So the Nigerian Army, police could easily be brought or hired to go and to enter an helicopter hired by Shell to go and shoot the villagers. Infact, Shell has its own police at a point and they call them Shell Police and they don't even hide it, they pay them special salaries, they are the ones who buy weapons for them and arm them, so when you have that, is like double tragedy for you, because now you don't have any independent agency of government that is evenly willing to corrobate and fight on the side of people who are fighting for the dignity of the environment.
"To accept the legacy of Ken Saro-Wiwa, first the country owes history a duty to investigate who and who were responsible for killing Ken Saro-Wiwa and what were the conspiracies behind the oil company site or the multinationals. You know, there are paper trails, who were the persons who carried out the handling? To let you know that they're not interested, the judge, Ibrahim Auta who sentenced him to death unjustly eventually became the Chief Judge of the Federal High court of Nigeria, the prosecutor who helped prosecute Ken Saro-Wiwa eventually became the President of the Nigeria Bar Association.
"These are recent history, one of the judge advocates who was on the panel that killed him is currently the Director-General of customs in Nigeria, Hameed Ibrahim Ali. So all of them had social promotions, they are still in the system. So if this happens in any sane country, those guys are supposed to be in jail or answering to some kind of sanction for what they did or be made to at least explain how they all ended up in the scheme or someone driving all of that process. But what did we do in Nigeria? Everybody who participated in the crime, they're doing very well except Ken Saro-Wiwa and his family. And you probably heard that his body has never been really found because they said they poured acid on him (I can't confirm that) after he was gone.
"Three of his kids have died since this thing started, you know his son who came to work with the Nigerian Government at that time died I think two years ago. One of his son died of COVID this year. His 13-year-old boy died when he started the activism and so Ken Saro-Wiwa lost pretty much everything but the Nigeria state didn't lose anything, the people who killed him didn't lose anything, they are doing well in the system. So that's what is wrong. His legacy is also declinable for Ogoni land even though the United Nation has come and said the Ogoni land needs total clean up. Till today, they have not. In fact, they are saying that three days ago that they re-awarded the contract again for the cleanup of Ogoni Land.
"You know, the army, the police, the press system is still going after the little activism that is left in Ogoni land. They are still there actively hunting down activists in the area. So, what legacy are we talking about? The only legacy he left is in the minds of people around the world who appreciate what he did not the Nigerian Government that I know of. There's still no Ken Saro-Wiwa University or Ken Saro-Wiwa Highway or Ken Saro-Wiwa streets in Abuja, all the street in Abuja are named after the criminals who looted Nigeria, Babaginda, Obasanjo, Buhari, Dongoyaro, all these criminals they are the ones who have barracks, theaters and all kinds of public buildings named after them as we speak.
"So Nigeria must reached that point as well that the Black Lives Matter has ignited all over the world, the slave masters and their status are being toppled. The status of the oppressors and the destroyers and the robbers who put Nigeria in the condition it is today, but nothing like that is happening yet. So it feels like we have to start the fight all over again."
Speaking further, Sowore said any Sustainable Development Goals office or any office that is created in Nigeria to further such policies are just another way of wasting money.
He said, "For those of us who know about this SDGs, international policies for local development or international development, we just laugh when we hear that there is an office of the SDG in Nigeria. Any SDG office or any office that is created in Nigeria to further this International policies are just another way of wasting money.
"If you hear about SDG now, next time you'll hear about the UN they will be in New York annual jamboree and they would bring some 500 people with computers. So I don't really pay too much attention to when I hear this high ferreting buzzword, SDGs, millennium development, all kinds of buzz words that are used to confuse people here because we don't pay attention to them, we don't believe in them and we just create offices so that we tick all the boxes at the UN and oh, yeah, we have an SDG office, that's our SDG officer and they repeat the same thing everywhere they go to. But on the ground here, we have nothing to show that we're meeting any of the conditionality for the SDGs that the UN had to put in place.
"So because they come with performance indices and measures, so we just can't find that we are meeting any of those here. So but when it comes to the flamboyance of presence at the SDGs conferences, I'll tell you that Nigerians are doing a very good job for they wear the nicest suit, headgear and probably talk the longest, but on the ground here, there's nothing to show for it."
Environment
Human Rights
News
AddThis
:
Original Author
:
SaharaReporters, New York
Disable advertisements
:


Late Isa Funtua Pressured Me To Ask Sowore To Apologise To Buhari And Renounce #RevolutionNow During A Meeting With Me In Lagos —Femi Falana
Femi Falana (SAN)
Human rights lawyer, Femi Falana (SAN), has attributed memory loss as the cause of the "jejune" narrative of President Muhammadu Buhari's spokesperson, Garba Shehu, about what truly happened at a meeting, which held between the Presidency and Omoyele Sowore during the activist's detention at the Department of State Services facility.
Late Isa Funtua, a self-acclaimed member of President Buhari's cabal, had led a delegation which included Garba Shehu, ThisDay Publisher, Nduka Obiagbena and his Vanguard Newspaper's colleague, Sam Amuka, to meet Sowore uninformed and "broker" peace between him and the government.
Sowore recently recounted the role late Funtua in the meeting, which ended in deadlock.
Femi Falana, SAN.
Sowore said Funtua was arrogant in his submission when he said "you can't defeat the government".
Sowore said he retorted back at Funtua that "Well, you are about (to) find out that the people can defeat any government no matter how powerful you guys think you're".
Irked by Sowore's interview, Shehu with a rather infantile statement said, "The meeting ended well. Contrary to the posturing by Sowore, he said he was happy with a resolution proposed but that his lawyer, whoever that was, needed to come on board. The fence-mending process collapsed after the meeting of the trio with the lawyer in Lagos."
However, in a statement on Thursday, Sowore's lawyer, Falana, said Shehu made deliberate attempts to distort history.
Falana, who said he was part of many other patriots that clamoured for Shehu's release in 2006, noted that the charge of treasonable felony against Sowore was bound to be quashed for no justifiable reason.
Falana said, "Mr Garba Shehu has continued to give the highly erroneous impression that the deal struck with the captive was frustrated by his lawyer. Since Mr Shehu's memory failed him in his jejune narrative, he said that the meeting ended well and contrary to the posturing by Sowore, he said he was happy with a resolution proposed but that his lawyer, whoever that was, needed to come on board.
"Mr Shehu ought to have published the terms of the "resolution" which he claimed that Sowore had accepted instead of of blaming the collapse of the "fence-mending process" on the intransigence of his lawyer "whoever that was (sic)".
"I confirm that I held a meeting with the trio referred to by Mr Shehu even though he did not mention my name. Hence, I am compelled to react to a couple of issues raised in his incendiary account. More so that he did not attend the Lagos meeting. For reasons best known to Mr Shehu, he refused to inform the Nigerian people that I rejected the gratuitous request to prevail on Mr Sowore to apologise to President Muhammadu Buhari and write an undertaking to desist from further embarrassing the federal government. Apart from insisting that my client had committed no offence by exercising his freedom of expression over the perilous state of the nation.
"I expressed my personal agony over the request because I won the legal battle wherein the Court of Appeal had upheld the fundamental right of the Nigerian people to protest against the government without police permit. Mr Shehu ought to have equally disclosed that I demanded for the unconditional release of my client from the unlawful incarceration of the State Security Service. In fact, when the late Alhaji Isa Funtua said rather condescendingly at the Lagos meeting that the regime in power could not be defeated I was quick to remind him that the Nigerian people had defeated military dictators to pave way for the current civilian dispensation.
"In particular, I recalled the case of Isa Funtua vs The President wherein the plaintiff had challenged the obnoxious newspaper registration decree enacted by the Ibrahim Babangida junta in 1993. For goodness sake, is Mr Shehu not aware of the fact that Mr Sowore was charged with treasonable felony, money laundering and insulting President Buhari for daring to call off the bluff of the federal government?
"It is interesting to note I had teamed up with other patriots in 2006 to campaign for the restoration of the liberty of Mr Garba Shehu (who was then the spokesman for Alhaji Atiku Abubakar) when he was detained by the State Security Service and charged before the Federal High Court with the offence of "obtaining, reproducing and keeping classified material" in contravention of the Official Secrets Act.
"Happily, the charge filed against Mr Shehu by the forces of incipient fascism in the country was withdrawn and struck out in his favour. In like manner, the charge of treasonable felony which is hanging menacingly on the head of Mr Omoyele Sowore like a sword of Damocles will also be struck out in his favour in the fullness of time."
See Also
Politics
Be Honest For Once, Sowore Tells Garba Shehu, Dares Him To Release Tape Of Funtua's Visit To Him In DSS Custody, Conversation Between Late Abba Kyari And DSS Boss
0 Comments
1 Day Ago


Sowore was arrested in the early hours of August 3, 2019 by operatives of the Department of State Services for calling on Nigerians to take to the streets in peaceful demonstrations on August 5 to demand a better country from the administration of President Buhari.
He was kept in unlawful detention until December 24 when he was released on bail under stringent conditions.
He remains confined to Abuja and forbidden from speaking with journalists as part of his bail conditions.
Legal
Politics
News
AddThis
:
Featured Image
:
Original Author
:
SaharaReporters, New York
Disable advertisements
:
UNDATED: Naked Kaduna Women Protest Against Governor El-Rufai Over Rising Insecurity, Endless Killings
Women in Southern Kaduna, Kaduna State, have embarked on a nude protest over the incessant killings in the region.
Southern Kaduna, predominantly occupied by Christians, has witnessed more ethno-religious violence than any region in Nigeria's North.
Last Sunday, 16 people were reportedly killed in an attack by yet to be apprehended gunmen.
The killings have continued despite the deployment of military personnel to the area.
ACTIVISM
Insurgency
News
AddThis
:
Original Author
:
SaharaReporters, New York
Disable advertisements
:
BREAKING: Gunmen Attack Prison Officials, Free Six Suspects In Plateau Court
There was tension in Barkin Ladi in Plateau State on Thursday when gunmen believed to be herdsmen attacked a convoy of correctional officials inside the state's High Court, freeing no fewer than six criminal suspects.
The convoy was said to be conveying 14 suspects charged with crimes ranging from murder to kidnapping and rape when the gunmen numbering over 20 arrived in vans brandishing dangerous weapons such as cudgels, cutlasses, AK 47 rifles, rocket propel launchers and charms.
SaharaReporters gathered that the gunmen, who caught the prison officials unawares, took away the suspects in the ans they came with.
Sahara Reporters Media
CRIME
Breaking News
News
AddThis
:
Original Author
:
SaharaReporters, New York
Disable advertisements
:
Read also Nigerian Newspapers Today and Nigeria News Today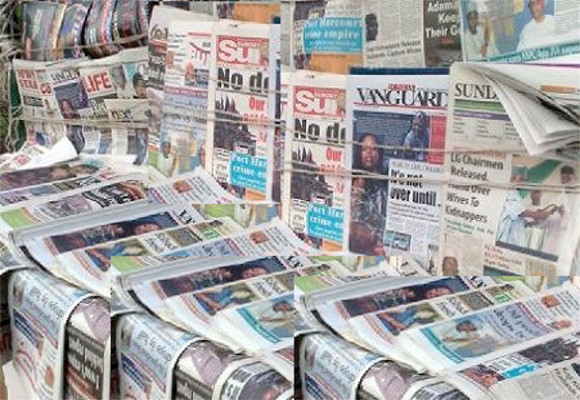 You can also check Sahara Reporters Newspaper Headlines Today