Vanguard Latest News

Saturday 11th July 2020

Vanguard Latest News Today and headlines on some of the happenings and news trend in the Country, today 11/07/20

Read also The Nation Newspaper Today Headline Saturday 11th July 2020
COVID-19 spikes could mean return to lockdowns, WHO warns
The World Health Organization said Friday that countries may have to lock down again as COVID-19 cases continue to spike worldwide, with over 12 million now reported, more than double the amount reported six weeks ago. "We all want to avoid whole countries going back into total lockdown, that is not a desire that anybodyRead More
Vanguard News.
Mourinho ready to put Arteta affection aside ahead of derby
Tottenham boss Jose Mourinho says he cannot wish Mikel Arteta success this season despite his affection for the Arsenal boss. Mourinho comes up against a man who was with him at Barcelona way back in the 1990s in Sunday's north London derby at Tottenham's new stadium. It is a game that will go a longRead More
Vanguard News.


E2%80%95-nis/ Why we barred 58 Nigerian doctors from travelling to London ― NIS
By Omeiza Ajayi – Abuja The Nigeria Immigration Service (NIS) at the Murtala Muhammed International Airport, Ikeja, Lagos has barred 58 Nigerian Medical Doctors from traveling to London. A statement from the Media Office of the NIS said the Nigerian doctors "attempted traveling aboard a UK bound aircraft flight number ENT 550, registration number SP-ESRead More
The post Why we barred 58 Nigerian doctors from travelling to London ― NIS appeared first on Vanguard News.
Keane takes swipe at Pogba, questions leadership qualities
Roy Keane says that Paul Pogba "wants to be the main guy" on social media but not on the pitch for Man Utd as he doubts his leadership abilities. The World Cup winner scored his first goal of an injury-ravaged campaign on Thursday, wrapping up a 3-0 Premier League win at embattled Aston Villa. PogbaRead More
Vanguard News.
Ebea's comment on 2024 governorship sickening — Philip Shaibu, Edo Dep Gov
The Deputy Governor of Edo State, Philip Shaibu, on Saturday, hit back at the former Deputy Speaker of the state House of Assembly, Festus Ebea, describing his comments on the 2024 governorship election as sickening and unacceptable. He said the people of Edo State must condemn Ebea's "evil machinations, highly contagious anointing to lie andRead More
Vanguard News.
Jack Charlton: England 1966 great, Irish football icon dies at 85
Jack Charlton, a member of the England 1966 World Cup winning side and who went on to become a cult hero in Ireland, has died aged 85, his family announced on Saturday. Charlton — elder brother of his fellow World Cup winning team-mate Bobby — was an integral part of the great Don Revie managedRead More
Vanguard News.
Ex-Reds striker picks teams that will challenge Liverpool next season
Peter Crouch thinks Man Utd, Chelsea and Man City have the capabilities to challenge Liverpool for the Premier League title next season. After missing out to City by a point last season, European champions Liverpool have been dominant this term, securing the title with a record seven games to spare. It will be a difficultRead More
Vanguard News.


NFIU office bugled, as panel 'links' Magu to Kaduna BDC
Unknown persons have allegedly bugled the new office of Nigerian Financial Intelligence Unit, NFIU, and destroyed computers containing sensitive information, just as the presidential panel probing Magu expected him to respond to an NFIU discovery that he allegedly has a connection with a Kaduna-based bureau de change, BDC. The presidential probe panel investigating corruption allegationsRead More
Vanguard News.
Zidane hails 'phenomenal' Courtois after another clean sheet
Zinedine Zidane praised the "phenomenal" Thibaut Courtois after Real Madrid took another step towards the LaLiga title with a win over Deportivo Alaves. Madrid kept a clean sheet for the fifth straight game, recording a 2-0 win on Friday to move four points clear of rivals Barcelona with three games remaining. Zidane lauded Courtois, whoRead More
Vanguard News.
Sarri expects difficult challenge as Juve clash with Atalanta
Juventus coach Maurizio Sarri agreed with Pep Guardiola's assessment that facing Atalanta was "like going to the dentist". Sarri's side faces a huge test on Saturday when they host Atalanta, who are third in Serie A and nine points behind leaders Juve with seven games remaining. Manchester City manager Guardiola compared playing Atalanta to goingRead More
Vanguard News.
Read also Nigerian Newspapers Today and Nigeria News Today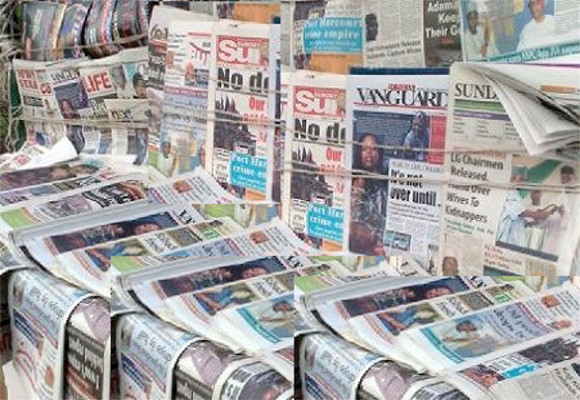 You can also check Vanguard Newspaper Headlines Today