Sahara Reporters Latest News Today

Wednesday 1st July 2020

Sahara Reporters Latest News Today and headlines on some of the happenings and news trend in the Country, today 01/07/20

Read also nigeria newspapers Wednesday 1st July 2020
774,000 Jobs: Lawmakers Trying To Determine Who To Get Employment, Keyamo Says After Outburst With Legislators
Festus Keyamo, Minister of State for Labour and Employment, has revealed that Nigerian lawmakers were trying to influence, who to be employed in the temporary work scheme as he cleared the air on what led to the row with the legislators.
SaharaReporters had earlier on Tuesday reported that Keyamo engaged in a rowdy session with lawmakers during a committee meeting over the allocation of N52bn for the creation of 774,000 jobs for Nigerians.
Speaking on what led to the issue, Keyamo said the lawmakers were trying to have a large input on how the programme should be implemented and, who would be part of the scheme.
He avowed that he would not surrender the programme to their control since their powers under the constitution does not extend to that.
He stated that rather than give in to compromise from lawmakers or any politicians, he would resign from heading the scheme.
See Also
Politics
774,000 Jobs: Keyamo, Nigerian Lawmakers Engage In Rowdy Session Over N52bn Allocation
0 Comments
8 Hours Ago
Keyamo said, "Today, in obedience to their invitation, I appeared before the Joint Committees on Labour of both the Senate and the House. The
Distinguished Senators and Honourable Members sought to be briefed on the implementation of the Special Public Works Programme so far.
"However, there was a misunderstanding between us when they questioned why I did not privately submit the program to them for vetting before taking certain steps. They suggested that they ought to have an input on how the programme should be implemented. In other words, they sought to control the programme as to who gets what, where and how.
"However, I insisted that I could not surrender the programme to their control since their powers under the constitution does not extend to that. They insisted on a closed door session.
"At this point, I remarked that it was only fair for me to respond to their position before the press, since their own position was also made public. In any case, I remarked that the Nigerian people deserve to know the details of the execution of this all-important programme.
"I was then asked to apologize for insisting on a public interaction and I said there was nothing to apologize about, because their powers to expose corruption provided for in section 88 of the constitution cannot be exercised in private. As such, there was no need to apologize by insisting on a constitutional provision. Even their Rules that may provide for private hearings on public matters cannot override the provisions of the constitution. I was then permitted to leave. I took a bow and left. I never walked out on the respected committees as they may want to bend the narrative. VIDEO: Microphone Thrown At @fKeyamo As Minister Engage In Rowdy Session With Nigerian Lawmakers Over N52bn Allocation For Creation Of 774,000 Jobs @NGRSenate @nassnigeria WATCH FULL VIDEO: pic.twitter.com/XGaHq1bVqx— Sahara Reporters (@SaharaReporters) June 30, 2020
"After I left, I understand that the Joint Committees purportedly suspended the work of the Selection Committees nationwide until they decide how the programme should be run and who should be in those committees. My opinion is that it is tantamount to challenging the powers of Mr President.
"I regret to say that their powers under section 88 of the 1999 constitution is only limited to investigations, but not to give any directive to the executive.
"A committee or committees of both Houses do not even have powers to pass binding resolutions. They can only make recommendations to plenary. In this case, even plenary cannot give directives to the executive.
"All my life, I have fought for good governance and constitutional democracy. I will not come into government and be intimidated to abandon those principles. I will rather leave this assignment, if Mr President so directs than compromise the jobs meant for ordinary Nigerians who have no godfathers or who are not affiliated to any political party.
"I therefore, respectfully further direct all the committees set up nationwide made up of CAN, NSCIA, NURTW, market women, CSOS, youth organisations, respected traditional rulers, etc to proceed with their work unhindered. Only Mr President can stop their work."
Jobs
Politics
News
AddThis
:
Featured Image
:
Original Author
:
Saharareporters, New York
Disable advertisements
:
Edo/Ondo 2020: INEC To Accredit Observers, Media Online
The Independent National Electoral Commission has said it would be carrying out the accreditation of electoral observers and media through an online platform.
Chairman of the commission, Mahmood Yakubu, revealed this on Tuesday during a town hall meeting on 'Fixing Nigerian elections' which was organised by YIAGA.
Yakubu said the party had learned from previous election conducted and the humongous number of litigations that followed election conduct.
He said, "We have been deepening the usage of technology not only in management of electoral processes but processes that lead to elections.
"We also introduced the accreditation of observers online. The media will be accredited online and we said that parties must also submit their nominations online.
"Recall that before the Kogi and Bayelsa governorship election, we had so many litigations simply because the process of submission was manual.
"We learnt from the experience of what happened and insisted that all political parties must file their nominations online. We created a dedicated portal online. All the political parties have filed their nominations."
The INEC Chairman aligned with the need for electoral reforms in the country as he urged political parties to do what is right according to the laid down laws and guidelines.
"I hope that as part of the reform we need to introduce in this country, attention will focus on the conduct of the bye-election."While we appreciate the lawmakers and all those responsible that we reform our electoral process, from our experience as a commission, we realised that we need electoral reforms and legal reforms but so much actually depends on what the commission makes of its own independence rather than them drawing from statutorily provision.
"We will continue to ensure we do what we have to do courageously to ensure that we achieve the free, fair and credible election that we require," Yakubu added.
Elections
Politics
News
AddThis
:
Original Author
:
Saharareporters, New York
Disable advertisements
:


Ghana: Dismantling Nigeria! By Ozodinukwe Okenwa
SOC Okenwa
Recently in Accra, Ghana, an anonymous Ghanaian businessman reportedly led some armed men into the premises of the Nigerian Embassy and bulldozed some structures under construction claiming that the Nigerian property encroached on their ancestral land. As the 'bandits' were pulling down the block of apartments on the property in the night it was reported that some policemen were sighted near-by but they did nothing to restrain the gang from defacing Nigeria and her sovereignty.
And days after the ugly incident in the Ghanaian capital city a video went viral online depicting a violent demonstration of some frustrated Nigerians inside the Nigerian embassy in Jakarta, Indonesia. They were seen destroying whatever they could lay their hands on. The dozens of young men were protesting the intimidation and harassment they were daily subjected to by the immigration personnel of their host country.
Following the death of a Nigerian, days prior, who jumped down accidentally from a multiple storey building in the Indonesian capital city while dogding arrest or deportation or both folks yonder became livid with rage. The angry boys took out their anger and frustration on the embassy for the callous indifference or nonchalant attitude often displayed by the embassy staff led by the Ambassador at hours of need.
SOC Okenwa
Majority of Nigerians living and labouring in many countries are always on their own. Many had been killed and many had had their properties confiscated or destroyed by rampaging youths with no embassy official coming to their aid. The Nigerian representatives abroad are known notoriously for their complacence or aloofness whenever our nationals are attacked or victimized by their hosts.
From South Africa to Ghana, China to Indonesia the story is the same. Everyone is on their own! No one is watching your back and none is ready to intervene whenever issues crop up or trouble brews. The foreign missions care for themselves and no one else. When South Africans exibited their xenophobic inclinations by attacking Nigerians and other blacks in 'Madiba-land' killing some and destroying properties worth billions of Naira the Buhari-led administration reacted tepidly nay, timidly. And when some concerned Nigerians back home decided to hit back in reciprocal vengeace the government in Nigeria dutifully unleashed security forces to contain the situation.
The Ghanaians that destroyed our embassy structure in Accra knew that the Nigerian government was incapable of doing much in retaliation aside blowing hot and cold. They would not have dared do the same thing to the American, French, Chinese or Russian embassies. The giant of Africa is being kicked around and ridiculed by 'midgets'!
We take pride in calling ourselves 'big brother' in Africa and our country as the 'giant' of Africa but others see us otherwise. Some see us derisively as a giant of a country with a feet of clay and others see us as big-for-nothing country confused from Abuja to Lagos in every facet of our national life.
Nigeria ought to be greatness defined and redefined given the natural resources Providence blessed the nation with. But invidious rapacious leadership at the centre has robbed the country and her people of any greatness since independence in 1960. Corruption and indiscipline has conspired to make things worse.
Beyond the measured diplomatic action and official reactions the major problem here is that the Nigerian foreign policy is vacuous and diffident. The Minister himself is a 'dove' who thrives on mediocrity! Yet we need a 'hawk' as the head of the foreign ministry in the mould of Mike Pompeo of the US, Jean-Yves Le Drian of France and Sergey Lavrov of Russia.
Whenever America is involved in any dipomatic spat with Russia or China smart sanctions are imposed to drive home a point. The authorities on the receiving end tend to invoke the principle of reciprocity. As a serious nation you must learn not only how to bark but how to bite to defend your interests and send no-nonsense messages across.
Decades ago (in the late 70s and early 80s) when the revolutionary inimitable Jerry Rawlings was dictatorially repositioning Ghana many Ghanaians found economic refuge in Nigeria. Some were selling bread as others manned the gates or did other menial jobs for survival in many Nigerian cities. Today as President Buhari is making Nigeria less secure, poorer and jobless Ghana is working, attracting more and more Nigerians as economic refugees!
Even the Acting Chairman of the Economic and Financial Crimes Commission, Ibrahim Magu, recently acknowledged the attractiveness of Ghana to many Nigerian economic criminals when he said recently that many Nigerian looters were now hiding in Ghana. Perhaps sooner than later we would be hearing about 'Naija-must-go' instead of 'Ghana-must-go'!
The ultimate question remains: what really is the truth in this diplomatic matter? Did the Nigerian embassy in Ghana encroach on the land of the aggressors leading them to taking violently the law into their hands? But even at that we had thought that Ghana is a lawful entity inhabited by law-abiding individuals. So Ghanaians like Nigerians have some lawless elements in their midst?
President Nana Akufo-Addo, a gentleman and democrat, must do the diplomatic needful to restore what was destroyed and forestall a future recurrence. Dismantling Nigeria must have a limit.
SOC Okenwasoco_abj_2006_rci@hotmail.fr
Opinion
AddThis
:
Original Author
:
Ozodinukwe Okenwa
Disable advertisements
:
Rivers Police Arrest Notorious Kidnapper, Uncover Bodies Of Victims In Septic Tank
The Rivers State Police Command said its Anti-kidnapping Unit has arrested a notorious kidnapper and serial killer, Anthony Ndubuisi, during a sting operation. Ndubuisi, who hails from Imo State but resides in Umuebulu Etche Local Council Area of Rivers, has carried out several kidnappings and killings of victims including three foreign nationals and a Nigerian.
A statement by the command said, "Operatives of the Anti-kidnapping Unit in a sting operation yesterday 29/6/20202 at about 1330hrs, arrested a notorious kidnapper and serial killer, one Anthony Ndubuisi from Ngo-Okpala in Imo State but who resides at Umuebulu Etche LGA.
"The suspect, who was arrested through intelligence, upon interrogation confessed to have carried out several kidnappings and killings of his victims including three foreign nationals and a Nigerian. The recent, being the kidnapping and killing of one Ajumiene Offor, who was lured from Aba to his house for a business transaction but kidnapped and killed on 9/6/2020."
However, during the course of investigation, the suspect led policemen to his house at Umuebulu where he pointed to a septic tank that contained the bodies of his victims.
"On exhumation, we recovered three human skulls and decomposing body of his recent victim.
"They have been evacuated and taken to the mortuary for autopsy," the police statement added.
CRIME
Police
News
AddThis
:
Original Author
:
Saharareporters, New York
Disable advertisements
:
Kogi Governor Insists State Is COVID-19-free Despite Death Of Judge In Isolation Centre
Governor Yahaya Bello of Kogi State has continued to insist that the state was COVID-19-free despite the recent death of the state's Chief Judge, Justice Nasiru Ajanah, at an isolation facility.
Governor Bello said the late Chief Judge died a natural death, urging the people to discard any news of Coronavirus in the state.
Speaking on Tuesday during the three-day fidau prayer for the late Chief Judge, Bello said Ajanah had been battling illness before COVID-19 came into the country.
The governor described the deceased as an "outstanding jurist, who left a memorable imprint on the legal profession in the country and a lover of peace".
He said, "Nothing kills faster like fear, people should not accept cut and paste. COVID-19 is only out to create fear, panic, pandemic. "It is a disease orchestrated to reduce and shorten the lifespan of the people.
See Also
PUBLIC HEALTH
Kogi Chief Judge Dies At Coronavirus Isolation Centre
0 Comments
2 Days Ago
"Whether medical experts and scientists believe it or not, COVID-19 is out to shorten the lifestyle of the people, it is a disease propagated by force for Nigerians to accept."
Justice Ajanah died at the COVID-19 isolation center in Gwagwalada, Abuja, on Sunday.

PUBLIC HEALTH
News
AddThis
:
Original Author
:
Saharareporters, New York
Disable advertisements
:
E2%82%AC45000-trafficking-victims COVID-19: European Union Donates Palliatives Worth €45,000 To Trafficking Victims
The European Union has donated relief materials worth €45,000 to victims of human trafficking in Nigeria.
The EU Delegation Ambassador to Nigeria, Ketil Karlsen, who made the donation in Abuja on Tuesday at the headquarters of the National Agency for the Prohibition of Trafficking in Persons, said the donation was part of the vital engagement of the union to African countries.He said, "It is our desire not to forget the vulnerable group especially the victims of human trafficking, rape and gender-base violence. NAPTIP is a very key partner of the European Union in this direction.
"Fighting human trafficking is absolutely vital and this is why we decided to donate the items to vulnerable victims because we must make sure they are absolutely catered for."The items were donated under the EU project named Action Against Trafficking in Persons And Smuggling of Migrants in Nigeria (A-TIPSOM).
Some of the items donated include food items, personal protective equipment and toiletries.On his own part, the Institutional Coordinator, A-TIPSOM, Mr Jose-Antonio Andeme, stated that the donation was very crucial at this time since COVID-19 had put the world under enormous strain, which has affected the lives of everyone including trafficked persons.According to Andeme, service provider agencies like NAPTIP need adequate palliatives that will enhance the comfort of trafficked persons in staying at the shelters during this period.
Meanwhile, the NAPTIP Director-General, Mrs Julie Okah-Donli, promised to utilise the items for what it was meant for.
News
AddThis
:
Featured Image
:
Original Author
:
Saharareporters, New York
Disable advertisements
:
ICPC Declares Former Staff Wanted For Demanding Bribe To Stop Ongoing Investigation
Gloria Obioma Elih
The Independent Corrupt Practices and other related offences Commission has declared a former staff member, Gloria Obioma Elih, wanted.Elih, 44, was declared wanted by the anti-corruption agency over her refusal to accept court service after she was allegedly caught demanding a bribe to stop an investigation.
The commission, in a notice on Tuesday, said criminal charges were filed against her but she had been dodging the commission from serving her court notice.
The notice by the ICPC reads, "The person whose picture appears above, Gloria Obioma Elih, is hereby declared wanted by the Independent Corrupt Practices and other related offences Commission.
Gloria Obioma Elih
"Criminal charges were filed by ICPC against Elih, a former staff of the commission, before an FCT High Court presided over by Hon. Justice Adeniyi for allegedly demanding and receiving gratification from officials of Federal Ministry of Water Resources who were being investigated.
"She is declared wanted as all efforts to serve her and procure her attendance in court have proved abortive.
"Elih is an indigene of Anambra State and speaks English and Igbo languages fluently. She is 44 years old and dark in complexion.
"Her last known address is El-Salem Estate in Lugbe, Abuja.
"Anyone who has useful information on her whereabouts should report to ICPC Headquarters Abuja, any of the ICPC State Offices or the nearest police station, or call ICPC Toll-Free lines: 0803-123-0280, 0803-123-0281, 0803-123-0282, 0705-699-0190, 0705-699-0191 and 0800-CALL-ICPC (0800-2255-4272)."
Corruption
CRIME
News
AddThis
:
Featured Image
:
Original Author
:
Saharareporters, New York
Disable advertisements
:


Yobe Community Residents Beg For Installation Of Potable Water
Indigenes and residents of Kumagannam, a village under Yusufari Local Government Area of Yobe State, have appealed to the federal and state government to provide potable water to the community.
The water scarcity in Kumagannam is similar to that of many parts of Nigeria where over half of the 200 million population lack access to pipe-borne water.
A resident of the community told SaharaReporters that the only hand pump, which was the main source of water in the village, had broken down and only discharge dirty water.
He said lack of water had compelled many residents to flee the village, adding that many persons had been falling sick as a result of drinking contaminated water from the damaged hand pump.

News
AddThis
:
Original Author
:
Saharareporters, New York
Disable advertisements
:
COVID-19: Governor Akeredolu Directs Ondo Cabinet Members To Undergo Compulsory Test
Governor Rotimi Akeredolu
Few hours after testing positive to COVID-19, Governor Rotimi Akeredolu of Ondo State has instructed all members of his cabinet to embark on a compulsory test.
Akeredolu also explained that all his political aides, who might have had contacts with him during the cause of his engagement, should immediately go and check their status.
He gave the directive through the Commissioner for Information, Donald Ojogo, in a statement on Tuesday.
Governor Rotimi Akeredolu
The statement reads, "As you all know, the result has come out positive even as Mr Governor (Akeredolu) wasted no time in disclosing his status.
"Flowing from the above, Mr Governor has resolved to self-isolate in line with accepted global standards in respect of COVID-19 protocols.
See Also
Politics
How I Contracted Coronavirus —Ondo Governor, Akeredolu
0 Comments
5 Hours Ago
"This becomes necessary in order to ensure a proper determination and direction of focus.
"Accordingly, there is nothing to fear; and no component of government business will be adversely affected within the period of the governor's self-isolation.
"In the meantime, Governor Akeredolu has directed all members of the cabinet, close aides and others who have had reasons for constant contacts with him to undergo compulsory tests."
VIDEO: Panic As Ondo State Governor, @RotimiAkeredolu, Tests Positive For #COVID19 Two Weeks After He Was Caught On Camera Publicly Sneezing#COVIDIOTS READ MORE: pic.twitter.com/NI8pCVWgK6— Sahara Reporters (@SaharaReporters) June 30, 2020
PUBLIC HEALTH
News
AddThis
:
Original Author
:
Saharareporters, New York
Disable advertisements
:
Ondo Police Commissioner Restores Security Details Of Deputy Governor After IGP's Directive
The security details of Ondo State deputy governor, Agboola Ajayi, have been restored.
This came barely a day after a directive from the Inspector-General of Police, Mohammed Adamu.
Allen Sowore, Media Adviser to the deputy governor, confirmed the news on Tuesday.
He said, "The security details have been restored. We have about eight of them now protecting the deputy governor.
"At least the deputy governor can now move around since those officers have been asked to be return to their duty post.
"He had been using the DSS since but now it's good that those policemen have resumed to protect him."
Video of Akeredolu Orders Police To Detain Deputy Governor As Deputy Concludes Plan To Defect To PDP
Akeredolu Orders Police To Detain Deputy Governor As Deputy Concludes Plan To Defect To PDP
WATCH: VIDEO: Ondo Governor, Akeredolu Orders Police To Detain Deputy Governor In Office For Over Four Hours As Deputy Concludes Plan To Defect To PDP
Police
Politics
News
AddThis
:
Featured Image
:
Original Author
:
Saharareporters, New York
Disable advertisements
:
Read also Nigerian Newspapers Today and Nigeria News Today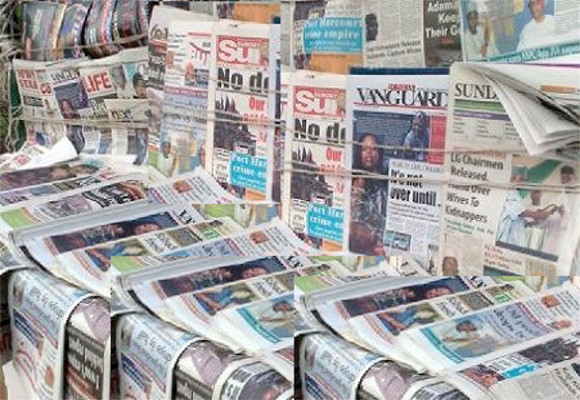 You can also check Sahara Reporters Newspaper Headlines Today