Vanguard Latest News

Saturday 27th June 2020

Vanguard Latest News Today and headlines on some of the happenings and news trend in the Country, today 27/06/20

Read also The Nation Newspaper Today Headline Saturday 27th June 2020
Arsenal boss Arteta offers Guendouzi no assurance on Gunners future
Mikel Arteta has offered no guarantee that Matteo Guendouzi will remain an Arsenal player next season. The future of the 21-year-old midfielder, formerly of Lorient, has been called into question since he was involved in a spat in last weekend's defeat at Brighton and Hove Albion. He and Brighton forward Neal Maupay clashed at variousRead More
Vanguard News.
Another Makinde's cabinet member tests positive for COVID-19
By Ola Ajayi – Ibadan Governor Seyi Makinde of Oyo State has confirmed that another member of his cabinet has tested positive for COVID-19. This latest new case brings to four those who have contacted the pandemic in the Oyo State cabinet. The governor had written on his Facebook account some days ago that threeRead More
Vanguard News.


Ogun bans street begging, violators to sweep market two weeks
By James Ogunnaike – Abeokuta Ogun State government has warned street beggars to desist from the act of street begging or face punitive measures of sweeping market square for two weeks. The Commissioner for Women Affairs and Social Development, Hon. Mrs. Funmi Efuwape gave the warning while addressing destitute caught roaming the street of theRead More
Vanguard News.
PHOTOS: FG begins rehabilitation, partial closure of Kara bridge along Lagos-Ibadan Expressway
Photos show the testing and rehabilitation of Kara bridge along Lagos Ibadan Expressway by Julius Berger as a result of the fire incident involving three tankers laden with petrol and gas photos by Lamidi Bamidele Vanguard
Vanguard News.
UN condemns video of couple reportedly having s*x inside its official car
The United Nations (UN) says it has launched an investigation into a viral video showing a couple apparently having s** in one of its official cars in Israel. Spokesman of the Secretary-General, Mr Stephane Dujarric, told UN correspondents in New York on Friday that the organisation was "shocked and deeply disturbed" by the footage.Read More
Vanguard News.
THE MATHEMATICAL: What do you really know about Nigerian football players in history
By Segun Odegbami, Do you know that one of the most famous names in the history of Nigerian football, described as one of the best strikers ever, scored only two goals for the national team of Nigeria? Do you know that a certain famous Nigerian player captained the national team, yet played only once forRead More
Vanguard News.
E2%80%95-werner/ Liverpool eyeing more trophies after Premier League triumph ― Werner
Premier League success has increased Liverpool's hunger to win trophies and enter a "period of sustained success", says chairman Tom Werner. Liverpool were crowned champions of England on Thursday after Manchester City's 2-1 loss at Chelsea left Pep Guardiola's side 23 points adrift of the Reds with seven games remaining. Jurgen Klopp masterminded the endRead More
The post Liverpool eyeing more trophies after Premier League triumph ― Werner appeared first on Vanguard News.


E2%80%95-segun-odegbami/ Is there 'juju' in sport? My baptism ― Segun Odegbami
By Segun Odegbami, Does Juju exist at all? Does it work? Does it exist in Sport? I do not have any of the answers to the three questions, but I have experiences that span almost 50 years since I played my first serious football competition as a teenager in my first year in Ibadan after leaving JosRead More
The post Is there 'juju' in sport? My baptism ― Segun Odegbami appeared first on Vanguard News.
BREAKING APC: Dissolved NWC member counsels colleagues against lawsuits
Immediate-past National Youth Leader in the dissolved National Working Committee NWC of the ruling All Progressives Congress APC, Alhaji Sadiq Abubakar has urged his colleagues against challenging their dissolution in court, saying it was time to rebuild the party.
Vanguard News.
Juventus thump Lecce to go seven points clear
Juventus moved seven points clear at the top of Serie A on Friday after hammering struggling Lecce 4-0 in Turin and piling the pressure on title rivals Lazio. A superb Paulo Dybala strike and Cristiano Ronaldo's penalty just after the hour mark made sure of the result at the Allianz Stadium before two late strikesRead More
Vanguard News.
Read also Nigerian Newspapers Today and Nigeria News Today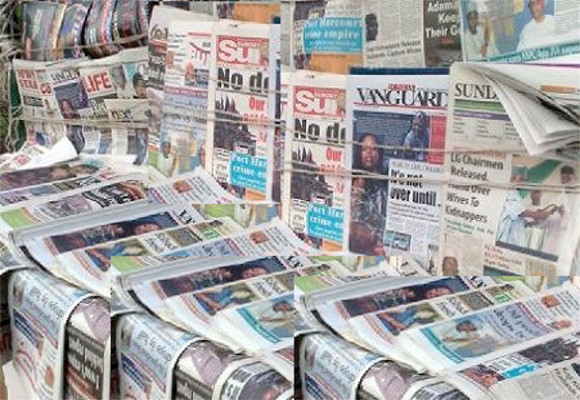 You can also check Vanguard Newspaper Headlines Today