Breaking News from Nigerian Evening Newspapers and Evening News

Saturday 27th June 2020

These are Breaking Evening News from popular Evening Newspapers in Nigeria Today .

Read also Sahara Reporters Latest News Today Saturday 27th June 2020
APC crisis: Tinubu's address to the APC working committee
With lawsuits so numerous one needed a spread sheet to keep track, President Buhari has reasonably decided that he has seen enough.
Covid-19 is real, says Peter Okoye after "3 weeks of hell"
Singer Peter Okoye, of PSquare, has spoken out about "three weeks of hell" dealing with coronavirus.
It is not certain how he contracted the virus, but two members of his home staff, his wife and daughter also caught the virus.


Domestic flights to resume first week in July
There are indications that domestic flights will resume in the first week of July. The Nigerian airports have been shutdown for more than three months to avert spread of the COVID-19 pandemic but the aviation sector is set to reopen. Despite flight restrictions, Lagos Airport records spike in drug trafficking Before airports, schools re-open Our …
3 killed, 3 injured as bandits attack another Katsina village
Three persons have been reported killed and another three injured after bandits attacked Marar Zamfarawa village of Danmusa LGA in Katsina state.
Akwa Ibom government calls for inputs for 2021 budget
Akwa Ibom government has requested for inputs from stakeholders and various interest groups in the preparation and planning of 2021 budget. The is part of efforts by the government to ensure inclusiveness. Senate passes N10.801 trillion revised 2020 Budget NCDC DG ranks Akwa Ibom EOC as best in Nigeria There are indications that the state's …
Nasarawa health workers on strike after 50 members test positive for Covid-19
Health workers in Nasarawa started a strike on Saturday, after 50 of its members tested positive for coronavirus.
Outrage in PDP over Bello's 10 governors defection claim
The National Working Committee (NWC) and governors elected on the platform of the Peoples Democratic Party (PDP) have flayed Governor Yahaya Bello of Kogi state for claiming that about ten governors from the leading opposition party were set to jump ship to the ruling All Progressives Congress (APC). Governor Bello during an interview session on …


Oshiohmole bows, accepts sack of NWC
The former National Chairman of the ruling All Progressives Congress ( APC), Comrade Adams Oshiohmole, has accepted the decision of National Executive Committee (NEC) to dissolve the National Working Committee (NWC). Oshiohmole, who addressed a press conference in Abuja on Saturday, said he had also directed his lawyers to withdraw his appeal pending at the …
Kidnappers demand N100m ransom for nine captives in Ondo
Gunmen who abducted nine passengers enroute Lagos from Abuja have demanded for the ransom of N100m from their families. The passengers who were travelling to Lagos were reportedly abducted at Isua area in Akoko south east local government area of Ondo State. How I was kidnapped – 90-year-old Nyako's brother Kidnappers kill man over non-payment …
Flight resumption: FAAN conducts flight simulation exercise
The Federal Airports Authority of Nigeria (FAAN) has conducted simulation exercise at the Nnamdi Azikiwe International Airport Abuja to test all the protocols designed to mitigate the spread of COVID-19 at the Airports ahead of flight resumption. The simulation exercise which began around 8am saw passengers go through all the protocols before boarding the Aero …
Nuhu Ribadu support group shifts loyalty to Gov Fintiri, decamps to PDP
Members of the Nuhu Ribadu Support Group in Adamawa State have transferred their loyalty to Governor Ahmadu Fintiri and joined the Peoples Democratic Party (PDP) The group, famously known as Black Caps whose members distinguish themselves by wearing black caps, were members of the All Progressives Congress (APC) and campaigned for Nuhu Ribadu when he …
Nuhu Ribadu support group shifts loyalty to Gov Fintiri, decamps to PDP
APC Crisis: Tinubu advises members of NWC dissolved by Buhari
The National Leader of the All Progressives Congress (APC), Bola Ahmed Tinubu, has advised members of the National Working Committee of the party dissolved by President Muhammadu Buhari to seek elective offices, if they so choose. In a statement signed by his spokesman, Tunde Rahman and forwarded to DAILY POST, Tinubu urged them to seek …
APC Crisis: Tinubu advises members of NWC dissolved by Buhari
Saraki: Oshiomhole brags of achievements in APC
Adams Oshiomhole, erstwhile National Chairman of the ruling All Progressives Congress, APC, has revealed his greatest achievement moment in office. Oshiomhole said his greatest moment in office was when APC took over Kwara State and displaced the Saraki's political dynasty. He disclosed this during a press conference in Abuja, on Saturday. The former Edo State …
Saraki: Oshiomhole brags of achievements in APC
APC Crisis: Politics is uncertain- Tinubu speaks on 2023 Presidential ambition
Bola Ahmed Tinubu, National leader of the All Progressives Congress, APC has reacted to speculations concerning his 2023 Presidential ambition. At the NEC meeting days ago, President Muhammadu Buhari dissolved the APC National Working Committee, NWC. The decision of the APC NEC is believed to be an attempt to wither down Oshiomhole and Tinubu's influence. …
APC Crisis: Politics is uncertain- Tinubu speaks on 2023 Presidential ambition
APC Crisis: 'Oshiomhole did his best, members tried to bury each other'- Tinubu
Bola Tinubu, National Leader of the All Progressives Congress, APC, has commended Adams Oshiomhole, immediate past National Chairman of the party. Tinubu said Oshiomhole tried his best to keep the APC united but some members of the party had selfish interests. He lamented that some members of the party went against their power in an …
APC Crisis: 'Oshiomhole did his best, members tried to bury each other'- Tinubu
N-Power: Bauchi lawmaker condemns portal registration for rural dwellers
The member representing Toro Federal Constituency of Bauchi State, Hon. Umar Lawal Muda has lamented the difficulty in the registration process for the federal government's poverty alleviation programme, N-Power by his constituents. Speaking on Saturday, the lawmaker said the challenge his constituents and other Nigerians encounter in registering for the N-Power programme was putting them …
N-Power: Bauchi lawmaker condemns portal registration for rural dwellers
COVID-19: Umahi re-opens courts in Ebonyi State
The Governor of Ebonyi State, David Umahi has directed the re-opening of courts in the state from Monday, June 29. The governor had ordered the closure of courts following the outbreak of Coronavirus pandemic. DAILY POST recalls that the governor ordered the closure of all courts when he announced the first death recorded from the …
COVID-19: Umahi re-opens courts in Ebonyi State
Auto crash kills 8, injures several others in Niger State
The Federal Road Safety Corps (FRSC), in Niger State, has confirmed the death of eight people in an accident that occurred along Mokwa-Bida road on Saturday. The state's FRSC Commander, Mr. Joel Dagwa, told NAN, in Minna that eight other persons sustained various degrees of injuries. He said that the accident, which occurred at about …
Auto crash kills 8, injures several others in Niger State
Malami responds to critics attack over swearing-in of APC Chairman
The Attorney-General of the Federation and Minister of Justice, Abubakar Malami says there was no legal impediment on him in relation to the administration oaths. This followed condemnations trailing the oath he administered on All Progressives Congress (APC) Caretaker Chairman and Yobe Governor, Mai Mala Buni at the Presidential Villa, Abuja The AGF reminded his …
Malami responds to critics attack over swearing-in of APC Chairman
BREAKING: APC becoming party we want – Tinubu reacts to NWC, Oshiomhole's sack
Bola Tinubu, National Leader of the All Progressives Congress, APC, on Saturday stated his position on the dissolution of the party's National Working Committee, NWC. Tinubu said such a decision was an indication that APC was gradually becoming the party it was intended to be. In a statement he personally signed, the former Lagos State …
BREAKING: APC becoming party we want – Tinubu reacts to NWC, Oshiomhole's sack
Read also Nigerian Newspapers Today and Nigeria News Today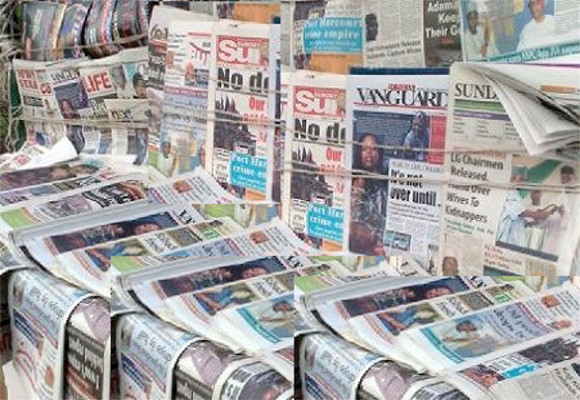 You can also check Breaking News this Evening in Nigeria