Sports News Today Headlines

Sunday 5th April 2020

Top Sports News Today Headlinese from Newspapers

Read also Sahara Reporters Latest News Sunday 5th April 2020
Rooney says handling of Premier League pay row 'a disgrace'
Wayne Rooney has criticised the government and the Premier League for placing footballers in a "no-win situation" over proposed pay cuts after a warning from players' representatives that National Health Service coffers could suffer. The former England captain, now playing with Championship side Derby, penned an impassioned column in the Sunday Times saying his fellowRead More
Vanguard News.
Peter Oboh cautions entertainers over use of alcohol
Ex-boxing champion-turned-Pastor Peter Oboh, has cautioned Nigerian entertainers over the use of alcohol as a cure to the deadly Coronavirus pandemic ravaging the whole world. Oboh also hailed prominent Nigerians, who have donated handsomely to support the Federal Government to combat the deadly virus in the country. Oboh, in a chat with newsmen yesterday, calledRead More
Vanguard News.


Liverpool under fire over coronavirus furlough move
Ex-players blasted Liverpool for their move to furlough non-playing staff on Saturday as Premier League clubs held talks over possible pay cuts for first-team staff due to the coronavirus crisis. The Anfield club said they would top up the public money made available from the government to ensure staff received their full salaries. It followsRead More
Vanguard News.
Interim Bayern boss, Flick secures permanent appointment
Bayern Munich head coach Hansi Flick has agreed to a new contract with the Bundesliga champions until June 2023. The 55-year-old had joined the club at the start of the season as Niko Kovac's assistant coach but was promoted as interim boss when the Croatian was sacked on November 3. ALSO READ: UEFA lifts Saturday afternoonRead More
Vanguard News.
Coronavirus: Lahm says footballers are in the spotlight
Ex-Germany captain Philipp Lahm has warned football is in an "existential crisis" and players' behaviour will face intense public scrutiny during the coronavirus crisis. The 2014 World Cup-winning skipper says German football, in particular, must protect its core strengths during the leagues' lockdown. With no prospect of a swift resumption, the Bundesliga season has beenRead More
Vanguard News.
Guardiola v Klopp: Coronavirus puts latest chapter of a defining rivalry on hold
Rivals in the Bundesliga and now the Premier League, Pep Guardiola and Jurgen Klopp have driven each other on to new levels of excellence. Liverpool were set to emerge at the Etihad Stadium this weekend, either with the scent of triumph in their nostrils or the delicious addition of a guard of honour from ManchesterRead More
Vanguard News.
Coronavirus: Bayern negotiations unaffected by pandemic, insists Rummenigge
Bayern Munich's contract negotiations with a quartet of key players will not be affected by the coronavirus pandemic, insists CEO Karl-Heinz Rummenigge. Manuel Neuer, Thomas Muller, David Alaba, and Thiago Alcantara are all out of contract in 2021 and are mulling over the offer of fresh terms from the Bundesliga champions, who extended Hansi Flick'sRead More
Vanguard News.


UEFA lifts 3 pm blackout clearing way for games behind-closed-doors
Broadcasters will be able to screen Premier League games kicking off at 3 pm live for the remainder of the season after UEFA lifted restrictions. The English and Scottish Football Associations have been granted permission to remove the traditional 3 pm blackout by European football's governing body. The move would appear to be another stepRead More
Vanguard News.
Odion Ighalo makes wish to stay at Man United clear
Odion Ighalo has confirmed he would like to stay at Manchester United with the tiniest of statements. The Nigerian striker has impressed for United, particularly in cup competitions, during his loan spell from Shanghai Shenhua. There was limited excitement about his arrival at Old Trafford in January, but Ighalo has so far proven his doubtersRead More
Vanguard News.
UEFA lifts Saturday afternoon TV blackout for England, Scotland
UEFA has lifted a ban on the live screening of Premier League games kicking off at 3:00 pm in England and Scotland for the rest of the season. The blackout has long been in place to protect attendances at matches. The move by European football's governing body is seen a step towards restarting some domesticRead More
Vanguard News.
Floyd Mayweather's daughter arrested for stabbing woman
Floyd Mayweather's daughter has been arrested for allegedly stabbing another lady over rapper, NBA Youngboy. According to TMZ, Iyanna 'Yaya' Mayweather was arrested for aggravated assault and taken to Harris County Jail in Houston. She was reportedly involved in a physical fight with another woman named Lapattra Lashai Jacobs after she found them together at
Floyd Mayweather's daughter arrested for stabbing woman
Coronavirus: UEFA fixes deadline to conclude Champions League
UEFA President, Aleksander Ceferin has set a final deadline of August 3 to finish the 2019/20 Champions League as Coronavirus continues to disrupt sporting events globally. DAILY POST recalls that the Champions League and all other European competitions were suspended last month due to the Coronavirus pandemic. "You can work within the current system, or
Coronavirus: UEFA fixes deadline to conclude Champions League
COVID-19 Vaccine in Africa: Chelsea's Antonio Rudiger slams French doctors over racist comments
Chelsea defender, Antonio Rudiger, has reacted to the viral video where two French doctors, Jean-Paul Mira and Camille Locht opined that the new COVID-19 drug be tested in Africa. Mira and Locht, who spoke in a live TV interview, which now has the highest trend on Twitter with the hashtag 'Africans are not lab rats'
COVID-19 Vaccine in Africa: Chelsea's Antonio Rudiger slams French doctors over racist comments
Coronavirus: Berbatov disagrees with Rio Ferdinand over cancellation of Premier League season
Former Manchester United striker, Dimitar Berbatov has disagreed with former teammate Rio Ferdinand after the ex-England defender called for the cancellation of the 2019/2020 Premier League season due to the Coronavirus pandemic. DAILY POST recalls that Ferdinand had claimed last week that Liverpool should miss out on winning the Premier League, as the world continues
Coronavirus: Berbatov disagrees with Rio Ferdinand over cancellation of Premier League season
COVID-19: Juventus accused of importing Coronavirus into France
A former Medical Doctor for Lyon FC, Marcel Garrigou-Grandchamp, has accused Juventus of bringing Coronavirus (COVID-19) to France. Garrigou-Grandchamp believes Coronavirus pandemic entered France when Juventus came into the country to play against Lyon in the Champions League round of 16 first-leg encounter, which ended 1-0 in favour of the host. According to him, the
COVID-19: Juventus accused of importing Coronavirus into France
Ndidi addresses comparison between himself, Chelsea's N'Golo Kante
Leicester City star, Wilfred Ndidi, has addressed comparisons between him and Chelsea midfielder, N'Golo Kante. Ndidi believes Kante, who played a key role in Leicester City's Premier League title win in 2016, is a machine. Fans have often compared Ndidi to Kante because both players play defensive midfield roles for their respective clubs. But the
Ndidi addresses comparison between himself, Chelsea's N'Golo Kante
Man City's Sergio Aguero names five players who inspired his football career
Manchester City star, Sergio Aguero, has named five players that inspired him to become one of the best strikers in the Premier League. Aguero has matured into one of the greatest strikers in the world presently since he joined Man City in 2011 from Atletico Madrid. The Argentine international has scored 180 Premier League goals
Man City's Sergio Aguero names five players who inspired his football career
Coronavirus: Ighalo expresses readiness to remain at Man Utd
Odion Ighalo has made it clear that he wants to remain at Manchester United, after his loan deal expires. The Nigerian striker moved to Old Trafford from Shanghai Shenhua on a six-month contract in January. Ighalo has gone on to impress with United, netting four times in all competitions for the Red Devils. Manager, Ole
Coronavirus: Ighalo expresses readiness to remain at Man Utd
COVID-19: Africa not a testing lab – Drogba slams French doctors over racist comments
Ivorian football legend, Didier Drogba has reacted to the viral video where two French doctors, Jean Paul Mira and Camille Locht opined that the new Coronavirus drug should be tested in Africa. Mira and Locht, who spoke on a live TV interview, which now has the highest trend on Twitter with the hashtag 'Africans are
COVID-19: Africa not a testing lab – Drogba slams French doctors over racist comments
Coronavirus: Premier League confirms indefinite postponement of 2019/20 season
The Premier League has disclosed that the 2019/2020 season has been postponed indefinitely with the English top-flight committed to returning only 'when it is safe and appropriate to do so' due to the spread of Coronavirus (COVID-19) across the world. DAILY POST recalls that the Premier League was due to return on April 30 amid
Coronavirus: Premier League confirms indefinite postponement of 2019/20 season
Read also Nigerian Newspapers Today and Nigeria News Today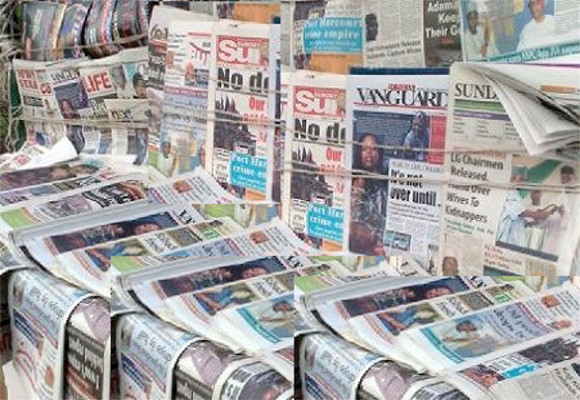 You can also check Sports News Today Headlines