Sahara Reporters Latest News Today

Thursday 26th March 2020

Sahara Reporters Latest News Today and headlines on some of the happenings and news trend in the Country, today 26/03/20

Read also Leadership Newspapers News Today Thursday 26th March 2020
Coronavirus: Shehu Sani Donates Protective Items, Food To Churches, Mosques
A former federal lawmaker, Senator Shehu Sani, has distributed protective items and foodstuffs to churches, mosques and correctional centers.
Sani while making the donation in Kaduna on Wednesday, urged Nigerians to stand together and fight Coronavirus.
He berated the elites and political leaders for neglecting and destroying the public healthcare system over the years. 
He added that the days of reckoning had come for those charged with the responsibility of turning around Nigeria's hospitals but refused to take action. A modest intervention in the fight against #Convid_19;today we distributed free Face masks,Hand Sanitizers & foodstuffs to some Mosques,Churches & the Correctional Services in Kaduna.#CoronaVirusInNigeria #CONVID19 #StopTheSpread #CoronaCrisis #FightCOVID19 #Covid19Out #CONVID pic.twitter.com/0LXL0fG611— Senator Shehu Sani (@ShehuSani) March 25, 2020
Sani said, "Coronavirus will not bring an end to the world but surely return it to its beginning and basics where love, brotherhood and compassion was the spirit. 
"If Coronavirus had come during electioneering period, political leaders could have distributed free and customised sanitisers, masks and ventilators." 
PUBLIC HEALTH
News
AddThis
: 
Original Author
: 
Saharareporters, New York
Disable advertisements
: 
E2%80%99s Two Persons Allegedly Die Of Coronavirus After Attending 80th Birthday Party Of Nigeria's Ambassador To United Kingdom, Okoya, Osoba Among Top Guests At Lavish Ceremony
Two yet-to-be identified persons are alleged to have died of Coronavirus after attending the lavish and star-studded 80th birthday party of Nigeria's Ambassador to the United Kingdom and Northern Ireland, George Adetola Oguntade.
The colourful ceremony, which took place on March 10, 2020, was held at the London Hilton on Park Lane, a posh area of UK's most popular city – London.
Apart from the two guests alleged to have died of the virus after attending the event, one other attendee is said to be on ventilator at a hospital in London.
One of the two persons that died is said to be related to Dorlapoh Crystals, a popular UK-based business owner whose company customises fashion items.
The development has since raised fears that scores of other attendees at the ceremony could have contracted the deadly virus. 
Among prominent Nigerians, who attended the party are billionaire Rasak Okoya and his wife Sade, a former governor of Ogun State, Olusegun Osoba, Kessington Adebutu (Baba Ijebu), Oba Saheed Elegushi, music icon – Ebenezer Obey, and Dele Momodu. 
Many of these high-profile guests have since returned to Nigeria, further raising concerns that some of them may have imported the dreaded virus into the country without knowing. 
Coronavirus was first detected in the United Kingdom on January 31 and since that period, there has been 8,077 confirmed infections and 422 deaths.
Therefore, as at the time Oguntade's birthday was staged in London on March 10, the virus had fully taken up strategic positions across most parts of the UK. 
In a recent interview, Momodu, a veteran journalist and Publisher of Ovation International, confirmed attending the party in London but said that he had no symptoms of the pandemic.
Senior airport sources however, told SaharaReporters that many top Nigerians, who arrived in the country from UK and other parts of the world before the ban on international flights into Nigeria was announced, refused to submit themselves for medical screening for the virus.
Already, a number of prominent Nigerians have been confirmed to have contracted the virus. 
Video of Full Video: Justice George Oguntade's 80th Birthday Celebration
Full Video: Justice George Oguntade's 80th Birthday Celebration
Full Video: Justice George Oguntade's 80th Birthday Celebration
Chief of Staff to President Muhammadu Buhari, Abba Kyari, Bauchi State governor, Bala Mohammed, and Speaker of Edo State House of Assembly, Frank Okiye, have all tested positive to the virus while dozens others including state governors, who came in contact with them in recent days have now gone into self-isolation in order to ward off the pandemic.
Nigeria has 46 confirmed cases of Coronavirus so far and one recorded death.
Though government at the federal and state levels have adopted series of measures to curtail the pandemic, there are fears of the virus spreading further in the coming days.
PUBLIC HEALTH
News
Reports
AddThis
: 
Featured Image
: 
Original Author
: 
SaharaReporters, New York
Disable advertisements
: 


Justice For Sambo Abdullahi, Victory For Whistleblowers In Nigeria By Chido Onumah and Godwin Onyeacholem
Whistleblowers are the first line of defence against corruption, crime and cover-ups, according to a 2019 paper by the All–Party Parliamentary Group (APPG) on whistleblowing in the UK.
For Sambo Abdullahi, head of internal audit at the Nigerian Bulk Electricity Trading (NBET) Plc, it has been one long tortuous journey. Over the past two years, he has been at the receiving end of the retaliation whistleblowers around the world, including in Nigeria, face for shining the light on malfeasance  around them: denial of wages, job losses, expensive court cases, abuse, psychological trauma, blacklisting across their sector, and sometimes death. 
Abdullahi has been denied his salary and other allowances since December 2017, threatened, blacklisted, arrested and sued. All of this for acting professionally and responding patriotically to the call of the Nigerian government asking citizens to join the fight against corruption by blowing the whistle on corrupt practices and other forms of wrongdoing in the country. 
In two separate courts, in Ifo, Ogun State, and Okitipupa, Ondo State, where in a most brazen abuse of judicial process, Abdullahi was summoned to answer charges of defamation levelled against him by his boss, Dr. Marilyn Amobi, Managing Director of NBET, he easily walked through the doorway of victory. Both cases were struck out on account of Dr. Amobi's lack of seriousness in prosecuting.
The crisis of corruption in NBET has been going on for almost three years and the government appears not to have any solution. The appointment of Dr Amobi as the second substantive MD/CEO of NBET signified doom not only for Abdullahi as head of internal audit but also for the entire staff of the company. The MD withheld Abdullahi's salary and other emoluments just because he exercised the right to decline participation in her fraudulent activities and rejected an unwarranted deployment to a new department unilaterally created by the MD to continue to perpetrate fraud.
Abdullahi, a Fellow of the Institute of Chartered Accountants of Nigeria (ICAN), graduated in Accounting from a reputable university and has over two decades of experience. He acquired experiences from both the private and public sectors before joining NBET. He was the pioneer Head of Internal Audit of NBET in 2012; a position he held till 2016 when Dr Amobi joined the company.
Within one month of Dr. Amobi's assumption of office, Abdullahi discovered the illegal over-payment of N2 billion to two generating plants, Omotosho Power Plc and Olorunsogo Power Plc, both of which have no Gas Supply Agreement (GSA) and Gas Transportation Agreement (GTA) as required by industry agreement. The implication of this fraudulent transaction is that electricity consumers on a monthly basis pay N2billion in excess of what they ought to have paid if this fraud is averted. It is on record that the very first month the fraud was detected, Dr Amobi assumed the role of internal auditor by signing off the payment vouchers.
Her defence for this unlawful violation was that the mandatory GSA and GTA had been waived. The questions for her are, who approved the waiver? Why was the waiver not extended to other thermal plants? And why did the waiver idea come only after the head of internal audit had uncovered the fraud?
Other transactions that made Abdullahi to incur the wrath of Dr. Amobi was his refusal to endorse other payment vouchers for illegal procurement of alcohol  using taxpayers' money, proposed monthly payment of N2.5million to one Engr. Achinaya (an ex-staff of both NEPA and PHCN) without procurement process, procurement of legal advisory services of Azinge & Azinge and Aelex law firms in gross violation of the Procurement Act, and payment for return flight ticket from London for Dr Amobi to resume work in NBET in violation of the NBET Board-approved benefit compensation packages just to mention a few.
As a retaliation against Abdullahi for doing his job professionally, which to Dr Amobi connotes standing in her way, she colluded with the Office of the Accountant General of the Federation to get rid of Abdullahi and his colleague Waziri Bintube. Both were removed from their duly appointed and NBET Board- approved functions as head of internal audit and Chief Finance Officer respectively. While Abdullahi's salary was stopped, Bintube was sacked.
In response, the duo wrote a petition to the Ministry of Power in 2017. The ministerial committee report was released in March 2018 and vindicated them, while indicting Dr. Amobi. But despite the minister's (Babatunde Fashola) directives that Abdullahi's salary should be restored and Bintube reinstated immediately, and in fact that both workers should enjoy the rights of NBET staff, Dr. Amobi refused to comply with the directives. 
Till date, she denies Abdullahi his salaries and Bintube has not been called back. Dr. Amobi heads a government agency supervised by a Ministry, but her insolent defiance of a Ministerial order is unprecedented in the history of public sector administration in Nigeria. And it is strange that this is happening under a government that claims to prioritize due process and accountability in the public sector.
As if the stoppage of salaries and sacking were not enough, Dr Amobi got  Abdullahi and Bintube detained in the facility of the State Security Services (SSS) for more than twenty-four hours. Several directives by Babatunde Fashola, then Minister of Power, were rebuffed by Dr Amobi who insisted that as an appointee of President Muhammadu Buhari she would only take directives from the president.
While the issue of salary suspension remained unresolved in spite of interventions from the Ministry of Power, Office of the Secretary to the Government of the Federation and the office of the Vice President, among others,  Abdullahi approached the National Industrial Court in December 2018, twelve months after the unlawful stoppage of his salaries, with Nigerian Bulk Electricity Trading Plc, Dr Marilyn Amobi (MD/CEO), Hon Minister of Power and the Ministry of Power as defendants. 
On March 11, 2020, Abdullahi (the claimant) once again walked the path of victory with the court delivering judgement in his favour. According to Hon Justice O. O. Oyewumi, the act of the suspension of the claimant's salaries from December 2017 till date was wrongful; the denial of the claimant's 2017 and 2018 leave was wrongful; the 1st and 2nd defendants, contrary to its terms and conditions of service, withheld the claimant's salary and other emoluments wrongfully. The judge ordered the payment of Abdullahi's salaries and other allowances, noting, "All sums awarded in the judgement is to be paid within 30days of the judgement, failure upon which it attracts 21% interest thereon per annum." 
While the case lasted in court, the Economic and Financial Crimes Commission (EFCC), Independent Corrupt Practices and Other Related Offences Commission (ICPC), Auditor General of the Federation and the Bureau of Public Procurement all issued reports indicting Dr Amobi while recommending her immediate prosecution. Sadly, some higher powers are preventing this from happening.
Governance problems are commonly found in federal government agencies due to either lack of a Board or total collapse of the governance structure. The Director General of the Bureau of Public Enterprises, Alex Akoh, noted in a letter to the Minister of Finance, Budget and National Planning, Zainab Ahmed, dated January 7, 2020, that "for the past 14 months, no Board meeting of the company (NBET) was held, a situation which has serious consequences on the corporate governance of the company". Truth is, no Board meeting of NBET has held since August 2018 when Professor Yemi Osinbajo, then Acting President, ratified the reconstitution of the NBET Board of Directors recommended by Kemi Adeosun, the immediate past Minister of Finance.  
The governance collapse in NBET has entrusted the fate of about 80 million electricity consumers in Nigeria in the hands of Dr Amobi who sees herself as not only untouchable, but also a sort of "Alfa and Omega." She formulates and executes policies at will, such as changing the company organogram whenever she sees any staff as standing in her way. The entire senior management has passed a vote of no confidence in Dr Amobi but despite this and other fraudulent activities traceable to her, no action was taken by the government to ameliorate the problem in the power sector and curb the continuous fraud being perpetrated in NBET.
The Minister of Power of Power Engr. Sale Mamman, in December 2019, made a daring move to respond to the situation by suspending Dr. Amobi from office indefinitely.  But curiously, he was overruled by President Muhammadu Buhari in less than two weeks and Dr. Amobi was returned to office.
This forced the Minister to fire a letter dated January 8, 2020, to Boss Mustapha, Secretary to the Government of the Federation, detailing investigations by the ICPC, EFCC and the reports of the Auditor General of the Federation which implicated the NBET boss "for breach of due process in the award of contracts and several financial wrongdoings." In that letter copied to President Buhari, the Minister reminded the SGF of "the additional baggage which the suspended MD carries in the light of the anti-corruption stance of the Federal Government."
If this government wants to be seen as genuinely fighting corruption, the NBET case is a golden opportunity to faithfully demonstrate that conviction. Dr. Amobi has been indicted for corruption by government anti-corruption agencies. The place for her, therefore, is the courtroom, not a cushioned seat of a government agency. 
Meanwhile, before Dr. Amobi's prosecution, government should direct her to obey without delay the judgment of a court of competent jurisdiction in the suit filed by a whistleblower, Sambo Abdullahi, the head of internal audit of NBET. 
In addition, government should realize that all whistleblowers deserve full and effective protection from all kinds of retaliation, without which its whistleblowing policy will not succeed as an instrument for reducing corruption in the country.
Onumah and Onyeacholem are with the African Centre for Media & Information Literacy (AFRICMIL)
Opinion
AddThis
: 
Original Author
: 
Chido Onumah and Godwin Onyeacholem
Disable advertisements
: 
E2%80%99s-ex-vice-president-atiku-donates-n50m-coronavirus-fight Nigeria's Ex-Vice President, Atiku, Donates N50m To Coronavirus Fight
 
A former Vice President of Nigeria, Atiku Abubakar, has donated N50m in support of government's effort at combating the outbreak of Coronavirus in the country.
In a statement he personally signed on Wednesday, Atiku said that he believed the donation will help efforts towards curbing the spread of the pandemic.
He said, "As the Coronavirus pandemic ravages the world, I applaud the various Nigerian state governments who have proactively taken measures such as issuing stay at home orders, and shutting down non-essential markets and other places of mass gatherings, while also giving guidelines for social distancing.
"However, we must accept the fact that much of the Nigerian public have a subsistence existence. A large percentage of our people do not have the financial capacity to withstand long periods of self-isolation and even lockdown.
"It is, therefore, incumbent on the Federal and state governments to provide palliatives to the Nigerian people to enable them to survive, even as they abide by these necessary measures put in place for their own safety.
"To this end, Priam Group pledges N50m on my behalf as my humble contribution to a relief fund that will form part of the stimulus package."
PUBLIC HEALTH
News
AddThis
: 
Original Author
: 
SaharaReporters, New York
Disable advertisements
: 
Coronavirus: Panic In Delta As Persons With Suspected Symptoms Flood FMC Emergency Ward
 
The Federal Medical Centre, Asaba, Delta State, is currently witnessing large influx of visitors with suspected symptoms of Coronavirus.
A staff of the medical facility, who spoke with SaharaReporters, disclosed that many of the visitors were apprehensive that they might have contracted the virus after feeling unwell.
"There is serious fear since Monday night, so many persons with suspected symptoms of Coronavirus have been coming into our emergency ward and the number is increasing even though no formal tests had been carried out on such persons.
"We have been told not to disclose a confirmed case so as to avoid panic in the state.
"Some of our colleagues working in government hospitals across the state told us that there was nothing on ground to show preparedness for the pandemic.
"A Lassa fever case was recorded at the facility and the patient, a pregnant woman, was subsequently transferred to Irrua Specialist Hospital in Edo State," the source said.
When contacted, Chief Medical Director of the Federal Medical Centre, Asaba, Victor Osiatuma, said that there were no Coronavirus patients at the health facility.
He said, "Apart from the Lassa fever case of a pregnant woman recorded in our facility, there is no other case or cases of an outbreak of any dreaded disease here."
PUBLIC HEALTH
News
AddThis
: 
Original Author
: 
SaharaReporters, New York
Disable advertisements
: 
Oil Benchmark Slashed To $30 Per Barrel By Nigerian Government
 
The Nigerian Government on Wednesday proposed $30 per barrel of oil so as to work the 2020 national budget around that.
The announcement was made by the Minister of Finance, Zainab Ahmed, in Abuja.
Ahmed advised a review of the 2020 budget using a $30 per barrel price benchmark in favour of the previous $57.
She also said, "The privatisation proceeds will be cut by 50 per cent, based on the adverse economic outlook on sales of the Independent Power Projects and other assets.
"The Federal Government is working on Fiscal Stimulus Measures to provide fiscal relief for taxpayers and key economic sectors.
"We will incentivise employers to retain and recruit staff during the economic downturn.
"We will stimulate investment in critical infrastructure; review non-essential tax waivers to optimise revenues, and compliment monetary and trade interventions to respond to the crisis."
 
Oil
News
AddThis
: 
Original Author
: 
SaharaReporters, New York
Disable advertisements
: 
Coronavirus: Medical Supply Donated By Chinese Billionaire, Jack Ma, Moved To Abuja From Lagos
 
The Nigerian Government has moved medical supplies donated by Chinese billionaire, Jack Ma, to combat Coronavirus in the country from Lagos to Abuja.
However, the decision to move the supplies to Abuja has caused a storm on social media with citizens raising the alarm that the materials were about to be distributed to wealthy government officials in the nation's capital. 
Bashir Ahmed, Special Assistant to President Muhammadu Buhari, made the announcement on Wednesday.
In a post on Twitter, he said, "Medical materials donated by @JackMa to fight #Coronavirus in Africa have arrived Abuja, airlifted from Murtala Mohammed Airport, Lagos, by the Nigerian Air Force." FLASH: Medical materials donated by @JackMa to fight #coronavirus in Africa have arrived Abuja, airlifted from Murtala Mohammed Airport, Lagos to Nnamdi Azikiwe Airport, Abuja by the Nigerian Air Force. #COVID19 pic.twitter.com/RbIQ2tf5YE— Bashir Ahmad (@BashirAhmaad) March 25, 2020
PUBLIC HEALTH
News
AddThis
: 
Original Author
: 
SaharaReporters, New York
Disable advertisements
: 


Federal Inland Revenue Service Retires Directors
 
The board of the Federal Inland Revenue Service has approved the retirement of all directors, who had served at least eight years with the organisation.
The appointment of four Coordinating Directors and two Group Leads in an acting capacity was also approved by the board.
Director of Communications and Liaison Department of the FIRS, Abdullahi Ahmad, made the announcement on Wednesday.
He said, "The FIRS Board took this decision at its emergency meeting No. 2. held on Friday, March 20, 2020, during which it also approved the retirement of all directors who have served for eight years and above as directors in the Service, in line with Para 10.1(a)(iii) of Human Resources Policy and Programmes of the FIRS statute."
 
News
AddThis
: 
Original Author
: 
SaharaReporters, New York
Disable advertisements
: 
CBN Introduces N50bn Credit Facility For Households, Small Businesses Affected By Coronavirus
 
The Central Bank of Nigeria has announced that it would give a N50bn Targeted Credit Facility to households and small businesses affected by Coronavirus (COVID-19).
Those eligible according to the apex bank must prove that they, their livelihood and business operations have been adversely affected by the spread of the virus.
Businesses eligible for the scheme are agricultural value chain activities, hospitality, health (pharmaceuticals and medical supplies), airline service providers, manufacturing and value addition, and trading.
The maximum amount to be received depending on proof of cash flow of investment size is N25m while households can access N3m with an interest rate of 5 per cent per annum for a maximum period of one year.
The facility will be administered by the NISRAL Microfinance Bank and the Central Bank of Nigeria.
 
PUBLIC HEALTH
News
AddThis
: 
Original Author
: 
SaharaReporters, New York
Disable advertisements
: 
Adamawa Governor Denies Refusal To Pay N32,000 New Minimum Wage
 
Adamawa State governor, Ahmadu Fintiri, has debunked media reports claiming that his administration had backed down on paying the N32,000 new minimum wage.
The governor said that workers on Grade Level 1 to 6 had been paid their March salaries with the new minimum wage template.
A section of the mass media had on Tuesday quoted the government as saying the new minimum wage was suspended due to hardship caused by the outbreak of Coronavirus in the country.
Solomon Kumangar, Director General, Media and Communications to the governor, on Wednesday said only the consequential adjustment affecting workers from Level 7 to 17 was suspended temporarily.
He said, "Government wishes to draw the attention of the public to the regrettable misunderstanding arising from an earlier statement regarding the payment of March salaries without the consequential adjustment agreed upon by organised labour.
"As at now, workers have started receiving March salary alerts with the N32,000 minimum wage.
"It is only the consequential adjustment that the government was unable to implement due to the economic crunch imposed by the global pandemic Covid-19."
 
Politics
News
AddThis
: 
Original Author
: 
SaharaReporters, New York
Disable advertisements
: 
Read also Nigerian Newspapers Today and Nigeria News Today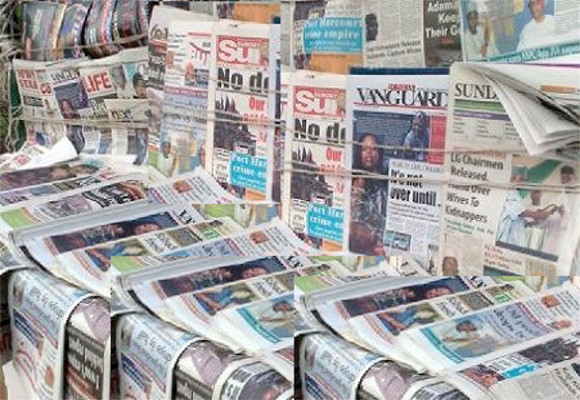 You can also check Sahara Reporters Newspaper Headlines Today