Vanguard Latest News

Friday 14th February 2020

Vanguard Latest News Today and headlines on some of the happenings and news trend in the Country, today 14/02/20

Read also vanguard Newspapers News Today Friday 14th February 2020
Lufthansa cancels China flights through to late March
German airline giant Lufthansa said Friday it would prolong its suspension of flights to the Chinese mainland until March 28 over the novel coronavirus COVID-19. "The Lufthansa Group has now decided to cancel the flights of Lufthansa, Swiss and Austrian Airlines from/to Beijing and Shanghai until the end of the winter timetable on 28 March"Read More
Vanguard News.
Peter Obi,Senetors, Abaribe, Umeh arrive at Nnamdi kanu's parents funeral
Nnamdi Kanu's parent's burial: Senator Victor Umeh, Senator Enyinnaya Abaribe and former Anambra Governor, Peter Obi, at the St. Andrews Anglican Church, Afaraukwu. vanguard
Vanguard News.


Love boat: Valentine's Day on a quarantine cruise
"Cupid's avocado" for dinner, heart-shaped messages for the crew, but also painful separation: for those trapped on board the quarantined Diamond Princess cruise ship, Friday is no ordinary Valentine's Day. Wearing a red dress and a red hair tie, the ship's entertainment manager Natalie posted a Valentine's Day video on Twitter to try to keepRead More
Vanguard News.
Prince Harry and Meghan Markle fire UK staff, close Palace office
Prince Harry and Meghan Markle are continuing to distance themselves from royal life, letting go of all 15 of the UK staffers who served their office in Buckingham Palace, The Daily Mail reports. Harry and Meghan reportedly broke the news to their employees last month following their decision to step down as senior royals, akaRead More
Vanguard News.
Expert enlightens on dangers of bush burning
Mr David Afolayan, an Environmentalist and Geographic Information Science (GIS) expert, has cautioned Nigerians on the dangers of bush burning especially during harmattan. Afolayan, in an interview with News Agency of Nigeria (NAN) in Ibadan on Friday, said that to prevent fire outbreaks people must desist from burning bushes and refuse. He noted that differentRead More
Vanguard News.
UPDATED: INEC declares PDP candidate, Diri, winner of Bayelsa guber election
The Independent National Electoral Commission, INEC, has declared the candidate of the Peoples Democratic Party (PDP), Douye Diri, winner of the Bayelsa governorship election. The Supreme Court, in an unexpected turn of event, sacked the All Progressive Congress, APC, candidate, David Lyon, Thursday over alleged misinformation on the certificate of his deputy, Biobarakuma Degi-Eremieoyo. ALSORead More
Vanguard News.
US brings new charges against Chinese tech giant Huawei
The United States Justice Department has added new criminal charges against Chinese tech giant Huawei and several subsidiaries, accusing the company of a brazen scheme to steal trade secrets from competitors in America, federal prosecutors announced Thursday. The new indictment also alleges the company provided surveillance equipment to Iran that enabled the monitoring of protestersRead More
Vanguard News.


Revelations from Farida Waziri's new book – Femi Adesina
Former Chairman of the Economic and Financial Crimes Commission (EFCC), Farida Waziri, presented her new book to the public in Abuja on Tuesday. I was privileged to have reviewed the book at the occasion.
Vanguard News.
BREAKING: Diri, his deputy get INEC certificate of return
Governor Douye Diri and his deputy have received their Certificate of Return, CoR, from the Independent National Electoral Commission, INEC. ALSO READ: You are ranting, PDP fires back at Oshiomhole INEC's National Commissioner Legal Matters, Dr Mrs May Agbamuche-Mbu did the presentations. Vanguard
Vanguard News.
North Korean official reportedly executed for breaking coronavirus quarantine
A North Korean official who returned from China has reportedly been executed for going to a public bath in violation of his quarantine – while experts express doubts about Pyongyang's claim that the hermit kingdom doesn't have a single case of the coronavirus. The trade official, who had been placed in isolation after traveling toRead More
Vanguard News.
Read also Nigerian Newspapers Today and Nigeria News Today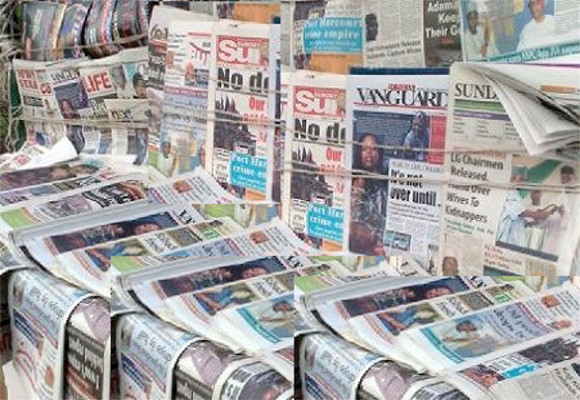 You can also check Vanguard Newspaper Headlines Today