Nigeria news today headlines :

Saturday 14th December 2019

These are the Nigeria news today headlines updates from Nigerian newspaper .

Read also Nigeria Newspaper Front Pages Today Saturday 14th December 2019
Tim Cook Says Monopolies Aren't Bad If They Are Not Abused
Apple CEO Tim Cook defended the existence of monopolies in business with a key distinction. During an interview with Nikkei Asian Review on Wednesday in Tokyo, the tech mogul discussed several topics, including the company's efforts to constantly innovate and its impact on the broader US economy. "A monopoly by itself isn't bad if it's
Independent Newspapers Nigeria.
Google's Self-Driving Car Company Waymo Has Broken Ground In Europe
Google's self-driving ambitions are spreading to Europe. Waymo, the self-driving firm owned by Google's parent company Alphabet, on Thursday acquired British startup Latent Logic. "By joining Waymo, we are taking a big leap towards realising our ambition of safe, self-driving vehicles," Latent Logic founder Shimon Whiteson told the Guardian . "In just two years, we
Independent Newspapers Nigeria.


Withdraw Charges Against Sowore, Bakare, Falana Tells Malami
PASCHAL NJOKU AND AKINWUNMI KING ABUJA/LAGOS – Femi Falana, a Senior Advocate of Nigeria (SAN) And counsel to Omoyele Sowore, convener of #RevolitionNow movement, has asked the Attorney General of the Federation, Abubakar Malami (SAN) to withdraw the criminal charges Sowore and his co-accused, Olawale Bakare. Falana, who said in a statement on Friday, that
Independent Newspapers Nigeria.
Tenant Docked For Allegedly Raping His Landlord's Daughter
A Kaduna magistrates' court on Friday remanded a driver, Amos Luka, 33, for allegedly raping his landlord's 16-year-old daughter. The Magistrate, Umar Ibrahim, who did not take the defendant's plea, ordered that he (Luka) should be kept in correctional facility pending advice from the state Director of Public Prosecutions (DPP). Ibrahim adjourned the case until
Independent Newspapers Nigeria.
Applicant Remanded For Allegedly Robbing With Toy Gun
An Ikeja Chief Magistrates' Court on Friday remanded a 27-year-old job applicant, Jacob Odili, in the Kirikiri Correctional Centre, for allegedly robbing a man of N70,000 cell phone, with a toy gun. The Chief Magistrate, Mrs O.A. Aderibigbe, who gave the order, did not take the plea of the defendant. She said that Odili should
Independent Newspapers Nigeria.
Oyo Police Arraign Man For Alleged House-breaking
The police in Ibadan on Friday, dragged a 26-year old Sodiq Fasasi, before an Iyaganku Senior Magistrates' Court for alleged house-breaking and stealing. Fasasi, whose address was unknown, was charged with a two- count charge of burglary and stealing. The prosecutor, Insp Sunday Ojeleye, told the court that Fasasi, on Nov. 29, at about 2
Independent Newspapers Nigeria.
Two Suspected Cultists Charged With Managing Cult Group
The police in Lagos on Friday brought two men before a Yaba Chief Magistrates' Court in Lagos State, for allegedly belonging to and managing an unlawful society. The defendants – Azeez Isiaka, 25, and Adetola Monsuru, 22 – are facing a two-count charge of conspiracy and membership of an unlawful society. They, however, pleaded not
Independent Newspapers Nigeria.


Ivory Coast Farmers Push Back Against Cocoa Output Cap
Cocoa farmers in Ivory Coast say they plan to ramp up production and establish new plantations, potentially jeopardising a new policy to cap output and boost prices from next year. A farmer cuts cocoa pod at a cocoa farm in Bobia, Gagnoa, Ivory Coast, December 6, 2019. REUTERS/Thierry Gouegnon The West African country's cocoa regulator
Independent Newspapers Nigeria.
South Africa's Ramaphosa Holds Crunch Talks On Power Crisis
South African President Cyril Ramaphosa holds an emergency cabinet meeting on Friday to try and resolve a power crisis that has dented growth in Africa's most industrialized economy and endangers its last investment-grade credit rating. Struggling state utility Eskom implemented the most extensive power cuts in more than a decade earlier this week, disrupting supply
Independent Newspapers Nigeria.
Sudan Resumes Peace Talks With Opposition In Juba
Sudan's transitional government resumed peace talks on Tuesday evening in Juba, South Sudan capital, with various armed opposition groups that fought against the regime of former President Omar al-Bashir. Mohamed Hamdan Daqlu, deputy head of the Sudan Transitional Council, said they aim to reach a comprehensive peace agreement with the opposition groups under the Sudan
Independent Newspapers Nigeria.
Read also Nigerian Newspapers Today and Nigeria News Today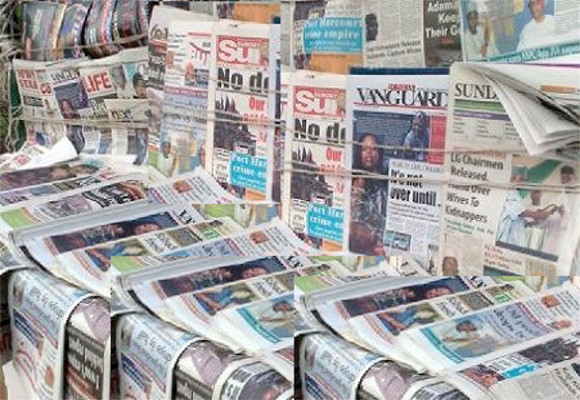 You can also check Nigeria Newspaper Headlines Today