Nigeria news today headlines :

Friday 13th December 2019

These are the Nigeria news today headlines updates from Nigerian newspaper .

Read also Nigeria Newspaper Front Pages Today Friday 13th December 2019
Relief As Electricity Workers Suspend Strike
Lagos – Electricity workers under the National Union of Electricity Employees (NUEE) on Thursday called off their one-day strike to draw Federal Government's attention to the plight of their members. Sequel to a meeting with officials of the Federal Government, the union accepted to discontinue the one-day old strike. Comrade Joe Ajaero, General Secretary of
Independent Newspapers Nigeria.
N362m Bribe: Court Orders Arrest Of Diezani, Convicts Two INEC Staff
Lagos – Justice Nathan Musa of Yola High Court on Thursday ordered the Inspector General of Police, Muhammed Adamu, to liaise with the International Police Organisation (INTERPOL) to arrest a former Minister of Petroleum Resources, Diezani Alison-Madueke. This is as the court sentenced two officials of the Independent National Electoral Commission (INEC ) to 21
Independent Newspapers Nigeria.


NLC Prepares For Showdown With Governors December 31
The Nigeria Labour Congress (NLC) said on Thursday it cannot guarantee industrial peace and harmony if state governors refuse to conclude negotiations and payment of the National Minimum Wage by December 31. In a communique issued at the end of its meeting with state council chairmen on implementation of the National Minimum Wage, the union
Independent Newspapers Nigeria.
Oshiomhole, Obaseki Face-Off: Police Cancel APC Faction Rally In Edo
Temidayo Akinsuyi; Francis Onoiribholo Lagos / Benin – A planned controversial rally by a faction of the All Progressives Congress (APC) in Edo State has been suspended by the Inspector General of Police (IGP), Mohammed Adamu, who cited "overriding internal security interests" as reason for the decision. The rally was slated for today at Garrick
Independent Newspapers Nigeria.
Senate Moves To Stop Discrimination Against Police Women
Abuja – The Senate, on Thursday, expressed concern over discrimination against police women. To this end, the lawmakers commenced moves to put an end to the discrimination with Thursday's consideration of the Police Act Amendment Bill, 2019. The bill, which was sponsored by Ezenwa Onyewuchi, seeks to expunge the provisions of Regulations 122, 123, 124
Independent Newspapers Nigeria.
Wike Threatens To Dethrone Monarch Over Gov Dickson's Visit
P/Harcourt – Governor Nyesom Wike of Rivers State has called on Kalabari leaders to prevail on the Amanyanabo of Kalabari, King Theophilus J.T. Princewill, to not allow himself be used by external forces to create disunity in the state. Speaking during a solidarity visit by Kalabari people at the Government House, Port Harcourt, Governor Wike
Independent Newspapers Nigeria.
DSS Invasion Of Court: Body Of SANs Demands Judicial Commission Of Enquiry
Paschal Njoku; Samuel Ogidan Abuja – The body of Senior Advocates of Nigeria has called on President Muhammadu Buhari to set up a judicial commission of enquiry to launch a probe into the invasion of the Federal High Court, Abuja, by operatives of Department of State Services (DSS) in a bid to re-arrest the convener
Independent Newspapers Nigeria.


I've Changed Direction Of Amnesty Programme – Dokubo
Prof. Charles Dokubo, Special Adviser to the President on the Presidential Amnesty Programme (PAP) is not afraid to confront problems, no matter how delicate. In this chat to mark the 10th anniversary of the PAP, recently in Abuja, he admitted that the programme has been bedeviled by myriad of challenges since inception. He, however, proffers
Independent Newspapers Nigeria.
Human Rights Day: Reflection On Nigeria's Situation
LAGOS – On Tuesday, December 10, 2019, Nigerians joined the rest of the world to observe the International Human Rights Day, a United Nations (UN) programme. During the day, the UN and its affiliate counties usually reflect on the human rights situation globally. The UN chiefs and rights groups use the occasion to stress the
Independent Newspapers Nigeria.
African Oil Industry's Investment Funds Shrinking – Buhari
ABUJA – President Muhammadu Buhari, yesterday warned African Petroleum Producers Organization (APPO) that investment funds for the oil industry are fast drying up and emphasized the need for recapitalizing African Energy Investment Corporation (AEICORP). Buhari, who spoke at Extraordinary Session of the Council of Ministers of APPO, in Abuja, lamented that the development was happening
Independent Newspapers Nigeria.
Read also Nigerian Newspapers Today and Nigeria News Today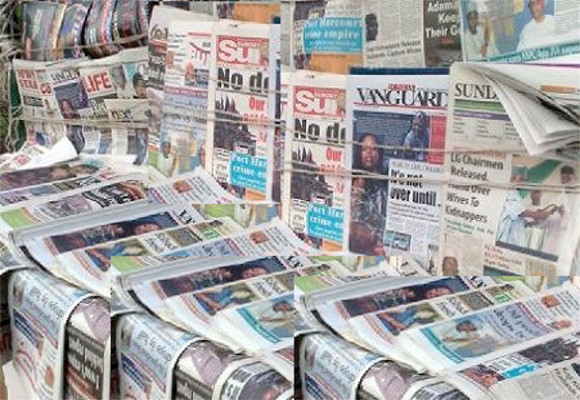 You can also check Nigeria Newspaper Headlines Today