Punch Newspaper Headlines Today

Thursday 5th December 2019

Top Nigeria news Dailies Update from Punch Newspaper Headlines Today

Read also Sahara Reporters Latest News Thursday 5th December 2019
BREAKING: Court gives DSS 24 hours to release Sowore, Bakare
…Despite fresh court order, operatives return them to custody Ade Adesomoju, Abuja The Federal High Court in Abuja on Thursday gave the Department of State Service 24 hours ultimatum to release the Sahara Reporters publisher, Omoyele Sowore, and his co-defendant, Olawale Bakare. Justice Ijeoma Ojukwu gave the order at the scheduled commencement of the defendants'
Dozens of migrants drown as boat sinks off Mauritanian —UN
At least 58 migrants drowned as their boat sank near the Mauritanian coast after a week at sea, the International Organization for Migration said Thursday. The UN agency said another 83 people swam to shore, while survivors said at least 150 people including women and children were aboard the vessel, which had set sail from


'The rapist is you': Hymn against sexual violence goes viral
Thousands of women have mobbed the National Stadium in Chile's capital for a flash denunciation of sexual violence — the latest performance of a battle-cry that has seized public attention during weeks of national unrest. Women of all ages from around Santiago, dressed in black and wearing red scarves and blindfolds, converged on the sporting
Six dead, two missing after gas explosion in Poland
Six people, including two children, were killed and another two were reported missing after a gas explosion destroyed a house in a ski resort in the south of Poland late Wednesday, local authorities said. Around 100 firefighters were still scouring the debris of the house in Szczyrk on Thursday morning in search of possible survivors.
There's no fear in my heart – Joshua
Anthony Joshua has admitted "it feels different" since losing but sent a powerful message to Andy Ruiz Jr with an intense first face off of the week. The world heavyweight championship rivals were able to ramp up the mind games at Wednesday's press conference before their rematch on Saturday. "I didn't lose heart or fire
BREAKING N7.1bn fraud: Court convicts Orji Kalu
Oladimeji Ramon The Federal High Court in Lagos has convicted a former governor of Abia State, Orji Uzor Kalu, who was charged with N7.1bn fraud. Details later.
Samoa on lockdown for two-day measles vaccination campaign
Samoa started a door-to-door vaccination campaign on Thursday in response to a measles outbreak that has claimed 62 lives so far. A two-day shutdown of public services, commerce and road networks came into force, with private vehicles banned from roads for much of the day, Radio New Zealand (RNZ) reported. As of Thursday, 4,217 cases of


Power distributors lost N931bn in four years –PwC
'Femi Asu Electricity distribution companies in the country posted a total loss of N931bn from 2014 to 2017, PwC Nigeria has said. Partner and Chief Economist, PwC Nigeria, Dr Andrew Nevin, said the Discos had continued to report losses, adding that a minimum estimated revenue of N1tn was required by Discos to break even. He
Driver arraigned for allegedly assaulting UNILAG women school's pupil
Oluwatosin Omojuyigbe For allegedly molesting a four-year-old pupil of the UNILAG Women Society School, a driver, Matthew Abiodun, was on Wednesday arraigned before the Lagos State Special Offences Court in Ikeja. PUNCH Metro had reported that Abiodun, who usually picked up two other pupils at the school after closing hours on the instructions of their
Hate speech bill is dead, says Bishop Oyedepo
Femi Makinde The Presiding Bishop of Living Faith Church Worldwide, Bishop David Oyedepo, has said the controversial hate speech bill being considered by the Senate is dead. Oyedepo said the sponsor of the bill did not propose death penalty for killers of innocent people in the country but was targeting those who might criticise the
Read also Nigerian Newspapers Today and Nigeria News Today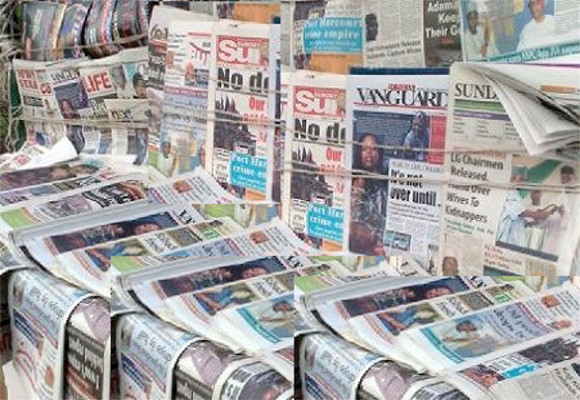 You can also check Punch Newspaper Headlines Today