Sahara Reporters Latest News Today

Tuesday 19th November 2019

Sahara Reporters Latest News Today and headlines on some of the happenings and news trend in the Country, today 19/11/19

Read also Leadership Newspapers News Today Tuesday 19th November 2019
Bandits Kill 14, Injure 10 In Zamfara Community
 
Barely three months after a peace agreement brokered in Zamfara between bandits and the state government, some gunmen on Sunday killed 14 persons and left 10 with gunshot injuries in Karaye village under Gummi Local Government Area.
The attack, which is the first major breach of the peace agreement between the state government and the bandits initiated by Governor Bello Matawalle, was confirmed on Monday by the Zamfara Police Command.
A statement issued by the command's Public Relations Officer, SP Muhammad Shehu, said the attack occurred on Sunday.
Shehu recalled that on November 3, some members of a local vigilante known as "Yan sakai in Bardoki village, attacked and killed nine Fulanis under the suspicion that they were bandits.
Shehu said the command arrested 11 members of the vigilante group suspected of actively participating in the killing of the Fulanis.
He stated, "The incident is being investigated by the State CID Gusau and all the suspects will be charged to court for prosecution in order to serve as deterrent to others.
"However, combined teams attached to Operation Puff Adder, men of Operation Hadarin-Daji and vigilantes led by the DPO Gummi mobilised to the scene and embarked on extensive bush combing with a view to trailing and arresting the perpetrators.
"Corpses and injured victims were conveyed to the General Hospital Gummi for autopsy and treatment."
CRIME
News
AddThis
: 
Original Author
: 
SaharaReporters, New York
Disable advertisements
: 
ALERT: Nissan Recalls 400,000 Cars Over Brake Defect
CNN
 
Japan's Nissan Motor Co. Ltd has said that it will recall 394,025 cars in the United States over a braking system defect.The recall includes Maxima sedans from 2016 through 2018, Infiniti QX60 luxury crossovers from 2017 to 2019, Murano SUVs from 2015 to 2018 and Pathfinder SUVs from 2017 to 2019.The defect has caused concerns that a brake fluid leak could potentially lead to a fire, the News Agency of Nigeria reports.In September, the company recalled 1.3 million vehicles to fix a problem with its backup camera displays.Nissan said this in a filing dated November 8 with the National Highway Traffic Safety Administration under recall number 18V-601.The leak into internal circuit boards will trigger a warning to drivers, which if ignored may lead to a fire in "rare instances," Nissan said."If the warning is ignored and the vehicle continues to be operated in this condition, the brake fluid leak may potentially create an electrical short in the actuator circuit, which in rare instances, may lead to a fire," the Japanese automaker added. The document does not mention whether the brake system defect actually caused any fires or injuries.The company also reportedly said that it was working to fix the issue and that owners of the affected cars will be notified starting early December.The development comes less than two months after NHTSA opened a preliminary investigation into 553,000 Nissan Rogue sport utility vehicles after reports of their automatic emergency braking systems engaging without warning or an obstruction.Improper inspections of brakes, steering wheels, speed measurements, and vehicle stability had also caused the company to issue a recall of several thousand vehicles in Japan in late 2018.
Travel
News
AddThis
: 
Original Author
: 
SaharaReporters, New York
Disable advertisements
: 


JUST IN: AMCON Takes Over Former Defence Minister's Properties Over N1bn Debt
Ademola Seriki
Ademola Seriki
 
The Asset Management Corporation of Nigeria has taken over some properties belonging to Ademola Seriki, a former Minister of State for Defence, over debts totalling N1bn.The affected properties include those located at No. 1a and 1b, Jalupon Close, Surulere, Lagos, and another at No. 4, Djibouti Crescent, a high-brow area of Wuse 2, Abuja, TheCable reports.
Corruption
Breaking News
News
AddThis
: 
Original Author
: 
SaharaReporters, New York
Disable advertisements
: 
LAUTECH Lecturers Begin Strike Over Non-payment Of Salaries
 
Lecturers of the Ladoke Akintola University of Technology, Oyo State, on Monday began total boycott of classrooms following the failure of the governments of Oyo and Osun states to pay their three-month salary arrears.
The Academic Staff Union of Universities of the institution recently issued a 10-day ultimatum, which lapsed last Friday.
The lecturers decision was contained in a congress resolution jointly signed by the chairman, Dr Biodun Olaniran, and Secretary, Dr Toyin Abegunrin.
The university teachers also threatened to withhold the results of 2018/2019 academic session until their salaries were paid. 
Education
News
AddThis
: 
Original Author
: 
SaharaReporters, New York
Disable advertisements
: 
Eight Persons Die In Kogi Tanker Explosion
 
At least eight persons lost their lives on Monday in Felele along Lokoja-Abuja Highway after a petrol tanker rammed into other vehicles, leading to an explosion.
Many vehicles including tricycles, popularly called Keke Napep, were burnt as a result of the fire while dozens were also injured
Eyewitnesses disclosed that driver of the tanker lost control of the vehicle and rammed into anything in sight, spilling its content and causing fire in the process.
It was reported that men of the fire service rushed to the scene to put out the fire.
Firefighters are still battling to put out the fire caused by the accident.
Travel
News
AddThis
: 
Original Author
: 
SaharaReporters, New York
Disable advertisements
: 
Emefiele, Others To Face Lawmakers Over N72bn, $73m NDDC Debts
 
The National Assembly is set to invite Federal Government officials and 17 local and international oil companies over the alleged indebtedness to the Niger Delta Development Commission to the tune of N72bn and $73m.
The officials to appear before the joint Senate and House of Representatives Committee on the NDDC include the Minister of Finance, Zainab Ahmed; Governor of the Central Bank of Nigeria, Godwin Emefiele; Accountant-General of the Federation, Ahmed Idris; and Auditor-General of the Federation, Anthony Ayine.
Some of the oil companies invited are Shebah Express Petroleum, Atlas Petroleum, Allied Energy, Frontier Oil, Seven Energy Limited, Belma Oil Producing Limited, Aiteo Exploration and Production, Dubri Oil, Conoil Producing, and Continental Oil and Gas, according to a report by PUNCH.
Others are Nigeria LNG Limited, Enageed Resources Limited, New Cross Exploration and Production, Pan Ocean Oil Corporation Nigeria Limited, Nigeria Petroleum Development Company, Munipulo Petroleum Development Company, and Prime Exploration and Production Company.
"We are expecting the IOCs and other oil companies to come by Wednesday next week to tell Nigerians why they have blatantly refused to abide by the laws of the nation.
"I can assure you, we will recover every dime due to the NDDC," Chairman, House Committee on NDDC and Co-chairman of the joint committee, Olubunmi Tunji-Ojo, said in Abuja on Monday.
Money
Niger Delta
Politics
News
AddThis
: 
Original Author
: 
SaharaReporters, New York
Disable advertisements
: 
Court Jails Ekiti Woman Over Theft Of One-month-old Baby
 
A 39-year-old woman, Mercy Momoh, was on Monday sentenced to three-year imprisonment by a court in Ekiti State for stealing a one-month-old baby.
Momoh was tried and convicted by an Ado-Ekiti Chief Magistrates' Court on a count of stealing the infant, according to a report by PUNCH.
Police prosecutor, Samson Osobu, told the court that the convict committed the offence on September 20 at Ekiti State Government Secretariat in Ado-Ekiti, the capital.
Osobu said, "She stole a month-old baby belonging to Funmilayo Dada. The offence contravened section 371 of the Criminal Code, Laws of Ekiti State, 2012."
The prosecutor, while presenting the fact of the case before the court, said Momoh confessed to the crime.
He said, "Momoh saw the nursing mother with her baby and deceived her that the Ekiti State Empowerment Programme was disbursing money to less-privileged people at the state's secretariat.
"The nursing mother followed Momoh to the place. On getting there, Momoh told the nursing mother to help her to buy recharge card. She asked Dada to leave her baby and phone in her care while she quickly went on the errand. But when the nursing mother came back, she did not see Momoh and the baby.
"The embattled and embittered nursing mother reported the matter at the police station and through information, the woman was apprehended and the baby was given back to the mother."
In his judgment, Chief Magistrate Adesoji Adegboye sentenced Momoh to three years in jail.
The chief magistrate, however, gave her N100,000 option of fine.
CRIME
Legal
News
AddThis
: 
Original Author
: 
SaharaReporters, New York
Disable advertisements
: 


Kogi State: When Will Okun Produce A Governor? By Ayo Moses Ogedengbe
Kogi State in the map of Nigeria
Kogi State in the map of Nigeria
 
Kogi State is a clear sign that Nigeria needs to restructure before it self-destructs. Ethnic rivalry is bad for growth and development.
Unfortunately, that is what Nigeria is about and Kogi State, more than any other state in Nigeria, clearly represents that archaic structural reality that is backed by a weak ethnic tripod.
Just like Nigeria, Kogi has three major ethnic groups that controls the politics of the state ahead of many other ethnic groups. The Igalas are like the Hausa-Fulani, while the Ebiras are pretty much what the Yorubas are to Nigeria. The Okuns are quite like the Igbo people of Nigeria on the Kogi State political map. The Igalas, Ebiras and Okuns are in a bitter graveyard feud. It is a conspicuously silent war.
Where an Igala is governor, an Ebira is most naturally positioned to be deputy. Where an Ebira is lucky to be governor, an Igala is most naturally the deputy. The Ebiras know that it might take another 20 years or forever to smell that office again after Yahaya Bello, therefore returning him became a must achieve agenda. The election was more like a war.
Now, the Igalas will wait patiently for the next election and the man that will be best positioned for that job will be Edward Onoja, the present Deputy Governor of the state.
Based on Nigerian politics, if he has enough bread and gets the party ticket, his people will support him no matter what. That is how ethnic politics works.
Yahaya will still want to have a say in 2023, just like any governor and will want to give his friend and deputy, the support. To be impartial is definitely inhuman, therefore he will hand over the All Progressives Congress structure in the state to Onoja to assure him of victory.
Yahaya Bello will sponsor Edward, all things being equal, to take over from him. This is an open secret that is largely based on their long-term friendship and the character that fate has put before them.
Edward will return to his people in search of victory and he will, through his alternative channels, advise Yahaya to take a back seat from a strategy standpoint.
Ladies and gentlemen, that is where Yahaya Bello and Edward Onoja's relationship will end.
If Edward doesn't kill Bello, Bello will kill Edward. Oh, it is possible figuratively and literally.
The idea of a Yahaya Bello being the face of an Edward Onoja governorship will be totally repulsive to the Igala people. It is what happens naturally in an ethnicised politics and the Igalas definitely won't be seeing Yahaya as a friend, but at best a tool.
In all these permutations and strategy-talk, there is a big  question hanging on the average Okun man's head just as it is on the average Igbo man's head.
Just as the Igbo people are asking to know when their own will be President of Nigeria, the Okun man is also asking to know when one of their own will become governor of Kogi State.
My own question remains: How can Nigeria or Kogi ever make real progress under this kind of arrangement? Why not regionalise and give every ethnic group in any state a Mayor?
This life is too short to be repeating a time-tested approach that guarantees nothing but failure. 
Opinion
AddThis
: 
Original Author
: 
Ayo Moses Ogedengbe
Disable advertisements
: 
Edo 2020: Oshiomhole And Obaseki Revisited By Erasmus Ikhide
 
Last week, exactly a year before another round of gubernatorial contest in the 'Heart Beat of the Nation', it's shocking the entire Edo landscape boils with political tensions like Papua New Guinea jungle bristling with head hunters and primitive blood-curling human vampires.
This is the time the governor should have been reeling out all his achievements, three years down the road but the opposite is the case. In all, Edo people are the victims. It's most tragic and a matter of conjecture how a peace-living state becomes a furnace of a state with the image of blood embracing government, orchestrating incendiaries and banditry by street urchins.
The polity is not helped by counter measures from sidelined APC warlords who have positioned themselves militantly to do battle with the governor unto death. Most shockingly is how the APC has suddenly become wracked by tension and mutual hostilities in less than four years of Obaseki's tenure in office. That's the dark ironies and a compelling tribute to the governor's elitist grandstanding; acclaimed technocratic superiority over politicians and the tyranny of politics of imposition.
I cautioned at the twilight of 2016 governorship race where Comrade Adams Oshiomhole threw caution overboard, curiously throwing democracy and its majesterial ethos under the bus for Godwin Obaseki to ride the roughshod. I titled the piece, "Edo 2016: Clowns In Search of Crown".
Governor Oshiomhole's reaction to the article where I suggested to him to allow a level playing field so that liberated individuals like Engr Chris Ogiemwonye, Comrade Peter Esele and others who are profile in excellence and integrity to emerge earned me the comrade's caustic tongue: "Comrade Erasmus why is it that militancy runs in your family?".
"The other day, Comrade Ikhide Ifidon your cousin and President of Student Union Government presided over the burning of three comrade buses inside University of Benin; now you're writing trash about Obaseki," he roared.
That piece erupted unprecedented anger in Comrade Oshiomhole and shattered over two decades relationship we had built because I noted certain prinpricks that suggest that Obaseki will throw him under the bus, just the same way he did to democracy. Now, Governor Obaseki is shouting himself lame that Edo people detest godfatherism. The question is since when did Oshiomhole become godfather and how?
Obviously, Governor Obaseki has set the machinery in place to use the APC National Chairman as burnt offering. The second question is how far can he go? Governor Obaseki is simply testing Oshiomhole's capacity to navigate his ways out of political crisis; or his talent for absorbing the heat; or his mastery of the mechanics of negotiating skills. Even in the midst of overwhelming public supports Obaseki enjoys outside APC party structures, the governor is not helped by his less-than-charismatic speaking style; a known inherited reputation for destroying his benefactors; his mindset as a scold who glories in others travail as a self-parading master-of-the-universe and a demagogue.
As we speak, the charges of deceit against Obaseki's government is stronger and infinitely evidential than those levelled against his predecessor. Besides, under the deliberately fractured All Progressives Congress the governor's feeble and unelectable streak tarnishes his awful strategy to whip everyone into line. Strong man or arm twisting political opponents is not a leadership strategy, it's a sign of political impotence.
 
The governor seems to be acting like a typical slave raider who puts the entire state to sword because of his second term ambition. His government has been dishing out crumbs to political touts who go about cracking protesting activists' skulls for demanding to know the actual owners of the allegedly sold Central Hospital, instead of creating sustainable jobs for the mass of Edo people.
Edo State virtually under siege. Only two days ago while the governor was at the New Era College churning out half-truth about his achievements at the 'Ala Gho Daro Submit', over 200 newly recruited political thugs took over King's Square and the state House of Assembly's premises shooting sporadically into the air from 6:00am in the morning till 6:00pm to show his maximum power of political dominance!
How Governor Obaseki who once prided himself as a technocrat suddenly abandoned the course of governance, settles for scam, brigade, touts-buying, violence and bloodfest will ignite thorough research in the political fields of study in due course. Even though the governor has performed credibly well by renovating dilapidated structures in parts of Benin City one of the biggest scams of Mr. Obaseki's fraud that has constituted a museum of misgovernment is the 200,000 jobs scam he promised to create at electioneering in 2016.
Focusing on job creation in 2016 from his manifesto at his inaugural speech at Ogbe Stadium, the Governor intoned: "Within four years, we will create over 200,000 new jobs across the state through agriculture, entrepreneurship schemes, attracting investments for the development of industries and technical and vocational skills development. We will publish a template to be jointly used by the public and the civil society to track the achievement of this objective".
A few days ago, in one of the state's media bizarres blushes comes with this outright falsehood and mind manipulation gambit thus: "Edo jobs was birthed as a practical and strategic step to realise his Excellency, Governor Obaseki's campaign promise of 200, 000 jobs to unemployed residents in the state. Of the 200,000 jobs, about 90,000 jobs have been created so far". With above statement, it's pretty clear that one is bound to suffer mental deterioration when you call yourself "Excellency". It's a shame that Mr Obaseki is already campaigning for second term in office in spite of his woeful failure.
A check across the 18 Local Government Councils and 192 delineated wards of the state exposed the 'technocrime' in a supposedly technocratic government. A breakdown of the fathom jobs created by the governor across the state would mean that 5,000 jobs were created in each of the 18 local council, and 468 jobs plus created respectively in each ward, going by the 90,000 media hype jobs!
There is no doubt that the governor has found himself in cul de sac having erroneously misread a written script of 20,000 jobs for 200,000 at his inaugural campaign debut in 2016. The costly mistake which ought to have been amended instantly has been the governor's singular albatross, aside the mismanagement of the relationship between himself and his benefactor, Comrade Oshiomhole.
As the saying goes, when you tell one lie, you need a million more lies to keep yourself temporarily on the spot to save your face. Governor Obaseki alongside his handlers know that even the presidency hasn't created 90,000 jobs in the last five years, let alone in Edo State where the capital city is virtually under water for lack of road construction, where all the tertiary institutions, including College of Agriculture, Iguoriakhi which has been shut down indefinitely since the governor assumed office.
Two major pronouncements of the governor at electioneering would have helped to furnish his job creation plans if he was prepared for leadership or committed to his own words: "We revive moribund industries within the first year in office, we will restructure and resolve all outstanding debt obligations with Bendel Brewery, Edo Line and any other state-owned enterprise.
"We will also conclude ongoing efforts to complete and commission industries initiated by the PDP government but abandoned before commissioning including Uromi Cassava Factory and Fertilizer Factory in Auchi".
Three-year down the road, it has been motion without movement and empty twitches. On February 3, 2017, the governor inaugurated power generation committee. The six-man Joint Development Committee to implement the Edo Electrifying Initiative for electricity generation, transmission and distribution in the state was a scam. It was the first and the last time the committee ever sat!
Again on the 11th of the same month in 2017, the governor made another pronouncement to make Edo medical tourism destination. Edo people are still in the wilderness as to what the governor meant by Edo medical tourism since no cottage clinic has been built ever since he took office. More also because even the Central hospital that has been left to decay for nearly three years has been allegedly sold to the governor's business interest.
Besides, Governor Obaseki is yet to explain to Edo people the outcome of the constituted committee on the Tayo Akpata University. On the 2nd of February, 2017 the governor set up the committee to kick off the development plan to make Tayo Akpata University of Education, Ekiadolor technologically driven and benchmarked on global standards. Again, it turns out to be one of those fraud where the tax payers' money dedicated to the educational needs of the people took flight and birthed in privately owned company by those in government.
On February 13, Edo people were treated to yet another broken promise by the governor that he has already begun to construct 3,000km of road using concrete technology.
A further check across the state revealed that nobody was trained apart from minor experiment around Ugbague Street in the heart of Benin. Rather, it is one of the usual MOUs future governmental dreams of the governor meant to keep deceiving the people. The governor's wish has been that the people should forget another promise he made towards stable power supply. On March 16, 2017, he signed power purchase agreement, promising uninterrupted power supply across the state, especially in strategic areas, stressing that Edo State is one of the transmission hubs and home of electricity in Nigeria.
"We should be able to deliver 24/7 uninterrupted power to all government establishments located along Sapele Road axis including Government House, Secretariat, Court Complex, Central hospital, House of Assembly and also the Palace", the governor said. It's now dawned on the governor that it has also become a promise gone awry as he faces the ballot a few months from now.
What of the spirited advertisement that Edo Government is collaborating with MAN to create industrial park? On February 2nd, 2017 Governor Obaseki declared that in the next twelve months the state will establish a real industrial park with 24-hour electricity that will enhance the development of the state. It's obvious that the industrial park is another costly MUO induced jokes.
How about the 15th of April 2017 Sobe Farm scam and others across the 18 local government councils that costs the state over N5bnn without a single grain of maize harvested? All the grandstanding about Accelerated Agricultural Development Programme in Sobe, Owan West Local Government Area of the state were hoaxes designed to keep the people hoping which put more money in the hands of a few individuals who have been massaging the governor's ego that he's now his own new godfather.
Was the governor testing the resolve of the Edo people on the 5th of April, 2017 when he said Edo was already collaborating with National Library Association to revive libraries in order to rethink and restore the library system in the state. Was Obaseki joking when he visited Amahor waterside on the 14th of April, 2017 to explores tourist potentials to ascertain the tourism potential of two rivers which formed a confluence at Amahor town in Igueben Local Government Area of the state. 
It must be what the governor's transducers called technocrime or MOUs conglomerates of fraud when Obaseki said on the 15th of May, 2017 that Benin City central bus terminals in continuation of Comrade Oshiomhole's government to decongest and clean up Edo State, after inspecting the city centre, Ring Road and its environs, where he moved to recover government properties. What can we say about his promises on the 4th of May 2017 to decongest major roads in Benin City by relocating illegal street traders and to build ultramodern markets across Benin City? The same Governor Obaseki, last week handpicked few women whom he called market women to endorse his second term bid even when Uwelu and Satana markets were raised down few months ago without a single fire service operative to the rescue.
The scam is even more gangly when Governor Obaseki reeled out Edo Housing Business plan on the 29th of April that his administration was ready and open for housing business and ready to tackle the challenges facing the sector to ensure that Edo people got affordable houses by 2019.
He made the disclosure at the close of a 2-day workshop on Housing/Real Estate themed: "Quest for Adequate and Sustainable Real Estate for Edo People", organised by the state government.
It's the same empty MOUs driven rhetoric that propelled the governor on June 13th, 2017 to state a stoic but hollow promise to have Mitsubishi, Sojitz, Toyota, Sumitomo, Yamaha, Yokogawa, Panasonic and the Japanese Trade Organisation (JETRO) to have their plants planted before the end of 2019. Edo people can't locate the place where the assembly plants have been planted by these automobile giants. Only the governor and his team know where they're situated.
Perhaps it's only Edo State Government that knows that it is generating 3000 megawatts in collaboration with Siemens AG or has been generating 1000 megawatts of electricity annually when it held a shareholders' forum on the 10th of July 2017 to identify the challenges in the power sector of the country.
It's only Edo State branch of Nigeria Red Cross Society that is our witness for Obaseki's administration claim that it has actually built emergency response system for providing First Aid for accident victims across the 18 local government councils as promised on the 13th June, 2017 for the purpose of repositioning sports activities in the state.
The received truth is that democracy has no room for a leader that is so detached from the people and party democracy. The governor should stop blaming Comrade Oshiomhole for everything that is wrong with Edo State. Obaseki should take all the excuses off his manifesto manual and face reality. In "How to run a country: A 10-point manifesto for leaders who stand – and want to deliver," The Independent (UK), says, "The wrong way to achieve a legacy is to claim: 'My predecessor was an idiot and my successor is a traitor.'" In Obaseki's apathetic and primitive three years of misgovernment, Edo State literarily collapsed. Cultism and insecurity have laid the state low; killings and kidnapping have been on the increase.
Who can doubt the governor's penchant for broken promises when on his first day in office paid a visit to Benin Technical College to renovate and fix the much needed vocational education centre. Three years after, the government efforts at fixing the school hasn't yielded any result.
Oshiomhole's major undoing as a maker of men is the fact that he has majorly made more enemies who pretended to be friendly with him than those who genuinely loved him. Godwin Obaseki has proved as a disastrous faker not only by being sly and serpentine, but a betrayer who has been striding and freezing state's resources, even when Oshiomhole was governor.
If Afrinvest, a company owned by Governor Obaseki, could corner N9.8bn in the first tranche of World Bank loan as consultancy fee for securing the loan for Edo State Government as Chairman of Economic Team under Comrade Oshiomhole's administration, then there can be no worse demagoguery than that. Edo people need a better governor and a maker going forward, not a faker.
Email: Ikhideerasmus@gmail.com, Follow me on Twitter @ikhide_erasmus1
 
Opinion
AddThis
: 
Original Author
: 
Erasmus Ikhide
Disable advertisements
: 
E2%80%99s-despotic-and-toxic-regime-bayo-oluwasanmi DSS: Extension Of Buhari's Despotic And Toxic Regime By Bayo Oluwasanmi
Bayo Oluwasanmi
Bayo Oluwasanmi
 
The interpretation of maladies churn out daily by Department of State Services why Omoyele Sowore was not released despite two separate court orders by two separate judges makes DSS an extension of President Muhammadu Buhari's despotic and toxic regime.
The continued detention of Sowore brings into the fore the monumental breakdown of rule of law initiated and supervised by the chief law officer of the country, President Buhari. It's a danger that threatens the peaceful co-existence of Nigeria.
First, DSS said that no one came to claim Sowore as if Sowore was "lost but found" luggage. Second, DSS claimed that Sowore's sureties failed to appear before it. Third, it said Sowore was yet to be released because he asked and preferred to be in their custody. This buffoonery of DSS makes a mockery of federal government agency saddled with the burdensome and sensitive responsibility of internal security of the nation.
We all know President Buhari, his DSS Director-General, Yusuf Magaji Bichi, and the DSS spokesperson, Peter Afunanya, are uneducated, ignorant, and uninformed to understand the meaning of rule of law. Rule of law is a principle under which all persons, institutions, and other entities are accountable to laws that are: (1) publicly promulgated, (2) equally enforced, (3) independently adjudicated and (4) consistent with international human rights principles.
A true democratic government operates as an "empire of laws" and not like the kingdom of despots ruled by incorrigible tyrants. In a democracy, justice must be dispensed by deliberate and dispassionate courts. Government must be run according to rules free of machinations of a despot like Buhari, DSS, or any other institution.
President Buhari is the one undermining the rule of law by his determined effort to rewrite or amend our constitution by flouting court orders. He is the prosecutor and the judge. He cherry picks which court orders to obey. With barrack mentality and jack boot gangsterism, he runs Nigeria like army camp.
He is ruthless, callous, dangerous, insensitive, and naturally wicked. His mind is seared to reason, persuasion, and good governance. He is reckless with power and feels fulfilled by operating illegally and entirely outside of the constitution. It is sad that Nigerians that are being used by Buhari forget that the only way they can safeguard their freedom and democracy is for Buhari, DSS, and other institutions to respect the rule of law. This is the heart of the matter in the Sowore case. This is what 'Buharidindinrins' and other 'Akindanidanis' failed to grasp.
Nigerians should know that the protection shield against tyranny guaranteed by the constitution and rule of law for every citizen cease to exist the moment court orders are subject to the review of the president. We are at the moment right now.
It is painful to note that the erosion of rule of law and violation of our constitution by Buhari is carried out under the nose of his Vice President, Yemi Osinbajo, a law professor. Osinbajo is not only a law professor, but an ordained pastor of Redeemed Christian Church of God.
As a law professor, we expect Osinbajo to advise Buhari that he's acting illegally and outside of the constitution. As a pastor, Osinbajo should be the conscience of Buhari's tyrannical rule by preaching and fighting for justice, equality, and freedom of Nigerians just like the men of God in the Old Testament – Jeremiah, Ezekiel, Daniel, Habakkuk, etc. did even under the most dangerous circumstances. 
Instead of finding solutions to Nigeria's historical twin major problems of corruption and poverty that ravage the land, Buhari is fighting critics and oppressing the poor and the powerless. The most dangerous terrorist Nigerians have to dread from now till 2023 is President Muhammadu Buhari.
Opinion
AddThis
: 
Original Author
: 
Bayo Oluwasanmi
Disable advertisements
: 
Read also Nigerian Newspapers Today and Nigeria News Today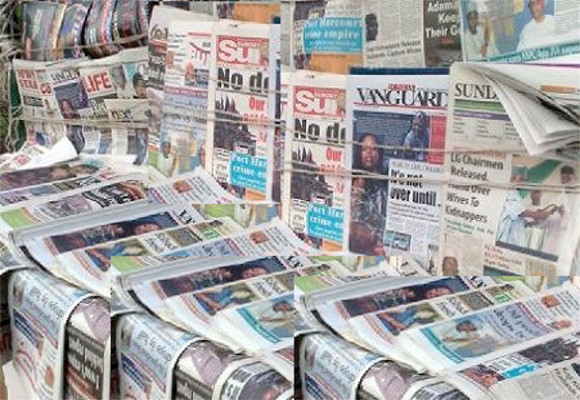 You can also check Sahara Reporters Newspaper Headlines Today