Latest News in Nigeria Today

Monday 11th November 2019

These are the Latest News in Nigeria Today from Guardian newspaper.

Read also Nigeria Newspaper Front Pages Today Monday 11th November 2019

Liverpool opened up an eight-point lead at the top of the English Premier League (EPL) with an emphatic and hugely impressive 3-1 win over Manchester City at Anfield on Sunday.
The victory, sealed with goals from Fabinho, Mohamed Salah and Sadio Mane, leaves unbeaten Liverpool on 34 points from 12 games.
Liverpool are eight points ahead of Leicester City and Chelsea, and nine in front of Pep Guardiola's fourth-placed Manchester City who are the competition's defending champions.
Continue reading Liverpool go eight points clear with 3-1 victory over Manchester City at Vanguard News.

Shakhtar Donetsk's Brazilian midfielder Taison was sent off in a Ukrainian league match against visitors Dynamo Kiev on Sunday for reacting to racist insults from the crowd.
A video of the racism incident showed that Taison stuck his finger up at a section occupied by Dynamo fans and then hoofed the ball into the stands.
Taison, 31, who has featured six times for Brazil and has played in Ukraine since 2011, reacted to the racists with disbelief and left the field in tears.
Continue reading Brazilian player sent off in Ukraine for reacting to racist insults at Vanguard News.

Five suspects including a staff of Usmanu Danfodio University Teaching Hospital Sokoto (UDUTH) have been arrested by the Department of State Security (DSS) over an alleged sale of three children abducted from Zuru in Kebbi.
Gov. Atiku Bagudu, who handed over the three children to their parents on Sunday in Birnin Kebbi, named the suspects as Comfort Nwanko of UDUTH, Dorothy Okonkwo, Uchenna Benedict, Helen Samuel and one Moses who lives in Zuru.
Continue reading DSS arrests UDUTH staff, 4 others over alleged child trafficking in Kebbi at Vanguard News.

Gov. Atiku Bagudu of Kebbi on Sunday commended Dangote Group for setting up a rice mill in the state, saying it would create employment and boost the economy.
Bagudu who visited the factory site at Saminaka in Shanga Local Government Area of the state, said the investment would also rack up the rice value chain and add value to local farmers.
Governor Bagudu during his visit to the Dangote factory site announced in a statement on Sunday in Birnin Kebbi by his Press Secretary, Abubakar Dakingari.
Continue reading Dangote Group begins installation of rice factory in Kebbi at Vanguard News.

Iran, one of the largest oil-producing nation in the world has announced Sunday it has discovered a new oil field in its Khuzestan province.
The announcement was made by the country's President, Hassan Rouhani as he revealed the new oil field is capable of producing more than 50 billion barrels of crude oil.
According to the Iran's president, Rouhani, the estimated crude oil production from the new field would boost the country's proven reserves by a third.
Continue reading Iran discovers new oil field with 50 billion barrels of crude at Vanguard News.

Chinese e-commerce giant Alibaba Group Holding Inc said on Monday that sales for its annual Singles' Day shopping blitz hit 91.2 billion yuan ($13 billion) within the first hour, up 32% from last year's early haul of 69 billion yuan.
Akin to Black Friday and Cyber Monday in the United States, Singles' Day has been promoted as a shopping fest by Alibaba Chairman and Chief Executive Daniel Zhang since 2009, growing rapidly to become the world's biggest online sales event.
Continue reading Alibaba says Singles' Day sales hit 91.2 billion yuan in first hour at Vanguard News.

Bolivian President Evo Morales said on Sunday he would resign after the military called on him to step down and allies tumbled away amid a fierce backlash over a disputed election that has roiled the South American nation.
Morales, the country's leader for nearly 14 years, said in televised comments that he would submit his resignation letter to help restore stability, though he aimed barbs at what he called a "civic coup."
ALSO READ:Woman who impregnated self with stolen semen from billionaire wins child support battle
The head of Bolivia's armed forces earlier on Sunday said the military had asked Morales to step down after weeks of protests over the Oct.
Continue reading Bolivia's Morales resigns after weeks of protests over disputed election at Vanguard News.

Liverpool manager Juergen Klopp says being nine points above Manchester City feels "completely new" and praised his side's intensity after a 3-1 victory over their Premier League title rivals at Anfield on Sunday.
Continue reading Klopp praises Liverpool intensity after crucial win over City at Vanguard News.

Wolves took the West Midlands bragging rights as they beat Aston Villa 2-1 in the Premier League, extending their unbeaten run to seven top-flight games.
It was a terrible first half for Aston Villa, who were forced into two substitutions due to injury. The first was inside seven minutes as Jed Steer was taken off, before Ruben Neves' (41) fine finish deservedly put Wolves ahead.
ALSO READ: Aribo breaks Scottish Premiership duck in Rangers win
Matt Targett then picked up an eye injury in added time and was unable to continue as two of Dean Smith's three changes were used before the break.
Continue reading Wolves 2-1 Aston Villa: Hosts extend unbeaten run with derby win at Vanguard News.

Joe Aribo scored his first goal in the Scottish Premiership as Rangers thumped Livingston 2-0.
Aribo fired his left-footed shot to the top corner to put the visitors ahead after 32 minutes on Sunday.
ALSO READ: Man United 3-1 Brighton: Rashford and Martial lead vibrant Red Devils
The maiden goal came on the 23-year-old's 10th appearance in the Scottish top-flight since his summer move from League One club Charlton Athletic.
Continue reading Aribo breaks Scottish Premiership duck in Rangers win at Vanguard News.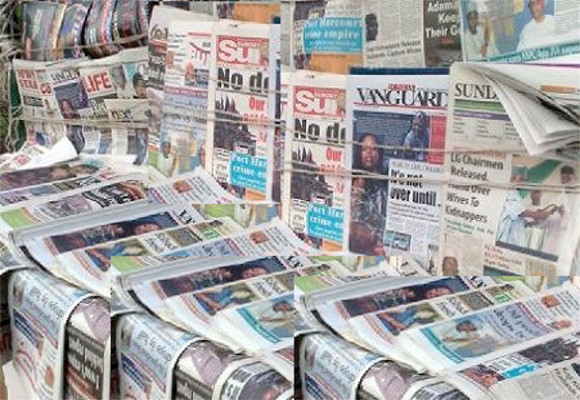 You can also check Nigeria Newspaper Headlines Today