Sahara Reporters Latest News

Thursday 17th October 2019

Sahara Reporters Latest News Today and headlines on some of the happenings and news trend in the Country, today 17/10/19

Read also Leadership Newspapers News Today Thursday 17th October 2019
Plateau Indigenes Blast Governor Lalong For Appointing Hausa-Fulani As Council Chairman
 
A group, Autochthonous Persons of Jos (APJ), has condemned Governor Simon Lalong's appointment of a non-indigene and candidate of the All Progressives Congress (APC), Shehu Bala, as the management committee chairman for Jos North Council Area.
Spokesperson for the APJ, Theresa Azi Nyako, at a press briefing on Tuesday, said, "We want to state in clear, unmistakable and unambiguous terms that we reject and condemn the suppression of our franchise in Jos North local government among others.
"The imposition of a non-indigene who also doubles as the APC candidate during the pendency elections completely rubbishes global best democratic practices, it is illegal, unlawful and unconstitutional.
"It is a great disservice to our people in particular and indeed Plateau State in general as it has the capability to breach peace in the tin city. It makes a mockery of Governor Lalong's pillars of his purported three-point agenda." 
Politics
News
AddThis
: 
Original Author
: 
SaharaReporters, New York
Disable advertisements
: 
Tinubu: It's People's Responsibility To Compel Political Elite To Do What's Right
 
Bola Tinubu, the National leader of the ruling All Progressives Congress, Bola Tinubu, says it is the responsibility of the people to challenge their political elite and insist on good governance otherwise the political class will run the country the way that best satisfies their personal interests.
He stated this at The Niche Newspaper's annual lecture themed, 'Business and Accountable Governance: The Obligation of Leadership' in Lagos.
"The fortune of any society is in the hands of the people. They have the responsibility to compel the elite to do what is right; otherwise history has shown that the elite would always engage the government to do what is favourable to themselves alone, if left unchecked," Tinubu said.
However, a former Chief Executive Officer of the Nigeria Economic Summit Group (NESG), Prof. Anya O. Anya believed that the country's problem was beyond what the APC and the Peoples Democratic Party (PDP) can handle.
Anya said: "Where can we begin? We must start from the recognition that the current situation is beyond the capacity of our political elite; it is beyond the capacity of APC as a party and government. It is beyond the capacity of the PDP or indeed any of the multitude of parties."
Politics
News
AddThis
: 
Original Author
: 
SaharaReporters, New York
Disable advertisements
: 


E2%80%94nbs Inflation Rises By 0.22 Per Cent To 11.24 Per Cent In September —NBS
NBS
NBS
 
The National Bureau of Statistics has said inflation rate in September 2019 increased by 0.22 per cent to 11.24 per cent from 11.02 per cent recorded in August.
It said this in its "Consumer Price Index September 2019" released on Tuesday in Abuja.
It added, "Increases were recorded in all COICOP divisions that yielded the headline index.
"On month-on-month basis, the headline index increased by 1.04 per cent in September, this is 0.05 per cent rate higher than the rate recorded in August (0.99 per cent)."
It also said that urban inflation rate increased by 11.78 per cent (year-on-year) in September from 11.48 per cent recorded in August, while the rural inflation rate increased by 10.77 per cent in September from 10.61 per cent in August.
According to the NBS, on a month-on-month basis, the urban index rose by 1.13 per cent in September, up by 0.09 from 1.04 per cent recorded in August.
It added that the rural index also rose by 0 .96 per cent in September, up by 0.03 per cent from the rate recorded in August (0.93 per cent).
The report said that the corresponding 12-month year-on-year average percentage change for the urban index is 11.63 per cent in September.
This, it said, was higher than 11.62 per cent reported in August, while the corresponding rural inflation rate in September was 10.94 per cent compared to 10.95 per cent recorded in August.
The NBS said that composite food index rose by 13.51 per cent in September compared to 13.17 per cent in August.
It stated, "This rise in the food index was caused by increases in prices of bread and cereals, oils and fats, meat, potatoes, yam and other tubers, fish and vegetables.
"On month-on-month basis, the food sub-index increased by 1.30 per cent in September, up by 0.08 per cent points from 1.22 per cent recorded in August."
 
News
AddThis
: 
Original Author
: 
SaharaReporters, New York
Disable advertisements
: 
E2%80%93nma 48 Doctors Kidnapped For Ransom In Nigeria Under Two Years –NMA
 
The Nigerian Medical Association has said that at least 48 medical doctors were abducted for ransom in the country over the last two years.
President of the NMA, Dr Adedayo Faduyile, made the disclosure on Tuesday in Akure, Ondo State, during the association's 2019 Physicians Week.
According to him, many Nigerian medical doctors are being maltreated at the hands of their employers and are paid poor salaries, adding that this has forced many of them to practice their trade in other countries.
He said, "At least two doctors have been kidnapped in two-third of the states across the country within the last two years.
"Our members that were kidnapped in some cases even died in kidnappers' den.
"In the last one year, Nigerian doctors have had significant input in the improvement of the health of the country.
"In this regard, I appreciate all physicians who have been working assiduously in ensuring that we collectively fulfill our key responsibilities to Nigerians.
"It is worthy of note that despite the kidnapping of our members in the course of discharging their duties, our medical practitioners have continued to render desirable health care services.
"Something has to be done to save the situation."
PUBLIC HEALTH
News
AddThis
: 
Original Author
: 
SaharaReporters, New York
Disable advertisements
: 
I Feel Ashamed As A Nigerian Each Time I Travel Abroad, Says Don Jazzy
 
Celebrated music producer and founder of Marvin Records, Michael Ajereh widely known as Don Jazzy, has said that he usually feels ashamed as a Nigerian each time he travels to a foreign country and sees the level of development and sanity in those places.
Taking to his Twitter handle on Tuesday, the 36-year-old musician said that despite being rich, it was difficult for him to live a good life in Nigeria.
He said, "That's the thing about us in Nigeria. Is it too much faith I will call it? Or we are just too… I don't know the word to use.
"You will have money and just be seeing people suffering and your money won't interest you to spend. Our standard of living in Naija is sad. It's not fair.
"No matter the amount of money you have, you will still ball mediocre balling in Nigeria.
"Yeah, I am in Berlin (Germany) and I normally feel this way whenever I leave the country (Nigeria).
"No matter the country I go to, small or big, I just feel ashamed for us."
On October 7, 2019, Oxfam International said that no fewer than 94.4 million people in Nigeria live below extreme poverty – more than the combined population of Gambia and Cape Verde.
The organisation added that at the current rate, Nigeria is not only off-track to meet the Sustainable Development Goals but that up to 25 per cent of the world's extreme poor will live in the country by 2030.
This is on top of the collapse of critical infrastructure like roads and electricity amidst a deepening culture of corruption across the country.
Celebrity
Travel
News
AddThis
: 
Original Author
: 
SaharaReporters, New York
Disable advertisements
: 
Suspected Gunmen Kill Father, Abduct Two Children In Abuja
 
Gunmen suspected to be kidnappers have killed Ayuba Chashe and abducted his two children at Yebu community in Kwali Area Council of Federal Capital Territory, Abuja, The Nation reports.
Chairman of Kwali Area Council, Mr Danladi Chiya, confirmed the development on Tuesday.
Chiya said that the incident happened midnight on Monday when the hoodlums attacked the community.
While commiserating with the affected family, Chiya said efforts were on to bring the perpetrators to book.
When contacted, the FCT Police Public Relations Officer, Anjuguri Manzah, was unable to confirm the incident due to lack of adequate details at the time.
 
CRIME
News
AddThis
: 
Original Author
: 
SaharaReporters, New York
Disable advertisements
: 
Minimum Wage: Labour, Government Fail To Agree, Negotiation Continues Wednesday
 
The meeting between the organised labour and the Nigerian Government over the implementation of the new minimum wage has ended without an agreement.
Leader of the labour team, Rotimi Asugwuni, told journalists that discussions will continue on Wednesday with the hope that a favourable agreement would be arrived at by both parties.
Also expressing hope of an agreement ahead of Wednesday's meeting, Acting Head of Service of the Federation, Folashade Yemi-Esan, said that an outcome that would benefit Nigerian workers would be reached.
The organised labour is asking for 29 per cent salary increase for officers on grade level seven to 14 and 24 per cent adjustment for officers on grade level 15 to 17.
However, the government is offering 11 per cent for officers on grade level seven to 14 and 6.5 per cent for workers on grade level 15 to 17.
The labour unions had threatened to embark on nationwide strike on Wednesday should the government fail to accede to its demands by then.
But in another twist on Tuesday, the United Labour Congress, a vibrant workers group, said it had pulled out of the planned nationwide strike scheduled to commence on Wednesday over the failure of the leadership of the NLC and Trade Union Congress to carry it along in negotiations with government.
ULC President, Joe Ajaero, stated that the group will not be part of an exercise designed to hoodwink Nigerian workers and masses into believing that their interests are being championed.
Other workers group have however, expressed readiness to embark on strike action should Wednesday's meeting also end without an agreement. 
 
LABOR/WORKERS' RIGHTS
News
AddThis
: 
Original Author
: 
SaharaReporters, New York
Disable advertisements
: 


Senate Urges Buhari To Declare State Of Emergency On Federal Roads
Ahmad Lawan
Ahmad Lawan
 
The Nigerian Senate on Tuesday asked the administration of President Muhammadu Buhari to declare a state of emergency on federal roads due to their deplorable conditions across the country.
The move followed a motion by Senator Geshom Bassey, who called the attention of his colleagues in the upper arm of the National Assembly to the terrible state of roads in many parts of Nigeria.
Bassey stated that the bad condition of the roads was leading to needless deaths caused by accidents.
Supporting the call, Senate President, Ahmad Lawan, said every part of Nigeria was currently being affected by bad roads.
Lawan expressed confidence at the capacity of the committees mandated to look into the matter to deliver on the task.
Politics
Travel
News
AddThis
: 
Original Author
: 
SaharaReporters, New York
Disable advertisements
: 
US Police Declare Suspected Killer Of Nigerian Teenager Wanted
 
The police in the United States have issued an arrest warrant for the suspected killer of Nigerian-born teenager, Oluwafemi Oyerinde, who was shot dead on October 6, 2019 at his off-campus accommodation.
The suspect, Kashman Rael Thomas, is accused of murdering the 18-year-old student at the Stadium Village apartment complex on Hidden Forest Court in Marietta, less than two miles from the Kennesaw State University, Georgia, Marieta Daily Journal said.
Thomas' arrest warrant states that the shooting occurred around 11:30am that fateful day when he allegedly shot and wounded two other 18-year-olds.
Khalil Bennett and Jarius Bonner, who are not KSU students, were shot in the back and buttocks respectively by the suspect, the police said.
Both were disfigured from the shooting, having suffered internal and surface injuries, it was revealed.
Oyerinde, the youngest of three children, died at the scene from gunshot wound to the back, police added.
CRIME
Police
United States of America
News
AddThis
: 
Original Author
: 
SaharaReporters, New York
Disable advertisements
: 
 
The Sector 2 Command, Operation Lafiya Dole of the Nigeria Army, on Tuesday destroyed nine vehicles loaded with smoked fish seized from smugglers, according to the News Agency of Nigeria.
Commander of the Sector, Brig.-Gen. Ibrahim Sallau, led the destruction of the contraband in Damaturu, Yobe State.
During the burning of the smoked fish, Sallau said that the vehicles were intercepted at Bukarti in Yunusari Local Government Area of the state by troops of 159 Battalion Geidam.
He also said the illegal fish smugglers brought the contraband from Diffa in Niger Republic en route Hadeja in Jigawa, concealed in bags of corn shaft and loaded in nine vehicles.
He said that the command would make it a routine exercise to arrest and destroy all items placed on the list of banned goods found within its jurisdiction.
Sallau warned all groups and individuals involved in smuggling of items listed as contraband to desist from such acts.
 
Food
Military
News
AddThis
: 
Original Author
: 
SaharaReporters, New York
Disable advertisements
: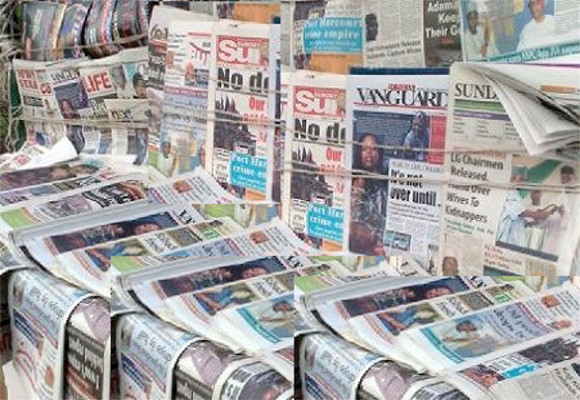 You can also check Sahara Reporters Newspaper Headlines Today