Nigeria Newspaper Front Pages Today

Thursday 17th October 2019

Here are some of the Nigeria Newspaper Front Pages Today on Thisday newspaper.
TRAGEDIES ON THE WATERWAYS
The authorities may do well to enforce safety standards Dozens of people died last week after a canoe capsized on Kirfi River in Kirfi Local Government Area of Bauchi State in the latest of what has become a common tragedy in our country. The victims, all farmers, were on their way to their farms when
THISDAYLIVE.
WHEN CHILDREN BECOME COMMODITIES
More efforts should be made to interrogate cases of disappearing children, writes Olusegun Adeniyi Early this month, police in Lagos uncovered a suspected 'baby factory' and rescued 19 pregnant girls aged between 15 and 28 in Ikotun area of the state. Brought to Lagos, the girls were impregnated and upon delivery, their babies were then
THISDAYLIVE.
WEDNESDAY 16TH OCTOBER 2019
THISDAYLIVE.


Minimum Wage: FG Shifts Position Again, Offers 13.5% for Level 15-17, 20% for 7-14
Onyebuchi Ezigbo in Abuja Federal Government have again shifted its position on the disputed consequential adjustment rate for federal workers The government's negotiating team after consultation with the presidency on Wednesday came up with a fresh proposal to labour. THISDAY gathered from labour sources at the meeting that government has offered pay 13.5 percent to
THISDAYLIVE.
To Transform Oyo Economy, I will Take Hard Decisions, Says Makinde
Oyo State Governor, Engineer Seyi Makinde, on Wednesday, said that his administration will not shy away from taking hard decisions in order to set the State on a trajectory of sustainable development. The governor, who also advised his brother governors not to be caged by crave for second term, stated that service delivery to the
THISDAYLIVE.
Bauchi Finance Commissioner Resigns
By Segun Awofadeji in Bauchi Barely three months after he was sworn- in alongside other commissioners, Bauchi State Commissioner of Finance, Nura Manu Soro, has resigned from office. Manu Soro who was sworn in on September 11, 2019 made the announcement via his verified Facebook page. The post read, "I've resigned my position as Commissioner
THISDAYLIVE.
Two Persons Killed as Petrol Tanker Explodes in Anambra
By David-Chyddy Eleke in Awka A truck loaded with petroleum product Wednesday exploded at Upper Iweka, Onitsha in Anambra State, killing a woman and her baby, while also burning down several shops. An eyewitness at Upper Iweka, the site of the incident, said the truck lost control and rammed into the wall of the popular
THISDAYLIVE.
I Did not Kill My Husband, Maryam Sanda Tells Court
By Alex Enumah in Abuja Maryam Sanda, wife to late Bilyaminu Bello, son of a former Chairman of the Peoples Democratic Party (PDP), Haliru Bello, on Wednesday insisted that she did not Kill her husband as alleged. Maryam who made the denial while being led in evidence in her own trial, told Justice Yusuf Halilu
THISDAYLIVE.


SGF: Fraudsters Using My Office to Dupe People
By Olawale Ajimotokan in Abuja The Secretary to the Government of the Federation (SGF) Boss Mustapha has accused a group of faceless persons under the cover of the social media and other platforms of luring innocent members of the public to apply online for non-existing jobs in the Office of the Secretary to the Government
THISDAYLIVE.
By Adedayo Akinwale ín Abuja President Muhammadu Buhari has signed five bills into law. The bills are: Obafemi Awolowo University Transitional Provisional Amendment Bill 2019, the Abubakar Tafawa Balewa University Bauchi Amendment Bill 2019, University of Maiduguri Amendment Bill 2019, the National Fertiliser Quality Control bill 2019, as well as the Nigeria Council of Food […]
The post Buhari Signs Five Bills into Law appeared first on THISDAYLIVE.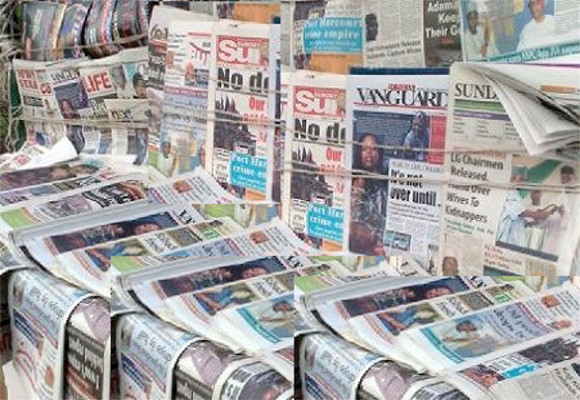 You can also check Nigeria Newspaper Headlines Today