Thisday Newspaper News Today

Saturday 12th October 2019

Top Nigeria news Dailies Update from Thisday Newspaper News Today 12/10/19

Read also The Nation Newspaper Today Headline Saturday 12th October 2019

Light sweet crude discovered in Upper Benue Trough/Gongola Basin  Hydrocarbon already flowing, computation of volume ongoing Chika Amanze-Nwachuku in Lagos and Chineme Okafor in Abuja Nigeria's northern region could become an oil producing jurisdiction soon following disclosure yesterday by the Nigerian National Petroleum Corporation (NNPC) that it had discovered hydrocarbon deposits in the Kolmani River […]
The post At Last, NNPC Strikes Crude Oil Up North appeared first on THISDAYLIVE.

Summons heads of 8 agencies Deji Elumoye in Abuja  The Senate has expressed concern over alleged lopsided appointments in some federal agencies and departments and has therefore resolved to probe the on-going recruitment exercise with a view to ensuring that all geo-political zones are evenly represented. Chairman of the Senate committee on Federal Character and […]
The post Senate: Lopsided Recruitment Ongoing in FIRS, NDLEA, Others appeared first on THISDAYLIVE.

Lawan: We won't allow MDAs to frustrate our December target Olawale Ajimotokan and Chuks Okocha in Abuja President Muhammadu Buhari has announced the immediate suspension of international travels by all cabinet members and heads of government agencies to enable them personally lead the process of budget defence at the National Assembly. On the same, President […]
The post Budget Defence: President Bans Ministers from International Travels appeared first on THISDAYLIVE.

Laurence Ani Situated in Asata, just at the cusp of a major intersection that connects several middle income and high density neighbourhoods in the Enugu metropolis, there couldn't have been a more apt location for Poly Clinic, a facility which in its early days was comparable to the famous Massey Street Children's Hospital in Lagos. […]
The post Ugwuanyi Revs Up Healthcare appeared first on THISDAYLIVE.

Ezra Mabadeje Somewhat curiously, there appears to be belief that illegal transmission of pay television signal is no crime. And if at all it is, perpetrators seem to believe that it a less severe form of theft than piracy of CDs, DVDs and books for which, understandably, there is a larger market. My conviction that […]
The post TV Signal Piracy: Dressing Theft Up as Patriotism appeared first on THISDAYLIVE.

Commends BBC undercover report on UNILAG Omololu Ogunmade in Abuja President Muhammadu Buhari yesterday in Abuja called for stricter laws against sexual harassment in Nigerian schools. Reacting to recent revelations of sexual harassment in institutions of higher learning in the country, Buhari said he was glad that the undercover news reporting at the University of […]
The post Buhari Bemoans Sexual Harassment in Schools, Calls for Tougher Sanction appeared first on THISDAYLIVE.

RingTrue By Yemi Adebowale, yemi.adebowale@thisdaylive.com; 07013940521 (text only) In early March, 2013, former President Goodluck Jonathan was in Maiduguri to engage Borno elders on the Boko Haram scourge. It was the final day of his 48-hour on-the-spot assessment of Yobe and Borno, the epicenter of the insurgency. The Borno elders openly, and rightfully too, confronted Jonathan […]
The post Boko Haram: Where Are the Borno Elders Now? appeared first on THISDAYLIVE.

Most Nigeria's major encounters with Brazil have all been at the Olympics Games and once at the U21 World Championship in 1989 in Chile, aside the friendly game in Abuja. However, it was not until the Atlanta '96 Olympics when Nigeria came from 3-1 down to defeat a Ronaldo Delima inspired Brazil 4-3, that a […]
The post Brazil Vs Nigeria: More Than a Friendly Encounter appeared first on THISDAYLIVE.

Anthony Joshua has revamped his sparring with new and improved partners ahead of his rematch with Andy Ruiz Jr, says promoter Eddie Hearn. Joshua "struggled" to identify appropriate sparring partners before his defeat to Ruiz Jr, who replaced original opponent Jarrell Miller, according to Hearn. But it has been a key area of focus before […]
The post Top Class Sparring Boosts Joshua's Bid to Win Rematch with Ruiz Jr appeared first on THISDAYLIVE.

DStv and GOtv subscribers will have front row seats this Sunday when Nigeria's Super Eagles take on five-time world champions Brazil in an international friendly. The kick-off time for the encounter is 1:00 pm (NigeriaTime) on Sunday, on channel 227 for DStv subscribers and channel 37 for GOtv customers. The Nigerian friendly match is exclusive […]
The post DStv, GOtv to Show Brazil-Nigeria Match Live Tomorrow appeared first on THISDAYLIVE.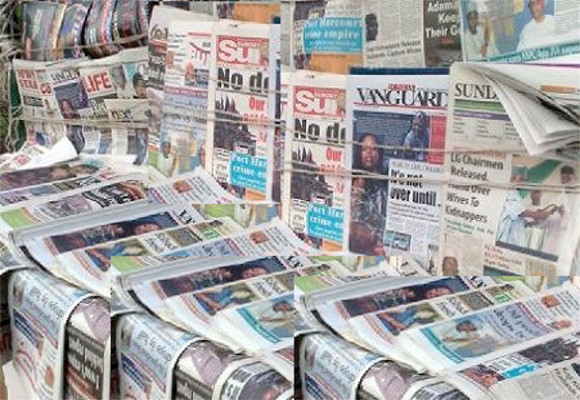 You can also check Thisday Newspaper News Today