Sahara Reporters Latest News

Wednesday 18th September 2019

Sahara Reporters Latest News Today and headlines on some of the happenings and news trend in the Country, today 18/09/19

Read also Leadership Newspapers News Today Wednesday 18th September 2019
target=_blank>Nigerians To Start Paying For Bank Deposits In 2020
The Nation
Starting from September 18, 2019, Nigerians operating bank accounts will begin to pay charges for deposits and withdrawals.
Making the announcement on Tuesday, the Central Bank of Nigeria said that the nationwide implementation of the cashless policy will begin by March 2020.
The apex bank said that implementation of the policy would signal the imposition of charges on deposits in addition to already existing charges on withdrawals.
According to the circular, the charges will attract three per cent processing fees for withdrawals and two per cent processing fees for lodgments of amounts above N500,000 for individual accounts.
For corporate accounts, the apex bank in the circular said that DMBs would charge five per cent processing fee for withdrawals and three per cent for lodgments of amounts above N3m.
The statement, however, disclosed that the charge on deposits would apply in Lagos, Ogun, Kano, Abia, Anambra, and Rivers states as well as the Federal Capital Territory.
Money
News
AddThis
: 
Original Author
: 
SaharaReporters, New York
Disable advertisements
: 
target=_blank>FUTA Raises The Alarm Over Admission Fraudsters
Federal University of Technology – Akure
Federal University of Technology – Akure
Nigeria Schools
Authorities of the Federal University of Technology Akure, Ondo State, have raised the alarm over activities of some unscrupulous persons defrauding unsuspecting candidates seeking admission into the institution.
Spokesperson for the university, Mr Adegbenro Adebanjo, said that the school was alerted by the criminal activities of the fraudsters by prospective admission seekers.
Adebanjo stated that the institution was embarrassed by the criminal activities of the fraudsters using the social media and Internet for their illicit trade. 
He disclosed that some admission seekers had been falling prey to the activities of the fraudsters claiming to be officials of the university.
He said, "These impostors through text messages and posting on the social media, claim to have the ability and connections to manipulate results of post-UTME screening for any candidate interested in gaining admission into FUTA.
"Also, these fraudsters ask candidates through various social media platforms and other channels to call some phone numbers and pay huge amount of money into private accounts to facilitate admission.
"This is nothing but scam by these fraudsters. We are cautioning the general public to be wary of these scammers who want to fraudulently extort money from unsuspecting candidates and their parents and guardians. 
"No individual either internally or externally, can manipulate results of the screening exercise and the admission process of FUTA."
CRIME
Education
News
AddThis
: 
Original Author
: 
SaharaReporters, New York
Disable advertisements
: 


E2%80%93study target=_blank>Black Carbon Inhaled By Pregnant Women Can Cross Into Unborn Babies –Study
A research done in Belgium has found that black carbon inhaled from motor vehicles or the burning of fuel reaches the placenta of the unborn baby. 
According to the study published in the journal, Nature Communications, about 20,000 tiny particles per cubic meter of the tissue of every placenta analysed were found among pregnant women living near busy roads.
For pregnant women in Nigeria where there are no regulations on carbon emitted by automobiles, this study will come as a great concern to dozens of them.
The study said, "This is the most vulnerable period of life. All the organ systems are in development. 
"For the protection of future generations, we have to reduce exposure.
"We should be protecting fetuses and this is another reminder that we need to get air pollution levels down."
PUBLIC HEALTH
News
AddThis
: 
Original Author
: 
SaharaReporters, New York
Disable advertisements
: 
target=_blank>Facebook Partners London Police To Track Terror Live Streams
Facebook on Tuesday teamed up with the London Police to help its artificial intelligence tools track live streams of terror attacks such as the New Zealand mosque massacre.
A self-professed white supremacist used a head-mounted camera in March to broadcast live footage on Facebook of him attacking two mosques in the city of Christchurch.
Facebook and platforms such as YouTube came under intense criticism for initially failing to detect the broadcast and then struggling to take down its uploads that proliferated online.
The California-based social media behemoth on Tuesday said it was in the process of updating and refining its policies for dealing with extremism and online hate.
"Some of these changes predate the tragic terrorist attack in Christ church, New Zealand, but that attack, and the global response to it in the form of the Christchurch Call to Action, has strongly influenced the recent updates to our policies and their enforcement."
London's Metropolitan Police said the initiative will see it provide Facebook footage of training by its forearms command unit.
The videos will be captured on body cameras provided by Facebook that London's Firearms Command officers wear during exercises.
This will help Facebook "capture the volume of images needed to train our machine learning tools," the company said.
"This will mean our AI tools will be able to more accurately and rapidly identify real-life first-person shooter incidents and remove them from our platform."
The London police said its footage will be combined with video Facebookis already using from law enforcement agencies in the United States.
The Metropolitan Police said Facebook decided to ask London for help because it has created the world's first counter-terror internet response team focused on online hate.
Facebook said that it was also expanding to Australia and Indonesia a US programme in which users, who search for extremist content on the platform are directed to a special support group.
CRIME
Internet
Police
News
AddThis
: 
Original Author
: 
SaharaReporters, New York
Disable advertisements
: 
E2%80%99s-migrant-population-hits-272-million-%E2%80%93un target=_blank>World's Migrant Population Hits 272 Million –UN
Time.com
A new United Nations report published on Tuesday as said that the world's migrant population has hit 272 million.
The report said Europe and North America have absorbed the largest share of that figure that has grown by 23 per cent over the past decade.
The report found that there were 82 million migrants living in Europe and 59 million in North America in 2019, followed by Northern Africa and Western Asia with 49 million each.
There were 51 million more migrants in the world in 2019 than in 2010, a 23 per cent increase, according to the report prepared by the population division of the UN Department of Economic and Social Affairs.
It said migrants account for 3.5 per cent of the world's population today, compared with 2.8 per cent in 2000.
The report said the estimates were based on official national statistics on the foreign-born or the foreign population obtained from population censuses, population registers or nationally representative surveys, according to the AFP.
"These data are critical for understanding the important role of migrants and migration in the development of both countries of origin and destination," said Liu Zhenmin, UN under-secretary-general for Economic and Social Affairs.
He added that "orderly, safe, regular and responsible migration and mobility of people" were important in fostering sustainable development.
The UN's country-by-country analysis shows that half of the world's 272 million migrants live in just 10 countries – with the United States in first place with 51 million.
Germany and Saudi Arabia were next with 13 million each, followed by Russia (12 million), Britain (10 million), United Arab Emirates (nine million), France, Canada, Australia (eight million each) and Italy (six million).
In terms of countries of origin, India was first with 18 million nationals living in other countries, followed by Mexico (12 million), China (11 million), Russia (10 million) and Syria (eight million), according to the report.
Travel
News
Reports
AddThis
: 
Original Author
: 
SaharaReporters, New York
Disable advertisements
: 
target=_blank>Alleged N400m Theft: Ex-Army GOC Rejects Adeosun As Court Marshal President
Major General Hakeem Oladapo Otiki (left)
Major General Hakeem Oladapo Otiki (left)
Former General Officer Commanding 8 Division of the Nigerian Army, Sokoto, Maj-Gen Hakeem Otiki, on Tuesday rejected Lieutenant-Gen Lamidi Adeosun as President of the Court Marshal set up to try him, according to a report by Channels TV.
The former GOC is being tried for alleged theft of N400m.
He made this known through his lawyer, Major Femi Oyebanji (retd), who said Adeosun presiding over the Court Marshal will prejudice his case and not ensure a fair trial.
Among other reasons, counsel to Otiki said it's a fact that the defendant conducted several operations that were directly under the office of Adeosun, which are operations that will come up during the trial.
According to the counsel, this makes the President of the Court Marshal an interested party.
He also added that the defendants inherited the soldiers that were under the command of Adeosun when he was in charge of 8 Division and some of those soldiers will come up as witnesses in the case.
He, therefore, asked him to excuse himself from the trial.
Otiki is alleged to have ordered five soldiers to escort the N400m from Sokoto to Kaduna State to a prominent person but the said soldiers were alleged to have absconded with the money.
Military
News
AddThis
: 
Original Author
: 
SaharaReporters, New York
Disable advertisements
: 
target=_blank>Law Firm Describes Police Fund As Unconstitutional
A law firm, Banwo and Ihodalo Chamber, has described the police levy fund, which mandates companies in Nigeria to remit 0.005 per cent of their net profit to the Nigeria Police Trust Fund, as unconstitutional. 
According to an analysis by the firm, the new tax is tantamount to 'double taxation and flies in the face of constitutional and international best practices'.
The firm reasoned that any company paying the levy would have already paid a 30 per cent company income tax and another two per cent education tax.
It said, "The net profit levy imposed on companies by the Act is effectively double taxation and flies in the face of constitutional and international best practices, as the levy is essentially paid from profits that have already been taxed."
Speaking further, the law firm said the Police Trust Fund Act was silent on what the scope of a Nigerian company is. 
The firm also notes that the law, which was signed by President Muhammadu Buhari on June 24, does not state if a company can meet the obligations of the levy from its taxable profit. 
It added, "It also flies in the face of the Revised National Tax Policy issued by the Federal Ministry of Finance on February 1, 2017, which cites reduction in the number of taxes and avoidance of multiple taxation as part of the policy guidelines of the Nigerian tax system."
Police
Taxes
News
AddThis
: 
Original Author
: 
SaharaReporters, New York
Disable advertisements
: 


target=_blank>Youths Protest Against Cybercrime In Delta State
Some youths under the aegis of "Save Sapele Group" embarked on a peaceful protest in Delta State on Tuesday to condemn cybercrime and Internet fraud in the country.
Speaking during the protest, one of the leaders said, "The protest was to condemn the activities of some misguided elements that engage in despicable activities such as Internet fraud, cybercrimes and kidnapping in Sapele.
"We don't want 'Yahoo yahoo', we don't want Internet fraud, we say no to 419 and ritual killings."
They stated that Sapele was known for commendable activities and not illegal acts as being portrayed.
CRIME
Internet
News
AddThis
: 
Original Author
: 
SaharaReporters, New York
Disable advertisements
: 
target=_blank>Ghanaian Court Launches Inquiry Into Billionaire, Lulu Briggs' Death
The Kaneshie District Court 2 in Accra, Ghana, has ordered a judicial inquiry into the death of Nigerian billionaire and philanthropist, High Chief Benson Lulu-Briggs of Abonnema, Rivers State.
The court granted an ex-parte motion application filed by Chief Dumo Lulu-Briggs, eldest son of the deceased, who allegedly died upon arrival at the Kotoka International Airport, Accra, aboard a private flight on December 28, 2018, Graphic Online reports.
In ordering for an inquest, the court said events following the philanthropist's death gave it reasonable cause to believe that he did not die of natural causes, and ordered the police to produce all processes and documents in their custody, including an autopsy report.
The court said, "An inquest should be conducted on the death of the deceased, an autopsy to be undertaken on the deceased following an application for post-mortem by the Ghana Police Service.
"The Ghana Police Service is ordered to make available to this court all processes and documents in their custody, including the autopsy report."  
Ghana
Police
News
AddThis
: 
Original Author
: 
SaharaReporters, New York
Disable advertisements
: 
Operatives of the Economic and Financial Crimes Commission have arrested two suspected Internet fraudsters popularly known as 'Yahoo boys'.
The EFCC, during the arrest, recovered mobile phones, laptop computers, and a Toyota Corolla car.
The suspects arrested are Iloh Joseph and Emeka Jonathan.
According to the anti-graft agency, the arrest was made after a covert intelligence gathering and tip-off from already arrested suspects.
The agency said, "Officers of the Cybercrime Section at the Abuja Zonal office of the EFCC on Monday, September 9, 2019, raided the residences of suspected yahoo-yahoo fraudsters in Abuja.
"In the same vein, arrests were carried out on the September 13 at Nepa Road, Phase 4, Kubwa and at No 18 Samuel Crescent, Dantata Estate, Kubwa, Abuja.
"The raid followed covert intelligence gathering and tip-offs from already arrested suspects."
The anti-corruption agency stated that the suspects are cooperating with the commission and would be charged to court as soon as investigations are concluded.
CRIME
Internet
News
AddThis
: 
Original Author
: 
SaharaReporters, New York
Disable advertisements
: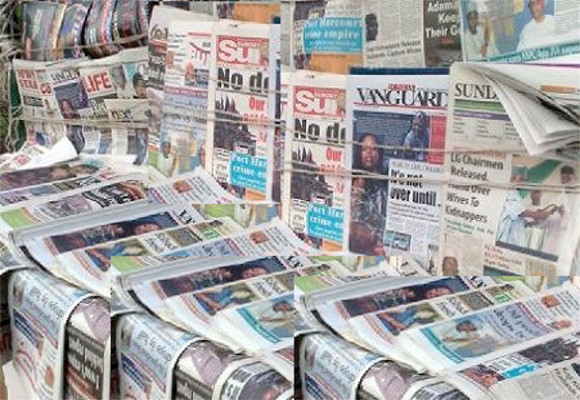 You can also check Sahara Reporters Newspaper Headlines Today