Nigeria Newspaper Front Pages Today

Monday 15th April 2019

Here are some of the Nigeria Newspaper Front Pages Today on Thisday newspaper.

Goddy Egene Having declined for five straight weeks, the low valuation of stock prices on the Nigerian Stock Exchange (NSE) will drive recovery going forward, analysts have predicted. The stock market declined by 0.19 per cent last week following continuing bear sentiments that have depressed prices to record low. Specifically, the NSE All-Share Index closed […]
The post Analysts Optimistic Market Will Recover on Low Valuation appeared first on THISDAYLIVE.

Raheem Akingbolu  One of the leading financial technology companies, Global Accelerex, has recorded another milestone with the launch of its agency network platform, a web-based business solution developed for agency banking business. The company announced in Lagos recently that the move was in support of the Central Bank of Nigeria's financial inclusion drive, which seeks […]
The post Firm Drives Financial Inclusion with Agency Network Platform appeared first on THISDAYLIVE.

Chinedu Eze Turkish Airlines management has announced that it will begin London-Istanbul-Port-Harcourt flights from June 24, 2019.  The airline said it airlifted over 75.2 million passengers from its more than 307 destinations in 2018.  Turkish Airlines' General Manager, Abuja and his counterpart in Lagos, who would now take charge of Port Harcourt operations, Mehmet Asik […]
The post Turkish Airlines Begins Flights to PH, Airlifts 80m in 2018   appeared first on THISDAYLIVE.

Hammed Shittu in Ilorin  The Kwara State Internal Revenue Service (KWIRS) said it recorded a total sum of N6.279 billion as revenue generated in the first quarter (Q1) of 2019. The executive chairman of the revenue agency, Prof. Murtala Awodun disclosed this in Ilorin, during to a media chat.  He said the agency generated N2.16 […]
The post Kwara Revenue Agency Rakes in N6.279bn in Q1 appeared first on THISDAYLIVE.

Ibrahim Shuaibu in Kano PYXERA Global Nigeria YieldWise project , a non-governmental organisation (NGO) said it recently trained 20, 610 tomato farmers on how to reduce post-harvest losses in the tomato value chain in last three years. The project Director, Mr Lekan Tobi, disclosed this at the end of a workshop held in Kano recently, […]
The post 20,610 Tomato Farmers Trained in Kano appeared first on THISDAYLIVE.

Nosa Alekhuogie One of the leading law firms, ǼLEX, provided all the legal advisories need for the recent successful completion of the acquisition of a 100 per cent stake in one of Nigeria's foremost fruit juice and drinks manufacturers, C.H.I. Limited, by the world's largest beverage company, Coca-Cola Company, THISDAY has learnt. ǼLEX, it was […]
The post 'ǼLEX Behind Acquisition of CHI's Equity Stake by Coca-Cola' appeared first on THISDAYLIVE.

By Kasim Sumaina in Abuja  The federal government, has expressed its readiness to commence the construction of the Ebute-Meta-Apapa rail project by December.  The move, government hinted was to curtail the lingering gridlock crisis along the corridor, thereby decongesting the seaport. The Minister of Transportation, Mr. Rotimi Amaechi, gave the hint while inspecting the level […]
The post Construction of Ebute-Meta-Apapa Rail Project to Commence December, Says FG  appeared first on THISDAYLIVE.

  The Nigerian Air Force (NAF) says its Air Task Force (ATF) for Operation DIRAN MIKIYA has destroyed some logistics' storehouse belonging to bandits at a location within Kagara Forest, in Zamfara. NAF Director of Public Relations and Information, Air Commodore Ibikunle Daramola, who said this on Sunday in Abuja, added that the operation was […]
The post Air Force Helicopter Destroys Bandits'  Storehouse in Zamfara appeared first on THISDAYLIVE.

For a former Acting Managing Director of Bank of Industry, Dr. Waheed Olagunju, who recently bowed out of service, having reached the retirement age of 60, his double celebrations provided opportunity for friends and top government officials, including President Muhammadu Buhari, to attest to the qualities and attributes that stood out the man many described […]
The post At 60, Nigerians Honour Waheed Olagunju with a Balanced Scorecard appeared first on THISDAYLIVE.

Governor Ifeanyi Ugwuanyi of Enugu State has inaugurated a 20-member steering committee of the Enugu Open Government Partnership (OGP). Open Government Partnership Nigeria is a programme anchored by the office of the Attorney-General of the Federation and Minister of Justice towards upholding the principles of fiscal transparency in the areas of open budgeting, open contracting, tax […]
The post Ugwuanyi Inaugurates Committee on Fiscal Transparency appeared first on THISDAYLIVE.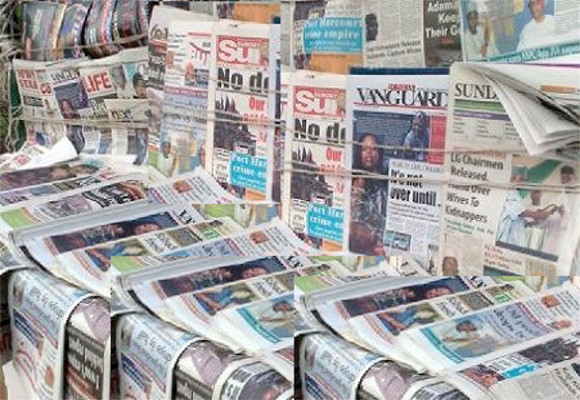 You can also check Nigeria Newspaper Headlines Today