Thisday Newspaper News Today

Thursday 14th March 2019

Top Nigeria news Dailies Update from Thisday Newspaper News Today 14/03/19

Read also The Nation Newspaper Today Headline Thursday 14th March 2019

Oyo State Police Command has arrested the Chief Whip of the state House of Assembly, Wasiu Olafisoye Akinmoyede, in connection with the murder of a senatorial candidate, Hon. Temitope Olatoye a.k.a. Sugar. Akinmoyede's arrest brought the number of those held to two. Olatoye was representing Lagelu/Akinyele federal constituency in the lower chamber of the National […]
The post Police Arrest Oyo Chief Whip over Olatoye's Assassination appeared first on THISDAYLIVE.

Rejects bill to amend NOSDRA Act President Muhammadu Buhari Wednesday said that the federal government was doing its best to correct and reverse the terrible mismanagement the country had experienced under the previous administrations. This is coming as President Buhari has declined assent to the National Oil Spill Detection and Response Agency (NOSDRA) Act (Amendment) […]
The post Buhari: FG Working Hard to Reverse Mismanagement of Economy appeared first on THISDAYLIVE.

State govt imposes curfew on Kajuru   ADA accuses el-Rufai of bias Gunmen kill two policemen on election duty in Sokoto John Shiklam in Kaduna and Onuminya Innocent in Sokoto Scores of people have been feared killed as armed bandits attacked Layin Maigwari village along Funtua road in Birnin Gwari Local Government Area (LGA) of Kaduna […]
The post 12 Feared Killed, Nine Injured as Bandits Attack Kaduna Community appeared first on THISDAYLIVE.

Michael Olugbode in Maiduguri Two primary school children have been killed and three others injured while playing with undetonated explosives. According to a source within an international aid agency who preferred anonymity, the incident occurred yesterday morning at a primary school in Gamboru in Ngala Local Government Area of Borno State. The impeccable source said: […]
The post Explosives Kill Two Children, Injure Three in Borno appeared first on THISDAYLIVE.

Chinedu Eze with agency reports The United States President, Donald Trump yesterday issued executive order and banned Boeing 737MAX in the country's airspace. This came after the European Union Aviation Safety Agency (EASA) banned the aircraft in the 28-member state airspace. These are part of the reactions to the fatal accident of Ethiopian Airlines Flight […]
The post Finally, US Bans Boeing 737MAX Fleet appeared first on THISDAYLIVE.

Victor Ogunje in Ado Ekiti A group under the auspices of Integrity Leadership Organisation (ILO) has faulted the Director of Muslim Rights Concern (MURIC), Prof Isaq Akintola, over 'unwarranted' criticism of the recent appointments made by the Ekiti State Governor, Dr. Kayode Fayemi. Prof Akintola had in a statement earlier in the week faulted the […]
The post Group Backs Fayemi, Berates MURIC over Criticism of Appointments appeared first on THISDAYLIVE.

Gboyega Akinsanmi The All Progressives Congress (APC) in the South-west region Wednesday disclosed that it convincingly won 72.14 percent of various executive and legislative elective positions the party nominated candidates for in the just concluded elections. The party also congratulated Lagos State Governor-elect, Mr. Babajide Sanwo-Olu; his Ogun State counterpart, Mr. Dapo Abiodun, as well […]
The post We Won 72% of Contested Positions in South-west, Says APC Vice Chairman appeared first on THISDAYLIVE.

 Demands military probe of Bayelsa election violence Ernest Chinwo in Port Harcourt and Emmanuel Addeh in Yenagoa The Peoples Democratic Party (PDP) in Rivers State has said it is confident that the Independent National Electoral Commission (INEC) would declare Governor Nyesom Wike as the governor-elect of Rivers State. This is coming as the PDP in […]
The post INEC will Declare Wike Winner of Rivers Election, Says PDP appeared first on THISDAYLIVE.

Shola Oyeyipo in Abuja The Speaker, House of Representatives, Hon Yakubu Dogara, and the Lagos State Governor-elect, Mr. Babajide Sanwo-Olu, have expressed deep sadness over the death of about 100 school pupils in the collapse of Baden School in Lagos Island today. The speaker, in a condolence message by his Special Adviser on Media and […]
The post Dogara, Sanwo-Olu Mourn Victims of Collapsed Building in Lagos appeared first on THISDAYLIVE.

Amby Uneze in Owerri In a show of solidarity and expression of gratitude to God, the Imo State Advisory Council of Elders has felicitated with the state Governor-elect, Chief Chukwuemeka Ihedioha, on his historic victory in the keenly contested governorship election. The Council of Elders also congratulated Imo citizens for turning out en mass to […]
The post Imo Elders Council Felicitates with Ihedioha appeared first on THISDAYLIVE.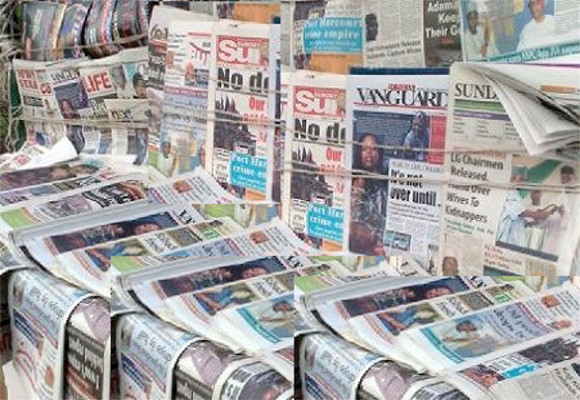 You can also check Thisday Newspaper News Today