Latest News in Nigeria Today

Thursday 14th March 2019

These are the Latest News in Nigeria Today from Guardian newspaper.

Read also Nigeria Newspaper Front Pages Today Thursday 14th March 2019

The Edo State Governor, Mr. Godwin Obaseki, has said that not less than 200 Small and Medium Scale Enterprises (SMEs) in fabrication, furniture making, printing and polythene production have applied to work from the Edo Production Centre, which will soon open for business.
Continue reading Over 200 SMEs seek space in Edo Production Centre, as govt assures regular electricity supply at Vanguard News Nigeria.

The Chief Executive Officer of MainOne Cable Company, Funke Opeke, has said that the investment by Facebook and MainOne in broadband network infrastructure in Edo State is as a result of Governor Godwin Obaseki's ease of doing business reforms and commitment to boosting productivity through technology.
Continue reading Facebook, MainOne chose to invest in Edo because of Obaseki's reforms, says Opeke at Vanguard News Nigeria.

.Urges FG adequate implementation
By Olasunkanmi Akoni
The Senator representing Lagos East Senatorial District, Gbenga Ashafa has called on the Federal Government to ensure quick and frequent capital releases to ensure that the 2019 budget is adequately implemented.
The Senator made this remark, Wednesday, during his contribution to the general principles of the 2019 budget on the floor of the Senate today 13th March, 2019.
Recall that President Muhammadu Buhari formally presented the 2019 budget proposal of N8.83 trillion at a joint session of the National Assembly on Wednesday 19, December 2018.
Continue reading 2019 Appropriation Bill: Ashafa calls for speedy consideration, passage at Vanguard News Nigeria.

Facebook and Instagram users lost access to the social network's applications in parts of the world Wednesday as a result of an outage of undetermined origin.
Continue reading Outage hits Facebook, Instagram users worldwide at Vanguard News Nigeria.

The black box recorders from the Ethiopian Airlines plane that crashed just minutes after takeoff at the weekend, killing 157 people, will be sent to France for analysis, the country's air accident investigation agency (BEA) said Wednesday.
Continue reading Ethiopia crash black boxes to be sent to France at Vanguard News Nigeria.

The ban on the Boeing 737 MAX aircraft became worldwide on Wednesday after US President Donald Trump joined Canada and other countries in grounding the aircraft amid intense pressure about the safety concerns.
Continue reading US grounds Boeing 737 MAX amid growing safety concerns at Vanguard News Nigeria.

Lagos State Governor-elect, Mr Babajide Sanwo-Olu, has commiserated with the families of the victims of the collapsed three-storey building on 14 Massey Street, Lagos Island, which housed a primary school, today.
Continue reading Sanwo-Olu condoles with victims of collapse buildings at Vanguard News Nigeria.

Governor of Imo State, Owelle Rochas Okorocha has accused the Resident Electoral Commissioner (REC) Imo State, Professor Francis Ezeonu of wrecking democracy in the State with the worrisome manner he has handled the Conduct of the 2019 elections in the State, adding that he has shown that he was brought to Imo after the 2015 election to return PDP to Power in the State.
Continue reading INEC's REC Prof. Ezeonu has wrecked democracy in Imo State – Okorocha at Vanguard News Nigeria.

The current governor of Imo state and the senator elect in the just concluded National Assembly election conducted by the Independent National Electoral Commission, INEC, Mr Rochas Okorocha, Wednesday asked the commission to hand him over his certificate, noting that the commission cannot seize his certificate because of a mere petition against him.
Continue reading I am not violent, please give me my certificate, Okorocha begs INEC at Vanguard News Nigeria.

Dozens of children were among scores of people feared trapped on Wednesday after a four-storey building collapsed in Nigeria's economic capital Lagos, rescuers told AFP, with at least four dead bodies pulled from the rubble.
Continue reading Building collapse: Please, save my child, save my child!, traumatised mother weeps at Vanguard News Nigeria.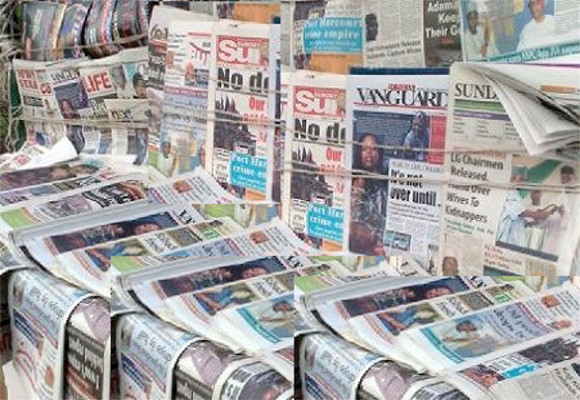 You can also check Nigeria Newspaper Headlines Today