Sahara Reporters Latest News

Saturday 2nd March 2019

Sahara Reporters Latest News Today and headlines on some of the happenings and news trend in the Country, today 02/03/19

Read also Leadership Newspapers News Today Saturday 2nd March 2019
target=_blank>Tinubu 'Has Positioned His Son To Become Lagos Governor In 2023'
The Free Lagos Movement says Bola Tinubu, National Leader of the All Progressives Congress (APC), is positioning his son to become Governor of Lagos State in 2023.
The group also accused Tinubu of placing his relatives in key positions in the state, noting that the APC leader has turned Lagos to his "personal cottage".
This was contained in an address delivered by Comrade Mark Adebayo, at a 'World Press Conference' addressed at The Airport Hotel, Ikeja, on Thursday.
The group stressed that its demand were premised on ensuring "a Lagos that is free from stunted economic growth occasioned by monumental corruption and social manipulation of the people; a free Lagos that will embrace in all its ramifications the tenets of good governance in public sector, transparency,  accountability,  fairness and ethnic cohesion."
He said: "Today, the reality on ground  is that the Centre of Excellence, the economic capital of Nigeria and indeed the fifth largest economy in Africa has been held captive and brazenly been manipulated by a group of power cabal (led by a former Governor of Lagos State, Asiwaju Bola Ahmed Tinubu), for their selfish interests rather than the public good.
"It is still baffling to the majority of Nigerians, how Lagos State has ended up becoming a personal cottage industry of one individual, who solely determines the fate and destiny of about twenty million people. For almost twenty years now, Lagos has become his fiefdom, with trails of personal aggrandisement, staggering corruption and virtual enslavement."
The group went on to list how Tinubu has allegedly continued to entrench himself in the state by placing his people in key positions in the state, among other actions, as follows:
1. Asiwaju Bola Ahmed Tinubu was Governor for eight years but has continued to govern by proxy till date;
2. His wife has been Senator for eight years and still going for the third term now;
3. The incumbent Commissioner for Women Affair in Lagos State, Mrs Lola Akande, a former member of the Lagos State House of Assembly, is Tinubu's sister-in-law;
4. Hon. Sunkanmi, the current member of Lagos House of Assembly representing Ikeja, is Tinubu's nephew. He actually succeeded Mrs Lola Akande;
5. Sade Tinubu-Ojo, the Iyaloja General of Lagos and Nigeria, is Tinubu's daughter;
6. Her husband, Mr Oja, was a member, House of Representatives, representing Ekiti State;
7. Seyi Tinubu, one of Tinubu's children, was appointed as the emergency financial consultant to all parastatals and local governments in Lagos State. His convoy is said to rival that of a state Governor, and he's been positioned to take over as Governor of Lagos State in 2023, while his father Bola Ahmed Tinubu is unrepentant of his own ambition of becoming the President of Nigeria in 2023;
8. Akeem Muri-Okunola, who recently was imposed as the Head of Service against all civil service rules, is Tinubu's friend's son. He was Tinubu's Personal Assistant when he was the Governor;
9. The incumbent Commissioner for Establishment, Akinola Benson, was Tinubu's Personal Assistant;
10. The Incumbent Commissioner for Health (a three-term Commissioner), Jide Idris, is Tinubu's Cousin;
11. The incumbent chairman of the Oshodi Local Government, Bolaji Ariyo, was also Tinubu's Personal Assistant;
12. The incumbent Commissioner for Housing (a two-term Commissioner), Gbolahan Lawal, was ADC to Bola Tinubu;
13. OANDO supplies all the fuel being used by the BRT buses in Lagos and Wale Tinubu, the CEO of Oando is Tinubu's younger brother;
14. A pseudo-company called Alpha Beta, collects at lead 10% of the revenues accruing to Lagos State, running into hundreds of billions of Naira in fees in the 15 years for doing practically nothing. The state still pays the Lagos inland Revenue Services (LIRS) another 10% as administrative fees to collect same revenue;
15. The landed property of Lagos State Polytechnic, Ikosi campus, was converted into private property, for the establishment of a television station (TVC), owned by Bola Tinubu.
The group went on to accuse Tinubu of various corruption-related practices.
The statement continued: "To put it in proper perspective and further drive home our point, an estimated figure of over N7trillion has been lost to corrupt practices on a total expenditure of about N7trillion by the Lagos State government in the last 20 years. The financial resource could have been invested in critical infrastructure like the Fourth Mainland Bridge, Lagos, International Airport in Epe, bridges along the Lekki corridor to eliminate traffic congestion, modern hospitals and schools in all local governments."
The APC leader was also accused of vote buying in the events leading up to the presidential and National Assembly elections, as well as plans to rig the governorship elections through voter intimidation and harassment.
"At this juncture, we will like to emphasize the arrogance and impunity that has become the trademark of Bola Ahmed Tinubu, who had claimed to be richer than some states in Nigeria. On the eve of the presidential election, viral pictures on social media showed two bullion vans driving into Tinubu's residence. The Money Laundering Prohibition Act stated that no person or corporate body shall make or accept cash payment of sum exceeding N500,000 or its equivalent in the case of individuals, while in the case of corporate bodies that amount is N2,000,000,  the transaction is done through a financial institution.
"We therefore call on the relevant authorities to conduct full investigation into this flagrant violation of the laws of our land by this individual who now parades himself as "uncountable". In fact, the much touted anti-corruption fight of President Buhari will amount to nothing if grave corruption allegations are conveniently ignored.
"To sustain his vice grip on power, he has resorted to the use of thugs  to intimidate and unleash violence on non-indigenes residing in Lagos, and contributing to the gross domestic product of the state on account of exercising their right to freely vote for parties and candidates of their choice. This was partly responsible for the low turnout (less than 25%) of registered voters for the presidential election of February 23rd, 2019.
"This is a major threat to our democracy, which must be nipped in the bud. We, therefore, call for immediate arrest and prosecution of the culprits and their sponsors, as deterrence to others. Unfortunately, the trend of harassment has continued unabated even after the elections of February 23. The business activities of the Igbos in Oshodi, Mushin, Lagos Island and other areas are being disrupted ahead of the gubernatorial elections scheduled for March 9, 2019. The activities of these men are the types that have caused genocide in different parts of the world. They must be called to order before they cause major conflagration between the various ethnic groups who have who have lived peacefully together in Lagos for centuries. We, therefore, call the attention of the Federal Government and international community, especially the International Criminal Court to the dangerous pre-genocidal activities of agents of the former Governor of Lagos State, Senator Bola Tinubu, his chief thug, Mr. MC Oluomo, and his army of thugs against fellow Nigerians from the South-East and South-South living in Lagos.
"For the record, our movement is not political. It is not about selfish ambitions.It transcends gender, tribalism or religion, with members spread across all the Local Governments and Local Council Development Areas (LCDAs) in Lagos, where we have coordinators. We have also set up a high powered legal support committee, made up of eminent lawyers, who will provide necessary services to members of our movement during the course of this struggle. 
"We remain resolute in our quest for justice, equity, fairness, and a free Lagos, where opportunities are equally available to all. We demand for an egalitarian Lagos, with the highest ideals of democracy, economic prosperity, modernization, wealth and freedom. We also demand for the protection of voters from harassment and violence before, during and after the elections."
Corruption
Politics
News
AddThis
: 
Featured Image
: 
Original Author
: 
SaharaReporters, New York
Disable advertisements
: 
E2%80%99s-first-inaugural-lecture target=_blank>Cecilia Akintayo, Professor Of Industrial Chemistry, To Deliver FUOYE's First Inaugural Lecture
Professor Cecilia Akintayo
Cecilia Olufunke Akintayo, a Professor of Industrial Chemistry, will deliver the first Inaugural Lecture of the Federal University, Oye-Ekiti (FUOYE), the university has announced.
The lecture, to be held on Friday, April 12, at the university's auditorium, is titled 'The Place of Plant Oil Derived Products as Sustainable Replacement for Petrochemical Products in Industries.'
"This is a historic occasion for us," Kayode Soremekun, the Vice Chancellor of the university, said.
Prof. Akintayo started her career as an Assistant Lecturer in 1997 and rose up the ladder as an Associate Professor in 2012. Three years later, she became a full Professor of Industrial Chemistry in Federal University, Oye Ekiti. She undertook postdoctoral work in the Institute of Organic Chemistry, University of Potsdam, Potsdam, and Karlsruhe Institute of Technology, Karlsruhe, Germany between 2009 and 2011 under the auspices of the Alexander von Humboldt fellowship.
Prof Akintayo is also a Schlumberger faculty for the future fellowship and has visited Chemistry Department, Syracuse University, Syracuse, New York, United States of America for a postdoctoral research in collaboration with Professor Daniel Clark. She has published about 30 articles in international peer reviewed journals.
She has won several research grants including: International Foundation of Science Grants (IFS), Third World Academic of Science Grants (TWAS) and Tertiary Education Trust Fund (TETFund) research grants.
She is the University Chairman of the TETFund Committee and the Director of Academic Planning, Federal University, Oye Ekiti.
In another development, the head of the university's Department of Theatre and Media Arts, Mbachaga Desen Jonathan, has been approved to present a paper at the University of Iceland in May. The NORA conference has the theme: 'Border Regimes, Territorial Discourses and Feminist Politics.'
Mbachaga's paper is titled 'Redefining Female Visibility in Cultural Space: Irene Salami's 'The Queen Sisters' and Ola Rotimi's 'Our Husband has Gone Mad Again.'
Education
News
AddThis
: 
Featured Image
: 
Original Author
: 
SaharaReporters, New York
Disable advertisements
: 
target=_blank>APC Flays Dickson's 'Baseless, Ill-Advised, Reckless' Rejection Of Buhari's Result In Bayelsa
The All Progressives Congress (APC) in Bayelsa State has dismissed as "groundless and misguided", a statement by Seriake Dickson, Governor of Bayelsa State, in which he sought to discredit votes garnered in the state by President Muhammadu Buhari and APC candidates during the last presidential and National Assembly elections.
A statement on Thursday in Yenagoa, the Bayelsa State capital, issued by Doifie Buokoribo, the APC State Publicity Secretary, advised Dickson to explore the democratic option of seeking redress in the courts, if he had any grievances about the poll results, instead of "plunging into the realm of reckless and enflaming statements".
According to the party, the statement by the Governor on the votes for the APC in the elections is "fake news".
The statement read: "The APC in Bayelsa State considers the government's statement as baseless, ill-advised, and reckless. Dickson is not Bayelsa State. Bayelsa State is not Dickson. Bayelsa State is not a party to the general election. Bayelsa State Government must not be confused with the Peoples Democratic Party (PDP).
"As a narrow-minded and petty politician, Dickson seems not to realise that he is governor of all, not just PDP. Or are we to assume that APC members in Bayelsa State are from Sudan?The 23 February 2019 elections have taken place, the results collated and winners have emerged. No amount of threat, psychological warfare or fake news can change the results as declared by the Independent National Electoral Commission (INEC). The only option open to any aggrieved party is a democratic court of law.
"As a lawyer, or even governor who has access to a myriad of lawyers, Governor Dickson should know this basic fact. Working in concert with Governor Dickson is the amorphous Coalition of United Political Parties (CUPP) in Bayelsa State. Created by the PDP, CUPP is demanding fresh elections in Southern Ijaw and Nembe Local Government Councils won by the APC. Our advice to CUPP: go to court!
"The peace-loving, democracy-minded people of Bayelsa State cannot be made pawns in a crude political game by rogue buccaneers seeking power at all costs."
#NigeriaDecides
Elections
Politics
News
AddThis
: 
Featured Image
: 
Original Author
: 
SaharaReporters, New York
Disable advertisements
: 
target=_blank>INEC Has Committed More Satanic Crimes Than Billionaire Kidnapper Evans, Says HURIWA On Presidential Election
The Human Rights Writers Association of Nigeria (HURIWA), a pro-democracy and non-governmental body, has described the just-concluded presidential and National Assembly election is a "charade and a monumental travesty of justice".
The group has also encouraged Atiku Abubakar, presidential candidate of the Peoples Democratic Party (PDP), to explore the legal option that he has alraedy said he would.
HURIWA accused the Independent National Electoral Commission (INEC) of manipulating the outcomes of the presidential and National Assembly's polls in favour of the All Progressives Congress (APC), and as such committed "more egregious and satanic crimes than the alleged billionaire kidnapper, Mr. Evans". 
According to the group, "the double standards show that Nigeria is an unjust community of individuals that support travesty of justice committed by the elite but would very rapidly carry out mob justice on petty criminals".
The group cited instances in which they accused the President of tampering with the rule of law, such as the "unconstitutional suspension of Justice Walter Onnoghen over nebulous charges and his (Buhari's) persistent disobedience of several court orders in the cases of erstwhile National Security Adviser, Colonel Sambo Dasuki, and the leader of Shiites Islamic Movement, Sheikh Ibraheem El-Zakzaky".
HURIWA also accused Buhari of deploying the Economic and Financial Crimes Commission (EFCC) and the Department of State Services (DSS) to "intimidate and sow fear" in the minds of judicial officers. 
A media statement by the National Coordinator, Comrade Emmanuel Onwubiko, and the head of legal, Barrister Sylvia Nneka Okonkwo, referred to the presidential election as "the most predatory and roguish political enterprise that has ever happened in the twenty century world".
The statement read: "The election was anything but peaceful, transparent, free and fair, just as the collation of results at the national level was choreographed to appear like a scenario whereby a robbery gang took their time to allocate the looted fund to themselves whereas the victims are left to agonise and pass through trauma. The European and so-called observers from ECOWAS, AU and Commonwealth were bribed to endorse the sham elections by INEC.
"The election witnessed the most brazen acts of deprivation of the right to vote technically and systematically implemented by INEC against the southern voters and most especially, voters bearing Christian names because of the widespread perception that Christians would normally not vote for a government that did nothing to stop the genocide against them by armed Fulani herdsmen.
"HURIWA condemned the electoral violence that trailed the polls in Kogi, Rivers, Bayelsa, Lagos and the deliberate disenfranchisement of Igbo voters in Lagos and Sabon Gari, Kano by the political godfathers of those states in collusion with INEC. HURIWA stated that the pains of the manipulation of the election may take years to heal but the group has called on like-minded ideological citizens to organize themselves and champion the cause of achieving total electoral reforms to make the electoral body truly independent.
"HURIWA has therefore called on the police to arrest and prosecute all those who disrupted the polls as captured by the vigilant cameras of patriotic Nigerians which are circulating on verified accounts of several credible statesmen and women of truth.
"Sweeping the organized crimes that happened during the elections behind the carpets of impunity is no longer an option. We condemn all those who are gloating and celebrating over the results of the election which, in all honesty is worse, than the crimes ascribed to the Evans, the billionaire kidnapper."
#NigeriaDecides
Elections
News
AddThis
: 
Featured Image
: 
Original Author
: 
SaharaReporters, New York
Disable advertisements
: 
target=_blank>Atiku Is Destined Never To Be President, Says Oshiomhole
The National Chairman of All Progressives Congress (APC), Adams Oshiomole has described the Presidential Candidate of Peoples Democratic Party (PDP), Atiku Abubakar as political rolling stone who cannot be the  President despite his obvious desperation. 
He stated this on Thursday in Abuja during a press conference to react to the issues raised  by Atiku Abubakar on  just concluded Presidential election and declaration of the winner.
He said that it is very wrong for Atiku to have the notion that election is free and fair only if he is returned as President. He said that election is not a war but a celebration of democracy.
He pointed out that Atiku's desperation was obvious that it was on record when he challenged the former President Olusegun Obasanjo over his second term ambition. 
"I think it also borders on arrogance for for Atiku Abubakar to suggest that that our future is tied to his presidency. Atiku is destined never to be the President of Nigeria and I ask you to review his character.
"Leadership is about character; Atiku's desperation is so obvious that in 2003 it is on record he challenged his own boss President Olusegun Obasanjo not to do a second term and in the end, they fought naked at Wuse Market. Can you recount how many times he has decamped and recamped; decamped and recamped; decamped and recamped again? Now such a ridiculed rolling stone , does he think the Nigerians are so insane to think that a man who is not stable, who has no conviction and who has confessed that he is going to this race to enrich friends… would he be a possible candidate to elect in time like?" 
He faulted the former Vice President on his claims that investors had started leaving the country because President Muhammadu Buhari won the election, saying Atiku was twisting the facts. He also said Atiku's irrevocable commitment to sell the Nigerian  National Petroleum corporation (NNPC) to his friends has brought suspicion that he already collected deposit on the corporation. 
"When you say even if you will die, was he going to rule Nigeria against our wish? Because democracy does not end at voting and citizens must hold their leaders accountable for their policy choices. When you say even if you will die you will sell NNPC, many believed that he has already collected the money. So if those depositors now see that it cannot be business as usual and  decide to take their flight, then we wish them well." 
He said that Nigeria does not need soft handed investors but genuine investors who have faith in the country and invest in production and labour intense industry.
"If are these kind of business men Atiku is talking about the genuine Nigerians who are victims of financial manipulation and foreign exchange regime, we cannot but open the sky let them fly back "
Politics
News
AddThis
: 
Original Author
: 
SaharaReporters, New York
Disable advertisements
: 
target=_blank>PDP, INEC Stole Our Mandate, Okitipupa APC Cries Out
Members of the All Progressives Congress (APC) in Okitipupa/Irele Federal Constituency, Ondo State, have accused the Independent National Electoral Commission (INEC) of colluding with the Peoples Democratic Party (PDP) to "rig" the just-concluded presidential and National Assembly elections.
A statement by Agbajuni Oluwafemi, APC's Publicity Secretary in Okitipupa Local Government Area, noted that the election which held on February 23, 2019, was marred by irregularities.
In the statement obtained by SaharaReporters, the party asked INEC to declare Albert Akintoye, the APC candidate, winner of the election.
The party gave instances of happenings during the election, which was characterised by violence and irregularities, "purportedly organised by PDP in connivance with the electoral umpire (INEC) and security agents".
The statement read: "Below are parts of the evil perpetrated in Okitipupa/Irele Federal constituency. In Okitipupa, the National Vice Chairman South-West of PDP, Olorogun Eddy Olafeso, led thugs who carried dangerous weapons and charms to Okitipupa.
"They chased voters away and manipulated the results of various units. For instance, card readers were not allowed to be used in Okitipupa ward 2 units 002, yet they recorded 66 for APC, 102 for PDP, and in unit 019, they recorded 54 for APC and136 for PDP without the use of card readers.
"Same thing happened to the entire three wards in Ilutitun, the home town of the PDP House of Representatives candidate, Mr. Ikengboju Gboluga, where voting materials for units 14 and 15 were burnt down by PDP thugs. As if that was not enough, card readers were not allowed to be used in virtually all the three units in Ilutitun. Yet, votes were unjustifiably awarded to PDP, which culminated into unwarranted allotment of the highest number of votes to PDP by INEC in the entire federal constituency.
"In Ode Aye ward 1, unit 002, thugs beat up APC members and did not allow the use of card readers. This incident led to the cancellation of the result of the unit. Also, Igbotako was not left out of this ill act as thugs invaded unit 001 of Igbotako ward 2. The unit is situated in the homefront of erstwhile deputy governorship candidate of ACN, Otunba Paul Akintelure. The thugs beat up whoever they sighted and set ablaze the election materials in the place. Also in Akinfosile unit, men in Army uniform snatched away already counted ballots and whisked away the corps member, who was the INEC ad hoc staff on duty for hours.
"Card readers were also not used in unit 011of Iju Odo/Erekiti ward where thugs casted all the votes, but then INEC still awarded votes at will to that unit. In Irele LG, virtually the elections in all the units were marred with various forms of irregularities ranging from no usage of card readers, ballot snatching, use of dangerous weapons and charms, to burning of electoral materials in the full glare of security personnel.
"Our prayer Sir, is that Honourable Albert Akintoye, the APC's flagbearer in Okitipupa/Irele federal constituency, should be declared the winner of the election more so that the candidates of other political parties concurred that Albert Akintoye genuinely won the election.
"Not this alone, there were series of protests on the streets of towns and villages in Okitipupa and Irele local governments against the conduct of the election."
#NigeriaDecides
Elections
News
AddThis
: 
Featured Image
: 
Original Author
: 
SaharaReporters, New York
Disable advertisements
: 
target=_blank>INFOGRAPHICS: Despite Insurgency, Borno Records Highest Voter Turnout
Borno State recorded the highest voter turnout, with 41.18% of its registered voters trooping out to vote during the presidential election despite the insecurity endured by its inhabitants since 2009.
Residents of Maiduguri, the Borno State capital, were not deterred by the early-morning explosions on election day, as the voter turnout increased in the state from 28.62% in 2015 to 41.18% in 2019, making it the state with the highest increase in voter turnout compared to what held in 2015.
In Zamfara, which has suffered high levels of violence like Borno, there was an increase in the number of registered voters when 2015 is juxtaposed with 2019. However, there is an 18% decrease in voter turnout.
Besides Borno, only Ekiti and Kogi states recorded increase in voter turnout in 2019, when compared to the figures from 2015, although with a difference of 1%. Kano had a decline in the number of voter turnout from the usual over two million votes to 1,964,751 votes.
Data provided by Civic Media Lab showed that voter turnout was markedly low in the South-South and South-East geopolitical zones of the country.
There was a reduction in the number of voters between 2015 and 2019 from a range of 11% to 47%. In Rivers State, where several incidents of violence were recorded, the number of voters in 2015 was 47% less than in 2019.
There was also decline in the number of those who voted in the northern states of Kebbi, Taraba, Katsina, Yobe, Nasarawa, Abuja, Niger, Jigawa and Kaduna, with all of them recording reductions of 5% and below in comparison to 2015's presidential polls.
In the South-West region, Lagos State had a low turnout of voters despite the very high number of persons who registered to vote – 6,313,507. However, Oyo State had the highest depreciation in voter turnout, dropping 8% from 39% in 2015 to 31% in 2019.
Ogun State had the lowest percentage of voter turnout in the South-West, with only 25.92% of its registered voters going to the polling booth. Overall, there is an increase in the number of votes cast in the three northern geopolitical zones.
The North-East had 4,786,248 votes compared to that of 2015 which was 3,783,929 votes. The North-Central increased by 487,417 votes when compared to that of 2015. The North-West had an increase from 5,699,105 votes in 2015 to 5,879,091 votes in the 2019 general election. Unlike the Northern area, the Southern area had a decline in the number of voter turnout.
In the South-South, voter turnout reduced from 3,465,109 votes in 2015 to 2,815,348 votes in 2019. In the South-West, there was a drop in people casting their ballots at the presidential and National Assembly elections from 4,539,447 votes in 2015 to 4,365,996, while the South-East reduced from 2,815,348 votes in 2015 to 2,342,740 votes in 2019.
Compared to 2015 when voter turnout stood at 43.65%, according to data figures from the Independent National Electoral Commission (INEC), after final count for the 2019 presidential election, voter turnout was 35.6 per cent of registered voters.
#NigeriaDecides
Elections
News
AddThis
: 
Featured Image
: 
Original Author
: 
SaharaReporters, New York
Disable advertisements
: 
E2%80%99t-want-call-atiku-poor-student-statistics-says-oshiomhole target=_blank>I Don't Want To Call Atiku A Poor Student Of Statistics, Says Oshiomhole
Adams Oshiomhole, National Chairman of the All Progressives Congress (APC), stopped short of calling Atiku Abubakar, presidential candidate of the Peoples Democratic Party (PDP), a "poor student of statistics" on Thursday.
At a press conference held in Abuja to analyse the 2019 presidential election, Oshiomhole specifically referred to Atiku's statement rejecting the result of the presidential election on the basis of "statistical impossibilities", among other reasons.
He congratulated APC supporters and Nigerians in general, just as he commiserated with the families of those who lost their lives during the election, and called on government to bring those behind the violence to justice.
He went on to say Atiku deserved to lose in the election, as he is a candidate of "doubtful integrity".
His words: "I believe that what happened last Saturday was a referendum between a man of integrity and a man of doubtful integrity and Nigerians have resolved the issue satisfactorily and we believe Nigerians have spoken.
"However, yesterday, the PDP candidate who lost, and who was a signatory to the peace accord, went into this race knowing that Nigeria cannot possibly elect two presidents. Only one president will emerge.
"Having suffered defeat, which I believe he deserved, he went on to say that he rejects the result and adducing very laughable argument as the basis for his decision. But I have found out that in this country, you recycle lie over and over, some people begin to think that there is truth in it. The conventional wisdom is that there is no smoke without fire. But in Nigerian politics, there is huge smoke and yet, there is not fire at all.
"Now, I want to speak to some facts as we know them and I challenge you as members of the media to crosscheck from your own records, as a way of enabling yourselves to debunk effortlessly the falsehood that Alhaji Atiku Abubakar tried to parrot yesterday in order to discredit what otherwise represents the very peaceful election, in spite of those isolated incidents and I am happy that the international community, as well as the Nigerian observers, are unanimous that this election and no election anywhere in the world is perfect. We have people in some parts of the western world who are leaders of democracy, who are still conducting enquiry into how their own last election was conducted. So, it's not about whether this election was perfect. It is whether it is substantially free and fair and whether indeed, it represents the will of the Nigerian people.
"I am convinced as INEC has announced that this election reflects the will of the Nigerian people and that for us is something for which we beat our chest and we congratulate the great people of Nigeria. Alhaji Atiku Abubakar describes what he calls statistical impossibilities and he claimed that the two zones where he is strongest, that votes in those areas were smaller, and that the margin of victory was also small. He specifically referred to the South-South and the South-East. I want to refresh the minds of Nigerians and indeed, all those who are interested, by just rolling out the voting pattern since 1999."
Oshiomhole went on to reel out figures from elections in past years, and how the card reader had affected those votes, adding that "When Alhaji Atiku Abubakar talks about statistical impossibilities, I don't want to call him a poor student of statistics. But talking about statistical impossibilities, I invite you to reflect on the number of new registered voters."
#NigeriaDecides
Elections
Politics
News
AddThis
: 
Featured Image
: 
Original Author
: 
SaharaReporters, New York
Disable advertisements
: 
E2%80%99s-dollars-voted-buhari target=_blank>BREAKING: Oshiomhole Reveals How 'APC Guys' Collected Atiku's Dollars But Voted For Buhari
Adams Oshiomhole, National Chairman of the All Progressives Congress (APC), has revealed that party members collected dollars on offer by Atiku Abubakar in the leadup to the 2015 presidential election.
However, he said that they still ended up handing the party's ticket to President Muhammadu Buhari. 
Oshiomhole said this on Thursday during a 'World Press Conference' he held in Abuja, as a follow-up to the one by Atiku on Wednesday, dring which the Peoples Democratic Party (PDP) candidate described Saturday's election as the worst in Nigeria's history.
After attacking Atiku for jumping from party to party since leaving office as Vice President in 2007, Oshiomhole recounted how Atiku bribed APC members ahead of the 2014 presidential primary of the APC: "He joined us in Lagos, rolled out the dollars, and President Muhammadu Buhari had to say to APC people, myself inclusive: 'I have no dollars to give. I do not have Intel or Itel sic; I do not have foreign account, and even if I have I will not give. All I offer is all my heart. 
"The APC guys who couldn't resist Atiku's dollars collected those dollars, and voted for Buhari as our candidate."
More to follow..
Elections
Politics
Breaking News
News
AddThis
: 
Featured Image
: 
Original Author
: 
SaharaReporters, New York
Disable advertisements
: 
A Federal High Court sitting in Port Harcourt, Rivers State, has ordered the removal of Dumo Lulu-Briggs as the Rivers State governorship candidate of Accord Party.
The presiding judge, Justice E.A Obile, declared Precious Baritordoo as the authentic candidate of the party in the March 9 election.
Lulu-Briggs and his media team are yet to respond to the development .
Elections
Politics
Breaking News
News
AddThis
: 
Featured Image
: 
Original Author
: 
SaharaReporters, New York
Disable advertisements
: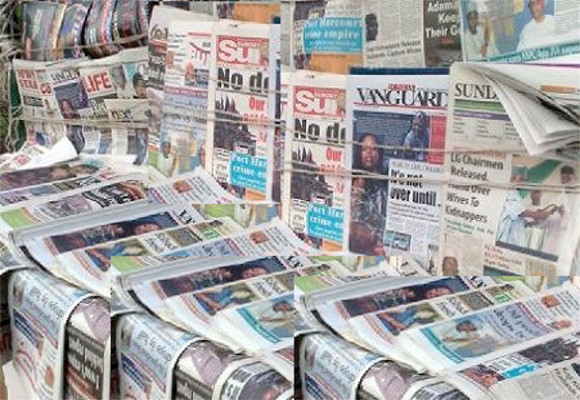 You can also check Sahara Reporters Newspaper Headlines Today