Sahara Reporters Latest News

Friday 15th February 2019

Sahara Reporters Latest News Today and headlines on some of the happenings and news trend in the Country, today 15/02/19

Read also Leadership Newspapers News Today Friday 15th February 2019
target=_blank>Bayelsa Journalists To Boycott Election Coverage Over Non Accreditation By INEC
Bayelsa journalists have raised the alarm over an alleged attempt by authorities of the Independent National Electoral Commission (INEC) to deny them accreditation to cover the February 16, 2019 elections in the state.
As a result, they say they will boycott the coverage and monitoring of the presidential and National Assembly elections in the state.
Comrade Samuel Numonengi, Chairman of the State Council of the Nigeria Union of Journalists (NUJ), made this known while addressing journalists who besieged the press center in Yenagoa, the Bayelsa State capital, to get their accreditation tags for coverage of the elections.
The chairman disclosed that of more than 300 journalists whose names were presented to INEC for clearance, the electoral body was only able to provide 80 press tags and kits, leaving out more than 250 journalists stranded, and "at the mercy of security personnel who have been directed to deal summarily with any truant without due accreditation on election day".
Speaking on the matter, Wilfred Ifoga, Head of Voters Education and Publicity, said the inadequacies was based on what was sent from the headquarters.
However, when the issue was raised during the INEC stakeholders meeting in Yenagoa, Pastor Monday Tom Udoh, the state Resident Electoral Commissioner, and Lebaru Nduh, his Administrative Secretary, defended INEC, stating that it was what was made available.
Nduh said: "If your employer gives you instruction on what to do, which would you obey? Your own directive or that of your organization? So journalists should be thankful to INEC for even providing them with 80 press tags and kits for identification, rather than asking for more."
However, the NUJ says the Nduh is "showing his incompetence by making mockery of the situation on ground, except it is a deliberate attempt not to allow the press carry out its full coverage of the election".
The NUJ state council had an impromptu meeting after several consultations with the journalists, and decided to boycott coverage of Saturday's polls, unless INEC provides journalists with adequate/sufficient kits to ensure safety and unhindered access to all units and collation centres on election day.
According to the state NUJ Chairman, Edo State was issued 250 press kits, Rivers State got more than 300, while Bayelsa was downsized to 80.
Elections
Journalism
News
AddThis
: 
Featured Image
: 
Original Author
: 
SaharaReporters, New York
Disable advertisements
: 
target=_blank>CDHR Condemns Deaths At Political Campaign Rallies
The Committee for the Defence Of Human Rights (CDHR) has condemned the high rate of deaths at rallies organised by political parties.
Malachy Ugwummadu, National President of CDHR, said the deaths were "avoidable and disturbing", noting that no election campaign is "worth the spilling the blood of innocent Nigerians".
He said: "It must be recalled that several people have been killed in a stampede on Tuesday, February 12, 2019, during a political campaign rally organised by the ruling party, the All Progressives Congress (APC), which took place in Port Harcourt, Rivers State.
"In the same vein, on January 8, 2019, violent clashes between members of the National Union of Road Transport Workers and party supporters marred the inauguration of the campaign of the Lagos State APC gubernatorial candidate, Babajide Sanwo-Olu, in Ikeja.
"No election campaign is worth spilling the blood of innocent Nigerians who are expressing their support for their political candidate by simply exercising their fundamental right to assemble freely, associate with other persons and belong to any political party for the protection of their interests as provided for by Section 40 of the Constitution of the Federal Republic of Nigeria 1999 (as amended)."
Malachy urged the Nigerian government and all parties to put in place plans to avoid deaths at rallies.
"Rather than only render apologies for these unfortunate deaths, the CDHR demands tangible attempts must be made by governments at all levels to ensure that such avoidable loss of lives does not occur in any future political campaign rally organised in Nigeria," he said.
Human Rights
Politics
News
AddThis
: 
Featured Image
: 
Original Author
: 
SaharaReporters, New York
Disable advertisements
: 
target=_blank>Ex-militant Ateke Denies Endorsing Buhari
Tom Ateke, a former militant, has denied the report that he endorsed President Muhammadu Buhari.
He denied ever taking part in partisan politics, stressing that he did not at any time support the president's reelection bid.
In a statement made available to SaharaReporters, Ateke said it is not in his character to "cheapen" himself for such purpose.
"My attention has been drawn to an online publication in some media outlets, Premium Times in particular, that I, King Ateke Michael Tom, Sekuro of Niger Delta, Amanyanabo of Okochiri Kingdom, has endorsed the candidature of President Buhari.
"I want to state here that there is no element of truth in the said publication. It is never in my character to cheapen myself to such act for the purpose of anything. More so, as a traditional ruler loved and respected by my people, I will not betray the respect and love they have for me on the altar of partisan politics, let alone endorsing a candidate.
"My disposition as a traditional ruler is to advise my people and indeed my millions of admirers to stay out of violence and peacefully cast their votes for their preferred candidates in this election.
"I am directly using this medium to warn the author and all those behind this misleading publication to desist from it. I am advising politicians to be mindful of jobbers who would stop at nothing to fill their pockets, and media outlets should also be professional enough to verify claims from sources before publishing.
"I also use this medium to draw the attention of Nigerians and the international community to be aware of the Nigeria army's unprovocative intimidation and militarization in my kingdom.
"Today, at about 12noon, almost fifty truckloads of soldiers besieged my palace and home. This is unacceptable. I call on the Nigerian Army to play by the rules of the game, because their militarization is causing panic and fear around Okrika, which has been adjudged as the most peaceful Local Government Area (LGA) in the country."
Niger Delta
Politics
News
AddThis
: 
Featured Image
: 
Original Author
: 
SaharaReporters, New York
Disable advertisements
: 
target=_blank>2019 Presidential Election: Foretelling The Outcome By Omoshola Deji
Election is the recruitment of persons the largest percentage of the electorate feels are capable of actualizing their imaginings of an ideal nation. Nigerians elect their leaders every four years and the time is here. Parties are campaigning; candidates are promising; sociocultural groups are endorsing; observers are arriving; and Nigerians are preparing to elect their President and federal lawmakers on February 16. This piece appraises the election winning determinants to foretell the outcome of the presidential poll.
A brief introduction and clarification is essential at this point. The writer, subsequently titled Pundit, is Nigeria's election result Nostradamus. Foretelling election's outcome is a reflection of his political analysis prowess, not an endorsement of any party or candidate. The accuracy of his past forecasts has attracted the media and many Nigerians, home and abroad, to look out for his prediction during elections. Foretelling an election outcome doesn't mean the pundit has access to one sacred information or the election winning strategy of any candidate. Assessing candidates' fortes and flaws to foretell the winner is a common practice in developed nations. This doesn't mean the pundits are demeaning the electoral process or influencing the election results. Nigerians have already decide who they'll cast their votes for and nothing – not this prediction – can easily change their minds.
The Candidates
The 2019 presidential election is going to be the most keenly contested in the history of Nigeria, not because there are many contestants, but due to the rise in power struggle and the personality of the top candidates. 73 persons are running, but the election is a two horse race between incumbent President Muhammadu Buhari of the All Progressives Congress (APC) and former Vice-President Atiku Abubakar of the People's Democratic Party (PDP). Other leading contestants are Omoyele Sowore of the African Action Congress (AAC); Fela Durotoye of the Alliance for New Nigeria (ANN) and Kinsley Moghalu of the Young Progressive Party (YPP).
Sowore, Durotoye and Moghalu are 'young' vibrant newcomers, but their political structures are too weak to win a presidential election in a plural nation like Nigeria. Power greed made coalition efforts that would have made them a formidable third force fail. Teaming up to support a fellow candidate shouldn't cause disaffection, if their main desire is to rescue Nigeria from the old order.
The alike background of the two main candidates, Atiku and Buhari, renders ethno-religious based predictions impotent. Unlike 2015 when a Christian southerner contested against a Muslim northerner, the two leading presidential candidates in 2019 are both Northerners, Fulanis, Muslims and septuagenarians. Both candidates are veteran contestants and have crisscrossed parties. This election is Atiku's fourth attempt. Buhari won on his fourth attempt in 2015 and wants another term.
Buhari's Performance and Obstacle
Buhari, like every other incumbent, is contesting against two things: his performance and his opponents. His main opponent, Atiku, has far-reaching networks and has been campaigning vigorously. Unlike candidates who are running for the fame, Atiku's rigorous campaign is a testimonial that he is running to win. He is leaving no stone unturned, knowing this opportunity may not present itself again as he is aging and power is expected to return to the south, if Buhari wins. Atiku has been working on the electorates psyche, reconciling with foes, getting endorsements, and turning his major liabilities into assets. His recent visit to the Unites States (US) is a political masterstroke that revived his diminishing electoral value tainted by corruption.
Nigerians are sharply divided on Buhari's performance. In all sincerity, both the praise singers and condemners of Buhari's performance are right. The praise singers are rating Buhari based on the achievements of his predecessors, many of whom score low on the provision of basic amenities, security and socioeconomic development. Buhari has performed satisfactorily when compared with his predecessors. He is reviving the railway, constructing the Second Niger Bridge, building a number of roads, and combating Boko Haram. Buhari has also paid the defunct Nigerian Airways pensioners and introduced social incentives such as school feeding, N-power and Trader Moni – which the opposition has criticized as voter inducement. The presidential election is partly a referendum on Buhari's performance. He would earn the votes of people who think he has performed, while those who think otherwise and mindful that the second term of governments are often not better than their first would vote other candidates.
The condemners of Buhari's performance are rating him based on the un-fulfillment of his 2015 campaign promises. They are berating him for performing below expectations after raising Nigerians hope. Buhari promised restructuring, but backtracked. His appointments are lopsided northwards. Insecurity is rife as bandits, insurgents and herdsmen are carrying out genocidal bloodletting at will. The fight against corruption has been incredibly selective, making Transparency International rank Nigeria the 144 least corrupt nation out of 175. Buhari has serially flouted court orders; persecuted activists and journalists; tolerated the massacre of unarmed IPOB and Shiite members; harassed the legislature and judiciary; ruled in a dictatorial manner; and hounded critics. Basic amenities are either dysfunctional or unavailable, the exchange rate is high, consumables are costly and unemployment is at an alarming rate. Buhari's performance is unsatisfactory if he's assessed by the oversweet promises he doled out in 2015. His misrule and incompetence is winning hearts for Atiku.
Atiku's Challenge
Buhari has reiterated his resolve to further tackle corruption, insecurity and revive the economy, while Atiku boast of capacity to provide jobs, eradicate poverty and resuscitate the economy. One major minus for Atiku is the comment of his former boss, ex-President Olusegun Obabsanjo when their relationship was uncordial. In his book titled My Watch, Obasanjo said "what I did not know, which came out glaringly later, was his parental background which was somewhat shadowy, his propensity to corruption, his tendency to disloyalty, his inability to say and stick to the truth all the time, a propensity for poor judgment, his belief and reliance on marabouts , his lack of transparency, his trust in money to buy his way out on all issues and his readiness to sacrifice morality, integrity, propriety truth and national interest for self and selfish interest". Though Obasanjo has reconciled and endorsed Atiku, many Nigerians are still using the statements in 'My Watch' to discredit Atiku.
Endorsement Effects
Endorsement still influences voters, even though political parties belittle its effect when they are unable to secure it. People living in the rural areas and traditional societies where the recommendation of leaders are highly revered largely vote based on endorsements. Candidates also use endorsements to convince dissenting voices and undecided voters. Atiku has gotten influential endorsements than Buhari. Leaders and elders of notable regional sociocultural groups, including the Middle Belt Forum (North-Central), Ohanaeze Ndigbo (South-East), PAN Niger Delta Forum (South-South); and the prominent faction of Afenifere (South-West) have all endorsed Atiku. The most shocking endorsement Atiku got is that of the Northern Elders Forum, which has a significant influence on the conservative Muslim Northerners who are largely supporters of Buhari. The Arewa Consultative Forum however gave a counter endorsement in favor of Buhari.
Ruling parties are always the most favored on endorsements. The opposition PDP's numerous endorsement is a pointer that the regional leaders distrust APC, or the party simply choose to connect the people directly through the distribution of business aid such as Trader Moni. The latter may not earn Buhari votes. The beneficiaries of Trader Moni are largely sympathizers of their various sociocultural groups which have endorsed Atiku. An Igbo trader who's aware that Ohaneze Ndigbo endorsed Atiku to end the marginalization of his ethnic group under Buhari would most likely vote Atiku, despite receiving Trader Moni. Sociocultural groups have a way of awakening the ethnic sentiments that'll make people vote their endorsed candidates. The culture is gradually changing as people are increasingly voting based on personal convictions.
The Generals Influence
When getting less, the APC discredit endorsements, but applaud same when persons or groups back Buhari. 71 retired Military Generals endorsed Buhari for second term. This is a coming against some of the prominent Generals and former Head of State's opposition to Buhari's reelection. Generals Olusegun Obasanjo, Ibrahim Babangida and Theophilus Danjuma are against Buhari, General Yakubu Gowon has been apolitical, while General Abdulsalami Abubakar is the head of the National Peace Committee. Buhari's rejection by his powerful and influential contemporaries may hinder his win as the Generals, especially Obasanjo, have always determined who becomes President.
The Generals have vast political structures as they were the ones who nurtured almost all the leading political actors in Nigeria presently. Obasanjo is one of the ruling APC's major nightmares as he is determined to end Buhari's reign and install PDP's Atiku. His choice candidates have always emerged, including Buhari in 2015. Obasanjo is well-respected by the international community. His global weight and networks can ruin Buhari, if he's declared winner based on electoral fraud and post-election conflict arises. Obasanjo is doing his best to ensure Buhari doesn't win as such will diminished his relevance and retire him from politics.
The Aso Rock Cabal
Aisha Buhari's statement that her husband's government has been hijacked by a cabal would make Buhari lose votes. Aisha disclosed at the National Women Leadership Summit that two powerful individuals have been commandeering her husband and preventing him from performing. Buhari denied the allegation, but many Nigerians believe his wife's statement is a revelation of the goings-on in Aso Rock. The President's failure to regain public confidence by rejigging his cabinet would make many people vote against him to end the cabal's reign.
Health Factor
Buhari's deteriorating health and failing memory would also diminish his votes. Many Nigerians believe Buhari would spend most of his tenure receiving treatment abroad, if he wins. His inability to remember basic things and serial gaffes such as forgetting the year he was sworn-in, referring to the APC gubernatorial candidate in Delta State as senatorial and presidential candidate, as well as lifting the hand of the wrong candidate in Cross River State makes many Nigerians see him has mentally unfit to continue ruling. Atiku has shown more mental alertness, but his pledge to enrich friends is making him lose public trust. Nigerians may decide to return a sick, dictatorial and incompetent Buhari to power because of Atiku's corruption tendencies and embracement of crony capitalism – enriching friends through privatization.
Elites Gang-up
The APC intraparty crisis across states and the exit of influential persons from the party may deny Buhari a win. APC was formidable in 2015 than it is now. The party immensely profited from the mass exit of political heavyweights from the then ruling PDP. This largely helped President Buhari defeat then President Jonathan. Most of the heavyweights are back in the PDP and are determined to unseat Buhari. Some of them includes the PDP presidential candidate, Atiku Abubakar; Senate President Bukola Saraki; Governors Samuel Ortom and Aminu Tambuwal of Benue and Sokoto States; House of Representative Speaker, Yakubu Dogara; and ex-Governor Rabiu Kwankwaso of Kano State. The exit of these bigwigs from the APC would certainly not make victory easy for Buhari. The ruling APC tried to make up for this by winning over ex-Governors Godswill Akpabio and Emmanuel Uduaghan of Akwa-Ibom and Delta States. These former governors cannot garner many votes for Buhari. Their influence is limited to their states which are PDP strongholds and majority of the people in the Niger-Delta region are anti Buhari.
The array of political elites that Buhari have been persecuting and prosecuting would also unleash their arsenal to ensure he never gets reelected. Those affected by Buhari's unfavorable economic policies and others not profiting from his government would likewise do all possible to make him lose.
The International Community
Atiku's entry into the US and the foreign condemnation of Buhari's anti-democratic actions are crucial pointers that the international community would prefer an Atiku Presidency. Buhari's imperfection must not make one take the international community's preference as best for the country. Buhari is not getting their support, not because of his underperformance, but because he has resisted dependency and neocolonialism; hindering them from exploiting the nation. The western nations are only friends with governments that allow them have their way and they are renowned for going the extra mile to remove uncontrollable leaders. Kwame Nkruma, Patrice Lumumba and Julius Nyerere are credible lessons. Buhari's shortcoming is creating an avenue for the West to have their way through Atiku. The PDP campaign to 'get Nigeria working again' is coming at a time when the majority is complaining that virtually nothing is working.
INEC and Security
An excellent professional conduct should not be expected from the security agencies and the Independent National Electoral Commission (INEC). The secret midnight meetings allegedly being held by the INEC leadership and Buhari's henchmen may lead to intentional misconduct by the electoral umpire. The security chiefs would try to appear neutral, but their partisanship would manifest if the election is a tight race and Buhari needs some misconduct to pave way for a rerun or make him win. The heads of the security agencies, especially the police commissioners in many states would most likely turn a blind eye on wrongs done to aid Buhari's win.
Voting
There are 84,004,084 registered voters in Nigeria. By population ranking, the number of registered voters and persons who have collected their permanent voters card (PVC) across the six geopolitical zones are as follows:
North West: 20,158,100 registered voters, 18,882,854 PVCs collected.
South West: 16,292,212 registered voters, 12,444,594 PVCs collected.
North Central: 13,366,070 registered voters, 11,849,027 PVCs collected.
South South: 12,841,279 registered voters, 11,574,944 PVCs collected.
North East: 11,289,293 registered voters, 10,402,734 PVCs collected.
South East: 10,057,130 registered voters, 9,071,939 PVCs collected.
 
The above data shows that out of the 84,004,084 persons who registered to vote, only 74,199,092 can vote having collected their PVCs. 9,804,992 are yet to collect theirs. APC's Buhari comes from the Northwest, while PDP's Atiku is from the North-East. Both candidates would garner huge votes in each other's zone, but Buhari would come top. This is largely due to the cult followership Buhari enjoys in the North. Majority of the northern voting population supports Buhari blindly; they believe PDP's 16 years of misrule is responsible for Buhari's failings.
Another plus for Buhari is that his party, the APC, controls the largely populated states – Lagos and Kano. Out of the 36 states of the federation, APC is the incumbent government in 23 states, while PDP is the incumbent government in 13. APC is also the incumbent government in majority of the Northern states and the entire 6 states in the Southwest. Atiku would likely defeat Buhari in the North-Central. He would defeat Buhari in the South-South and South-East. Atiku would earn substantial votes in the Southwest, but Buhari would earn more.
Vote Buying
Agents of the two prominent candidates will induce voters with money. People thinking Buhari's anti-corruption stance would make his team desist from inducing voters would be disappointed. As it is before now, the party stalwarts would utter untruths that the money being shared is not from the Presidency, but from supporters who are passionate about the continuity of Buhari's government. There would be several I-love-you-more-than-God behaviors during the election. People will voluntarily commit electoral fraud, threaten supporters of rival parties, cause mayhem, and kill to ensure their favorite candidate wins.
The APC and PDP supporters boasting their candidates would win by landslide are just being over emotional. Both candidates have major flaws that can't make that happen. Atiku is widely considered corrupt, while Buhari is broadly seen as nepotistic and unfit. These negatives limit their chances of winning by landslide. Such win is often earned by candidates with minor flaws.
The Pundit's Verdict
Buhari's shortcomings will affect, but can't hinder his win. The three main determinants of electoral victory in Nigeria are the votes cast, the conducts of the electoral umpire (INEC), and the security agencies, especially the police. Buhari apparently has INEC and the security agencies on his side and would get many votes as a popular candidate, but may need a push. His henchmen will not hesitate to do anything, licit or illicit, to retain power when the chips are down.
Notables like Dele Momodu and prominent institutions such as Williams and Associates, and the Economist Intelligence Unit predicting Buhari would lose did not consider something crucial – recent happenings and Buhari's arbitrariness. Up to the minute actions of Buhari are pointers that his government would stop at nothing to retain power. The intimidation of voters and staggering electoral fraud that was allegedly perpetrated during the Osun governorship and rerun elections; the reported secret meeting with INEC heads; the alleged political removal of Chief Justice Walter Onnoghen; the untoward display of force by the military across states; and the politically motivated transfer of police commissioners and other top officers are not for nothing. An incumbent government that is obsessed with power cannot put all these strategies in place in an undeveloped democracy and lose.
Nigerians are worried that a partial conduct by INEC and the security agencies may lead to a rerun, the Venezuela situation or foist the Odinga-Kenyetta model on Nigeria. Except God touches the mind of those occupying Aso Rock, relinquishing power to the opposition doesn't look like what the ruling cabal is willing to do, except Atiku wins by a landslide, which is almost impossible. Against the predictions of Williams and Associates and the Economist, the Pundit foretells that the APC candidate, Muhammadu Buhari, would be declared President-elect.
 
*Omoshola Deji is a political and public affairs analyst. He wrote in via moshdeji@yahoo.com
Opinion
AddThis
: 
Original Author
: 
Omoshola Deji
Disable advertisements
: 
target=_blank>IN FULL: Text Of Buhari's Pre-Election State Broadcast
President Muhammadu Buhari addressed a rare state broadcast on Thursday ahead of Saturday's presidential and National Assembly elections.
Here's everything he said:
Fellow Citizens,
On Saturday, February 16, 2019, you will, once again, be called upon to choose the leaders who will pilot the affairs of our great nation for the next four years. This is a constitutional right which should be freely exercised by all eligible voters.
2. I wish therefore to start by assuring all Nigerians that this Government will do its very best to ensure that the 2019 elections take place in a secure and peaceful atmosphere.
3. It was indeed such free, fair and peaceful elections that made it possible for our Government to emerge, despite the fact that we were contesting against a long-standing incumbent party.
4. And as your president and a fellow Nigerian, I ask that you come out and queue to fulfill this important obligation you have to yourselves and your fellow citizens – and to our common future.
5. Let me at this point, reaffirm the commitment of the Federal Government to the conduct of free and fair elections in a safe and peaceful atmosphere. Just yesterday, I signed the Peace Accord alongside 72 other presidential candidates.
6. I want to assure all Nigerians, the diplomatic community and all foreign election observers of their safety and full protection. Any comments or threats of intimidation from any source do not represent the position of the Federal Government of Nigeria.
7. As Government has a critical role in maintaining the democratic traditions, so do citizens. I therefore urge you all, as good Nigerians, to take a personal interest in promoting and maintaining peace in your respective neighbourhoods during the elections. This is certainly not a time to allow personal, religious, sectional or party interests to drive us to desperation.
8. At this point, I want to make a special appeal to our youth: Do not allow yourselves to be used to cause violence and destruction. The people who want to incite you are those preparing the ground for discrediting the elections. Having lost the argument, they fear losing the elections.
9. When you elected me in 2015, it was essentially in consequence of my promise of CHANGE. We committed ourselves to improving security across the country, putting the economy on a sound footing and tackling rampant corruption, which had in many ways become a serious drawback to national development.
10. Our Government spent the last 3 years and 9 months striving faithfully to keep this promise, in spite of very serious revenue shortages caused mainly by a sharp drop in international oil prices and an unexpected rise in the vandalisation of oil installations, which, mercifully have now been curtailed.
11. We nevertheless pressed on in our quest to diversify the economy, create jobs, reduce commodity prices and generally improve the standard of living among our people.
12. The damage that insecurity and corruption have done, over time, to our collective livelihood is incalculable. However, it is pleasing to note that our frontal attack on these twin evils is gaining momentum and bringing about visible progress.
13. The recovery of the economy from recession is complete and Nigeria is back on the path of steady growth.
14. The key to creating more jobs lies in accelerating this momentum of economic growth. Happily, we have succeeded in making the fundamental changes necessary for this acceleration, and we are now beginning to see the efforts bearing fruit.
15. Our ease of doing business policies and programmes are already impacting medium, small and micro industries, as well as Manufacturing, Mining and Agriculture, among other key sectors.
16. Our commitment to critical infrastructure – that is Roads, Rails, Bridges, Airports and Seaports – will create more jobs, improving the efficiency and competitiveness of our industries.
17. Many of these projects are at different stages of completion, and those who use them regularly will attest to the fact that even while construction is ongoing, they are beginning to see reduced travel times. This will ultimately translate to reduced costs and greater convenience, making transportation, and business in particular, much easier.
19. The economic recovery that we promised is well underway, as demonstrated by the recently released statistics. In 2018, the economy grew by 1.93%, with the Fourth Quarter growth being 2.38%, up from 1.81% in the Third Quarter.
20. Remarkably, the strong economic performance was driven by the Non-Oil sector, which grew at 2% as at full year. Indeed, Non-Oil growth rose to 2.7% in the Fourth Quarter of 2018, up from 2.32% in the Third Quarter. These results further underscore our commitment to diversifying the economy away from the past dependence on Oil.
21. Other indicators confirm the economy's steady recovery. Our monthly food import bill has declined from $664 million in January 2015 to $160 million as at October 2018. Inflation fell from 18.72% in January 2017 to 11.44% in December 2018. Our External Reserves have risen from $23 billion in October 2016 to $43.12 billion as at 7th February 2019.
22. Now that the recession is well behind us, our next task is to redouble our efforts, accelerate the growth and use it to create even more jobs for our people.
23. The Executive Orders, No. 5, and No. 7 issued by me, and the recently approved National Infrastructure Maintenance Policy demonstrate our commitment to accelerated job creation and infrastructure development.
24. We believe that Governments cannot simply proclaim jobs into existence. Job creation will only expand as a result of economic policies that enable the private sector to flourish, and this is the approach our Administration has taken.
25. Executive Order No 5, which Promotes Nigerian Content in Contracts, as well as Science, Engineering and Technology, will preserve and prioritize job creation for our citizens.
26. Executive Order 7, on the Road Infrastructure Development and Refurbishment Investment Tax Credit Scheme, seeks to mobilize private capital and capacity for infrastructure development.
27. It responds to the demands of manufacturing and industrial complexes which wish to construct access roads without waiting for government, so long as they are allowed to recover the cost from taxes they would have paid to government.
28. We expect that this approach will boost industrial expansion and rural development, consequently creating more jobs for our people.
29. Similarly, our recently issued Maintenance Policy targets artisans, carpenters, welders, tailors, painters, bricklayers, electricians, plumbers, landscapers and many more Ordinary Nigerians at the base of our economic pyramid who will get regular and large-scale opportunities to improve themselves.
30. It is an economic solution that also brings the relevant artisans and professionals into long term sustainable employment to maintain our Schools, Court Rooms, Hospitals, Police Stations, Federal Secretariats and other Public Buildings.
31. Human Capital Development has also been a key priority for this Administration, which has increased investments in health and education. Innovative measures have been introduced to complement the traditional budgetary allocations to the relevant Ministries.
32. For instance, Nigeria Sovereign Investment Authority has invested US$21 million in three healthcare projects as a Public Private Partnership with three Federal medical institutions. These include two modern Medical Diagnostic Centres located at Aminu Kano Teaching Hospital, Kano and the Federal Medical Centre, Umuahia; as well as one outpatient Cancer Treatment Centre in Lagos University Teaching Hospital, Lagos – which I commissioned on 9th February 2019.
33. Of course, our radical commitment to developing Critical Infrastructure is the foundation upon which we will deliver an all embracing national prosperity and a shared commonwealth.
34. There is no country that aspires to greatness without spending massively on its Critical Infrastructure. Rather than the discredited policy of 'stomach infrastructure', which could only benefit a few for a little while, we are focused on real infrastructural development for the growth of our economy and the long-term benefit of all Nigerians.
35. When you voted for our message of CHANGE, you invited us to assume office and depart from that bad and most regrettable choice. We have responded by making a choice for real infrastructure of Roads in every State, Housing in 34 States, Power Stations across Nigeria, Rail from Lagos to Kano.
36. The choice that now confronts us is whether we want to continue with real infrastructure development, which is the road to prosperity and jobs or return to the era of 'stomach infrastructure'.
37. Agricultural Self-Reliance and Food Security is also a choice we made in fulfilment of your mandate for change.
38. Our Presidential Fertiliser Initiative has resulted in savings of US$150 million in foreign exchange due to local sourcing of inputs at 16 Blending Plants. It has also conserved N60 billion in Subsidies as well as supported tens of thousands of farmers and agro-dealers nationwide.
39. Our Anchor Borrowers' Programme has substantially raised local rice yields from as low as two Metric Tonnes per hectare, to as high as eight Metric Tonnes per hectare.
40. Through this programme, the Central Bank of Nigeria has cumulatively lent over N120 billion to over 720,000 smallholder farmers cultivating 12 commodities across the 36 States and Abuja. Targeted crops and livestock have included cattle, poultry, fish, cassava, soybeans, ground nut, ginger, sorghum, rice, wheat, cotton and maize.
41. As a result, we have seen a remarkable rise in the production of key agricultural commodities. I am pleased to note that in major departmental stores and local markets, there has been a surge in the supply of high quality Nigerian agricultural produce.
42. Behind each of these products, are thousands of industrious Nigerians working in factories and farms across the nation. Our interventions have led to improved wealth and job creation for these Nigerians, particularly in our rural communities.
43. Again, these outcomes have been a major departure from the previous focus on consuming imported food items, which literally exported our children's jobs to food-exporting nations, whilst depleting our precious foreign exchange reserves. This, of course, caused a closure of our factories while keeping open other peoples' factories.
44. The choice made by this Administration to assist farmers directly and promote agriculture in every way possible has gone a long way to enhance our food security while enabling us to tackle poverty by feeding over nine million children daily under our Home-Grown School Feeding Programme. It also puts us clearly on the road to becoming a food secure and agriculture exporting nation.
45. Next to Agriculture, we are focusing on Manufacturing Sector. The Purchasing Managers Index, which is the measure of manufacturing activities in an economy has risen for 22 consecutive months as at January this year, indicating continuous growth and expansion in our manufacturing sector.
46. I will conclude by going back to where I started: that our choices have had consequences about employment and cost of living.
47. In making your choice this time, please ask yourself whether, and in what ways, others will do anything different to address the issues of Agriculture, Infrastructure, Security, Good Governance and Fighting Corruption.
48. If they are only hoping to do what we are already doing successfully, we are clearly your preferred choice.
49. Think carefully and choose wisely. This time, it is a choice about consolidating on growth for Jobs and Prosperity.
50. February 16th is all about a choice. But it is more than a choice between APC and the opposition. It is a choice about you, it is a choice between going back or keeping the momentum of CHANGE.
51. The road to greater prosperity for Nigeria may be long, but what you can be assured of is a Leadership that is not prepared to sacrifice the future well-being of Nigerians for our own personal or material needs. You can be assured of my commitment to remain focused on working to improve the lives of all Nigerians.
52. Thank you very much for listening. God bless you, and may God bless the Federal Republic of Nigeria.
Elections
Politics
News
AddThis
: 
Featured Image
: 
Original Author
: 
SaharaReporters, New York
Disable advertisements
: 
E2%80%94-buhari-campaigns-votes-state-broadcast target=_blank>BREAKING: 'We're Clearly Your Preferred Choice' — Buhari Campaigns For Votes In State Broadcast
President Muhammadu Buhari has just finished a rare state boradcast during which he generously listed the achievements of his administration and urged the people to "vote wisely".
Buhari began the speech by urging the people to freely exercise their rights, but then spent virtually the rest of the 20-minute speech subtly campaigning for his reelection. 
"In making your choice this time, please ask yourself whether, and in what ways, others will do anything different to address the issues of Agriculture, Infrastructure, Security, Good Governance and Fighting Corruption," he said as he wound up his speech.
"If they are only hoping to do what we are already doing successfully, we are clearly your preferred choice. Think carefully and choose wisely. This time, it is a choice about consolidating on growth for Jobs and Prosperity.
"February 16th is all about a choice. But it is more than a choice between APC and the opposition. It is a choice about you, it is a choice between going back or keeping the momentum of CHANGE. The road to greater prosperity for Nigeria may be long, but what you can be assured of is a Leadership that is not prepared to sacrifice the future well-being of Nigerians for our own personal or material needs. You can be assured of my commitment to remain focused on working to improve the lives of all Nigerians.
"Thank you very much for listening. God bless you, and may God bless the Federal Republic of Nigeria."
#NigeriaDecides
Elections
Politics
Breaking News
News
AddThis
: 
Featured Image
: 
Original Author
: 
SaharaReporters, New York
Disable advertisements
: 
target=_blank>Traditional Rulers Task Buhari To Establish Varsity Of Medical Sciences In Ogun
Oba Adedotun Aremu, President of the Ogun State Traditional Council of Obas and the Alake of Egbaland, has tasked President Muhammadu Buhari to urgently give his consent to the establishment of a University of Medicine and Medical Sciences as being proposed by the Federal Medical Centre, Abeokuta.
The Alake's request was contained in an address delivered at a meeting of the Obas with President Buhari during the All Progressives Congress (APC) presidential campaign rally in Ogun State.
He had argued that the establishment of the proposed University of Medicine and Medical Sciences was urgently needed in view of the millions of prospective medical students, who were being denied university admission on a yearly basis.
Oba Gbadebo disclosed that Senator Ibikunle Amosun, Governor of Ogun State, had donated 170 hectares of land worth over ₦5billion as a permanent site for the proposed project. He thanked the President for making funds available for the payment of compensation to the villagers, whose lands were acquired for the project.
While addressing the gathering, the Alake said: "The developers and partners within and outside the country have signified their interest in the early actualisation of the project".
Responding to the request, Buhari promised to look into the matter as presented by the Council.
Education
News
AddThis
: 
Featured Image
: 
Original Author
: 
SaharaReporters, New York
Disable advertisements
: 
target=_blank>PREVIEW: Has Incumbent Buhari Done Enough To Earn Another Four Years?
Muhammadu Buhari was born on December 17, 1942 in Daura, Katsina State. His father was Hardo Adamu and his mother Zulaihat. He is the 23rd child of his father.
MILITARY CAREER
Buhari enrolled in the Nigerian Military Training College in 1962 (NMTC). NMTC would later be upgraded to an officer commissioning unit of the Nigerian Army and renamed Nigerian Defence Academy (NDA). He served as commander of the Secondary Infantry Battalion and appointed brigade major, second Sector, First Infantry Division from April 1967 to July 1967.
He participated in the Nigerian Civil War that last for almost three years (1967-1970)
Buhari Served as Governor of the North-Eastern State from 1975 to 1976. In March 1976, Head of State, General Olusegun Obasanjo appointed Buhari as the Federal Commissioner (position now called Minister) for Petroleum and Natural Resources. When the Nigerian National Petroleum Corporation was created in 1977 Buhari was also made its Chairman, a position he held until 1978.  It is on record that during his tenure as Commissioner, $2.8 billion allegedly went missing from the accounts of the NNPC in Midlands banks in the United Kingdom. In December 1983 he led a coup that ousted the democratically elected President Shehu Shagari from office. Barely two years after, his regime was ended through coup by Ibrahim Babangida
POLITICAL ANTECEDENTS
With the return of Nigeria to civilian rule in 1999, Buhari contested for the presidency in 2007 on the platform of All Nigerians Peoples Party (ANPP) and came second with 12,710,022 as against the winner Umaru Yar'Adua's 24,456,140 votes. He founded the Congress for Progress Change (CPC) in the build-up to the 2011 elections and he contested on the platform of the party again for the President. He was defeated again, this time by Goodluck Jonathan of the Peoples Democratic Party (PDP).
He re-contested in 2015 for the same post on the platform of a coalition party called All Progressives Party (APC) and he won. His victory made him the first candidate in the history of the country to defeat an incumbent President.
STRENGTHS
The North-West is his stronghold. Though Buhari is an influential politician with cult following in the North, his influence is strongest in the Nort-West. Buhari is from Daura Katsina State, which is in the north-west geopolitical zone. He always banks on the votes from this region. Even in the past when he lost to other contenders, Buhari polled massive votes from this region. Official figures from the Independent National Electoral Commission (INEC) show that the region has the highest number of registered voters for the 2019 general election. The North-West has 20,158,100 registered voters, making up 24% of the total number of registered voters, which is 84,004,084. Buhari will be hoping to win a considerable number of votes from here again. Kano, which falls in the north-west region, alone has 5.5 million registered voters.
There is the Lagos State/ Tinubu factor. Buhari's running mate, Yemi Osinbajo is from the South-West. He was donated to the Buhari administration by his political godfather Bola Tinubu, who calls the shots in Lagos and is a staunch loyalist of the sitting President; he will do anything to 'mop up' the chunk of the 6.6 million expected votes from the state. Lagos, according to the numbers released by INEC, has the highest number of registered voters in the country.
There is also the Akpabio factor in the South-South. Godswil Akpabio, the former Governor of Akwa-Ibom State who recently defected to the APC, will want to prove a point to his new party and teach his former party, especially sitting Governor Udom Gabriel Emmanuel, some lessons in politics. He will do anything to win Akwa-Ibom State for Buhari. He also has an ally in Adams Oshimohole; together they will face Nyesom Wike of Rivers and others from the region.
The Trader Moni is another. It was tagged as Federal Government Empowerment Scheme for petty traders and artisans, but it is believed in some quarters to be a vote-buying ploy that might I truth sway some of these petty traders to vote for the APC.
WEAKNESSES
The explosion of the integrity myth. Buhari rode to power in 2015 on the wave of a decent personality and impregnable integrity. Recent decisions taken by him at the helm of affairs have shown otherwise, thus putting the lie to Buhari's 2015 selling point. Many will claim to have known him for who he truly is, but he may lose a massive number of votes for some the decisions he has taken in office.
Vote drought in the North-East. Buhari, who used garner a considerable number of votes from the North, might find it very hard to win in the northeast this time for two reasons. First their son, the Waziri of Adamawa, Atiku Abubakar, is also vying for the same post they used to support him for. Second, the menace of insurgency ravaging the region and which he promised to put an end too is still as disturbing as before.
The North-Central could revolt with their votes. With the incessant clash between farmers and cattle herders, Benue and some other states in the North-Central have become abattoirs of sorts, with the President showing little or no readiness to find lasting solution to the problem. Some will even say he has been tacitly supporting the herdsmen. This is also the region of David Mark, Bukola Saraki and Samuel Ortom. Winning in the zone will be a herculean task for the sitting President.
Selective anti-corruption war. Buhari has been fighting corruption by attacking the opposition. A villain becomes a saint regardless of the evidence against him once he defects to the ruling party. This method of fighting corruption has incurred the resentment of not a few number of the electorate and they may pass their vote of no confidence on him by voting him out of power come February 16.
Age and health status. Buhari is now over 76 years of age and every evidence shows that he is going senile. From forgetting the day he was sworn in as President to calling a governorship candidate a presidential and later 'governortorial' candidate, even slipping occasionally, the President has shown beyond doubt that he is not physically fit to retain the office. Don't forget that Mr. President had once spent a total 172 days outside the shores of the country seeking medical recourse for an unknown ailment. Many believe the President is senile and needs some rest and they may vote against him.
Clannishness and nepotism. Most of the appointments made so far by the President have not been based on merit but on ethnic and other primordial considerations. Most of these appointments have gone to northerners. Votes from other zones may show their disenchantment with him by voting him out.
#NigeriaDecides
Elections
Politics
AddThis
: 
Featured Image
: 
Original Author
: 
SaharaReporters, New York
Disable advertisements
: 
target=_blank>Zabe App Hits 3,000 Downloads As Nigerians Gear Up For Elections
As Nigerians gear up for the 2019 elections, the Centre for Civic, Citizen's Welfare and Community Development (CCWD) and Civic Media Lab have developed an election monitoring mobile application named Zabe.
The app, according to the organisations, seeks to democratise the elections observation process.
Over 3,000 Nigerians will be volunteering to monitor the process in their own polling booths to give a much wider perception of the overall performance of the election.
Zabe.ng is an election monitoring app that provides a fast and better method of collating results. Citizen observers are expected to crowd-source the app with credible information on incidents, events, and results around them as they go about the election process.
According to Khalil Halilu, Chairman of the Centre for Civic, Citizen's Welfare and Community Development, while responding to a tweet chat with SaharaReporters, results collated on the app will only be parallel to the one by INEC, but it does not confirm winners or losers as it relies on citizens.
"Our aim is to ensure that results declared at Polling Units are fairly represented at the last collation point. We will put systems to ensure that it doesn't happen and if it does, then we need to check where the gaps are coming from and ask for accountability," he said.
While informing the public on how to join the network, Halilu said: "Simply download the app from Playstore and IOS, sign up and then ensure you are on the lookout to report incidents in your area and also post credible results from your polling booth. The app also offers an offline reporting function, which allows you to input information when you are out of a network coverage area and then uploads when there is access to network."
The app is a collaboration effort between CCWD, an NGO with a bias for civic tools and technology, in line with SDGs and Civic Media Lab, which was set up with support from MacArthur Foundation to develop civic tools that would deepen democratic participation.
The lab is currently building a community of a 10,000 citizen election observers' network across the country, who will help provide information on the app.
Elections
Technology
News
AddThis
: 
Featured Image
: 
Original Author
: 
SaharaReporters, New York
Disable advertisements
: 
The Rivers State chapter of the All Progressives Congress (APC) insists its candidates will be represented on the ballot for the National Assembly, governorship and state House of Assembly elections.
The party noted that the Independent National Electoral Commission (INEC) was "making moves" to recognise its candidates, and called on the commission to speed up the implementation of the court ruling on the matter.
This was contained in a statement issued on Thursday by Senibo Chris Finebone, Rivers APC Publicity Secretary, at a press conference held at the state party secretariat in Port Harcourt, the Rivers State capital.
The party urged its members to participate actively in the elections scheduled for February 16, 2019, and that of March 2, 2019.
The statement read: "After a meeting of the State Working Committee of our party in the State today in which we meticulously deliberated on the recent court rulings of various courts especially the decision of the Court of Appeal sitting in Port Harcourt yesterday to further re-affirm two earlier orders that stayed the execution of the judgments of the lower court, our conclusion is that the APC and its candidates will now, most certainly, be on the ballot this Saturday. No order or judgement given since, including orders given by the Supreme Court on both jurisdiction and representation have said otherwise.
"We opted not to rely on a media circus to convey our right to be included. Unlike the many news reports that were suggesting we were dead and buried, we have since seen the orders and the Supreme Court judgement on the stay of execution which proves beyond reasonable doubt that INEC has an obligation to relist APC or risk being sanctioned for excluding us and disobeying a subsisting court order.
"We hail once again both decisions of the stay of execution, taken by the Court of Appeal recently and their reaffirmation of both yesterday. These decisions mean that nothing is stopping INEC from placing APC on the ballot. We welcome the moves by INEC to put us back on the ballot, as the alternative would have confirmed once and for all, the genuine fear that they are working for the PDP.
"We wish to state advisedly that obedience to the rule of law is the best antidote to anarchy. In the circumstances, we urge INEC to speedily implement the rule of law and return our great party to its rightful place. We are only demanding a right to compete.
"I want to once again hail the decision of the Supreme Court to refuse moves by Senator Magnus Abe and his lawyers to appeal the stays of execution. Nobody is in any doubt now that the Supreme Court's throwing out of their appeal against our stays of execution, speaks volumes. In summary, it means that the stays still subsist. That is the clear position of the law. The stay orders, the details of the Supreme Court judgement and our formal letter to INEC are hereby attached for your perusal.
"We have passed the stage of worrying if we will be on the ballot. We must now prepare to punish those who have been trying to keep us out of the elections with our votes. With these same votes, we must give Mr. President our full support. He stood by our leader because our leader had always stood by him and if you want to keep getting what you are getting, you have to keep doing what you are doing." Everybody must come out and vote APC to deny PDP any sight of government and help our President secure his second term in office."
Elections
Breaking News
AddThis
: 
Featured Image
: 
Original Author
: 
SaharaReporters, New York
Disable advertisements
: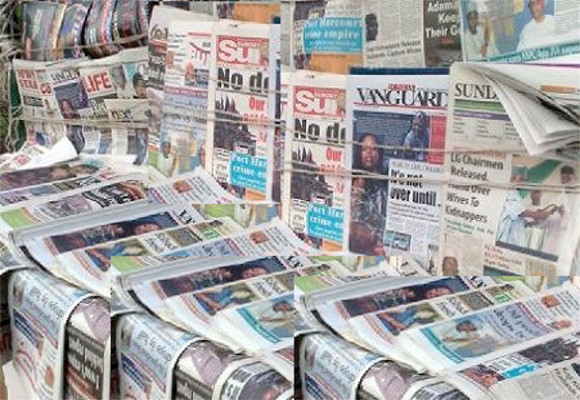 You can also check Sahara Reporters Newspaper Headlines Today