Thisday Newspaper News Today

Tuesday 12th February 2019

Top Nigeria news Dailies Update from Thisday Newspaper News Today 12/02/19

Read also The Nation Newspaper Today Headline Tuesday 12th February 2019

Shop owners at the Ariaria International Market in Aba, Abia State, can now enjoy constant electricity supply from a 9.5 megawatts gas-based independent power plant and a distribution system, writes Chineme Okafor With up to 37,000 shops specialicing in a wide range of goods, the Ariaria International Market has become valued for its versatility in […]
The post Journey to Self Sufficiency in Electricity Supply appeared first on THISDAYLIVE.

The FrieslandCampina WAMCO Nigeria Plc, makers of Peak milk, has presented a new bus with wheelchair access to the Nigeria Para-powerlifting Federation. The presentation was done at the company's headquarters in Lagos. The International Paralympic Committee mobility bus seats 12 people and 15 wheel chairs. This first of its kind mobility bus in Nigeria is […]
The post FrieslandCampina Supports Para-Powerlifting appeared first on THISDAYLIVE.

Hamid Ayodeji The Kano State Judiciary in collaboration with the Presidential Enabling Business Environment Council (PEBEC), has inaugurated the Small Claims Court in Kano. This initiative was in line with enabling business environment reforms across all arms of government, aimed at making Nigeria an easier place to do business. The objective of the court was […]
The post Kano Launches Small Claims Court to Enhance Dispute Resolution appeared first on THISDAYLIVE.

Jonathan Eze The Nigerian-American Chamber of Commerce (NACC) has expressed concern about the increasing level of poverty and widening inequality gap in the country. The group, therefore, urged the government to as a matter of urgency take steps to improve governance and build a sustainable and formidable economy. The Chamber pointed out that the delay […]
The post Widening Inequality Gap Worries NACC appeared first on THISDAYLIVE.

The management of Eko Electricity Distribution Company (EKEDC) has said a section of its workforce known as marketers, who were saddled with the responsibility of door to door revenue collection would henceforth be known as 'Eko Field Representatives (EFR)'. The General Manager, Corporate Communications, EKEDC, Mr. Godwin Idemudia, disclosed in Lagos that the name change […]
The post Eko Disco's Marketers Now EFR appeared first on THISDAYLIVE.

Jonathan Eze The Executive Director/CEO of Nigerian Export Promotion Council (NEPC) Mr. Olusegun Awolowo, has said foreign Direct Investment (FDI) from United Kingdom (UK) into Nigeria may rise from the $1 billion it is presently, to $4.5 billion by 2030. He disclosed at the Nigeria-United Kingdom Trade Diagnostic Study programme in Abuja recently. This, Awolowo […]
The post 'FDI Inflow from UK May Rise to $4.5bn By 2030' appeared first on THISDAYLIVE.

Cadbury Nigeria Plc has announced a donation of Bournvita, a non-alcoholic beverage, to some internally displaced persons (IDPs) in Nigeria. This was done in collaboration with the United Nations High Commission for Refugees (UNHCR). In a statement, the company's Corporate and Government Affairs Director for West Africa, Mr. Bala Yesufu, said Cadbury was moved to […]
The post Cadbury Partners UNHCR appeared first on THISDAYLIVE.

Sahara Group is set to explore opportunities with Cherie Blair in a bid to enhance sustainable development in Africa through access to technology, education and food security. A statement explained that the Group Managing Director, Sahara Power Group, Kola Adesina, Director, Governance and Sustainability, Pearl Uzokwe and Head, Corporate Communications, Bethel Obioma, met with Cherie […]
The post Sahara Group, Others Promote SDGs in Africa appeared first on THISDAYLIVE.

By Udora Orizu Omoyele Sowore is a human rights activist, blogger, Writer, lecturer. He is the founder and publisher of the much-cited SaharaReporters, a website of citizen journalism, supplying videos, photos, news stories and commentaries. Mr. Sowore is an indigene of Ondo State. He was born on February 16, 1971 in the Niger Delta region […]
The post Sowore's Challenge is for the Good of the Citizen appeared first on THISDAYLIVE.

By Segun Odegbami He died this morning. I had to cancel all my appointments today following the very sad and shocking news of the passage of my friend of over 46 years – Taiwo Ogunjobi, this morning. I have been unable to function properly as I recall the early days and years of a fascinating […]
The post My Tribute to Taiwo Ogunjobi appeared first on THISDAYLIVE.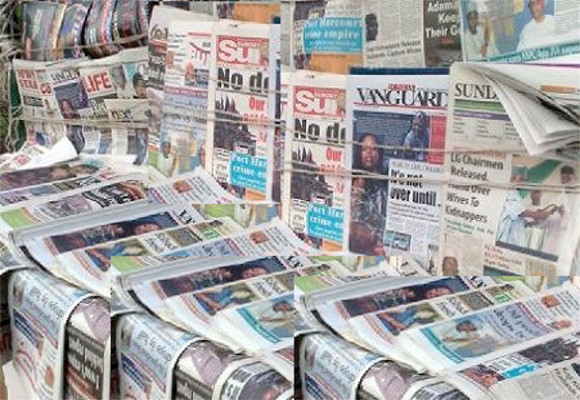 You can also check Thisday Newspaper News Today