Sahara Reporters Latest News

Friday 8th February 2019

Sahara Reporters Latest News Today and headlines on some of the happenings and news trend in the Country, today 08/02/19

Read also Leadership Newspapers News Today Friday 8th February 2019
target=_blank>IMN: Hoodlums Planning To Attack El-Zakzaky Amidst Security Agents And Kill All Of Them
The Islamic Movement in Nigeria (IMN), otherwise known as Shi'ia sect, has raised the alarm over a fresh plot to assassinate its leader, Sheikh Ibraheem El-Zakzaky, in detention.
IMN also debunked a media report that the movement had predicted that President Muhammadu Buhari would lose election in major parts of the North.
Abdullahi Muhammad Musa, Secretary of the Academic Forum of the movement, disclosed this on Wednesday in Abuja at a press conference.
He explained that the movement got an intelligence report through a letter written by one Sanusi M. Galadima, Director of Internal Security, Office of National Security Adviser (NSA), addressed to the Inspector General of Police, on a planned attack by the group on detention facilities.
He said: "The public will please recall that on August 8, 2018, we received a report from an unidentified security agent, who exposed a plan by the Department of State Security Service to use hoodlums to kill Sheikh Ibraheem Zakzaky (H) and his wife in the facility that they are being detained.
"According to the report, the hoodlums will attack Sheikh Zakzaky and all the soldiers and security agents escorting him to court or hospital and kill both the Sheikh and the security operatives.
"After the failure of the August 2018 plan, in January 2018, we received another report that the Office of the National Security Adviser is anchoring another plan to kill Sheikh Ibraheem Zakzaky (H) in the facility that he is being detained, but this time around, they will blame it on the followers of Sheikh Ibraheem Zakzaky (H)."
Musa said the letter is aimed at changing the narratives by the government to kill their leader in disguise. He, however, told the international community to "hold President Muhammadu Buhari responsible if anything terrible happens to El-Zakzaky".
"We will like to inform the public that the plan to attack detention facilities is the direct plan of the Tyrant Buhari-led administration and his security agents and anything that happens to Sheikh Ibraheem Zakzaky (H), we are going to squarely hold Tyrant Buhari and the National Security Adviser responsible," he added.
On the report that IMN predicted that Buhari would lose in major parts of the North, he said the report was a "misrepresentation of the issues raised", as he was quoted out of context.
He expressed the group's determination that the group would continue with the protest to demand for the unconditional release of Ibraheem Zakzaky and his wife, Zinah.
Free Speech
Human Rights
News
AddThis
: 
Featured Image
: 
Original Author
: 
SaharaReporters, New York
Disable advertisements
: 
target=_blank>BREAKING: ASUU Reaches Agreement With Nigerian Government
Breaking bannner
The Academic Staff Union of Universities (ASUU) and the Nigerian government have reached an agreement towards ending the four-month-old industrial action of university teachers.
The consensus was reached after a meeting in Abuja on Thursday.
Present at the meeting were representatives of ASUU, Chris Ngige, Minister of Labour and Employment, and other government officials.
Students had also besieged the Abuja venue of the meeting and threatened to embark  on a protest if the issues were not resolved.
At the end of the meeting on Thursday, an agreement was reached and a deal was signed.
Details later…
Education
Breaking News
AddThis
: 
Featured Image
: 
Original Author
: 
SaharaReporters, New York
Disable advertisements
: 
target=_blank>LIVE: Vice Presidential Candidates Face Off At 'The People's Debate'
Elections
Politics
News
AddThis
: 
Featured Image
: 
Original Author
: 
SaharaReporters, New York
Disable advertisements
: 
target=_blank>Thirty-Four Billion Reasons Why Lagosians Must Vote Out The APC By Abang Emenyi
If every Naira of tax-payers monies collected and (mis)appropriated by state governments were a reason for the electorate to vote out such governments, then Lagosians already have thirty-four billion reasons to vote out the APC.
Lagos State earns N34bn monthly in Internally Generated Revenue (IGR). This is asides the monthly allocation it receives from the federal government. Yet, according to BudgiT, of the 36 states of the federation, Lagos ranks 36th (the very last) in terms of transparency in use of public funds. In other words, the first has become the last. The first in the generation of income has become the last in the transparency of expenditure.
The annual budget of the state does not come by line items but in lump sums. There is zero due process in the procurement of goods and service. Contracts are not tendered for, just awarded at the whims and caprices of the executive. The records of revenue receipts are not made public, which makes it safe to assume that even the N34bn IGR reported is far lower than what actually comes in. But even if we were to take the state government at its word, a look at the glaring infrastructural deficit all around Lagos is sufficient proof that the 34bn tax-payers money generated monthly is being grossly misappropriated.
Even at the ludicrous, and staggeringly exorbitant N1bn/km cost at which the Lekki-Epe expressway was rebuilt, N34bn is sufficient to construct 34km of 3 lanes dual carriageway every single month. With N34bn the Lagos state government should be able to build, equip, and staff 68 primary health care centres every month; construct 8,500 units of low-cost housing every month; build, equip, and staff 16 primary schools every month, and the list goes on. But look around Lagos, what do you see instead? Dilapidated roads, poorly equipped health centres, a massive housing deficit, and a decadent education system.
With N34bn monthly, Lagos residents should be enjoying 24 hours uninterrupted power supply, instead, darkness envelopes the city. This must not be allowed to continue.
The bane of this issue is that one political party has 100% control of both the Executive and the Legislature. When you have lawmakers, who are unwilling and unable to checks and balance the executive arm of government, profligacy becomes the order of the day. A vibrant Legislature would force the Executive to be more prudent in its use of public funds. There is a need for more independent minded legislators who will compel the Lagos state government to open its books for public scrutiny. Lagosians must, therefore, unite to bring to an end the tyrannical reign of the APC in the state. This is the time for voters to rise up and insist on the injection of new blood into the system.
In searching for an alternative, Lagos voters cannot afford to consider political parties like the PDP. The mess the PDP has made of Nigeria at the federal level is ominous enough for Lagosians to avoid them like the plagues. Several states across the federation have PDP at the helm of their affairs yet stories from there are not much different from what obtains in Lagos. Add to this, the failure of PDP to offer credible opposition in the 19 years it has played second fiddle in Lagos; not to mention that seven out of eight of its members who got elected into the Lagos State House Of Assembly in 2015, defected to the APC within a year of being sworn in, and it is clear for all to see that PDP and APC are two sides of the same coin.
In light of the foregoing, the time has come to say enough of APC and its looting of the Lagos state treasury! Enough of Lagos PDP and its inability to provide virile opposition. New democrats, true democrats, are needed to revamp the system. Such can only come from political parties that are
neither off-shoots nor offspring of the current political class. An example of such a political party is KOWA Party.
In the forthcoming elections, KOWA Party is putting forward candidates to represent Lagosians at the State House of Assembly and the federal legislature. The KOWA candidates are all results-oriented,, and have proven backgrounds in the private sector, which we now intend to deploy for the public good.
Mr Ayo Lijadu for Lagos East Senatorial Zone, Mr Siraj Adebakin for Mushin 2 Federal Constituency, Mr. Olotu Ikponmwosa for Eti-Osa 1 Constituency, Mr. Akan Imoh for Ikeja 2 Constituency, and my humble self – Mr. Abang Emenyi for Lagos Mainland 2 Constituency are the team sent by KOWA Party, on a mission to salvage Lagos state form the conundrum it currently finds itself.
Lagos voters must make the collective decision to try something different, something better. The 2019 general elections provide the perfect opportunity for all Lagosians to express their displeasure in the way and manner they are being governed. We must rebel…by using our voter's cards wisely! We must revolt…when thumb-printing on the ballot! We must reclaim…when casting our votes on election day, our rights to a better standard of living. History beckons…may Lagosians fall on the right side of it this time around.
 
Abang Emenyi
KOWA Party Candidate
State House Of Assembly
Lagos Mainland 2 Constituency.
Opinion
AddThis
: 
Original Author
: 
Abang Emenyi
Disable advertisements
: 
target=_blank>Oshiomhole Prays For Atiku: May God Give Him Only 45,000 Votes
Adams Oshiomhole, National Chairman of the All Progressives Congress (APC), on Thursday rendered an interesting prayer for Atiku Abubakar, presidential candidate of the Peoples Democratic Party (PDP): May God give him only 45,000 votes.
Oshiomhole said this in Yola, capital of Adamawa State, where Atiku hails from, during his party's presidential campaign rally.
Oshiomhole described Atiku as a big man who helped himself while in power but forgot his people.
"You will ask him, as a big man, he has a lot of projects between 1999 and 2007. We have our list… he did a lot for himself," Oshiomhole said. 
"Between this period, he now has American University in Yola. He now has American University Club. He has Adama Beverages, he has Faro Waters, he has radios sic and television, he has agricultural-chemical company, he has printing press. He has several things for himself. But that's him. 
"Where are the Federal Government projects that Atiku helped to bring to the people of Adamawa State. He did a lot of himself but did nothing for the people. He constructed a borehole and brought it 6km to take water to his own family house, for his own use. He did not extend the water to his own neighbours."
The former Edo Governor said the 2019 election is about character and integrity, which Atiku cannot boast of.
"This election is about character; leadership is about character; it's about integrity; it's about whether you believe in the people or you believe only in yourself," he said.
"It's whether you will use the instrument of government to improve the quality of life of the other man, or you will use the instrument of government to help yourself and your friends. In any case, he has already answered that he will help himself and his friends, and I don't think you are all this friends."
He maintained that Atiku hadn't used his influence to advance the cause of the people, saying: "He has not used his influence to help the people of Adamawa State.
"The last time he had an interview with a young lady on NTA, I watched it. Atiku Abubakar said when he was Vice President, and thereafter, he empowered 45,000 people. Okay, if all he has done is to empower only 45,000 people, may God give him only 45,000 votes at the polls —  because he has agreed he did not help any other person but those 45,000 people; they are only known to him, they are not known to the people of Adamawa State." 
Elections
Politics
News
AddThis
: 
Featured Image
: 
Original Author
: 
SaharaReporters, New York
Disable advertisements
: 
target=_blank>After 35 'Exciting And Fulfilling' Years, Army Spokesman Sani Usman Retires
Sani Usman, the spokesman of the Nigerian Army, has retired after 36 years of active service.
In a farewell message on Thursday, Usman said his "terminal leave" would begin on Friday, February 8, 2019.
Although a new Army spokesman has not been announced, Usman handed over to A.A. Yusuf, the Chief of Staff at the Directorate of Army Public Relations.
The statement read: "With utmost gratitude to God, I wish to inform you, the wonderful officers, soldiers and civilian staff of the Directorate of Army Public Relations, that with effect from Friday 8 February 2019, I will be proceeding on Terminal Leave, thus marking the end of my exciting and fulfilling career in the Nigerian Army. I am therefore bidding you all goodbye in my capacity as Director, Army Public Relations.
"I would like to seize this opportunity to thank you all for your friendship, love, support, loyalty and encouragement over the years that tremendously assisted me personally and repositioning the Directorate to the enviable height attained, thus far. I also wish to thank the Nigerian nation and the Nigerian Army for the wonderful opportunity to serve the country and humanity in various capacities for over three decades.
"I am leaving highly fulfilled after contributing my best to national development, the Nigerian Army, gaining great wealth of knowledge, experience, inestimable network of friends which I will treasure forever. I am thankful to the Nigerian Army for giving me wonderful opportunities and work exposure to practice Public Relations to the point of being a Fellow of the prestigious Nigerian Institute of Public Relations (FNIPR), Member of the National Institute (mni), among other honours, awards and qualifications, as well as attaining the highest level of command of the Directorate of Army Public Relations twice."
Usman was born in 1965. He attended Kukasheka Primary School from 1973 to 1977, Government Secondary School, Kafanchan, from 1977 to 1982, and in 1983, he joined the army as a recruit.
In 1991, he got a degree in Mass Communication from Bayero University, Kano, and was granted Direct Regular Commission (DRC) as a lieutenant in the Army's Directorate of Information.
Military
News
AddThis
: 
Featured Image
: 
Original Author
: 
SaharaReporters, New York
Disable advertisements
: 
target=_blank>10 Years Of Boko Haram: The Fate Of A Double Edged Strategy To Tackle Insecurity And Humanitarian Crises In The Lake Chad Basin
In today's dynamic world of prosecuting wars, a good offense is said to be the best defense. Being on the offensive whenever it is applied to any endeavour –including military combat –is hinged on the elevation of proactivity above passive attitude. Undoubtedly, being proactive brings the fight to the opponent, and ultimately culminates in hindering the ability of the opponent to mount any attack. Although debatable, the reverse is the case if one is laid back.
Boko Haram, arguably Nigeria's greatest headache has been around for a decade without shying away from consuming 27,000 people and destroying their livelihoods in the process. 
Within this period, United Nations reports that about 2.5 million people have been displaced throughout the Lake Chad Basin while 1.8 million are internally displaced in north-eastern states of Adamawa, Borno and Yobe and live in internally displaced persons (IDPs) camps and host communities. There are also displaced Nigerians living in camps and improverished host communities in Cameroun, Niger and Chad, thus aggravating the already dire conditions in these communities. 
The casualties have grown in the past few years. For instance, a UN report says thousands of women and girls were abducted in the last two years while it is estimated that close to 300 children have been used as human bombs. Contentiously, these attacks have grown in the past year or two when government was busy claiming it has technically defeated Boko Haram and seems to have reduced its offensive against the insurgents. 
Many politicians, analysts and scholars within and without Nigeria have agreed and disagreed on the possible reasons for the emergence of Boko Haram and its continued relevance and capacity to launch attacks within Nigeria's territory. Truly, Boko Haram crisis can be explained from different perspectives but as with most complex crises as this, these explanations are inexhaustible as more facts and scenarios present themselves quite often. Research has however shown that a number of vital pull and push factors of the crisis in Nigeria are largely economic and social in nature. 
That is why the recently concluded Second Regional Protection Dialogue (RPD2) hosted by the Nigerian Government and organised by the United Nations High Commissioner for Refugees (UNHCR) in Abuja could not have come at a better time. 
The RPD2 came on the heels of the first which took place over 2 years ago and led to the adoption of an action plan called Abuja Declaration by countries within the Lake Chad Basin. It also afforded relevant UN agencies and Lake Chad Basin governments to take stock of progress made in the implementation of Abuja Declaration, examine challenges faced and proffer the way forward. 
The Dialogue which culminated into the simultaneous launching of a three-year Humanitarian Response Strategy (HRS) from 2019 to 2021 and Nigerian Regional Refugees Response Plan (RRRP) from 2019 to 2020 is seeking the total sum of $983 million for implementation of the two plans. Of this amount, $840 million is needed to implement the HRS while $135 million is required for the RRRP to provide food, water, shelter and protection to IDPs and refugees, the UN says.
If there is any take home from these plans, it would seem that more than ever before and with the cooperation of relevant humanitarian actors there is a renewed attempt to explore the nexus between economic and social aftermaths of the crises in the region by decisively attending to the nucleus of prevailing conditions that may have brought Nigeria down this road. 
Understanding the vicious nature of war –especially the type Nigeria and other LCB countries are contending with –and finding every opportunity to starve the enemies of instruments of war by cutting down on human supply and sympathizersto Boko Haram's ideology could not have been better addressed in the newly launched plans. This move by UN and its partners, applauded by President Buhari who was represented by Vice President Yemi Osinbajo at the unveiling of the strategy documents serves Nigeria with another moment of retrospection. 
"I must say that the current rate of return of these IDPs and refugees is encouraging; and this is due to improving security in many areas that were once out of bounds. Let me also specially commend the United Nations High Commission for Refugees (UNHCR) and other development partners for their efforts in ensuring the safe return of the IDP and Refugees.
"Our challenge now is to ensure that this improving security extends to the other areas in which we have witnessed recent unfortunate setbacks,'' Osinbajo said.
The need to wake up to the reality that Boko Haram's capacity to launch attacks is still very much potent, that there is need for all hands to be on deck and recommit to the speedy implementation of all the objectives of RPD2 has arguably never been so apt. 
Time is however of the essence. Accordingly, the sum of $50 million is urgently required to implement a 90-day plan to address the needs of those newly displaced in the past few weeks, says Edem Worsonu, Head of Office, United Nations Office for the Coordination of Humanitarian Affairs (OCHA).
"We are about to launch a ninety-day plan within this plan, seeking for $50 million right now within the 840 million to assist new arrivals who have moved recently from insecurity. 
We also call on the Nigerian private sector and the government, so that we can join hands and deliver the assistance to the people. But we call for urgent funding for people in need right now,'' Worsonu said.
Herein lies the challenge. Not unknown to Worsonu and other humanitarian actors is the issue of funding. While donors should be commended for their continued support in ameliorating the sufferings of the people in north east Nigeria and the entire LCB, more still needs to be done. For instance, an estimated 6.2 million people worst-hit by Boko Haram crisis in Borno, Yobe and Adamawa states, the same number of people in 2018 are being targeted with less budget due to the assessed needs and the realistic capacity to deliver aid.  This year's budget which is around $250 million less than the previous year represents about 36 per cent of the total funds realised from donors in 2018. 
If there is anything as important as time, it is the decision by humanitarian actors to be wholly committed to implementing the objectives of the second dialogue to the latter not only as policy document but as arguably the greatest non-military offensive against Boko Haram in a long while. 
 
Olajide Adelana, investigative journalist and development enthusiast writes from Abuja.
Opinion
AddThis
: 
Original Author
: 
Olajide Adelana
Disable advertisements
: 
target=_blank>1,000 Pastors Storm Abuja To Endorse 'God's Anointed' Buhari
Bishop Sunday Garuba addressing journalists in Abuja.
1,000 clerics of the Christian faith stormed Abuja on Thursday for the grand finale of a rally to endorse President Muhammadu Buhari.
The clerics claim Buhari "is anointed to lead the country for eight years, and as such, should be given the necessary support for him to fulfil the prophecy".
They gathered at the Unity Fountain, Abuja, under the auspices of the National Inter-Faith and Religious Organizations for Peace (NIFROP).
They urged Nigerians not to disrupt the flow of God's blessing to the land, but support Buhari's reelection bid, so he could "continue running the errand God has sent him".
Speaking at the rally, Bishop Sunday Garuba, National President of NIFROP, said: "Before NIFROP announced today's rally sometime last week, we had been led by the spirit to hold forty days of fasting and prayer. In the course of this exercise, undertaken on behalf of the nation, it was revealed to us that President Buhari is God's anointed to lead Nigeria to greater heights.
"As you can see, we are more than 1,000 clerics across faiths and denominations. We are apolitical and only delivered this message concerning President Buhari for it what our maker has collectively instructed us to do and we cannot do otherwise, lest we attract wrath unto ourselves.
"The unison of 1,000 clerics of diverse faiths is something that should prick the interest of Nigerians. But it is not a phenomenon for which we should waste time seeking answers. The leadership style of President Buhari as defender of all faiths, ordained to save our religions, is the source of the newfound cohesion that has toned down the tendency for religion to be the source of strife among communities. The naysayers may argue it but Nigeria is on the way to recording fewer and fewer instances of sectarian strife until the larger population of Nigeria will enjoy the kind of cordial relations we have at NIFROP.
"Fortunately, this godly touch is manifesting in other facets of our national life. The corruption that used to be the trademark of Nigeria is now being recognized as an abomination to our creator, something that has been made possible by President Buhari. We are aware that there are those now seeking to return Nigeria to Egypt, back to the days when corruption and theft of public funds was the order of the day.
"We stand on the revelation given to us by God to declare that as He decreed, so shall it be. We on this note appeal to the electorate to ward off evil from Nigeria by aligning with God's will by voting President Buhari to continue with the work that has been entrusted to him.
"We are aware that the opposition has been making false claims to present themselves as the ones destined to take Nigeria to a greater height and that they can liberate Nigerians but we know this for what it is. Lies of the devil! They are known to the Bible as it is stated in 2 Peter 2:19 that 'They promise (Nigerians) them freedom, but they themselves are slaves of corruption. For whatever overcomes a person, to that he is enslaved'. Nigerians must therefore take heed lest they fall the lying tongue that is intent on misleading them to reject God's choice for them."
Christianity
Politics
News
AddThis
: 
Featured Image
: 
Original Author
: 
SaharaReporters, New York
Disable advertisements
: 
target=_blank>Protest-Ready Students Wait Outside As Government Meets With ASUU Again
The Academic Staff Union of Universities (ASUU) and representatives of the Nigerian government are currently meeting in Abuja.
The meeting is to find resolution to the ongoing ASUU strike over better funding for universities.
Representatives of the National Association of Nigerian Students (NANS) are also present at the meeting.
Students are also said to be mobilising at the venue of the meeting to protest any further delay in finding lasting resolutions to the strike.
According to NANS, students have taken over both entrances to the venue.
The strike began in November 2018, and there have been series of back-and-forth deliberations between both parties on the matter.
Education
News
AddThis
: 
Featured Image
: 
Original Author
: 
SaharaReporters, New York
Disable advertisements
: 
Five persons were feared to have lost their lives in Jalingo, the Taraba State capital, during the rally of President Muhammadu Buhari of the All Progressives Congress (APC).
Thousands of APC members converged on the Jolly Nyame Stadium in Jalingo on Thursday.
However, trouble began as hoodlums attacked the convoy of the Governor, unleashing mayhem on the Deputy Governor's car, as well as that of the state Commissioner of Police and a Special Adviser.
Bala Dan Abu, Senior Special Assistant on Media and Publicity to Darius Ishaku, Governor of Taraba State, confirmed the incident when he addressed reporters on Thursday.
He said: "The Deputy Governor's car and several other cars in the convoy, including that of the Commissioner of Police and a Special Adviser to the Governor, were damaged.
"The thugs, most of whom were imported from neighbouring states to create the false impression that APC enjoys a large following in the state, came heavily armed.
"They carried guns, cutlasses and sticks, which they displayed openly and in the full glare of security agents who merely looked the other way. They were given cover by the security agencies who fired gunshots to scare away those who may dare to confront them.
"What happened today is a big contrast to the PDP presidential flag-off of February 5 in Jalingo, which attracted a large crowd, but recorded no incident of crisis and deaths. Residents of Wukari are still licking the wounds of the APC violent visitation of January 29, during which PDP posters and bill boards were torn and a member of the PDP killed.
"The Taraba State government will no longer fold its arms while innocent people are being killed and maimed."
Meanwhile, two persons were also said to have been feared dead as a result of overcrowding at the stadium.
They were said to have been rushed to the hospital in ambulances during the rally.
CRIME
Politics
News
AddThis
: 
Featured Image
: 
Original Author
: 
SaharaReporters, New York
Disable advertisements
: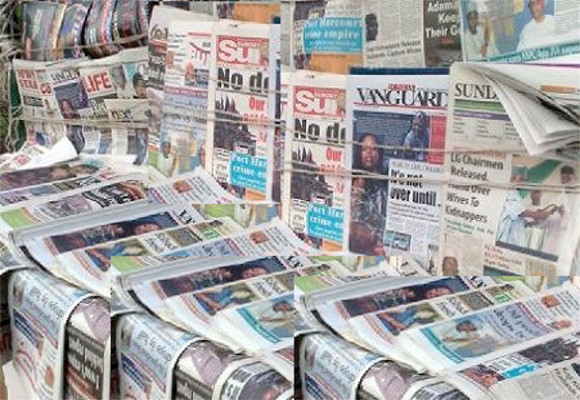 You can also check Sahara Reporters Newspaper Headlines Today