Sahara Reporters Latest News

Friday 1st February 2019

Sahara Reporters Latest News Today and headlines on some of the happenings and news trend in the Country, today 01/02/19

Read also Leadership Newspapers News Today Friday 1st February 2019
E2%80%99s-suspension target=_blank>Nigerians Storm Streets of New York, Praise Buhari Over Onnoghen's Suspension
Barely 24 hours after some Nigerians trooped out in the United Kingdom to express solidarity with President Muhammadu Buhari over the suspension of Walter Onnoghen as the Chief Justice of Nigeria (CJN), their counterparts in the United States of America have followed suit.
The Nigerians, under the auspices of Restore Nigeria Coalition (RNC), were spotted on the streets of Washington, chanting 'Sai Baba', as they urged the Donald Trump-led government and the United Nations to support Buhari in the fight against corruption.
Cosmas Collins, President of RNS, who spoke on behalf of the group, said he believes Nigeria has made tremendous progress in the anti-corruption fight as witnessed in the case of Onnoghen.
He said: "The recent case of the suspended Chief Justice of Nigeria, Walter Onnoghen, who violated the law in declaring his assets as stipulated by law has further emphasized the level of rot in the system.
"A particular segment of the Nigerian society has cried wolf where none exists and painted a picture of political persecution, forgetting that Nigeria was on the brink of imminent collapse due the activities of a few that have benefitted from the rot in the system.  
"We are, through this medium, soliciting for assistance from the United States and United Nation in the war against corruption in Nigeria as initiated by the administration of President Muhammadu Buhari in recent times.
"A vivid example can be seen in the instance where the Chief Judicial Official in Nigeria, either by omission or commission failed to declare a part of his assets running into millions of dollars. The Chief Justice of Nigeria as the number one judicial officer in the country, for inexplicable reasons, did not declare a part of his assets before the Code of Conduct Bureau in Nigeria. The CJN cited 'forgetfulness and mistake' as the reasons for the non-declaration.
"The non-declared items are bank accounts with balances that run into millions of pounds sterling and dollars.  This is too much to be right in our considered opinion. As the number one judicial officer in the country, it is wholly untenable for such an excuse, unless for deliberate reasons."
Corruption
Free Speech
International
Legal
News
AddThis
: 
Featured Image
: 
Original Author
: 
SaharaReporters, New York
Disable advertisements
: 
E2%80%99s-time-change-sowore target=_blank>After Supporting Buhari In 2015, 'Patriotic Lawyers' Say It's Time For Change To Sowore
Abubakar Yesufu, Chairman of the League of Patriotic Lawyers Forum, has called on Nigerian youth to cast their votes for Omoyele Sowore, the presidential candidate of the African Action Congress (AAC), in the February 16 presidential election.
Yesufu stated this during an interview with SaharaReporters on Thursday.
Yesufu, a former Student Union President of the University of Benin, said his group was significant to the victories of former President Goodluck Jonathan and President Muhammadu Buhari in 2011 and 2015, respectively.
His words: "I am excited about how he has promised to disrupt the status quo of this country as he has disrupted the media space. I have never met Sowore and I don't intend to meet him but we believe in what he is doing, because it is important for our generation to come out and strengthen him
"We are asking all centre groups and Atiku to step down and cast their support for the African Action Congress party. We've been able to follow him closely and he is the only person that has the idea and exposure to take Nigeria to the greater level. When Jonathan was facing problem and came up with the idea of doctrine of necessity, we led a team of legal practitioners to support  Jonathan because we believe that's the man who doesn't have shoes and the truth is that, he became the president.
"We now shifted ground to Buhari in 2015 and that is why on AIT and Channels, we supported him. However, weeks to the 2019 elections, we are not comfortable. So what we need to do now is to rally round Sowore; not only the youth but everybody. That can take us out from the pit we are in. I'm a lawyer and you can see what is happening in the judiciary.
"Right now, we are in between the devil and the deep blue sea with the All Progressives Congress (APC) and the Peoples Democratic Party (PDP). I have nothing against Atiku though. But I believe the throttle-driving Atiku does not have the capability of delivering democracy. He has been on that road for the past 16 years.
"I have listened to these people and want to support AAC. He will become a great icon to reckon with. If we fail to support Sowore, we should be ready for four more years of hardship under Buhari."
Elections
Politics
News
AddThis
: 
Featured Image
: 
Original Author
: 
SaharaReporters, New York
Disable advertisements
: 
target=_blank>JUST IN: Ganduje Presumed Innocent Until Proven Guilty In A Law Court, Says Buhari
President Muhammadu Buhari has responded to claims that he is shielding Abdullahi Ganduje, Governor of Kano State, from prosecution.
Ganduje was caught on camera pocketing wads of dollars, which appeared to be kickbacks from a contractor.
Although the Governor has claimed the videos were doctored, Jafar Jafar, publisher of Daily Nigerian, who shared the videos in public domain, insisted the videos were real.
Jafar was invited to face an investigative panel set up by the Kano State House of Assembly, but no major action has been taken against the Governor on the matter.
Similarly, when he appeared on 'The Candidates', a presidential town hall programme for politicians broadcast on live television, Buhari expressed doubt about the authenticity of the videos but stated that the law would take its course.
However, on Thursday, the presidential campaign rally of the All Progressives Congress (APC) berthed in Kano and Buhari was welcomed to the state by Ganduje, as well as thousands of party faithful. Buhari also endorsed Ganduje for reelection as governor of the state.
Responding to the reports that the corruption allegation levelled against Ganduje had watered down the President's claim that he is fighting corruption impartially, a statement by Garba Shehu, Senior Special Assistant to the President (Media and Publicity), issued on Thursday, restated Buhari's commitment to the fight against corruption.
The statement read: "President Muhammadu Buhari has dismissed claims that his association with Governor Abdullahi Ganduje of Kano has diminished his commitment to the war against corruption.
"The Presidency in a statement Thursday said that there is a difference between perception and reality. According to the statement, which followed comments after the proclamation by President Buhari of Dr Abdullahi Umar Ganduje as the governorship candidate of the All Progressives Congress, at a rally in Kano, the presidency cited a number of high-profile prosecution of senior government officials that a former Secretary to the Government and a former state governor who is a party member and now serving term in jail as indications of will and determination to wage the anti-corruption war without fear or favour.
"It also added that the Executive Secretary of the National Health Insurance Scheme, Prof. Usman Yusuf, is currently on administrative leave as part of President Buhari's commitment to transparency and accountability. 
"The statement explained that despite some of the suspects being close to the President, he had not shielded them from investigation, administrative suspensions and prosecution.
"The Presidency added that it is sheer mischief to suggest that President Buhari is shielding anybody because of their closeness to him, explaining that no official under this administration would go unpunished once they break the law."
On the allegations of corruption against the Governor, the statement added: "On the specific issue of Governor Ganduje of Kano State, the statement noted that Dr. Ganduje, as a sitting Governor, enjoys immunity from prosecution in his own right. Furthermore, under Nigerian laws, a suspect is presumed innocent until proven guilty in a court of law.
"In the circumstances, the matter is in court and the President has no power to dictate to the court or the Kano State House of Assembly, which is already investigating the matter, about what to do with the allegations against Ganduje.
"The Presidency added that it is unfair to ignore the larger picture of the President's major successes in the war against corruption, including blocking leakages of corruption, which in turn, boosted government revenues.
"The statement challenged President Buhari's critics to prove that those facing corruption allegations are innocent, adding that the President's zero tolerance for corruption has boosted and remarkably improved Nigeria's image in the eyes of world leaders."
Elections
Politics
News
AddThis
: 
Featured Image
: 
Original Author
: 
SaharaReporters, New York
Disable advertisements
: 
target=_blank>Isoko People Beg Uduaghan To Resolve Their 'Headache' Of Bad Representation At The Senate
The people of Isoko nation of Delta State, under the umbrella of the Isoko Development Union (IDU), have lamented "poor representation" in the Senate.
James Manager is the current senator of the representing the Ijaw, Itsekiri and Isoko that make up Delta South Senatorial District at the National Assembly. Manager has been in the Senate for almost 16 years on the platform of the Peoples Democratic Party (PDP).
Speaking during the week on behalf of Isoko nation, at a senatorial campaign/consultation visit to IDU in Oleh, headquarters of Isoko South Local Government Area of the state by Emmanuel Unduaghan, the immediate past Governor of Delta State, Iduh Amadhe, the President General of the Isoko sociocultural group, noted that Isoko nation is lagging behind due to poor representation.
Addressing Uduaghan, Amadhe said: "Our political representation quagmire at the Senate has been giving us headache. We need someone with proven experience to represent us. I don't need to make long speech, but Your Excellency, all I have to tell you is that when you get to the Senate, don't forget Isoko nation.
"From Uduaghan's well-articulated speech, all Isoko people who were already convinced about his political pedigree were left without an iota of doubt, that he will provide effective and results-oriented representation as the next senator. We therefore wish to assure you of the unalloyed prayers and support of the Isoko ethnic group in ensuring that you get elected as their Senator come February 16. We the Isoko shall vote for you; Itsekiri will vote for you and the Ijaw will not be left out too."
Uduaghan is running on the platform of the All Progressives Congress (APC) as the candidate seeking to represent Delta South senatorial district at the National Assembly.
The IDU leader, however, enjoined Uduaghan to ensure that the Isoko social, political and economic development interests were protected when elected, urging him to, "radically help the Isoko address the challenges posed by increase in revenue accruing to the area from OML 30 oil prospect, and also the conversion of gas flares to boost electricity supply in the area".
In his address, Uduaghan stated that his aspiration was premised on an issue-based campaign and not attacking personalities.
He promised to propose a bill seeking the transformation of illegal bunkering and refining of petroleum products into legal ventures that would provide jobs for the youth, and also formulation of laws to enhance environment protection and sustainable development of the area.
Uduaghan was accompanied on the campaign visit by Joel-Onowakpo Thomas, the APC Isoko Federal House of Representatives hopeful, as well as other party leaders.
Elections
Politics
News
AddThis
: 
Featured Image
: 
Original Author
: 
SaharaReporters, New York
Disable advertisements
: 
E2%80%99s-detention target=_blank>CSOs Ask LPPC To Withdraw Keyamo's SAN Rank Over Adeyanju's Detention
Festus Keyamo
Three Civil Society Organisations (CSOs) say Festus Keyamo, a Senior Advocate of Nigeria (SAN), has questions to answer on the illegal detention of Deji Adeyanju, Convener of Concerned Nigerians.
Therefore, they called on the Legal Practitioners' Privileges Committee (LPPC) and the Legal Practitioners Disciplinary Committee respectively to withdraw the rank of SAN conferred on Keyamo as well as his licence to practise law in Nigeria.
This was contained in a statement signed by Ariyo-Dare Atoye, Convener, Coalition in Defence of Nigerian Democracy and Constitution; Adebayo Raphael, Co-Convener, Free Nigeria Movement and Moses Paul of MadConnect, made available to SaharaReporters on Thursday.
The groups lamented the "illegal arrest and detention" of Adeyanju, noting that Adeyanju has been in custody for more than six weeks now.
Highlighting the events that led to Adeyanju's remand in custody, the groups said: "Adeyanju was first detained at a Police facility in Garki, Abuja, during which time he was deprived of access to his family members and lawyers. He was then secretly transferred to a police station in Kano and arraigned before a Magistrates' Court. On 30/01/2019 he was arraigned before a Kano State High Court on charges of attempted murder."
According to the groups, the charge for which Adeyanju has been held for the past 48 days relates to allegations for which he was tried and acquitted by a Kano State High Court in a trial that lasted from 2005 to 2009.
The statement read: "It is instructive to point out that Mr. Adeyanju was arrested, tried and acquitted along with three other people, none of whom have been arrested or invited for questioning in the course of the last 48 days.
"Mr. Adeyanju's arrest, detention and arraignment on these charges constitute a blatant violation of the provisions of Section 36(9) the Constitution which stipulate that: 'No person who shows that he has been tried by any court of competent jurisdiction or tribunal for a criminal offence and either convicted or acquitted shall again be tried for that offence or for a criminal offence having the same ingredients as that offence save upon the order of a superior court.'
"Mr. Adeyanju's arrest and detention also constitutes a violation of his rights to dignity of his person, personal liberty and fair hearing. It is also important to note that during the course of his trial in 2009, Mr. Adeyanju was represented by Mr. Festus Keyamo (SAN), who is currently the spokesperson for the re-election campaign of President Muhammadu Buhari. This fact is important in the light of Mr. Adeyanju's criticism of the Buhari administration over the last three years, which had resulted in several arrests and detentions. 
"It is instructive to note that Mr. Keyamo now works for the Buhari presidency which by all indications wants Mr Adeyanju out of circulation before, during and immediately after the 2019 general election for obvious reasons. Mr. Keyamo's stoic silence is the matter, at the expense of the continued violation of the rights of a person he once represented, therefore fuels concerns in the thoughts of many Nigerians that he may have played a key role in the design and execution of the plot to keep Mr. Adeyanju out of circulation in order to protect their interests of President Buhari and his campaign.
"It is nearly impossible to escape this conclusion, seeing as a person of Mr. Keyamo's standing in society and antecedents – especially as a Senior Advocate of Nigeria (SAN) – who should have been at the forefront of demands for Mr. Adeyanju's release, knowing the facts of his acquittal in that matter, has chosen to remain silent. It is nearly impossible to resist the conclusion that Mr. Keyamo may have chosen to sacrifice his professional ethics on the altar of regime protection and at the expense of justice.
"We reiterate our calls for Mr. Adeyanju's unconditional release seeing as the allegations for which he is currently detained has been heard to a conclusion by a court of competent jurisdiction resulting in his discharge and acquittal.
"It is obvious that Mr. Keyamo indeed has questions to answer on issues related to the illegal arrest and detention of Mr. Adeyanju. We, therefore, call on the Nigerian Bar Association (NBA) to conduct investigations into the circumstance surrounding Mr. Keyamo's involvement in Mr. Adeyanju's illegal detention. We also call on the Legal Practitioners' Privileges Committee (LPPC) and the Legal Practitioners Disciplinary Committee respectively to withdraw the rank of SAN conferred on Mr. Keyamo as well as his licence to practise law in Nigeria. Justice must be upheld."
ACTIVISM
Free Speech
Human Rights
Legal
Police
News
AddThis
: 
Featured Image
: 
Original Author
: 
SaharaReporters, New York
Disable advertisements
: 
E2%80%98-candidates%E2%80%99-presidential-debate target=_blank>AAC Declares Sowore Winner Of 'The Candidates' Presidential Debate
The African Action Congress (AAC) has given its verdict on the series of 'The Candidates', a presidential town hall co-production between Daria Media and the Nigerian Television Authority (NTA), with support from the MacArthur Foundation.
Anchored by Kadaria Ahmed over the past four Wednesdays in January, presidential and vice-presidential candidates of the Young Progressives Party (YPP), All Progressives Congress (APC), African Action Congress (AAC) and the Peoples Democratic Party (PDP) have all featured on the programme.
A statement by Dr. Malcolm Fabiyi, Director-General of the Sowore 2019 Campaign, issued on Thursday, noted that "there was one winner from the series and that was Omoyele Sowore, presidential candidate of the African Action Congress".
The statement continued: "Although Buhari and Atiku have artfully dodged a frontal debate with Sowore, 'The Candidates' placed all the candidates on the same platform, with the same interviewer. And for two hours, Nigerians had the opportunity to hear the presidential and vice presidential candidates of the four leading political parties in the country talk about their plans and programmes for Nigeria, as well as answer questions about their past. The town hall series was revealing. Nigerians have now had an opportunity to weigh their candidates for the highest offices in the land.
"Buhari demonstrated a worrying cluelessness about many of the goings on in the country.  He frequently had to be prompted by his Vice President, as he failed to hear or comprehend most of the questions asked. Buhari seemed neither mentally present nor interested in Nigeria. The APC has no ideas for how to steer Nigeria away from the crippling problems of insecurity, power sector failures, growing unemployment, farmer-herdsmen conflicts and lack of affordable healthcare access that continues to plague Nigeria. One could almost be moved to sympathy for Buhari after his catatonic performance, if it weren't for the vicious wickedness that is the intention of foisting a second term that would extend and double our misery, on Nigerians.
"Kingsley Moghalu and his running mate demonstrated that their ideas were as dated as those of the establishment they seek to replace. There were no bold plans to create jobs or to light up NIGERIA. There were no clear policy positions on how to address the challenges of insecurity and corruption. The town hall session also revealed the glaring lack of preparation of his vice presidential candidate. Suffice to say that his policies and heavy reliance on his previous stint as the deputy governor – a position that makes him complicit and responsible for a lot of the financial rot that Nigeria faces today – reveal him as being part and parcel of the establishment.
"Atiku and Obi proved yesterday, that all of our fears that electing the PDP would simply replace one layer of corruption with another more complex and pernicious one, were true.  Atiku could not satisfactorily explain his part ownership of a company that did extensive business with the Ports Authority when he was still in the Nigerian Customs service. He could not explain the money laundering indictments and allegations made by the US Senate Homeland Security Committee. Peter Obi squirmed and faltered as he attempted to convince Nigerians that he was doing Anambra state a favour when he invested billions of the state's money in a venture in which his family's NEXT International Nigeria, was a major shareholder. It is now clear that Atiku and Peter Obi complement themselves well. They are two vultures with the same corrupt feathers. They had no clear plans for any of Nigeria's most pressing issues. They were clear on one point though – they were willing to offer amnesty to all corrupt persons.
"We are thankful that despite the attempts to prevent Nigerians from seeing and contrasting Sowore with Buhari, Atiku and others on the national stage, the NTA – Daria Media Town Hall series provided objective points of contrast. Sowore demonstrated a masterful grasp of Nigeria's issues. He showed amazing clarity in his vision for the country. Nigerians were able to learn first-hand that Sowore has been involved in the fight to move Nigeria forward for 30 years. Nigerians saw the courage of his plans and the strength of his conviction. Nigerians were reminded that he is the only candidate that committed to increasing power by 17,000 MW, doubling Nigeria's road network from 200,000 km to 400,000 km, boosting our rail system from 3,700 km to 8,000 km, creating 5 million new jobs, paying workers a living wage of 100,000 Naira and creating an enabling environment for businesses to thrive.
"Nigerians also got to see that in Dr Rabiu Rufai, Sowore has a running mate who equally understands Nigeria's challenges and has the intellect, integrity and political will to be a strong partner in the task of positively transforming Nigeria."
AAC went on to urge Nigerians to make a clear choice on the nation's leadership, stating that "Nigerians now know what their options are. We have seen all of those offering themselves for the leadership of our nation. The choice is clear. There is only one team that can move Nigeria forward, and that is the Sowore-Rufai team of the African Action Congress!"
Elections
Politics
News
AddThis
: 
Featured Image
: 
Original Author
: 
SaharaReporters, New York
Disable advertisements
: 
target=_blank>Street To School: The Child Education Phenomenon In Sokoto State
Mu'azu Abu was an arrant forager; from daylight till twilight, he would crawl — like a crab —  on the streets of Usmanu Danfodiyo University, Sokoto, begging and seeking aids for daily survival. But dynamically, he soon seesawed characteristically from being a street boy to being a school boy. Born handicapped — keenly cripple and physically deficient — the chap has turned his disadvantage to advantage. Sometime in 1997, in Gidan Doke Village, Abu was born in a community where only Islamic education was aggressively encouraged; he was brought up in a society where western education was highly discouraged and trained amidst many other itinerant children otherwise known as 'almajiris' in Sokoto State.
Conditioned to beg because of his physical disability, he had no choice than begging since he was not well-parented. Neglected and negated in the village, his parents would send him out to fend for his daily meal by himself and for himself, regardless of his physical challenge.
Meanwhile, while begging on campus, the academic breeze of the environment enchanted the helpless beggar so much that he fell in love with western education. He made a turnaround classically by learning elementary English from some of the students of the school who fell in love, in turn, with his rare interest in schooling.
The errant child enrolled himself in Gidan Yaro Model Primary School, Sokoto, where he learned the elementary basics of western education. Interestingly, when inquired from Abu, he gave a clear picture of what the term 'almajiri' means to him — having being one before now. 
"Almajiri is a name widely used for poor boys who carry plates all around in search of food. And the appearance of the boys, who always have rag clothes on them, shows they are in need of help. But the term 'almajiri' is originally meant for those students who are in search of knowledge," he said.
Like it or hate it: Abu was right in his definition of the term 'almajiri' — after all, he spoke from his personal experience as a one-time, street-gallivanting child in Sokoto state. Like many other states in northern Nigeria, Sokoto is bombarded with thousands of helpless and hapless children who wander the streets of the state, while their mates are in school.
Malam Abu Shekara, the Director General of Media and Publicity to Sokoto Governor Aminu Tambuwal, affirmed that at all levels of leadership, northern Nigeria has more than acknowledged the reality and serious negative impacts of child begging on the social and economic fortunes of this part of the country. And although the practice has religious antecedents, there is appreciable realization that it does not find Islamic sanction, especially in the form it occurs in contemporary times.
Education At All Cost 
In moments of torments, climes of hardship and restrictions of movements, poor Mu'azu Abu struggled to sponsor himself to school amidst lots of discouragement from friends and relatives. But, wait a second! What could have encouraged the courage of Abu to get education at all costs? "Because they say those that go to school have tendencies of having bright future. I feel for myself that if I don't go to school, I would beg all my life," Abu simply answered, wearing a smiling face for the first time in more than 30 minutes of interrogation between him and the reporter.
Chronologically, he recounted how he gathered a little capital to start up a recharge card business centre. "Not even a wheel chair could I afford then," he recalled. "I would crawl around the campus to beg students to buy my recharge card."
"I later worked with Airtel and UNICEF. What I did with Airtel was that I registered their SIM for people, so the more registration I did the more I gained. On each registration, the recharge card the person bought was my gain. Also I worked with UNICEF. The work I did then was PSG, that's what we called it. They gave us 10,000 at the end of every month. So during that time I was gathering money, before I finally established this business myself. And with this business, I like it than begging," Abu proudly added.
Amazingly, Abu is one of the doing-well entrepreneurs on the campus of Usmanu Danfodiyo University, Sokoto. He has apparently turned his acute disability to an ability as a phone repairer and petty trader of phone accessories. During the interview, the versatile chap was gallantly seated while his fingers perfectly pressed the keyboards of his laptop in his yellow-painted phone accessories kiosk. Obviously, this is the only job he does to support his schooling.
"Like I said earlier I was once a beggar on this campus before I stopped and focused on my study. Then, I accumulated money through Airtel and UNICEF jobs. Though, there are some people who believe that anybody that is physically challenged has to beg. And even if he doesn't beg in this life he will do so in the other life (heaven). I think what they lack is proper orientation.
"Though my parents are not among those who believe the first one, but I think they didn't realize quickly that I am not obliged to beg simply because I'm physically challenged. That's why I begged before I stopped it. Now, I'm happy to say that I'm the one paying my school fees myself," he told this reporter.
"When I was in Dundaye Secondary School, some people advised my father to let me stop begging so that I would focus on education. Among those who advised my father are: Professor Alli Muhammad Bunza, he is my father's customer; also Doctor Badamosi, HOD UDUS Clinic and  Professor Abdullah Abbas and some others. They advised my father and they encouraged me too. Even Professor Alli some times would carry me in his car to school. So, that was how I stopped Almajiri and focus on my education," Abu added.  
Apart from his physical challenges, little Abu also faced other challenges, especially from fellows who threw him hot words to discourage his courage.
"One of the challenges I've encountered so far were the words of some people when I first started the business.They were saying, it is better I go and beg than sitting here selling charger, and others. But, I thank God right now there's nobody that can see me now and say I should go back to begging.  
"I have graduated from secondary school and currently I'm in 200Level as a Diploma student of Mass Communication in Usmanu Danfodiyo University where I registered for part time studies," said, Abu, joyfully.
Islamic Versus Western Education
It takes Mallam Muktar Abdullahi a strong mind to survive the shattering criticism of his fellow Islamic clergies who from time to time look him with disdainful eyes for harbouring a boy under his tutelage who combines Islamic education with western education, simultaneously. But then, despite the grave reprehension, the 66-year-old Islamic mentor insists that there is nothing wrong in allowing his mentee go to school since the said boy can sponsor himself.
Ali Aliyu is now a grown up boy; he was too little to know his age when he was put under the tutelage of Malam Abdullahi for Islamic studies. But he once heard his master say he was just 4 when he was brought by his father to the cleric.  
As schooled as he is, the 24-year-old boy still lives — amidst others itinerant children — under the roof of the said Islamic tutor.  
For over 30 minutes of interactions between this journalist and the one-time 'almajiri' in front of the mini-mosque situated by the roadside at Bello Way in Sokoto, Aliyu muttered effortlessly correct English sentences, expressively. He chronicled how he was once a maid-of-all-jobs child before he was inspired to go to school.
"Up till now, I still help a lady in selling food. That is what I use to support my education," he said. "Whenever I returned from school, I would go and help her in serving customers and washing plates. I had been helping  Malama Inno since I was much younger. Then, I would go to her place to beg for food and help. And she said I should be helping her permanently."
According to him, he was simply motivated to leave the street for school because he was always moved whenever he saw children in uniforms, going to school. "I got interested in schooling because I  always loved to see people speak 'Turanci' (English) and when I was little, I was always moved whenever I saw children like me going to school in their uniforms," he said. "Because of that, I put myself in school. I attended Sultan Abubakar Secondary School and now,  I'm in Umar Ali Chinkafi Polytechnic, Sokoto."  
Through thick and thin, he said, he survived the threats of hunger and peasantry, coupled with lots of difficulties, especially while in secondary school.
Contrary to the expectations of what most Northern traditional Islamic tutors believe an 'almajiri' should be,  Malam Abdullahi said the term 'almajiri' is not tantamount to apt begging and illiteracy as many would think it to be. He added that 'almajiri' — in its real implication — means he who has journeyed from a far distance to seek knowledge and understanding. He insisted that the nomadic children should not be compulsorily subjected to suffering and gnashing of teeth.
"Anybody taking advantage of the kids because they are nobody is not a man of God; that person does not fear Allah," said,  Malam Abdullahi.
When a child is compared with another, one will definitely beat the other, brilliantly. Comparitively, Abu Mu'azu and Ali Aliyu have been able to stand out among other less privileged children who have taken the streets as their permanent abodes because they are not well cared for. While other children are natives of the streets, foragers of food and are filled with trepidation, Abu and  Aliyu are optimistic fortune seekers who strongly believe that being unparented is never an excuse for failure.
SDG 4 And The Child Rights Act 
Let's let aside the paranormal Sokoto wandering children who perspire and aspire against all odds to sponsor themselves to school, while other children stoop and stick to the street. What are  the rights of a child?Man's inhumanity to man which is  extended to the-left-alone children; societal ill-treatment of the children; lack of parental care for so many of them and other factors are responsible for embracing the Child Rights Acts Bill in Nigeria, in 2003. But then, Sokoto — amongst many other states — are yet to domesticate the Child Rights Acts despite the high level of child begging, child labour, child marriage and other phenomena that violate rights of children in the state
The 'Almajiri' blues and other barbaric traditions are killers of the Sustainable Development Goal 4, which caters for equal, qualitative all-inclusive education for all.  
According to the United Nations Educational, Scientific and Cultural Orgarnisation (UNESCO), the Sustainable Development Goal 4 has 10 targets encompassing many different aspects of education. There are seven targets which are expected outcomes and three targets which are means of achieving the other targets.
The 10 targets as stated by UNESCO are: Universal Primary and Secondary education; early childhood development and universal education; equal access to technical/ vocational and higher education; relevant skills for decent work; gender equality and inclusion; universal youth literacy; education for sustainable development global citizenship; effective learning environment; scholarships and, teachers and educators.
The aforementioned targets are what UNESCO wants the world to have achieved by 2030. But then, one would wonder if Sokoto and many other states in Nigeria could meet up with these, when thousands of street children are not made to see the reasons why they need to be in school.
Nonetheless, in a commentary essay written to respond to a story by Sahara Reporters, which centers on travails of the Sokoto forgotten children, Malam Abu Shekara addressed the issue of domesticating the Child Rights Act in Sokoto state.
"The passage of the Child Rights Act is indeed critical to the resolution of the almajiri menace. And Sokoto is among the states that have made significant progress towards its ratification. But again, religious and cultural variables are being addressed, through consultation with and involvement of traditional and religious authorities before the final adoption of the law," he said.
He however added that "policy initiatives that compliment the spirit of Child Rights Act are however, being vigorously pursued in the areas of education, healthcare and economic empowerment. The recent acknowledgement by UNESCO of the Sokoto State Government as a "champion of education" is an encouragement for greater commitment to the sector."
 
Reporting this story is supported by YouthHub Africa 
Education
News
AddThis
: 
Original Author
: 
Ibrahim Adeyemi
Disable advertisements
: 
target=_blank>NYSC Members Protest Gruesome Killing of Colleague By Soldiers In Abuja
Members of the National Youth Service Corps (NYSC) scheme on Thursday protested the gruesome killing of one of their colleagues by the Guards Brigade of the Nigerian Army during the Arbaeen Symbolic Trek.
The protesters, who are also members of the Islamic Movement in Nigeria (IMN), converged on the headquarters of the National Human Rights Commission (NHRC), wielding placards and demanding justice.
Speaking to journalists, the leader of the group, Sulaiman Alhassan, alleged that their colleague, Mustapha Ingawa, was arrested and tortured to death on October 27, 2018, by a combined team of the Guards Brigade and the Nigerian Police Force, during the Arbaeen Symbolic Procession.
Officers of the Nigerian Army had opened fire on the Shiites during the procession which held in October 2018.
See Also
VIDEO NEWS
VIDEO: How Soldiers Killed Shi'ites On Their Way To 'Arbaeen Symbolic Trek'
0 Comments
3 Months Ago
According to Alhassan, the military ignored all entreaties made by the deceased, and even turned down Ingawa's NYSC identity card which he presented to them, as he begged for his life to be spared.
Addressing newsmen, Alhassan said: "Mustapha Ingawa is a graduate of B.Sc. Business Administration and until his passing away, he was undergoing his service through the National Youth Service Corps (NYSC) scheme. Mustapha Ingawa was arrested alive and tortured to death by the Military and Police. His corpse had no sign of gunshots. He passed away and left behind his two-year-old son and wife.
"We condemn the killing of Mustapha Ingawa and request the National Human Rights Commission to take action seeking redress for this atrocity and also protect the right of Nigerians that are protesting against injustice and violation of human rights."
Alhassan noted that officers of the Nigerian Army and Nigeria Police Force killed more than 50 IMN members, including minors.
"The Military used guns and ammunitions that were not supposed to be used in public gathering and attacked the protesters, without using any alternative means of dispersing the gathering.
"We consider protest as our right, and all people of conscious and conscience are aware that the right of Sheikh Zakzaky has been violated. Therefore, from today, Thursday 31 January, 2019, the Concerned NYSC members resolved that we will continue to participate in Free Zakzaky protest and demand for unconditional release of our leader Sheikh Ibraheem Zakzaky."
The group also demanded the end of "illegal protective custody and kangaroo Kaduna court case" against their leader, Sheikh Ibraheem Zakzaky, and his wife.
Free Speech
Human Rights
Military
News
AddThis
: 
Featured Image
: 
Original Author
: 
SaharaReporters, New York
Disable advertisements
: 
target=_blank>BREAKING: Peter Obi Is 'Half China And Half India', Says Oshiomhole
Adams Oshiomhole, National Chairman of the All Progressives Congress (APC), has described Peter Obi, presidential running mate of Atiku Abubakar, has "half China, half India".
Oshiomole said this in Kano on Thursday at the Sani Abacha Stadium, venue of the day's presidential campaign rally of the ruling party.
The former Edo State Governor began his speech by saying it would be short, but he ended up speaking for nearly 15 minutes. He then went on to mock Atiku for once turning to an Obi, which resulted in failure, before turning to another one, which will likewise end in failure.
The first Obi mentioned by Oshiomhole is Senator Ben Obi, who was Atiku's running mate when he contested the 2007 presidential election on the platform of the Action Congress (AC).
"Mr. President, you know I don't like to make long speeches, but in a moment like this, I think the people have already spoken, and there is nothing to add. They have made up their mind; they 've demonstrated it all over the state, so there's nothing new to tell them," Oshiomhole said.
"I think what I just want to do here… for the benefit of those who are detained or misled by other interests, we have a duty to make some clarifications.
"A moment ago, my brother, my friend, my comrade, the DG of the campaign, was lamenting how a former colleague of his whom he felt is a Cristian was lying publicly. He should have known that in the church, there are believers and there are unbelievers. And it is more so when they are very desperate.
"I was telling someone this morning: Atiku has made again another mistake of his life. The first time he contested for the presidency, he went for an Obi. After Obi, he failed; he returned to PDP. He tried again, he failed; he came back to APC. He tried again he failed; this time he went back to PDP and went to another Obi.
"This other Obi is half China and half India — because if he speaks three words, one will be Chinese, the second one will be Indian and the third one will be a mixture of Igbo and Yoruba. I have tried to teach him my own language but he is not likely to succeed."
Elections
Politics
Breaking News
News
AddThis
: 
Featured Image
: 
Original Author
: 
SaharaReporters, New York
Disable advertisements
: 
The Code of Conduct Tribunal (CCT) will resume the trial of Justice Walter Onnoghen on February 4, 2019.
Onnoghen is standing trial over allegations of fraudulent declaration of assets.
He was suspended by President Muhammadu Buhari on January 25, 2019 on a directive issued by the CCT.
Justice Ibrahim Tanko Muhammad replaced him in acting capacity.
Onnoghen had filed a suit at the Court of Appeal challenging his trial but his case was dismissed on the ground that the suit was "brought in a vacuum".
See Also
Breaking News
BREAKING: Appeal Court Rejects Onnoghen's Attempt To Stop His CCT Trial
0 Comments
1 Day Ago
The Court of Appeal sitting in Abuja on Thursday, had dismissed Onnoghen's motion, seeking stay of execution on his ongoing trial at the CCT.
Corruption
Legal
Breaking News
AddThis
: 
Featured Image
: 
Original Author
: 
SaharaReporters, New York
Disable advertisements
: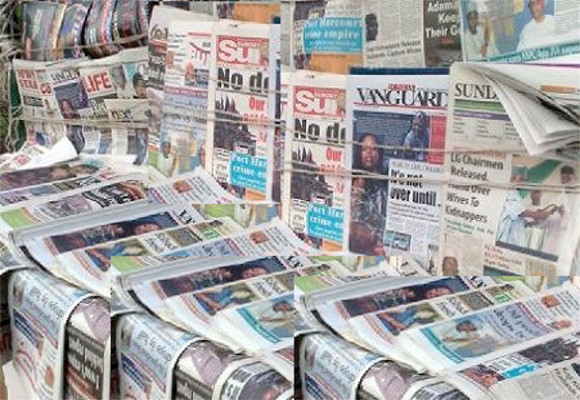 You can also check Sahara Reporters Newspaper Headlines Today