Sahara Reporters Latest News

Tuesday 22nd January 2019

Sahara Reporters Latest News Today and headlines on some of the happenings and news trend in the Country, today 22/01/19

Read also Leadership Newspapers News Today Tuesday 22nd January 2019
E2%80%99s-activism target=_blank>The Stone Thrower From Glasshouse: Discussing Obasanjo's Activism
"It is not the critic who counts; not the man who points out how the strong man stumbles, or where the doer of deeds could have done them better. The credit belongs to the man who is actually in the arena, whose face is marred by dust and sweat and blood, who strives valiantly; who errs and comes short again and again; because there is not effort without error and shortcomings"- Theodore Roosevelt 
5 years ago, I was glued to the newspaper that contained an 18 page release from former President Olusegun Obasanjo which sought to raise among other issues the failure of the Jonathan regime, his failure to tap into some opportunities across Africa, and other issues which made the former President run an 18 page address. The piece addressed to Goodluck Jonathan was titled Before It's Too Late and the present state of the nation address is titled as Points for Concern and Action.The essential content of the 5year old letter issued to former President Goodluck Jonathan is strikingly similar to his state of the Nation address which was made hours ago. In both addresses, the former President paints an urgency of the situation and why the leadership should be changed. In both addresses too, he makes reference to the similarities between the present regime and the Abacha regime. His frequent reference to Abacha understandable because former President Olusegun Obasanjo suffered quite much including sharing prison facilities with a nearby asylum during the Abacha regime. It is important to note that both the address to Goodluck Jonathan and the one to President Muhammadu Buhari were issued at few months interval to the general election of 2015 and 2019 respectively. The Jonathan 18-paged letter came in December 2014, 3 months to the General elections while the Buhari-targeted address came one month to the elections. There is virtually nothing new in the state of the nation address which was made hours ago that has not already been stated by analysts and political commentators. Social media is awash with several of the issues Olusegun Obasanjo has raised. Ranging from his complain on the mental and physical fitness of the President to his fear that INEC would not conduct credible elections. Everything has been said already. Like it was some years ago, President Obasanjo only aligns himself with what has already become popular view. What is most amazing about Obasanjo's critic of different regimes is that he has had his own stint in office for a combined period of 12 years(along with the controversy of if he sought tenure elongation by amending the constitution) and he did not emerge from office as a hero of any sort. The way former President Obasanjo critics people in power after his era, a person who does not know his antecedent would think he left the Presidency as a darling of everyone who was very successful as President.In truth, for the average Nigerian, the Obasanjo image is more of that of a villain than of any hero. Several books have been written with the Obasanjo character being the central theme and how his failures in leadership have stunted the growth of Nigeria. He is not loved enough to be a critic himself. The records are to be found in the present terrible national condition and how it is a result of years of bad leadership of which Obasanjo has been in charge for 12 years out of it. It is necessary to state that one finds the complains raised in his address very truthful and reflective of reality. The argument is not to the content of his complain. It is the concern that that they are coming from an image that has been accused of all sorts ranging from corruption (with billions appropriated for power and nothing visible as outcome) to allegation of Human Right abuse such as operating a secret prison at Ita Oko. There are several printable and unprintable complains on the regime of Olusegun Obasanjo as both military and civilian President.Where Obasanjo finds the courage to preach a type of leadership he did not exhibit himself as President during his two tints in office is a mystery. He seems to ignore all the blame at his doorstep and yet exiting his house through the backyard heads to put blames at the doorstep of others.Of course, his administration might have recorded certain achievements. But there remains records of documented material that raise concern that he may not be the one without sin that should cast the stone. There is still no official conviction but there are several unresolved allegations which his influence in government may be responsible for their douse.In past instances of his complains against leaderships, it would be noticed that the issues raised against people in his letters, books and state of the nation addresses are not what founds his actual grudges. His critic comes up usually after he is not granted audience or the relevance that he desires as stated in the letter to former President Goodluck Jonathan "none of the four or more letters that I have written to you in the past two years or so have elicited an acknowledgement nor any response".He would also usually pick a timing that indicates his complains are being made with the elections in mind and are of a nature that show he has already taken sides with another candidate and like a promoter is defacing the other brand to make his own prominent. Former President Olusegun Obasanjo recently remarked about his involvement in the emergence of the Buhari administration (even though he regrets it) and this may be interpreted as the motivation for his long epistle on Jonathan in 2014. The fear expressed towards the conduct of the 2019 elections is not fitting for the person who oversaw the 2003 and 2007 elections where a lot of the cases that got to the court where upturned as rigged including gubernatorial elections. Former President Musa Yar'adua of blessed memory would describe the election that brought him in as rigged and the Supreme Court judgement was quite close with 3 of the Judges doubting the outcome of the election. It seems Olusegun Obasanjo believes we are suffering from amnesia as a nation and he forgets his own records. Were the 2003 and 2007 elections not conducted under his Presidency? Elections where the prime winner himself acknowledges that it is was flawed.As it is obvious, the candidate of the Peoples' Democratic Party, Atiku Abubakar is the one already endorsed by Obasanjo. A deduction that can be reached from his statements after a reconciliation meeting where those purported to have initiated reconciliation denied their involvement. The former President's statement of condemnation is more in a bid to promote the candidature of Atiku Abubakar than in a bid to offer Nigeria any real selfless advice. Olusegun Obasanjo has had his time on the saddle and he has several complains to effectively address from his time in office rather than continue to appear activist when in fact, the surrounding circumstances indicate his aim is political.We should beware of the sudden activism of Obasanjo and his gifts to replace his gifts. He is a giver of bad gifts as evidenced by his support for Musa Yar'adua who turned out sick and unfit to lead, his support for Goodluck Jonathan who he came back to describe in unprintable terms. His support for Buhari is not out of recent memory. Now that the respected elder statesman is here again, one needs to watch carefully. Observing with due diligence. Lest in some years, he addresses us again like he has done over and over claiming his choice for Nigeria was a regret. It is actually time that Nigerians consider the individual worth of candidates and not who backs them or not. It is recurrent that the choice of leadership turns out as more terrible than the previous.Koye-Ladele Mofehintoluwa is a student of the Obafemi Awolowo University. He has a passion for Actividm and Human Rights. He is a frequent opinion writer with reputable print and online media. He can be contacted on koyetolu@gmail.com or on Twitter @koye_tolu.
Opinion
AddThis
: 
Original Author
: 
Koye-Ladele Mofehintoluwa
Disable advertisements
: 
E2%80%99s-four-year-old-daughter-after-luring-her-toilet target=_blank>35-year-old Man 'Defiles' Neighbour's Four-Year-Old Daughter After Luring Her To Toilet With Biscuit
Taofeek Egunleye Babajide, a 35-year old man, is currently in the custody of the Nigeria Police Force for allegedly defiling a four-year-old girl at Oriokuta in Ikorudu area of Lagos State.
Babajide was arrested by policemen from Owutu Police Station in Ikorodu on Saturday, January 19, 2019, after a complaint was lodged on the same day by the little girl's father, identified simply as Abdul, to protect the underage girl.
According to Abdul, his daughter was defiled on Thursday, January 17, 2019 by Babajide, who lured the girl with biscuit away from the public and into a toilet where he allegedly had carnal knowledge of her.
"She (the victim) said it happened when she went to ease herself and also drink water at the mosque behind the Arabic lesson. On getting to the mosque was when the idiot called her. She said when he called; he told her he would buy her biscuit. He then took her to the toilet, open her 'bombom' and started licking it. She also said he inserted his fingers into her…"
Abdul narrated that the toddler first complained of leg pains when her mother was bathing her on Friday, January 18, 2019, but later in the day, when she saw Babajide, she remembered and informed her mother that he had removed her underwear, when she went to Arabic school on Thursday.
"She did not make the report immediately on Thursday. Maybe the guy threatened her not to tell anyone, but the next day when her mother was bathing her, she complained about pains in her leg.
"Her mother asked her what happened, but she said she fell down. Later in the evening, when she saw some labourers in the same street we were, she called her mother's attention saying: 'mummy, mummy, see the man who pulled off my pants yesterday'.
"Her mother then pulled her aside in other not to scare her and asked her how it happened. She narrated the story to her mother. Her mother then called me because I was not around. I told her to go to our family doctor to confirm if it was true before raising the alarm. The doctor confirmed that it was true."
After the confirmation from the clinic, Abdul proceeded to file a complaint against Babajide at Owutu Police Station, where he has been kept for interrogation since Saturday.
The officer in charge of the case at Owutu Police Station confirmed that an arrest was made and that the culprit is currently undergoing interrogation.
He, however, said the station has requested that the child be examined at a government-approved hospital.
"We have told them to go and test the girl so that we can be sure. I have given medical paper for the child so that we can confirm whether there was actual penetration so that we can know the next step to take. Once we confirm, it is either we charge to court or refer to the gender department of the state command. We don't compromise or settle such a matter. But the case is still under investigation; we are waiting for the outcome of the test so that we know the next step to take," he said.
Noting that although the suspect has been sick since he was brought into the station, he was not released because of the sensitivity of the case.
There were speculations that Babajide might be released on Monday, so that he can seek medical attention, as it is unlawful to keep a sick man in detention.
CRIME
News
AddThis
: 
Featured Image
: 
Original Author
: 
SaharaReporters, New York
Disable advertisements
: 
target=_blank>Shi'ites 'Not Planning' Violence In Cahoots With ISWAP, As Alleged By The DSS
Abdullahi Musa addressing Shiites in Abuja on Monday.
The Islamic Movement in Nigeria (IMN), popularly known as the Shi'ia sect, has denied the allegations by the Department of State Service (DSS) that the leadership of the group is planning a massive violent protest with the Islamic State West Africa Province (ISWAP) in the country.
Addressing journalists in Abuja on Monday, Abdullahi Musa, Secretary of the Academic Forum of the movement, said the allegation is "malicious and unfounded, and aimed at maligning the sect with a view to painting it in bad light".
He said the movement managed to get a copy of the memo dated January 1, 2019, from the DSS entitled: 'Planned Massive Violent Protests By the Islamic Movement in Nigeria (IMN)' and addressed to the head of operations of all security agencies in the country.
The letter read: "Intelligence availed this service revealed plans by the leadership of IMN to mobilise its membership in large numbers for a massive protest and other hostile activities, including the use of explosives and firearms in the days ahead. It was gathered that the group intends to besiege some major Northern cities and towns in Kano, Kaduna, Sokoto and the Federal Capital Territory (FCT) for the planned attack.
"The planned attack is to be carried out in league with members of the Islamic State West Africa Province (ISWAP), some opposition elements and a section of human rights movement, with a view to providing massive violence and attracting the attention of the International Community ahead of the 2019 general election.
"Given the foregoing, there is need to initiate pertinent measures to pre-empt and frustrate the latest plot by the subversive group. Whilst this is forwarded for your information and further necessary action, please accept assurances of the esteemed regards of the DG."
However, Musa said there is no iota of truth in the letter, adding that it is just mere fabrication to justify the killing of members of the movement.
"They are just trying to look for excuses to justify the killings of innocent citizens and that is why they are doing all these things. People should know that this is what President Muhammadu Buhari is planning," he said.
"It is either they cannot win the election or they want to cause violence in Nigeria. One of these is going to happen, because they have nothing and that is why the President is avoiding presidential debate; he has nothing to tell the citizens. Is it extrajudicial killing of innocent citizens?"
He explained that the movement is not concerned about who wins the elections, but about the release of their leader, Sheikh Ibrahim El-Zakzaky.
Free Speech
Human Rights
Military
News
AddThis
: 
Featured Image
: 
Original Author
: 
SaharaReporters, New York
Disable advertisements
: 
target=_blank>Obasanjo Tells BBC: Buhari Is Sick In Body, Mind And Spirit
Former President Olusegun Obasanjo says President Muhammadu Buhari is "sick in the body, mind and spirit and should be allowed to rest".
He stated this in an interview published by BBC News Yoruba on Monday evening.
According to the former President, Buhari has performed to the best of his ability and should take a rest.
He also urged Nigerians to take advantage of democracy and exercise their freedom of choice.
"Buhari is sick in the spirit, body and mind," he said.
"Let's beg him to take a rest. He has performed to the best of his ability. Some people have asked me about the person we're supporting if we're not worried that he won't perform. That's what's good about democracy."
Politics
News
AddThis
: 
Featured Image
: 
Original Author
: 
SaharaReporters, New York
Disable advertisements
: 
E2%80%99s-prison-stay-continue-presiding-judge-returns-case-file-chief-judge target=_blank>Deji Adeyanju's Prison Stay To Continue As Presiding Judge Returns Case File To Chief Judge
Ruling in the enforcement of the fundamental human rights of Deji Adeyanju, convener of Concerned Nigerians, at the High Court in Abuja was stalled as presiding judge, Justice Danladi Senchi, returned the case file to the Chief Judge.
At the resumed hearing of the case on Monday, the court varied its ruling, which was granted on December 21, 2018, for the immediate release of the activist.
The judge said the issues before him were misrepresentation of the fact.
Senchi said he would refer the case file to the Chief Judge for reassignment after his role as vacation judge in the matter came to an end.
Mike Ozekhome (SAN), counsel to Adeyanju, who was absent in the court, had filed a suit seeking the enforcement of Adeyanju's fundamental human rights.
A Kano Magistrate Court on the same day ruled that Adeyanju be remanded in prison custody after declining jurisdiction to hear the case. The ruling, however, contradicted the ruling of the FCT High Court that set him free.
Justice Sandhi ruled that the allegations brought against him do not warrant his being kept in detention, and therefore ordered his immediate and unconditional release by the Police.
See Also
Free Speech
Abuja Court Sets Deji Adeyanju Free But Kano Court Sends Him To Prison Till February
0 Comments
1 Month Ago
Speaking to journalists at the court, Dare Ariyo Atoye, Coordinator of the Coalition in Defence of Nigerian Democracy and Constitution and member of the Free Deji Campaign movement, said the movement would not be perturbed with the setback on the matter. He said they were aware that there would be challenges on getting freedom for Adeyanju and restated the group's commitment to securing his release.
"We are not perturbed and we are not worried about the outcome of this ruling because there will always be challenges in this journey to see our brother released," he said. "It's part of the challenges we just have to face. We are grateful to the court one way or the other, but we will consult with our lawyers to know the next thing to do."
Atoye urged the judiciary to remain focused, saying tyranny is unfolding in the country and it is only the judiciary that can reverse the ugly trend. He regretted that the country is sliding into police state and therefore encouraged Nigerians not to give up."
He noted that despite being in detention, Deji Adeyanju has continued to receive awards from different organisations. He said he won the Most Courageous Activist of the Year 2018 award by DAAR Communication and another award by Islamic Movement in Nigeria (IMN).
ACTIVISM
Free Speech
Human Rights
Legal
News
AddThis
: 
Featured Image
: 
Original Author
: 
SaharaReporters, New York
Disable advertisements
: 
target=_blank>FLASHBACK: 'Sick And In Need Of A Doctor'? Eight Times Buhari Spoke Glowingly About Obasanjo
They say "there are no permanent friends and no permanent enemies, only permanent interests in politics".
This saying is especially true for Nigerian brand of politics where there are no clearcut ideologies on which most political parties are built. Nigerian politicians, like birds of passage, often flock from one political party to another in search of favourable season.
See Also
Sahara Reporters
VIDEO: We'd Be Fools If We Let Buhari Deceive Us The Second Time, Says Obasanjo
0 Comments
1 Day Ago
President Muhammadu Buhari and Ex-President Olusegun Obasanjo are at loggerheads now. Obasanjo it was who fired the first salvo, likening Buhari to late military dictator Sani Abacha, and warning the people that they must not be fooled a second time by voting for him. Buhari's response was the more epci, though, as hestpped short of calling the former president sick, telling to "get well soon" after finding a doctor.
But did Buhari always considered Obasanjo sick? Of the numerous cases that can be cited, below are eight of Buhari thinking very highly of OBJ:
See Also
Sahara Reporters
'Get Well Soon' — Buhari Says 90-Year-Old 'Liar' Obasanjo Needs A Doctor
0 Comments
13 Hours Ago
February 2016: A Tolerant Leader
Contrary to what Muhammadu Buhari and his party — All Progressives Congress (APC) — are saying now that Obasanjo is an intolerant and self-opinionated person who doesn't listen to others views, Buhari once called the Owu-born retired general, who was his senior in the military "a tolerant leader". He made this remark on February 3, 2016 during the 40th anniversary of Ogun State. Buhari said: "I express my thanks to General Obasanjo who, as head of state, made me Minister of Petroleum and tolerated me for three-and-a half-years."
 
February 2016: 'I am a Lazybones; Obasanjo Is A Hardworker'
Speaking further on that occasion, Buhari had also said: "He tolerated me because God knows and he knows that I am not used to working as hard as he used to, but he allowed me to last that long and allowed me to work".
February 2016: A Political Reformer
At the same occasion, Buhari went down the memory lane and reel off the impressive feats achieved by Obasanjo, which subsequent administrations after him refused to build on. Buhari said: "If you go into the records, that government made so much investment and infrastructural development in the petroleum industry. Two refineries were built, Warri and Kaduna. More than 20 depots were built; more than 3,500 pipelines were laid, and we were exporting refined products of 100,000 barrels per day."
Buhari then paused and asked a rhetorical question "But what do we have today?"
March 2015: He Tells The Truth To Power When Things Are Going Wrong
Buhari and the APC have used numerous unsavoury adjectives to describe Obasanjo ever since things went awry between them. They have described him as a leader who loves passing the buck and not owning up to his mistakes in office. However, in a statement issued on the occasion of Obasanjo's birthday, Buhari called Obasanjo "a courageous patriot who tells the truth to power when things are going wrong". Why the anger now when again the courageous patriot is at what he knows how to do best — "speaking truth to power?" you may wonder. Perhaps things are going wrong again and Buhari doesn't want accept the home truth.
March 2015: 'His Voice Is The Conscience Of Leaders'
Contrary to their — Buhari's and the APC's — claim now that Obasanjo is a disgruntled old man who cannot stand the impressive performance of Buhari, Buhari once called Obasanjo "a nationalist whose commitment to democracy and good governance are worthy of recognition and praise". He further said "Obasanjo is a true stateman and nationalist who doesn't abandon his country when it needs his voice to jolt the conscience of leaders to listen to those they govern". Can we say that's what 'Baba Iyabo' is doing now?
March 2015: Obasanjo's Legacy Will Outlive Him For His Leadership Qualities
Still paying glowing tribute to Obasanjo, Buhari in the buildup to the 2015 general election said Obasanjo would remain indelible in the sand of time. Buhari said: "Obasanjo's name will be cast in stone as one of those Nigerian leaders that served their country with passion."
March 2015: 'Obasanjo Knows More Than We All Know'
Prior to the 2015 general election when Buhari was trying to win Obasanjo to his camp, he called Obasanjo a repository of knowledge on national issues beside whom his own knowledge pales into insignificance. He said: "Sir, it's a fact that you know more than all we know about the problem we are in. But what we will do is try to convince you to believe us that we are going to do better". Why Is Buhari not ready to learn from his teacher again you may ask?
April 2016: Obasanjo's Vision Grew Nigeria And Africa
In a message to Obasanjo by Femi Adesina on the occasion of his 79th birthday, he called Obasanjo a man who improved the Nigerian economy during the time he presided over the affairs of the country. Then, Buhari praised Obasanjo "for your vision and commitment to the growth of Nigeria and Africa, which translated into a historical growth of six percent for the Nigerian economy after a long period of slow growth and also created  a rippling effect that buoyed other African economies".
Elections
Politics
News
AddThis
: 
Featured Image
: 
Original Author
: 
SaharaReporters, New York
Disable advertisements
: 
target=_blank>After 11 Years Of Trial, Court Now Ready To Deliver Judgment In Ladoja's N4.7bn Fraud Case
The 11-year-old trial of Chief Rashidi Ladoja, a former Governor of Oyo State, over allegations of benefitting illegally from the sum of N4.7billion came to a close on Monday, with the court reserving judgement. 
Ladoja has been on trial on an 11-count charge, accused by the Economic and Financial Crimes Commission (EFCC) of N4.7 billion fraud. He was charged alongside Waheed Akanbi, who was Oyo State Commissioner for Finance during the former's administration.
On Monday, the prosecution and the defence adopted their final written addresses and canvassed closing arguments.
Ladoja's lawyer, Bolaji Onilenla, contended that the charges filed by the EFCC against his client were defective and were bound to be dismissed by the court. Onilenla argued that in filing the charges, the prosecution not only muddled up offences which ought to have been charged separately, the charges did not also disclose any substance, just as they contained non-essential elements.
"Where the essential elements of a charge are missing, such a charge is a nullity because in the first place, there is no charge and not even an amendment can cure it. So, we urge Your Lordship to, on the basis of these objections, quash the charges. The court is urged to discharge and acquit the 1st defendant," Onilenla said.
He argued that EFCC failed to adduce any direct or circumstantial evidence to show that Ladoja's former Senior Special Executive Assistant, Chief Adewale Atanda, acted under Ladoja's instructions to meet with stockbrokers, who sold shares belonging to Oyo State.
"Though PW2 (Atanda) described the proceeds of shares as impeachment funds, PW3 and PW4 denied this. PW4, Oba Kola Daisi, said there was never any impeachment fund," Ladoja's lawyer added.
On the allegation that Ladoja used N77.1million out of the shares' proceeds to purchase a property, Quarter 361, Onilenla said Atanda had stated in his testimony that a loan was taken to purchase the property.
"So, that means it (Quarter 361) could not have anything to with the issue of shares," he said.
He added that the EFCC failed to prove its allegation that Ladoja sent £600,000, from the state coffers to his daughter, Bimpe Ladoja, who was in London at the time.
"Vital witnesses were not called; all the issues raised as to the competence of the charges, none has been addressed. I sympathise with the prosecution. On the whole, the prosecution has failed to prove its case beyond reasonable doubt. On the other hand, the 1st defendant has discharged the burden placed upon him by this court. The prosecution has proved nothing," Onilenla said.
Adeyinka Olumide-Fusika (SAN), Akanbi's lawyer, argued that the case presented before the court by the prosecution was fraught with inconsistencies, adding that the testimonies of the third, fourth and sixth prosecution witnesses were contradictory.
Olumide-Fusika accused the prosecution of desperately searching for non-existent evidence to "do my client in," noting that even the prosecutor, Olufemi Olabisi, knew and had admitted that there was no case against Akanbi, but because the case file was only handed over to the prosecutor, "he found it difficult to advise them (Federal Government) to withdraw the charges because there is no case".
"Your Lordship will see the weakness of their case, which they themselves were conscious of and it reflected in their submissions. If you do not have evidence against a party, why drag him to court. I am urging Your Lordship to courageously do justice between the parties and say if you don't have evidence, don't charge people to court," Olumide-Fusika said.
According to him, Ladoja's ex-aide, Atanda, whom the EFCC converted to a witness, was supposed to be the one on trial rather than Ladoja and Akanbi.
He described as "the height of attempt at injustice to leave Atanda" and prosecute Ladoja and Akanbi.
"You decide that they (Akanbi) are innocent in your office at the EFCC; they are good Nigerians. It is the height of injustice. I urge Your Lordship to discharge and acquit my client because there is no shred of evidence against him. He is guilty of nothing," Olumide-Fusika said.
However, the prosecutor, Olabisi, urged the court to hold that "the prosecution has proved the essential elements of the offences charged".
"We pray the court to convict the defendants guilty as charged," Olabisi said.
After hearing all the parties out, Justice Mohammed Idris thanked them "that this matter has been finally concluded".
"The burial is the judgement. It will be buried finally," the judge said, noting that the judgment day would soon be communicated to the parties.
Corruption
Legal
News
AddThis
: 
Featured Image
: 
Original Author
: 
SaharaReporters, New York
Disable advertisements
: 
target=_blank>Obanikoro Tells Court How He Gave Fayose $5m from Arms Funds On Dasuki's Orders
Musiliu Obanikoro, a former Minister of Defence for State, testified in the ongoing corruption trial of former Governor of Ekiti State, Ayodele Fayose.
Fayose is standing trial alongside his company, Spotless, on allegations that he benefitted from N6.9billion siphoned through the office of the National Security Adviser (NSA) in the previous administration.
Obanikoro was led in evidence by Rotimi Jacobs (SAN), counsel to the Economic and Financial Crimes Commission (EFCC), before Justice Mojisola Olatoregun of the Federal High Court in Lagos on Monday.
Giving his testimony, he said: "In June 2014, I received a call from Mr. Peter Ayodele Fayose, when we were approaching the gubernatorial election in Ekiti State wanting to know if there is any message from National Security Adviser, Colonel Sambo Dasuki, but I replied 'no'. Shortly after his call, a message entered from the NSA saying a certain amount of money will be received into the account that was opened to manage Boko Haram threat under my watch as Minister of State for Defence.
"NSA told me that Fayose will call me as to how he will receive the money. A total equivalent of $5m from the National Security Adviser imprest account was given to Fayose by the order of NSA."
Obanikoro said Fayose introduced one Biodun Agbele to him as the recipient for the money, which was done at Akure Airport, because it was cash.
"I had earlier wanted to transfer the dollars so that the naira equivalent can be withdrawn in Ado Ekiti, which was the reason I initially called Diamond Bank MD, but he replied that the bank does not have such capacity in Ado Ekiti for that huge amount of money," he added.
Obanikoro said the sum of N200million was given to Fayose on June 5, 2014 from the National Security Adviser imprest account.
He equally said the sum of N2billion was delivered to Fayose during the Ekiti State election in 2014 from the NSA's imprest account on June 16, 2014, noting that his aide, who is now late, was at the meeting where Fayose acknowledged receipt of the total Naira equivalent of the $5million.
Fayose's counsel, Kanu Agabi (SAN), applied for an adjournment to enable him cross-examine Obanikoro.
Meanwhile, counsel to Fayose's company, Mr Olalekan Ojo (SAN), who is also joined as a second defendant in the suit, also urged Justice Olatoregun to adjourn the case to enable him confer with his client on Obanikoro's testimony.
Justice Olatoregun adjourned the case till February 5 and 6, 2019.
Corruption
Elections
Politics
News
AddThis
: 
Featured Image
: 
Original Author
: 
SaharaReporters, New York
Disable advertisements
: 
E2%80%94-now-police-are-trying-cover-it target=_blank>Okowa's Aide's Orderly 'Killed' A Middle-Aged Man — Now The Police Are Trying To Cover It Up
Ute-Okpu community, Ika North East local government area of Delta State, was thrown into mourning in the early hours of Friday December 25, 2018 when a middle-aged man was murdered by the orderly attached to Hilary Ibegbulem, Principal Secretary to Governor Ifeanyi Okowa, SaharaReporters has learnt.
Narrating the ugly incident, which is said to have been concealed from the public since December, a trusted police detective attached to the state Criminal Investigation Department who pleaded for his name not to be mentioned as he was not authorised to speak, said the deceased had since been buried.
"On that fateful Thursday, December, 24, 2018, Hilary Ibegbulem pictured, the Principal Secretary to Governor Ifeanyi Okowa, in his yearly end of year party, had organised a party at his residence in his village, Ute-Okpu community, Ika North East Local Government Area of Delta State, where community indigenes, both male and female, in attendance danced away their sorrows," the source said.
"As the party was going on with enough assorted foreign and local wines and gins to drink, some indigenes of the community at about 1:00 am on that fateful day stormed Ibegbulem's residence, but they were stopped at the gate and prevented from entering the party venue by Ibegbulem's orderly, Felix Dugbo, attached to Government House, Asaba. At this point, a serious argument ensued between Dugbo, the orderly, and one Chukwueku Emeadi, and before anyone could intervene, Dugbo had shut Emeadi on the forehead with his rifle at close range."
Our correspondent reliably gathered that immediately after the deceased was gunned down, he was rushed to the Anioma clinic at Boji-Boji Owa, but was abandoned as non of the medical personnel on duty that day could attend to him before he finally gave up the ghost.
Investigations, however, revealed that Dugbo was immediately arrested by the local police station in the area and was transfered to the police headquarters in Asaba on Friday morning, where the story was changed from murder to accidental discharge.
Speaking with SaharaReporters, a member of the deceased family, who begged not to be named, expressed bitterness with the way the matter was being handled by the Police.
"Do you know that the Police cooked up a story against my late brother that he was trying to snatch the gun from the police orderly during the argument," he lamented. "Now, let's assume he was trying to snatch the gun from the police orderly as alleged, how come he was hit by a bullet from the gun straight on his forehead and apart from my later brother no other person died or sustained any injury. The Police only know how to steal but do not know how to run. Their cock and bull story is very funny.
"They made sure the ugly incident didn't come to the public and as I talk to you, they have succeeded in burying the matter and it was never reported in the media too. The arrested orderly has been released as we talk and we have decided to bury our brother. He was buried last two weeks. No one to fight our case for us and we have handed everything to God almighty for justice. It is on record that every end of year when Hilary Ibegbulem is holding such party in his residence, it always resulted to blood."
When contacted on the issue, the Delta state's Police Public Relations Officer ( PPRO), Andrew Aniamaka, said he had no knowledge of such incident and promised to get back to our correspondent but he didn't, while efforts to reach Ibegbulem on the issue proved abortive.
 
Politics
News
AddThis
: 
Featured Image
: 
Original Author
: 
SaharaReporters, New York
Disable advertisements
: 
Breaking News
President Muhammadu Buhari has reinstated Professor Suleiman Elias Bogoro as the Executive Secretary of the Tertiary Education Trust Fund (TETFund).
By Bogoro's reinstatement, Dr. Abdullahi Bichi Baffa has been sacked.
A statement signed by Benjamin Bem Goong, Deputy Director of Information at the Federal Ministry of Education, dated January 21, 2019, noted that Bogoro's reinstatement is to take immediate effect.
The statement read: "The Federal Government has approved the reinstatement of Professor Suleiman Elias Bogoro as the Executive Secretary of the Tertiary Education Trust Fund (TETFUND).
"A statement from the office of the honourable Minister of Education, Adamu Adamu, said the re-instatement of Prof. Bogoro is with immediate effect, with the same terms and conditions as it were in his previous appointment and as stipulated in the TETFUND staff conditions of service.
"Prof. Suleiman Bogoro was the Executive Secretary of TETFUND between April 2014 and February 2016."
Education
Breaking News
News
AddThis
: 
Featured Image
: 
Original Author
: 
SaharaReporters, New York
Disable advertisements
: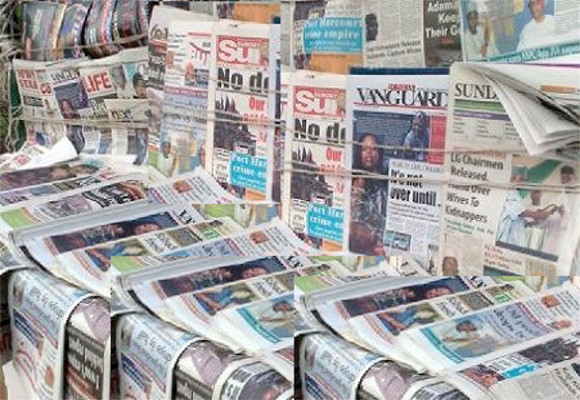 You can also check Sahara Reporters Newspaper Headlines Today