Sahara Reporters Latest News

Saturday 19th January 2019

Sahara Reporters Latest News Today and headlines on some of the happenings and news trend in the Country, today 19/01/19

Read also Leadership Newspapers News Today Saturday 19th January 2019
target=_blank>Seun Kuti: Your Children Aren't In School But You're Attending Political Rally. Are You Mad?
Seun Kuti, one of the sons of Afrobeats legend Fela Anikulapo Kuti, has berated parents attending political rallies while their children sit at home as a result of the ongoing strike of the Academic Staff Union of Universities (ASUU).
In a post on his Instagram handle on Friday, the singer, who was recently nominated for a Grammy award, lamented that a religious issue such as the hijab crisis that happened in Ibadan could cause outrage but the closure of universities for months has not yielded any form of resistance by parents.
Universities in Nigeria have been on lockdown since November 4, 2018 when ASUU declared at its National Executive Council (NEC) meeting held at the Federal University of Technology, Akure, that a strike action was inevitable as the government had failed in fulfilling its promise in the 2009 agreement.
Alongside an inscription that read "Your children aren't attending school but you are attending political rally. Are you maaaaad?", Seun Kuti wrote: "Until we are ready to serve our children and not just raise them, we shall never understand national development.
"How hijab crisis in a secular school can create more outrage than the closure of our universities for months is the proof we need to know that we are willing to serve everything else, but our children. Learn to serve your children, not just raise them!"
Education
Elections
Entertainment
Free Speech
Human Rights
Politics
News
AddThis
: 
Featured Image
: 
Original Author
: 
SaharaReporters, New York
Disable advertisements
: 
target=_blank>GOOD NEWS! Lord Of Ajasa Responding To Treatment, Now '85, 95% Okay
Rotimi Martins, a Nigerian singer popularly known as 'Alariwo of Africa', has revealed that the pioneer of Yoruba rap, Segun Osaniyi, popularly known as 'Lord of Ajasa', who was reported sick a few days ago, is now responding to treatment.
In a social media post on January 13, 2019, Alariwo of Africa had revealed that Lord of Ajasa was critically ill and needed funds to undergo a peptic ulcer operation.
See Also
Entertainment
Lord Of Ajasa 'Critically Ill' And 'In Need Of Funds' For Peptic Ulcer Operation
0 Comments
4 Days Ago
However, in an exclusive interview with SaharaReporters on Friday evening, Alariwo said the rapper's health had improved.
"I'm giving you 100 per cent assurance that Lord of Ajasa is responding to treatment. Ajasa is 85, 95 per cent okay. Yesterday, he was 85; today he is 95," he said.
When SaharaReporters asked when the rapper would be discharged form the hospital, Alariwo said: "He will be discharged when God says he will be discharged".
He also said the artiste was not operated upon, stating that: "He was not operated upon; operation is not our portion."
When asked if other artistes in the entertainment industry had reached out, Alariwo said: "A lot of our colleagues have supported and made their contributions. I'm one of them.That is why he is a colleague. When you have good colleagues, they will support you from day one. All those people you mentioned have contributed from day one and they are still contributing."
Lord of Ajasa is widely referred to as the pioneer of Yoruba rap in Nigeria, a title that has often been contested by fans of Nigerian rapper, Olamide Adedeji, popularly known as Olamide.
Lord of Ajasa is notable for hit singles such as 'Mai Lo', 'Ara Awe', 'Otiya' and most recently 'Le fe nuso', in which he featured Nigerian singer, Abolore Akande, popularly known as '9ice'.
Entertainment
News
AddThis
: 
Featured Image
: 
Original Author
: 
SaharaReporters, New York
Disable advertisements
: 
target=_blank>New DG Asein Vows To Reposition Nigerian Copyright Commission
John Asein, Director General, NCC
John Ohireime Asein, the new Director-General of the Nigerian Copyright Commission (NCC), has restated his commitment to the reconstruction and repositioning of the commission for effective regulation and development of the nation's copyright industries.
Asein made the declaration at a management meeting upon his assumption of office at the commission's headquarters in Abuja.
A statement by Vincent Oyefeso, Director, Public Affairs Department, noted that Dayo Apata (SAN), Permanent Secretary of Federal Ministry of Justice and Solicitor-General of the Federation, conveyed the President's approval in a letter dated January 15, 2019 with Ref. No. MT:4511/T/106.
According to the letter, Asein's appointment will run for an initial four-year tenure, having taken effect from January 8, 2019.
Asein had reported at the commission's headquarters on January 16, and called for dedication and team work among the management and staff of the commission.
The statement continued: "The Director-General, having taken over from the Acting Director-General, Mr. John Asein, indicated that the Commission under his watch would develop a comprehensive intervention strategy that would impact positively on every sector of the creative industries.
"He assured that the Commission would be proactive in the execution of its mandate under the Nigerian Copyright Act CAP C24 Laws of the Federation of Nigeria 2004, adding that areas of its mandate like the visual arts and others which have not received sufficient attention would be covered.
"He stressed the need for a cohesive management that would deliver on the mandate of the Commission, adding that staff discipline, manpower development and institutional strengthening wound be prioritised."
Asein was quoted as stressing the need to "change the copyright narrative in Nigeria positively to impact the copyright-based industries to the benefit of all copyright stakeholders".
In his remarks, Abdul Ter Kohol, the former acting Director-General, underscored the need for all hands to be on deck to move the commission forward.
He noted the need to revive some laudable projects that earlier featured in the commission's programmes.
Arts
Economy
Entertainment
News
AddThis
: 
Featured Image
: 
Original Author
: 
SaharaReporters, New York
Disable advertisements
: 
E2%80%94-aipc-stands-tiger-eye-after-hussein-suales-murder target=_blank>'You Can Kill Us But Not The Story' — AIPC Stands With Tiger Eye After Hussein-Suale's Murder
The African Investigative Publishing Collective (AIPC) has condemned the murder of Ahmed Hussein-Suale, a Ghanaian investigative reporter.
Ahmed died after gunmen on a motorbike rained bullets on his car while he was driving home. He was shot twice in the chest and once in the neck.
See Also
Human Rights
Ghanaian Undercover Reporter Shot Dead In His Car
0 Comments
1 Day Ago
A statement by Theophilus Abbah, the AIPC Chairman, on Friday, expressed sadness at the development and urged the Government of Ghana to ensure that Suale gets justice.
The statement read: "The murder of Ahmed Hussein Suale of Tiger Eye media in Accra, Ghana, on Wednesday evening has come to the African Investigative Publishing Collective (AIPC) as a shock. It is the more disturbing because the investigative journalism organisation of which Ahmed was a key staff member has contributed immensely to efforts to sanitise governance in Ghana through its work that has exposed corruption, wrongdoing, conflict of interest, waste, maladministration and outright thievery in the West African country.
"As a body of investigative journalists in Africa, we strongly condemn the murder. The killing is not just a loss to Tiger Eye and the community of investigative reporters in Africa, but also a loss to the people of Ghana and of the continent.
"The AIPC, which consists of 18 journalists from 12 African countries, is at the forefront of coordinated investigative journalism efforts on the continent. It specialises in transnational investigations with a focus on bad governance and corruption. This transnational focus is informed precisely by the pressures, risks and dangers investigative journalists face when they operate alone in their countries, such as recently also experienced by our Mozambican member Estacio Valoi. In this regard the AIPC is a proud flag bearer of the Arizona Project tradition, which tells us to work together to carry an investigation through to the end, even if one of us is threatened, hurt or eliminated. We did this before, producing our major 'Killing Soccer' investigation after a soccer reporter was assaulted in Cameroon, and we will still do this now: whether it concerns the exposure of thieving generals in Mozambique or a mafia in Ghana.
"As the Arizona Project motto goes: you can kill us but you can't kill the story. Target one of us again, and we'll make sure that the investigation the colleague has been working on will be published even wider."
AIPC also called on the Government of Ghana to "condemn this assault on democracy and detail crack criminal investigators to ensure the murderers of Ahmed Suale are brought to justice", while restating its support for Tiger Eye.
"We stand with Tiger Eye at this dark moment, and pledge our unreserved support. The work we do is constitutional. No amount of intimidation will prevent us from playing our part to ensure we sanitise our countries of corruption and maladministration."
Corruption
CRIME
Human Rights
Journalism
News
AddThis
: 
Featured Image
: 
Original Author
: 
SaharaReporters, New York
Disable advertisements
: 
target=_blank>The Ethnic Victory of 2015 And An Apology By Moses E. Ochonu
Professor Moses Ochonu
Professor Moses Ochonu
It is now quite clear that what happened in Nigeria in 2015 was not a revolution but a scam of historic proportion. To be more specific, it was, as University of Texas Professor and Punch columnist, Adunni Adelakun, put it, a "tribal victory." How so? 
A core group of politicians and intellectuals from the Northern and Southwestern parts of the country successfully repackaged a former military dictator who had two years earlier been universally reviled as unelectable. A man whose only distinction up to that point was his draconian approach to governance as Head of State in the 1980s as well as his belief that repression and coercion represented an all-purpose solution to all of Nigeria's problems. 
How they were able to successfully re-inflict him on Nigeria and give the rebranded dictator purchase with Nigerians will preoccupy future historians who will extend their inquiry beyond Buhari's own personal con in declaring himself a born-again democrat.
On the political side, the most recognizable faces of this ethnic coalition were Bola Tinubu and Nasir El-Rufai. On the intellectual side, there was an army of Northern and Southwestern intellectuals and learned folks who strategically but disguisedly lent their persuasive intellects to the cause and obscured its essentially ethnic character.
This ethnic collective then successfully coopted many intellectuals and politicians and youths from all regions and religions of Nigeria into the project, advancing it as a last-ditch effort to wrestle the nation from 16 years of the PDP's predatory rule, never mind that the emerging coalition was animated and financed by disgruntled PDP members.
The ethnic battalion behind then candidate Muhammadu Buhari manipulated the naïve youths of Nigeria and the opportunism and naivety of intellectuals and politicians from other regions, harvesting their energies into the political effort that ousted Goodluck Jonathan. Their rhetoric of revolution, reclamation, and their fiction of integrity and ethical cleansing found a receptive audience desperate for change and thus willing to overlook the contradictory records of the messengers.
The core of the 2015 coalition remained decidedly ethnic in composition and ideology. The inner circle never believed in changing Nigeria. They only believed in changing its leadership. For the Southwestern elite, it was about getting back in power through the backdoor of a Buhari presidency. For the North, it was obvious: they looked upon Jonathan as a usurper, as the man who had purportedly taken their turn at the presidency. They wanted back in. This was the foundational premise of regime change in 2015. Everything else was a sophisticated marketing gimmick. But it was gimmickry at its most disarming.
Buhari had proclaimed publicly that late dictator Sani Abacha had not stolen any money from Nigeria and has not retracted that claim despite Nigeria taking possession of multiple streams of Abacha's cash stash. In spite of that, and in spite of presiding over a cesspool of corruption and waste at the defunct Petroleum Trust Fund, the ethnic coalition settled on the theme of integrity as their point of departure for their campaign.
Even Buhari's record of parochial insularity was magically transformed into a story of redemptive self-reinvention. He had learned from his failed previous effort to secure the presidency on the misguided premise that support from the north alone could deliver it to him, we were told. This presidential run, the ethnic propagandists claimed, was different from previous ones. They claimed that Buhari was cultivating a broad based national coalition, had shed his northern provincialism, and had embraced a cosmopolitan, ecumenical agenda. 
And yet the evidence of Buhari's dangerous, obstinate investment in parochial endeavors and claims was inescapable.
It was Buhari who said an attack on Boko Haram was an attack on the north. It was he who said Boko Haram was fighting injustice and that it was wrong to unleash the military on them while conferring amnesty and patronage on Niger Delta oil militants.  
It was Buhari who encouraged Northern Muslims to vote only their kind. It was he who led a delegation of Fulani leaders to former Oyo State Governor Lam Adeshina, asking him "why are your people killing my people?" It was Buhari who declared that he would work for the implementation of Sharia, the Islamic legal system, across Nigeria in disregard of Nigeria's plural religious heritage. 
This was the same Buhari who ruled with an iron fist as military dictator, locking up journalists and critics and presiding over an inept and misguided pseudo-nationalist economic policy that worsened scarcity, drove up inflation, and killed economic ingenuity. 
This was the real Buhari. But the ethnic coalition capitalized on disenchantment with Goodluck Jonathan's corruption-ridden administration to claim otherwise or to cast him as remorseful for his past misdeeds, a wiser old man with a different temperament.
Many Nigerians outside the core ethnic constituencies of the coalition fell for this scam. The youths of Nigeria, betrayed by decades of misrule, of which ironically Buhari was a part, fell even harder. They went all in on the sexy message of change.
Ensconced in power, it did not take long for old, familiar Buhari to reemerge. Within a few months of winning the election, both his ethnic insularity and his governing deficits were on full display. 
Even before he was sworn in, he introduced a new, quantified doctrine of 97/5 percent into our political lexicon, indicating that the Igbo, who in his reckoning supplied only five percent of his votes totals in the election, should not expect to be treated in the same way as the regions that gave him "97 percent." The mathematical fallacy of 97/5 aside, Buhari signaled that he was the same old retired dictator whose only post-retirement claim to fame had been a series of insensitive and downright chauvinistic statements privileging the north and Islam above other regions and religious communities.
More reiterations of Buhari's provincial insensitivity followed. Asked about the Igbo complaints of marginalization in a televised interview, Buhari screamed, "What do the Igbos want?" and proceeded to patronizingly lecture IPOB Biafra agitators about his role in the civil war and about how, as small boys, they had no understandings of the danger of war.
When Benue was attacked by armed herdsmen resulting in many deaths, instead of mourning with the Benue delegation which visited him in Aso Rock, Buhari paternalistically and insultingly admonished them to go and live in peace with their neighbors. He then followed it up by absolving the armed herdsmen of blame, saying that their grazing routes had been blocked. The coup de gracewas his declaration, repeated in a recent television interview, that more people had been killed in Zamfara than in Benue and Taraba states combined. This was a macabre, self-indicting comparison of questionable veracity and an insulting trivialization of deaths outside his natal Northwest zone.
Buhari's problem is not merely one of cultural insensitivity but one of a lifelong immersion in the comfort of familiar ethno-religious surroundings and a concomitant aversion to associating, except when duty and ambition required it, with people, ideas, and influences from Nigeria's other regions.
On the economic front, old Buhari reemerged with a vengeance as though he had unfinished business from his truncated dictatorship. As soon as he took over, he decreed a ban, 1984-style, on the importation of tens of goods and declared that the naira must be defended at all costs, including by imposing restrictions on foreign exchange and raiding reserves to prop up a currency weakened by falling oil prices and the resulting slowdown in the economy. 
This was economic stupidity underwritten by Buhari's old 1980s brand of economic nationalism, which sees the economy as yet another realm of national life to be tightly controlled, disciplined, and leveraged for national pride. In this backward, outmoded economic thinking, it did not matter that such a policy of tight controls in a monoculture economy is usually the fastest route to a recession. Predictably, Buhari took an admittedly weak economy into a severe, prolonged recession, with double digit inflation, 11 millions jobs lost, and thousands of bankrupt businesses as the outcome.
He had promised to never pay subsidy on petrol but to fix the refineries to provide access to cheap and abundant fuel. He reneged on that promise. Instead, he increased fuel price by about 70 percent and yet his administration now pays more in subsidy than the Jonathan administration ever paid when fuel sold for 87 naira a liter. By what mathematical logic is this subsidy figure possible when crude prices have tumbled? We are told that somehow, between 2015 and 2018, Nigeria's fuel consumption jumped from about 9 million metric tons to about 15 million metric tons! When challenged to account for this abracadabra, the Buharists' answer consist of two words: Next level.
Other promises made during the grand ethnic deception of 2014/2015 lay in ruins, disowned and disavowed by the president and his henchmen.
We are told that the Federal Inland Revenue Service now generates more than 5 naira trillion in revenue, and that the Customs for its part adds several more trillions to the federal treasury. However, in 2018, despite Nigeria making about 12 trillion naira from crude oil sales, at least 7 trillion from taxes and duties, and an undisclosed amount from non-oil exports, the country still borrowed 1.6 trillion naira to support a 2018 budget of N9.12 trillion naira!
This arithmetic sleight of hand is the latest evidence of the gargantuan corruption proliferating in Buhari's administration. The difference is that much of this corruption occurs through the legal appropriations process.
But that's not to say that it's the only form of corruption. Buhari has not only tolerated graft, he even wrote to the national assembly in the case of his ex-SGF Babachir Lawal to argue his exoneration only to be trumped and shamed by the overwhelming evidence against the man. Although relieved of his position, Babachir has yet to be prosecuted in accordance with the report of the National Assembly panel that investigated his shady dealings. In fact, he continues to work informally for the president, boasting recently that he has unfettered access to the Buhari and is helping his reelection campaign.
Buhari superintended and approved the reinstatement of pension fugitive, Abdulrasheed Maina, and has failed to order and investigation into corruption allegations against his chief of staff, his army chief, and his minister of internal affairs — the last two accusations involving the acquisitions of properties overseas.
These are all evidence of the old Buhari reasserting himself and refusing to act according to the script written for him by the 2015 ethnic coalition. The selective morality, the exoneration of corrupt loyal allies, the bigotry and parochialism, the economic illiteracy, the absence of intellectual curiosity, the malicious insensitivity to Nigeria's complex ethnoreligious mix, and the lack of a national frame of sociopolitical frame of reference. All these tendencies never went away. They were cleverly disguised behind the rhetoric of change deployed to harness the nervous, desperate energies of unsuspecting citizens in 2015.
This is a rather circuitous way of saying that Buhari's ethnic coalition got away with arguably the biggest political scam in Nigeria's history, managing to recruit many unsuspecting Nigerians into what they knew to be an ethnic agenda to capture power. 
I was one of those who almost believed their pitch. I maintained a studious, skeptical neutrality until the last few weeks before the election of 2015, having previously declared that I could not support the profligate and weak administration of Jonathan for another term and that I had too many concerns about Buhari, based on his history. I interrogated the rhetoric of the Buhari coalition and pointed out the incongruity between it and Buhari's own record, his history. 
Then, when the election was weeks away, some of my social media followers urged me to get off the fence and take a stance because, in their words, that election was too important to be neutral.
I am ashamed to say that I allowed myself to be persuaded by these pleadings and my own emotional, a tad irrational, desire for Nigeria to chart a new course away from that path it was on. In this emotional state, I stated that as a diaspora Nigerian I did not have a vote but that if I could vote I would hold my nose and vote for Buhari, but only as a gamble for change since there was nothing in the man's record to inspire confidence.
Mine was a tepid, reluctant, and half-hearted endorsement if you could call it that. It was a non-endorsement endorsement. But it still was a public declaration of reluctant hypothetical support.
Even for this weak, late, and qualified acceptance of a deeply flawed candidate, I am now ashamed and feel a need to apologize to my inner, skeptical self, and to my compatriots who are now groaning under the jackboot of the resurgent dictator. 
I should have maintained my neutrality. As a historian and as someone who had written on Buhari's extensive baggage prior to 2015, I should have known that it was almost impossible for an old man to leave his checkered past behind and reinvent himself in both temperament and capacity. I should have known that, as the popular cliché says, the past is usually a prologue to what to expect, what is to come.
In shedding my usual skepticism and critical distance, I became one of those who unwittingly joined and bolstered what has now unraveled to everyone's notice: an ethnic coalition that produced an ethnic victory, leading to disillusionment among those who were coopted, seduced, or otherwise tricked into believing in the genuineness of the change movement. 
I now know that Jonathan was not ousted for being incompetent, weak, or corrupt but for losing the support of Tinubu and the Southwestern political elite who consider him their leader. He lost the presidency because the North always regarded him as a usurper who was enjoying a presidential mandate stolen from them. When these two forces converged, Jonathan could not survive the resulting onslaught. Support from the countervailing ethnic constituencies of the Southeast and South-South was simply not enough to keep him in power. That is the story of 2015, stripped of the pretentious rhetorical nonsense.
Many of those who did not join the coalition for ethnic reasons have since deserted it. Others who remain in the camp have replaced their initial aspirations with opportunistic self-interest. This latter group is small, however. What remains of the 2015 ethnic coalition is largely the original ethnic nucleus of Southwestern and Northern elites — political and intellectual — united only by their thirst for power and its perks.
As for me, the lesson has been internalized for future referencing. I was never a Buharist in the traditional sense but I should have done more to puncture the case for him in 2014/15. More importantly, I should never have yielded to pressure to abandon my neutrality in favor of an endorsement of Buhari, however qualified and half-hearted that endorsement may have been.
I am sorry.
Professor Ochonu can be reached at meochonu@gmail.com
Opinion
AddThis
: 
Original Author
: 
Moses E. Ochonu
Disable advertisements
: 
target=_blank>NDLEA Staff Ask Buhari To Sack Chairman 'Before He Truncates Your Presidential Ambition'
For the umpteenth time, some staff of the National Drug Law Enforcement Agency (NDLEA) have called for the sack of their Chairman, Muhammad Mustapha, accusing him of corruption, administrative recklessness and insensitivity.
Led by one Musa Ahmed Yusuf, the staff, under the auspices of 'Concerned Officers', addressed a petition to President Muhammadu Buhari, entitled 'President Muhammadu Buhari, Sack Abdallah Now Before He Truncates your Political Ambition'.
According to the petition, the workers want the chairman prosecuted for various crimes he had committed, since his appointment into office about three years ago.
The aggrieved staff emphasised that Abdallah's conduct was eroding public trust in the agency with pervading cases of drug and substance abuse in the country. They also alleged that some of them had not been promoted in the past 10 years.
The petiton read: "Mr President Sir, how will you honestly feel working for over ten years without promotion? The truth is that there has been no promotion in NDLEA since you came into office. The incompetence, impunity and administrative witch-hunt under Abdallah have risen to a level where an implosion is almost inevitable.
"After series of agitations by officers over the criminal neglect of their welfare and career stagnation, Abdallah in a circular dated April 3, 2018 with reference number NDLEA/ALS/ADM/100/V/90 admitted his failure and inaction. He also promised to correct his mistakes.
"In that circular titled 'Issues Relating To Promotion,' Abdallah stated that 'I have carefully considered all the issues relating to irregular and delayed promotion in the agency and I am determined to put in place an enduring and sustainable promotion process and procedure. This is to enable the agency achieve the desired morale for optimal productivity by the personnel.'"
The petitioners stated that in the circular, Abdallah had promised to conclude the promotion of staff on grade level 03 to 06 by June 2018 and continue up the ladder, but the assurances never saw the light of the day.
The workers hinted that Abdallah thereafter constituted a committee, which presented recommendations in less than a week, yet none of the recommendations had been implemented by the management.
The 'Concerned Officers' appealed to Buhari to end the tenure of Abdallah, maintaining that allowing Abdallah in office a minute longer would be detrimental to the nation's anti-drug campaign.
They also pointed out that the recent establishment of the Presidential Committee on Drugs by Buhari was an indictment against Abdallah's poor performance and called on the president to immediately sack and prosecute Abdallah for his actions and inactions while in office.
"Drug barons are enjoying sweat-less economic boom under Abdallah. Major seizures of cocaine and heroin at the nation's seaports, airports and borders are now over because Abdallah will neither support nor fund investigations.
"Methamphetamine production is thriving at its peak in the country as the only laboratory discovered in 2016 during Abdallah was actually processed by his predecessor. A probe of Abdallah will open a reservoir of financial worms and leadership failures."
The aggrieved staff appealed to the president to immediately appoint a senior officer, preferably a retired General to replace Abdallah.
Corruption
LABOR/WORKERS' RIGHTS
PUBLIC HEALTH
News
AddThis
: 
Featured Image
: 
Original Author
: 
SaharaReporters, New York
Disable advertisements
: 
target=_blank>Melaye Regains Freedom Exactly Two Weeks After Arrest
A High Court sitting in Abuja has granted bail to Dino Melaye, the senator representing Kogi West district in the National Assembly.
Justice Yusuf Halilu granted bail to Melaye on grounds of ill health.
After surrendering to security agents on January 4, Melaye was whisked away by operatives of the Department of State Security Services (DSS) on January 11, 2019 from the Police Hospital in Abuja to the DSS medical facility still within Abuja.
The lawmaker, however, refused to enter the main building of the DSS centre and after spending a night on the floor, he was taken away by the Police.
See Also
Sahara Reporters
Melaye Passes Night On The Floor At DSS Medical Facility In Abuja
0 Comments
6 Days Ago
Melaye is standing trial for his alleged culpability in the shooting on a policeman during an incident that occurred in July 2018.
On his bail application, Melaye was asked to produce three sureties, one of whom is the clerk of the National Assembly. The clerk is saddled with the responsibility of producing Melaye when he is scheduled for arraignment.
According to the judge, the other two sureties should be property owners within Abuja metropolis.
CRIME
Legal
Police
News
AddThis
: 
Featured Image
: 
Original Author
: 
SaharaReporters, New York
Disable advertisements
: 
target=_blank>El-Rufai Buys Two SUVs For Sheikh Who Directed His Sect Members To Vote For Buhari
The cars sighted in the compound.
Sheikh Dr. Abdullahi Bala Lau, National Chairman of Jama'atul Izalatul Bidi'a Waikamatus Sunnah (JIBWIS), is alleged to have received two vehicles from Nasir el-Rufai, Governor of Kaduna State, after he directed members of the sect to vote for President Muhammadu Buhari in the forthcoming presidential elections.
At a colloquium organised to commemorate the marriage ceremony of two daughters of the Sheikh held in Yola, the Adamawa State capital last week, the cleric had expressed his support for Buhari.
The two vehicles were said to have been brought to his residence located at 23, N'Djamena Crescent, Wuse 11, opposite Gombe Jewel Hotel in Abuja, two days after he made the declaration.
The Toyota Land Cruiser Jeep 2017 model and a red Space Wagon Sienna 2017 model were said to have been brought from Kaduna for the religious leader. When SaharaReporters visited the house in Abuja, the two vehicles without number plates were sighted in the compound.
Lau had hinged the association's support for the Buhari administration on its achievements in fighting corruption, commitment in the fight against Boko Haram insurgency, the reform and diversification of the economy, and agriculture revolution.
"The people have endorsed the performance of the Buhari administration at the centre during the past three-and-a-half years and that is why we have decided to tell all our members in Nigeria to vote for President Muhammadu Buhari and all other candidates working with him," he had said at the event.
According to the Islamic leader, the Buhari-led government is moving in the right direction and the Izala movement has put its seal of approval on it.
The Imam, who emphasised Buhari's personal qualities and humble background, warned against dishonest people who had embarked on propaganda and incitement to thwart the President's re-election.
"Buhari is a honest person. He has kept the public trust. He was a Governor and Minister of Petroleum. He was a General Officer Commanding and Military Head of State. He chaired the Petroleum Trust Fund (PTF). He ended all these assignments without an oil well or personal fortune. Come out and vote for him," he told the crowd.
Meanwhile the decision by Lau to align the sect to Buhari's reelection bid has led to division within the movement, as a group led by the Deputy National Leader, Sheikh Yusuf Sambo Rigachikun, has called on the members of movement to vote for Atiku Abubakar, presidential candidate of the Peoples Democratic Party (PDP).
Rigachikun, who spoke to BBC Hausa Service, said Atiku has contributed immensely to Islam and built more than 300 mosques across the country. 
He also claimed that he had been associating with Atiku for the past 30 years.
"Whenever we approach him on issues to do with Islam, or Islam-related matters, either to sponsor symposiums, to build schools for Islamic activities, to help the underprivileged or to make money available for the day-to-day activities of Islamic leaders, Atiku has never turned down our request in all the over 30 years that I have been close to him," he said.
The Izalah movement is one of the largest Islamic societies in Nigeria, Chad, Niger, and Cameroon.
Elections
Politics
News
AddThis
: 
Featured Image
: 
Original Author
: 
SaharaReporters, New York
Disable advertisements
: 
E2%80%98convinced%E2%80%99-us-government-support-his-candidature target=_blank>Atiku 'Convinced' US Government Is In Support Of His Candidature
Atiku Abubakar, presidential candidate of the Peoples Democratic Party (PDP), has expressed conviction that the United States government is in support of his presidential project.
Atiku said this on Friday in an interview with Voice of America (VOA) as part of his first-time-in-13-years visit to the United States.
The interviewer had asked Atiku: "Are you convinced that the United States government is in support of your candidature?"
He replied: "Yes."
"There is no doubt because the United States is ready to support any country that is practising democracy," he added.
Atiku also said claims he hadn't visited the State for so long had nothing to do with corruption, as popularly being alleged.
See Also
Corruption
APC On Atiku's US Visit: A Thief Is A Thief No Matter Where He Goes
0 Comments
9 Hours Ago
"The whole thing is about misinformation… for a very long time they, have been lying to them Nigerians," he said. 
"I tried to explain to them but they refused to listen. And I hope now people are going to understand. Now they have issued it visa to me and I am here. I'm having some positive discussions with some of the officials," he said.
"I was in the Congress and I had discussions with some high ranking Congress men and Women about Nigeria and how Nigeria intends to improve her relationship with the United States of America."
Atiku arrived in the US on Thursday night in the company of Senate President Bukola Saraki, a trip his supporters have been using as weapon against the popular perception of corruption about him.
See Also
Corruption
Nigerian Govt Says Atiku Must Explain N156m Bank PHB Slush Funds 'Once He Returns From US'
0 Comments
6 Hours Ago
However, the US chapter of the All Progressives Congress (APC) has dismissed it, saying "a thief will remain a thief no matter where he visits.
Similarly, the Nigerian government did not wait for his return before claiming that he will have to explain the suspicious N156 slush payment he got from Bank PHB in 2009, which "contributed' to the collapse of the bank.
Elections
International
Politics
News
AddThis
: 
Featured Image
: 
Original Author
: 
SaharaReporters, New York
Disable advertisements
: 
Atiku Abubakar, presidential candidate of the Peoples Democratic Party (PDP), will answer to allegations of corruption when he returns from his current trip to the United States, the Federal Government has said.
According to Lai Mohammed, Minister of Information, who was speaking with State House correspondents on Friday, there is new evidence showing that Atiku received N156 slush funds in 2009, contributing to the collapse of Bank PHB.
"I have come to make few remarks about the recent visit of the presidential candidate of the Peoples Democratic Party to the US. You can recall that few weeks ago, I did issue a statement advising the US government not to issue visa to Atiku," Mohammed said.
"Remember also that in that same press conference, I also stated that it remains the prerogative of the US government to issue visa to anyone it deems fit.
"In any event, any time Abubakar returns home, he has questions to answer following the fresh evidence that we have that he benefitted from slush funds that led to the collapse of the former Bank PHB.
"The document we have, shows that he benefitted to the tune of N156 million from that slush fund. The paper, which we have here, started from an internal memo on January 13, 2009, which reads 'please refer for discussion your requested overdraft in favour of Atiku Abubakar for N156 million and deliver same to me. Please note that it must be delivered today (January 13).'"
He added that on the same date, another memo was generated to confirm that the amount be issued from Claremont Management Services account. 
"We have evidence here of the account mandate — the name of Atiku Abubakar — we also have a copy of the cheque in which the sum of N156 million was issued to Atiku Abubakar dated January 13, 2009 and of course we also have statement of account within that period that confirms that this sum was actually paid into his account.
"These are fresh evidence as to his involvement in the collapse of Bank PHB, so we want him to stay as long he wants in the US but as soon he comes back; he has to explain to the electorate and to Nigerians what is his role in the collapse in the former Bank PHB."
Mohammed downplayed the signifance of Atiku's visit to the US, saying: "Let me say right away that we are not perturbed one bit that Alhaji Atiku Abukakar was able to secure visa to the US. 
"As a matter of fact, he can go ahead and get the US Green card that will not save him from imminent defeat in the forthcoming election. I want to remind Abubakar that the elections will be right here in Nigeria and not in the US."
Corruption
Politics
News
AddThis
: 
Featured Image
: 
Original Author
: 
SaharaReporters, New York
Disable advertisements
: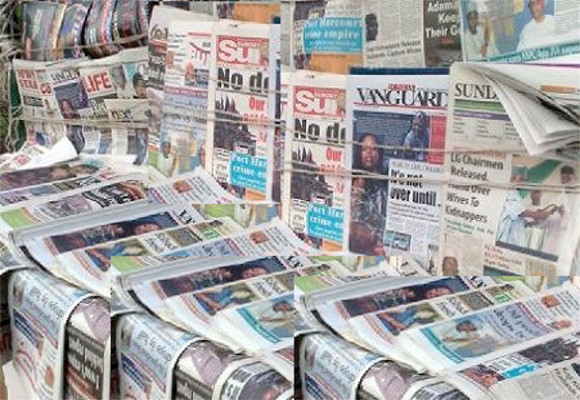 You can also check Sahara Reporters Newspaper Headlines Today