Sahara Reporters Latest News

Tuesday 8th January 2019

Sahara Reporters Latest News Today and headlines on some of the happenings and news trend in the Country, today 08/01/19

Read also Leadership Newspapers News Today Tuesday 8th January 2019
target=_blank>Lagos CP Parades Suspected Armed Robbers, Cultists, Kidnappers Arrested During Festive Period
Imohimi Edgal, the Lagos State Commissioner of Police (CP), has paraded suspected armed robbers, cultists and kidnappers arrested during the Christmas and New Year period.
While parading the suspects on Monday at the Lagos State Police Command in Ikeja, the Police commissioner said six young men between the ages of 18 and 25 were arrested on January 2, 2019, at Ajegunle for allegedly dispossessing motorists of their valuables.
The men, Opeyemi Suraju (aged 22), Abdullahi Hammed (aged 18), Abiodun Adegoke (aged 20), Samuel Innocent (aged 25), Basit Makinde (aged 20) and Montunrayo Akeem (aged 23), were accused of being in possession of cutlasses and daggers, when arrested by the policemen at Alakuko Police Station.
Another alleged traffic robber, Faruba Idris, aged 28, was caught in Ejigbo area of Lagos State where he was robbing motorists of their valuables.
"The suspect was immediately searched and a cut-to-size locally-made gun with two cartridges was recovered from him," he said.
In another similar but unrelated case, Edgal claimed one Ayilara Babatunde Sharif informed the Police on December 30, 2018, of a supposed invasion by suspected hoodlums at Ijanikin.
The alleged hoodlums: Israel Okoye (aged 20), Temitayo Ogundayo (aged 19), Azeez Bankole (aged 20) and Abeeb Bamgbopa (aged 22), suspected to be armed robbers were in possession of two toy pistols, a table knife and cello tape
The Police Commissioner also said on Sunday, January 6, 2019, operatives of the command attached to the anti-cultism unit, while on routine patrol, intercepted a Toyota Camry Saloon Car with four occupants who were revealed to be kidnappers.
The men, Ismaila Ebenizer (aged 38) who claimed to be a soldier, Hillary Nwoha (aged 40), Iwuagwu  Joseph (aged 33) and Iwuanyanwu Ifeanyi (aged 60), were found with a pump action rifle. 
Edgal added that the command arrested a total of 23 suspected cultists in various parts of the state and recovered 32 live cartridges from them.
On the same day, the CP said the command was alerted "from a credible source that a man was seen moving around Otun Market Square in a suspicious manner, holding a little boy in his hand".
"Based on the information, operatives of the command attached to Okokomaiko Division, moved swiftly to the location and arrested the suspect who gave his name as Sikiru Tanimowo, 37 years old.  The little boy also gave his name as Abu Yusuf, 4 years old.
"The suspect later led detectives to the location where he picked the child. Thus, the Police were able to locate his parents who said they have been looking for the child and have never met the suspect before."
He said all suspects would be charged to court after the completion of investigations into the various offences.
CRIME
Police
News
AddThis
: 
Featured Image
: 
Original Author
: 
SaharaReporters, New York
Disable advertisements
: 
target=_blank>APC Condemns Okowa's Plans To Disburse N10,000 To 26,400 Petty Market Women
The All Progressives Congress (APC) in Delta State has alleged that Governor Ifeanyi Okowa's proposed disbursement of N10,000 each to market women ahead of the governorship election in the state is an "inducement to secure an undeserving victory at the governorship election".
Speaking through Kingsley Emu, the state Commissioner for Economic Planning, Okowa announced last week that the sum of N10,000, tagged 'Smart Money', would be disbursed to each of the 26,400 petty market women across the state.
However, a statement signed by the APC state Publicity Secretary of the Jones Erue-led State working committee, Sylvester Imonina, titled 'Sen. Ifeanyi Okowa and PDP Should Apologize to APC-Led Federal Government and Senator Ovie Omo-Agege', obtained by SaharaReporters, demanded an apology from Okowa for initially condemning the Social Investment Programme, 'Tradermoni', of the APC-led Nigerian government.
The statement read: "More than a year ago, the APC-led Government introduced social investment programmes to wit, Trader Moni and N-Power, to assist the underprivileged in our society and give opportunity to Nigerians to be employed and eke out a living. The programmes were/are meant to bridge the wide gap between the super-rich, the rich and the underprivileged, and also act as springboard for young entrepreneurs, who do not have access to loans from financial institutions, that are usually backed by collateral.
"Today, the hope of many Nigerians whose hopes were dimmed by PDP's years of economic wastages are now rekindled by these programmes. Nigerians, especially the underprivileged are happy with these programmes and the APC-led Federal Government, is more endeared to the masses. In Delta State, Sen. Ovie Omo-Agege who understands the feeling of his people embarks on giving out N10,000 each to market women in Delta Central Senatorial District, irrespective of political leaning.
"Also, Sen. Omo-Agege extended this programme to members of different denominations within Christendom. The beneficiaries are the identifiable underprivileged in those churches. Many men of God are appreciative of Sen. Omo-Agege and the APC-led Federal Government's programmes, because the burden of the underprivileged in their midst posed on them is now reduced.
"Despite the laudability of the APC-led government and Sen. Omo-Agege's programmes, Sen. Ifeanyi Okowa and/or the government of Delta State, vehemently spoke against the programmes, saying that same is vote-buying, and a way of de-marketing PDP. This, to APC, is an economic assault and onslaught by the PDP and the Government of Delta State against the underprivileged in our society.
"Surprising, Sen. Ifeanyi Okowa, the Governor of Delta State, some days ago, said he was going to empower market women (probably his PDP members) with N10,000 each as part of his empowerment programmes. The question that comes to mind is, is this not vote-buying by Sen. Okowa? Where is that money coming from? Because there is no budgetary provision for same by the House of Assembly.
"APC demands an apology from PDP and Sen. Okowa. Deltans should know that this is a Greek gift from Sen. Okowa. Deltans should reject Okowa's government."
Politics
News
AddThis
: 
Featured Image
: 
Original Author
: 
SaharaReporters, New York
Disable advertisements
: 
E2%80%94-ondo-athletes-shut-down-sports-ministry-over-unpaid-16-months target=_blank>'No Alert, No Entry' — Ondo Athletes Shut Down Sports Ministry Over Unpaid 16 Months Allowance
Enraged by the nonpayment of their accumulated allowances, athletes in Ondo State have shut down the Ministry of Sports, paralysing all business and sporting activities.
Armed with placards bearing different inscriptions on Monday, the athletes alleged that the state government owed them 16 months in stipends, and barred entry into the sports complex.
The ministry also houses the Akure township stadium of the sport complex.
Some of the placards read: 'All We are Saying, Pay our 16 Months Stipend', 'Enough of Suffering', 'No More Scoping, We Need our 16 Months Allowances, Enough Is Enough', 'No Alert, No Opening of Gate'. They also chanted solidarity songs.
According to the athletes, the stipends were as low as N3,000 monthly, which is "just too ridiculous" despite their efforts in winning laurels for the state.
Bankole Michael, one of the athletes who spoke with journalists, complained about the maltreatment faced by the athletes.
Michael, who is also a champion in heavyweight lifting, said many of his colleagues in the state were languishing in poverty and had been abandoned to their fate. He explained how officials of theOndo State Sports Council took them to Abuja, where they represented the state at the National Sports Festival, but were never paid all their allowances.
"Just imagine, we went through hell at the festival in Abuja and we could only agitate for a meagre stipend of N2,000 out of N75 million that was allegedly released for such trip. When we returned from the Abuja trip, these officials promised us that our allowances would be paid before the Yuletide, but all were lies," he said.
"What made many of us here angry is that the officials shared bags of rice, including groundnut oil, among themselves in December, while nothing was given to us despite all our efforts. So, we decided to protest and shut down this entrance since they seem to have deliberately forgotten all of us and are not appreciating our efforts."
Kazeem Aminu, another athlete, said the attitude of the government towards sportsmen and women was really demoralising and vowed to quit sporting activities.
Aminu, who disclosed that many of them are graduates, said unemployment forced them to embrace sports rather than roam the streets.
"We have families who depend so much on us for their living and we have bills to pay. However, we have not been able to live up to our responsibilities due to the 16 months' allowances owed us by the state government," he stated.
Saka Yusuf-Oguleye, Commissioner for Sports and Youth Development, pleaded with the athletes to let peace reign.
He said of the 16-month accumulated allowance, the government just approved payment of eight months.
"The other eight months was owed by the past administration. I'm not sure the present government has been notified by officials of the sports council," he added.
Human Rights
LABOR/WORKERS' RIGHTS
Sports
News
AddThis
: 
Featured Image
: 
Original Author
: 
SaharaReporters, New York
Disable advertisements
: 
target=_blank>JUST IN: Soldiers, Hunters Currently Clashing With Boko Haram In Konduga
Suspected Boko Haram terrorists are currently engaging soldiers in Konduga Local Government Area of Borno State.
The insurgents gained entry to Konduga via Auno village, which they infiltrated at about 6pm on Monday.
It was learnt that the troops are working with local hunters against the terrorists.
Details later…
Politics
News
AddThis
: 
Featured Image
: 
Original Author
: 
SaharaReporters, New York
Disable advertisements
: 
target=_blank>EXCLUSIVE: Fresh Woes for 9Mobile As Owner Teleology Pulls Out
Teleology Holdings, the new owners of 9mobile, have withdrawn from further participation in the 9mobile project, SaharaReporters can exclusively report.
Teleology acquired 9mobile, known then as Etisalat, in November 2018 — about eight months after it made an initial $500million non-refundable deposit to acquire the telco, and a cumulative 10 months after the takeover was billed to have been finalised.
Etisalat, the fourth of Nigeria's GSM service providers, began trading as '9mobile' following the financial consequences of defaulting in the servicing of a syndicated loan of $1.2billion owed a consortium of 13 Nigerian banks. In the aftermath, its erstwhile technical partners Etisalat exited the business and requested that the use of the 'Etisalat' brand name by the company be discontinued forthwith.
Teleology Holdings, a special purpose vehicle comprising telecom industry veterans and led by Adrian Wood, pioneer Chief Executive Officer of MTN Nigeria, eventually won the final bid — ahead of Airtel, Globacom, Smile, Helios. The Australian, credited with building a very good business model, has remained in the Nigerian business environment since leaving MTN in November 2004.
Teleology Holdings' successful bid for 9mobile was due largely to the quality of its proposed seven-man management team led by Wood, and was approved by the NCC Technical Evaluation Committee, the 13-member bank lending syndicate as well as the acquisition finance provider, Afreximbank.
However, SaharaReporters now understands that Teleology Holdings has become increasingly uncomfortable with actions taken outside of the agreed business plan, since takeover, most important of which is how it has been blocked from concluding a management services contract with the local joint venture, Teleology Nigeria Limited. The management services contract would have enabled Teleology Holdings and its team of experts oversee the implementation of the its elaborate business plans including funding proposals — but that so far been impossible.
Wood is understood to have resigned from the boards of Emerging Markets Telecommunication Services (trading as 9mobile) as well as Teleology Nigeria Limited, and has already communicated his current disenchantment with the 9Mobile project to his confidants in Teleology.
"Fifteen Teleology experts have worked since June 2017 on detailed 9mobile turnaround planning, development strategies and financial restructuring," one quoted him as saying on Monday.
"This included lining up more than US$500 million fresh direct foreign investment from international institutions. 9mobile is an exciting opportunity to build a revolutionary mobile network that could be the pride of Nigeria. Unfortunately, it appears that we will not be able to participate. We now must stand down from further work on the 9mobile project."
Teleology Holdings Ltd will be seeking to exit its shareholding in the local joint venture Teleology Nigeria Limited, which will be required to change its name. The development may further compound the woes of the struggling 9mobile operation. 
In a pre-disconnection notice advertised by the Nigerian Communications Commission (NCC)) on December 18, HIS, the infrastructure services provider which hosts majority of 9mobile's base stations, was granted permission to disconnect 9mobile and other debtor telecom operators within a 10-day ultimatum, ostensibly on account of 9mobile's indebtedness. Should this disconnection take place,  subscribers on 9mobile's network would have been effectively shut out completely from the telecommunications network and would be unable to make or receive calls.
9Mobile has been at the receiving end of considerable customer attrition since its financial troubles became public in 2017. 
From more than 22million customers in its heyday in October 2016, for instance, the network had just a little over 15million active subscribers in November 2018, according to NCC data, and has consistently lost customers with each passing month.
"Saving the company from a foreclosure together with its implications on job loss and possibly the stability of the larger telecom industry necessitated the intervention of the duo of the CBN and the NCC in what was supposed to be a guided liquidation of the company, but which now increasingly appears to be an imbroglio," a 9Monile employee lamented. 
Business
Technology
Exclusive
News
AddThis
: 
Featured Image
: 
Original Author
: 
SaharaReporters, New York
Disable advertisements
: 
target=_blank>Borno Governor Weeps At Meeting With Buhari Over Insurgency
Kashim Shettima, the Governor of Borno State, broke down in tears on Monday when he visited President Muhammadu Buhari in Abuja.
Shettima said he was moved to tears over the recent setback in the fight against insurgency, but added that they had not lost hope in the ability of the present administration to address insecurity in the state.
He said the delegation was in Abuja to present observations and requests from a security meeting held in the state.
The Governor declined to give details of the observations and requests he made to the President.
Others present at the meeting include the National Security Adviser, Mohammed Babagana Monguno; Chief of Staff, Abba Kyari; Director General of the Department of State Security Services (DSS) and the National Intelligence Agency (NIA), Chief of Defence Staff, Abayomi Olonisakin and members of the National Assembly.
Boko Haram
Insurgency
News
AddThis
: 
Featured Image
: 
Original Author
: 
SaharaReporters, New York
Disable advertisements
: 
target=_blank>41-Year-Old Bus Driver 'Rapes' 78-Year-Old Woman On New Year's Day
The Lagos State Police Command has arrested 41-year-old Jelili Lawal, a bus driver, who allegedly raped a 78-year-old woman on January 1, 2019.
The woman had met Lawal at Ikeja, Lagos and sought direction on how to get to Ketu, another area of Lagos State, from him. However, rather than help the old woman find her way, Lawal drove her to a location at Oloti Village off Adeniyi Jones, in Ikeja, where he raped her.
According to the Lagos State Commissioner of Police (CP), Imohimi Edgal, who paraded the suspect on Monday at the command headquarters in Ikeja, the aged woman was rescued by neighbours who heard her cry for help and promptly called the attention of the Police.
The victim was taken to the hospital, where she is being counselled by a trauma specialist, the CP said. 
Similarly, the command arrested an underage boy identified as Samuel Balogun for allegedly defiling a 12-year-old girl in an uncompleted building at Alakuko.
Balogun, who is 17 years old, was reported to the Police on January 3, 2019 and was subsequently arrested.
Balogun is currently at the gender section of the command, where he is being interrogated.
"The two suspects would be charged to court for rape and defilement at the conclusion of investigation," he said.
CRIME
News
AddThis
: 
Featured Image
: 
Original Author
: 
SaharaReporters, New York
Disable advertisements
: 
target=_blank>JUST IN: Buhari Appoints Hamman-Tukur As NFIU Director
President Muhammadu Buhari has appointed Modibbo Hamman-Tukur as the Director of the Nigerian Financial Intelligence Unit.
A statement by Femi Adesina, the Special Adviser to the President on Media and Publicity, confirmed the appointment.
Hamman-Tukur holds a Master's Degree in Science and hails from Adamawa State.
The statement read: "In accordance with the provision of Section 5(1) of the Nigerian Financial Intelligence Unit (NFIU) Act 2018, President Muhammadu Buhari has nominated Modibbo Hamman-Tukur as a Director of the Unit.
"This was contained in a letter dated January 7, 2019 to the Senate President seeking the confirmation of the nominee by the Upper Chamber of the National Assembly."
Politics
News
AddThis
: 
Featured Image
: 
Original Author
: 
SaharaReporters, New York
Disable advertisements
: 
target=_blank>Sowore Tells Amina Zakari To 'Do The Right Thing And Resign' Her INEC Appointment
Professor Mahmoud Yakubu, the INEC chairman, displaying the ballot paper specimen to political parties.
Omoyele Sowore, the presidential candidate of the African Action Congress (AAC), has called on Amina Zakari, the embattled National Commissioner of the Independent National Electoral Commission (INEC), to resign from her position.
Sowore stated this on Monday in Abuja during the INEC quarterly consultative meeting with political parties.
There had been speculations on the relationship between the Oresident and Zakari, with the presidency issuing a statement that the duo aren't related by blood but for an inter-marriage between their families.
See Also
Elections
Garba Shehu: Buhari And Amina Zakari Not Related… Just An Inter-Marriage In Their Extended Families
0 Comments
3 Days Ago
Zakari had also said Buhari is neither her cousin nor her uncle as claimed.
See Also
Politics
'He's Not My Cousin; He's Not My Uncle' — Amina Zakari Speaks On Relationship With Buhari
0 Comments
2 Days Ago
Sowore has, however, said Zakari's sense of judgement in the line of duty would be compromised, no matter the nature of her relationship with President Muhammadu Buhari.
"It is not about the blood relationship. If there is any form of relationship at all, that could influence her sense of judgement. I expected her to do the right thing by stepping  aside. It doesn't have to be blood relationship. There are people who don't have blood relationship in this world that are closer than people with blood relationship," he said.
Maintaining that there is enough evidence to prove that Zakari would be biased in the discharge of her duties, Sowore advised her to follow the path of honour and resign from the position.
He said people are not comfortable with her decision to remain in her position in the commission; he also urged the commission to reverse the decision.
On the draft guidelines, he stressed that all political parties must be included in drawing up the guidelines for the regulation of the conduct of the elections.
Speaking at the event, Professor Mahmood Yakubu, the INEC Chairman, explained that where the biometric authentication fails, the voter will be required to thumbprint a box next to his/her picture on the register and would be made to enter his/her mobile telephone number before proceeding to vote.
"The commission has modified the register of voters for the 2019 general election accordingly," Yakubu stated. "Consequently, the separate incident form used in previous elections which is only completed by the presiding officer without the involvement of the voter, is now abolished. Similarly the claim that the card reader has been enhanced ro recapture voters' fingerprints at polling units and automatically overwrite the biometric record on our database is untrue and should be disregarded."
Elections
Politics
News
AddThis
: 
Featured Image
: 
Original Author
: 
SaharaReporters, New York
Disable advertisements
: 
Petra Akinti Onyegbule, the Chief Press Secretary to the Kogi State Governor, Alhaji Yahaya Bello, has resigned her position.
In an announcement via a Facebook post, Onyegbule stated that her resignation had nothing to do with neither her support for President Muhammadu Buhari nor the insinuation that she was joining another political campaign.
She thanked the Kogi State government for the opportunity to serve and restated her commitment to campaigning for Buhari in the 2019 elections.
"Yes, I resigned. Yes, I am still a Buharist. On the 7th of January 2016, I was part of the people inaugurated as the Media and Publicity sub committee for the Inauguration of Alhaji Yahaya Bello as the 4th Executive Governor of Kogi State. This historic inauguration took place on the 26th of January, 2016. By 23rd of February, 2016, I was appointed as the Senior Special Assistant on Electronic Media to His Excellency. I did my best on the role. And in recognition of my efforts, I was promoted to the position of Chief Press Secretary to His Excellency effective 1st of October, 2016," she said.
"I credit myself for being very passionate about everything I am involved in either officially or as a cause. And I put my all into the discharge of my duties, to the best of my abilities. I invested all of me in ensuring I contributed my quota to the success of the administration of His Excellency as the Governor of Kogi State. Having given my all and in recognition of the fact that the only constant thing in life is change, I am convinced it is time to to move on as I seek fulfillment on another level.
"I am not a new convert Buharist. I was a Buharist when GMB sounded like a taboo to many. I am a Buharist now that we are seeking to take Nigeria to the Next Level. At this juncture, I will like to express profound gratitude to His Excellency, Alhaji Yahaya Bello for changing my story. I am not who I was in January 2016. I take with me invaluable experience money can never buy. Thank you sir.
"Edward Onoja was the one who recommended me for appointment even before we ever met. I will never forget the impact he has had in my life. And to the New Direction family, especially the Media Office of the Governor headed by Kingsley Fanwo, I remain grateful for the wonderful memories which will remain indelible in my heart forever.
"My boss is one of the hardest core Buharists I know. I am no longer part of his government but I belong to the larger Buhari family of which he is one and together we shall all do our bit to make the Next Level a reality by February. The insinuation that I resigned to join any other campaign is wishful thinking taken to another level. And to all my friends on this platform, thank you for having my back always and for all the support. Thank you."
Politics
News
AddThis
: 
Featured Image
: 
Original Author
: 
SaharaReporters, New York
Disable advertisements
: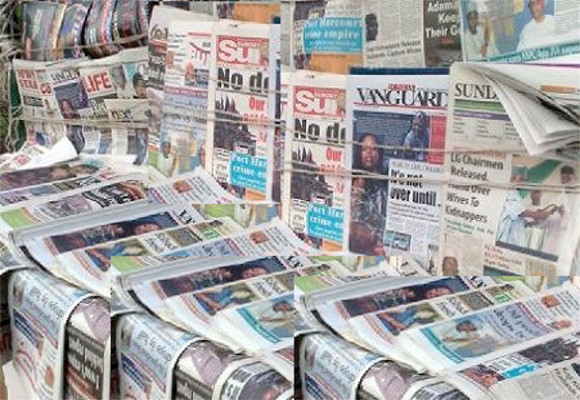 You can also check Sahara Reporters Newspaper Headlines Today