Sahara Reporters Latest News

Tuesday 1st January 2019

Sahara Reporters Latest News Today and headlines on some of the happenings and news trend in the Country, today 01/01/19

Read also Leadership Newspapers News Today Tuesday 1st January 2019
target=_blank>Four Passengers Burnt To Death In Ondo Motor Accident
File Photo
File Photo
Four persons lost their lives in a ghastly motor accident in Ore in Odigbo Local Government Area of Ondo State on Monday.
The accident occured at the popular 'Oluwa bridge' on the Lagos-Benin expressway, and involved a commercial Toyota Hiace bus.
The victims were burnt to death.
SaharaReporters gathered that the victims were passengers on their way to Lagos for the New Year festivities.
An eyewitness, who joined the rescue team, said the driver of the bus lost control of the wheels, while the tyre burst into flames.
"Before we knew what was happening, the tyre of the vehicle was already in flames, but only few persons could escape from the scene," the eyewitness said.
Segun Ogungbemide, the Ondo State Head of Operations of Federal Road Safety Corps (FRSC), confirmed the incident in a phone interview with journalists in Akure.
Ogungbemide said the driver of the vehicle drove carelessly, and the tyre of his bus burst into flames. According to him, four persons lost their lives, while the other four got injured. 
"The accident occurred around the popular Omotosho area in the Ore axis of Ondo State and it involved a Toyota Haice Bus. It was a lone accident, as the tyre of the vehicle transiting the passengers burst into flames," he said.
"Just eight persons were in the bus which was travelling to Lagos. Four of them were killed while the other remaining four were injured. We have rushed those who survived to the hospital where they are all receiving different treatments as a results of injuries sustained in the crash."
He, however, warned commuters to drive carefully during the festive period to aviod crashes.
News
AddThis
: 
Featured Image
: 
Original Author
: 
SaharaReporters, New York
Disable advertisements
: 
target=_blank>REVIEW: The 10 Most Popular Songs Of 2018
The Nigerian music scene is an active content creating industry. Every passing minute, new songs are released by young artistes seeking to make a break into the industry or by popular artistes whose fans hunger for new music.
From January to December, music lovers have been treated to the good, bad and downright ugly of music. Listed are the top 10 songs of the year.
10: Olamide — Motigbana
With the fire he brought to the music scene when he first emerged, Olamide doesn't seem to have impressed much beyond the expected. Like the intro to 'Motigbana', the year began on a slow motion for Olamide. However, as the song rose in tempo, although he had released a few singles in the meantime, Olamide did not get the expected buzz until the release of 'Motigbana'. If the YBNL don expects to get more credit, he'll need to up his game.
9: Victor AD — Wetin We Gain?
Not long after it hit the airwaves in July, this track went on to take its place as the latest 'hustlers' anthem'. Victor Adere, a.k.a. Victor AD, a Delta State indigene, describes his style as Afropop. With more than five million views for a relatively new voice, there's more in Victor AD's music future.
8: Adekunle Gold — Ire
With Adekunle Gold's 'Ire', the Nigerian music scene experienced a different kind of creativity. Although much of the video is done in reverse, with 'Ire', Adekunle Gold takes his fans one step further on the soulful train of his music ride.
7: Brymo — Heya
Not many artistes can do a naked feature. There are even fewer artistes daring enough to shoot a video in an uncommon location as on the coarse bank overlooked by an ocean. Brymo belongs to the select 'fewer' and he definitely got tongues wagging for this one. In his signature preacher style, Brymo uses 'Heya' to speak to tendencies of human nature.
6: DJ Spinall ft. Kizz Daniel — Baba
'Baba' leads with a calm intro that drizzles into nice beats accompanied by DJ Spinall's tunes, combined with Kizz Daniel's unique expertise on the voice. 'Baba' gave Nigerian music lovers a breath of the fresh side of music. This is a seemingly unusual combination that turns out to be worth the effort.
5: Wizkid — Fever
As the title of the song suggests, Wizkid definitely gave music lovers 'fever' with his feature of Tiwa Savage as a video vixen. The duo engaged in various explicit scenes, which got the social media talking for a little longer than a while, especially after various speculations on if they were romantically involved.
4: Davido — Assurance
Featuring his girlfriend, Chioma, it would be an overstatement to say the song was strictly dedicated to their relationship. The song went on to get its personal hash tag, #Assurance and trended for much longer than even the lovebirds would have anticipated.
3: Burna Boy — Ye
At brief listen, it would not be expected that Burna Boy's 'Ye' would make any major impact. However, music lovers thought differently, and the song went on to become an anthem of sorts in various quarters.
2: 2Baba ft. Peruzzi — Amaka
No one likes disappointment and that was what legendary singer, 2Baba seemed to have been feeling when recorded this hit track, alongside Peruzzi. 'Amaka' tells the story of how a woman named 'Amaka' disappointed her man after promising to pay him a visit. Amaka not only earned its own special social media standing, it has more or less become the synonym for Nigerians on any disappointing person or situation.
1: Falz — This Is Nigeria
When Falz released 'This is Nigeria', not even he could have predicted the critique it would receive, such that at a time, there were talks of law suits and religious backlash. On the Youtube site featuring the song, there are more than 26,000 comments on the song, not counting other versions of social media, as well as traditional media and outside the virtual world. Falz takes the song of the year for the unique style it brings to addressing societal ills. Politics, religion, education, security, economy, entertainment, energy, among others all get a mention in the video, which lasts less than four minutes. And did we mention the shade on President Muhammadu Buhari for that 'Lazy Nigerian Youth' comment. Indeed, Falz brings expertise, talent, and sheer creativity to bear on this masterpiece.
Don't agree with our list? Feel free to share your #SRTopTen songs for 2018.
Entertainment
News
AddThis
: 
Featured Image
: 
Original Author
: 
SaharaReporters, New York
Disable advertisements
: 
target=_blank>Prison Officials Bar Deji Adeyanju's Friends, Family From Visiting Him
Deji Adeyanju
Deji Adeyanju
The Nigerian Prison Service has barred friends and family members from visiting Deji Adeyanju in Kano prison.
The order came after a meeting between the Minister of Interior, Abdulrahman Dambazau and officials of the Nigerian Prison Service.
Deji was rearrested and charged for culpable homicide by the Nigerian Police, over a case said to have been decided upon by the Kano State High Court in 2009.
On Friday, December 21, 2018, he was remanded in prison custody after a Kano State magistrate court declined jurisdiction to hear the case. Meanwhile, on the same day, a high court in Abuja had ordered Adeyanju's immediate release from detention, a directive that was ignored by the Police.
See Also
Free Speech
Abuja Court Sets Deji Adeyanju Free But Kano Court Sends Him To Prison Till February
0 Comments
1 Week Ago
A source close to the prison service revealed that the order was handed down after the Minister got a report that some members of the Islamic Movement in Nigeria (IMN), popularly known as Shi'ites, visited the activist in Kano prison.
It was gathered that the some of the clerics from the sect paid a solidarity visit to him on Christmas Day, a move some people in government are said to not be comfortable with.
With this new directive by the prison officials, family members and friends will not have access to celebrate the beginning of 2019 with him.
Free Speech
Human Rights
Police
News
AddThis
: 
Featured Image
: 
Original Author
: 
SaharaReporters, New York
Disable advertisements
: 
target=_blank>Nigerian Airline Threatens To Withdraw From UK Over 'Hostile' Treatment Of Pilot
A Nigerian airline says it could pull its business out of the United Kingdom after one of its pilots was arrested by immigration officials on suspicion of being a stowaway and threatened with deportation.
Max Air, which is based in Nigeria, condemned the move by border staff at Bournemouth International Airport, stating that it is an example of the Home Office's "hostile environment policy".
The company says it is now losing £180,000 a day, because it cannot find another pilot to fly the plane after Captain Adam Dilli Ibrahim, aged 36, returned home voluntarily on another flight.
Captain Ibrahim was detained for questioning, fingerprinted and photographed, before being told he would be forcibly removed — even though pilots do not legally require visa to enter the UK for seven days or less.
Frank Unokesan, whose company is responsible for maintaining Max Air planes, said there had been a "long history" of problems with immigration officials.
"Whenever they see a green (Nigerian) passport, they doubt the captain and believe he is a stowaway; that's their mindset. The captain has done nothing wrong. I feel terrible, I feel ashamed. It is so much bureaucracy. That's the way I see it. I would have thought with Brexit the UK would try and make more friends, but now they are kicking us in the teeth. I don't know what kind of government they are running," he said.
Max Air may now avoids the UK in future and takes its business to Germany, which has allowed pilots stay for up to three months without any problems.
He continued: "Nigeria is a former colony of the UK and we are trying to do business with Britain, but now they are turning back our business and deporting the pilot.
"Max Air has 10 Boeing aircraft and five private jets, one of the biggest in the market in Nigeria. The Managing Director is so angry they are treating us like this. If you treat us like this, what is the hope for the future in the UK?"
The dispute with the Home Office centres on the interpretation of the Immigration Act 1971, which states that a pilot or crew member does not require leave to enter the UK if they depart within seven days. Captain Ibrahim, who has previously flown in and out of the UK without issues, told immigration officials on arrival on December 10 that the maintenance work on the aircraft was scheduled to last between seven and 10 days.
"Instead of respecting the position of the captain, they took his passport and they said after seven days we will talk about that. They suspected the co-pilot is the real pilot because he has a visa in his passport and the captain is a stowaway posing as a captain. So they arrested him for entering into the UK without a visa," he stated.
After taking legal advice, the pilot voluntarily flew out of the UK on December 16. The maintenance work finished on 20 December, but Max Air is unable to find a replacement captain at short notice. The aircraft remains in the UK and the co-pilot is still staying at a local hotel.
Noting that the maintenance work alone was bringing in $100,000 (£80,000) of business to the UK, Unokesan stated that the company is "losing $9,500 (£7,500) an hour".
Max Air noted that on previous occasions it had either brought in more engineers to finish the work in time or applied for an extension of leave for the pilot.
Mandie Sewa, senior solicitor and Head of Immigration at Moore Blatch Solicitors, which represents the airline, said: "The recently published government white paper assumes that the UK will continue to be an attractive destination for non-EU migrants. However, our client has suffered huge financial losses amounting to approximately $9,500 per hour, because of the current anti-immigration message received from the immigration officials at the border due to hostile immigration policy."
Immigration officials argue that a visa is mandatory for nationals staying longer than seven days and that it is the responsibility of air crew to ensure they have the correct documentation on arrival.
When contacted on the incident, the Home Office said in a statement: "We do not routinely comment on individual cases."
Business
International
News
AddThis
: 
Featured Image
: 
Original Author
: 
SaharaReporters, New York
Disable advertisements
: 
E2%80%99t-donate-dime-offa-robbery-victims-says-lai-mohammed target=_blank>Saraki Didn't Donate A Dime To Offa Robbery Victims, Says Lai Mohammed
Lai Mohammed, Minister of Information and Culture, has faulted the claim of Senate President Bukola Saraki on donating N10million to victims of the robbery in Offa, Kwara State.
Saraki was said to have claimed in an interview on radio that he donated N10million to victims of the Offa robbery, when he visited the community to commiserate with the people.
However, according to NAN, Mohammed debunked Saraki's claim, stating that the Senate President lied, and warned him not to play politics with the incident.
"The claim by Dr. Saraki that he donated N10 million to care for the victims of the Offa robbery is patently false. He did not! The 10 million he referred to was donated when the Offa market got burnt, and it was made in Ilorin, not Offa. When Dr Saraki visited Offa to commiserate with the community in the aftermath of the robbery, he did not donate a dime! I challenge him to prove me wrong," the Minister of Information said.
A statement issued in Lagos on Monday by Segun Adeyemi, Mohammed's media aide, claimed that in the wake of his (Mohammed) first warning, the apparently embarrassing radio interview was hurriedly edited to remove all references to the Offa robbery and then re-aired across Kwara State.
The statement continued: "Instead of stopping at that, which in itself constitutes an acceptance of wrongdoing, Dr. Saraki went ahead to hurl insults at me, even when I have been largely restrained in issuing my earlier warning. Had I not been restrained, I would have gone ahead to divulge what actually transpired.
"But with politics in the air, the truth becomes the first casualty. Realising that he goofed, Dr. Bukola apparently caused the radio interview in question to be edited to remove the donation reference, and then re-aired. Is it not an irony that the people who engaged in this egregious act of dishonesty are the same ones calling others names?
"The people of Kwara, who are bone-tired of the long years of 'bolekaja' governance in the state, are all saying in one voice, 'O to ge' (enough is enough), and will soon have the opportunity to express their frustration with their votes."
CRIME
Politics
News
AddThis
: 
Featured Image
: 
Original Author
: 
SaharaReporters, New York
Disable advertisements
: 
target=_blank>Tosyn Bucknor, Ikeogu Oke, Ras Kimono, 'Baba Sala'…The 13 Most Painful Deaths Of 2018
There are few certainties in life and one of them is death. It is the inevitable end for every man. Death is the big full stop at the end of every sentence — whether long or short, simple or complex — called life. Here are some persons, across all walks of life, whose remarkable lives ended in 2018.
Tony 'Mr. Fix It' Anenih (August 4, 1933 — October 28, 2018)
Tony Anenih, a prominent Nigerian politician and former Minister for Works, among other political posts that he held in his life time, died at Cedarcrest Hospitals in Abuja on October 28, 2018 at the age of 85. He was popularly known as 'Mr Fix It'. He was born in Edo State.
Aloysius Katsina-Alu (August 28, 1941 — July 18, 2018)  
Katsina-Alu was the Chief Justice of Nigeria from December 30, 2009, to August 28, 2011. He succeeded Idris Legbo Kutigi as Chief Justice of the Federation. He was born in Benue in Ushongo Local Government in Benue State and is said to be the first person from the Middle Belt to serve as CJN. History will always remember him as the tenth indigenous Chief Justice of the Federation and the first Chief Judge to be sworn in by a person other than the President or his second-in–command as stipulated by the Constitution. He was sworn in by his predecessor in office, Justice  Idris Legbo Kutigi, because the then President, Umar Yar'adua was sick and outside the country and he did not "transmit power" to the Vice-President at the time, Goodluck Jonathan.
Idris Legbo Kutigi (December 31, 1939 — October 21, 2018)
Katsina-Alu's predecessor, he was Chief Justice of Nigeria from 2007 to December 30, 2009. He hailed from Niger State and became the first Chief Justice to swear in his successor because of the seeming interregnum occasioned by the sickness of Yar'Adua, who refused to hand over to his second-in-command while he went to receive treatment abroad. He died in a London hospital, meaning two former CJNs died in 2018 alone.
Ibrahim Coomasie (March 18, 1942 — July 19, 2018)
He was born in Katsina State and rose through the ranks of the Nigerian Police Force to become the 9th Inspector General of Police. He served in that capacity from 1993 – 1999 when he retired from the service.
Oluwatosin 'Area Mama' Bucknor (August 15, 1981— November 19, 2018)
Perhaps the saddest of the lives harvested by the grim reaper in 2018 is that of On-Air Personality (OAP), who died at the unripe age of 37. Tosin reportedly died due to complications from sickle cell anaemia. She graduated from the Faculty of Law, University of Lagos. She lived a short but remarkable life.
Ikeogu Oke (May 23, 1967— November 26, 2018)
A poet and journalist from Abia State who won the Nigerian Liquefied Natural Gas (NLNG) Prize for Literature in 2017, Oke died of pancreatic cancer at the age of 51, a year after winning the award.
George H.W. Bush (June 12, 1924 — November 30, 2018)
He was the 41st President of the United States of America. He was the father of George Walker Bush, who served as the 43rd President of the United States. The second family to have a father and son as President. The first family was the Johns. John Adams was the second US President from 1797 to 1801 and his son, John Quincy, was the sixth US President. He died in Texas at the age of 94.
Moses Olaiya (Died October 8, 2018)
Born in the 1930s (his date of birth could not be confirmed), Moses Olaiya, popularly called 'Baba Sala' was a prolific film maker and ace comedian who also had a career in show business as a highlife musician. In 1964, he had a group known as the Federal Rhythm Dandies. King Sunny Ade, juju music maestro, was his protégé; he tutored and guided him when he was his lead guitar player. He hailed from Ilesa in Osun State, Nigeria.
Aishat Abimbola (December 19, 1972 — May 19, 2018)
Aishat Abimbola was an ace actress who featured in many movies in her life time. She was a thoroughbred Lagosian born in Epe. She died of breast cancer in Canada at the age of 46.
Kofi Annan (April 8, 1938 — August 18, 2018)
He was the seventh Secretary-General of the United Nations, and the second African to serve in that capacity, but the first person to emerge from the ranks of the United Nations staff. He served as the Secretary-General of the  United Nations from 1997 to 2006. He was a twin. Kofi Annan was awarded the 2001 Nobel Peace, jointly with the organisation. He was a Ghanaian and breathed his last on August 18, 2018 at the age of 80 in Bern, Switzerland.
Alex Badeh (January 10, 1957 — December 18, 2018)
Born on January 10, 1957 in Vimtim, a little town in  Mubi Local Government Area of Adamawa State, Badeh became the Chief of Air Staff in October 2012, serving in that capacity till April 2014 when he was made the Chief Of Defence Staff by the then President Goodluck Jonathan. He was shot on December 18 on the way back from his farm along Abuja-Keffi road by yet-to-be-identified gunmen. Before his death, he was standing trial on a 10-count charge bordering on money laundering, criminal breach of trust and corruption to the tune of N3.97billion.
Shehu Shagari (February 25, 1925 — December 28, 2018)
Born in Shagari town in Sokoto State, Shagari veered into politics in 1951 when he became the Secretary of the then nascent Northern People's Congress (NPC) in the Sokoto branch. He went on to serve in various capacities in political circles and eventually emerged Nigeria's first elected executive president. Shagari became the first and only President of the Second Republic, re-contested and won the 1983 election, but was forced to relinquish his seat by a military coup by General Muhammadu Buhari.
Ras Kimono and his wife, Efemena
Barely three months after her husband passed on, Efemena Okedi, the wife of late Reggae artiste, Okeleke Onwubuya, popularly known as Ras Kimono, joined her husband. While Ras kimono died in June 2018, his wife died in September 2018.
DOCUMENTARY
AddThis
: 
Featured Image
: 
Original Author
: 
SaharaReporters, New York
Disable advertisements
: 
target=_blank>Maurice Fangnon: A Radical On Trial By Anthony Akaeze
icirnigeria.org
I met him six times, between 2017 and 2018, three of which were in the most unlikely place — court. Well, unlikely, for someone unfamiliar with him. Truth is, anyone who knows Maurice Fangnon well, who follows his work or antecedent, won't consider his appearance or trial in court unlikely or strange. For Maurice Fangnon courts trouble. He does.
When a 61-year-old man, who should be content spending and enjoying time with his family or savouring the fruit of his labour, prefers, as it seems, to fraternize with oppressed or poor residents of Lagos who have been at the receiving end of Lagos State government's might and determination to possess their land, it isn't unlikely he could end up in court one day. That was what happened this month — December 6 and 20 — when Fangnon appeared before an Igbosere Magistrate Court in a suit instituted against him. It wasn't, however, the Lagos State government that dragged him to court, but the police based on a petition allegedly written by the Elegushi royal family which claimed that Fangnon had maligned their name in a matter involving Otodo Gbame community.
Otodo Gbame used to be a fishing community in Lekki, Lagos. It was a poor fishing community in a rich neighbourhood. Both the poor and rich within that part of Lekki appeared to co-exist until the Lagos State government headed by Akinwunmi Ambode came up with a plan to rid the state of slums.
In October 2016, Ambode announced his government's intention to "start demolishing all shanties on waterfronts across the state within 7 days". A week after issuing the order, Ilubirin, a waterfront community in the state, was demolished. The threat had become reality. Efforts by a non-governmental organisation, Justice and Empowerment Initiatives-Nigeria (JEI) lawyers to some waterfront settlements in the state to stop the Lagos State government from demolishing more waterfront communities, amounted to nothing as the Lagos State government carried out more demolitions, including the one of April 9 last year, when it let loose its security officials to attack and set fire to Otodo Gbame. Armed security officials invaded the community at dawn while shooting sporadically.
That caused a pandemonium that led to residents of Otodo Gbame, many of whom were asleep at the time of the invasion, fleeing their homes on canoes. By the time the chaos and fire subsided and many of them returned to assess their homes, they found nothing but debris. Gone with the fire were properties that took years and sweat to acquire. It was incredible. Nigeria isn't new to bizarre incidents and cases of arson by government officials.
Many still remember the case of Fela Anikulapo Kuti, whose Kalakuta home in 1977, was burnt down by what a commission of inquiry later described as 'unknown soldiers'. But what happened in Otodo Gbame on April 9, 2017, was unprecedented.
Thousands of residents of a community lost their homes in one swoop with no alternative accommodation provided by the Lagos State government. And not just that, two persons reportedly died in the process from police bullets. One of them was Daniel Ayer, a 25-year-old man, who left behind a wife and two children. Following his death, I met and interviewed Ayer's wife days after the incident. This was on the same day the Otodo Gbame case came up for hearing at a Lagos High Court after JEI filed a suit on the matter against the Lagos State government.
Though the court, months later, ruled in favour of Otodo Gbame victims, declaring their displacement unconstitutional and ordering the Lagos State government to resettle them, Ambode's administration appealed against the ruling. Final judgement on the matter is yet to be given. I had, before my interview with Ayer's wife, met and interviewed Fangnon at Igbosere court — my first encounter with him. He was one of those who came to witness the trial. He expressed strong views that day, saying it was an irony that Ambode, who committed terrible crimes against Otodo Gbame people, should be walking the street free when people who had committed far lesser crimes, are in jail.
Before the April 2017 destruction of Otodo Gbame, however, there had been a series of attacks or disturbances in the community which led to the death of some residents. Some Otodo Gbame residents blame the crises in their community on outside forces seeking to dispossess them of their land. Given its choice location, some Otodo Gbame residents suspected that some people, including land speculators, had set their eyes on acquiring their land. Among those suspected were the Elegushi royal family in Lekki, which had some of its members, HRM Oba Saheed  Elegushi, Olusegun Elegushi, Wasiu Elegushi, Anofiu Olarewaju Elegushi, and two others, Ogunyemi John, Joke Adebayo Chukwuma fingered by some members of Otodo Gbame community as revealed in a police report dated March 15, 2017, and signed by Assistant Inspector General of Police, C.K. Aderanti.
The suspects, based on a 2014 disturbance, were accused of arson, murder and forceful eviction of Otodo Gbame indigenes from their land. According to Aderanti's report, Hennu Solomon, the chairman of Otodo Gbame, said the community "engaged the services of an NGO (Centre for the Defence of Human Right and Democracy in Africa led by Fangnon) who came to their aid when virtually all security agencies failed them." Solomon was further reported as saying that "the NGO reported on their behalf the attack of 11th September, 2014 that led to the death of three members of their community to the commissioner of Police, Lagos State Command who directed the State CIID Panti Lagos to investigate which they judiciously did until the Elegushi family used (their) influence to transfer the case to FCIID, Alagbon Lagos, where those detained were released without prosecution."
Fangnon, who is the Secretary-General of the Centre for the Defence of Human Right and Democracy in Africa, in a separate police statement, admitted that his NGO wrote a petition in 2014 to the Lagos State police commissioner, informing him of the killing that took place in Otodo Gbame after thugs invaded the community. However, Aderanti, in his March 15, 2017 report, states that "the allegations of arson and murder leveled against Wasiu Elegushi and others in the alleged attack of 11th and 17th September, 2014, had been knocked out by the Department of Public Prosecution (DPP) in their report No. LSP/HOM/2015… dated 23rd April, 2016, wherein he was completely exonerated" and that "there is no evidence to either indict or link HRM Oba Saheed Elegushi, High Chief Olusegun Elegushi directly or remotely to any of the alleged attack".
Probably based on this report,  Fangnon was arraigned in court on December 12, 2017 and subsequently, including December 6 and 20 this year which I witnessed, for giving a false report. He was now a defendant as the police and counsels to the Elegushis sought to prosecute him based on the DPP report. Fangnon wasn't the only one as the police also charged Bamidele Friday, a resident of Otodo Gbame, along with him. They are now standing trial and were both in the dock on December 20 in Court 14 presided over by Mrs. Osinbajo. The case was later adjourned to January 14,  2019. Professor Akin Ibidapo-Obe, lawyer to Fangnon and Friday was however not in court at the December 20 sitting. When he arrived after the court sitting, Ibidapo-Obe filed a preliminary objection challenging "the competence of the institution of the criminal prosecution". He noted that "the prosecution failed/omitted to seek nor obtain the legal advice of the Lagos State Ministry of Justice as stipulated in sections 74 (1) (2) (3) of the Administration of Criminal Justice Law of Lagos State, 2011″.
In my conversation with Fangnon at the court premises on December 20, he told me the funny story of how, in December 2017, on the same matter, the magistrate (not Osinbajo) asked that he be remanded in prison. He was then taken to a holding centre in the court awaiting transfer to prison. When the time for him to be moved to prison came, a prison official who probably knew his antecedent asked him which of the prisons — between Ikoyi and Kirikiri — he would like to be taken to and Fangnon replied that since he already has an idea how Kirikiri looks, having previously spent time there when he was arrested by the police over a protest by retrenched maritime workers, he would prefer to go to Ikoyi. I could not but smile to this. That was how Fangnon and Friday were driven to Ikoyi prison. Friday said he and Fangnon spent two weeks at Ikoyi Prison and that while he was released on December 21, 2017, Fangnon was released the next day, December 22.
In all, I spent over six hours at Igbosere court on December 20, as the day's proceeding was longer than that of December 6. That included time spent waiting for Fangnon and his lawyer, Professor Ibidapo-Obe, after the court session. In-between the wait, I recalled the last time Fangnon and I visited Ibeju-Lekki, on August 4 this year, to meet with some residents of the area who claim that they are yet to be compensated by the Lagos State government which acquired their land where the Dangote refinery is currently being built. On our way back from Ibeju-Lekki, we witnessed a terrible accident that left its victim with a broken leg and arm, such that reminded me again how nasty life is. That day, Fangnon wore a suit atop a T-shirt with the picture of Gani Fawehinmi, the late radical lawyer, and the words "Our Hero Lives on" inscribed on it. He told me he knew Gani personally and that the lawyer's death is a huge loss to Nigeria. I feel so too.
Like Gani, Fangnon and his Centre for the Defence of Human Right and Democracy in Africa champions the cause of the poor and oppressed in the society and the number of people, former residents of Otodo Gbame who came to identify with him in court on December 6 and 20, in a sense, shows that some people appreciate his effort. They came, bearing a banner stating: "Genocide in Lagos: Otodo Gbame People Demand Justice!! Withdraw All Trumped-Up Charges Against Professor Maurice Fangnon!"
Amnesty International also considers Fangnon a brave man "risking everything to shine a light on injustice" and demanding that all charges against him be dropped.
A native of Benin Republic who has lived in Nigeria since 1981, after escaping the claws of Mathieu Kérékou, then military leader of his country for his activism, Fangnon has fought many battles in Nigeria and Benin. He says jokingly that while he ran to Nigeria for safety decades ago, he now freely visits his country, a way of asserting that he outlived his enemies as Kérékou, who quit power in 2006 after his third stint in the saddle, died in 2015. How Fangnon's current case will end is unknown but the man says he won't give up the battle for a better world. He considers the court case instituted against him by the police and Elegushi royal family a ploy by his "traducers and their agents" to silence him as they have "boasted that they will keep me personally occupied with legal cases and criminal exposure to the point of surrender" but says he cannot be cowed. "I will never give up, never. I will fight to the end," he says, in an unmistakably defiant tone.
Anthony Akaeze is a Nigerian freelance journalist
Opinion
AddThis
: 
Featured Image
: 
Original Author
: 
Anthony Akaeze
Disable advertisements
: 
target=_blank>Onslaught Against Fake News: Can We Trust Fact Checkers? By Ayobami Ojebode
One of the major worries which Nigeria faces as it approaches the 2019 elections is the widespread use of fake news by politicians and their aides. As a result, the federal government, scores of Non-Governmental Organisations, journalism schools, media organisations, and journalists' unions have waged a huge war against fake news in the country through campaigns and training.
However, the weak point in these campaigns and training is that they seek to promote a culture of fact checking among Nigerians, believing that if people fact-check, they would defeat fake news. But how much trust should we repose in a fact checker? Brazil provides a clue.
The Brazilians were warming up for their general elections when shocking news broke out: "Pope Francis sends emissary to former President Lula in prison". The emissary was said to have delivered to Lula a rosary blessed by the Pope as well as some comforting words in the Pope's own handwriting.
This bordered on the scandalous and the government of Brazil was alarmed. How could the Holy Father identify with a former president jailed for corruption and money laundering? Lula was in April jailed for 12 years. He had appealed for permission to contest the presidency again from prison in the October elections and the Brazilian Clean Slate law had been evoked to disqualify him. Meaning, though Lula was in prison, he was giving the government some measure of nightmare. In fact, from prison, Lula had continued to beat the ruling government in most opinion polls. It was thus rattling that the Pope would reach out with his blessings to someone branded as an enemy of state and current administration. 
Lupa, a Brazilian fact-checker swung into action. Lupa describes itself the Number One fact-checking agency in Brazil, and this may not be an empty boast. Being a Facebook partner, it has access to huge information and enjoys the respect of Brazilians. After ploughing the cyberspace back and forth, Lupa declared that the story of the Pope's emissary visiting Lula in prison was fake news.
As one would expect, insult and boycott descended on the websites that had shared the story in the first instance. But Lupa was wrong. Days later, the Vatican confirmed that a former consultant of the Pope did visit the jailed president and had with him a blessed rosary as well as the Pope's thoughts onsocial movements in Brazil.
How much trust should we repose in a fact checker? The Lupa story strongly suggests the need to exercise restraint in trusting fact checkers.
Two important questions should be asked before trusting a fact-checking organisation. First question: is this a solo fact checker or a partnership? Solo fact-checking sites are lone-ranging organisations that lack the roundedness of partnerships of fact checkers.
The importance of partnership has been grasped by fact checking organisations worldwide and this has led to the emergence of networks and collaborations. For instance, global partnerships are emerging such as the International Fact-Checking Network (IFCN) complete with codes of conduct for fact checkers. In Nigeria, we have dubawa.org that works with AfricaCheck, and has been nurturing partnership with media organisations in order to provide reliable fact-checking services to citizens and organisations. Dubawa.org takes a step further by inviting citizens to be its partners in the process of de-faking the society especially in electoral seasons. Facebook is also partnering with others for third-party fact-checking services in Nigeria. Such organisations in collaborations should attract greater trust than solo factcheckers.
Second question: is there a chance that the fact checker is biased? Often, we forget that fact-checking organisations are made of humans – not just of algorithms. In fact, probably only a few can contemplate the possibility of a fact-checking site being wholly set up to foster a hidden agenda. If politicians and their aides set up whole news website for the purpose of propaganda, why can they not set up a "fact checking" site for the same purpose? As a matter of fact, such an act would be in perfect alignment with politicians' declivity to discredit and dismiss as "fake news" every piece of information which does not massage their ego and support their ambition.
Training journalists and citizens to fact-check is offering them an incomplete package. There is the need to alert them to the possible existence of weak, mischievous or fake fact checkers, and equip them with that it takes to check the checkers.
Opinion
AddThis
: 
Original Author
: 
Ayobami Ojebode
Disable advertisements
: 
target=_blank>'Gan-Dollars', 'Snake In JAMB Office' And Seven Other Corruption Dramas Of 2018
From the dismissable to the downright jaw-dropping corruption-related incidents, this year has been no less dramatic. From snakes swallowing huge cash to vanishing generators and even monkeys, here are a few interesting corruption stories that trended in 2018.
The Mysterious 'Snake' That Swallowed N36million In JAMB Office
Nigeria more or less stood still in the month of February when news broke that a snake allegedly swallowed the sum of N36million from the office of the Joint Admissions and Matriculations Board (JAMB) in Benue State. According to the story, JAMB officials had visited the Benue State office to audit their accounts and discovered the malfeasance. The office clerk, Philomena Chieshie, who was in charge of the revenue generated by the state examination body, could not account for the sum of N36million generated by the state board. She disclosed that the money had been swallowed by a mysterious snake from her office. Not much has been heard of the case ever since.
And Monkeys Came For their Share Of The Millions Too…
While the seemingly outrageous news of millionaire snakes was trying to simmer down, another news broke that a certain monkey had swallowed N70million from the farm of the Chairman of Northern Senators Forum, Senator Abdullahi Adamu. In his remarks on the incident, Senator Shehu Sani, who spoke with newsmen after Senator Adamu was removed as NSF Chairman, said: "I think this country is becoming a huge joke. First of all it was the rodents that drove away the President and we now have snakes consuming about N36million, and you now you have monkeys".
NFCVB Boss, Thomas Adedayo, Arrested Over Theft Of Generator
When Thomas Adedayo resumed as Executive Director of the National Film and Videos Censors Board (NFVCB), many had high hopes for him. However, after several petitions on his high-handedness, Adedayo was eventually arrested for selling a generator belonging to the Lagos office of the Board. He was alleged to have broken the fence to gain access to the store where he carted away the Turban generator worth millions of Naira. Other items allegedly found in his house were plasma tv sets, computers and air conditioners, which were allegedly stolen from the central store in Abuja. He has also been accused of siphoning about N150 million belonging to the board running through cash lodgements in several accounts. Adedayo also allegedly sold official cars while converting other board's asset for his personal use. He has since been arrested while he is still being investigated at the Alagbon Police Station, Lagos.
Did NNPC Divert NLNG Funds To Pay Subsidy?
President Muhammadu Buhari's administration scored another low when it was confirmed that the state-owned Nigerian National Petroleum Corotation (NNPC) diverted NLNG funds amounting to N378billion to secretly fund fuel subsidy. This revelation brought to the fore how the current administration had been financing oil subsidy, which it had hitherto claimed as a scam. Aside that, the states and National Assembly were said to have never approved this payment, meaning the NNPC took a unilateral decision against the provisions of the Nigerian Constitution, to use the flush funds to pay for fuel subsidy. NNPC's GMD Maikanti Baru had written to the President to approve the usage of the NLNG dividend fund to shore up the depleting strategic fuel reserves, as the NNPC could not use its own funds. This had happened at the height of fuel scarcity in the country between December 2017 and January 2018. According to Baru, the NNPC took immediate action on the fund when it got express order from the National Assembly to urgently end the fuel crisis.
Meanwhile, the National Assembly came out to say it never approved the move, stating that the NNPC had said it would take action on the fuel scarcity but never informed it on how it intended to do it. The Presidency has been mum on the issue, while the Group General Manager, Ndu Ughamadu, has described it as a loan taken to save Nigeria from chaos.
NEMA DG And The N33billion Not Satisfactorily Accounted For
Mustapha Mahiaja, the National Emergency Management Agency (NEMA) boss, was indicted in the alleged mismanagement of N33billion North East Intervention Fund. The House of Representatives had called for his immediate sack after investigation revealed that the NEMA boss alongside some other government officials had mismanaged several funds meant for Internally Displaced Persons in the North-East. The House of Representatives Committee on Emergency and Preparedness Response also questioned the process of authorisation for the release of the N5.8billion fund for emergency food intervention in the North-East as well as N3.1billion emergency food intervention in the North-East in 2017 from the Consolidated Revenue Fund Account. Vice President Yemi Osinbajo had approved it when he was Acting President, but the House said the move contravened Section 80(4) of the 1999 Constitution as amended. The investigation revealed that the Nigerian Government lost the sum of N33billion due to Maihaja's mismanagement but the DG has come out to dispel this claim. According to him, NEMA never received N5.8billion according to the report but only got N800million, while other funds were paid to contractors.
Joshua Dariye And Jolly Nyame Get Conviction After 11 Years
Former governors of Plateau and Taraba states, Joshua Dariye and Jolly Nyame finally secured convictions for corruption-related cases concerning their activities as governors between 1999 and 2007. After 11 years on the case, Reverend Jolly Nyame was found guilty on 27 of 41 counts filed against him by the EFCC for criminal breach of trust by misappropriating the sum of N1.64bn. He was therefore convicted and sentenced to various terms, including a 14-year jail term, which will run concurrently. Barely two weeks later, Justice Adebukola Banjoko, who had convicted Nyame, also sentenced Joshua Dariye to 14 years in prison for criminal breach of trust and misappropriation of state's funds running into over N2billion. Just like Nyame, his case has been in court since July. Both have since appealed the judgement.
Fayose's Cat And Mouse Drama With EFCC
After enjoying years of immunity, Ayodele Fayose, former Governor of Ekiti State, finally submitted himself to the EFCC in his usual dramatic manner. With a blue shirt on which 'EFCC I'm Here' was inscribed, he showed up at the EFCC office immediately after the end of his tenure as Governor. He was accompanied by Nyesom Wike, Governor of Rivers State, and Femi Fani-Kayode. The EFCC had been impeded in trying him by the immunity clause Nigerian governors enjoy but now, he is set to answer the many cases that have been filed against him, particularly the N1.3billion he allegedly received from Sambo Dasuki through Musiliu Obanikoro in the run-up to his election victory in 2014. He has also been investigated for several contract scams while in office. In the end, he was charged with 11 counts on conspiracy and money laundering.
The 'Gan-dollar' Exposé
In perhaps the biggest corruption story of the year, Abdullahi Ganduje, Governor of Kano State, was seen in multiple videos collecting and pocketing dollars suggested to be bribe from contractors. The Governor has, however, denied the videos' authenticity, claiming they were staged by his opponents to tarnish his image. Jafar Jafar, publisher of the Daily Nigerian, who released the video, has also been sued. Days after, one of the national dailies, New Telegraph, named Ganduje its 'Governor of the Year'. President Muhammadu Buhari also described him as one of the best governors in the country when asked about the travails of the Governor. Meanwhile, there has been much back and forth in efforts by the state assembly over possible impeachment regarding the matter. A court in Kano State has also stopped the state legislature from going through with the process.
NFF's Salisu Yusuf Bribery Scandal
Salisu Yusuf, a 56-year-old assistant coach with the Nigerian Football Federation (NFF), secured a one-year ban, as well as a fine of $5000 after he was caught on camera making a bribery deal with undercover journalists who had posed as agents of football players interested in securing a place on the national team. He was said to have collected as much as $1,000 as bribe to feature the players in the team.
Corruption
DOCUMENTARY
AddThis
: 
Featured Image
: 
Original Author
: 
SaharaReporters, New York
Disable advertisements
: 
Aliko Dangote
It is election time again and Nigerians are eager to weigh the stewardship of elected officers with promises they made that got them the mandate they are serving out and decide whether or not they deserve another term. This clearly applies to Presidency Muhammadu Buhari who achieved a long-term ambition of winning the 2015 presidential election after three unsuccessful attempts.
On Friday, December 28, 2018, Buhari flagged-off campaign for his re-election in Akwa-Ibom but surprisingly, he was evasive of giving proper account of the mandate he was entrusted with three and half years ago. For the entire time he spoke at the political gathering, he bored Nigerians with the theatrics of the 2015 election period, failing to accept responsibility for his actions and inactions since his assumption of office.
Earlier that day, the APC had released the much-awaited presidential council list that will pilot the re-election bid of Buhari. The list, was however, marred with contradictions, as APC desperately browbeat notable Nigerians on its campaign council to fake a non-existent acceptance in the public.
It was evident that APC is struggling with questions on performance and believes it could easily wade-off perceptions on its severe and frustrating failures on all fronts with names like Alhaji Aliko Dangote on the presidential campaign council list. In plain term, APC tried to generalise failure by throwing the name of the accomplished businessman to cover the receding growth Nigeria has experienced under its management.
Aliko Dangote is everything but not a failure. The APC had sought to latch on the image of the Africa richest man to warm itself back into the mind of Nigerians but that was short-lived as it reversed itself less than 10 hours on the inclusion of Aliko Dangote on the presidential campaign council list.
This is not the first time APC is caught in name-dropping to paint a picture that Nigerians are still supporting it, and willing to throw their resources behind the re-election bid of Buhari. Recall that some farmers were recently credited for donating N1.7 billion to fund the campaign of Buhari. Even that have been shrouded in controversy as the identities of the donors remained unknown.
With APC frenzy for names, either fictious or imaginary, to augment its presidential campaign, something is quite clear and that is, APC has failed the performance test. The party is trying to dodge questions on why it deserves another mandate after blowing the trust reposed in it by Nigerians in 2015. APC is aware of Buhari's inept and lacklustre performance but wanted to hoodwink Nigerians into renewing his mandate with cooking up a non-existing support base.
The last three and half years under Buhari has exposed Nigerians to gross incompetence and ineptitude, the type never seen before in the country's post-independence history that brought the country to her knees. 
Nigeria is in a deep mess as both economic and social trend are at a descending order. Even Aliko Dangote was not spared from the poor handling of the nation's affair under Buhari as his fortune suffered unbelievable slump. How would APC be so desperate to attempt to railroad such astute and globally revered businessman to redeem its highly battered image?
It is unimaginable the numbers of Nigerians who have lost their jobs as factories continue to shut down under Buhari owing to unfavourable policies. Or the increasing threat to lives and properties as a result of insecurity and even worse, the classification of Nigeria as poverty capital of the World under Buhari, are something too critical for citizens to ignore. 
APC resort to cheap credibility and stampeding citizens into reinforcing failure betrays the horrifying tales and lamentations that dominate public discussions. The little gains recorded by successive governments were reversed with inconsistent and untenable approaches.
Corruption is now distinguished along party lines, with those having skeleton in their cupboard finding APC as an abode to evade the long arm of the law. APC have shattered expectations and desires of the people and it will be utterly wrong if not suicidal for any responsible citizen to repeat the same mistake that led Nigeria to this sordid state. 
As always, Aliko Dangote stood by the people and distance himself from the composition that orchestrated the pitiable plight facing Nigerians. He further demonstrated that more than anything, he is a man who value humanity and would never be part of any coalition that would prolong their sufferings. And more than anything, Aliko Dangote refused APC clever attempt to generalise failure.
 
Oke Umurhohwo is a Political Analyst and Strategist as well as a member of the PDP. He tweets from @stalyf
Opinion
AddThis
: 
Original Author
: 
Oke Umurhohwo
Disable advertisements
: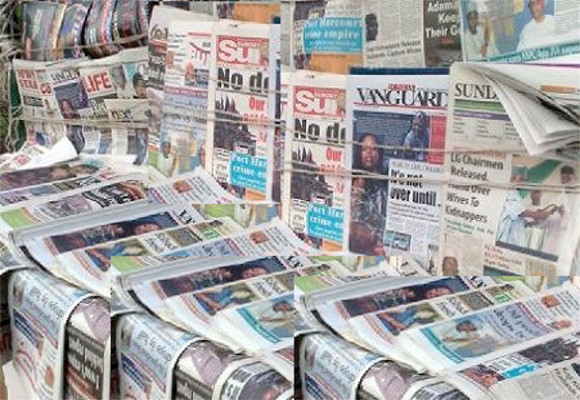 You can also check Sahara Reporters Newspaper Headlines Today