Sahara Reporters Latest News

Monday 31st December 2018

Sahara Reporters Latest News Today and headlines on some of the happenings and news trend in the Country, today 31/12/18

Read also Leadership Newspapers News Today Monday 31st December 2018
target=_blank>Politicians Hoarding Money To Buy Votes During 2019 Elections, Says Sowore
Omoyele Sowore, AAC presidential candidate, speaking at the ADF event in Akure on Sunday.
Omoyele Sowore, presidential candidate of the African Action Congress (AAC), says politicians are "hoarding money" to buy votes in the 2019 elections.
He urged the electorate to reject such propositions and vote the right candidates who will make the country great.
He spoke on Sunday at the Apoi Development Front (ADF) 2018 end of the year party held at Helena hotels in Akure, the Ondo State capital.
The AAC presidential candidate tasked the electorate to challenge those "money-bag politicians" interested in political offices with critical questions geared towards the growth and development of their areas.
According to him, the 2019 general election will determine if Nigerians are "ready for a revolutionary change that will birth a new Nigeria, or if they still want to continue experiencing the bad governance of both the All Progressives Congress (APC) and the Peoples Democratic Party (PDP)".
Sowore stressed that he is running for the number one seat of the country to correct the wrongs that have been made by past leaders, noting that politics should not be based on ethnicity or tribe.
"Let us always demand for what we want from these politicians anytime they come to us seeking our votes becuase we need development. I am not running for the seat of the presidency becuase I am from Apoi land, but becuase I am a good son of the community and I'm not ashamed to say that I am from Apoi land," he said.
"I urge us all to join hands together and vote for the person that would help and develop our country-home; someone who can give us schools, hospitals, electricity, and give our children free education. Our politicians, and mostly those in the APC government, are keeping money meant for the public and the development of this country because they want to use it to buy votes in 2019.
"These politicians are not giving you money, becuase they are keeping it to buy your votes, but the one that I would rather use to buy your votes, I will donate here for you to develop our Apoi land and the association."
Sowore, Publisher of SaharaReporters, commended the leaders of the Apoi Development Front (ADF) for their steadfastness, noting that their efforts have been able to promote unity.
He, however challenged the people to invest heavily in the community in terms of development, stressing that the government cannot do it alone.
Elections
Politics
News
AddThis
: 
Featured Image
: 
Original Author
: 
SaharaReporters, New York
Disable advertisements
: 
target=_blank>Nigerian Govt Names 114 Ex-Nigeria Airways Workers Erroneously Paid Severance Package Twice
The Nigerian Government has released the names of 114 ex-Nigeria Airways workers whose accounts were wrongly credited twice in the last verification exercise conducted in three centres across the country. 
The government, through the Aviation Union Grand Alliance (AUGA), observed that hundreds of the former workers were erroneously paid twice by the Accountant Genera, and while other banks cooperated with the office and the Central Bank of Nigeria (CBN) to revert the sums to the apex bank, United Bank of Africa (UBA) was yet to do likewise. 
A statement signed by Lukeman Animashaun, the AUGA President, and obtained by SaharaReporters, requested the affected staff to visit their banks by Monday as requested by UBA to correct the error in order to allow colleagues who were yet to benefit from the 50 per cent of the severance packages to do so immediately. 
He warned that if the beneficiaries refused to do as advised, they risked being delisted from future exercise. 
The statement read: "This is to passionately appeal to all our colleagues (about 114 people) who bank with UBA PLC and were mistakenly credited twice in the ongoing payment exercise.
"While other banks have identified the error and promptly effected the reversal, UBA PLC demands each beneficiary's directives. In view of this therefore, we kindly request all these 114 beneficiaries with mistaken double payments, who bank with UBA PLC, to please urgently go to their various UBA branches and effect the refund/reversal on Monday 31-12-18.
"We passionately appeal to all those involved to respond accordingly on Monday, 31st December 2018, in everyone's interest, and avoid being delisted from future exercise."
However, SaharaReporters observed that seven of the 114 listed among those who benefited from the double credit of their accounts were repeated twice in the names released by AUGA.
THE FULL LIST
Abbah J. H.Abdul Wahab Oladipo Williams Abudu Usman GaniyuAdedokun Tijani AjayiAdeleke Tawakalitu.Adenowu Titilayo EmmanuelAdenowu Titilayo Emmanuel repeatedAdesoba Matthew Folorunso Adesokan AdesolaAgoyi Sikirat BolaAjayi Lawrence IloriAjayi Olusegun IsraelAkhigbe Sylvanus OhikhokhaiAkinwale Fawsah Adebanke JokeAkpan Afaha OkonAlinous Peter ChimaAmbrose Asuwemhe OgunoboAnyincha Anthony OnyemaechiAribo Rotimi OlaitanAriyo Abimbola OmolaraArogundade Oluwatoyin AbimbolaAttah Merely OmoavighoAugustine JosephAugustine Uchenna OnwuzuilikeAzuh Monday OnyemaechiBalogun Ayinde ShakiruBasanya Emmanuel KehindeBernice Patricia AjuduaChinyere Mercy IhemerenduChizoba Rachel Thomas Anum.Christiana Adenola AtinukeDaniel Chukwudi NwagwuDebiko Ezemdi MurphyEbea Odianose FestusEbea Odianose Festus repeatedEbejue Onyenkwere Emmanuel Ekanem Bassey Effiong.Ekpenyoung Young Ogonna E.Ekuevugbe Owvori JohnsonEtokhana Joseph O.Famiyesi OluwoleFamous Cole Boyin GraceFamous Cole Boyin Grace repeatedFatima Mohammed SulaimanGabriel E/Ifeanyinchukwu OlomuGabriel E/Ifeanyinchukwu Olomu repeatedGeorge Nanzing KadunaIheme Rita R.Ikomi Roli TojuImala Vincent A.Irene AliohaIsa JantulluJoseph Ikechukwu JideonworJustina Albert ShuwaKalejaiye OladipoLydia BubaMariam SamboMarquis Babajide DavidMatapu JamesMatapu James repeatedMbachu ClementinaModebe Justina N.Mohammed T. AliyuMonday Jackson UdohMorenike Yusuf OyekunbiMrs Igbokwe Bernadette VictorMohammed MagawataMusa AhmedMusa IsaNdam DanladiNlemchukwu Roseline OgechiObilana Olabisi AbimbolaOdedina AdeOdedina Ade repeatedOde Samuel EjihOboh Boniface OnojaOgaga Onmiye Ogaga CletusOgbumuo LawrenceOgunbiyi Stephen AyoolaOgungbade Aruna AdesolaOlabisi Aina SanniOlogundudu Femi IsaiahOlubukunayo Yetunde AdelowoOmoniyi Barnabas O.Omotunde Oladipo IsaacOnyemalu John IkechukwuOpurum Joyce DattaOridota K.M.Osakwe Chukwuka AnthonyOsugbesan Sheila ModupeOsunnuyi Olufunmilayo S.Oyewo Muideen AdekunlePastor Awolola F.A.Patrick Sunday EtePaul A. NwanchukwuPlumptre Adesegun V. Roland NmakweSafiyanu Yahaya GumelSalami GaniyuSalihu HauwaS.M. MadakiSolomon Peter SunnuSolomon Peter Sunnu repeatedSoremekun Fatai AdisaTariye SubiThere's OkosunTobun Abosede IdowuTologbonshe Emmanuel OjoUdume Dan JamesUwangwu John C.Verah Uju OkogbaWobo Emmanuel TaibotYunusa ShalimaZakari Hassan
LABOR/WORKERS' RIGHTS
News
AddThis
: 
Featured Image
: 
Original Author
: 
SaharaReporters, New York
Disable advertisements
: 
target=_blank>From IPOB Women To Leah Sharibu, The Seven Most-Talked-About Human Rights Abuses Of 2018
#EndSARS rally in Abuja
Chritian-Girl-Not-Returned-Dapchi
Jones Abiri
IPOB Women Arrested
Deji Adeyanju
The 1999 Constitution of Nigeria (amended) guarantees a number of rights, which every citizen of the country is expected to enjoy. However, sometimes, for the average Nigerian, these rights are not fully guaranteed.
The year 2018 has been a year of major records in human rights-related incidents. Here are seven of those that made the biggest headlines.
More than 100 Schoolgirls Kidnapped in Dapchi
Until this year, the abduction of hundreds of school girls from Chibok, Borno State, in 2014 was Boko Haram's most-talked-about mass kidnap. But this yera, the group launched another attack on a school in Dapchi, Yobe State, and made away with more than 100 students. All of the schoolgirls have been released, with the exception of Leah Sharibu, who has remained in the custody of the insurgents for refusing to renounce her Christian faith.The terrorists have vowed to keep her as a slave. Aside a phone call by the President to her family and a visit by a government delegation, it is not exactly sure if the Nigerian Government is very serious about securing Leah's freedom.
Army Opens Fire on Shi'ites during Religious Procession
As hundreds of members of the Islamic State in Nigeria (IMN) held a procession in Abuja during their annual 'Arbaeen Symbolic Trek' in October 2018, a clash occurred between the Shiites and security operatives. In retaliation, soldiers opened fire on the protesters, resulting in the deaths of scores of persons.
#EndSARS Movement Secures Major Win
After too many reports of incidents showing the high-handedness of the Special Anti-Robbery Squad (SARS) department of the Nigeria Police Force, the Nigerian Government bowed to pressure from its citizens who had launched a major #EndSARS movement championed by Segun Awosanya. A reform was announced for SARS, which also included a name change — the Federal Special Anti-Robbery Squad (F-SARS).
Jones Abiri Released
Jones Abiri, a journalist from Bayelsa State, finally secured his release after two years of languishing in the custody of the Department of State Security Services (DSS) without trial, over accusations of working with militants in the Niger Delta region. His case was dismissed and he even got to sue the Nigerian Government as well as the DSS for damages.
#Justice4Ochanya
Ochanya Elizabeth Ogbaje, aged 13, suffered sexual abuse in the hands of her 52-year-old uncle, Andrew Ogbuja, a lecturer in the Department of Catering and Hotel Management of the Benue State Polytechnic, Ugbokolo, and his son, Victor Ogbuja. Ochanya's case came to light when she became sick and subsequently died of Vesicovaginal fistula (VVF) at the Benue State University Teaching Hospital, Makurdi. Ochanya represents other victims of sexual abuse who are yet to get justice.
Illegal Detentions
With the most recent example being Deji Adeyanju, Convener of Concerned Nigerians, a host of Nigerians have been guests of the illegal detention by security agents across the country. Other examples include Tope Adeyemi, who was arrested during a raid in his community on his way back from a vigil. He spent weeks in detention before he was eventually released. Journalists were also not spared. Some examples include Segun Onibiyo, Samuel Ogundipe, Tony Ezimakor, among others. Also, supporters of Omoyele Sowore's African Action Congress (AAC), were harassed and arrested during a peaceful protest in Lagos to demand the release of six of his party members who were arrested while pasting campaign posters. A journalist who was covering the incident was also severely beaten and his camera seized.
IPOP Women Protesters Arrested
For marching in support of Biafra, more than 30 women affiliated to the proscribed Indigenous People of Biafra (IPOB) were tear-gassed, loaded into trucks and whisked off to prison. After more than 24 hours during which they were refused visits by family members, the Police moved to charge them to court for "unlawful assembly".
Free Speech
Human Rights
DOCUMENTARY
AddThis
: 
Featured Image
: 
Original Author
: 
SaharaReporters, New York
Disable advertisements
: 
target=_blank>Anti-Corruption Situation Room Tasks Stakeholders On Monetisation Of Electoral Process
As the 2019 elections approach, a special session of the Anti-Corruption Situation Room (ACSR) has identified over-monetization of the election process as a major challenge to a fair and seamless electoral process.
At a parley held in partnership with the Transition Monitoring Group (TMG), National Orientation Agency (NOA), Technical Unit on Governance and Anti-Corruption Reforms (TUGAR), Premium Times Centre for Investigative Journalism (PTCIJ), and the African Centre for Information and Media Literacy (AFRICMIL) with the support of Strengthening Citizens Resistance against Prevalence of Corruption (SCRAP-C), the gathering said the increasing desperation during party primaries and elections, as well as alleged inducement of judicial officers should be monitored by the Department of State Security Services (DSS), the Economic and Financial Crimes Commission (EFCC) and the Independent Corrupt Practices and Other Related Offences Commission (ICPC).
In attendance were Olanrewaju Suraju, Chair of HEDA and Chairman of the occasion; Dr. Garba Abari; Director General, National Orientation Agency; Dr Abiola Akiode-Afolabi, Chairperson of the Transition Monitoring Group (TMG); Ebenezer Shogunle, Deputy Commissioner of ICPC; Eze Nwagwu Chair of Say No Campaign; Chido Onumah, Executive Director, AFRICMIL; Tony Ojukwu, Executive Secretary, National Human Rights Commission; Samson Itodo, Executive Director of YIAGA, media organisations and Civil Society Organisations.
A communique signed by Olanrewaju Suraju and Dr. Abiola Akiode-Afolabi, averred that Civil Society Organisations (CSOs) should establish partnership and engage with religious institutions and the media to embark on a citizen's awareness campaign on the implications of vote buying/selling.
In his statement of support, Abari recognised the efforts of HEDA and its partners in engaging with other CSOs and government agencies to improve citizen's participation in governance and political space. He noted that the meeting couldn't have come at a better time than the approaching election period and, essentially, everyone is a stakeholder in the election process.
He expressed worry that elections are increasingly getting transactional due to the quality of candidates emerging through the electoral process, noting that power is sometimes only available to those with the deepest pockets, which he said is an infringement on the sanctity of the electoral process.
Citing examples from the Anambra, Ondo, Ekiti and Osun, he noted that the issue is far complex than just appealing to people on TV and social media, and appealed for partnerships between CSOs to be sustained and more vigilance.
Itodo from YIAGA spoke on 'Mobilising Political Parties, Actors and Electorate for Vigilance against Menace of Vote Trading' and the second speaker, Ebenezer Shogunle of ICPC, spoke on the 'Challenges of Dealing with Political Corruption – Perspective from ICPC'. After the presentations, participants deliberated on and interrogated the positons of the speakers.
Several points were raised including the influence of poverty on voting decisions, as well as the role of stakeholders in ensuring transparency in the electoral process.
Elections
Politics
News
AddThis
: 
Featured Image
: 
Original Author
: 
SaharaReporters, New York
Disable advertisements
: 
target=_blank>NCAA Suspends Charter Operator's Certificate For 180 Days Over Violation Of Regulations
The Nigerian Civil Aviation Authority (NCAA) has sanctioned four airlines over violation of regulations and non-training of personnel as required by the airlines.
The regulatory agency said the sanctioned airlines include scheduled and non-scheduled operators, and were fined between N1.5million and N2million each for the violations.
While, the regulatory body refused to name the airline whose Air Operators' Certificate (AOC) was suspended for 180 days, investigation revealed that the airline in question may not be one of the scheduled operators, as all the scheduled airlines are still in operation.
However, there are up to 70 non-scheduled operators, including helicopters, in Nigeria.
A statement by Sam Adurogboye, the General Manager, Public Affairs of NCAA, noted that the operators were sanctioned for various degrees of violations.
According to him, during a spot inspection carried out by NCAA Aviation Safety Inspectors (ASI) on the operators, a number of deficiencies, including non-implementation of training programmes of maintenance personnel as required, irregularities concerning helicopter flight identification, deliberate violation of the regulations, performing maintenance programmes without necessary approval and using outdated manual, were discovered.
He hinted that all these findings were found to be in violation of the regulations.
To act as a deterrent to others, Adurogboye said the various operators were issued fines ranging from N1.5million to N2million, while the operator involved in deliberate violation of the regulations had its Air Operators' Certificate (AOC) suspended for 180 days.
He added that NCAA had ensured that the affected personnel in question in the employment of one of the airlines were trained accordingly and assured that it would not treat issue of safety and compliance with regulations with levity.
"NCAA wishes to re-assure all stakeholders that it will continue to ensure that Standard Operating Procedures (SOPs) are strictly followed. The Authority expects strict compliance with the Nigeria Civil Aviation Regulations in the future and violations will be viewed seriously," the statement read.
Business
News
AddThis
: 
Featured Image
: 
Original Author
: 
SaharaReporters, New York
Disable advertisements
: 
target=_blank>Presidency And Obla's Panel Of Illegality: Setting Another Bad Precedent By Chris Steven
When recently the Special Presidential Investigation Panel for the Recovery of Public Property (SPIP), headed by Okoi Obono-Obla, said it had submitted some 39 names of alleged treasury looters to the Nigerian Immigration Service to prevent them from escaping investigation and prosecution for alleged criminal acts not few Nigerians were taken aback.
The reason is simple- those who were surprised by the submission of the list and perhaps the intention behind could not but wonder what power does the panel has to arrogate such huge task to itself.
Discerning Nigerians have asked if this the panel has the powers to determine, who is corrupt or not? What basis or criteria did it use to determine the corrupt persons it has so identified? The other point is, even if the panel was mandated to investigate certain persons, how does one situate its powers to forward such names, straight from its stable to the immigration? Just how possible is that? Crass impunity!
What however remains is that it is still not clear where Obono-Obla' panel derives its strange powers to arrest, seize property and prosecute public office holders under investigation and even put them on travel ban.
But such powers are certainly not derivatives of the Act that forms the basis of the panel.
The panel was set up pursuant to the Recovery of Public Property (Special Provisions) Act of 1983.  In the Act, there is no line that empowers the panel to arrest any suspect. In fact, the word 'arrest' does not feature in the Act.
But as it has been rightly observed by critical minded Nigerians, the chairman of the panel is not only turning the laws of the land on their heads, he is also through the panel violating other Nigerians fundamental human rights.
There have also been several allegations that the panel chairman uses the panel to settle score and for personal vendetta. And truly, there are evidences to support this. 
The recent travel ban that he issued using the Nigerian Immigration Services is a near home example.
Also, the travails of Tumsah brothers in the hands of Obla's panel are crystal clear examples.
Recently, his panel arrested Hope Uzodinma, the Senator representing Orlu Senatorial District of Imo State, for alleged corruption.
As it has been observed and argued by many Nigerians that Obla's qualification and competence as a lawyer are questionable, he has demonstrated so in Tumsah brothers case and Uzodinma's arrest.
Or could it be that the panel chairman is power drunk. But whatever his motivations, he is doing more harms or damage to the image of the administration that he represents.
Uzodinma's arrest was in spite of a court ruling stating that the panel can only investigate alleged corruption cases, but lacks the powers to prosecute suspects or confiscate assets.
Obono-Obla had 'boasted' to newsmen after the arrest that his panel "arrested" Uzodinma at the Abuja Airport on Sunday, after the lawmaker had evaded them for a long time.
Uzodinma was later released midnight on Sunday, but he told journalists that he was not arrested, but rather was being set up by the Imo State Governor, Rochas Okorocha.
But Obono-Obla insisted that Uodinma was arrested and was only released partly because "we do not have a detention facility".
Speaking on Uzodinma's arrest, Obono-Obla said: "The man was arrested. He was arrested, yesterday, (Sunday) at the airport about 8:30 pm by our operatives and he was kept there till about 12 midnight before he pleaded that he should be allowed to go and we conceded because we don't have detention facility."
Obono-Obla said his committee allowed Uzodinma a one-day respite because he complained that his blood pressure was high, and "we don't want him to die".
"If he fails to report tomorrow (Tuesday), then we will take it up," he said. But that was the last we heard, perhaps, the power drunk chairman has allowed common sense to prevail.
Does the panel has power to arrest and prosecute?
The laws are clear about the government agencies that have powers to arrest and prosecute. In this case, the EFCC and ICPC readily comes to mind.
For Obla's panel the law is also not ambiguous about it's duties and limits.
The Recovery of Public Property Act confers three powers on the panel, namely: the power to issue search warrants, the power to search properties under investigations, and the power to avoid artificial and other transactions.
The Act, however, made it clear that the panel can exercise its powers only when a court of competent jurisdiction gives it the go-ahead.
This, the panel had done without recourse to the court in the first instance in the case of Tumsah brothers.
The Act also empowers the panel to investigate someone who is not a public officer, but who is "related to, or otherwise connected with a public officer (and) appears to have acquired assets far in excess of any income from his known or ostensible means of livelihood".
In a recent judgment, a five-man panel of Appeal Court justices, led by Hussein Muhktar, ruled that the presidential panel on asset recovery "cannot clothe itself with the clothes not given to it by the Act that established it"."The provision of the Act is unambiguous and not confusing. The powers of the panel are to conduct an investigation on any officer who has corruptly enriched himself of breached the code of conduct. No power or authority is conferred on the panel to prosecute offenders," Justice Muhktar ruled.
"It is not clear then, on which authorisation or legislation the Obono-Obla-led panel is relying on to arrest suspected corrupt public officials, or to detain them" writes Kingsley Obiejesi of ICIR in a recent article questioning the power of the panel.
In the case of Garba versus University of Maiduguri (1986) 1NWLR (Pt 18) 550, the Supreme Court ruled that, "The offences for which the appellants were undoubtedly held liable by the board and panel include looting, arson, destruction of property and indecent assault. These are offences under the penal code or criminal code and therefore are triable only by regular courts of law.
"Neither the investigation panel, which investigated these serious charges, nor the disciplinary board of the Senate, which considers its findings, is a court of law. Neither was competent to adjudicate on matters connected with the rights of the appellants once the allegations include crime…"
In essence, once a person is accused of criminal offence, the court affirmed that he must be tried in a court of law. No other tribunal, investigating panel, or committee is vested with such powers to make pronouncement on criminal matters regarding an individual except a court of competent jurisdiction.
Thus, on this, it is clear that the Obono-Obla panel is usurping the powers of the court and arrogating to itself, the authority it does not have. Government appears to be taking its fight against corruption to a rather ridiculous level and needs to be told it is strangely stepping out of legal and constitutional lines. That panel cannot suffice for the court and it is a no-brainerChris Steven, writes from Abuja.
Opinion
AddThis
: 
Featured Image
: 
Original Author
: 
Chris Steven, Abuja
Disable advertisements
: 
target=_blank>On Day 3 Of Siege, Police Fire Tear-Gas Canisters Into Melaye's House
As the siege enters the third day, policemen keeping vigil at the house of Senator Dino Melaye in Abuja fired tear-gas canisters into his compound on Sunday.
The policemen were said to have fired several shots of the canisters with the view to forcing out the senator, whom they believe is hiding inside the building.
Officers of the Nigerian Police Force had invaded the house of the senator on Friday to effect his arrest over allegations he was involved in the shooting of an officer in July 2018.
See Also
Police
JUST IN: Melaye Refuses To Come Out As Police Invade His House In Abuja
0 Comments
2 Days Ago
Electricity supply to his house was also cut off on Saturday.
See Also
Police
Police Cut Power Supply To Dino Melaye's House
0 Comments
1 Day Ago
It was gathered that neighbours living within the area were not spared, as many of them inhaled the tear-gas, and had difficulties breathing. The entire atmosphere was also said to have been enveloped in thick smoke emanating from the house. The incident has led to confusion in the area.
The Police have blocked the entire Shanga Street in Maitama, where the house is located, and prevented many residents from gaining access to their houses. Residents of the area have decried the presence of the policemen, stating that it is an affront on their fundamental human rights. Both human and vehicular movement in the area have been restricted, as only residents with proper identification are allowed into the area.
The house directly behind Melaye's has also been taken over by the Police in the attempt to prevent him from escaping through the fence. Journalists covering the siege were chased away from the area.
The lawmaker's brother, Moses Melaye, had raised the alarm that the Police may have perfected a plan to plant ammunition in the house to implicate him.
At the time of this report, the whereabouts of the senator could not be ascertained, but he has promised to surrender himself to the Police.
Human Rights
Police
Politics
News
AddThis
: 
Featured Image
: 
Original Author
: 
SaharaReporters, New York
Disable advertisements
: 
target=_blank>Buhari Temporarily 'Reunites' With Tambuwal In Honour Of Late Shagari
President Muhammadu Buhari signing the condolence register in honour of Shehu Shagari
For the first time in a while after their political separation, President Muhammadu Buhari and Aminu Tambuwal, Governor of Sokoto State, were pictured together as they paid their last respects to the memory of former Nigerian President Shehu Shagari.
Shagari died on Friday at the age of 93 after a brief illness. He was buried on Saturday in Shagari town in Sokoto.
Buhari visited Sokoto on Sunday to pay a condolence visit to Shagari's family.
    
During the visit to Sokoto, the president and the Sokoto Governor were pictured together engaged in a conversation.
The President also signed the condolence register opened in Shagari's honour and prayed for the repose of Shagari's soul. He also prayed that Almighty Allah would comfort the family.
On August 1, 2018, Tambuwal had announced his defection from the Buhari's All Progressives Congress (APC) to the Peoples Democratic Party (PDP), saying: "The situation of our country especially the economy and security is getting worse. People are being killed in Zamfara on daily basis. The situation of the common man is very precarious. That is why we decided to join forces with other progressive Nigerians to get a new competent leadership that can deliver the goods and rescue the country from the current hardship."
Politics
News
AddThis
: 
Featured Image
: 
Original Author
: 
SaharaReporters, New York
Disable advertisements
: 
target=_blank>Small Changes That Can Improve Budget Performance In Nigeria By Miebara Jato
Some federal lawmakers in the opposition Peoples Democratic Party (PDP) jeered the president when he presented the 2019 budget on Wednesday. The lawmakers later explained they'd booed the president because the implementation level of the 2018 budget is poor.
The lawmakers making budget performance the crux of their anger may sound as dubious as it is childish, but it didn't make any less serious the challenge of poor budget performance. Nigeria had posted every other year a budget performance below average, and this should concern all Nigerians in all political parties.
The factors that contribute to these poor budget performances are neither abstract nor far-fetched. As Itaobong Etim pointed out in his indicting January op-ed in The Nation: "It is the insincerity and propensity towards profligacy that make our budgets to be designed in a way that makes their effective implementation difficult." He went further to argue that corruption and the dependence on oil revenues are making it difficult to achieve set objectives. The other culprits he listed includes, extra-budgetary spending, poor revenue collection and remittance, defective procurement processes, poor administrative monitoring and weak legislative oversight.
The factors are apparently many and deep. But there are also policy and legal frameworks that can be applied to deliver an above average budget performance.
Though, when it comes to solutions, budget experts and pundits usually propound somewhat maximalist changes. Yes, budget is a complicated stuff and could be tough to tackle, but sometimes simple changes can make a big difference. Here are some simple changes that can improve budget performance:
First, the executive must ensure timely presentation of the appropriation bill for legislative consideration, at least three months to expiration of the operational fiscal law. That way, legislators will have a full three months to exhaustively deliberate and pass the fiscal bill for presidential assent.
Second, reduce the overwhelming bureaucracy in the budget process by scraping the Ministry of Budget and National Planning and transfer its budget preparation and monitoring functions to the Office of Budget of the Federation in the presidency.
Third, improve the transparency in the budget process by empowering the director general, Budget Office of the Federation the sole authority to add or subtract from the budget before and during legislative consideration. This way, issues of budget padding and tinkering of figures can be minimised. Among other benefits, this would lead to transparency in budget preparation and a stricter presidential monitoring. And, of course, the person to be held responsible for the contravention of budget padding would be open secret.
Fourth, ensure that all MDAs (including self-funded) must have their annual budget submitted through the Office of Budget of the Federation and presented for legislative approval by the president along with the annual budget. This entails deepening and consolidating the requirements in the recent presidential directive on this matter. If government fails to rein in the excess of these self-funded agencies, they'll eat our resources for infrastructure for lunch.
Fifth, ensure that every capital project in the budget have an Executive Timeline requiring the ministers in charge to submit a memo to the Federal Executive Council (FEC) for deliberation and approval of funding. This would ensure that all capital projects in the budget have an opportunity to be laid for FEC consideration within that budget's lifetime. 
Sixth, the need for monitoring of public sector expenditures. One way to achieve this is to establish an Audited Single Expenditure (ASE) Account managed like the Treasury Single Account (TSA) warehoused in the Office of the Auditor General of the Federation. This platform will enable the government to monitor all current and capital expenditures from N1 to N100 zillion. The platform would provide real time information of every payment made by MDAs to forestall extra budgetary expenditures.
Seventh, a proactive war on corruption by ensuring a periodic, regular and compulsory declaration of assets by public officials. This includes attaching evidence of annual asset declaration as part of requirement for promotion in the civil service. And a law or an executive order for a compulsory annual declaration of asset of appointed and elected public office holders is put in place and enforced.
Eighth, strengthen transparency in revenue collection. Earlier this year, a forensic audit by KPMG reveals more than N8 trillion was not remitted to government by Government Owned Enterprises (GOEs). Government must be serious in its directive for MDAs to enroll in the TSA and the Government Integrated Financial Management Information System (GIFMIS). 
Last but not least is to diversify the country's revenue sources to divorce the country from the volatilities in the international crude oil prices. In this regard, continuous improvement in the ease of doing business in order to grow the small and medium enterprises (SMEs) in the country, as well as attract foreign direct investment is essential.
In tweet summary: revenue leakages, limited revenue sources, corruption, and bottlenecks are the fundamental challenges that requires urgent attention and strategic reforms.
Now, I understand that federal budget is complicated and there are really no quick fixes. Achieving full budget implementation obviously is way more daunting than I'm making it appear. But as Winston Churchill famously said: "To improve is to continuously make small changes".
Miebara Jato, an Instructor at the Nigerian College of Aviation Technology, Zaria sent this via elvis_jato@yahoo.com
Opinion
AddThis
: 
Featured Image
: 
Original Author
: 
Miebara Jato
Disable advertisements
: 
The Igbo apex sociocultural organisation, Ohanaeze Ndigbo and the Movement for Actualization of the Sovereign State of Biafra (MASSOB), yesterday alleged that military's Operation Python Dance 3, which commences on January 1, 2019, was primarily designed to intimidate the people and rig the forthcoming general elections. Chief of Army staff, Gen. Tukur Brutai had on Friday in Borno announced that the operation, otherwise known as "Egwu Eke 3" will commence across the country because of security challenges in some parts of the nation. But Ohanaeze and MASSOB berated the military for the exercise saying that it was designed to annihilate the people of south east and rig the general elections.
They urged the military to take the Egwu Eke 3 to places in the country where there are security problems as, according to them, there was no security challenges in Igbo land to warrant the exercise in south east. Speaking to Sunday Telegraph in Abakaliki, National Publicity Secretary of the Igbo socio-cultural organisation, Comrade Uche Achi Okpagha said: "The Federal Government has lost touch with currency, they have just lost initiative. We have lost a lot of soldiers, the recent one is very shameful and they are talking of Python Dance in the south east where there is no violence." MASSOB, on its part, alleged that the exercise which it also said had been on in Igbo land was aimed at annihilating the people. But security experts, yesterday, said Operation Python Dance 3, as a psychological deterrence, will make some impact when launched.
One of such experts is the President of Association of Industrial Security and Safety Operators of Nigeria (AISSSON), Dr. Onah Ekhomu, who noted that the launch of Python Dance 3 will add credence to the country's deplorable security system. According to him, though the Operation Python Dance 3 is not going to do anything special; but it's a strategy in deterring crime in a country like Nigeria and others. "Let's not be confused or weary with the semantics. What the military is trying to do is to announce its presence in that locality. It's not as if they are going to collect more intelligence, or come up with better equipment. "They just want people to know that they are around and that will prevent some people from committing crime or planning crime.
That's why they announce it and made it public so that people will know about their operations there. "In the security, it's said that the strategic security starts with psychological deterrence. Everybody is scared of America because of psychological deterrence. It's not as if when anybody musters courage to attack America, he can't successfully attack it, but America's psychological deterrence has put fear into people."
Politics
New Telegraph Newspaper
News
AddThis
: 
Featured Image
: 
Original Author
: 
Chijioke Iremeka and Uchenna Inya
Disable advertisements
: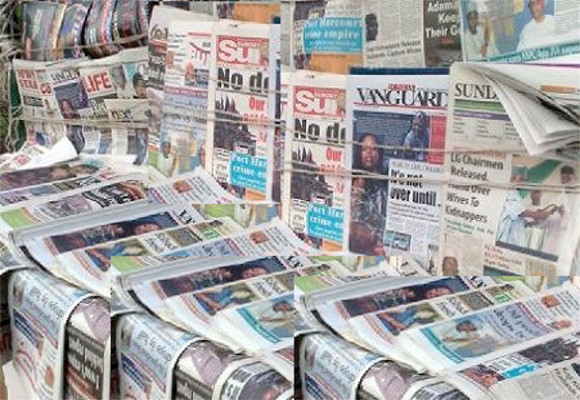 You can also check Sahara Reporters Newspaper Headlines Today