Sahara Reporters Latest News

Sunday 23rd December 2018

Sahara Reporters Latest News Today and headlines on some of the happenings and news trend in the Country, today 23/12/18

Read also Leadership Newspapers News Today Sunday 23rd December 2018
target=_blank>NAHCO Gets Four Managing Directors In 16 Months As Yakubu Resigns
NAHCO
NAHCO
Nairametrics
Idris Yakubu, Managing Director of the Nigerian Aviation Handling Company (NAHCO) Plc, has resigned his position.
A statement by Tayo Ajakaye, spokesman of NAHCO during the weekend, disclosed Yakubu's resignation and announced the appointment of Mrs. Olatokunbo Fagbemi as the new Group Managing Director.
Ajakaye noted that Fagbemi's appointment was announced in a notice to the Nigerian Stock Exchange (NSE) by the Board of Directors of the company.
By the new appointment, NAHCO has had four Managing Directors in 16 months.
Yakubu was appointed in November 2018. Before his appointment, the ground handling company had two Managing Directors in 2017 alone. Its German Managing Director, Norbert Biederman, was given the boot on August 31, 2017, after a protracted crisis.
The company immediately announced the appointment of one Mrs. Folashade Ode in acting capacity, following the exit of Bielderman. However, 10 weeks after Ode's appointment in acting capacity, the board of the ground handling company replaced her with Yakubu in November. Yakubu, a former banker, was recently confirmed as a subsisting Managing Director in July 2018, after eight months in the saddle.
However, five months after his confirmation, Yakubu was reportedly sacked by the board due to internal politics among top management staff. At the time of filing this report, the reason for his leaving his appointment was not immediately known, but sources close to the company said it may not be unconnected with the dwindling fortune of the company whose shares in the Nigeria Stock Exchange (NSE) had nosedived in recent months.
As at last Monday, its shares had dropped to N3:65k per unit, compared to Skyway Aviation Handling Company (SAHCO), its competitor in the ground handling business whose shares are currently selling at N4:65k. SAHCO has also absorbed most of NAHCO's clients in the past one year.
According to Ajakaye, Fagbemi's appointment became effective December 20, 2018 and was aimed at driving the new group structure announced by the company.
All NAHCO's subsidiary companies, including NAHCO Free Zone (NFZ), Nahco Energy and Power (EPI) and Mainland Cargo Options Limited (MCO), would report directly to the GMD.
The statement described Fagbemi as a thoroughbred Aviation Management Professional and a management turnaround expert with International Air Transport Association (IATA), Airports Council International (ACI) and the International Civil Aviation Organisation (ICAO) Certifications.
The statement read: "The new GMD will focus on improving customer experience, drive stakeholder value, enhance shareholders' investment in the Company, integrate and close monitoring of the activities of the subsidiaries to create synergies and better returns on capital.
"Fagbemi, would, in the immediate, have the task of repositioning the company, maintaining industrial harmony, energising the staff and improving stakeholder relationships and values. She is also expected to coordinate and drive the new audacious, bold and challenging initiatives that will establish NAHCO Plc as the leading ground handling company in West and Central Africa in the shortest possible time.
"Fagbemi is one of the few African women to have achieved the highly rigorous standards for expertise in the field of airport management including aviation ground handling and facilitation. In addition to the IAP Certification, Fagbemi holds a Master's Degree in Business Administration from IESE ("Instituto de Estudios Superiores de la Empresa") University of Nevara, Spain. She also holds a Bachelor's Degree in Pharmacy from the University of Ibadan. She also attended Maryhill Convent School Ibadan, Queens School Ibadan, International School Ibadan, Harvard University USA and Cranfield University, UK.
"Fagbemi holds Certificates in Air Transport Management, Airport Commercial Revenue Development, from the Cranfield University, UK. She is a holder of Certificate in Leaders in Development Infrastructure in an Emerging Economy from Kennedy School of Government (KSG), Harvard University. She has facilitated several training programmes for Airport Council International (ACI), several airlines, ground handling companies and the Nigerian Civil Aviation Authority (NCAA), etc.
"An alumnus of the Lagos Business School, Fagbemi has had the privilege of working and training in various aspects of Airport Management, Passenger Handling, Ramp Handling and Cargo Handling at; Dubai International Airport, Changi Airport Singapore, Murtala Muhammed International Airport Ikeja, Hartsfield Jackson Airport, Atlanta and Dallas Fort Worth Airport amongst others. She has hands-on Consulting, Business Advisory and Financing expertise having worked with several ground handling companies, Civil Aviation Authority in Nigeria, Gambia and Sierra Leone. 
She has attended several International Civil Aviation Organization (ICAO), International Air Transport Association (IATA), IATA Ground Handling Council (IGHC), Airports Council International (ACI) courses and seminars. Before her appointment as GMD NAHCO, she has hands on consulting, Business Advisory and Financing expertise, having worked with several ground handling companies, Civil Aviation Authority in Nigeria, Gambia and Sierra Leone.
"Fagbemi has attended several International Civil Aviation Organisation (ICAO), International Air Transportation Association (IATA) Ground Handling Council (IGHC), Airports Council International (ACI) courses and seminars. She served as an Executive Director with Springfountain Infrastructure Limited and the Managing Director of the African Aircraft Leasing Company (AALC)."
News
AddThis
: 
Featured Image
: 
Original Author
: 
SaharaReporters, New York
Disable advertisements
: 
target=_blank>Journalists Cautioned Against Promoting Violence In Election Reportage
With less than two months to the 2019 general election in Nigeria, media practitioners have been urged to guard against publishing news stories that could fuel violence in the country.
The advice was given at a workshop organised by the International Press Centre, Lagos with the support of European Union Support for Democratic Governance in Nigeria (EU-SDGN).
In his welcome remarks, Lanre Arogundade, Director of the International Press Centre, Lagos, stated that the workshop is to equip journalists with requisite skills to report professionally in the pre-election, election and post-election period. Arogundade also added that the media have a critical agenda-setting role to support the integrity and credibility of elections.
"Not only must they take a lead role in ensuring that citizens are adequately mobilized, they should also ensure that the entire process is open to public scrutiny. In the above regard, it is expected that this training will help participants to understand and imbibe the principles of fairness, diversity and objectivity in reporting the electoral process," Arogundade said.
Speaking at the workshop, Professor Muyiwa Popoola of Ajayi Crowther University, Oyo State, noted that the media, through the use of language and choice of words in reportage, tend to promote violence. He, however, urged journalists and media organisations to be sensitive in publishing reports that have the tendency of resulting in conflict as the 2019 elections approach.
"Conflict-sensitive reporting gives the media the latitude to cover all aspects of a conflicting issue, but it emphasises and gives prescriptions on careful use of language in reporting the conflict, in such a way that the reportage will focus on de-escalation of the conflict, rather than the escalating of conflict to violence and disorderliness," he said.
Highlighting various ways media organisations can avoid fueling conflict with their reports, the Professor of Journalism, Communication and Media Studies said: "Avoid only reporting what divides the sides in the conflict-prone political environment. Endeavour to ask the opposing sides certain questions that may reveal common ground, so that the report could focus on interests or goals shared by opposing parties, maintain balance and be temperate in the use of words".
Other facilitators at the workshop included veteran journalist, Taiwo Obe, who advised journalists to be content developers and urged them to acquaint themselves with digital media tools. David Ajikobi, Head of AfricaCheck Nigeria, also urged journalists to verify every information before publishing, especially in this pre-election period.
He added that the work of media organisations go beyond publishing, as they are tasked with the duty of ensuring that information sent to the public is subject to verification for truth.
The training for journalists, organised by IPC and funded through Component 4b: Support to the Media of the EU-SDGN project, is the fourth of its kind for journalists across the country.
Elections
Journalism
Politics
News
AddThis
: 
Featured Image
: 
Original Author
: 
SaharaReporters, New York
Disable advertisements
: 
target=_blank>FAAN Security Officer Slumps, Dies At Lagos Airport
Usman Mohammed, a security personnel of the Federal Airports Authority of Nigeria (FAAN) slumped and died on Friday, while on duty at the General Aviation Terminal (GAT) of the Murtala Muhammed Airport in Lagos.
Olayinka Abioye, immediate past General Secretary of the National Union of Air Transport Employees (NUATE), confirmed the incident to NAN on Saturday.
Speaking on the incident, Abioye said: "The deceased was a former executive member of NUATE, FAAN branch. We learnt he was on duty yesterday when he suddenly collapsed and died before receiving medical attention".
The deceased, survived by a wife and five children, has been buried according to Islamic rites.
Abioye referred to Mohammed's demise as unfortunate, and called on the management of FAAN to give priority to the well being of workers.
Noting that some aviation security staff are being made to work more than the required eight hours per day without rest periods or compensation, he claimed that "some of them work for 12 hours at a stretch without break simply because the Directorate of Aviation Security is suffering from dearth of adequate manpower".
He urged FAAN to deploy more personnel to the directorate and provide adequate medical facilities at the airport.
News
AddThis
: 
Featured Image
: 
Original Author
: 
SaharaReporters, New York
Disable advertisements
: 
target=_blank>Of Presidential Candidate Sowore And The Nigerian Middle Class By Abiodun Ladepo
Before you say two words about the need for things to change in Nigeria, frustrated Nigerians will run to their well-worn refrain: "We need a Rawlings Solution in Nigeria."
"Rawlings Solution"?
You want someone to get up, seize power from the corrupt politicians and summarily execute people? Me I don't know about that o.  
Actually, I do know about that. 
I KNOW it is too late for it to work in Nigeria. I KNOW there are too many potential victims in Nigeria – all those Senators and HoR members collecting soulless allowances and hundreds more queuing to join their ranks; all those Governors collecting billions in so-called security votes from budgets that can hardly pay salaries even if 100% of IGR was allocated to them; all those Ministers and Commissioners padding projects and budgets, and all those civil servants aiding politicians in stealing the country blind. It won't work in Nigeria.
I KNOW it will set Nigeria back many decades. 
I KNOW Nigeria is not Ghana and Nigerians are not Ghanaians.
I KNOW it is irresponsible talk.
And I KNOW it is treasonable.
What I also know is that right now, there is, at least, one presidential candidate (Omoyele Sowore) trying to do through the ballot box in 2019 what Rawlings did through the barrel of a gun in 1979. When Sowore first launched his campaign, the Nigerian bourgeoisie did not take him seriously. They called him all sorts of names.
"He's a joke."
"He doesn't have a platform."
"He doesn't have experience."
"He thinks this is campus (aluta) politics"
All of which were euphemisms for "we are not going to be able to profit off him'.
Of course, the man surreptitiously put together a political party and got it registered before the authorities could block him. Now, nobody can say he is a joke anymore. Or that he doesn't have a platform. 
But somehow, the entrenched, unscrupulous and scared-stiff bourgeoisie still manage to convince the suffering middle class (whatever is left of it in the dirt into which our country has sunk) and the down-trodden, that Sowore does not have experience. They didn't have a problem with Yakubu Gowon becoming Head of State at the age of 32 and ruling Nigeria for nine years without a university degree or even its military equivalence. They didn't have a problem with Murtala Muhammed becoming Head of State at 37, without a university degree or its military equivalence. And they didn't have a problem with Muhammadu Buhari becoming Head of State at 41, without a university degree. In fact, they trooped out to jubilate when Buhari overthrew Shagari's elected, civilian administration! All these people had no prior experience other than being able to fire a weapon.
Sowore is 47 years old, has an advanced degree, started and continues to run a very successful media outfit and is extensively well-informed on macro/micro geo-economic theories and their practical aspects. He can hold his own in front of the Alan Greenspans of the world. Yet, he is at home with the road-side pepper seller in any Nigerian village.
He is a "Youth"…what those of us so-called middle-classers had been clamoring for all this while. He not only declared his intent to run for President, he put his personal money where his mouth was. In order to not be beholden to Nigerian political godfathers; in order to not kiss their asses and feet; in order to not buy his way into relevance and thus stain himself like they all are, he chose to start afresh…from the ground, on a clean slate. 
And to show Nigerians how much respect he has for them, he has crisscrossed the length and breadth of the country, going to its nooks and crannies. He has been on raggedy roads in the west, crossed rivers on dilapidated canoes in the south and braved the heat and dangers of the desolate, arid lands in the north. He has also traveled all around the world to speak to Nigerians and seek their support.
He has been on countless radio and TV stations. He has sat and stood for newspaper interviews…some planned, many others impromptu. He has been the most accessible candidate and a candidate for whom no question was off-limits.
No other candidate has put in 1/100th of the effort that Sowore has put in his quest to help save Nigeria. The only thing he has not done is throw money at people like your traditional politicians do.
But those clamoring for a sweeping, magical "Rawlings Solution" do not have faith in him; still do not take him seriously because they do not think he can win. In fact, they probably do not want him to win! Helping him to win will require them to get out there and vote…canvass to their friends and families to vote for him. And that is too much work for our lazy and cowardly middle class. It is much easier for them to settle for the artificial binary choices they created for themselves.
The most vociferous of them on social media and in beer parlors…the so-called uber-educated middle class…will not even vote because they can't be bothered by such a demeaning act. They'd rather be ensconced in their punditry cocoon, bloviating, pontificating, struggling to shove their hackneyed, esoteric, socio-economic theorems down the throats of their gullible followers.
Those who dare jump into the political fray (Reuben Abati, for example) jump into the camps of those whose foundations are crooked, tainted with the scourge of corruption, forever damaged and incapable of taking the drastic measures needed to salvage our country now.Yet they crave a "Rawlings Solution".  
They prefer a bloody change.
From where do you they even want the "Solution" to start?Well, I have some bad news for them:
There ain't gonna be no freaking "Rawlings Solution" in Nigeria; not now, not for ever. That crap is universally out of fashion. Nobody is going to risk his/her life for you while you sit on your a** in your comfy homes with arms akimbo. Sowore is out there asking you to believe…to compare and to contrast. In fact, more than one person (Kingsley Moghalu, Obi Ezekwesili etc – all of them accomplished individuals) are out there, in this epoch-making period, asking you to look at them…to listen to them.
 But no, you have relegated them to footnotes in our politics.
 "She has no structure on ground."
 "He is too rude."
 "She has no money."
 "He is too young."
You make up all kinds of excuses so you can take the easy way out.
Rather than be bold enough to face your demons and do something for your country, your family and yourself for a change, you are characteristically tucking your tails between your legs, capitulating as usual, and running from your responsibilities. 
If you desire change…real change…you better start now respecting the hard but bloodless change being offered to you. Or forever shut up about some kind of "Rawlings Solution".
By Abiodun LadepoIbadan, NigeriaOluyole2@yahoo.com
Opinion
AddThis
: 
Original Author
: 
Abiodun Ladepo
Disable advertisements
: 
E2%80%94-nigerians-congratulate-funke-akindele-birth-twins target=_blank>'This 2018 Ended Well For Us' — Nigerians Congratulate Funke Akindele On Birth Of Twins
Nigerians have taken to social media to congratulate popular actress, Funke Akindele, on the birth of twins.
The 'Jenifa' star actress is married to Abdulrasheed Bello, popularly known in the entertainment industry as JJC Skillz.
Disclosing the news of the birth on Saturday, Mo Abudu posted on Instagram: "This is a real season of joy and happiness for us all. It is with the utmost pleasure, excitement and all glory of our Lord that we share in the good news of the birth of our bundles of joy — the baby boy twins of our darling @funkejenifaakindele and her husband @jjcskillz. I am already on the queue to be godmother. God be praised. We ask that God continues to bless them, protect them and favour them greatly now and always."
Omotunde Adebowale-David, popularly known as Lolo, who also plays the renowned 'Adaku' role in the Jenifa series, shared the news on Instagram, with a post that read: "Jehova, the one who knows how to shut the mouth of naysayers… I bow before you. I knew that God would do what no man can do and it is before this I bow. Iya Ibeji… What a marvellous God we serve. Funke, I know you will be singing old school gospel right now because you love them so much".
A post by @jhoystin read: "Social media is jubilating. Families are rejoicing with you. Congratulations. This 2018 ended well for us".
Aside a series of post on her Instastory alluding to the birth, the Akindeles have not officially announced the news.
Some messages on her Instastory, which were posted in the very early hours of Saturday, read: "Thank you Lord"; "Mo je oruko titun"; "Emi ti a da lewa Olorun"; "A ti fi oruko titun pe mi", among others.
However, messages have continued to pour in from friends and well-wishers congratulating the couple.
As expected, the news of the birth of the twins has triggered much excitement, as although it isn't JJC Skillz's first child, it is a first for Funke Akindele, who is 41 years old.
Besides, one Pastor Olagorioye Faleyimu had prophesied in the past that the 'Jenifa' actress may never have children.
Entertainment
News
AddThis
: 
Featured Image
: 
Original Author
: 
SaharaReporters, New York
Disable advertisements
: 
target=_blank>I Was Diagnosed Dyslectic; Your Child Could Also Be Dyslectic. Learn From My Story By Kayode Ogundamisi
My name is Kayode Ogundamisi and the following was published on twitter as a thread, since publishing the thread, I received overwhelming messages from parents and fellow compatriots who are dealing with the issue of dyslexia. Many compatriots requested it should be published as an article.
Here is my experience with dyslexia, it is a personal non-political message, it is an issue I always do not want to talk about, or too embarrassed to acknowledge, but that changed one night during a conversation with my 12-year-old daughter. It is about Dyslexia.
I started my formal education at Command Children School Ikeja Cantonment in Nigeria. Dad was in the Army as an 'order rank' but he was resolute to have me attend the prestigious CCS meant for Senior Nigerian Army officers, he convinced his boss then a Major in the Nigerian Army, Major Dasilva to enrol me as he would his own son.
Dad did not want me to attend Army Children School (basically for 'other ranks') Staff Sergeants down to Private in the Nigerian Army' he would pay my school fees (*More than half is salary) directly into Major DaSilva's account. That was how I ended up being enrolled in Command Children School Ikeja.
Command Children School had upper class elite military officer's kids in class we had a child of a former and then Head of State, kids of most members of the ruling Armed Forces, Generals etc. I did not fit in, always skiving to Army Children School in the same Cantonment.
My head teacher at Command Children School was so kind, she would always get soldiers attached to Command to go fish me out from Army Children School Ikeja opposite the Mammy Market. So, I spent half of my term in Command, other half roaming around Army Children School.
Though Command Children School was 'cool' we had 'FAN milk' 'Gala' and all sorts of exotic food, we even had tea in our hall with PEAK MILK supplied, a piano in the hall, even 'White teachers' my heart was always in Army Children School, authentic and represented my social reality.
I managed to complete my education at Command Children School but that was where I first had the word Dyslexia.
Mrs Kukoyi would describe a few of us as being "dyslectic" it never made sense to me, never bothered to find out what it meant. Was not really interested in Command Children's School.
Despite my truancy at Command Children School, I was famous for being a good debater, a star goal keeper for the school soccer team and 'the go guy" by the *"ajeboters" for all the thrilling news in our "ajepako" world. After primary school, I gained admission into Command Secondary School Ipaja but Dad could not afford Command Secondary School.
Lucky for us the progressive Unity Party of Nigeria won the election in Lagos and South West Nigerian States and that was the party of Chief Obafemi Awolowo, whose party had a policy of free and qualitative education for all as part of its party manifesto, Lateef Jakande who was Lagos Governor took over all missionary schools and Dad enrolled me in the first Muslim School in West Africa Anwar Ul Islam College Agege a Lagos suburb.
Anwar Ul Islam College formerly Ahmadiyya College was established in 1948. Before UPN threw it open, it was mainly available for elite wealthy upper-class Muslims and very few wealthy upper-class Christians, but with the new policy of Free Education for all I enrolled and integrated well with my mum being Muslim and my dad a non-practicing Christian.
At Anwar Ul Islam College I was fortunate to have an environment thanks to Jakande and Awolowo that broke social barriers, I had no inhibitions, I was a guy from an 'ajepako' background, who attended an 'ajebota' school and had the best of both worlds. I became a star from Form 1. At Anwar Ul Islam College I never heard the word Dyslexia, I did well in school, was amongst the top 3 students in class from form 1-5 in the subjects of Literature, Government and History. 
Despite leading and representing my school and Lagos state in debates with my colleagues and defeating top schools like the elite Kings College Lagos in literary and debating challenge finals my writing was very poor.
I would take notes in class, go home and unable to read my own note. I had to rely on school mates who lived in our Alimosho neighbourhood to read notes they had taken and then go into exams. My main English teacher Mrs Oladipupo never gave up on me. I sat for the West African Examination Council exams and scired A2 in Literature and A3 in English.
From college I proceeded to Fed Polytechnic Nasarawa to study business adminidtarion, then to left for University of Jos, graduating with a 2nd class degree in Political Science and then a diploma in journalism at the Nigerian Institute of Journalism and followed up graduating with master's in Public Administration from the Ogun State University. Not a word on Dyslexia was ever mentioned as I successfully completed my journey, I knew it was tough but I was determined and earned my academic qualifications.
When I moved to the UK having migrated and lived in Holland and Germany I decided to go for a Masters in International Relations, got admitted, wrote my first assignment and my Professor (Late Professor Gowan) called me into his office and suggested I go for #Dyslexia Screening Assessment. The words of Mrs Kukoyi's many years ago as a child in Command Children School echoed.
I took my Professors advice and went for a Dyslexia Screening Assessment in London. What was identified by my primary school head teacher, never mentioned in secondary school, never came up at UNIJOS, NIJ or OSU became real. It was confirmed that I had some form of dyslexia and needed support. My university in London gave me all the support needed and I graduated with another Masters in International Relations, my thesis on small and light arms proliferation was adjudged outstanding and refreshing.
So, I had been dyslectic without knowing, without support and faced the challenge in Nigeria. There will be a child in Nigeria now in my position; a parent yet to identify a dyslectic child. How we view and treat dyslexia and other related issues in Nigeria needs to change. We cannot keep applying the *'Koboko' solution if a child shows slow signs of progress in school.
In today's world assistive technology products and services are available to support people with dyslexia and those with other forms of disabilities. Teachers and parents need to be trained and supported on how to identify and deal with children with dyslexia, education reform should include support needs. 
Dyslexia isn't a disease, it is a learning disability related with slow reading, writing, and occasionally speaking skills. The education ministry in Nigeria hopefully should have a training programme that will equip teachers to identify kids with dyslexia. 
Several great people in our world are dyslectic and it did not stop them from being great and impactful in our society. Our attitude must change
But for that conversation with my daughter, my dyslexia assessment test in London, the attendant result and support I received would just have been my little secret, but if my thread here will help just one parent, one person, then my world is made. To learn more about Dyslexia just type the word on Google. Since publishing that article on twitter, I have also realised a lot of my compatriots are dealing with the same issue but do not want to be stigmatised, it is also reassuring that we have many groups supporting children dealing with dyslexia, you can identify one, join them and seek professional support, you can also seek the help of psychologists, don't let your child wait his or her entire adult life to discover they could have done more as a child. I overcame life's challenges without knowing, not a lot of our children will have the same opportunity that I had.
*Koboko ("A long flexible whip made of cow skin or horse tail the word "koboko" was originally used by the Hausas and Fulani of Northern Nigeria to describe a horse whip or a highly dreaded whip used by military officials in disciplining the unruly").
*Ajebota ("An ajebota (pronounced ah-jay-butta) is someone who lives a privileged, pampered life. In Nigeria").
*Ajepako ("An Ajepako is someone who did not live a privileged, pampered life and predominantly from working class poor areas")
Kayode Ogundamisi is a commentator on Nigerian and international affairs and host of PolitricksWithKO
Opinion
AddThis
: 
Featured Image
: 
Original Author
: 
SaharaReporters, New York
Disable advertisements
: 
target=_blank>Kashamu To PDP: Negotiate With Us Or Forget Ogun State
The Senator representing Ogun East senatorial District and governorship candidate of the Peoples Democratic Party (PDP) in Ogun State, Buruji Kashamu, has declared that it is either the National Working Committee of the party negotiates with his faction of the party or there will be nothing for them in 2019 elections.
Kashamu, who took a swipe at the PDP's national headquarters for taking sides in the internal crisis in the Ogun State chapter of the party, boasted that despite the Court of Appeal's verdict, he remained the party's candidate in the state.
He said the judgment of the Court of Appeal, Ibadan, which set aside an order by the Federal High Court, Abeokuta, which favoured his faction, had nothing to do with his candidature and flag bearer of the party.
The Senator who affirmed his belief in the Rule of Law, noted that the current battle between his faction and others, was not about is personal interest but about the interest of his millions of supporters and other who believed in him and what he stands for: justice and fairness.
Kashamu expressed his disappointment for the role being played by the party national leaders, disclosing that the only thing that would be their benefit in 2019 election if they didn't change their approach and tactics would be failure.
"What the party should have done was to mediate between the feuding parties with a view to finding a lasting solution to the crisis. If the party was interested in winning in the state, it should be seen trying to bring the feuding parties together rather than taking sides with one against the other.
"Other factions' party candidate, Ladi Adebutu, is not my match; the battle is not between Adebutu and I but some people within and outside the state who are not comfortable with my popularity in South West," he said.
Specifically, the senator fingered former Governor of Ekiti State, Ayodele Fayose, among people fuelling crisis in the Ogun State chapter of the party; he alleged that Fayose was the architect of the current crisis.
However, reacting to allegations, former Governor Fayose said he was not an indigene of Ogun State and had no interest in whosoever would become the party's candidate in the state, adding all he cared for, was for every members of party to work together to chase out the ruling party.
"In Ogun State, everybody is my friend; whoever going to be governor will surely not comes from Ekiti State; they should all work together for the victory of PDP, that is the most paramount to me. The country is sick, we all need to work together to rescue it from collapsing," Fayose said.
When PDP National Publicity Secretary, Kola Ologbondiyan, was contacted, he neither pick his calls nor replied the text message sent to him on the allegations
Speaking further, Kashamu catalogued how the order set aside by the Court of Appeal came into existence. He added that he had, however, appealed the judgment because of his belief that the appellate court erred in its judgment.
"The Court of Appeal said in its judgment that the matter before it was not a pre-election matter. Hence, it could not have pronounced on the nomination of candidates, let alone sacking me or anyone for that matter. That was not the prayers of PDP and its officers who are the appellants in the matter and so such a prayer could not have been granted.
"Some have erroneously said that the Independent National Electoral Commission (INEC) accepted our list of candidates for the 2019 general elections based on the interlocutory orders of the Federal High Court, Abeokuta, which have now been set aside; then our nomination as candidates of the Ogun State PDP has been nullified.
"Not satisfied, the other faction appealed. On May 4, 2017, the appeal was dismissed. Still not satisfied, they asked the Court of Appeal to relist the appeal. Again, on July 11, 2018, the Lagos Division of the Court of Appeal in a well-considered ruling held that the appeal remained dismissed. It is the refusal by the Court of Appeal to relist the appeal that is now pending at the Supreme Court," he explained.
He added that the two orders granted by the Federal High Court, Abeokuta, in Suit No. FHC/AB/CS/114/2018, were made in a judgment enforcement proceedings.
"The first was in relation to the National Convention held between October 5 and 6, 2018. The second order was for INEC to accept, process and publish our list of candidates for the 2019 general election. Clearly, the request to set aside the orders of the Federal High Court, Abeokuta, has been overtaken by events. The National convention has come and gone. INEC has also complied with the orders of court and the subsisting judgments. So, how does the decision setting aside the orders of the Federal High Court affect us?
"It should be noted that INEC, as a law-abiding institution, has since communicated its decision to recognise and deal only with the Engr. Adebayo Dayo-led Ogun State PDP exco to the national leadership of our party.
"In October 28, 2018, letter written by the Independent National Electoral Commission (INEC), it was emphatically stated that its decision to accept the list of candidates submitted by the Engr. Adebayo Dayo-led exco was predicated on three court suits, namely FHC/L/CS/636/2016, FHC/L/CS/1556/2017 and FHC/AB/CS/114/2018. It is only the interlocutory orders in FHC/AB/CS/114/2018 that were set aside. The full and final judgments in FHC/L/CS/636/2016 and FHC/L/CS/1556/2017 in favour of the Engr. Adebayo Dayo-led Ogun State PDP exco are yet to be set aside. It should also be pointed out that based on the judgments in FHC/L/CS/636/2016 and FHC/L/CS/1556/2017 in favour of the Engr. Adebayo Dayo-led Ogun State PDP exco, INEC had in an earlier letter dated April 12, 2018, informed the PDP of the commission's compliance with the two judgments of the Federal High Court," he explained.
Politics
News
AddThis
: 
Original Author
: 
SUN NEWSPAPER
Disable advertisements
: 
target=_blank>Yuletide: Machete Dealers Protest Planned Demolition Of Shops
Traders dealing on machetes and knives at Onitsha main market, Anambra State, on Friday protested what they termed secret moves to demolish their shops and revoke their allocation papers during the yuletide break.
The traders, under the aegis of Machetes Line Association, accused the authorities of Onitsha Main Market Traders Association (OMMATU) of perfecting the planned demolition and revocation exercises.
The protesters, who marched round the main market, carrying placards with various inscriptions, also alleged that the plot was in conjunction with the authorities of Onitsha North local government council and the Amalgamated Traders Association of Anambra State (AMATAS).
Chairman of the association, Chief Felix Mgbachi and the Secretary, Chimezie Ezeibekwe who led the demonstrators, queried the rationale behind such plans to dispossess them of shops they claimed were allocated to them by the state government.
They called for governor Obiano's intervention to save them from being dispossessed of their legitimate shops.
"This is illegal and dubious because we have been paying our taxes and levies regularly to the state government," they decried.
In a swift reaction however, Chairman of OMMATU, Chief I. K. Ekwegbalu, described the protest as fruitless exercise.
He said he was shocked to hear that traders demonstrated around the market without first approaching him to ascertain the true position before embarking on the protest.
Confirming the closure of the markets for the yuletide from December 24 to January 7, 2019, Ekwegbalu said the convertion of the portion of the market largely owned by butchers from open warehouse to lockup shops was to meet with modern trend.
President-General of AMATAS, Chief Okwudili Ezenwankwo who also confirmed plans to construct lock-up shops in the market, however assured that the machete dealers would retain their shops if they paid the contractors that handled the work.
Ezenwankwo further revealed that he had been approached by some of the machete dealers, pledging their readiness to pay the contractors to retain their shops.
Business
Small Business
News
The Nation Newspaper
AddThis
: 
Original Author
: 
Emma Elekwa, Onitsha
Disable advertisements
: 
target=_blank>I Am Not Neglecting Any Part Of Nigeria, Buhari Tells South-East
President Muhammadu Buhari on Friday said that his administration was not neglecting any part of the country.
Buhari, who spoke through the Minister of Water Resources, Suleiman Adamu, during the inauguration of a multi-billion naira water project at Ehime Mbano Local Government Area of Imo State, said he loves Igbo people.
The President said that the people of the South-East geopolitical zone should rest assured that he woulld fulfil every promise he made to them.
The minister said, "President Muhammadu Buhari holds Igbo people in high esteem and will do everything within his reach and power to fulfil his promises to the people of the region."
He explained that the water project, which was initiated by Senator Benjamin Uwajumogu (Imo North), was appropriated in the 2019 budget estimate.
According to Adamu, the project will make clean water available to the people of Ehime Mbano.
Speaking at the event, Uwajumogu said his constituents would support Buhari's re-election bid.
Politics
News
PUNCH NEWSPAPER
AddThis
: 
Original Author
: 
Chidiebube Okeoma, Owerri
Disable advertisements
: 
The National Chairman of the All Progressives Congress (APC), Comrade Adams Oshiomhole says that the election of Sen.Hope Uzodinma as the next governor of Imo state will be the end of Governor Rochas Okorocha's familiocracy in Imo State.
This is just as he pointed out that unknown governorship candidates of unknown parties who have been using the picture of President Muhammadu Buhari along theirs are fake as only Sen. Uzodinma has been adopted by President Buhari.
The National Chairman also wondered how a sitting APC governor could deny his party's gubernatorial candidate access to the stadium to flag off his campaign even when they have already paid for its use.
Oshiomhole, who was addressing a crowd of party supporters at the flag off the governership campaign of Sen. Uzodinma yesterday in Owerri, Imo state capital said that with Hope as the next governor that will be the end of familiocracy in the state.
He said he has come with a message of Hope for the suffering people of Imo state who have been under the yoke of a governor who has privatized the state.
According to him, "We have not come here to cry over what has gone wrong in the state . We come with a message of liberation of Imo state. Everything you see today in the state belongs to a family, but you have a reason to demand for a real change that will bring prosperity to everybody in the state. I bring you a message of Hope that the only qualification for getting a contract will no longer be determined if you are an in- law of the governor. I bring you a message of Hope that your money will be used to develop your state and not a personal private estate . I bring you a message of Hope that those workers and pensioners who have not been paid even when your governor has collected a bail out fund for the same purpose from the federal government will get paid when Hope becomes the governor."
Oshiomhole said that the heat they are suffering will translate into victory and urged the people to punish Governor Okorocha for that. "I heard that Rochas said that when he was contesting for the governorship election in 2011 that Ohakim had denied him the use of the stadium and that was why he also denied Sen.Hope Uzodinma. He is copying the wrong thing. But the stadium was built with the money of the state .But at the end Ohakim failed and he is going to fail you people, you should punish him for that."
Speaking earlier, Sen Hope Uzodinma pledged to work for the people of Imo saying that the era of government of deceit will be over." Today I don't want to make too much speech but I want to assure the people of Imo that with me as the next governor that the era of government by deceit and where only the members of the family are in charge will be over as every Imo indigene would be part and parcel of the government because it will be their government."
Dignatries at the campaign include members of the National Working Committee of the party, all the governirship candidates of the party from South East, Sen. Ali Modu Sherrif, Imo state Deputy Governor Prince Eze Madumere, Sen. Benjamin Uwajumogu and members of the Imo APC Coalition.
Politics
News
AddThis
: 
Original Author
: 
SUN NEWSPAPER
Disable advertisements
: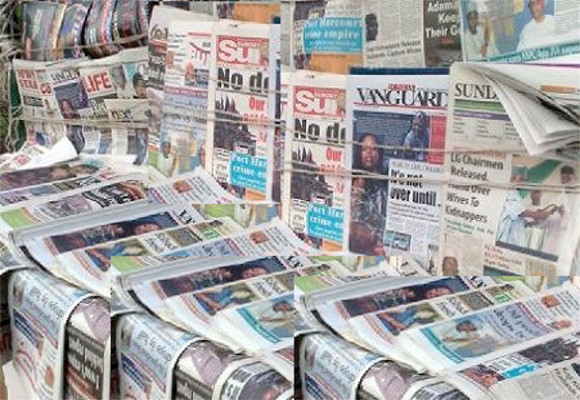 You can also check Sahara Reporters Newspaper Headlines Today