Sahara Reporters Latest News

Thursday 20th December 2018

Sahara Reporters Latest News Today and headlines on some of the happenings and news trend in the Country, today 20/12/18

Read also Leadership Newspapers News Today Thursday 20th December 2018
E2%80%94-nedg-boss-loses-cool-while-discussing-sowores-exclusion-debate target=_blank>'Look, Don't Tell Me That' — NEDG Boss Loses Cool While Discussing Sowore's Exclusion From Debate
Eddie Emessiri, Executive Secretary of the Nigeria Elections Debate Group (NEDG), has shed more light on the real reason some candidates were excluded from the presidential debates scheduled to take place in January 2019.
He stated this in another phone conversation with Mr. Tunde Olatunji, where he gave reasons for exclusion of certain candidates from the debate.
In the conversation, Emessiri backtracked on willingness to accept funding, stating that he could not make decisions on the matter on his own.
Full Transcript of the Conversation:
Caller: ….SaharaReporters has been reporting about you or about your activities at the NEDG…and it made me to understand that the only thing they reported was that you said the reason why he was excluded from the debate was simply because of character.
Emesiri: No no no, that is a lie. That is a lie. That is what they reported. That is what they feel like reporting. So they choose what is suitable to them, what they think can be good enough for them to report so they can make it a trending story.
Caller: Now, I told them that is not the issue because you explained to me that it is funding that limited you to just put in those five people that came for the debate…that will be coming for the debate. So the way forward right now is getting the funding to enable you to put him in and other people too. So now, we really want to understand that it is not about the character, right?
Emesiri: It has nothing to do with character.
Caller: Yes, because we heard it had to do with character, so…
Emesiri: That is what your boys in Sahara put it that way…yes, it will make more sense.
Caller: Because Sowore is not somebody of errr….questionable character. So that's why I was like 'character'? What do they really mean by character?
Emesiri: Is it also because of character that ummmm Donald Duke was not included? Donald Duke wasn't included. There are other people like… Fasua was not included. Was it because of character?
Caller: But sir, right now…the main thing right now is just…I don't want a situation whereby… because history will have it that we played our part and these are the people that actually stopped us. Because I made them to understand that you are not actually working with the Federal Government. Because now, what everybody is saying is Buhari is…
Emesiri: He should know now. He was set up by Tinubu… I am not being set up by anybody. When he set up SaharaReporters, was it not Tinubu that funded him? He thinks nobody knows? Please!
Caller: Sir, if Tinubu actually did that, he would have come out like, you know, they would have used that against him. The APC. Don't you think the APC would have used that against him? Like…oh, it is our leader, Tinubu, that funded you? So, Sahara is…he has the history of how he started SaharaReporters…
Emesiri: Look, don't tell me about… don't tell me… look, I've been in the media since 1988. 1988! I'm not sure you were born by that time. If you were born, you would know.  I was an editor! An editor in this country in 1988. I was an editor, not a writer.
Caller: Okay sir, what is the way forward? What is the way forward now because it will be so…
Emesiri: unintelligible you said you would contact the other unintelligible and you would come back to me now.
Caller: That is what I'm doing now.
Emesiri: What is the way…?
Caller: Sir, we have reached out. So, I gave them your number so they're gonna reach out to you directly because we can't accept any money from anybody that oh, they will bring the money to you, so I already gave them your number.
Emesiri: Nobody is bringing any money; nobody should bring any money. I don't work alone. I'm just the executive secretary of a group…of coalition…a coalition of groups….NUJ is here… Nigerian Youths…unintelligible is here. There are so many groups that are involved. I'm just an executive secretary. It's not a thing that I just decide to take decisions on my own…for them, that's a thing… unintelligible
Caller: The question I was asked, sir, since Nigeria has a national television, the Nigeria Television Authority, don't you think that it will be better if we put it on NTA platform…
Emesiri: Why will I take NTA platform when unintelligible will say they don't want to go on NTA platform? Is NTA platform alone better than all the TV stations in Nigeria coming together to do it?
Caller: But Channels is not…
Emesiri: Yes, they're sacrificing time! They're sacrificing their time!
Caller: But Channels is not the country's national television, sir.
Emesiri: Why should I… why must I use our country's own television when I don't want the excuse of unintelligible? The country's television is said to be APC. If I go and use them and they say it's APC for any reason, what do you expect me to say?
Caller: No, APC does not own NTA.
Emesiri: Who tells you that APC doesn't…? Are you in the country to see PDP people or the other party members not allowed to come on NTA?
Caller: I don't understand…
Emesiri: Please, I beg, let me not argue here. Don't argue with me. Please! Don't argue with me. As you say you're not in the country. You're arguing with me and you're not in the country. You're not in the country, you want me to go and take NTA. So why don't you allow me to go and collect money from Federal Government now? You should have told me to go and collect money from Federal Government to do the debate. That would have been easier.
Caller: The Federal Government does not own NTA, NTA belongs to the Nigerian people. What I'm saying, sir, is if Channels… Hello, sir?
Elections
Politics
News
AddThis
: 
Featured Image
: 
Original Author
: 
SaharaReporters, New York
Disable advertisements
: 
E2%80%94-group-wants-ondo-police-commissioner-removed-over target=_blank>'He's Friends With Criminals, Yahoo Boys' — Group Wants Ondo Police Commissioner Removed Over Rising Crime Rate
Gbenga Adeyanju, Ondo State Commissioner of Police
The Sunshine Liberation Front (SLF) has called for the immediate sack of the Ondo State Commissioner of Police, Gbenga Adeyanju, over "incessant kidnapping of innocent people in the state".
In a statement issued in Akure on Wednesday, the Ondo State capital, the group accused Adeyanju of "aiding and also abetting criminals who have now turned the roads in the state into a den of kidnappers".
Comrade Akinyele Akinwale, Ondo State Coordinator of the SLF, who signed the statement obtained by SaharaReporters, expressed worry over the rampant cases of kidnapping in the state.
Akinyele harped on the need to review the security measures of the state, as the rate of crime was becoming alarming.
The group also demanded an explanation from Rotimi Akeredolu, Governor of the state, on the budget for 'security votes' in the state. 
Highlighting the various incidents of kidnapping and robbery in various areas of Ondo, the statement read: "The cumulative occurrences and investigations from individuals who have fallen victims of these kidnapping cases in the state, suggest that there is a 'ring of collaboration' and connivance between these kidnappers and the top echelon of security agencies in the state.
"This is why we, Sunshine Liberation Front, are calling for the immediate redeployment of the Commissioner of Police in Ondo State, Mr. Olugbenga Adeyanju, whose clandestine activities and hobnobbing with the men of the underworld have remained questionable.
"Adeyanju has allegedly been aiding and abetting criminals and their like minds, including hoodlums; a good example is that of NURTW thugs, who recently staged an attack on some of the lawmakers of Ondo House of Assembly and journalists who were only carrying out their duties as permitted by the Nigerian constitution.
"Another one is the police boss's deep relationship with internet fraudsters, popularly known as 'Yahoo Boys' who perpetrate all forms of evil in the state, including killing innocent young ladies for rituals, with little or no sanctions on their criminal activities.
"Since his deployment to the state to ensure the maximum protection of lives and property, Mr Adeyanju has not only flouted the main rules guiding the Force, but has also joined partisan politics by his close relationship with Arakunrin Oluwarotimi Akeredolu and other politicians in the state.
"While we are asking the Inspector General of Police (IGP) to wade into the security issues in the state, we are also demanding to know the role of the Governor, who is the Chief Security Officer of the state, on the rampant kidnappings in Ondo State."
The group also called for transparency in ensuring security in the state.
"Therefore, SLF demands to know, with all sense of sincerity and purpose for a more secured Ondo State, what the Governor does with the monthly security votes amounting to over N400 million a month to provide security in the state," it said.
"We also charge media practitioners in the state to challenge the Police with all recognized legal weapons at their disposal to ensure the provision of maximum security for the lives and properties of the people.
"The media, as known and acknowledged by all and sundry, is the fourth estate of the realm and the bridge between the governed and the government. We expect them to perform their job without any fear or favour, and ask critical questions on and about the state of our security in Ondo State."
Police
News
AddThis
: 
Featured Image
: 
Original Author
: 
SaharaReporters, New York
Disable advertisements
: 
target=_blank>140 Nigerians Returned Home After Failing To Enter Europe Through The Back Door
Libya returnees
Libya returnees
SaharaReporters Media
Nigerians who attempted to illegally migrate to Europe through Libya have been brought back to the country by the International Organisation for Migration (IOM).
The latest returnees, 140 of them, comprise 39 adult females, eight female children, as well as 76 adult males and 17 male children.
The returnees hit Nigeria aboard a Libyan Airline at 10:38pm on Tuesday, through the Murtala Muhammed International Airport (MMIA), Lagos.
The acting Zonal Coordinator, Nigeria Emergency Management Agency (NEMA), Mr Segun Afolayan, received themon behalf of the Federal Government at the Cargo Wing of MMIA.
Afolayan stated that with the addition of 140 returnees, so far, 4,123 Nigerians had been repatriated from the war-torn North African country, while the total number brought back from April 2017 grew to 11,833.
On behalf of the Federal Government, he lauded the initiative of IOM in assisting the Nigerians back home, and assured the United Nations (UN) body that the various Federal Agencies had benefitted in various ways since the Memorandum of Understanding (MoU) was signed with the organisation in 2011.
He added: "Though, the IOM has been partnering with NEMA long before this time and what have achieved at all levels of contact are a service to humanity, even as dynamic as management of human beings are, we are grateful for the service.
"The feedback from the Migrants Resource Centres (MRC) have been very positive and encouraging, the recording of over 3,000 enquiries by prospective migrants and assistance given by the centres are very commendable."
The IOM, in collaboration with Federal Ministry of Labour, had established three Migrants Resource Centres in Abuja, Benin and Lagos.
The centres are opened for intending migrants to access for enquiries on information about the prospective country of destination, the various job opportunities in the country, safest route and other important information.
News
AddThis
: 
Featured Image
: 
Original Author
: 
SaharaReporters, New York
Disable advertisements
: 
target=_blank>PDP Lawmakers Explain Why They Booed Buhari During 2019 Budget Presentation
Member of the House of Representatives caucus of the Peoples Democratic Party (PDP) have given reasons for their protest against President Muhammadu Buhari during the budget presentation at the National Assembly on Wednesday.
Buhari entered the National Assembly on Wednesday at about 12:40pm and immediately set about the business of the day. However, he was soon shouted down with screams of "nooooo", "nooooo", "lieessss" when he started talking about the strides of his administration.
See Also
Breaking News
'Nooooo', 'Liessssss' — Buhari Booed By Lawmakers While Presenting Appropriation Bill
0 Comments
10 Hours Ago
Addressing journalists shortly after the presentation, leader of the group, Honourable Chukwuma Onyema, said poor implementation of the 2018 budget precipitated their action, noting that the executive resorted to selective implementation of their own proposal, but not what was approved by the National Assembly.
He expressed displeasure at the manner in which government is going about the implementation of the Social Investment Programme, which he said is tantamount to vote buying.
"We condemned in entirety everything that has been presented, because you have not implemented even up to ten per cent of the previous budget, and now you are bringing another one," Onyema stated.
He, however, attributed the industrial action being embarked upon by the Parliamentary Staff Association of Nigeria (PASAN) to non-implementation of the previous budget.
He noted that they expected an effective budget performance and implementation before the presentation of another, and berated the All Progressives Congress (APC) lawmakers for applauding the president during the presentation. According to Onyema, the APC lawmakers are "trying to curry favour".
The caucus said the President would not have come for this year's presentation if he was to face questions on the implementation of the 2018 budget.
Politics
News
AddThis
: 
Featured Image
: 
Original Author
: 
SaharaReporters, New York
Disable advertisements
: 
target=_blank>#FreeDejiAdeyanju Protesters Storm Human Rights Commission In Abuja
Concerned Nigerians, as well as friends and family members of Deji Adeyanju, Convener of Concerned Nigerians, stormed the headquarters of the National Human Rights Commission (NHRC) in Abuja on Wednesday to protest his detention by the Nigerian Police Force.
The protesters, clad in black T-Shirts, displayed Adeyanju's portrait with various inscriptions such as '#FreeDejiAdeyanjuNow', 'Tyranny Has No Place In Nigeria', 'Deji Must Not Die and 'Buhari Must Go'.
Addressing the protesters, Dare Ariyo Atoye, Coordinator of Coalition in Defence of Nigerian Democracy and Constitution, said the concerned civil societies decided to "report the ordeals and persecution of Adeyanju to the human rights body, because of the plot to silence him at all costs".
He noted that the Nigerian Government would stop at nothing to "stop him from continuing to exercise his fundamental human rights as an activist who speaks truth to power".
Atoye stated that the plot to silence Adeyanju was further "emboldened as the Police hurriedly transfered him to Kano State, claiming they want to review the same case in which judgement and justice was served about 10 years ago", and vowed that "the remaining days of President Muhammadu Buhari-led government would not witness peace, should a strand of hair miss from the activist".
Also speaking at the rally, journalist and writer, Frederick Nwabufor, said they would not allow Nigeria to return to the "black days of tyranny", adding that the young people of Nigeria would stand against any oppression by the government.
"We would stand against any form of tyranny and persecution of any Nigerian at all level,"  Nwabufor said. "I have said it before that even if there is a change of government today, I will stand against illegal incarceration of any Nigerian."
Receiving a formal letter from the protesters, the Director of Corporate Affairs and External Linkages, Lambert Oparah, said the commission would look into the complaints submitted by the group, adding that the commission has the mandate to promote, protect and enforce the rights of all Nigerians.
"I will receive these complaints on behalf of the Executive Secretary, Mr. Tony Ojukwu, who is not presently here. We will look into these complaints and we will address it properly," he said.
"I can assure you that the commission is very much alive to its responsibilities. We will subject it to due process that is usually associated with complaints and assure you that within the next few days, you will get a firm response from the commission."
He urged the group to submit relevant documents regarding the case to the commission.
Free Speech
Human Rights
News
AddThis
: 
Featured Image
: 
Original Author
: 
SaharaReporters, New York
Disable advertisements
: 
target=_blank>APC, PDP Go Head-To-Head In Twitter Debate On Anti-Corruption Policies
The All Progressives Congress (APC) and Peoples Democratic Party had another round of debate to convince more people on why they should trust them with their votes in the 2019 elections.
In the Twitter debate organised by Tap Initiative, Gbenga Olorunpomi, Senior Special Assistant, Electronic Media, to the Governor of Kogi State, represented APC, while Ilemona Onoja, former spokesperson for the defunct Bukola Saraki Presidential Campaign Organisation represented the PDP.
Speaking on the current state of the Nigerian economy, Onoja faulted the Muhammadu Buhari administration's economic policies, stating that government inconsistency, bad economic policies, and method of tackling corruption have also contributed to the current situation of the country.
"The govt's 'freeze/accuse first & investigate later' approach to fighting corruption is also a critical factor. This approach has frightened investment is critical sectors of the economy and has dissuaded private sector spending in many quarters as there are genuine fears that the govt, which is more interested in weaponizing allegations of corruption against any than actually resolving incidents of corruption, will target unfairly (perhaps illegally) target individuals and corporates. The government's haphazard approach to fighting corruption is a factor in Nigeria's economic downturn," he wrote.
Olorunpomo, however, disagreed with Onoja, stating that Foreign Direct Investment keeps increasing in the country.
"I disagree that the fight on corruption is chasing away investors because FDI keeps coming in by the millions of dollars. It increased by 435.64 USD Million in the second quarter of 2018. Investors know we are doing our best to protect their investment", he said.
The APC representative also said the party, through its whistle-blowing policy, has recovered about N500billon and this has helped to reduce cases of corruption.
He continued: "The whistle-blowing policy introduced by this administration has yielded fruits. Only yesterday, the EFCC has said that the substantial part of the N500 billion recovered by the commission was through the whistle-blower policy."
He added that institutions such as the EFCC, ICPC, Code of Conduct Bureau, Police are empowered by law to investigate and prosecute anyone found wanting on the issue of corruption and members of the public are encouraged to report cases of corruption against public officials even by the president through petitions. Onoja maintained that PDP commenced the whistleblower bill APC is using today.
"Practically every anti-corruption tool & agency was established by the party in its bid to combat corruption. Even the famed The Witness/Whistleblower Protection Bill (SB 158) was sponsored by Senate Minority Leader, Senator Biodun Olujimi who now serves as Minority Leader of the Senate, and merged with an earlier Bill (SB 157) sponsored by the late Senator Isiaka Adeleke."
Commenting on the corruption tag of PDP, Onoja asserted that Nigeria's ranking while the party was in power strengthened, attributing it to technological tools put in place by the government. He claimed that since the loss of the party at the 2015 elections, several of these gains have been reversed.
Contradicting Onoja, Gbenga posited that the campaign to rid the APC of the perception of systematic corruption will be long and expensive, adding that "What we have succeeded in doing is ridding us of grand corruption, which accounts for about 50% of public theft. No longer is the CBN getting orders to unilaterally and illegal fund political primaries. NPA is contributing more to coffers. FIRS is on track to hit N5.3tr in collections. JAMB is making so much, we have reduced price of forms. We have cut FG salaries by N6b a month by removing ghosts."
He maintained that these actions by APC are yet to be reflected on the corruption perception and called on the world to note actions the party is taking to tackle corruption and put them on record.
"We intend to maintain this trajectory and, soon, we expect Nigerians, the world and TI to take notice, especially as ease of business improves and barriers to productive disappear. Let's not forget. Corruption Perception Perception Index (CPI) score relates to perceptions of the degree of corruption as experienced by business people and analysts and ranges between 100 (highly clean) and 0 (highly corrupt)."
Tap Initiative, organisers of the Twitter debate, explained that the debate is to make the two major parties portray the tactics they hope to employ to demonstrate political will in the anti-corruption movement.
Elections
Politics
News
AddThis
: 
Featured Image
: 
Original Author
: 
SaharaReporters, New York
Disable advertisements
: 
target=_blank>BREAKING: Buhari Directs Security Agencies To Find Badeh's Killers
Former Chief of Defense Staff, Alex Badeh
Former Chief of Defence Staff, Alex Badeh
President Muhammadu Buhari has directed security agencies to find the killers of Air Chief Marshal Alex Badeh, former Chief of Defence Staff.
Badeh was shot by unidentified gunmen when his vehicle was attacked while returning from his farm along Abuja-Keffi Road on Tuesday.
See Also
Breaking News
BREAKING: Former Chief Of Defence Staff Alex Badeh Shot Dead
0 Comments
23 Hours Ago
A statement by Femi Adesina, Special Adviser to the President (Media and Publicity) on Wednesday, quoted the President as describing Badeh's death as "sad and unfortunate" and called on security agencies to ensure that the perpetrators are brought to "face the full force of the law".
The statement read: "President Muhammadu Buhari has described the killing of former Chief of Defence Staff, Air Chief Marshal Alex Badeh (rtd), as very sad and unfortunate
"The President commiserates with the family of the late four-star general, his friends and professional colleagues in the military, and the people and government of Adamawa State.
"Noting that the late Badeh, who was also a former Chief of Air Staff, attained professional fulfilment in his over three decades military career, President Buhari regrets that he fell victim to incidence of violent and fatal attacks on the nation's highways.
"He directs security agencies to find the killers of the 15th Chief of Defence Staff and bring them to face the full force of the law, while ensuring greater security and safety for all users of the country's roads.
"The President prays that God Almighty comforts all those who mourn Air Chief Marshal Badeh and grant his soul peaceful rest."
CRIME
Military
News
AddThis
: 
Featured Image
: 
Original Author
: 
SaharaReporters, New York
Disable advertisements
: 
E2%80%98sai-buhari-sai-baba%E2%80%99-%E2%80%94-how-buhari-was-welcomed-national-assembly-budget-presentation target=_blank>'Sai Buhari, Sai Baba' — How Buhari Was Welcomed To National Assembly For Budget presentation
President Muhammadu made a grand entry to the National Assembly for the unveiling of the 2019 appropriation bill on Wednesday, as a host of his supporters chanted his name relentlessly in the lead-up to his budget speech.
Arriving at about 2;40pm, the President was swamped by his admirers and adulators, amidst shouts of 'Sai Buhari, Sai baba', 'Sai Buhari, Sai baba'.
Many of the lawmakers and party loyalists were seen thrusting their hands in the air, 'stomping' the ground excitedly and clapping along, as Buhari made his entry into the joint session.
Prominent among those pictured heartily cheering the President was Godswil Akpabio, a long-serving member of the opposition Peoples Democratic Party (PDP) and erstwhile Minority Leader of the Senate, who crossed to the President's party, the All Progressives Congress (APC), in August.
See Also
Breaking News
'Nooooo', 'Liessssss' — Buhari Booed By Lawmakers While Presenting Appropriation Bill
0 Comments
10 Hours Ago
Buhari's honeymoon was soon to end, though, as parts of his speech were punctured by shouts of "nooooo", "liessssss" by his opponents among the lawmakers.
Economy
Politics
News
AddThis
: 
Featured Image
: 
Original Author
: 
SAHARAREPORTERS, NEW YORK
Disable advertisements
: 
target=_blank>BREAKING: Buhari Sets N8.83trn 2019 budget Against $60/Barrel Oil Price
President Muhammadu Buhari has presented a budget of N8.83 trillion for the 2019 fiscal year.
The budget, presented on Wednesday to a joint session of the National Assembly that was both rancorous and rapturous
See Also
Breaking News
'Nooooo', 'Liessssss' — Buhari Booed By Lawmakers While Presenting Appropriation Bill
0 Comments
10 Hours Ago
, is premised on the calculation that oil sells for $60 per barrel with Nigeria producing 2.3 million barrels per day.
The proposal also assumes that the exchange rate will be N305 to $1, plus a real GDP growth of 3.01 per cent and inflation rate of 9.98 per cent.
A total of N2.14 trillion of the budget, representing roughly a quarter, will go into debt servicing, while capital expenditure will consume N2.031 trillion.
Similarly, recurrent expenditure will consume N4.04 trillion, statutory transfer N492.36 billion and sinking fund N120 billion.
The President also said N65 billion had been set aside for the Amnesty Programme. N45 billion for the north-east intervention fund and N10 billion set aside as take-off capital for the North East Development Commission.
Economy
Breaking News
News
AddThis
: 
Featured Image
: 
Original Author
: 
SaharaReporters, New York
Disable advertisements
: 
President Muhammadu Buhari on Wednesday passed up an opportunity to definitely endorse or reject calls by organized labour for the implementation of N30,000 monthly as national minimum wage
To avert an industrial action by the Nigeria Labour Congress (NLC) and Trade Union Congress (TUC) from embarking a nationwide industrial action, President Muhammadu Buhari had received their recommendation in November with the promise to forward a new minimum wage bill to National Assembly for action.
However, when he appeared before the National Assembly on Wednesday, he said he would refer the proposal to a technical committee to work out the challenges around the labour's demands.
The President spoke extensively on his fears about implementing a 30,000 new minimum wage, saying he was determined to avoid a fiscal crisis, increased level of borrowing, inflation and job losses.
"I will be sending a bill to the National Assembly," he said.
"However, in order to avoid a fiscal crisis with the Federal Government as well as the states, it is important to devise ways to ensure that its implementation does not lead to an increase in the level of borrowing.
"I am, accordingly, setting up a high-powered technical committee to advise on ways of funding an increase in the minimum wage and the attendant wage adjustment without having to resort to additional borrowings.
"The work of this technical committee will be the basis of a finance deal, which will be submitted to the National Assembly alongside the minimum wage bill. In addition, the technical committee will recommend modalities for the implementation of the new minimum wage in such a way as to prevent its inflationary impact as well as ensure that its introduction does not lead to job losses."
 
ACTIVISM
Economy
LABOR/WORKERS' RIGHTS
Breaking News
News
AddThis
: 
Featured Image
: 
Original Author
: 
SaharaReporters, New York
Disable advertisements
: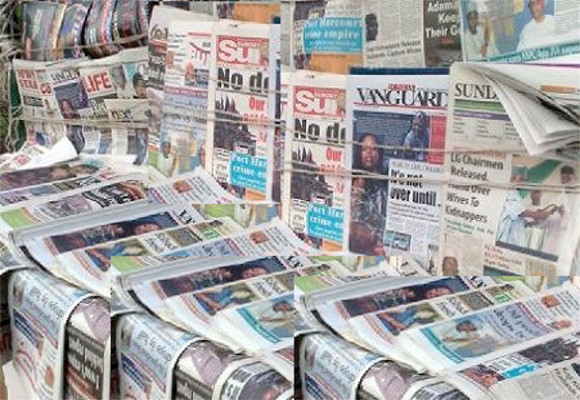 You can also check Sahara Reporters Newspaper Headlines Today