Sahara Reporters Latest News

Monday 17th December 2018

Sahara Reporters Latest News Today and headlines on some of the happenings and news trend in the Country, today 17/12/18

Read also Leadership Newspapers News Today Monday 17th December 2018
E2%80%99s-bait-and-switch-marketing-gimba-kakanda target=_blank>Jumia Travel's Bait-And-Switch Marketing By Gimba Kakanda
Somebody has to do the Lord's work and warn Nigerians about this systemic exploitation of customers, which our business environment has enabled and sustained, by that online travel agency called Jumia Travel. I don't want them to get away with doing this again, and again, with neither an apology nor damages for such violation.
I patronised Jumia Travel for reasons other than being a local enterprise, albeit founded by non-Nigerians, that required our collective patronage. I prefer dealing with agents with a known address, identity, and track records, not websites whose owners I don't know. And a friend of mine, Zahrah, was about to head to court with Wakanow.com having been similarly betrayed by the platform. Even though I had not been exactly pleased in my purchases via Jumia I kept the faith. But what they did to me yesterday, December 15, has shattered any benefit of the doubt that I had harboured since our last unpleasant encounter.
About three months ago I booked Abuja – London flight on the platform, and made payment via online transfer as instructed by their agent. A few hours later, their agent called and explained that the rate had increased. I transferred the added amount without protest. Why? I was almost late for school, with registration deadlines staring me in the face, and there was neither time nor energy to start booking process anew. 
My experience yesterday was a deja vu, and I accept the blame for being the first Nigerian to "carry last," twice bitten. I booked a London – Abuja flight on their platform and received an email quoting what to pay, which I did. I spoke to one of their agents and confirmed the amount before doing so. Then, as if practising from an old bait-and-switch script, I got a call from the agent, saying the rate had increased and that I had to add over N100,000. For a split second, it seemed like a prank, only that she was calling from Jumia!
I found the model suspicious, for it seems like a deliberate ploy to mislead and attract customers. You don't run a business by making the few who believe in you appear like idiots. This Mavrodi School of Business idea might have worked and had gullible believers in the Nigerian system like me trapped, but it's established that every scam has an expiry date. 
Angered by this brazen undermining of my intelligence, I asked the agent for an immediate refund, forwarded my bank details, and waited, refreshing my mailbox every 20 minutes to confirm notification of refund. I took to my social media platform and shared my grouse. Of course being a beneficiary of this ancient and state-approved impunity, they didn't respond until it began to attract engagements. 
I woke up today, December 16, to an infuriating email from them – that my money won't be refunded until 3 – 5 working days. My day was ruined before it even began, and my rage was because we didn't really have a transaction. I only wired money to them out of trust, and what a sensible partner would've done was reversing it immediately they confirmed their rate had changed, and noting I was unwilling to continue with the scam.
If I had nothing to book another flight, the consequences would've been a tragedy I don't even want to imagine. It's devastating that despite attempts to regulate business in the country, some of us are wired to embrace such infractions with a defeatist mindset.  
In a reaction to one of my tweets, a Twitter user questioned my intelligence for falling for Jumia's advertised platform. A Nigerian is, by such disturbing orientation, expected to distrust an enterprise valued at over a billion dollars and, even more importantly, the largest e-commerce platform on the continent? I don't know. 
The critic's reasoning would've made more sense if I had no any history of patronising Jumia. In fact, last September, about a week before I booked my ticket to London, I bought a 4-terabyte hard disk, impressed by the purchase of a similar item on the platform a month earlier. So it's unfair to conclude that one was merely gullible by trusting such platforms. What has happened is an everyday story and experience of Nigerians, and that's expected isn't the national pastime of blaming the victim, but an institutional response to correct it.
Gimba Kakanda is a postgraduate student of International Relations, London School of Economics, and tweets from @gimbakakanda. 
Travel
Opinion
AddThis
: 
Original Author
: 
Gimba Kakanda
Disable advertisements
: 
target=_blank>'Fulani Herdsmen' Abduct Children, Civil Servants, Lecturers In Ondo
Suspected kidnappers have again struck in Ondo State, abducting eight travellers, SaharaReporters learnt on Sunday.
Among those kidnapped are two civil servants in the workforce of the Ondo State Government, who were travelling from Owo to Akure after a ceremony at the weekend.
They are Ayewunmi Ogunsemore of the Forestry Department of the Ministry of Agriculture and Bunmi Falodun, a civil servant with the FADAMA programme.
On December 5, 2018, three workers of the Federal Medical Centre (FMC), Owo in Ondo State, were kidnapped by gunmen.
See Also
Breaking News
BREAKING: Gunmen Abduct Three Health Workers In Ondo, Demand N50m Ransom
0 Comments
1 Week Ago
SaharaReporters gathered that the victims were abducted around the bad portion of the Owo-Ose-Akoko road.
Several sources confirmed the incident to journalists in Akure, stating that many travellers, including children whose parents were driving through the Ogbese and Ilu-Abo road on the Akure-Owo road, were kidnapped.
The abductors also raided some vehicles and their passengers and carted away valuables.
Rahman Abubakri, a Senior Lecturer at the Mass Communication Department of the Rufus Giwa Polytechic Owo (RUGIPO), who also escaped being kidnapped by the gunmen ,confirmed the incident in a post on social media.
Abubakri disclosed that another lecturer from Marketing Department of the polytechnic fell victim of the hoodlums who dragged him and the others into the thick forest.
"Around 5:20pm on Saturday evening, I narrowly escaped being kidnapped around Ilu-Abo on my way to Akure after a wedding ceremony which I attended at Omuo Ekiti. Nigerians are under siege. I saw the Fulani shooting sporadically from a distance. The bushes and thick forests we don't care to go into have been well-studied by these Fulanis. Unfortunately, some kids were taken away by the kidnappers," he said.
"At almost the same time, a lecturer of the Department of Marketing, Rufus Giwa Polytechnic, Owo was kidnapped by the same Fulani herdsmen between Ipele and Owo Road. Another kidnapping took place at Oba Akoko. Three persons fell victim as they were taken away into the bush. My colleagues missed being kidnapped on Friday evening."
Femi Joseph, spokesman of the Ondo State Police Command, confirmed the incident during a telephone chat.
According to Joseph, the Commissioner of Police in the State, Gbenga Adeyanju, had already ordered a team of policemen to comb the area to ensure the rescue of the kidnapped persons.
"Yes, it is true but we are on top of the situation as the Commissioner of Police has dispatched our men to the bushes around the incident of the zones in order to rescue those who have been kidnapped," he said. "So, I can assure you that justice would surely be done to those who are behind these evil acts and those who might have been responsible, we shall bring them to justice."
CRIME
News
AddThis
: 
Featured Image
: 
Original Author
: 
SaharaReporters, New York
Disable advertisements
: 
target=_blank>Borno Villagers Flee As Boko Haram Strikes Again
Dozens of villagers have fled their homes as suspected Boko Haram terrorists are currently launching an onslaught on the outskirts of Maiduguri, the Borno State capital.
The incident occurred at about 5:20pm at Maiborinti in Molai general area near Maiduguri on Sunday evening. Sporadic gunshots were heard in the area as the insurgents set houses ablaze.
Dozens of the fleeing residents are currently taking refuge at Molai, some three kilometres away from the epicentre of the area.
"Many are currently fleeing for their lives. A village is under attack and as I am speaking to you, the smoke can be seen in Molai," a resident said.
Boko Haram
Insurgency
News
AddThis
: 
Featured Image
: 
Original Author
: 
SaharaReporters, New York
Disable advertisements
: 
target=_blank>Militant Leader's Younger Brother, Driver Killed During Ransom Negotiation In Bayelsa
Godsgift Lagos, also known as Coco, and his driver, Christopher Etima, have been shot by unknown gunmen during a ransom exchange for the release of a kidnapped victim along the Onuebum-Otuogori road in Ogbia council area of Bayelsa State.
The incident, which occurred on Sunday at about 1am, has thrown the home of the former militant leader, General Africanus Ukparisia, known as 'General Africa', into mourning.
The late Godsgift Lagos is his younger brother.
Although details of the events were still sketchy as of press time, and the role played by the two persons in the incident still unknown, the Police claim that the deceased were on a mission to the kidnappers' den to pay ransom when they were killed.
Spokesman of the state police command, DSP Asinim Butswat, confirmed the development via text message.
His words: "On 16/12/2018, at about 0100 hrs one Lagos Godgift (m) and his driver Christopher Etima (m) went to pay ransom to kidnappers at Onuebum, but they were murdered by the suspected kidnappers at Onuebum.
"The scene was visited and the two corpses deposited at FMC Morgue Yenagoa. The Black Toyota Sequoia Jeep with Registration Number LAGOS EKY 382 CZ was removed to Kolo Divisional Headquarters.
"The command has launch a manhunt for the kidnappers."
CRIME
News
AddThis
: 
Featured Image
: 
Original Author
: 
SaharaReporters, New York
Disable advertisements
: 
target=_blank>'Many' Soldiers Killed, Injured As Boko Haram Invades Military Bases In Borno
Many soldiers were feared dead with dozens missing when suspected Boko Haram attacked military formations in the northern part of Borno State between Friday and Saturday night.
The insurgents struck Gudumbali in Guzamala town on Friday at about 5:30pm, riding on military vehicles mounted with anti-aircraft guns. According to a source, the insurgents shot sporadically, firing RPGs towards the military base. 
"Many soldiers lost their lives; they were many,"  the source said.
"The Boko Haram terrorists came in large numbers, and although the troops initially stood their ground, they later they fled into bushes. We slept in the bush between Friday and Saturday morning. We got to Gubio yesterday. Many are still there, because they only came for soldiers, not civilians, except those of us working with the soldiers."
A soldier, who preferred not to be named, gave an insight into the invasion, stating that the attackers were trained terrorists. 
"Although we engaged them, they overpowered us," he said. "They were well-trained terrorists, not those we are used to fighting. In fact, they handled anti-aircraft guns and RPGs better. We didn't have options, because we were running out of ammunition and there was no reinforcement. Some soldiers were killed and dozens fled to Damasak."
The insurgents continued their attacks in Kukawa town and also invaded military and Police posts, sacking the security operatives.
An official said Kukawa town came under the siege of insurgents, and pleaded for the support of the Air Force, as many civilians are currently trapped in Kukawa town.
Although many of the civilians were not hurt, there was no presence of soldiers in Kukawa town as of Sunday afternoon.
Muhammad Kormi, a resident of Kukawa who arrived Maiduguri on Sunday, said the insurgents carted away many trucks of food items and burnt down the military base in Kukawa. 
"As I am speaking to you, military personnel have withdrawn completely from Kukawa," Kormi told SaharaReporters.
"We don't have any protection for our people in Kukawa. Many residents, out of fear, are currently in Monguno town. They didn't attack civilians, but we can't trust them. I think they solely focused more on the military,"
Boko Haram
Insurgency
Military
News
AddThis
: 
Featured Image
: 
Original Author
: 
SaharaReporters, New York
Disable advertisements
: 
target=_blank>The Parable Of The Shop By Kennedy Emetulu
Kennedy Emetulu
Kennedy Emetulu
"Let me clarify again what I said when I said fighting corruption is not an economic policy. It is not that we can't fight corruption, but we can fight it more aggressively while addressing economic issues. For example, in 2015, unemployment and underemployment was 24 percent, today it's 40. In 2015, we were attracting $21 billion in Foreign Direct Investment, we attracted only 12 last year….Our GDP was 520 in 2015 and per capita was 2,500, today it's under 1,900. If you look at our Stock Market, it's lost over 2 trillion in one year. So that is not any policy; you're not creating jobs, you're not doing the right thing and you're just fighting corruption. You can't shut down your shop and be chasing criminals."
– Peter Obi (at the Vice Presidential Debate organized by the Nigerian Election Debate Group and the Broadcasting Organisations of Nigeria on Friday, the 14th of December, 2018)
"Let me say also that if you allow criminals to steal all the inventory in the shop, there'll be no shop. That's the problem. And what has happened to Nigeria in the past 16 years is what the World Bank told us, that the major cause of our poverty is corruption. That's the major cause, that's what we've been told. So, let me say that there is no way that we can minimize what has happened. You can't minimize corruption. If you minimize it, we run the risk of completely….in fact, the argument is lost. We cannot do what we want to do unless we are able to minimize corruption or eradicate it completely, which is what we are trying to do".
– Professor Yemi Osinbajo (at the Vice Presidential Debate organized by the Nigerian Election Debate Group and the Broadcasting Organisations of Nigeria on Friday, the 14th of December, 2018)
I am reluctantly commenting on the Vice Presidential debate. I say reluctantly because the debate that should matter is the one between the heads of the ticket. However, for all it's worth the Vice Presidential debate gives us an insight into the thinking of the Campaigns. For an incumbent, it gives us some insight into the thinking of the government, especially a secretive government like the Muhammadu Buhari government.
Frankly, only the Vice President, Professor Yemi Osinbajo of the All Progressives Congress (APC) and Mr Peter Obi of the Peoples Democratic Party (PDP) deserved to be on that debate stage. I felt quite sad at first watching the other three persons trying to engage, but as the debate progressed, I got angry. I was angered by the fact that they showcased the Nigerian disease of indolence and lack of preparedness. I was shocked that Vice Presidential candidates of parties had no grasp of the facts and issues, I was shocked they came before the nation to just disgrace themselves, their tickets and their parties. But I also confirmed something I've since been canvassing which is that apart from the PDP and the APC, all the other parties are time-wasters. Any Nigerian serious about the future of the country should not waste their vote on a third party. They are not viable at all. Of all of them though, I make an exception of Mr Omoyele Sowore's African Action Congress (AAC). Sowore is not going to win, I know; but he is doing something different from all the others. Sowore has traversed the length and breadth of Nigeria campaigning. He is running an ideological campaign with a clear anti-establishment message. Unlike all the other newcomers, he understands the need to actually build a base first and he's doing that amongst university students, students of other tertiary institutions, tradesmen, market women and the angry young. Though his running mate, Dr Rabiu Rufai and Sowore himself weren't invited for the debate, their party had supporters there at the venue of the debate at Transcorp Hilton, Abuja protesting the fact they were not invited. The point I'm making is that Sowore is not viably contesting this very election of 2019, but he is effectively introducing himself as a politician to the nation. He is not campaigning to get into government now; he's building a project. Whether he would succeed or not is entirely in his hands, but I just want to point out that I do not regard him and his party the same way I regard all the rest, apart from the APC and the PDP.
Nigerians were not very enthused by the debate. I saw some poor viewing figures being bandied around. I'm not quite sure of the exact figures now or the veracity, but what registered immediately in my mind was that they were poor figures. It's not surprising in a country with its young lost in the bosom of Linda Ikeji and social media dramas. Inside the debate hall, it does look like the PDP had the strongest voice amongst the audience. This was what I could deduce from the breaches when the audience cheered or booed. Obi seemed to have the better reception with the audience followed by the Vice President. I don't know how they chose the audience, but the reaction may well be that of a cross-section of Nigerians truly tired of the APC government. You get that sense from the boos the amiable Vice President received each time he mentioned the 16 years of the PDP and tried to blame them for one thing or the other.
If this is an indication of what the Presidential debate will look like, I wouldn't be surprised to see Muhammadu Buhari duck it as he did the last time. He's an exceptionally tone-deaf leader who might think he won it the last time without appearing and can therefore win it again. He will not understand that the circumstances and expectations are different. Buhari would be scared stiff of the subdued reception accorded the Vice President. He is likely to read more into it than there is and opt not to appear. Alhaji Abubakar Atiku will certainly be there. He's already indicated that he would after watching the Vice Presidential debate when he said he couldn't wait to show up for his. It's obvious that because of the exceedingly poor performances of their running mates, Kingsley Moghalu of the Young Progressives Party (YPP), Fela Durotoye of the Alliance for New Nigeria (ANN) and Oby Ezekwesili of the Allied Congress Party of Nigeria (ACPN) are going to be extra-motivated for the showdown. Of course, they are going nowhere, but they would be in the mood to claim the scalps of the APC and PDP candidates. As they say in Nigeria, they'd want to "shine". Of the three, the person likely to make hay in that regard is Kingsley Moghalu. But in truth, Nigerians would only want to see an Atiku and a Buhari face-off. If Buhari cowardly opts out, then Atiku will be left with the hyenas, but I know he can hold his own.
In terms of the debate, there is no doubt that Peter Obi was the clear winner. Obi who is not blessed with a great voice was confident, knowledgeable, at ease and clearly prepared. The Vice President looked bedraggled, tired and repeatedly stuttered as he got intimidated by the reaction of the audience to some of his poor takes on issues, especially anytime he chose to go the route of "16 years". Now, I don't know what the rules were in terms of whether contestants could openly refer to materials, notes, computers, etc. while on the podium. I remember how during the 2004 US Presidential debate Americans and the world nearly had a meltdown at the possibility that Dubya (George W Bush) had a hidden device in his suit to 'cheat' during the debate with John Kerry. The contestants are supposed to talk ex tempore. On the debate stage, only Obi showed that level of preparedness to appear without notes, stepping back from the microphone once he finished answering the question and returning there to answer when further asked.
Peter Obi dished out a lot of statistical data to support his points, but there were a couple of these that got the 'fact checkers' fluttering and squawking in their cages. In his opening remarks, Obi said we now live in a country where we have the highest number of poor people in any nation, "87 million and growing 6 percent every minute". The fact that Nigeria has become the poverty capital of the world with about 87 million people is not disputable, but why needlessly add that this is "growing 6 percent every minute"? My suspicion is that Mr Obi simply misspoke and likely not deliberately. He was obviously well prepared with statistics, but he got something mixed up there. First, nobody rates poverty statistics every minute and if they do, 6 percent every minute is Armageddon. It is logically impossible. Maybe Mr Obi wanted to say that the poverty figure has the capacity to grow 6 percent every year, I don't know; but clearly that part of the data he provided is totally meaningless. All he needed to say was that with 87 million people living in extreme poverty, Nigeria has become the poverty capital of the world and he would have still effectively made the point he was trying to make.
The other problem with his statistics was when he mentioned that Nigeria has 2 million vehicles. This again was baffling. The difference between his figure and the reality of over 11 million is quite wide. Ordinarily, when I judge people's use of statistics in this type of pressurized atmosphere, I do not do so harshly as I look out more for the sense they make with their vision, rather than the numbers they quote. Clearly, Obi's anti-subsidy argument and his claim that what we are subsidizing today is inefficiency was very powerful and convincing, but where the statistics is provided to mask a big lie or score an unfair point, you need to look at that closely. In this very instance, Mr Obi was trying to make a case against the petroleum subsidy by saying those it is meant to benefit are an insignificant number in the population. By saying 2 million vehicles instead of more than 11 million, the impression is created that less than 20 percent of a certain class of beneficiaries are actually benefitting. There is clearly an intent to use statistics dangerously there, unlike in the case of the poverty figures. I was a little put off by that.
But nothing put me off more than the unrestrained untruths streaming out from the Vice President's mouth. It seems that Professor Osinbajo has taken it upon himself to be the Chief Pinocchio of the administration. His unconvincing pitch about the petroleum subsidy masks the fact that he, the President, the Minister of State for Petroleum and their various government, party and Campaign spokespersons have been lying relentlessly to Nigerians from day one about the subsidy payments. Today, despite having increased the price of petrol from N86 to N145 in one fell swoop and at a time crude price is low, his government is paying atrociously more in subsidy than the vilified Goodluck Jonathan government and we are hearing rumours now that they intend to increase the price again before the end of the year or by early next year. Professor Osinbajo has also perfected a pitch where he keeps repeating that their government is earning 60 percent less than the previous government which is a claim based partly on fiction and partly on the assumption that revenue is the same as earnings. Each time he claims that the Jonathan government earned $383 billion from crude sales, he conveniently refuses to acknowledge that this was at most revenue and not earnings as this was money shared between Nigeria and the other foreign partners. Of course, the share of these foreign partners can never be earnings, but Osinbajo is okay selling the lie that it is.
Also, repeating the proven lie about the amount of electricity we generate was annoying, especially in the light of the recent claim by the Minister of Power, Mr Babatunde Fashola that government is not responsible for the poor state of power supply in Nigeria and so also was the repeat of the fable about our level of self-sustainability in rice production. Osinbajo's figures about what they are spending on the social intervention programmes hide the huge corruption going on in the system where no independent audit of any sort is engaged and where the only spending and figures we get come from his office without independent corroboration from elsewhere. The financial recklessness involved in that programme is simply mind-boggling. And the shamelessness is brazen. For instance, the open vote-buying scheme that is the MarketMoni or TraderMoni with the Vice President as the arrowhead crisscrossing markets to ostensibly distribute these monies is puke-worthy. The Vice President, despite his claim to being a Christian cleric, is leading a government that has taken Nigeria to a new low in political immorality. Forget the surreal sight of the Vice President himself being the one personally doing this this ill-disguised vote-buying, does this not indicate that the government has no good intentions for our country and our people if this is how they think they can lift people out of poverty? Is it that the Vice President is so jobless that he has to be the ruling party's operative at the dirtiest end? Of course, he repeatedly tried to deflect attention from their own mismanagement and open thievery by reclining into his "16 years" blame of PDP for corruption, but the audience reaction each time he did that tells us clearly that Nigerians see through their lies. Nigerians look forward to the day Professor Osinbajo and the APC would leave government at the centre so the nation can properly investigate them. When the shoe is on the other foot, we'll see how the facts stack up.
The truth of the Vice Presidential debate is encapsulated in the two quotes above from Obi and Osinbajo. Obi said you cannot lock up your shop and chase after thieves and Osinbajo responded that if you leave thieves to steal the inventory there'll be no shop. These two quotes capture the mindsets of the APC administration we have in place now and the PDP angling to take over. Obi understands that losses to thieves, trade competitors, customers and so on are par the course in business. While he will not encourage theft, he will not abandon the investment in pursuit of losses because he realizes that without the investment, there will be no losses in the first place and the losses do not have to define the investment if the investor does everything to protect the investment. Obi recognizes in the analogy that the shop is Nigeria; this is your duty post as a patriot and as a public official and policy formulator and implementer. You cannot leave your duty post for any reason. Rather, you create processes and get facilities to deal with any challenge that may arise from focusing on that duty post, instead of thoughtlessly running out to supposedly confront those challenges.
But Osinbajo's attitude of chasing after the thief is akin to leaving your flanks open while running after a loss. I mean, which is bigger – the shop you are leaving to run after the thieves or the things stolen by the thieves? First, in going after the thieves, you are on an adventure with an uncertain outcome. You might capture them and recover your losses from them and you might not. So, assuming you recover those losses and return, it's either of two things you'll meet – your shop and inventory gone or a loss of business because of what you could not attend to while supposedly chasing the thieves. Yes, while you were gone, these are the only things likely to happen and both are bigger losses than whatever you chased after.
It's thus obvious that Obi and his team have a better sense of how to grow our economy. He repeatedly showed this with his analogies and in his use of comparative statistical data to indicate what we are doing wrong as a country and what we have to do to improve our productive base. When he said fighting corruption is not an economic or governance policy, he wasn't proposing that we should not fight corruption. He's saying making a song and dance about fighting corruption with little result and a huge dose of hypocrisy while we leave the real policy issues that should improve the people's quality of life and our standing in the world is a loser's manifesto. Obi has a great record in public service that neither Osinbajo nor Buhari can boast of. Indeed, if we were to grade Governors of the Fourth Republic from 1999, I would have Obi top of my list for the evident successes he brought to administration in Anambra State. He's no slouch in the private sector either and that combination isn't something you often get with our politicians.
Opinion
AddThis
: 
Original Author
: 
Kennedy Emetulu
Disable advertisements
: 
target=_blank>Not Too Young To Run AWAY: Nigeria's Comatose Youth By Dr. Perry Brimah
YPP's Getso summarized it aptly. She said, "in 2015 we had no choice and settled, this 2019 we will have a choice." Choices actually. I have not yet chosen my candidate from the new generation crew, but I have chosen who my candidate shall not be, and that's Atiku Buhari.
It is shameful that APC and PDP have so far successfully cajoled Nigerian youth into thinking the only option they have is to pick Atiku Buhari. What happened to "Not too young to run?" So many viable youth are running this time and too many youth are still on the expired bandwagon of the geriatric cabal who destroyed Nigeria and have no vision than more destruction on the next level.
I feel horrified that youth can either be so forgetful or so wicked to chose and promote Atiku Buhari. Two mass murderers. Have the youth forgotten Odi massacre that Obasanjo and Atiku perpetrated? How dare you support people who killed 2500 innocent Nigerians in Bayelsa? Do you not fear God? And dont' tell me it was Obasanjo and not Atiku. Is Osinbajo not claiming Buhari's "achievements" today as he campaigns for their next term on the joint ticket? Of course Osinbajo is responsible for the Zaria, Onitsha, Benue and other XYZ massacres under team Buhari-Osinbajo. That's the same way Atiku campaigned together with and for ticket Obasanjo-Atiku after the Odi and Zaki Biam massacres. The blood is on all their hands. Does Buhari not romance Obasnajo? Does Atiku not seek his blessings still? 
Anyone who fears God will run from Obasnajo and his children, Atiku and Buhari. Before even talking about economic stagnation and expired ideas and the way APC and PDP continue to protect the same group of cabal while locking up poor Nigerians in jails for stealing ordinary gari and massacring us; the mass murders and secret burials best pals Atiku and Buhari perpetrate is enough to make it an abomination to ever support them. Diaris God O! Did Atiku not put Buhari in power? Did Buhari not reward him with positions for Atiku's Garba Shehu, and other juicy ministerial spots and send Atiku as his ambassador earlier in the term? Atiku and Buhari are one and the same and even vaguely thinking of these two clueless and wicked, corrupt and clueless folk is to your shame!
I expect youth to rise up and walk the streets and sing "Cabal Must Go!" This is our chance. At last we can take Nigeria back. We will force the new generation candidates to settle for a single youth who we will all stand behind as the elections approach. For now join me stand up and shout, "Cabal Must Go!" #IStandToTakeOver. 
And on a final note, this is not just about the presidency. Please support only new generation candidates and new parties at all levels, senatorial, gubernatorial, representative and chairmanship. We have wasted another 20 years. it is enough! It is time to clean out the colonial expired vultures who chanced our parents and chanced us. It is time for a new story for Nigeria. it is our time.
Dr. Perry Brimah, Whatsapp: +234-903-420-3031; +1-929-427-5305; @CabalMustGo; @EveryNigerian; drbrimah@ ENDS.ng
Opinion
AddThis
: 
Original Author
: 
Dr. Perry Brimah
Disable advertisements
: 
target=_blank>SHOUT OUT: Battling Sexual Assault In Africa's Higher Institutions By Ibrahim Adeyemi
medium.com
It was an ill-fated month of scandal in April for a Nigerian Professor, Richard Akindele, a lecturer in Obafemi Awolowo University (OAU), one of the prestigious universities in Nigeria. The school made the headlines with the 's**-for-mark' scandal when a female student of the school, Monica Osagie, leaked the recording of the telephone conversation between her and the Professor. In the audio, the voice of the Professor was clearly heard demanding s** five times for a pass in an exam.
Expectedly, the said lecturer denied the allegation, stating that he deliberately demanded 'five rounds of s** in one date to discourage Monica, the student from the malpractice'. However, fact-based reports subsequently disclaimed the claims of Professor Akindele. His female students, especially, affirmed that it has been Akindele's propensity to demand to sleep with many female students for good grades. Akindele was later catapulted out of the school and sacked, but his church members pleaded on his behalf to be given the last chance. Should the randy s**-for-mark Professor be given another chance of harassing another student sexually?
Sexual harassment is ubiquitous, it happens everywhere in the world. There is no doubt about that, unless we want to hide the truth under the garment of lies. Especially in tertiary institutions, female students are commonly harassed and embarrassed sexually and morally. Particularly in Africa, students are vulnerable to sexual extortion. The malfeasance is becoming a general malady in universities, polytechnics, colleges and other higher institutions. Meanwhile, this perilous propensity is massacring the prosperous posterity of African students.
In Uganda, a similitude of what happened in Nigeria practically occurred. Rachel Njeri exposed a randy university administrator, who wanted to sleep with her in his office. According to the report by Africa Renewal (a magazine published by the United Nations), Njeri, a student of Makerere University, Uganda was quoted saying: "I tried to resist his actions but he was stronger than me. He grabbed me and threw me on the cabinet files at the corner." This happened in April, 2018, the same month Monica revealed the s**-for-mark-lecturer in Nigeria to the world.
Flashback: In April 2016, female students at South Africa's Rhodes University trooped out massively to express their grievances over unbearable number of rapes on their campus. The students went extra-mile to publish the names of 11 male students who had allegedly been involved in sexual violence but have not been tried in any way. Strangely enough, the Rhodes University management denied the allegations.
According to the Africa Renewal, "one in five women and one in 16 men are sexually assaulted while in college. For graduate students, 38 per cent of females and nearly one in four males reported sexual harassment from faculty or staff. Roughly half of all such instances included multiple victims of the same faculty member. About 40 per cent of female faculty members and 30 per cent of female non-faculty staff members experience sexual harassment. Colleges and universities have tried to confront the problem, but there is so much more to do. These gaps lead to costly consequences. Sexual harassment and assault drive talented faculty, staff and students away from colleges and universities."
Breaking the Silence on Sexual Abuse
Microscopically in Africa, female students battle with the venom of the s**-for-mark-rattled-snake. They suffer the pangs of sexual abuse in their various institutions. Silently, the burning fire of the so-called harassments is killing them academically and mentally; yet, little or no effort is made to maim the tense situation of sexual extortion and exploitation. A problem without a technical solution is not a problem; it is rather a curse.
When Monica Osagie broke the silence of how the lecturer demanded to sleep with her for marks, her bold step fuelled much actions and reactions from Nigerians. The said lecturer was eventually sacked; he was dealt with despite all his defensive plots. Thereafter, several cases of s**-for-mark scandals filled the airwaves of the social media. Many female students could not bear the I-will-fail-you-if-you-don't-sleep-with-me threat on the side of some shameless dons in our tertiary institutions.
Following Monica's 'shout out' in May, 2018, a student of the University of Lagos, Nigeria Joy Nwanna, discreetly took the semi-nude picture of a lecturer who intended to forcefully sleep with her and published it. According to Premium Times, the lecturer is a Professor of English and former Vice Chancellor of Tai Solarin University of Education. As if that was not enough, another s**-for-mark scandal followed suit. This time, it was in Lagos State University. In June 2018, a lady who did not disclose her identity partnered with an NGO to expose the predatory lecturer, Sunkanmi Odubunmi in the Economics Department of the school.
Student unionists and activists have to put in more efforts to ensure sexual harassment is curbed; else, going to school would be tantamount to going to the forest of the daredevils, especially for female students in Africa. Sardonic enough, most of the females are always afraid to advocate for what troubles their minds and mindsets. This is also consequential to the academic setback for some of them. Sexual harassment is no more news to female students across higher institutions in Nigeria, Ghana, South Africa and many other countries in the African continent. Does that really mean the problem can no more have a lasting solution?
The Way Forward
African Students' Union bodies need to show more practical and critical concerns about the disgusting acts and arts of forced sexual inducement. The campaign to stop the nausea on campuses should be the chorus in every student's mouth across Africa. Advocacy is not enough, agitation is most needed. Peaceful protest is not enough; propelling pendulum of power needs to be posed to ensure the orderliness of the disorderliness.
A retired Nigerian Professor at the Obafemi Awolowo University, Remi Sonaiya, has said that speaking up is important, supporting and standing by victims all over is more important and taking ground-breaking steps is most especially important in higher schools. 
"Unfortunately, many universities don't have strong deterrence or punishment for abusers. Students should be encouraged to speak out when such things happened," he said. "The good thing about such cases becoming public is that it will force the institutions to address them more seriously­, if only to protect names. Sadly, our universities have not dealt seriously with the issue of sexual harassment," he added.
Female students also need to speak up! They are the ones with full-grown hair of sexual fatigues but then, they are hardly brave and very grave-blind of what the future has for them. Silence over pain, our people say, is the beginning of misfortune. Many office holders in our higher institutions who are culprits of harassing students sexually go scot-free because of the high level of the timidity of the affected students.
Ibrahim Adeyemi is the African Regional Correspondent for the Commonwealth Students' Association and a student journalist from Usmanu Danfodiyo University, Sokoto.
Opinion
AddThis
: 
Featured Image
: 
Original Author
: 
Ibrahim Adeyemi
Disable advertisements
: 
target=_blank>Agbaje: Why I Parted Ways With Tinubu
The governorship candidate of the Peoples Democratic Party (PDP) in Lagos State, Mr. Jimi Agbaje, has stated that he left the camp of the National Leader of the ruling All Progressives Congress (APC), Senator Bola Ahmed Tinubu, over differences in principles.
"I take exception to the rule of one man in a metropolitan state like Lagos," said Agbaje, who parted ways with Tinubu in 2007 to join the Democratic Peoples' Alliance (DPA) as its governorship candidate.
This is coming just as Agbaje lamented the inability of successive administrations in the state to account for the expenditure of over N7 trillion revenue in the last 19 years. In a statement issued by the Media Officer of Jimi Agbaje Campaign Organisation, Olaolu Oladipo, after a television programme over the week, the candidate said he opted to join the PDP because the democratic principle being practiced by the ruling elite in the state ran contrary to his own idea of democracy.
The PDP Lagos gubernatorial candidate said: "I have no personal rift with him (Tinubu). What exists between us is all about differences in value and principle. When we were together, I discovered that his own idea of democracy was not what I was taught, so I had to take an exit. I am saying that what we are running today in Lagos is a one-man Lagos.
A Lagos where somebody says when he is going to bed, Lagos is going to bed, to me that can no longer be tolerable. Lagos must be made to work for the people of Lagos.
Agbaje promised to ensure that all residents became stakeholders in the governance of the state, if he was elected into power. Appraising the mode of governance in the state, Agbaje described the ruling party as foisting opaqueness in public spending, pointing out that, the ruling class in the state had refused to open up its activities to the people of the state who were not getting value for taxes they paid.
Politics
New Telegraph Newspaper
News
AddThis
: 
Original Author
: 
Wale Elegbede
Disable advertisements
: 
The 37 state party chairmen of the Social Democratic Party, including that of the Federal Capital Territory, have rejected the Justice Hussein Baba-Yusuf-led court order which declared Prof. Jerry Gana as the presidential candidate of the party.
An FCT High Court had on Friday declared Gana the winner of the presidential primary election of the SDP conducted on October 6 over alleged violation of the party's constitution.
Specifically, the court ruled that the SDP's National Chairman, Chief Olu Falae, and the presidential candidate, Mr Donald Duke, are from the southern part of the country.
Duke had won the October 6 primary with 812 votes, while Gana polled 611, but the former Minister of Information had approached the court to declare him winner on the grounds of zoning and rotation formula contained in the party's constitution.
But the forum, in a statement jointly issued on Saturday by its Chairman, Oke Idawene, and the Secretary, Abubakar Dogara, insisted that Duke remained the presidential candidate of the party for the 2019 election.
The chairmen said the court's ruling was an act of gross injustice, adding that it would not see the light of the day.
Politics
News
PUNCH NEWSPAPER
AddThis
: 
Original Author
: 
MUDIAGA AFFE
Disable advertisements
: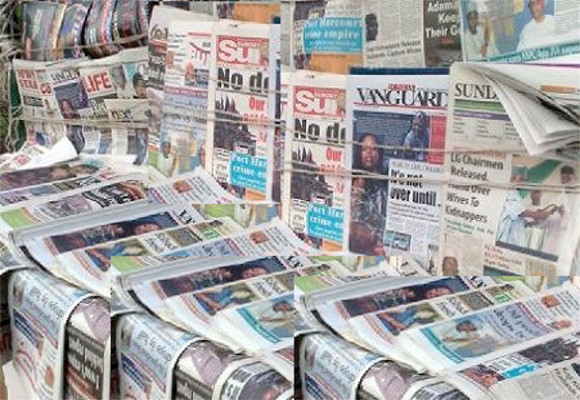 You can also check Sahara Reporters Newspaper Headlines Today