Sahara Reporters Latest News

Saturday 15th December 2018

Sahara Reporters Latest News Today and headlines on some of the happenings and news trend in the Country, today 15/12/18

Read also Leadership Newspapers News Today Saturday 15th December 2018
target=_blank>AAC Members Storm Venue Of Vice Presidential Debate To Demand Sowore's Inclusion
Members of the African Action Congress (AAC) on Friday staged a protest at the vice presidential debate in Abuja to demand the inclusion of their candidate, Omoyele Sowore, and Ahmed Rufai.
The event, which is holding at the Congress Hall of Transcorp Hilton, was disrupted for a few minutes when the protesters besieged the entrance of the hall, despite the presence of armed policemen at the venue.
The protesters carried placards and chanted solidarity songs. They arrived the venue of the event at 6:45pm.
Jude Eya, who led the group, said they were protesting to show solidarity and ask for the inclusion of Sowore in the election debate.
"We are here to demand the inclusion of our vice presidential candidate, Dr. Ahmed Rufai, and presidential candidate, Omoyele Sowore. Our party should be included in this debate. This debate is a national exercise. AAC is registered party in Nigeria. We the young people are not happy with the way AAC and our candidate Omoyele Sowore has been excluded from this exercise."
         
He accused the organisers of "bias", stating that "the process of  selection would have been made open to allow every candidate see that it was not manipulated".
Eya demanded for the documents contianing the criteria for selection of candidates, adding that AAC was rated third in the poll that was conducted online.
"Surprisingly, there was an online poll that was conducted to test our popularlity and AAC came third. So, if there is any party to be put in the third position after APC and PDP, then it should be AAC," he stated.
In his address, Ina Okopi-Agu, Assistant National Secretary North Central of the party and Director of Special Duties of the #TakeItBack Movement, vowed that the party would continue with the protest until the issue is addressed.
"We would have expected a situation where the others who were invited turn it down, but to our shock even the other parties who are not at the mainstream are represented here.
"We expected that they would have acted on this and refused to show up for this event. Right now, I see some of them on the screen and we want to assure the people who have put this together that we are coming for you. The youth of this country will take back their country in 2019."
Okopi-Agu demanded that the next debate slated for January 2018 be put on hold, adding that the country is "bigger than anybody trying to hold it to ransom".
He said since the Federal Radio Corporation of Nigeria (FRCN) is a public organisation funded with tax payers' money, the group would continue with the protest and not give up on its demand for justice.
Elections
Politics
News
AddThis
: 
Featured Image
: 
Original Author
: 
SaharaReporters, New York
Disable advertisements
: 
target=_blank>Under Buhari, Nigeria Awaits Final Burial, Says Ex-Delta State SSG
Ovuozourie Macaulay, former Secretary to the Delta State Government (SSG), has said with the current situation of the economy, Nigeria is "a country waiting for her final burial".
Speaking on the state of the nation with journalists during the week in Isoko, Delta State, Macaulay said he had "prayed for somebody who can come and salvage us from our present woes as a nation, because the country as it is today is only waiting for its burial, because it is a dead country economically, security-wise, and otherwise".
According to the one-time Delta State Chairman of the Nigeria Labour Congress (NLC) and the Nigeria Union of Journalists (NUJ), the present administration is "a monumental failure".
Speaking further on the President Muhammadu Buhari-led administration, Macaulay, a member of the Atiku Abubakar Presidential Campaign Organisation, said: "It is only a lazy man that complains of his bad tools. Jonathan has done his best and he's gone and you told us Jonathan was not doing well and you want to come and make things better. The bottom line is that the current APC government should admit that they have failed.
"Let me remind President Buhari of one thing. As a Christian — and I believe it is in the Koran too — the power of life and death is in the tongue. Let him search his mind if he ever said he was going to do one tenure to correct things and go away. Let him stick to that. Buhari's government has performed far below expectations and the country is dying. We are appealing to the APC government to be democratic and ready to accept defeat. We must all defend our votes come 2019 and the security agencies and the Economic and Financial Crimes Commission (EFCC) must not allow themselves to be used.
"You cannot be going after everybody for saying the truth and telling your government the truth of what you are doing that is wrong. Obama took over the affairs of the United States at a time their economy was crumbling, and what he did when he came in was not to crumble it further but stabilized it where he met it and from there they started building on it and took it back before he left office. In this case, four years the economy has worsened, so you didn't have the solution, so, in the first place you lied when you said you have the solution."
On PDP's 16 years of governance, Macaulay stated that: "When they say PDP wasted 16 years, the first question you ask is 'who were those in the PDP that they are talking about and where are the people now?' Adams Oshiomhole cannot write his history without giving some credit to the PDP as it were, because the PDP governor in Edo State handed over to him. So, if PDP was that power drunk, it would not hand over to him.
"Show me those in the All Progressives Congress (APC) today who do not have a link to the PDP. There is none. Is it Rotimi Amaechi? All his life has been PDP. In the House of Assembly, he had eight years and as governor, he also had eight years. This is his first time in APC so we don't even have his records as an APC member. Yet, the records available to history today are his 16 years in PDP, because he has not finished his tenure in the APC so, he cannot write his history in APC.
"Godswill Akpabio has just gone to meet them in APC. All his life as commissioner, governor was with PDP. We can go on naming all of them as products of PDP so, if they are accusing PDP of bad administration then they themselves are the first people to be punished for it. How do you compare a bad administration and a good administration?
"The impunity in PDP that killed the party then has been taken over by the APC and multiplied. PDP is having the mass support today because people now see that we have learnt our lessons. APC is in disarray today and the people have now built more confidence in the PDP."
Elections
Politics
News
AddThis
: 
Featured Image
: 
Original Author
: 
SaharaReporters, New York
Disable advertisements
: 
E2%80%98sabotaging-counter-terrorism-operations%E2%80%99-military-sacks-unicef-north-east target=_blank>For 'Sabotaging Counter-Terrorism Operations', Military Sacks UNICEF From North-East
The Nigerian Military has announced the suspension of the operations of the United Nations International Children's Emergency Fund (UNICEF) from the North-East.
According to a statement released on Friday by Onyema Nwachukwu, a Colonel and Deputy Director of Public Relations, Theatre Command, this was because UNICEF had "abdicated its primary duty of catering for the wellbeing of children and the vulnerable through humanitarian activities and now engaged in training selected persons for clandestine activities to continue sabotaging the counter terrorism and Counter insurgency efforts of troops through spurious and unconfirmed allegations bothering on alleged violations of human rights by the military".
Mwachukwu said the Theatre command would not tolerate "this kind of sabotage from any individual, group of persons or organization", and urged all NGOs and members of humanitarian agencies to keep to their legitimate norms in the discharge of their acclaimed humanitarian duties. 
"The Theatre Command Operation LAFIYA DOLE has observed with dismay that some of the activities of international humanitarian agencies and non-governmental organisations' operating in the North East have left so much to be desired," read the statement.
"There is credible information that some of them are indulging in unwholesome practices that could further jeopardise the fight against terrorism and insurgency, as they train and deploy spies who support the insurgents and their sympathisers. 
"It is baffling to note that some of these organizations have been playing the terrorists' script with the aim to continue demoralizing the troops who are doing so much to protect the lives of victims of Boko Haram Terrorism and safe guard them from wanton destruction of property and means the of livelihood. The Theatre Command considers the actions of these organizations as a direct assault and insult on the sensibilities of Nigerians, as they tend to benefit more from expanding the reign of terror on our people. 
"Consequently, the Theatre Command Operation LAFIYA DOLE is suspending the operations of the United Nations International Children's Emergency Fund (UNICEF) in the North East theatre until further notice. 
"This has become inevitable since the organization has abdicated its primary duty of catering for the wellbeing of children and the vulnerable through humanitarian activities and now engaged in training selected persons for clandestine activities to continue sabotaging the counter-terrorism and counter-insurgency efforts of troops through spurious and unconfirmed allegations bothering on alleged violations of human rights by the military."Information within the reach of this Command specifically indicates that the organization commenced the said training on Wednesday 12 December 2018 at the Ministry of Finance Conference Hall, Musa Usman Secretariat, Maiduguri and ended on 13 Thursday December 2018. The Theatre command will not tolerate this kind of sabotage from any individual, group of persons or organisation. 
Insurgency
PUBLIC HEALTH
Breaking News
News
AddThis
: 
Featured Image
: 
Original Author
: 
SaharaReporters, New York
Disable advertisements
: 
target=_blank>Court Removes Donald Duke As SDP Presidential Candidate, Installs Jerry Gana
Professor Jerry Gana, a former Nigerian Minister of Information, has been declared the presidential candidate of the Social Democratic Party (SDP).
The declaration was made in a ruling by a Federal High Court sitting in Abuja on Friday.
Donald Duke had been declared as the presidential candidate of the party after the primary election held in October 2018.
However, Gana had instituted a case against the result in court, basing his case on the zoning and rotation formula of the party.
Giving his ruling, Justice Hussein Baba-Yusuf said: "In this instance, the party's Chairman, Chief Olu Falae, is from the South and Duke is from the South too; the law is clear; there is nothing to write in-between.
"The law has crystallised that political parties should abide by the regulations which they have made by themselves. The claimant laid sufficient evidence to have the judgment in his favour; it is a clear violation of the party's constitution; the court cannot wave right over illegality."
Duke's votes were declared null and void and the judge declared that Gana was the winner of the election. The SDP was also ordered to forward Gana's name to the Independent National Electoral Commission (INEC) as its candidate for the 2019 general election.
Elections
Politics
News
AddThis
: 
Featured Image
: 
Original Author
: 
SaharaReporters, New York
Disable advertisements
: 
E2%80%99s-lagos-enugu-flights-disrupted-aircraft-suffers-depressurisation target=_blank>JUST IN: Air Peace's Lagos-Enugu Flights Disrupted As Aircraft Suffers Depressurisation
Flights of Air Peace on several routes were on Friday disrupted over depressurisation to one of its aircraft, which the airline claims has rendered the aircraft "unserviceable". 
The flight disruption led to some of its passengers stranded in several airports. 
As a result of the incident, the airline grounded the aircraft in line with the safety standards as entrenched by the Nigerian Civil Aviation Authority (NCAA). 
A statement issued by the airline's Corporate Communications Manager, Mr. Chris Iwarah, confirmed that some of the carrier's scheduled flights were disrupted due to a depressurisation challenge on its Lagos-Enugu flight.
However, he expressed regrets about the resultant delay of flights on several routes that the aircraft was scheduled to service.
He assured members of the public that the airline had made arrangements for other aircraft in its fleet to salvage the situation.
"On Friday, December 14, 2019, our Lagos-Enugu flight had a depressurisation challenge, compelling us to declare it unserviceable upon safely landing at destination in line with our strict safety standards. Although depressurisation is a common occurrence in aviation, we sincerely regret that the incident led to the disruption of our Enugu-Lagos service and other flights the aircraft was scheduled to operate. We are indeed sorry for the resultant inconvenience caused our esteemed customers.
"We have, however, made alternative arrangements to ensure the operation of the Enugu-Lagos and other services the aircraft was scheduled to do, while our team of engineers conduct proper checks on the aircraft, which has since been ferried to our base.
"We assure members of the flying public and our crew that we will continue to accord their safety a prime place in our operations and always act in their best interest. We urge our valued customers to continue to trust us to deliver the best flight experience to them.
"We quite understand the expectations of our esteemed customers, especially during the Yuletide, and we wish to assure them that we will neither disappoint nor take their patronage and loyalty to our brand for granted."
Economy
Travel
News
AddThis
: 
Featured Image
: 
Original Author
: 
SaharaReporters, New York
Disable advertisements
: 
E2%80%94-sowore-asks-ezekwesili-moghalu-durotoye-boycott-nedgbon-debate target=_blank>'Tweets Are Cheap' — Sowore Asks Ezekwesili, Moghalu, Durotoye To Boycott NEDG/BON Debate
The African Action Congress (AAC) has urged Fela Durotoye, Oby Ezekwesili and Kingsley Moghalu — presidential candidates of Alliance for New Nigeria (ANN), Action Congress Party of Nigeria (ACPN) and Young progressives Party (YPP), respectively — to boycott the presidential debate scheduled for January 2019.
In a move that has been widely criticised by Nigerians, the Nigeria Elections Debate Group (NEDG) and the Broadcasting Organisations of Nigeria (BON) had selected five political parties for the vice-presidential debate scheduled to take place later today, and the presidential debate which will take place on January 19, 2019.
Ezekwesili, Moghalu and Durotoye had also taken to Twitter to add their voices to the calls for the inclusion of more presidential candidates in the debates.
However, a statement by Dr. Malcolm Fabiyi, Director General of the Sowore 2019 Campaign/TakeItBack Movement on Friday, called on the presidential candidates to show integrity, decisiveness and courage by shelving plans to attend the debate.
According to Fabiyi, the plan to exclude Omoyele Sowore, presidential candidate of the AAC, from the presidential debate is a "deliberate attempt by the establishment to exclude the leading generational voice of Nigeria's youth in a debate about Nigeria's future".
The statement read: "After the massive outcry that greeted the exclusion of Sowore from the presidential debates organized by NEDG, BON and Channels TV, Fela Durotoye, Kingsley Moghalu and Oby Ezekwesili sent Twitter messages asking for transparency in the selection process and requesting the inclusion of Omoyele Sowore in the debate.
"While we salute them for their tweets, we ask them to do more. Tweets are cheap. Now that they have talked the talk, the question is will they walk the walk? These candidates know that their questions will not be answered simply because they asked nicely on Twitter. They know that they must act — with integrity, decisiveness and courage. If they claim to be part of a youth vanguard for change, this is their test of character.
"For Moghalu, Ezekwesili and Durotoye, this is the first test that they will face as voices of the new political generation in Nigeria. Each of them has acknowledged that the process that saw their emergence as debate participants was flawed. The question is this: will they be a part of this debate travesty? Will they affirm and endorse corruption by standing on a stage that was designed to fraudulently exclude authentic voices like Sowore's from the debate about Nigeria's future?
"Each of these presidential candidates knows that Sowore's AAC polled ahead of them in the survey that Channels TV commissioned for selecting participants. Each of them knows that Sowore's exclusion is a deliberate attempt by the establishment to exclude the leading generational voice of Nigeria's youth in a debate about Nigeria's future. Each of them knows that a debate stage that does not include Sowore is one that has been forged in deception, manipulation and lies.
"While we are not surprised that John Momoh, Channels TV, NEDG and BON will be on the side of ignominy and falsehood, by kowtowing to the APC and PDP in excluding Sowore from the debates, we wonder what the response of those who claim to offer a different and viable political alternative for Nigerians will be.
"Will Moghalu, Ezekwesili and Durotoye stand up for truth by boycotting a debate that is non-inclusive and obviously flawed? Or will their introduction to the Nigerian people be one that is aided by grand fraud and deception, enabled by the same system they claim to want to change?
"Later today, the Vice Presidential debates will hold. If the VP Candidates for the ANN, YPP and APCN get on that debate stage tonight at the Transcorp Hilton in Abuja, we will have our answer about what moral character these youth candidates are truly made of. We will finally know whether they are authentic voices for transformation and change, or whether they are puppets, and mere tools, in the hands of the old political order.
"The struggle to reclaim Nigeria will continue. We will know tonight, whether we can count on Moghalu, Durotoye and Ezekwesili to be part of that historic train. Nigeria MUST progress."
Elections
Politics
News
AddThis
: 
Featured Image
: 
Original Author
: 
SaharaReporters, New York
Disable advertisements
: 
E2%80%98forged-documents%E2%80%99-inec target=_blank>EXCLUSIVE: Kogi Lawmaker Lawal Idris Sued For Presenting 'Forged Documents' To INEC
Mohammed Lawal Idris, the lawmaker representing Ajaokuta Federal constituency of Kogi State at the House of Representatives, has been sued before a Federal High Court in Abuja for allegedly submitting falsified documents to the Independent National Electoral commission (INEC).
Court documents exclusively seen by SaharaReporters show that INEC and the All Progressives Congress (APC) are joined as defendants in the suit with idris, who is the APC candidate for Ajaokuta Constituence House of Reps election in 2019.
Ahead of hearing in the matter, which kicks off on January 8, 2019, the court has invited the Deputy Inspector General of Police, Force CIID Headquarters, Abuja, and Abutu Yaro, a Deputy Commissioner of Police (DCP), General Investigation Department, Force CIID Annex, Alagbon, Ikoyi, to "tender documents and to give oral testimony as it pertains to presentation of false information to INEC by the third defendant and falsification of National Diploma result/certificate in Business Administration from Yaba College of Technology, which the second defendant (INEC) acted upon as genuine to conduct the 2015 National Assembly general Election".
In October, SaharaReporters had reported how Idris allegedly forged a certificate from Yaba College of Technology (Yabatech). The certificate was investigated by the Police and dismissed by the institution itself.
See Also
Exclusive
EXCLUSIVE: How Lawmaker Lawal Idris Forged YabaTech Certificate To Win House Of Reps Seat
0 Comments
2 Months Ago
In early 2017, the Commissioner of Police, General Investigation Section, Criminal Investigation and Intelligence Department of the Police at Alagbon, Lagos, had received a complaint of forgery of institutional certificate/documents, attempted murder and threat to life against Idris. Acting on this, it wrote the Registrar of Yabatech for advice. 
A letter on behalf of the Commissioner of Police by DCP Yaro, exclusively obtained by SaharaReporters, read: "This Office is investigating the above mentioned case reported through petition by Mr. Aloysius A. Okino.
"You are kindly requested to furnish this office with the following:
"I. Confirm if Lawal Mohammed Idris was actually a registered student of your institution and his Matriculation No. before being awarded a National Diploma Certificate in BUSINESS ADMINISTRATION with LOWER CREDIT on the 26th day of June 1987.
"II. Confirm the authenticity /genuinety or otherwise of the attached certificate awarded and duly signed on 20th of October 1990 to the aforementioned candidate, and 
"III. Any other relevant information that could enhance our investigation in this case.
"Your prompt response will be appreciated, please."
Attached to that letter was a document purportedly from Yabatech, which read: "This is to certify that Lawal Muhammed Idris, having passed the prescribed examinations, has on the 26th day of June 1987 been awarded the NATIONAL DIPLOMA In Business Administration Lower Credit." 
The certificate was supposedly signed by the Registrar and the Rector. It was dated October 20, 1990.
On April 10, 2017, the Police followed that up with an invitation the Yaba Tech Registrar. This second letter, also written by Yaro, read: "This office is investigating the above mentioned case reported through petition by Mr. Aloysius .A. Okino, in which your office features prominently.
"In view of this, you are therefore requested to report for an interview with the Commissioner of Police, General Investigation Section, Force Criminal Investigation Department Annex, Alagbon Close Ikoyi, Lagos on Wednesday 12th April, 2017 at 1000hrs in connection with a case under investigation.
"You are to report to the Officer-in –Charge 'LEGAL. SEC GI' who will take you before the Commissioner of Police.
"This request is compelled by urgent law enforcement requirement and you are kindly further requested to treat with utmost urgency.
"Accept the esteemed regards of the commissioner of police please."
The following day a letter from Adenuga Adijat on behalf of the Registrar, addressed to the CP and titled 'Re: Authentication of Certificate: Lawal Mohammed Idris', disowned the said certificated.
"Your request on above refers," Adijat wrote. "Please be informed that Lawal Mohammed Idris was not a registered student of the college and the attached certificate which was said to have been issued to him did not emanate from Yaba college of Technology. Kindly discountenance his claim. Thank you."
Yabatech then embarked on its own internal investigations, and fished out its member of staff who allegedly helped Idris forge the certificate.
In September 2017, Charles Oni, its Director of Public Relations and Media, disclosed the name of the dismissed staff member as Seun Adekoya. He said Adekoya, a registry staff member who was involved in sale of certificate to the serving federal lawmaker, was arrested by the State Crime Investigation Division (SCID) and detained but later granted bail. 
When operatives of the SCID searched Adekoya's house, blank Yabatech certificates, statement of results, stamp pad and other college items were found. After his release on bail, Adekoya, who was queried by Yabatech management and later dismissed from the institution, also jumped bail.  In his statements to the Police, Adekoya, 35, confessed to forging a 1987 National Diploma certificate for Idris. 
See Also
Corruption
Those Who Said I Forged My Certificate Have 'Serious Symptoms Of Typhoid', Says Lawal Idris
0 Comments
2 Months Ago
Idris, though, denied the allegations. Responding via a statement by his lawyers, he described "the author of the said publication" as having "serious symptoms of typhoid fever or mental imbalance", and claimed that the Police had cleared him.
"For clarity and professional purpose, we wish to use this forum to put some issues straight to the entire Nigerians, Ajaokuta Federal Constituency people of Kogi State and the management of Sahara Reporters in particular that; the authors of the said publication, without any iota of doubt, may indeed have serious symptoms of typhoid fever or mental imbalance. In fact, a good political analyst may even be right to call them as political jobbers," his lawyers have said.
See Also
Elections
CONFIRMED: Lawal Idris, Kogi APC House Of Reps Candidate, NOT CLEARED Of Certificate Forgery
0 Comments
1 Month Ago
However, shortly after, when SaharaReporters visited the General Investigation Section, Force CIID at Alagbon, DCP Yaro, who conducted the investigation into the forgery case, confirmed that Lawal had actually not been cleared.
"To the best of my knowledge the man has not been cleared of the criminal offence," Yaro said.
CRIME
Elections
Politics
Exclusive
News
AddThis
: 
Featured Image
: 
Original Author
: 
SaharaReporters, New York
Disable advertisements
: 
E2%80%99s-problem-if-nigerians-lack-electricity%E2%80%9D target=_blank>Re: "It Is Not Nigerian Govt's Problem If Nigerians Lack Electricity"
Sir, it is sad to say to that you do not know that the federal government of Nigeria has 40% stake in  Disco, Genco and 100% stake in TCN which is the major stumbling block in the power sector.
Sir, the problem is shared 60/40 ratio with the businessmen leading the front but what about the government angle? 
The only thing you have shared in your three-year stay as PW&H is false narratives as regards the power sector. 
Sir, you have never bothered to speak on a tariff which is the real issue affecting the power sector. 
Sir, you forgot before PHCN was sold followed by devaluation of Nigerian Naira, energy was sold between N25-N36/kWh which is equivalent 18.4¢/kWh which is at par with many countries on Earth.
Sir, you forget to inform Nigeria that the Nigerian power sector is 100% import dependent, hence devaluation will have a devastating effect on the sector but nothing changed despite the devaluation 
Today Energy is sold between N25-36/kWh which is now equivalent to 8.4¢/kWh that is over 54% loss against a business which is 100% import dependent. How will they survive?
Sir, I agree the owners ain't technically savvy but this single issue will kill any form of investment in the sector as they will be struggling to recoup their earlier investment. 
Sir, you have do not have the solution to metering or energy theft but you love cosmetic facelift of the actual event which is NOT okay one bit.
Sir, I can not question your jurisprudence prowess but a critical sector like power sector needs a more qualified hand preferable an Electrical Engineer,  I believe this is the main reason why you have kept pushing false narrative of 2000MW stranded power which is non existent or 7000 MW generated power whereas we had capacity to generate 6.2GW as at 2014 but gas constraints and weak wheeling network which has not improved one bit in the last  4 years.
Sir, as at 2013, Nigeria was wheeling 3000MW + on the grid the same thing we are  wheeling  in 2018.
Sir, it is instructive to say Nigeria has NOT wheeled 4000MW averagely  in our 58yrs of existence. 
Sir, The data of the wheeled and generated energy since 2013 is available on NERC website capitioned as daily energy watch which has been discontinued. 
Sir pls find listed below links and data pulled from Nigeria Electricity Regulatory commission "Daily Energy" watch which was discontinued by NERC in Jan 2017 and the Energy report for 2017 and Q1 of 2018, NNPC monthly report and TCN System operators daily report from 2014 contradicts all you have pushed to the Nigerian Populace in three years.
Sir, you cannot know more than the Regulatory Commission, hence I implore you to stop sharing false narratives.
br /> br /> lol
Sir, any other figure other than the Statistics listed below is wrong and misleading. 
=================================
Nigeria as at 2013 was wheeling 3292MW averagely that is 28,837,920MWh of Energy in 2013.
=================================
Nigeria as 2014 was wheeling 3330MW averagely that is   29,170,800MWh of Energy in 2014
=================================
Nigeria as at 2015 was wheeling 3529MW averagely that is 30,914,040MWh of Energy in 2015
=================================
Nigeria as at 2016 was wheeling 3188MW averagely that is 27,926,880MWh of Energy in 2016
=================================
Nigeria as at 2017 was wheeling 3619MW averagely that is 31,702,440 of Energy in 2017
=================================
Nigeria as at March 2018 wheeled 3942MW averagely that is 8,514,720MWh which has since returned to the same position in 2014.
=================================
Our Electricity Consumption per capita has dropped because it is recorded against our Population. 
Pls, note there are Losses associated with Wheeling and Distribution and we also export Electricity.
There is at least 8% loss on wheeling and distribution and another 10% is exported to our neighbours leaving Nigerians to battle with less than 3000MW after 58 years of independence.
Anyone that tells you making power is rocket science is NOT okay. 
All over Africa Power Plants, they build power plants in record time and Egypt just unveiled a 14.4GW in 27.5 months for less than $6.5 billion. 
Sir, I beg you to stop pushing false narratives to the Nigerian Populace.
 
Regards,
Ettu Mohammed.
 
 
Opinion
AddThis
: 
Original Author
: 
Ettu Mohammed
Disable advertisements
: 
target=_blank>Bravo To EFCC For Charging NBA President Paul Usoro By Chuks Nwosu
Mr. Paul Usoro SAN is indeed a lucky guy. Otherwise, nemesis would not have caught up with him this late. Recently, Justice Agbam was removed as a judge for collecting bribe from Mr. Paul Usoro SAN and a few other senior lawyers to influence his judgments in favour of their clients. The National Judicial Council (NJC)  did not recommend the trial of Mr. Usoro for bribing the judge. Was it not the same NJC that had requested the Nigerian Bar Association to try Mr. Kunle Kalejaye for exchanging sms with a judge in an election petition tribunal? Has Mr. Joseph Nwobike SAN not been convicted for bribing a judge with less amount of money?
Instead of thanking his God (if he believes in the Almighty) Mr. Usoro SAN confidently colluded with an ICT company to manipulate the election of the Nigerian Bar Association. Thus, through electoral fraud by electronic means, he emerged as the President of the law body last July. Up till now, Mr. Usoro SAN has not challenged the serious allegations that he engaged in electoral fraud. Hence, he has been filing frivolous objections to postpone the trial of the case filed against him by a fellow contestant, Mr. Okafor SAN. The agenda of Mr. Usoro is to follow the bad precedent of Mr. A. B. Mahmoud SAN who deliberately delayed the trial of the case filed against his own fraudulent election until he completed his 2-year tenure!
No doubt, Mr. Usoro SAN  has successfully played on the intelligence of Nigerian lawyers. When he was challenged for engaging in money laundering during the NBA election Mr. Usoro dismissed the allegation. With stolen fund he campaigned with private jets all over the country and bribed corrupt lawyers to become their leader. Notwithstanding his new status, the Economic and Financial Commission continued the investigation of money laundering of the sum of N1.4 billion. Since he has no defence Mr. Usoro has decided to incite Nigerian lawyers against the EFCC. He is currently mobilising fellow corrupt lawyers to rise up against the plan of the EFCC to breach client-lawyer confidentiality.
In its reply, the EFCC has denied the porous campaign of calumny and instigation of lawyers by Mr. Usoro. EFCC has stated very clearly that Mr. Usoro never handled a case for the Akwa Ibom State government to justify the payment of N1.4 billion and that the case involved was an election petition of a governorship candidate. The six Senior Advocates hired by him have been interrogated. Knowing the criminality of the action of Mr. Usoro the senior advocates told the EFCC interrogators that they never knew that the fee to each of them was from the coffers of the Akwa Ibom state government. 
Let the 700 lawyers being assembled to defend Mr. Usoro stop blackmailing the EFCC. Let them be prepared to defend the allegations of money laundering and bribery of the Akwa state attorney-general with N65 million by Mr. Usoro. Let the gang of corrupt lawyers be reminded that the 90 SANs who were similarly assembled to defend Mr. 
 Ricky Tarfa SAN has disappeared from his defence team. That is going to be the fate that would befall Mr. Usoro very soon. 
 
Chuks Nwosu
 
Opinion
AddThis
: 
Original Author
: 
Chuks Nwosu
Disable advertisements
: 
Who is fooling who? When two individuals with good eyesight viewed a black object but one individual said it was black, and the other said it was white, we might reasonably conclude that the person who described the black object as white was being dubious. We could say that the individual was simply mischievous about the description or grossly dishonest. Our description of the individual would certainly be different if the circumstances involved over one hundred persons and only one person described the black object as white. The singular description of the black object as white by the individual would certainly transcend dubiousness. His dubiousness would most probably be overreached by the wonderment of his ashamedness and untruthfulness and become a false dubiousness. The state of false dubiousness is the state where I say dubiousness translates to counterfeited dubiousness. Every counterfeit is driven by false pretence or with an intent to defraud. Thus, the behavioural attitude of counterfeited dubiousness typifies circumstances where dubiousness is driven by an intent to knowingly deceive others or the public.
When we talk about aggrieved aspirants, there are different colourations of aspirants. I characterize the aggrieved aspirants in APC, Ondo State as (a) genuine, (b) dubious, and (c) counterfeited dubious. To understand these characterisations, we need to revisit the background and the events leading to the crooked APC primary elections in Ondo State. Prior to the primary elections aspirants could be grouped under three main blocs at the state party level, namely, (a) those supported by the Party's State Executive, (b) those supported by the "authentic" Party's State Executive, and (c) those who considered themselves as independents but craved the support of the Party's State Executive and the members of the Party. At the national party level, there were two major power brokers – the national power brokers represented by the Party's National Working Committee (NWC), and the state power brokers represented by the State Government. It is noteworthy that some aspirants across the three main blocs at the state level are influential and enjoyed the sympathy of the national power brokers, some had the total backing of the state power broker, and some were totally dependent on the party delegates and were "god fatherless."
Early in the year there was a confluence of power brokers in the state. The national power brokers and state power brokers had unity of purpose and unity of outcome. This was the case during the state's Party congresses. The state power brokers were able to select, monopolise and entrenched their "own men and women" as members of the Party's Executive Committee at the ward, local government and state levels. Given the confluence of power brokers over the affairs of the Party, the state power brokers had mainly and prematurely selected and monopolised all the elective positions at the state and national levels for the forthcoming general elections in favour of some of their preferred aspirants. These preferred aspirants had taken their candidatures for granted whilst some disfavoured aspirants had decided that it was not even worthwhile to contest the primary elections. However, a new Sheriff came to town along the line, and there was a whole new ball game. The unitary cords of the national and state power brokers was consequently disentantled. There was no longer unity of purpose and unity of outcome among the national and state power brokers. The absence of confluence of understanding between the national and state power brokers offered two of the three main blocs (the blocs supported by the "authentic" Party's State Executive and those who considered themselves as independents) at the state level a temporary political life line.
To the innocent bystander, the protracted argument about the electoral procedure or mode of election to be adopted for the APC primary election was a mere democratic debate made in good faith. The contrary was the case. The Party's State Executive wanted "indirect primary election" to concretise the gains made during the congresses. The "authentic" Party's State Executive favoured "direct primary election" to negate the gains made by the State Executive during the congresses. The national power broker had sympathy for the sponsors of the "authentic" Party's State Executive because of the ruthless one sidedness of the State's Executive Committee and the apparent willingness, if not desperation of the state power brokers to dislodge those who were perceived as their political enemies from their existing elective positions or prevent them from opportunities to secure elective positions on the Party's platform. The third bloc was at the mercy of the Party's delegates. At the end of the day, the national power brokers attempted to protect all the three main blocs by adopting direct primary election for the state in the interest of fairness and justice. That was, nevertheless, not the end of the story. While the national power brokers had the final say concerning the decision making, the state power brokers had the the final say concerning the implementation of the decision.
Upon the realisation by the national power brokers that the state power brokers had planned to employ the machinery of the Party's structure in the state to influence the primary
election and impose their original will to select and monopolise the Party's candidates for the national and state elective positions the national power brokers reacted. They moved fast to counter the state power brokers by presenting the serving senators with automatic tickets. It should be noted that it was cleared that if the national power brokers had not done so, the state power brokers would have had their way and imposed their preferred aspirants on the other aspirants. The national power brokers, however, did not want to be "selfish" and decided to test the water by attempting to organise direct primary elections in respect of the House of Representatives and House of Assembly. The outcome of the test was that the state power brokers bitterly and ruthlessly local enforcement agencies and political thugs to bulldoze all other aspirants except their favoured aspirants from the electoral space and declared all their preferred aspirants as winners. The national power brokers rejected the illegal results and balkanized the House of Representatives and House of Assembly's positions between the favoured aspirants of the national power brokers and the preferred aspirants of the state power brokers. The third bloc comprising the independents who were "god fatherless" became the overall losers.
When we talk about the aggrieved aspirants in APC Ondo, the "genuine aspirants" are those who were independent and "god fatherless." The dubious aggrieved aspirants were those who expected to be favoured by the state power brokers but were disappointed. The "counterfeited dubious aspirants" were those whose names were originally presented as winners by the state power brokers through a blatantly rigged pseudo electoral process but were removed by the national power brokers. They knew they were blatantly imposed on other aspirants and fraudulently presented as winners by the state power brokers, and unashamedly insulting the national power brokers. They claimed the national power broker imposed candidates on the Party in circumstances in which they were prepared to benefit from acts of impositions by the state power brokers.
Presently, some of the genuine aspirants, dubious aspirants and counterfeited dubious aspirants have left the APC for another political party to fulfil their political aspirations. Some with equanimity and others with mischievous tantrums. Unfortunately, it is the counterfeited dubious aspirants that are most vociferous claiming that they were robbed of their impending "victories" at the botched primary elections as if their expected "victories" were not a product of undemocratic blatant planned imposition.
The bottom line is that the counterfeited dubious aspirants' claim of victimization is counterfeit. It is plainly false. Are you awake?
Nat Adojutelegan, PhD
APC, Ondo North Senatorial Aspirant
Opinion
AddThis
: 
Original Author
: 
Nat Adojutelegan
Disable advertisements
: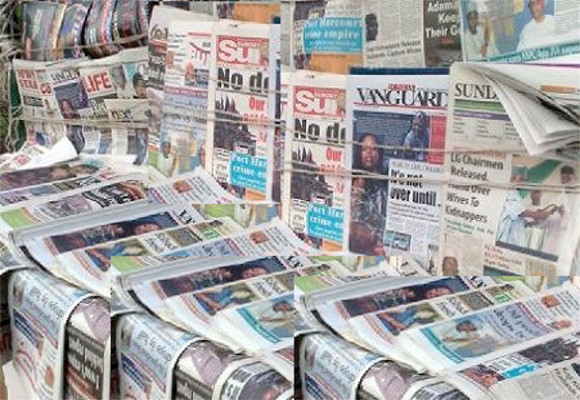 You can also check Sahara Reporters Newspaper Headlines Today