Sahara Reporters Latest News

Thursday 13th December 2018

Sahara Reporters Latest News Today and headlines on some of the happenings and news trend in the Country, today 13/12/18

Read also Leadership Newspapers News Today Thursday 13th December 2018
target=_blank>Declare State Of Emergency On Kidnapping In Ondo, NBA Tells Akeredolu
The Nigerian Bar Association (NBA), Owo local branch in Ondo State, has accused the Nigeria Police Force (NPF) in the state of not doing enough in terms of securing lives and properties, and called for a state of emergency to be declared on kidnapping.
The lawyers said this on Wednesday during a peaceful demostration over the spate of kidnapping and armed robbery on the Akure/Owo/Akoko road in the state.
They marched with placards with various inscriptions such as: 'Kidnapping is A Crime Against Humanity'; 'Let Us Say No To Kidnapping, It is A Heinous Crime'; 'All Hands Must Be On Deck Against Kidnapping and Robberies', among others.
Noting that the road leading to the Northern senatorial area of the state was no longer safe for motorists and travellers, they also lamented that failed portions of the Akure/Owo/Akoko roads have become a trap as kidnappers operate along the route, even in broad daylight.
Speaking on behalf of the lawyers on Wednesday, Tajudeen Olutope-Ahmed, the Owo branch Chairman of the NBA, said the rampant cases of kidnapping in Ondo State was becoming a source of concern to members of the legal profession.
Olutope-Ahmed expressed displeasure over security lapses in the state in recent times and also demanded that more security measures are put in place to curb the menace of kidnapping. He also condemened the kidnapping of some victims (three medical workers and two lecturers of the Rufus Giwa Polytechnic, Owo) and called on the Police to wake up to its responsibilities of providing security for the people.
"While eye witnesses said the victims were five, that is, three FMC Owo staffers and two Rufus Giwa Polytechnic workers, the Ondo State Police was reported to have put the number of the kidnapped victims at two individuals; this is worrisome," he said.
"We therefore call on the Police authorities to wake up to the present security challenge in Owo. This is not the time to slumber. It is not the time to be supine as well. Police must, as a matter of necessity, be at alert to the security situation in Owo and its environs. To this end, we suggest that the idea of mounting Police check points — which are nothing but avenues to rake bribes from commuters — be reviewed.
"Constant Police patrol of the roads should be embarked upon. In this way, Police will be able to foil any attempt by the men of the underworld from showcasing their daredevil skills on the roads."
The NBA Local Chairman, however, accused the state government of having failed in its constitutional responsibility of providing security to its citizens.
"The kidnappings ad ifinitum in Owo and its environs, of which one of our members was once a victim, is an indication of total collapse of security in Owo and the triumph of kidnapping and armed gangsters. It is on this note that we hereby invite the Government of Ondo State and that of the Federal Government to declare a state of emergency on kidnapping on Owo roads and that of the entire federation," he added.
CRIME
Legal
Police
News
AddThis
: 
Featured Image
: 
Original Author
: 
SaharaReporters, New York
Disable advertisements
: 
E2%80%99s-suit-compelling-nigerian-govt-fix-oshodiapapa target=_blank>Fashola Asks Court To Dismiss Falana's Suit Compelling Nigerian Govt To Fix Oshodi/Apapa Expressway
Babatunde Fashola, the Minister of Works, Housing and Power, has urged the Federal High Court sitting in Lagos to dismiss the fundamental right suit filed by leading human rights lawyer, Femi Falana (SAN) challenging the failure of Nigeria's Federal Government to remove the gridlock on the Apapa-Oshodi expressway.
A counter-affidavit deposed to by one Ayodele Otedola, a litigation clerk at the Federal Ministry of Works, on behalf of the Minister, noted that the gridlock on the road "is always caused by tanker drivers who normally follow the route to NPA for the purpose of loading and offloading their goods" and that the Minister's "effort to clear the road and remove the trailers and tankers has not been easy but that effort has been redoubled to achieve this goal".
In his preliminary objection against the suit, Fashola contended that the failure to repair the road has not in any way restricted or breached Falana's freedom of movement. He also challenged Falana's locus standi to file the suit, since he has not shown that he has suffered over and above other motorists or people who use the road.
In the suit, Falana argued that the state of the road constitutes a threat to his life and violation of his fundamental right to move freely in Lagos guaranteed by Sections 33 and 41 of the Constitution of the Federal Republic of Nigeria, 1999 as amended and Articles 5 and 12 of the African Charter on Human and Peoples' Rights (Ratification and Enforcement) Act. In the substantive case, the rights lawyer is also seeking the following reliefs:
"1. A DECLARATION that the refusal or failure of the Respondents to remove obstructions, repair and maintain the Oshodi-Apapa Expressway is illegal and unconstitutional as it constitutes a threat to the fundamental right to life of the Applicant guaranteed by Section 33 of the Constitution of the Federal Republic of Nigeria, 1999 as amended and Article 4 of the African Charter on Human and Peoples' Rights (Ratification and Enforcement) Act (CAP A9) Laws of the Federation of Nigeria, 2004.
"2. A DECLARATION that the failure or refusal of the Respondents to make the Oshodi-Apapa Expressway safe for motorists is illegal and unconstitutional as it violates the Applicant's fundamental right to freedom of movement guaranteed by Section 41 of the Constitution of the Federal Republic of Nigeria, 1999 as amended and Article 12 of the African Charter on Human and Peoples' Rights (Ratification and Enforcement) Act (CAP A9) Laws of the Federation of Nigeria, 2004.
"3. A DECLARATION that the parking of tankers and trailers on the overhead bridges in Lagos is illegal and unconstitutional as it constitutes a threat to the fundamental right to life of the Applicant and other motorists guaranteed by Section 33 of the Constitution of the Federal Republic of Nigeria, 1999 as amended and Article 4 of the African Charter on Human and Peoples' Rights (Ratification and Enforcement) Act (CAP A9) Laws of the Federation of Nigeria, 2004.
"4. A DECLARATION that the Applicant is entitled to his fundamental right to economic, social and cultural development guaranteed by Article 22 of the African Charter on Human and Peoples' Rights (Ratification and Enforcement) Act (Cap A9) Laws of the Federation of Nigeria, 2004.
"5. AN ORDER directing the Respondents to remove all obstructions, repair and maintain the Oshodi-Apapa Expressway forthwith."  
The Federal High Court has fixed January 19, 2018 for hearing the substantive suit and the preliminary objection.
Human Rights
Legal
News
AddThis
: 
Featured Image
: 
Original Author
: 
SaharaReporters, New York
Disable advertisements
: 
target=_blank>How Saraki, Melaye, Dogora, Tambuwal Lured APC Lawmakers To PDP
Bode Ayorinde, a member of the House of Representatives representing Owo/Ose Federal Constituency of Ondo State at the National Assembly, has given insight into how federal lawmakers elected on the platform of the All Progressives Congress (APC) dumped the party for the Peoples Democratic Party (PDP).
Ayorinde spoke on Tuesday at a stakeholders meeting and flag-off ceremony for his campaign in Owo area of the state.
According to the lawmaker, a series of meetings were held at different locations in Abuja where they perfected their defection from APC to PDP. He also explained that the meetings were planned by the duo of Senate President Bukola Saraki and House of Representatives Speaker Yakubu Dogora.
Speaking on the moves that led to the defection of the lawmakers, Ayorinde said: "We held a series of meetings on how to move this country forward since the 'Change' agenda that the APC-led goverment promised the people of this country seems to be a total scam and nothing is working.
"Senate President Bukola Saraki chaired the meeting; Speaker of the House of Representatives, Yakubu Dogora was there, as well as the Governor of Sokoto State, Aminu Tambuwal and many other former senators. They felt the need to change the man in government, who is not making things work perfectly.
"Later, they called about 34 of us at the House of Representatives to come into the meeting where a group was formed, while they also called on 15 rebel senators to join us. We held no less than 59 meetings, planning and strategising on our breaking away from the ruling APC. We all contemplated on whether to form a new party or join an existing one."
The Ondo Federal Lawmaker, who is also the candidate of the PDP for the same Owo/Ose federal constituency, said three political parties — Social Democratic Party (SDP), African Democratic Congress (ADC) and the Peoples Democratic Party (PDP) — were suggested to them during their meetings.
He continued: "We called on the leaders of these political parties to come and talk to us on how they can develop the country if we moved en masse into their fold. It was Professor Adediran who led those from SDP to come and convince us that we should defect to their party while talks were ongoing. It was Prince Olagunsoye Oyinlola who led those from the camp of the ADC, and he begged us to join because it is Baba Obasanjo's political party and that if we join, we can join them to move Nigeria forward.
"And for the PDP, it was the National Chairman of the umbrella party, Mr. Uche Secondus, who led the team of about 20 people to convince us about the PDP. We now sat down and looked into the strengths of these parties, then we asked them what they would do for us if we joined them. However, they asked us to pen down what we wanted from them. Then, we went back and wrote that we wanted the security agencies to be more strengthened, so as to tackle the security challenges in the nation such as the herdsmen crisis, Boko Haram and others, for peace to reign.
"We also demanded that they provide jobs/employment in all senatorial districts of the nation in order for the youth to be gainfully employed and leave the streets. Also, we told them that we hoped they would give all of us — serving Senators and the House of Representatives members — automatic tickets, if we defect from APC to their own party. They said they were satisfied with all our demands and they shall do as we asked. We documented these demands and both parties signed the the six-point agreement."
According to Ayorinde, the federal lawmakers decided to form the R-APC within the ruling party, when they were still strategising on their next move from APC to PDP.
"We later got back to the National Assembly and we gave ourselves a name, which is the Reformed-APC. I was the Chairman of the House of Representatives, while Senator Dino Melaye was Chairman of the Senate House. While others in the group were still afraid to announce their defection, I was the first person to announce my exit from the APC to the PDP on the floor of the National Assembly.
"After our announcement, we travelled to our constituencies to register as bonafide members of PDP, and we were all accepted into the umbrella party with the aim of winning the election for our presidential candidate, Alhaji Atiku Abubakar."
Elections
Politics
News
AddThis
: 
Featured Image
: 
Original Author
: 
SaharaReporters, New York
Disable advertisements
: 
target=_blank>We Chose Debate Candidates Based On Their Character And Popularity, Says NEDG
The Nigeria Elections Debate Group (NEDG), organisers of the presidential debate in collaboration with the Broadcasting Organisation of Nigeria, has revealed that it selected five candidates were selected based on "character, conduct and other things of the candidates".
Eddi Emesiri, Executive Secetary of the NEDG, made the revelation during a telephone conversation with one Issac Obasi, a Lagos-based human rights activist, about why some candidates were excluded from the debate.
In the four-minute 53-second conversation between the duo, when queried on the narrow selection of candidates especially to the detriment of more popular candidates, Emesiri said: "Popular where? We did research from September to November this year in the six zones of the federation. We did vox pop; we did social media and also voting, and then we also have character conduct and other things that we are looking at. So, we matched this and this and this and we arrived at this conclusive report."
Queried further as to why the result of the research purportedly conducted was not made public, Emesiri said: "We based our research on the whole of the country. Please, we are taking a totality of the reports we got from across the country. Everybody has his area. This is the 13th call I've received today."
Interrupting, Issac Obasi said: "Oh you see, people are calling because they want to find out."
Responding, the Executive Secetary said: "That is why I am taking my time to explain to you. We had to put all the information together and that is why we said if we had to select, we will select only five."
Elections
Politics
News
AddThis
: 
Featured Image
: 
Original Author
: 
SaharaReporters, New York
Disable advertisements
: 
target=_blank>An Open Letter To Bianca Ojukwu By Law Mefor
Since you walked the red carpets as a beauty queen, many of us have followed you. Though beauty contest is a mere competition that has traditionally focused on judging and ranking the physical attributes of the contestants, most contests have evolved to also incorporate personality traits, intelligence, talent, and answers to judges' questions as judged criteria.
So, becoming the African queen of your time, and even now, was no mean feat. It comes with real beauty, brain and brawn, no doubt.
You really didn't need any contest to prove you are one of the most beautiful women to walk the face of mother Africa. Ikemba, while still wooing you confirmed my position when he said in the book, Because I am Involved, "To say that Bianca Onoh is beautiful is like standing before the Eifel Tower and be shouting that the building is tall".
You later became his wife and sadly, now his widow. And here lies the reason I am writing you. I am of a very considered view that Emeka Ojukwu's widow does not need partisan politics. You do not have to agree with me. But the bruises you so easily suffered since you ventured into partisan politics were not a coincidence.
Politics is like that. It is adversarial in nature and takes no prisoners. Even being the widow of Emeka Ojukwu will not be armor strong enough to shield you from its vagaries. And that is why many people who may want to serve still shun it; certain persons occupying certain positions do not go into contests for political positions also. They don't need the heat, so they stay away from the kitchen.
Like observed already, partisan politics everywhere, not just in Nigeria, is deep murky waters. Nobody swims it and comes away clean. And because we are living in an imperfect world, there is always a nasty story to tell about someone, especially when they are determined to tell such a negative story. And to show how inescapable, these stories do not even have to be true to be believed. That is why, in politics especially, facts and truths are not exactly the same.
If you recall, when Femi Fani-Kayode made a reckless amorous claim against you, many of us rallied and fought him off. He apologized to you, and because his claim bellied your stay in UK or something like overseas studies, some of us insisted it shouldn't count.
Many naturally gravitate to your rescue and defence in such hostile circumstance not so much for you as it is for Emeka Ojukwu and here is why. Let us face it: Ojukwu lived and died the symbol of the Igbo race and the struggle for the emancipation of Igbo people. He played certain inimitable roles culminating, ultimately, in leading the Biafra struggle and heading the Republic of Biafra for 30 solid months.
While the Biafra war lasted, it was so brutal that genocidal measures and actions were clamped on Biafrans. Otherwise, what was the intendment of hunger as war weapon used by the federal government against Biafrans during the war if not for their extermination?
In a deft response to the attendant starvation, many Biafra women took harrowing risks to keep the soldiers, their husbands and children alive (watch the documentary 'Afia Attack' produced by Ujuaku Akukwe and refresh on this).
Your late husband and arguably the greatest Igbo man ever lived, Emeka Ojukwu, bore all that on his then young shoulders, barely 33 at that time. The need for the survival of Ndigbo and Biafrans at large deprived him much of his youth and full settled life until you came to fill the vacuum and provide him the much needed succor. He was driven into exile and he stayed away for 13 years. Later he returned, having been pardoned by the Shagari government.
When Ikemba returned home, many of us also were of the opinion that he shouldn't join politics and that if he must, he needed to join forces with NPP. Ikemba joined the ruling NPN instead and gave his reason as the need to lead Ndigbo back into the mainstream Nigeria polity and politics. He got thoroughly messed up and demystified, to the point that it was claimed that one nondescript Dr. Edwin Onwudiwe(no offence intended) defeated him in a mere senatorial election. Sometimes I wonder what image Ojukwu would have carried if he did not go into politics.
The rest, as they say, is now history. And that is politics for you and a further confirmation that certain persons for some circumstances should not join partisan politics. Or are you not aware that the Queen of England and her family do not vote let alone contest for offices?
Recall also that in the wake of the present democratic dispensation, 3 legacy political parties emerged – PDP, AD and APP (as it then was; it later became ANPP). Soon after, some Igbo leaders felt there was a need to raise a political party where Ndigbo could have unfettered access and expression. By then, Dr. Alex Ifeanyichukwu Ekwueme of blessed memory had been manipulated out of the PDP presidential ticket (I will do a full piece on the emergence of APGA in due course).
I believe the reason APGA was formed, not necessarily as Igbo party, but one where Ndigbo can beat their chest and say it is one they inspired into existence, made Ikemba to accept to be the APGA presidential candidate. As at the time Ikemba joined APGA and became its flag bearer, his majestic and emphatic entry into the fray was such a welcome development and symbolic gesture. He came third in the first presidential poll. Not that Ndigbo deluded themselves that Ikemba would win.
As shown in the relatively paltry number of votes garnered by Ikemba, many Igbos who loved and revered him didn't even vote for him. They followed their head or heart and entrenched interests in the PDP. Many more Ndigbo, as usual, did not even bother voting at all.
What am I saying? I am only drawing your attention, o our queen mother, to the rugged nature of the struggle, which you now symbolize. It is a role imposed upon you by both choice and destiny. The moment you accepted Ikemba's hand in marriage, you equally accepted, wittingly, to share his fate. He didn't co-opt you. And departing, he left the rest of the struggle, as it were, to you.
You can see why I cried when I heard you were contesting to go to the senate? If you were not the widow of Ikemba, may be. But you could see how the race abruptly ended for you, for the very reason I have tried to draw out here.
Whoever advised and goaded you into the risky senate race was unkind to you and demeaned your exulted position. A queen mother cannot bring herself so low as to contest with her subjects. Forget  how young you are. It is beyond age. It is about the stool you sit on as Ojukwu's widow. The more you contest (and lose or even win) you end up debasing your hallowed stool the more.
In APGA, your place ought to be assured. Anything short of chairman Board of Trustees is not for you. But do you really need additional position? I don't think so! You are Bianca Ojukwu. No position is higher than that in the eye of the Igbo man and woman. Kindly regain this perspective and hold the dream and promise Ikemba left behind.
Dr. Law Mefor is a concerned APGA member. +234-803-787-2893; e-mail:lawmefor@gmail.com.
Politics
Letter
AddThis
: 
Original Author
: 
Law Mefor
Disable advertisements
: 
target=_blank>Presidential Debate: Who Is Afraid Of Omoyele Sowore? By Bayo Oluwasanmi
 
The long awaited 2018 presidential debate schedule was released yesterday by Eddi Emesiri, the Executive Secretary of the Nigerian Election Debate Group (NEDG) and the Broadcasting Organisation of Nigeria (BON). Five political parties will take part in the presidential and vice-presidential debates for the 2019 race for Aso Rock: Allied Congress Party of Nigeria (ACPN), Oby Ezekwesili, Alliance for New Nigeria (ANN) Fela Durotoye, All Progressives Congress (APC) Muhammadu Buhari, Peoples Democratic Party (PDP) Atiku Abubakar, and Young Progressive Party (YPP) Kingsley Moghalu. The vice-presidential debate is slated for Friday, December 14, from 7 pm at the Congress Hall of Transcorp Hilton, Abuja. The Presidential debated is scheduled for Saturday, January 19, 2019.
African Action congress (AAC) and its presidential candidate Omoyele Sowore not among the five political parties listed for debate.
The exclusion of AAC from the presidential debates is not only a travesty of justice, but day light robbery of our democracy, the constitutional and legal rights of AAC, Sowore, and Nigerian voters. The non-inclusion of AAC by the so called NEDG and BON didn't come as a surprise given the history of election rigging in Nigeria. It is under statement to say that other parties are hell scared of AAC and Sowore. The entry of Sowore to the Nigerian political space was sudden and unexpected, by the god fathers of Nigerian politics and the well entrenched parties of corrupt cowards and thieves. They were not prepared for hurricane Sowore which completely altered the political rigging paradigm of APC and PDP.
NEDG and BON owe Nigerians some explanations: Who and who constitute the members of NEDG and BON? What's the constitutional mandate given to NEDG and BON? What's the criteria of choosing the five parties for the debate? Who funds NEDG and BON? Of all the five parties chosen for the debate, none has campaigned so hard, forcefully, so extensive, so intense, and so consistent, over a longer period of time and throughout the length and breadth of Nigeria. Sowore has been to all the 36 states. He has met and dialogue with the Nigerian poor of different shapes and sizes. He has gone where none of the five candidates selected for the debate has gone. He has broken the record for interviews on TV, radio, talk shows, newspaper, and social media. AAC has more candidates contesting for different political offices than ACPN, ANN, and YPP combined. AAC's name recognition towers and swallows all the new parties.
Who is afraid of Omoyele Sowore? Obviously all the five presidential candidates for the debate are afraid of Sowore. Sowere is a unique candidate with a unique revolutionary message. He's driven by fearless ideas. His willingness and audacity to say and do things that have never been done before by any presidential candidate of our era, things that other candidates would never dream of saying or doing make Sowere inherently a threat and a present danger to the reactionary, old, and expired politicians of the status quo. Since his debut as convener of TakeItBack Movement and lately as presidential candidate, Sowore had ignited Nigerian politics known for bereft of ideas with fearless ideas. Sowore is no stranger to controversy. He's never been scared or deterred standing alone against the tide of popular opinion. He has met with the often ignored Nigeria's large constituent: the poor, the disenfranchised, the excluded, the forgotten, the abandoned, the neglect, and the underrepresented. Initially, Sowore was written off as "slacktivist." But within a short time, he has redefined the boundaries of political creativity, innovation, and audacity in Nigeria. Sowore has proved his critics wrong and he's determined and passionate to free Nigerians from what activist David Hogg calls "the safety of inaction."
It is instructive to remind Emesiri and others who selected the five parties for the debate that the future of creative and innovative leadership is about having the humility to respect and recognize the experience and views of others, and not to retreat into fear of defensiveness. For the election to be held at all, and for it to be credible AAC and Sowere must be included in the debate. We'll fight for this constitutionally by all the legal weapons at our arsenal. No retreat no surrender!
The presidential debate is very important to the future of our country and democracy. Presidential debates affect outcome of elections. Candidates will have the opportunity to do their best to dispel negative images of themselves while reinforcing negative images of their opponents. For example, Sowore will have the privilege to dispel the often maliciously cited his inexperience and too young to run. Buhari will have the time to convince Nigerians why he should be re-elected for second term in spite his corrupt, inept, and ineffective administration, and of course inform Nigerians on the state of the economy, and indeed show case his achievements if any for the past four years.
Atiku will be too happy to debunk corrupt allegations against him, and why PDP that looted our treasury for 16 years should be allowed to rule Nigeria again. The debates present a rare opportunity for Nigeria to introduce the challengers – the presidential candidates of the new parties. Most importantly, presidential debates will let Nigerians make two simultaneous judgments: (1) Whether or not the candidates seems "big enough" to be president. (2) Whether or not one of the candidates is a better choice. Debates are more powerful in terms of voters' learning about candidates… Let's go there!
 
bjoluwasanmi@gmail.com
Opinion
AddThis
: 
Original Author
: 
Bayo Oluwasanmi
Disable advertisements
: 
target=_blank>Towards Workable University-Industry Linkage By Ayobami Salami
At the heart of the rot that currently ails the nation's universities is the embarrassing gulf between our tertiary institutions and the organized corporate sector. Ordinarily, the fact that the ivory trains the workforce for the industry should naturally propel a symbiotic relationship between the two, but that isn't the case in Nigeria, sadly. What is certain, however, is that no nation that can reach her full developmental potentials when it lacks such dimension of synergy between both ends. 
Universities, by their very nature, are a sacred temple of experimentation and knowledge production for development. On the other hand, the organized private sector and by extension, the public sector, exist to put to work, ideas founded on sound theoretical frameworks. Universities serve as inspiration and solution centers for growth and development. Therefore, having entrenched synergy between both the town and the gown, is to run a society that benefits from the dynamic cyclical flow of explanations and well-thought-out perspectives to presenting development challenges. 
In many ways, we can argue that the reason why the nation has found herself at the backwaters of development is largely traceable to our uninspiring attitude to knowledge production. By extension, also, the helplessness of our industry is traceable to the weakness of the university. It is high time we realized that working together would mutually benefit both divides, leaving lasting impact on our society. 
Statistics consistently show that there is an alarming paucity of capable hands to train Nigerian undergraduates. This is made even more disturbing by the fact that, based on the NEEDS Assessment Report of Nigerian Public Universities in 2012, Nigerian Universities have a shortfall of well over 30,000 experts to man the various disciplines in universities. This still remains a huge problem begging for attention. This accounts for the widening ratio between facilitators and students in our ivory tower. This shouldn't be the case were we to have deepened partnership between our learning institutions and the industry. It is certain that there are is a lot of intellectual resources that can be leveraged upon by the ivory tower that have remained dormant, because of the gulf, and perhaps, inflexibility of managers of our higher institutions. 
There is no doubt that a key factor that has kept our institutions at bay and manifestly deficient, is the poor funding structure model. This, chiefly, among several others banes, have turned us into laughing stocks among the comity of nations. A visit to any of our institutions today is bound to leave any visitor stunned and disappointed, considering the profile of dilapidated structures, acutely archaic laboratories and decrepit facilities that litter the campuses. Whereas the Academic Staff Union of Nigerian Universities (ASUU) has consistently clamored for an increase in the allocation made available to Universities in the country – except for little drops here and there – this has not yielded much results. It is yet to be seen how the ongoing –strike, now in its second month or so, would pan out. 
Be that as it may, while we must insist that it is right and necessary to demand that government increase its funding of education in the country, it is also wise that we consider additional funding model. In this regard, the linkage between the town and the ivory tower becomes critical. Like it exists elsewhere world over, the industry should reconsider how to support tertiary institutions in the country to deliver on the mandates of engaging in relevant, purposeful, qualitative research and the production of adequately trained workforce to support. Ultimately, it is a win-win situation, if this happens. 
Of course, we must note that the kind of partnership academics crave for, will not happen automatically. For instance, as regards funding of researches, the ivory would have to consistently deliver alluring values that can attract the interest and financial commitment of the industry. The secret is in seeking to meet the urgent needs of the industry, particularly in in terms of seeking solutions to issues that inhibit organizational productivity and buoying of the bottom line. In doing this, accountability, transparency and speed, which are some of the key values cherished in the organized private sector, must be taken seriously. 
In this connection, also, the ivory tower should aggressively pursue synergies with professional organizations. The goal of this is the absorption of informed professional perspectives that can readily advance integrative and blended learning. Nothing should stop us, really, from appointing professionals who have distinguished and have impacted the field of practice in significant ways. This model, referred in some quarters, as the scholar-practitioner model, certainly promises to help our institutions negotiate a radical departure from the theory-suffused model currently prevalent in our institutions. 
Entrenching the culture of endowed professorial chairs in our universities is another sure way of deepening the relationship. Through focused funding of key research areas of immediate relevance to societal development, organizations and indeed privileged members of the society can support scholars and research in targeted areas. Kudos should go to such organizations and individuals such as Shell, UBA, Pastor E.A Adeboye, Mike Adenuga, Oba Sikiru Kayode Adetona for their leadership in this regard. It would be gratifying to have more Nigerians of means come in into this space and expand it. 
Often times, we are quick to talk and admire the models of development in Europe, America and other developed climes. What we, however, fail to take into consideration is the value of shared responsibility that exist in those climes. Take for instance, the lure of the Silicon Valley, reputed as the foremost tech innovation hub in the world today. There is a need for critical rethink on the part of all stakeholders so that we forge a robust linkage between the industry and University in Nigeria.
 
Professor Ayobam Salami is the Pioneer Vice Chancellor of the Nigeria's premier Technical University, First Technical University (Tech-U), Ibadan, established by the Oyo State Government.
Opinion
AddThis
: 
Original Author
: 
Professor Ayobam Salami
Disable advertisements
: 
target=_blank>JUST IN: Atiku Signs 2019 Election Peace Accord
Atiku Abubakar, presidential candidate of the Peoples Democratic Party (PDP), has signed the peace accord ahead of the 2019 general election.
He signed the document on Wednesday at the Bishop Kukah Centre, Abuja.
Accompanied by Uche Secondus, the PDP National Chairman, Atiku was received by General Abdusalam Abubakar, Chairman of the National Peace Committee.
Atiku had been absent from the sgning on Tuesday, stating that he wasn't "officially invited".
Elections
Politics
News
AddThis
: 
Featured Image
: 
Original Author
: 
SaharaReporters, New York
Disable advertisements
: 
target=_blank>NFVCB Boss Thomas Adedayo Arrested For 'Stealing' Generator Worth N30m, 'Siphoning' N150bn
Thomas Adedayo, Executive Secretary, National Film and Video Censors Board (NFVCB)
One of the Turban generating sets recovered
Another Turban generating sets recovered
Thomas Adedayo, the Executive Director of the National Film and Video Censors Board (NFVCB), has been arrested by the Special Presidential Investigation Panel for Recovery of Public Property (SPIPRPP) over allegations of stealing government property and fraud.
A source told SaharaReporters that Adedayo will be arraigned before a Magistrate Court in Wuse Zone 6 Abuja, on Wednesday. The panel was said to have recovered a stolen Turban generating set in Lagos on November 13, 2018, from where he sold it. The money paid was also traced to his personal account.
Other items recovered from him include Plasma TV sets, air conditioners and computers set, which were alleged to have been stolen from the central store of the Abuja office of the board.
Investigations revealed that he was first arrested on November 9, 2018 by the panel, but could not be arraigned immediately. He was later granted administrative bail.
In July, SaharaReporters reported a story on a petition accusing Thomas of fraud and converting the board's assets into his private use.
Aside allegations of having sold two official vehicles belonging to the board at the headquarters in Abuja to himself, and converting two buses for field operations in Lagos to his personal use, he was alleged to have forcefully gained entrance into the main store of the Abuja and Lagos offices, ransacking and carting away television sets, refrigerators, air conditioners and other valuable items.
         
He was said to have forged an official licence number plate bearing 'PRESIDENCY NFVCB O1A' when the board is just a parastal under the Federal Ministry of Information and Culture.
Adedayo was also accused of breaking the fence of the Lagos office and making away with a Turban generator worth millions of Naira belonging to the board, a case which is still being investigated by the Alagbon Close Police Station, Ikoyi, as a result of his use of fake auction papers to sell the 300KVA generator for N30million to a company in Lagos, and paying only N20,000 into the account of the board.
The Internally Generated Revenue (IGR) overhead and capital fund received last year running into over N150billion was also said to have been siphoned through cronies and fake field operations.
Some female staff members of the board also accused him of sexual harassement and using their bank accounts for cash lodgement, without rendering any service to the board.
Corruption
CRIME
News
AddThis
: 
Featured Image
: 
Original Author
: 
SaharaReporters, New York
Disable advertisements
: 
Habib Abdullahi
Habib Abdullahi
One Habib Abdullahi, a 64-year-old carpenter, has been arrested for defiling his neighbour's six-year-old daughter.
Abdullahi was one of the 59 suspects paraded by Imohimi Edgal, Commissioner of Police in Lagos State, on Tuesday at the command's headquarters in Ikeja, Lagos State
Among the 59 suspects were 47 cultists including two females, who were arrested in different locations of the state.
Speaking on the case of defilement currently investigated under its 'Gender Unit', Imohimi said one Mrs Obinna, aged 37, of Salewu, Ikorudu reported a case on behalf of her six-year-old daughter against one 64-year-old Habib Abdullahi, who is a carpenter on the same street.
"During investigation, it was revealed that on 03/12/2018 at about 1000hrs, the suspect took the survivor into his room and inserted his finger into her private part. However, her mother noticed that her daughter was unnecessarily irritated and withdrawn, so she began to ask her questions and she revealed to the mother what 'Uncle Abdullahi' had done to her," he said.
CRIME
News
AddThis
: 
Featured Image
: 
Original Author
: 
SaharaReporters, New York
Disable advertisements
: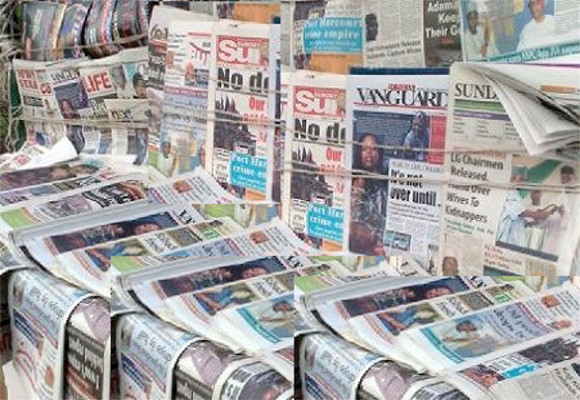 You can also check Sahara Reporters Newspaper Headlines Today