Sahara Reporters Latest News

Tuesday 11th December 2018

Sahara Reporters Latest News Today and headlines on some of the happenings and news trend in the Country, today 11/12/18

Read also Leadership Newspapers News Today Tuesday 11th December 2018
target=_blank>Dogara Labels Govt's Cash Distribution Before Elections As 'The Highest Form Of Corruption'
Speaker of Nigeria's House of Representatives, Right Honourable Yakubu Dogara, has condemned the distribution of cash to Nigerians just before the general election by public officials, stating that no matter how noble the intent is, such endeavours amount to vote buying and inducement, which is a clear case of corruption.
He made the remarks at a public hearing organised by the National Assembly Joint Committee on the Independent National Electoral Commission (INEC) and Political Parties Matters on Vote-buying and Improving the Electoral Processes in Nigeria on Monday.
According to Dogara, the act of inducing the public with cash in exchange for their votes is a fraud that is covered within section 124 (1)(a);(b);(c); Section(124)(2)(4)(5) and Section 130 of the Electoral Act. He also noted that financial inducement for votes contravenes the fundamental objectives and directive principles of state policy enshrined in Nigeria's Constitution.
His words: "Vote buying and other sundry criminal manipulations of the electoral process in Nigeria have left our citizens in a state of unmitigated disaster. As a result, we have been married off to a mob. A mob that rules us by the example of their power nor by the dictates of law. A mob that rules by fear as an inalienable tool rather than by courage. A mob that accepts the status quo rather than challenge it. Mobs don't grow others; they only destroy others in order to grow themselves. We follow the mob because we must, not because we are receiving any sense of significance for our own lives from them. Our democracy has stagnated and will sadly remain so until we eliminate all sham elections which have the effect of throwing up the worst of us to lead the best of us.
"It is instructive to note that the Electoral Act anticipated and captured most forms of electoral fraud including inducement and vote buying. I hope we will have the courage at this event to address the distribution of cash to the public very close to general elections by public officials. I am afraid that such endeavours no matter how noble the intentions behind them may fall within the all-encompassing provisions of S. 124 (1)(a);(b);(c); and S.(124)(2)(4)(5) and S. 130 of the Electoral Act. Although penalties are not stringent, there is also lack of political will to implement the laws as it is, even if it were to offer feeble deterrence to violators. Arrests are hardly made and even where arrests are made, prosecutions are unheard of.
"Indeed, the Fundamental Objectives and Directive Principles of State Policy enshrined in our Constitution envisages that Nigeria shall be a State based on the principles of Democracy and that sovereignty belongs to the people of Nigeria, through which government derives its authority, powers and legitimacy. Therefore, any form of contrivance by any person or authority to unduly influence the choice of the voter is condemnable as it is patently an assault on this constitutional guarantee.
"Undue influence of voters has always existed in different forms all over the world, however, the recent phenomenon of direct pricing and buying of votes as if in a market square is very disturbing. It is one of the highest forms of corruption.
"The high prevalence of vote-buying in the electoral system of the country is, without any doubt, of great concern to all Nigerians and members of the global community who truly love democracy. It is disheartening that this absurd phenomenon has assumed alarming proportions in recent times. As citizens, we must not surrender to this criminality as we cannot do so and still expect honour. When political office holders defy the law and corruptly assume office, they will always operate as if they are above the law."
He also lamented the alleged use of the officials of INEC and security agencies to induce, or intimidate and coerce voters to vote for particular candidates, stating that "such absurdities have been widely reported in the media and confirmed by some local and international observers in respect of the recently concluded governorship elections in Osun State".
He continued: "As expected, all lovers of democracy worldwide rose to condemn these despicable incidents. Condemnation is not enough, it will amount to hypocrisy, if we don't take the bull by the horn by taking concrete steps to eliminate these evils that make mockery of our hard worn democracy.
"Let me seize this opportunity to call on all people of goodwill in our country to rise in condemnation and denunciation of vote-buying and all forms of electoral malpractices. Indeed, electoral fraud is one of the worst forms of corruption, and should be treated as such. This is the only way we can guarantee the stability and growth of our democracy."
Elections
Politics
News
AddThis
: 
Featured Image
: 
Original Author
: 
SaharaReporters, New York
Disable advertisements
: 
E2%80%99s-best-innovators target=_blank>With TechCrunch Startup Battlefield, Facebook Begins Search For Africa's Best Innovators
In line with its commitment to growing Africa's technology start-up ecosystem and its passion for developing diverse, young talent, Facebook is returning as the headline sponsor of TechCrunch Startup Battlefield Africa 2018. 
The event, taking place in Lagos, Nigeria, will search for Sub-Saharan Africa's best innovators, makers and technical entrepreneurs.
TechCrunch Startup Battlefield Africa sees start-ups compete across three categories — social good, productivity and utility, and gaming and entertainment. It profiles the founders and entrepreneurs leading Africa's next wave of technology innovation and highlights new ideas, businesses and applications with disruptive potential.
On December 11, TechCrunch Startup Battlefield supported by Facebook, will bring together the strongest start-ups from across Sub-Saharan Africa, where they will pitch to a live audience of 500 people ranging from VCs, investors and government officials to developers.
Facebook representatives from Africa and beyond will be on the ground to celebrate, connecting, listening and learning from various communities as well as taking part in an exciting series of workshops, networking sessions and talks between December 6 and 11.
"Following the great success of the inaugural TechCrunch Startup Battlefield event in 2017, we are delighted to return as the headline sponsor for this year's event," says Emeka Afigbo, Facebook's Head of Developer Programmes. 
"Given our passion for connecting people and helping developers and entrepreneurs to thrive, we can't wait to see how this year's entrants are using technology to engage and empower people across the continent." 
Events Facebook will host over the week include: Developer Circle Leads Summit (6-7 December): A two-day summit for more than 65 Developer Circles Leads across Sub-Saharan Africa, representing a growing community of over 42,800 members across 31 cities in 15 countries across Sub-Saharan Africa.
Instagram Inspire Action Lagos — Women and Small Business Event (6 December): A workshop to inspire, educate and train 70-80 entrepreneurs and women working in tech with a panel featuring special guests.
Startups and Developers Summit 2018 by Developer Circle Nigeria (8 December): Bringing together 600 attendees, and hosted by Facebook Developer Leads, the Summit will run trainings and workshop sessions on specialist deep-tech subjects, such as Messenger Bot
Aspiring Entrepreneurs — Digital Pitch Competition (10 December): Winners from seven Nigerian states who participated in the Aspiring Entrepreneurs: Digital 2018 programme will pitch their businesses to a panel of judges for a chance to win support and prizes from Facebook and Fate Foundation.
NG_Hub Start-up Mixer (10 December): A social gathering bringing together Start-ups from across the ecosystem, including NG_Hub start-ups (Start-ups using Facebook's Community Hub) and those taking part in the TechCrunch Startup Battlefield event.
Student Hack (11 December): In partnership with Re:Learn by CC_Hub, Facebook will bring together 50 local high school students from Lagos to take part in Hack-a-Day and other activities that highlight the difference developers can make in the world using computer science skills.
Technology
News
AddThis
: 
Featured Image
: 
Original Author
: 
SaharaReporters, New York
Disable advertisements
: 
E2%80%94-garba-shehu-denies-atikus-sons-house-was-raided target=_blank>'It's Fake News By PDP' — Garba Shehu Denies Atiku's Son's House Was Raided
Garba Shehu, Senior Special Assistant to the President (Media and Publicity), has said the Peoples Democratic Party (PDP) is a "flowing stream of fake news".
He stated this in response to the reports that the account of the PDP vice-presidential candidate was frozen, and that the house of the son of Atiku Abubakar, PDP presidential candidate was raided by operatives of the Economic and Financial Crimes Commission (EFCC).
According to Shehu, the reports are untrue and is just "another manifestation of the PDP's growing expertise in fake news".
A statement by the president's spokesman read: "The story about the raid 'ordered by Buhari-led government' on the home of PDP Presidential Candidate, Atiku Abubakar's son and the fairy tale on the alleged blockage of the bank accounts of the running mate, former Governor Peter Obi and his family are both untrue, and should be dismissed as just another manifestation of the PDP's growing expertise in fake news.
"Nigerians must be becoming wary by now, of a political party with absolutely nothing to offer in the coming elections and has instead, transformed into a knight in shining armor, slaying the truth. In this so-called transformation, PDP has changed into nothing but to a ceaselessly flowing stream of fake news.
"It is impossible to find in Nigeria today, anyone propagating fake news more than the PDP. Our advice to Nigerians is: Ignore them."
Politics
News
AddThis
: 
Featured Image
: 
Original Author
: 
SaharaReporters, New York
Disable advertisements
: 
target=_blank>EFCC Arrests Theodore Orji's Son For 'Money Laundering'
The Economic and Financial Crimes Commission (EFCC) has arrested Ogbonna Orji, son of the former Governor of Abia State, Theodore Orji, over allegations of money laundering.
According to the anti-graft commission. they were arrested after cars alleged to have been bought by the sons from illegal proceeds were traced to them at a night club in Abuja.
EFCC also debunked the claims that the commission raided the house of one of the sons of Atiku Abubakar, presidential candidate of the Peoples Democratic Party (PDP).
Report of the arrested was disclosed via a series of tweets that read: "The recent arrest of Ogbonna Orji, son of Sen. Theodore Orji, over money laundering, has absolutely nothing to do with son of ex-VP Atiku Abubakar.
"The former Abia governor has been under investigations by the EFCC, for money laundering activities, which was discovered to have been carried out through his sons.
"The EFCC had been on the trail of cars allegedly bought by the sons, and last Friday the cars were traced to a night club in Abuja, where operatives waited patiently through the night to arrest the owners — Ogbonna and his friend, Kelvin Ilonah.
"They were arrested at about 5am on Saturday, and they led operatives to their three-flat apartment, where documents retrieved showed that it was rented at a rate of N13million per annum.
"They have so far given useful information to the EFCC, which is aiding in investigations. It should be made clear that the EFCC never "went after" Atiku's sons, neither was Atiku's son arrested by the EFCC."
They were arrested at about 5am on Saturday, and they led operatives to their three-flat apartment, where documents retrieved showed that it was rented at a rate of N13million per annum.— EFCC Nigeria (@officialEFCC) December 10, 2018
Corruption
News
AddThis
: 
Featured Image
: 
Original Author
: 
SaharaReporters, New York
Disable advertisements
: 
target=_blank>'Evasive' NBA President Usoro Escapes Arraignment By EFCC
The Economic and Financial Crimes Commission (EFCC) has failed to arraign the President of the Nigerian Bar Association (NBA), Paul Usoro (SAN).
Usoro appeared before the Federal High Court in Ikoyi, Lagos on Monday for arraignment for alleged N1.4 billion fraud preferred against him by the anti-graft commission. But the arraignment could not go on due to the inability of the commission to serve his lawyer. 
Counsel to the commission, Rotimi Oyedepo, said Usoro had been evading charges hence the reason he could not be served the charge sheet.
SaharaReporters had earlier reported the arrival of Usoro at the Federal High court for the scheduled arraigned on allegation that he connived with the Akwa Ibom State Governor, Emmanuel Udom, to launder money. 
EFCC said the offences contravened Section 18 (a) of the Money Laundering (Prohibition) Act, 2011 and punishable under Section 15(3) of the same Act.
EFCC sources have also confirmed to SaharaReporters that the senior lawyer is currently at EFCC's office in Ikoyi to receive his charge.
Although Usoro, through his lawyer, Wole Olanipekun (SAN), had asked the presiding judge, Justice Muslim Hassan, to compel the EFCC to serve him in court, Oyedepo has opposed the plea, stating that only the investigating officer on the case can serve the defendant. 
Justice Hassan subsequently adjourned to December 18 by which EFCC is expected to have served the defendant.
The NBA chairman is charged alongside four others — Nsikan Nkan, Akwa Ibom Commissioner for Finance; Mfon Udomah, Akwa Ibom Accountant-General; Uwemedimo Nwoko, Akwa Ibom State Attorney-General and Commissioner for Justice; and one Margaret Ukpe — all of whom are said to be at large.
Corruption
Legal
News
AddThis
: 
Featured Image
: 
Original Author
: 
SaharaReporters, New York
Disable advertisements
: 
target=_blank>Politics: Why We Must All Get Involved – Outside The Box By Alex Otti
A few friends hosted a dinner in my honour at Federal Palace Hotel in Lagos yesterday. I'm taking liberty to share excerpts of my speech with readers today.
Today, I've chosen to talk about the low level of participation in our nation's political process especially amongst our educated elite, professional class, young people, the clergy etc. I remember with great nostalgia, the vibrancy and political activism of the then irrepressible National Association of Nigerian Students, NANS. I am reminded of the public agitations which gets me wondering about what happened to us that we have not only been cowered into political disengagement and apathy but have allowed our political process to be hijacked by professional politicians and Lilliputians, not to mention their handpicked godsons and criminal apprentices. Consequent upon the abdication of our civic responsibility of political participation we have ceded the political playing field to fake merchants of change whose notion of governance is one that is geared at perpetuating their political dominance and self -aggrandizement. Ever since the advent of our nation's second attempt at electoral and constitutional democracy, the governing elite who have straddled our political landscape have continued to be sustained by a culture of silence of both the likes of us here today and the dispossessed. Their grip on power has been strengthened by a silence and obsequiousness on the part of many Nigerians that has not only been defeating but also economically, socially and politically crippling.  As a result of the self- imposed political disengagement by many of us bad things in our polity keep getting worse. It was Plato that quipped "one of the penalties of refusing to participate in politics is that you end up being governed by your inferiors".
A cursory look around the country both in governance and the staffing of our many institutions reveals the emergence of mediocrity, with the best and the brightest scared away either by revulsion of our politics, the do or die nature of our electoral process or the lack of faith, confidence and trust in our political system and processes. On the many rare occasions when some of the disillusioned and disaffected voiced their concerns and somewhat muffled comments of rebuke they are treated by a dismissiveness that bothers on ignorance and in some occasion outright hostility and indifference. As a consequence what we find at both the national, state and local government levels are a growing debt burden, economic stagnation and even deterioration, national instability, rising ethnic tensions, growing unemployment, rising incidence of religious intolerance, non-payment of worker's salaries and pensions etc. It is therefore very unfortunate that in the face of such national malaise many of us still choose to sit on the sidelines or are ensconced in our silos of political apathy and indifference. The reality of our national predicament today is that never in the history of Nigeria's national and state governance has there been on display for everyone to witness, such a degree of profound incompetence, moral bankruptcy, visionary blindness and governance ineptitude.
Maybe it is time to make a semantic distinction between political engagement and political participation. While political engagement could be said to include financial contribution to candidates or political groups, voting, volunteering for campaigns and even making contacts with office holders political participation on the other hand could take the form of getting involved with any activity that shapes, affects the political process or outcomes, such as attending party conventions, and registering as a member of a political party. In a sense, it can be said there's not much of a distinction between the two. Nevertheless, studies in political science inform us that one of the basic civic responsibilities of any citizenry is the extent to which they take part in the political system and process, whether they are voting for a candidate seeking political office, participating in acts of civil disobedience or simply making their opinions and beliefs known and while the aforementioned are the most common forms of political participation, others may include, blogging about a political issue, writing a letter to a public official, publishing opinion page essays, signing a petition, joining an activist group, running for political office etc. As we can see there are many ways to get involved in our political process here in Nigeria, yet the question remains, why the political apathy when as a country we are blessed with the largest concentration of an educated intelligentsia, experienced  technocrats, and articulate social commentators in all of Africa? Why the political disengagement in the face of glaring governing mediocrity and incompetence? Why the public silence and subdued indignation when we can raise our voices in protest against mismanagement, malfeasance and the lack of accountability? Why fall victim to the intimidation, political harassment and threats of violence by criminal political elements? 
It is my honest opinion that there is so much we as citizens can do to change the trajectory of governance in this country if only we can all resolve to actively get involved rather than leave the political process to grafters and political charlatans. As we all know and as I've come to discover, every act of political conquest implies both the conqueror and the conquered with the conqueror imposing his views, vision, objectives and values on the vanquished. By staying away from any form of political involvement despite our positions in society, affluence or intellect, we have allowed ourselves to be part of the vanquished and the oppressed majority. Whether we like it or not, we all have invisible scars of the political system and process that have been exploited and hijacked by a criminal few, an electoral system whose integrity has never been a reality only an aspiration, a political process that empowers the strong while hastening the disappearance of the weak.
It is time to face the reality that there is no perfect life or a perfect country hence it is our duty as good citizens not to be political bystanders but to get involved-to build a new era of politics and leadership where we can disagree with one another and still remain friends as we search for common ground and compromise with willingness and humility. Most times, people in our positions in life tend to forget we are animals until we become preys. We isolate ourselves from happenings outside our cocoon of privileged comfort because we deem ourselves safe and unaffected by certain policy outcomes that affects others. Many of us suffer from severe cases of dissociation –removal from our emotional self until we become victims. Conscious of the fact that everything of lasting value demands a great degree of sacrifice and commitment and not a product of convenience it has been a source of enduring comfort to realize that the sacrifices of today give rise to the greatness of tomorrow and that the pain and regret of knowing that at one point in our lives we had the opportunity to bring about change in the lives of others is one that is difficult to live with. As Ronald Wayne, co-founder of Apple once stated, "the future belongs to those who can foresee it and give all it takes to get there". I must confess that not many of us pause in our trepidation of what the future portends in this country and how to influence it or better still see the possibilities of a glorious future and work assiduously towards it realization. No country is better than its citizenry, its institutions and its constitution and to the extent that we aspire for a better nation let us not just make fame with our individual successes and achievements but use that fame to change people's lives. 
Let us have hope- hope that sees beyond the darkness of the moment and the possibilities of the future as democracy does not have a self-correcting mechanism unless we help to set it on the right course. As a matter of fact, what sets democracy apart from every other form of government is the input of ordinary citizens and as one notable public opinion writer put it, "it is the input of ordinary citizens into their country's future". It is the input of both the powerful elite and the powerless when they cast their vote on election day. It is when they register their opposition to their political leaders and the way they are governed, attend a political rally, engage in public protest and civil disobedience, voice opinions etc. Politics is not supposed to be a blood sport yet it is not supposed to be a spectator sport either for us to sit on the sidelines and applaud or express disgust. So I want to use this opportunity to urge every political bystander to endeavor to get politically engaged, otherwise, what they run from, they may run into and to those who feel the walls of our political process and practice are too thick to crack, let me remind them that even the strongest wall can come crashing down since all that is needed is to find a crack on its surface". To those who think it is too late to participate because the elections are only a few months away, I will say the ship hasn't sailed yet but is about to leave the dock hence it is not too late to step on board.
Five years ago when I decided to get into politics I, like many of you, have been apolitical and apoplectic about our politics and its enduring horrendous process. As I looked around I saw leaders who did not seem to be subject to any variety of democratic constraints ranging from legislative oversights to public opinion. I saw political leaders govern with such transactional styles that became the stimulus for authoritarianism and threat to democracy. I saw Governors who regarded themselves as the sun in their own universe with no form of accountability to the governed. I saw political leaders and office holders who were akin to roaches hence where you find one, there were many others around. In my home state of Abia with one of the highest number of university graduates, thriving businesses and economic potential, great entrepreneurial spirit etc, I saw a lost, disillusioned, confused and hopeless generation of young people with no hope for gainful employment, an oppressed citizenry suffering in silence and obscurity, entrepreneurs and investors fleeing the state for lack of an enabling environment for their businesses to thrive, failing health standards and increasing maternal and infant mortality and more importantly, the endemic corruption and fleecing of its resources by successive administrations.
So, given the deteriorating undercurrent of events in the state I decided to get into politics not to seek fame or affluence but to be an agent of change. In doing so I gave up my job as a bank CEO  to the consternation of a lot of people including many of you here today and got myself engulfed in a political process and system that is riddled with all manner of vices, one of which is the attendant hypocrisy of our politicians. It is the kind of hypocrisy that allows us to demonstrate transcendent curse on our political associates when they commit the political apostasy of leaving for another party and when they come back as prodigal sons lavish them with flattering praise and adjectives such as wisdom and courage. However, I was not deterred by any of these and neither should you, if your purpose of getting into politics was borne out of good intentions.
So even though we were unsuccessful in 2015 in the sense that the election results were compromised and manipulated, I decided to join the political fray again because of the same concerns that prompted my entry into politics the first time around and for the fact that as Neil Young the American country music singer once said, "it's better to burn out than to rust".  It is the reason why I am urging everyone to be part of something greater than him or herself. To be part of a change effort in our politics, our political discourse and the manifestation of the future we all desire for ourselves, our children and future generations.
So in the next couple of months as the elections approach the question we must all ponder is, who do we hope or expect to be our President, Governors, Senators, and Assemblymen as each political party parades candidates with different philosophies and competences? The truth is that we will need new leaders who will reconnect the country, their states, their local government areas , think outside the box and apply their expertise in new and imaginative ways, hence our inclination in the next few months should not be one of isolation, indifference and nonchalance. The next couple of weeks will test our resolves, our faith in our choices, commitment to change and fidelity to our hopes and vision for a new Nigeria and more particularly, a `new Abia state. 
Distinguished Ladies and gentlemen, let me end with this favourite quote from Bertolt Brecht thus:
"The worst illiterate is the political illiterate. He hears nothing, sees nothing, takes no part in political life. He doesn't seem to know that the cost of living, the price of beans, of flour, of rent, of medicines all depend on political decisions. He even prides himself on his political ignorance, sticks out his chest and says he hates politics. The imbecile doesn't know that from his political non-participation comes the prostitute, the abandoned child, the robber and, worst of all, corrupt officials, the lackeys of exploitative multinational corporations."
OUTSIDE THE BOX BY ALEX OTTI, Email:alexottiofr@gmail.com
Opinion
AddThis
: 
Original Author
: 
Alex Otti
Disable advertisements
: 
target=_blank>BREAKING: 10 Arrested As Police Fire Tear-Gas Cannisters At AAC Party Members
Ten supporters of the African Action Congress (AAC) have been arrested for embarking on a peaceful protest to demand the release of six party members that were arrested for pasting campaign posters of Omoyele Sowore, presidential candidate of the AAC.
The protesters picketed the entrance of the Area F Police Station in Lagos on Monday.
Few minutes into the protest, the Police fired teargas multiple times at the protesters.
One of the protesters, Okoh-Oboh Omotese Annabelle, was also shot in the leg.
Six members of the AAC were arrested for pasting posters at 2:30am on Sunday morning.
See Also
Elections
Sowore's Supporters Detained By Lagos CP For Pasting Posters
0 Comments
1 Day Ago
While waiting for the earlier arrested members of the movement to be charged to court, the Police arrested members who are currently behind bars.
Annabelle Oko-Oboh, who was shot in the leg, is yet to receive medical treatment.
CRIME
Free Speech
Human Rights
Police
Politics
Breaking News
AddThis
: 
Featured Image
: 
Original Author
: 
SaharaReporters, New York
Disable advertisements
: 
target=_blank>BREAKING: NBA President Paul Usoro Arrives Lagos High Court For Arraignment
NBA President, Paul Usoro, in court
NBA President, Paul Usoro, in court
Paul Usoro, President of the Nigerian Bar Association (NBA), has arrived the Federal High Court in Lagos for his scheduled arraignment.
He arrived the court on Monday morning.
The Economic and Financial Crimes Commission (EFCC) had filed a ten-count charge against Usoro on allegations of money laundering.
See Also
Exclusive
DETAILS: EFCC's 10-Count Corruption Charge Against NBA President Usoro
0 Comments
4 Days Ago
EFCC's allegations against Usoro relate to converting to personal use, concealing the source of, disguising the origin of and retaining in his account sums of money to the tune of billions of Naira belonging to the Akwa Ibom State government.
Details soon…
Corruption
Breaking News
AddThis
: 
Featured Image
: 
Original Author
: 
SaharaReporters, New York
Disable advertisements
: 
E2%80%8B target=_blank>WRI: Over 10,000 Female Children Abused Daily In Nigeria​
While over 603 million females are living in environment where domestic violence is not yet a crime in world, more than 10,000 female children abused every day in Nigeria alone.
 The founder of the We Rise Initiative (WRI), a non-governmental organisation empowering women and girls to rise above systemic oppression and the stigmatisation of feminism, Ms. Laila Johnson-Salami, disclosed this in Lagos yesterday.
Johnson-Salami said studies have shown that almost one in every three women or girls has been abused one way or the other, mostly by people close to them. Also, one in every eight boys is also victim of such abuses.
She lamented that most of these abuses come in form of rape from which the victims were forced not to disclose it because it is seen as a taboo.
According to her, the situation is even made worse by the fact that laws in the country also discriminate against the victims.
Johnson-Salami said: "The biggest problem is that even when the abuses are reported, the police who are to take action on the issues do not know what to do."
She disclosed that surprisingly, most of the traffickers of abused victims are women themselves, stressing that it was for this reason that many of the abusers get way with their crimes.
Johnson-Salami said in the 21st century Nigeria, the law against rape does not even apply to male victims as it is assumed that you cannot rape a boy. "That is why we must speak up. This cannot be allowed to continue.
"Every year, the United Nations holds a 16 day campaign against gender-based violence, encouraging people to take a stand againstgender-based abuse and (WRI) has contributed to this with a viral campaign," she added.
News
AddThis
: 
Original Author
: 
This Day Newspaper
Disable advertisements
: 
A Senior Advocate of Nigeria (SAN), Mr Femi Falana, on Sunday advised the Economic and Financial Crimes Commission (EFCC) to stop sealing up assets belonging to suspects of financial crimes.
The lawyer gave the advice in Ikeja at the presentation of 'Compendium of High-Profile Corruption and Financial Crimes Cases in Nigeria.'
The compendium, which highlights high-profile corruption cases and their implications on the economy was compiled by Human and Environmental Development Agenda (HEDA), a Civil Society Organisation.
Falana said sealing up of properties while cases were still pending in courts did not do the public any good as the assets waste away with no economic value.
The lawyer said it would be good if those assets were put into use by the EFCC, pending the final determination of the cases in which they were linked.
"I do not subscribe to the locking up of assets or properties while a case is still pending in court. I do not think the EFCC or other anti-corruption agencies should be doing that.
"If somebody has stolen money to build a hospital, just like the one on Adeniyi Jones in Ikeja, somebody was alleged to have stolen to build the hospital worth about N2.5billion, which is sealed now.
"For me,you are not doing the public any good by just locking up the place and by putting your inscription: 'Under Investigation'.
"Why don't you allow it to function so that the place can benefit the people, because it is already acquired for public purpose.
"And this should go for all buildings too. People are looking for accommodation and you just lock up blocks of flat over cases still pending in court.
"And these cases may be in court for years.And by the time the cases are concluded, the premises you have sealed no longer have their value.
"The EFCC was set up to revive businesses not to liquidate them.You liquidate businesses by just getting some court orders.That to me, is not the way to fight corruption," he said.
Falana added that the sight of seized vehicles wasting away at EFCC offices was cause for concern, paying the assets could have been put into economic use.
He, however, suggested that the vehicles could be sold by the EFCC to stop decay while the proceeds were kept in an account pending the determination of the cases involving their owners.
"If the case is finally resolved in favour of the suspects, they are given the money, if not, the money is forfeited to government.
"That, I think, is better than allowing these vehicles to waste away while cases are being investigated or still pending in court," he said.
Falana said the fight against corruption could not be genuinely fought by the government, but by Nigerians themselves.
He therefore urged all stakeholders to be vigilant and play their part to confront the menace of corrruption
Also speaking. Board Chairman of Assets Management Company of Nigeria (AMCON), Mr Muiz Banire, said seizing properties and allowing them to waste away made no economic sense.
Banire, also a SAN, said such properties were better handed to AMCON to manage for the sake of the economy.
"When these assets are seized by anti-cortuption agencies, most of them get destroyed over time without rescue.I think it will be good if those assets are managed by AMCON for the sake of the economy," he said.
In his speech, Mr Dapo Olorunyomi, Publisher of PremiumTimes (Online news medium), commended HEDA for the compendium, saying it would add value to the war against corruption.
Olorunyomi said corruption was an albatross to development, calling for the concerted efforts of all Nigerians to tackle it.
He commended the EFCC for the strides made in the anti-graft war, but said more was expected from the commission to defeat corruption.
Earlier, Chairman of HEDA, Mr Lanre Suraj, said the group compiled the compendium to provide the needed information to intensify the anti-corruption war.
He said HEDA was deeply concerned about the economic losses to corruption, hence the compendium to stress the need for all stakeholders to share ideas and information with a view to winning the anti-graft war.
The Nation Newspaper
AddThis
: 
Original Author
: 
The Nation Newspaper
Disable advertisements
: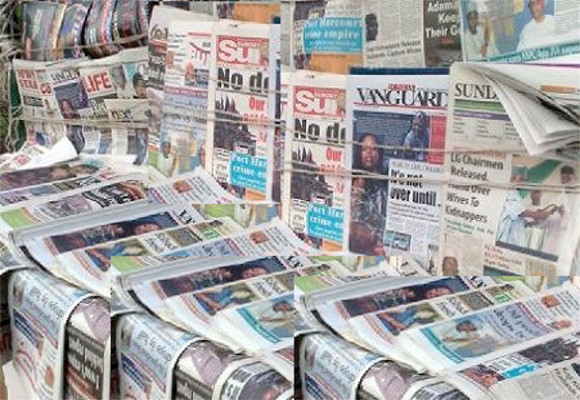 You can also check Sahara Reporters Newspaper Headlines Today