Sahara Reporters Latest News

Monday 10th December 2018

Sahara Reporters Latest News Today and headlines on some of the happenings and news trend in the Country, today 10/12/18

Read also Leadership Newspapers News Today Monday 10th December 2018
E2%80%99s-supporters-detained-lagos-cp-pasting-posters target=_blank>Sowore's Supporters Detained By Lagos CP For Pasting Posters
The Lagos State Police Command has arrested six supporters of Omoyele Sowore, presidential candidate of the African Action Congress (AAC).
The Police accused them of breaching the Lagos State Signage and Advertisement Agency laws by pasting posters at night and damaging campaign posters belonging to candidates of other political parties.
However, Olagokun Banwo, popularly known as 'Proficient', who led the team, denied damaging posters of other political parties.
Speaking on the incident, Banwo said: "We were arrested for pasting Sowore's posters, but we didn't tear posters of any other party. How can we, who are part of those calling for the arrest of those damaging campaign posters, go about committing the same offence?"
When contacted, Police Public Relations Officer, Lagos Command, CSP Chike Oti, maintained that the six are guilty of breaching Lagos signage law and removing posters of other political parties and candidates.
"The anti-crime patrol team of the Lagos State Police Command, Ikeja Division, around 2:30am on December 9, 2018, arrested six young men, namely: Olagokun Odunayo, Kool-Kloud Henry, Ugaju Joseph, Damilola Omidiji, Michael Kate and Banwo Olagokun, tearing posters of other political parties and replacing them with that of the African Action Congress. Their action is contrary to the Lagos State Signage and Advertisement Agency laws that forbid advertisers from pasting posters at no other hour than the day time," he said.
The six persons are still in custody and the Lagos Police PRO maintained that they will be charged to court.
Speaking on the arrest via his Twitter handle, Sowore wrote: "I just spoke with the DPO of Area F and he shockingly revealed that the Commissioner of Police, Imohimi Edgal ordered that our supporters be kept in detention for pasting my posters. Mr. Edgar hasn't been reachable since".
Sowore, a pro-democracy campaigner and human rights activist, has called for their immediate release from detention.
The Police Commissioner could not be reached at the time of filing this report.
Elections
Human Rights
Police
Politics
News
AddThis
: 
Featured Image
: 
Original Author
: 
SaharaReporters, New York
Disable advertisements
: 
E2%80%99s-get-nigeria-dangerously-working-again-%E2%80%93-obajeun-jonah target=_blank>Let's Get Nigeria Dangerously Working Again – By Obajeun Jonah
Protocols, just so we don't run afoul of courtesies. The ATIKUlate nation; the twittering hegemony of the swashbuckling hashtag – #Letsgetnigeriaworkingagain; the ubiquitous OBIgatory foot soldiers; the Atiku/Obi Campaign organization whose directorate is in the able hand of the #GrowNigeria anchor man – characteristically described as a Traditional Doctor by the Chair of the ruling party; and of course, the people's policy document crafted in the Arabian Peninsula – the Tokunbo document that will get Nigeria working again. This alludes to the fact that Nigeria has worked before, but it is not currently working, and it has to get working again.
Let's get into further details. They said that Atiku does not have the competence to govern the country. They need to be reminded that the hallmark of leadership is to identify talents. Atiku's current campaign organization abounds with great talents, A-list campaigners with track records in their chosen fields (Ben Bruce, Dino et al).
More importantly, Atiku single-handedly assembled the A-team of the 1999 to 2007 golden era in our political history. 
The era saw the assemblage of youngsters and Generals who oversaw the affairs of the country. Wailers are now shouting that those talents were only smart with spoken English, not competence and results. They are making reference to the failure in the power sector after so much investment went into it. Between 1999 to 2007, the Power sector was at different times managed by Bola Ige, Segun Agagu and Liyel Imoke. Let's even admit that the Power sector was a huge failure for Atiku/Obasanjo, the trio of Bola, Segun and Liyel tower above the wailers' Babatunde Fashola in terms of talent. Forget delivery and results, what was needed was talent and Atiku delivered it. Talent was enough! Period!
Adamu Ciroma, Okonjo Iweala and Nnenadi Usman (now standing trial) were the top strikers of the golden era of Obasanjo/Atiku, making the economy the biggest in Africa and were almost dragging Nigeria into G20 membership when 2007 election suddenly eroded that move. They negotiated debt forgiveness and reduced official corruption to what was only possible between Obasanjo and Atiku. The duo experimented with it in sacking NASS leaders in quick succession and confirmed that only them could enjoy sleazy engagements. At some points, they started competing with the experiment. What a success story. Till today, that represents the peak of our anti-corruption success.
Still on the A-team, Mohammed Arzika, Haliru Bello, Cornelius Adebayo, Obafemi Anibaba, Frank Nweke, Femi Fani-Kayode, Chukwuemeka Chikelu, Jerry Gana led the communication/information bit at different times. Soft spoken, inspirational and exemplary communicators, these talents were the poster boys of the Atiku/Obasanjo era. They opened up the communication sector with Atiku signing and issuing the licences. 
Obasanjo as the big boss, only sat back and watched as Atiku led the team to revolutionise the communication sector. Wailers are arguing that mobile communication was a global revolution and Nigeria unwittingly tagged along. But they need to be reminded that Atiku pressed full throttle to ensure that Nigeria was ahead of the world.
From the get-go, Atiku ensured that basic communication tools – phones, SIM were affordable and available to the common man on the street. Nigeria suddenly became flat, internet penetration skyrocketed and everyone became upwardly mobile, even you!
If given the chance, Atiku will do to the Power sector what he did to the communication sector.
They said Atiku's inconsistence claim on his number of employees is a bad signal. But Atiku has been running companies, smartly and patriotically avoiding taxes. Even if he clones his employees to increase them from 50,000 to 100,000 because of elections, that is a trivial matter, the same way we have trivialised our double-body story.
What wailers will not tell you is that Atiku has bold ideas. He will sell NNPC, I am sure he will buy back the DISCOs and re-sell them just to get them working again. He has done it before when he led the privatization of critical aspects of the economy. Even in the education sector, he opened it up such that he is now a key private player as well as Obasanjo. He knows how to sell and buy, and that is what economics is all about, that is how he will create jobs, that is how he will lift all Nigerians above poverty line. Nigerians will become dangerously wealthy.
And that is how to get Nigeria working again, albeit dangerously!
They said Atiku does not have character and that he is notorious with corruption. Let the one without sin cast the first stone. Let's even admit that he is notoriously corrupt as they claim and as indicted by the US government as well as his former boss. It means he knows the ways of corruption, he is familiar with the economics and mathematics of corruption.
Therefore, he knows the science of anti-corruption. Atiku will fight corruption to a standstill, to the extent that the success recorded by GEJ in his anti-corruption crusade would be a child's play. 
They said Obasanjo wrote scathing remarks about Atiku in his book, My Watch. This is a no issue as Obasanjo himself has willed their joint tenure from 1999-2007 to Atiku alone. So for the sake of politics, that era which did not witness any physical infrastructural investment can gracefully be regarded as The Atiku Golden Era. Let's stop here and come back to reality. 
Ours is a sorry story to tell, we have to consciously avoid sending our memory as envoy into our past. We have on our hands a situation where failure is reinforcing another failure. If we have to get Nigeria working again the way it has been described between 1999 to 2007, then we have foreclosed the redemption of our nationhood.
May we not throw our last salute to our own nation state.Obajeun Jonah Ayodele writes from Lagos and blogs via www.obajeun.com. He is on twitter @Obajeun
Opinion
AddThis
: 
Original Author
: 
Obajeun Jonah
Disable advertisements
: 
target=_blank>FAAN Withdraws Services From Lagos, Warri, Gombe Airports Over Debt
Barely 48 hours after SaharaReporters exclusively reported the threat by the Federal Airports Authority of Nigeria (FAAN) to withdraw services from the Murtala Muhammed Airport Two (MMA2), Lagos over N1.9 billion debt, the agency has made good its threat.
A source close to FAAN told our correspondent on Sunday morning that its management had written a Notice To Air Men (NOTAM) to all airlines operating from the terminal on Saturday, informing them of its intention to withdraw services from the terminal, following the debt owed over a period of 11 years.
However, apart from MMA2, which is owed and operated by Bi-Courtney Aviation Services Limited (BASL), FAAN is also withdrawing services from Osubi Airport, Warri and Gombe Airport.
According to the NOTAM, FAAN would withdraw Aviation Security (AVSEC), marshallers and Fire/Safety services from MMA2 as from today.
On Friday, SaharaReporters had reported that FAAN had threatened to withdraw services from the terminal over N1,943,516.50 debt incurred since it commenced operations on September 8, 2007.
See Also
Sahara Reporters
FAAN Threatens To Withdraw Services To Bi-Courtney Over N1.9bn Debt
0 Comments
2 Days Ago
This time around, in a letter addressed to the Chief Executive Officer (CEO) of BASL, dated November 3, 2018, personally signed by its Managing Director, Engr. Saleh Dunoma, FAAN claimed that since the organisation commenced operations in 2007, it was yet to remit any amount to its coffers as agreed in the contractual agreement.
The breakdown of the latest sum indicated that BASL as at July 31, 2018 owed FAAN N1,444,044,893.83 for provision of Aviation Security (AVSEC), another N143,466,896.96 for Fire/Safety Cost.
Others were for marshalling, N2,168,058.21 and management cost, which it put at N1,943,323,516.50.
In the letter to the management of BASL, FAAN also threatened to withdraw the services of its personnel from the terminal with effect from December 3, 2018 if the debt was not cleared.
Arik Air confirmed that it would relocate its services out of the affected airports until further notice.
Adebanji Ola, spokesman of the airline, said the airline would suspend its flights to Osubi Airport, Gombe Airport and move Port Harcourt flights out of MMA2 from Monday, until further notice.
Ola advised Warri passengers to use Benin Airport as alternative, while Gombe passengers were to use Bauchi Airport as alternate.
"All Arik Air flights to Omagwa Airport Port Harcourt will as from the same date operate from Murtala Muhammed Airport Terminal One otherwise known as General Aviation Terminal (GAT). Arik Air regrets any inconvenience the closure of the three airports may cause its esteemed customers. The airline hopes the issue between FAAN and the airport authorities will be resolved soonest," he added.
Henrietta Yakubu, General Manager, Public Affairs of FAAN, could not be reached for comments, while the phone number of the BASL spokesman was switched off.
News
AddThis
: 
Featured Image
: 
Original Author
: 
SaharaReporters, New York
Disable advertisements
: 
target=_blank>Immigration Arrests Foreigners Over Possession Of PVCs
The Nigeria Immigration Service (NIS) has disclosed that it has arrested non-Nigerians for being in possession of permanent voter's cards (PVCs). NIS comptroller general, Muhammad Babandede, who stated this at the 2018 NIS award presentation yesterday in Abuja, revealed that the service had retrieved over 700 PVCs from foreigners living in the country.
LEADERSHIP Sunday also learnt exclusively that over 323 national identity slips had also been seized from foreigners in the last six months.
An inside source who pleaded not to be named also revealed that  about 1,729 irregular migrants were also repatriated between the second and  third quarter of the year.
LEADERSHIP Sunday reports that only Nigerian citizens are eligible to vote in elections in the country.
The immigration boss also warned politicians against engaging in  "political smear campaign," even as he gave assurance that his agency was fully involved in the election process to ensure that no foreigner votes during the forthcoming  2019 general elections.
Babandede made the disclosure while responding to questions bordering on the alleged importation of a crowd by the Peoples Democratic Party (PDP)  from Niger Republic to boost its support strength in Sokoto.
He said, "This year, we have retrieved over 700 voter's cards from non-Nigerians. We promise that we will stop at nothing  to ensure that non- Nigerians do not  participate in the 2019 general elections.
"We will make sure that they don't vote and they are not voted for. During the election, we will ensure the borders are secured so that nobody can enter the country."
The NIS boss added that the service had built the capacity of personnel and improved on structures which had contributed to Nigeria's security and prosperity.
LEADERSHIP Sunday recalls that Kaduna State governor, Nasir el-Rufai had accused the PDP of importing foreigners from Niger Republic  to its Sokoto rally, a development which led to his political rivals advising him to also import a crowd from Sudan for his campaigns .
The allegation sparked a protest in Sokoto State as youths from the state gave the NIS a 24-hour ultimatum to respond to el-Rufai's allegation.
We need collective effort to forestall future occurrence – INEC
However, in its reaction, the Independent National Electoral Commission (INEC) called for collaboration among security agencies and Nigerians to tackle the problem of foreigners having voter's cards.
The chief press secretary to the INEC chairman, Rotimi Lawrence Oyekanmi, told LEADERSHIP Sunday that the electoral commission had earlier visited the Comptroller General of the Nigeria Immigration Service (NIS) in Abuja some months to ask for help in identifying foreign nationals who are in possession of PVCs.
He said it was part of the Commission's responsibilities  to clean up the voter register by identifying ineligible persons who might be on it.
"On that occasion, the NIS informed the Commission that it had actually identified about 300 foreign nationals with Nigeria's PVCs and had recovered the cards from them."
Explaining how these PVCs would have gotten into the hands of foreigners when many Nigerians are having trouble getting theirs, Oyekanmi said:"There are many foreign nationals from neighbouring countries living in Nigeria and vice versa. Some of these foreign nationals bear names similar to those of Nigerians.
"For instance, nationals in some parts of Niger Republic bear similar names with northern Nigerians and a few of them could have knowingly or unknowingly taken advantage of one of two loopholes to register in the past.
"Ordinarily, no INEC official will register a foreign national, but in a few cases where this might have happened in the past, the facts were not visible.
"However, the important thing is that the relevant agencies are now  measuring up to ensure that non-Nigerians do not flout our laws by attempting to participate in the electoral process."
Speaking on preventive measures INEC will adopt to ensure such PVCs are not used for the 2019 polls, the commission said it requires the collaborative effort of all agencies and Nigerians.
"One of the measures the Commission has taken is to approach the NIS as I explained earlier, but the Commission cannot prevent a PVC legitimately obtained from being used.
If for instance,  a non-Nigerian bears the name, Mohammed Yusuf, and presents himself as a Nigerian to INEC officials during the CVR exercise with a form of acceptable identification, there is no way of finding out that he is not a Nigerian unless somebody alerts the Commission to that effect. "Therefore, collective efforts are necessary to prevent such things.
That was why the Commission displayed the voter register throughout the country for one week recently, for claims and objections, so that Nigerians can look at it and draw its attention to names of deceased or underage persons and foreign nationals that should not be on the voter register.
"An agency like the NIS has been helpful in this regard, and once such names are identified and checks carried out, they will be removed from the register. We appeal to Nigerians to  help the Commission clean up the voter register," Oyekanmi said. …
Immigration Has Vindicated Us – PDP
On its part, the Peoples Democratic Party (PDP) said yesterday that the recovery of PVCs from foreigners had vindicated its position that INEC must allow stakeholders participate in the review of the voter register. The national publicity secretary of the party, Kola Ologbondiyan, who dismissed the review of the voter register by INEC, told LEADERSHIP Sunday that the refusal of the Commission to objectively sanitise the voter registers shows that it has no plan in place to conduct free and fair elections in 2019. 
He said, "It is a vindication of our position on INEC. We have repeatedly said INEC has been registering underage persons and aliens. We have challenged them to review the register and also allow stakeholders to participate in the review.
"So INEC said they have reviewed their register and that they came up with  a certain number of people, which we challenged because stakeholders were not allowed to participate in that process."
Attempts to reach the All Progressives Congress (APC) for reaction were abortive as several calls placed to the spokespersons of the party, Lanre Issa-Onilu and Yekini Nabena, were not returned just as text messages sent to them were also not responded to.
Elections
Politics
News
AddThis
: 
Original Author
: 
Leadership Newspaper
Disable advertisements
: 
C3%A9%E2%80%99s-forces-kill-three-togolese-civilians-during-protests-against-tenure target=_blank>Gnassingbé's Forces Kill Three Togolese Civilians During Protests Against Tenure Elongation
At least three people, including an 11-year-old, were killed on Saturday in civilian protests against plans by the Togolese government to elongate its tenure through the backdoor.
Faure Gnassingbé has been President of Togo since 2005, taking over from his father Gnassingbé Eyadéma, who had just died aged 69 after being President for the 38 years between 1967 and 2005.
This means the Gnassingbés have ruled Togo for a combined 51 years already. The latest attempt to illegally elongate Faure's tenure has sparked protests in parts of the West African country, which government forces have tried to quell by shooting at civilians.
A Togolese who witnessed the protests told SaharaReporters about the anguish of the people.
"Today has been a very chaotic day filled with lot of violence in Togo. I am devastated as I am writing this now," she said in an email to SaharaReporters.
"The regime deployed heavy military forces against civilians protesting against their plans to hold rushed legislative elections on December 20th, which will help them consolidate power and pass a constitution that will let the President seek a fourth term come 2020. 
"The opposition is boycotting the elections and called for massive street protests all over the country. The regime banned the protests violating our constitution which guarantees freedom of association. 
"They have been shooting live bullets at civilians wounding dozens and killing three today, including an 11 years old boy. We have information that the upcoming days will get worse if the regime doesn't stop the violence and I am very concerned for Togo. 
"We have also been informed the regime plans to arrest the leaders of the opposition parties who called for the protests and if that happens, the country will fall in a severe crisis.  This is December where families are meant to come together to celebrate the end of the year but in my country families are mourning their children killed by a bloodthirsty regime that has been imposing themselves on us for 51 years. It hurts so much and no matter how hard I try, I can neither help the tears nor contain the anger." 
Before taking over power in 2005, Faure, 52, was appointed by his dad as Minister of Equipment, Mines, Posts, and Telecommunications between 2003 to 2005.
Human Rights
International
Politics
News
AddThis
: 
Featured Image
: 
Original Author
: 
SaharaReporters, New York
Disable advertisements
: 
E2%80%99-cars target=_blank>National Assembly CCTV Down As Bandits Loot Journalists' Cars
The Nigerian National Assembly
The Nigerian National Assembly
thesheet.ng
Thieves are vandalising cars and stealing their batteries on the premises of the National Assembly, SUNDAY PUNCH can authoritatively report.
Several cars have been vandalised in recent times, including that of our correspondent.
Our correspondent had parked his Honda CR-V car at a park close to the Annex building at about 11.30am but discovered at about 6pm that its battery had been stolen, with the bonnet left half opened.
The incident was reported at the Crime Office of the National Assembly Division of the Nigeria Police on Thursday morning, where our correspondent was told that several similar cases of vandalism and theft had been reported at the unit.
In spite of lodging the complaint, none of the officers on duty requested our correspondent to lead them to the vehicle for inspection.
Several National Assembly workers and journalists, who spoke on the issue, lamented the security lapses in and around the complex.
A victim, Mr Okechukwu Jombo, who is a reporter with the Nigerian Pilot, said his car's battery was stolen on the premises earlier in the year.
"They did it to me too early this year, around March. I parked at the main park behind the building. There is a cameraman at the House of Representatives, they took his own too. We were many during that period. It was a very rampant thing," he said.
Another victim, Mr Mudashiru Atanda, a photojournalist with The SUN, narrating his ordeal, said, "It was a Friday; I had parked inside at the car park behind the main building. When it was time to go to the mosque for the Juma'at prayer, I entered into the car, thinking I would have a smooth ride to the mosque. As I got close to the car, I saw that the bonnet was not firmly locked. I thought I did not lock it well. I lifted it with the intention of locking it only to discover that the battery had been stolen."
Atanda lamented that no arrests had been made since the incident occurred in 2016.
Another photojournalist with THISDAY, Mr Julius Atoi, said his Honda Accord car was broken into at the first car park close to the second security gate while the National Assembly was on an annual recess between July and October.
Narrating a similar experience with our correspondent on Friday, Mr Ezekiel Dike, a cameraman with the Nigerian Television Authority, said the battery of his Honda Accord was stolen from the car in September 2017 at the same car park.
He said, "I reported (the theft). I went to the police station on the premises. They asked if I suspected anybody. I said I could not have suspected anybody when I was covering the plenary at the chamber. They did not follow the matter up. Each time I went there, they did not give me attention. So, I let go.
"We were about three whose car batteries were stolen that same day. There was a man (victim) who came for a public hearing; he came in a Ford SUV."
Our correspondent observed that security men at the gates did not inspect cars going into the complex but only demanded personal identities, especially of persons not known to them.
It was further observed that no checks were conducted on cars leaving the premises.
At the general car park outside the second gate, it was observed that while a pass was issued to every car going in, the security men closed much early, allowing some car owners to go away with the pass as there was no one to take it from them.
Several users of the park, who spoke to SUNDAY PUNCH, warned that any pass not retrieved could be used to steal cars from the park.
A security operative blamed the lapses on the malfunctioning Closed Circuit Television cameras around the parks, adding that several cases had been reported but nobody had been arrested.
The security man, who spoke on condition of anonymity, said, "We have been receiving such complaints.
"If the CCTVs are functioning, it is just to play back the tape and see the thief. That is one major problem that we have. The CCTVs are not working."
A senior police officer, deployed in the National Assembly, who also spoke on condition of anonymity, lamented that efforts to get the National Assembly leadership to fix the CCTVs in and around the complex had failed.
The Sergeant-at-Arms of the National Assembly, Brig.-Gen. Mohammed Sani (retd.), could not be reached as several calls made to his telephone line on Friday were not returned.
Sani had yet to reply a text message sent to him as of the time of filing this report on Saturday.
When contacted on the incidents, the Divisional Police Officer, National Assembly Complex, Mr Abdullahi Sambo, a Superintendent of Police, referred our correspondent to the Police Public Relations Officer, Federal Capital Territory Command.
The PPRO, Mr Anjuguri Manzah, who was asked what was being done to address the ugly development, said, "I can't answer you now…you have to give me time to speak with him (Sambo) first."
Nigerians were shocked on April 18, 2018, when unknown men in a convoy of cars and pick-up vans stormed the Senate chamber while plenary was ongoing, snatched the mace and made away with it.
The legislature's symbol of authority was only recovered several kilometres away, according to the police, where the invaders dumped it.
CRIME
Journalism
Politics
News
PUNCH NEWSPAPER
AddThis
: 
Original Author
: 
LEKE BAIYEWU
Disable advertisements
: 
E2%80%99-forum target=_blank>2019: North Will Not Vote On Sentiment, Says Elders' Forum
The Northern Elders Forum (NEF) has said the 2019 presidential election will be won and lost based on the capacity, performance and incompetence of the candidates rather than sentiments as was the case in 2015. According to the forum, the ideal Nigerian president should be a patriot, committed nationalist, bridge-builder and unifier of all Nigerians, irrespective of tongue, tribe and religion. Speaking with journalists in his Arewa Farms in Zaria yesterday, convener of the forum, Prof Ango Abdullahi, also revealed that power brokers in the North will not support President Muhammadu Buhari's re-election in the 2019 polls because he has woefully failed to address abject poverty and underdevelopment in the region. He said, "No one should take the North for granted, and it is not for sale. The North will no longer vote based on sentiments. It will resist shedding its blood for any candidate, and will critically scrutinise all politicians who have betrayed the hopes and mandates of our people. "They should be prepared to suffer rejection, in the same manner the votes of the North rejected the attempt to continue with impunity, corruption and indifference of the Jonathan administration," Prof Ango warned". On the kind of presidential candidate Nigerians should vote for in 2019, Abdullahi who will clock 80 years on December 13, 2018 said, "The ideal presidential candidate for 2019 should be a patriot, a committed nationalist, a bridge-builder and unifier of all Nigerians. "He must believe in, and must have demonstrated in practical terms, a strong commitment to the principles of our common humanity and the transformation of our diversity into sources of strength. "He must inspire, by personal disposition, the confidence and trust of all Nigerians that they can expect fair and just treatment and leadership that is inclusive of all sections and interest". On why the forum are against Buhari's re-election, Abdullahi stated categorically that President Buhari has fallen short of the expectations of Nigerians, especially the Northern elite on whose back he rode to power in 2015 after 12 years of failed attempts. He said, "It is unfortunate that most supporters of President Muhammadu Buhari, including the president himself, think that he won the 2015 presidency because of what they described as 'Buhari Magic.' If Buhari had any magic at all, how come he could not win the presidency in 2003, 2007 and 2011? For 12 years, he failed to make it to Aso Rock, until we rallied round him and helped him to power in 2015. "I, Prof Ango Abdullahi, stuck out my neck for Buhari's cause. I was nearly killed for my support for President Muhammadu Buhari in 2015. I was attacked in Bauchi and nearly got killed. There were 11 bullet holes in my Jeep. The Late Maitama Sule, I and other Northern elders of like minds tried to advise him, but he arrogantly ignored us. Hakeem Baba-Ahmed was the one who took our advisory letter to him. And even after he followed up with another copy of the letter after the President claimed to have forgotten receiving any such letter, we never got any response from till date". Abdullahi said that the Peoples Democratic Party (PDP) lost the 2015 general elections basically because its leadership reneged on the agreement of eight-year tenure for the South and eight years for the North. He continued: "Former President Olusegun Obasanjo served eight years; and then it was the turn of the North. He made an attempt at a third term, but we fought him vehemently and he failed. He then brought Umaru Musa Yar'Adua. He spent three years in office and died. Initially, we didn't want his choice, but the late Sunday Awoniyi pleaded with us to give Yar'Adua a chance and we rallied round him. "The Constitution says the vice president should step and complete the tenure in the event that the president dies. Ideally, the PDP leadership need not argue that it was indeed the turn of the North. "And then Goodluck Jonathan was allowed to contest the 2011 presidential election. The argument was that it was about Nigerian president and not a Northern president. There was no quarrel. But when towards the end of Jonathan's first tenure he said he was not aware of any power shift in the PDP, it became a serious problem. And this was what eventually led to the defeat of the party in 2015". Abdullahi further maintained that the Northern elite believe that only the candidate that can measure up and is clearly capable of meeting the very high demands of leadership with personal integrity, unblemished record of selfless service, sound health and commitment to Nigeria's unity and survival should be trusted with the leadership of the country in 2015. He lamented that under President Buhari, Nigeria's economy is characterised by significant loss of output, massive youth unemployment, a rising level of poverty, instability and irregular migration of skilled and unskilled labour, a situation he described as a national embarrassment and a disgrace to a country that is endowed with abundant resources. He said another four years of Buhari administration would be catastrophic with the current government's unprecedented incompetence and enthronement of mediocrity in dealing with the horrendous spate of killings and general insecurity across the country. He warned that no Northern politician, including the president who is seeking re-election, should expect to be voted in the 2019 general election unless they demonstrate a willingness to champion a massive assault on poverty and underdevelopment in the North. "All political office holders from the North are, hereby, served notice that they have failed the test to lead the region towards economic recovery and growth", he added. Our sister publication, LEADERSHIP, had reported last Wednesday that members of the Northern Elders Forum (NEF) on Tuesday sang discordant tunes on the re-election bid of President Muhammadu Buhari. While some members, led by zonal conveners, Sani Zangon Daura (Danmasanin Daura) and Maj-Gen Paul Tarfa; and director of Logistics, Capt Bashir Sodangi, had dismissed claims of a search for President Buhari's replacement in the North and threw their weight behind his second term bid, others on the side of the convener of the forum, Prof Abdullahi, vehemently opposed the president's re-election.
Politics
News
AddThis
: 
Original Author
: 
Leadership Newspaper
Disable advertisements
: 
E2%80%99africa-behind-attacks-nigerian-military target=_blank>Beaufils: ISIS W'Africa Behind Attacks On Nigerian Military
British Deputy High Commissioner to Nigeria, Ms Laure Beaufils, has said ISIS West Africa, and not Boko Haram, was responsible for the rise in insurgents' attacks in the North-east. Beaufils said the federal government must pay attention to the new development.
Speaking exclusively to THISDAY ahead of the United Nations Anti-Corruption Day, which holds today, Beaufils said there were no quick wins in the fight against corruption. She added that part of the successes the cooperation between Nigeria and the UK had recorded in the fight against graft was the over £70 million Malabu oil loot that had been returned to the nation's treasury.
Shedding more light on the war against insurgency, especially, the recent rise in attacks on military formations in the North-east, Beaufils said, "I think it is the ISIS in West Africa that is responsible for a lot of the terror in the North-east. Why it is so difficult to defeat, as it is often the case with terror or guerrilla organisations, is that they use unconventional methods, throwing in very mean young girls, women with guns on their backs, attacking and bombing populations of people.
"It is very difficult to spot them in a crowd. It is very difficult to know what they are planning and it is very difficult to stop them. I think the government has to really focus on them and I think we have all seen an upsurge and I think it is important that we do speak about it."
She maintained, "We are really committed to fighting extremism alongside Nigeria. We have provided a lot of support, not only to the military in Nigeria to address terrorism, and I think it is right that we continue to focus on the North-east right now, because a lot of people are suffering and this is why our organisation is in the North-east to see that the people have access to basic services and put them in Internally Displaced Camps (IDPs).
"But now because of security concerns, they are worried about putting our people there. So, I think it is really essential that we continue to shine the spotlight on North-east and on the situation there, and on the civilian population that are suffering."
On concerns about the slow pace of prosecution of corruption cases, Beaufils said, "That is speed and systems and, ultimately, what you need for a country to really have robust anti-corruption policies are strong institutions. If you had those then you are much more protected from corruption. But these take a very long time to do and I think a long term approach is absolutely necessary.
"The chances are also that the people have short term expectations and political cycles are also short term. Putting perpetrators behind bars is a short term reward, which is why I think the EFCC is attempting to extradite people that are charged and to see that people that have demonstrated to have corrupt practices, to see that they are indeed punished."
She reiterated that there were no quick wins in the fight against graft, saying, "I think also it's a good thing that they are challenging expectations and creating disincentives for people. So, they are all short term.
"In fact, there are no quick wins, because the legal system is long and I know that you gather data and information on large corruption cases and you just need a little bit more time to do all those things."
Beaufils dismissed insinuations that the collaboration between the UK and Nigeria had yielded very little results.
"We have recorded some success stories this year. We have recovered about £70 million of the Malabu loot and that has gone straight to government's treasury account," she stated. The Deputy High Commissioner added, "The government will be able to use it as it sees fit and civil society organisations are monitoring how that is being done. I think the fact that that happened a few months ago is a demonstration of our commitment, and I can assure you that we have no intention of keeping a single pound of money looted from Nigeria.
"What we are doing is to ensure that legal processes are done in a very thorough fashion and that they are not rushed so that we can have due process that is followed, and on the back of that, assets that were stolen are returned.
So, I expect that we will be seeing more of that and I know that some people are frustrated that it is taking so much time. But I know that we will be seeing more of such funds being returned, such as we have seen in the Malabu loot."
Insurgency
International
Military
Terrorism
News
AddThis
: 
Original Author
: 
ThisDay Live
Disable advertisements
: 
target=_blank>Atiku Campaign: How Jonathan, Others Prevailed On Wike Not To Resign
The threat by Rivers State Governor, Nyesom Wike to resign as the South South Coordinator of Atiku Abubakar Presidential Campaign Council has, once again brought to the fore, pains still stemming from unhealed wounds in the Peoples Democratic Party (PDP).
In fact, had Wike not been pacified to back down from his planned resignation by critical stakeholders within the party, including former President Goodluck Jonathan, the party's plans of reclaiming the Presidency, which it lost to the All Progressives Congress (APC) would have received a jolt of seismic proportions.
In the build-up to the party's presidential primary, a powerful blog within the party had plotted to relocate the convention venue from Port Harcourt to elsewhere in the South South, due to Wike's perceived support for Sokoto State Governor, Aminu Tambuwal.
Pronto, the governor vehemently warned that there would be consequences if the PDP succumbs to pressures from some undisclosed presidential aspirants to move the convention away from Port Harcourt.
He further threatened that Rivers State delegates would teach the party a bitter lesson if it allowed desperate presidential aspirants to scuttle the hosting of the primary in Port Harcourt.
"Let me warn the party, if you dare, Rivers State will teach the party a lesson. Those days have passed when they took Rivers State for granted. Nobody can use and dump Rivers State. No presidential aspirant can use and dump Rivers State. We never lobbied for it; we never asked for it; but it will boost the economy of the state, and people will make money. Those who are against Rivers people making money to improve their businesses will not get our support."
Because the party did not have the luxury of time, critical stakeholders waded in swiftly to douse the tension, which the governor's outburst generated.
Wike's support for Tambuwal also fuelled speculation that he might be nurturing a vice presidential ambition, as he had earlier claimed that some presidential aspirants who sought his support had offered him the position of Vice President in the course of political consultations, which he said he declined.
"There are aspirants who have promised me the position of the Vice President, but I said I will not seek the position. Not even in the dream will I seek that position at this point. I am a first term governor and the National Chairman of the PDP is from my State and the South South. These are mere allegations (angling for the Vice President) because you know that people can carry rumour. But everything that I will do will be in the interest of Rivers State.  Nobody can use Rivers State as a tool. They did that in the past, but not anymore."
Amid the intrigues, Wike had his way as the PDP presidential primary eventually held in Port Harcourt. However, Wike, who had overtly and covertly thrown his political weight behind Tambuwal, could not thwart the formidable political machinery of Atiku, who eventually won the keenly contested presidential primary.
The Guardian gathered that while the deep cut inflicted on Wike during the primary still festers, some strategic appointments made into the PDP national campaign council have also not gone down well with the governor and his supporters who feel that certain forces within the party were methodically crafting a new political hegemony.
A source within the party told The Guardian that Wike felt marginalised, belittled and undermined by Atiku's coterie, who have not been taking his supporters views into account, while formulating plans for the party's future, particularly as it concerns the forthcoming general elections. According to him, Wike felt he was losing his ability to influence the direction of things in the party.
It was also gathered that before Wike voiced out his grievances to some party members, he had reckoned that the party was gradually turning out of gear and giving less recognition to him and others, who had worked tirelessly to bring the party back from the brink; and still working with same zeal to retake power from the ruling APC.
However, before Wike could formally tender his resignation as zonal coordinator, an emergency meeting held between him and top leaders of the party, including Jonathan, in order to prevent friction within the party that could precipitate PDP's loss of Rivers State in 2019.
"The issues are largely political and several persons had intervened to douse tension. He did not resign formally; he just said he was not doing the job again because he thinks they were not treating him and Tambuwal right. But Tambuwal, who is the Coordinator of North West, was the first to mount pressure on him to rescind the decision at this point. Obviously, he has some unresolved grievances that require him to sit down and discuss with leadership of the party for amicable resolutions to be reached," a source in the party said.
A source in Atiku's camp, told The Guardian that the PDP presidential candidate himself met privately with Wike all in a bid to manage the conflict and prevent it from creating tension and instability within the party only weeks to the general elections.
"I must say that it was extremely important that the national leadership of the PDP, including President Jonathan, got involved and resolved the issues at stake. Atiku met with him because he has to. Everybody is important in this business. The issue is that at least they discussed. They met with Tambuwal too and even President Goodluck Jonathan met with him," he said.
A political analyst, Ross Alabo George, observed that when politicians feel aggrieved sometimes, the often resort to threats to force attention.
According to him, Wike has successfully deployed this strategy in his political exploits, stressing that Atiku's group may not have reached out to a lot of the South East and South South governors properly.
He said that Atiku group is made up of very experienced and seasoned politicians and they have basically tried to run the system using their vast experience, without giving due recognition to Wike and others.
"Wike had control over the party, but now the Atiku structure seems to have taken over and I think Wike is not happy.
But I think Wike understands the consequences of pulling out from the Atiku structure completely. I don't think he will do that. I think what he has done is to force them to the table. He needs the party because the people that will back him when things begin to go wrong in Rivers State are there. Of course, there is a plan to rig the election in Rivers State. The people that will fight for him when security agencies barricade his house; when his movement will be restricted are in the party. He will need the voices of these seasoned politicians nationwide to speak for him. He needs the party's structure around the country; he needs the contact that the party has and so on," he said.
George insists that Wike could not actually attempt to defy and refuse to tow the party's line at this point, particularly as the crucial 2019 general election draws near, adding that both Wike and the party desperately need each other at this point.
Another political observer, Robinson Sibe said the fact that both Atiku's group and Wike's supporters have not come out to refute the claim that the governor had threatened to resign is an indication of some unresolved issues.
He also reckoned that it would be politically unwise to sow a seed of discord within the party ahead of the 2019 general elections.
"Both parties need each other parties seriously right now because you need national coverage from your party, and party structure to guide you and see you through, especially if the opposition wants to rig you out. But I believe that what is happening is a move to draw attention to his grievances as somebody who was relatively in charge of the party, and suddenly things began to slip away from him. It is possible that this is his line of thinking. It is also possible that his people are being victimised, just as it is possible that the people who are supporting him are not carried along in terms of appointments into the campaign council. There were very strong sentiments that characterised the party primary and I thought they would find ways to kill those sentiments.," he said.
Meanwhile, a pro-Wike group, the Grassroots Development Initiatives (GDI) has declared its readiness to carry out door-to-door campaign to convince the electorate to see reasons why it should vote for both Atiku as President, and for Governor Wike.
Politics
News
AddThis
: 
Original Author
: 
Guardian Nigeria
Disable advertisements
: 
There were strong indications on Saturday evening that the Senate would, this week, begin the process to override President Muhammadu Buhari's decision to withhold his assent to the 2018 Electoral Act amendment bill.
Senate spokesperson, Senator Ben Murray-Bruce, had told Saturday PUNCH that the red chamber had rejected Buhari's reasons for declining assent to the legislation and would do everything possible to override his action.
A cross-section of the senators, who spoke with SUNDAY PUNCH on the issue on Saturday, vowed to make Buhari's position a major issue on resumption of plenary on Tuesday.
They vowed to ensure that to ensure that all the amendments made to the new electoral act formed part of what the Independent National Electoral Commission would comply with in the conduct of the 2019 polls.
But there are other indications that as Senate President Bukola Saraki and the Speaker, House of Representatives, Yakubu Dogara, prepare to read the letter to members in plenary at their respective chambers on Tuesday, the lawmakers are set for a stormy debate on the matter.
SUNDAY PUNCH can authoritatively report that Buhari's decision has polarised members of the National Assembly across political lines.
While members of the ruling party, the All Progressives Congress, have expressed their support for the President, those of the opposition PDP alleged an ulterior motive behind the withholding of the assent by the President.
Already, the Majority and Minority Leaders of the Senate, Senator Ahmad Lawan and Senator Biodun Olujimi, separately told SUNDAY PUNCH on Saturday that the matter would be discussed when the lawmakers reconvene, after which a decision would be taken on the bill.
Olujimi told SUNDAY PUNCH that the federal parliament approved the huge budget proposed by the INEC for the election because of the anticipated electronic voting being planned by the electoral umpire.
Olujimi said, "This is because 70 per cent of the INEC budget has to do with the funding of card readers and other equipment needed for the election.
"We are going back to the chamber on Tuesday to look at the reasons for the President's rejection and we will do our best to override his assent because the Electoral Act (amendments) bill is the best thing that can happen to our election in Nigeria.
"It is not only the opposition senators who would override the President. We would work on our colleagues in the ruling APC, most of whom are disgruntled that their party denied them tickets to return to the Senate."
Another senator from the North-West geopolitical zone, who spoke on condition of anonymity, also corroborated the position of Olujimi, describing Buhari's reasons as untenable.
He said, "It is possible that we start the process to override the President's assent when we resume on Tuesday. I can assure you that it will be on the front burner of our proceedings. It will be a major issue and I am very sure that it is going to generate a lot of debate.
"If you look at the equation these days, many of our colleagues don't come to the National Assembly again because of campaigns. So, it is really not impossible to get two-thirds majority to override the President's assent.
"If the decision to override the President did not take place on Tuesday, it will certainly be done on Wednesday when we would enjoy the privilege of the NTA live coverage of our proceedings."
Also, a senator from the South-East geopolitical zone, who also spoke off record, alleged that Buhari withheld assent to the bill because he did not want the usage of card readers in the North where a lot of Permanent Voter Card had allegedly been procured for underage voters.
The senator stated, "If INEC should make use of the card reader in northern Nigeria, we would demystify their bogus claims that they have the majority of voters in that part of the country.
"They can write any figure and declare it if there is no electronic accreditation of voters. The moment the 'already-biased' INEC officials signed the fraudulent election result sheets, we would not be able to do anything on them."
Plan to override Buhari's assent will fail –Marafa, Ndume
But a prominent member of the ruling APC caucus in the Senate, Kabiru Marafa, said the moves by his colleagues in the opposition parties to override Buhari on the issue this week would fail.
Marafa argued that the opposition lawmakers did not have the required number to form the two-thirds majority needed to achieve their aim.
He added, "How will they get us to support their action when we already agree that the reasons given by President Muhammadu Buhari were genuine and reasonable?
"INEC, at the moment, has a lot of issues to contend with. Why should we overburden them with new amendments that would make its works more cumbersome? Why can't we wait till after the 2019 elections before we introduce new electoral laws?"
Marafa also disagreed with his opposition colleagues who claimed that Buhari rejected the new law in order to give room for unqualified voters to vote.
He said, "Why are they unnecessary jittery now over the use of the card reader. I am beginning to think that those who are agitating now have some ulterior motive. The 2015 election was successful because of card reader."
Marafa also faulted Olujimi's claims that the INEC budget was approved based on the assumption that card readers and other electronic gadgets would be massively deployed in the elections by the electoral agency.
He said, "I disagree with Senator Olujimi completely on that issue. INEC budget was huge because of the insecurity in the country. Most of the funds would be expended on security personnel to ensure a hitch-free exercise.
"I challenge her to come up with her figures and prove me wrong. There could be some calculated attempts in some quarters to sabotage the entire process; otherwise, I don't understand the attack on the President for postponing the implementation of the law till after the general elections."
Another APC lawmaker, Senator Ali Ndume, dismissed the claim by Murray-Bruce that the Senate would veto the President.
Ndume added, "You quoted Ben Murray-Bruce as saying that the Senate was going to veto. Who gave him the right to speak on behalf of the Senate? Even if you are the Vice-Chairman of the Media and Public Affairs Committee, you don't just go and talk on behalf of the Senate.
"Let it be on record that he did not speak on my behalf. The letter from Mr President has not even been read and it has not been deliberated upon. His responsibility is to speak on behalf of the Senate, but if he is speaking for himself, that is a different thing.
"He went on to say that they are going to veto it. Where are they going to get the numbers (two-thirds) to veto it?"
Stormy debate loom
When our correspondent asked the Senate Leader, Senator Ahmed Lawan, to speak on Buhari's decision, he said, "When I return to Abuja. I spoke about this even before now. When I return to Abuja."
Speaking with one of our correspondents again on Saturday, Murray-Bruce said, "First of all, we think it is a mistake not to sign the bill. We think Buhari should have signed it. We want the APC senators and all Nigerians to understand that that bill is the right thing to do at this period of our national life.
"We will do everything possible to work with progressive APC senators to get the right number of votes to override it. We will override it."
Another PDP lawmaker, Senator Rafiu Ibrahim, dismissed Buhari's reason for withholding his assent.
Ibrahim said, "We all know and we have already been saying that he was afraid of signing the bill majorly because it will make the election to be more transparent. This bill is all about processes; it is not going to disrupt anything. It is about card reader, agents having some rights, parties having the right to some information and determining certain things about electoral materials."
But the Secretary of the Parliamentary Support Group, a body of the APC lawmakers in the National Assembly backing Buhari's interests, Senator Ovie Omo-Agege, said while the President had the right to sign or withhold assent to a bill, the lawmakers also had options they could consider.
"But from what I have read, his reasons are very genuine. Like I have always maintained, Mr President has always supported this bill.
"It is the usual 'town crying' of the PDP particularly. Let me say that PDP is scared because they were used to rigging when they were in government. We are in government now and they think everybody will be the same. If you are not a rigger, why are you talking about rigging when the election has not been conducted?"
Politics
News
PUNCH NEWSPAPER
AddThis
: 
Original Author
: 
SUNDAY ABORISADE and LEKE BAIYEWU
Disable advertisements
: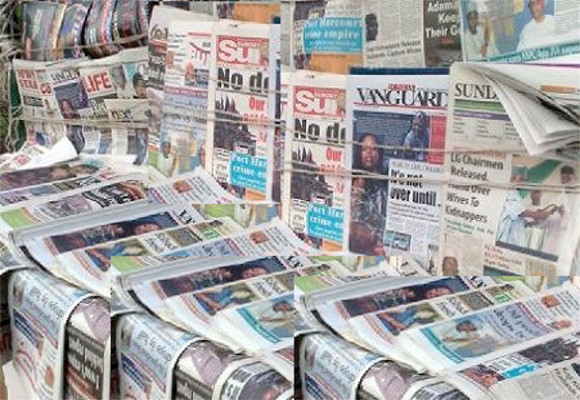 You can also check Sahara Reporters Newspaper Headlines Today