Sahara Reporters Latest News

Wednesday 5th December 2018

Sahara Reporters Latest News Today and headlines on some of the happenings and news trend in the Country, today 05/12/18

Read also Leadership Newspapers News Today Wednesday 5th December 2018
target=_blank>Buhari Isn't A Candidate For 2019 Presidential Election, Says Okupe
Doyin Okupe, former Senior Special Assistant to former President Goodluck Jonathan on Public Affairs, has declared that the All Progressives Congress (APC) does not have a presidential candidate for the 2019 general election.
He stated this while responding to questions from journalists on the chances of the Peoples Democratic Party (PDP) and APC in the forthcoming election.
He also lamented the refusal of President Muhammadu Buhari to sign the Electoral Act that has since been passed by the National Assembly.
"Actions and activities of the Independent National Electoral Commission (INEC) are being dictated directly from the villa. If that is not the case, by now if the INEC Chairman was a truly independent person, he ought to have conveyed message to APC and the villa that they do not have a candidate for the 2019 presidential election," he said.
"As of today, the nomination of President Buhari is not valid. To be nominated for an election, there are some conditions that must be met as provided by the Constitution and the Electoral Act. Number one, you must be a Nigerian. Now, there are issues that were even confirmed by the President himself in Poland that there is doubt about his nationality, whether he is a Nigerian or a Sudanese."
Okupe also added that evidence must be provided that the candidate had been educated to secondary school level.
"As of today, the form submitted by Buhari to INEC does not contain a certificate. What he submitted is an affidavit with a false claim that his certificate is with the Army, who had sometime issued a statement that they are not in possession of any certificate of the president," Okupe stated.
According to Okupe, that by itself was perjury. "If I falsely swear to an oath that I am seven feet tall and measurement shows I am not that tall, I have simply committed perjury," he said.
He said such an invalidly nominated candidate had lost an election even before it is conducted, adding that it was incumbent on APC to either go to court or find another candidate.
"Buhari is not a candidate for 2019 presidential election and the facts speak for themselves. By the action of Buhari to have gone to WAEC for an attestation showed that he knew that his certificate was never with the military and he swore to an oath falsely. That itself is ground for disqualification of nomination of any candidate. This is the truth and Nigerians needs to be aware of it, so that nobody creates crisis in 2019. Head or tail, Atiku will  be President of Nigeria in 2019," Okupe said.
Elections
Politics
News
AddThis
: 
Featured Image
: 
Original Author
: 
SaharaReporters, New York
Disable advertisements
: 
target=_blank>PDP Presidential Rally Latest Form Of MMM In Town, Say Arewa Youth Group
A group of youth under the auspices of the Arewa Proactive Youth Coalition has dismissed the flag-off of the Peoples Democratic Party (PDP) presidential campaign rally in Sokoto as the "latest form of MMM in town".
Inuwa Bako, President of Arewa Proactive Youth Coalition, urged Nigerians "to be wary of PDP's ability to transparently manage public resources when it cannot be sincere with the number of people that took part at its rally".
His words: "The North-West rally which had the entire PDP loyalists from all over Nigeria left a 10,000-capacity stadium still empty and the mouthpieces of the party were still bereft of shame to lie that the number of people that attended the rally portends victory for Atiku (Abubakar). This is nothing but MMM whereby people were made to believe what did not exist. Anyone that allows themselves to be taken in by such scam is in for disappointing surprises.
"The PDP may be playing the ostrich, but the reality is that many people that should have attended the rally are aware that they will not hear anything new, but that they will be plied with insult and abuses against the ruling party since the PDP and its candidate are incapable of issue based campaign. The people of the North-West and other Nigerians are eager to attend rallies that are better organised, where they will be able to hear fact-based pitches from candidates, and not gatherings where actors and charlatans would be hopping on soap boxes.
"You can imagine that a party that was in power for 16 years with a candidate that was vice-president for eight years are unable to point to concrete projects or achievements to convince the electorate with. If after previously holding office for 16 years, all PDP can do is to make more promises of what it will do if elected instead of showing what it has done to be re-elected, then there is something capitally wrong with the party and its candidate.
"We have resolved that we will not allow the rural population or those with limited political exposure to be scammed by the PDP as they continue their other rallies. Arewa Proactive Youth Coalition has therefore resolved to embark on an enlightenment drive to educate people on the issues they should raise when any party approaches them with non-issue based messaging."
Elections
Politics
News
AddThis
: 
Featured Image
: 
Original Author
: 
SaharaReporters, New York
Disable advertisements
: 
target=_blank>It's The Right To Strike That Distinguishes A Worker From A Slave, NLC Tells FG
The Nigerian Labour Congress (NLC) has called out the Federal Government on the threat to stop payment of salaries of university lecturers who are on strike.
A statement signed by Acting President of the NLC, Lawal Dutsinma, on Tuesday, reminded the Federal Government that the protesting lecturers are workers and not slaves.
The Academic Staff Union of Universities (ASUU) had commenced an indefinite strike on November 4, 2018 to demand proper funding of Nigerian universities.
See Also
Breaking News
BREAKING: ASUU Begins Nationwide Strike
0 Comments
4 Weeks Ago
However, a memo dated Thursday, November 29, 2018 sent by the Nigerian Universities Commission (NUC) to university vice chancellors had noted that the Federal Government would enforce the 'No Work, No Pay' rule on the ASUU members.
Although the decision was said to have been withdrawn by the Federal Government, which NLC affirmed, the organisation said the 'No Work, No Pay' rule is an "autocratic attempt to cow workers into abandoning their legitimate demand for decent wages, conducive work spaces and social justice".
THE FULL STATEMENT
The attention of the Nigeria Labour Congress has been drawn to a memo by the Federal Government dated November 29, 2018 directing all Vice Chancellors of Federal Universities to apply the "No Work… No Pay" rule. We understand that the Federal Government has since rescinded this order. Nonetheless, Nigerian workers are concerned that for the umpteenth time, the Federal Government and many state governments have resorted to bullying and draconian threats in dealing with matters that strictly reside in the domain of industrial relations. This is truly sad, highly unfortunate and extremely provoking.
We recall that the current struggle by the Academic Staff Union of Universities (ASUU) for improved conditions of learning in our public universities is not the first time that the Federal Government is issuing the "No Work… No Pay" threat. During the last warning strike by the NLC on the new national minimum wage, the Minister of Labour and Productivity, Dr Chris Ngige issued a "No Work… No Pay" threat against workers. Also, during the last nationwide strike action by health workers, the Federal Government did not only issue a "No Work… No Pay" threat, it went ahead to implement it. Till now, government still withholds about three months of salaries due to health workers.
The Nigeria Labour Congress considers the application of the "No Work… No Pay" rule as an autocratic attempt to cow workers into abandoning their legitimate demand for decent wages, conducive work spaces and social justice. As far as we are concerned, government's invocation of the "no work, no pay" clause in the Trade Disputes Act is selective, erroneous and hypocritical. As we speak, the Federal Government and nearly all the states in Nigeria are owing workers varying arrears of salaries, allowances, pension and gratuity – some running into years. Yet, workers have continued to endure such profound neglect by political leaders elected to prioritize the welfare of citizens. Given the grand betrayal of workers by government, workers stand the higher moral ground to invoke a "No Pay… No Work" action.
Section 43 of the Trade Disputes Act of Nigeria has always been in our statutes but successive governments had hardly ever invoked it to punish an already impoverished workforce. It is sad that the current government is making a lot of fuss on just one aspect of our laws while holding in contempt several provisions in our labour laws and even our constitution demanding just and humane treatment of workers.
It is important to reiterate that Nigerian workers will never accept slavery in their own country. The right to strike is both a human and trade union right protected by our laws and international conventions particularly ILO Convention 87. It is the right to strike that distinguishes a worker from a slave. Do we need to remind government at all levels that Nigerian workers are worthy partners in nation building and not slaves? As a matter of fact, labour builds the commonwealth that political leaders and their cronies, more often than not, squander. It is, therefore, regrettable that government continues to behave as if Nigerian workers are slaves who have no rights or privileges to claim.
It is truly unfortunate that our political leaders act with a failed sense of history. On June 22, 1945, organized labour in Nigeria commenced a general strike action that shook the foundation of British colonialism in our country. Not a few historians would argue that our journey to nationhood started with the strike action of June 1945 as millions of Nigerians from every part of the country for the first time in their lives rallied around a common cause. Succinctly put, the 1945 general strike action was the foundation of Nigeria's independence and sovereignty. It is therefore heart rending that latter day politicians would use the legitimate weapon of strike action to intimidate, hound and oppress the working class which sweat and blood procured the freedom we enjoy.
We warn government at all levels to desist from using the "No Work… No Pay" rule to shirk away from their responsibilities. We also demand immediate release of workers' salaries withheld on the account of "No Work…No Pay" rule. Also, we ask government to respect agreements it freely entered into with ASUU in order to restore normalcy and sanity to our public institutions of learning especially our universities. Our children have suffered enough already! Enough is enough!!
LABOR/WORKERS' RIGHTS
News
AddThis
: 
Featured Image
: 
Original Author
: 
SaharaReporters, New York
Disable advertisements
: 
target=_blank>Four Feared Dead In Cross River In Clashes Involving Urugbam, Abanwa LGAs
Four persons are feared dead in renewed violence between communities of Urugbam and Abanwa in Biase Local Government Area of Cross River State.
According to the state Police Command, dispute over land led to several houses being set ablaze by the warring communities.
Confirming the development to SaharaReporters, Irene Ugbo, spokesperson of the Police command, said the people resisted the policemen earlier drafted to the area to restore law and order in the affected areas.
"Yes, Biase, Abanwan and Orugbam communities clashed over farmland. It started yesterday and our men were deployed to the areas to forestall breakdown of law and order, but to no avail. The communities didn't allow conventional policemen access into the affected areas," Ugbo said.
"The Commissioner of Police has directed mobile policemen to the areas now. The situation was tense but we are on top of it. There are people who have been injured, but no death recorded has been reported."
CRIME
News
AddThis
: 
Featured Image
: 
Original Author
: 
SaharaReporters, New York
Disable advertisements
: 
target=_blank>JUST IN: Small Doctor Released from Prison
Adekunle Temitope, popularly known as 'Small Doctor', has been set free from police custody with a warning not to engage in any violent act for the next one year.
A magistrate court at Ebute Meta in Lagos ruled in favour of the musician on Tuesday after he was arraigned by the Police for unlawful possession of firearms.
The court ruled in favour of 'Small Doctor', because he had licence to carry a gun.
'Small Doctor', alongside three others, were arrested and paraded by the Police on Monday for harassing a Police officer with a gun. He was also accused of unlawfully carrying a functional rifle.
Edgal Imohimi, Lagos State Commissioner of Police, stated during the parade that the state had called on all those with similar rifles to relinquish the ammunition to the state regardless of their licences.
"You will recall that only recently, the  Inspector General of Police, Ibrahim Idris, gave a window of opportunity for all those who have this category of firearms to return them. All licences were cancelled and all approvals were suspended," the CP said during the parade.
However, the magistrate court ruled in favour of Small Doctor.
The musician was among a group of popular Nigerian entertainers appointed ambassador to the Nigeria Police Force earlier this year.
The group, including Omoni Oboli, Odunlade Adekola, Sound Sultan, Dr Sid, Korede Bello and Ruggedman, were seen in Police uniforms posing with Officer Dolapo Badmos.
He also performed at a show tagged 'Entertainment Meets Security' at the University of Lagos in March.
CRIME
Entertainment
Police
News
AddThis
: 
Featured Image
: 
Original Author
: 
SaharaReporters, New York
Disable advertisements
: 
target=_blank>Our Bishop Has Goofed! By Tife Owolabi
Have you heard? The rumor has finally been busted? What rumour? Who busted it? The wind has blown; we can see the anus of the chicken. The clone president has been revealed.
By who? The Holy sprit revealed to the Bishop. Which bishop? Papa of course. I was revealed to him at the back page of a newspaper. That can't be truth. Holy Spirit doesn't speak in the newspaper.
Someone might have authored it in the dailies. Ok, the bottom line is that papa said the president is cloned. He read a column of cloned president by an author, Prof Dare.
You mean Professor Olatunji Dare, the satanic writer… sorry I meant the satirical writer?
Yes, the column which papa read. The man wrote: "Since 2017, so goes the tale reportedly originated by the fugitive leader of the Indigenous Peoples of Biafra (IPOB), Nigeria has been ruled by a Buhari look-alike, Jubril al Sudan, a native of Sudan — or Niger, take your pick. Buhari had died in the UK in 2017, where he was undergoing medical treatment. Notwithstanding the fact that Queen Elizabeth had sent a message of condolence to the Nigerian government, the entrenched cabal in Aso Rock had procured a Buhari double in Sudan, and pressed him into service as Nigeria's president.
"Despite occasional stumbles and apparent loss of memory, the transition had gone so smoothly that the only tell-tale sign of the infernal switch was a scar on Jubril's left earlobe that was not a part of Buhari's profile. Kanu, or whoever began the tale, and those who have been peddling it, should update their material.
"I can report authoritatively that representatives of the Jubril family, having discovered the gigantic swindle, suddenly showed up in Abuja the other day and demanded to be compensated with a power-sharing arrangement at the federal level in perpetuity, plus 50 per cent of Nigeria's oil revenues for ten years in the first instance. Failing this, they warned, they would tell their story to the whole world."
But that Is a satire. It means "the use of humor, irony and exaggeration, or ridicule to expose and criticize people's stupidity or vices, particularly in the context of contemporary politics and other topical issues".
Haba!
Bishop has goofed for taking Professor Dare's article hook, line and sinker.
Oyinbo re pe te. How is that mean? No, it's 'what does that mean?' It means you don't take everything one says? Even the Bible says prove every spirit whether it's of God.
Again Bishop goofed!
Ah! From your mouth? Abomination! You say negative of a man of God.
That is the problem of we Nigerians. We sometimes seem holier than the pope. We think the man of God is infallible. They are humans and they can make mistakes and not all they say is God talking through them.
This is why I still believe many of us aren't educated, but are aware of education. It is not enough to read and write. One's attitude must connect with education to sieve the truth in all matters.
Opinion
AddThis
: 
Featured Image
: 
Original Author
: 
Tife Owolabi
Disable advertisements
: 
target=_blank>Housewife Arrested For 'Attacking' 12-Year-Old Houseboy With Hot Water, Razor Blade
Abimbola Oreoluwa, a housewife, has been apprehended by the officers of the Nigeria Security and Civil Defence Corps (NSCDC) in Ondo State for allegedly inflicting bodily injury on her 12-year-old houseboy.
Oreoluwa allegedly attacked the boy with a razor blaze and hot water for stealing her personal belongings.
Pedro Awili, the NSCDC Commandant, disclosed this in Akure, the Ondo State capital, while parading the suspect before journalists on Tuesday.
Awili stated that Oreoluwa was arrested following a tip-off on how she had been maltreating her houseboy since he started living with her.
"Our investigation revealed that the boy is from Benin Republic and the woman got him through his master in Abeokuta, Ogun State. She brought him as a houseboy and paid N120,000 to his master. We are going to arrest the man in Abeokuta because this is a case of a child abuse and human trafficking. The woman has been maltreating the boy. She doesn't allow him to go to school; she seriously abuses the boy by beating him up for any little mistake he makes," he said.
Awili called on those engaging the services of househelps to always show them love instead of maltreating them. He also urged people to desist from engaging underage children as househelps or face the full wrath of the law.
"If you know that to beat up your househelp or inflict injuries on them, especially the underage ones is your aim of engaging them, it is better to rethink and desist from such attitude. Parents need to know about the welfare of their children and know who to give them to, if need be," he added.
Speaking with newsmen, Oreoluwa said she acted in self-defence.
"He has been living with me for almost a year now and is fond of destroying my properties: my car, my wears and many other things. He also steals. I got him from one woman at Abeokuta and l didn't know he is from Cotonou. I told the woman that l needed someone as an assistant and not a child like this," she said.
"When the boy came, l told the woman that the boy is too small for me to accept. She said l should just leave him and that she would bring someone in two months. Since that time, l have been calling her but she didn't show up.
"But what really happened was self-defence; it wasn't intentional. He was trying to block me with an iron chair, when the kettle l was holding which had hot water in it poured on him, when he wanted to run," she stated.
CRIME
Human Rights
News
AddThis
: 
Featured Image
: 
Original Author
: 
SaharaReporters, New York
Disable advertisements
: 
E2%80%94-policemans-family-says-police-lied-about-zamfara-attack-casualty target=_blank>'Dozens Were Killed' — Policeman's Family Says Police Lied About Zamfara Attack Casualty Toll
Sergeant Sunday Itodo
Days after the Nigeria Police Force announced that its officers were attacked by Fulani militia in Zamfara State, with one officer killed, the family of a missing officer have come out to counter the claim.
A family member, who spoke to SaharaReporters, maintained that dozens of police officers were killed in the ambush.
DCP Jimoh Moshood, Force Public Relations Officer, had said the Police team was attacked at Mahanga forest in Zamfara. He disclosed that the Police killed 104 bandits, while an officer was killed and 12 persons were injured.
"The Police Joint Operation Team at about 1600Hrs, 29th November, 2018, repelled attacks from armed bandits at Mahanga Forest in Birnin Mogaji LGA of Zamfara State, and in the process killed one hundred and four (104) bandits, destroyed over fifty (50) bandits' hideouts in three (3) camps, recovered over five hundred (500) cattle and seventy-nine (79) sheep from the bandits. Unfortunately, we lost a policeman and twelve (12) policemen were wounded during the attacks. The Police team has restored normalcy and peace in the affected areas," DCP Moshood had said.
However, a family member of one of the officers deployed with the team, Sergeant Sunday Itodo, countered the claim, insisting that Itodo's whereabouts was unknown and the Police are yet to state whether he is dead or alive.
Yemi Itodo, the Sergeant's brother, who spoke with our correspondent, also revealed that the Police lost more than 12 officers in the ambush.
He said the family got information that Sergeant Itodo was shot during the attack, as well as a colleague who tried to rescue him.
"The family got information on Sunday morning by a source at the operation that our brother, Sergeant Itodo, was shot during the attack and a colleague who attempted to rescue him by taking him to a nearby bush path, was also shot," he said.
He, however, mentioned that they have been unable to get in touch with Sergeant Itodo, as his phone was switched off. It was also gathered that the bodies of the officers shot by the armed bandits were yet to be recovered by the Police.
"We learnt that dozens of policemen were killed in the ambush. My brother and all other officers shot were still under hostage in the forest, as efforts by both the Nigeria Police and Army to recover bodies became fruitless," he added.
The family questioned the Force on why the casualty figure was pegged at just one, and they urged the Inspector General of Police to "please intensify efforts to rescue our brother and hopefully alive too".
"We don't want to believe he is dead. He can't just abandon his young wife and four kids at this moment. My brother will not die. I only want the IGP to act fast," Itodo said in tears.
Sergeant Itodo, a member of Mopol 15 Kwara, according to the family, has been in the Special Mobile Force of the Federal Government for almost eight years and was part of the foreign peacekeeping mission in Somalia in 2013 and returned with an award for gallantry.
He has also been part of the Special Forces fighting insurgency for many years in Borno, Kaduna, Sokoto, with his latest posting in Jos before he was deployed to Zamfara three weeks ago.
CRIME
Police
News
AddThis
: 
Featured Image
: 
Original Author
: 
SaharaReporters, New York
Disable advertisements
: 
target=_blank>After Buratai's Petition, Police Rearrest Adeyanju For 'Cyberstalking'
Barely 24 hours after his release from prison custody, Deji Adeyanju, Convener of Concerned Nigerians, has been rearrested and arraigned before a Magistrate Court in Abuja on a two-count charge bordering on cyberstalking inciting disturbance and criminal defamation.
He was taken to court by men of Federal Special Anti Robbery Squad (FSARS) at 12:26pm. The offence is contrary to Section 391 of Penal Code and section 24 (1) of CyberCrime Prohibition and Protection Act 2015.
The latest charge came on the heels of a petition written by the Chief of Army Staff, Lieutenant General Tukur Yusuf Buratai, against Adeyanju for "promoting terrorism on social media over Melete attacks on the Nigerian Army".
Idiat Akanni, the Presiding Magistrate, adjourned the matter to Thursday, December 6, 2018 for ruling on the bail application filed by the defence counsel, Barrister Tolu Babaleye, who appeared alongside S.M. Oyeghe. 
Deji will remain in Police custody pending the determination of the matter.
Adeyanju's detention has drawn outcry from rights groups and individuals.
What is Cyber Stalking?
Section 58 of the Cybercrimes (Prohibition, Prevention, Etc) Act, 2015 (hereinafter referred to as the Cybercrimes Act) defines cyber stalking as "a course of conduct directed at a specific person that would cause a reasonable person to feel fear".
The offence is created by Section 24 of the Cybercrimes Act. Section 24 (1) provides in part as follows:
A person who knowingly sends message or other matter by means of computer systems or network that –
(a) is grossly offensive, pornographic or of an indecent, obscene or menacing character or causes any such message to be so sent, or,
(b) he knows to be false, for the purpose of causing annoyance, inconvenience, danger, obstruction, insult, injury, criminal intimidation, enmity, hatred, ill will or needless anxiety to another or causes such a message to be sent, commits an offence under this Act and is liable on conviction to a fine of not more than N7,000,000.00 or imprisonment for a term of not more than 3 years or both."
Under Section 24 (2), "A person who knowingly or intentionally transmits or causes the transmission of any communication (1) Any person who knowingly or intentionally sends a message or other matter by means of computer systems or network that-
(a) is grossly offensive, pornographic or of an indecent, obscene or menacing character or causes any such message or matter to be so sent; or
(b) he knows to be false, for the purpose of causing annoyance, inconvenience, danger, obstruction, insult, injury, criminal intimidation, enmity, hatred, ill will or needless anxiety to another or causes such a message to be sent: commits an offence under this Act and shall be liable on conviction to a fine of not more than N7,000,000.00 or imprisonment for a term of not more than 3 years or to both such fine and imprisonment.
(2) Any person who knowingly or intentionally transmits or causes the transmission of any communication through a computer system or network –
(a) to bully, threaten or harass another person, where such communication places another person in fear of death, violence or bodily harm or to another person;
(b) containing any threat to kidnap any person or any threat to harm the person of another, any demand or request for a ransom for the release of any kidnapped person, to extort from any person, firm, association or corporation, any money or other thing of value; or
(c) containing any threat to harm the property or reputation of the addressee or of another or the reputation of a deceased person or any threat to accuse the addressee or any other person of a crime, to extort from any person, firm, association, or corporation, any money or other thing of value:
commits an offence under this Act and shall be liable on conviction —
(i) in the case of paragraphs (a) and (b) of this subsection to imprisonment for a term of 10 years and/or a minimum fine of N25,000,000.00; and
(ii) in the case of paragraph (c) and (d) of this subsection, to imprisonment for a term of 5 years and/or a minimum fine of N15,000,000.00.
through a computer system or network –
(a) to bully, threaten or harass another person where such communication places another person in fear of death, violence or bodily harm to another person.
Free Speech
Human Rights
Military
Police
News
AddThis
: 
Featured Image
: 
Original Author
: 
SaharaReporters, New York
Disable advertisements
: 
Anyone who thinks politicians are the sole problem of Nigeria is not discerning enough. A discerning mind would realize that the politicians, in many instances, are symptoms of what ails Nigeria, which is a perverted clergy across creeds. Nigeria is plagued by too many clergymen who are addicted to living lives of opulence that openly conflict with the earthly sojourn of the founding prophets of the faiths. Only such carnal disposition will embolden the overseer of a church to validate the fake news about President Muhammadu Buhari being a clone.
This desire to be earthly kings, in sharp contrast to their own admonition to their followers to only be expectant of heavenly rewards, has created first class scam artists that blaspheme against the very doctrine enshrined in the testaments by which they rate others. Of course, any attempt at censuring the misdeeds of these clergy is immediately condemned as challenging God: the followers of some of these clergymen are quick to point out "judge not" or "touch not my anointed" without a memory of what portion of the scriptures confers such immunity on a General Overseer or "Daddy GO".
In response to this article, Bishop David Oyedepo, to task over his perversion of the Christian faith and doctrine, the expected reaction is for his members to invoke curses. But there is adequate provision for them. The Bible says in Proverbs 26:2 ESV "Like a sparrow in its flitting, like a swallow in its flying, a curse that is causeless does not alight" (or in the Contemporary English Version "A curse you don't deserve will take wings and fly away like a sparrow or a swallow). So Oyedepo's followers are free to invoke curses that will not come anywhere near me instead they will reap what is promised in Proverbs 26:27 "He who digs a pit will fall into it, and whoever rolls a stone, it will come back on him."
That said, it is time to address the role Oyedepo thinks Nigerians expect of him in the run up to the 2019 General Elections. He has taken it upon himself to be the sole delegate who will decide who becomes Nigeria's President by May 29 of next year given his recent outings, utterances and missteps. It is fair to make a disclaimer at this point that other clergymen have commented on the political process and Oyedepo is not in their leagues – there are those who make emergency prophecies after buying intelligence report from security operatives, there are those who enjoy the attention they get from being controversial and there are a few respected clergymen that are known to constantly make social-political interventions that are borne out of their being divinely led to so do.
A major indicator that Bishop Oyedepo is losing the plot first came when he escorted the People's Democratic Party (PDP) presidential candidate, Alhaji Atiku Abubakar to receive the absolution and the blessings of former President Olusegun Obasanjo in Otta, Ogun state. A backlash from Nigerians saw him walking back that endorsement by claiming he was on a peacemaking mission, which left us wondering why his peacemaking mission did not berth in Plateau, Taraba or Kaduna state where ethnic strife claims lives regularly. Some smart online commentators later identified Bishop Oyedepo, Atiku Abubakar and Obasanjo as using the so called reconciliatory meeting as a cover for them to meet as private universities owners who are smarting from the impact of the anti-corruption war.
Interestingly, Bishop Oyedepo smarts from more than just that. His jet setting lifestyle took a hit with the fiscal policies of the Buhari government, which saw no sense in allowing him to park his private jets at any federal government owned airport for free, a decision reported to have compelled him to find alternate arrangement for his aircraft, as many as four by some counts. The same government stopped the duty waiver the Bishop's many businesses enjoyed under the PDP government.
His tantrums are therefore understandable. He began the tantrum before his photo-op stunt when he told his congregation to vote against President Buhari and support Atiku. Now PDP, whose flag is flown by Atiku, wants to get back to the Presidential Villa and they have a worthy campaign director in Bishop Oyedepo.
This explains why he was able to abuse the sacredness of his position as a clergyman to propagate the fallacy of "Jubril from Sudan" who some halfwits separatist leader claimed has replaced President Buhari in the Villa. The sad part is that Bishop Oyedepo, as a clergyman, did not quote from the infallible scriptures to support his outrageous claim. He quoted from a newspaper! A newspaper quoted from the pulpit by a clergyman in place of the Bible and his hypnotized shouted hallelujah to the claim that "Jubril from Sudan" has been cloned to replace President Buhari.
But even to those that operate from the shrine, reality is setting in. This is a clone of the Bishop whose words once turned men from the path of iniquity unto righteousness. 
Perchance like President Buhari the real Bishop would be able to confirm to the world that he is not a clone.
 
Yomi is a social critic and writes from Lagos.
Opinion
AddThis
: 
Original Author
: 
Kunle Yomi
Disable advertisements
: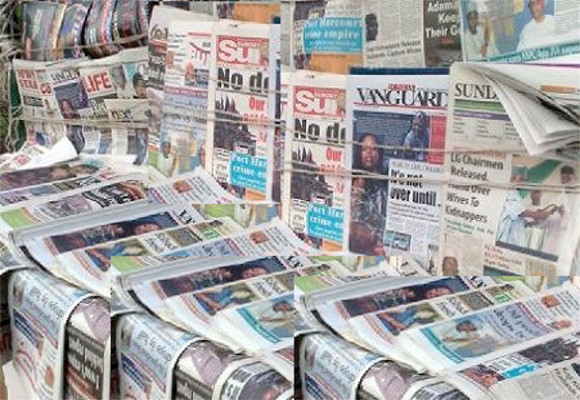 You can also check Sahara Reporters Newspaper Headlines Today