Sahara Reporters Latest News

Tuesday 4th December 2018

Sahara Reporters Latest News Today and headlines on some of the happenings and news trend in the Country, today 04/12/18

Read also Leadership Newspapers News Today Tuesday 4th December 2018
target=_blank>Those Claiming Buhari Is Jubril Need Psychiatric Attention, Say Nigerians Abroad
Some Nigerians in the Diaspora have said the reports that President Muhammadu Buhari is an impostor known as Jubrin from Sudan is "mischievous".
In a statement on Sunday, the Nigerians in Diaspora Monitoring Group (NDMG) said those behind the rumour need "psychiatric attention".
A statement by Francis Adeka, on behalf of the group, read: "The claim is being bolstered with a poor rendition and understanding of scientific procedures like cloning, face transplant among others, which proves that those that are carrying this fake news need mental intervention.
"The fake claim would have been considered humorous, but for the fact that it has attained the first position of the most ridiculous and hare-brained in the annals of conspiracy theories. It is a story meant to prey on the gullible by reason of limited mental capacity, whose numbers seem to be increasing on daily basis. Sadly, those peddling the fake news about cloning have even lesser mental capacity than the people they are deceiving.
"The leading organisation on cloning was categorical in stating that gene cloning is the most common type of cloning done by researchers at the National Human Genome Research Institute (NHGRI). NHGRI researchers have not cloned any mammals and NHGRI does not clone humans."
The group further stated that proponents of the fallacy are using a "1997 Sci-Fi thriller, Face/Off, as prop in their illogical argument saying there has been a face swap between Buhari and Jubrin".
"In the medical world, there has been a handful of partial and full face transplants, but the recipients of the face transplant look nothing like the donors; and of course the new faces come with some level of distortion with the risk of rejection for which the patients take a cocktail of mediation for life," the statement read.
"Even more childish is the flipping and reversing of photographs of President Buhari to claim that one version is right-handed, while the other is left-handed, which is a photo trick that is achievable with the most basic photo editing software."
Politics
News
AddThis
: 
Featured Image
: 
Original Author
: 
SaharaReporters, New York
Disable advertisements
: 
target=_blank>VIDEO: Suspect Implicates Aisha Buhari's Sister, Babachir Lawal In N50m Fraud
There was a drama at the headquarters of Department of State Services (DSS) in Abuja on Monday during the parading of one Amina Mohammed, accused of impersonating the First Lady.
Addressing journalists, Public Relations Officer of the service, Peter Afunaya, said the DSS arrested the suspect, Amina Mohammed also known as Justina Oluoha, for parading herself as the First Lady of Kogi State.
He said Amina defrauded one Dr. Alexander Chika Okafor (a.k.a. Chicason) of N50million in the villa with respect to a Court of Appeal property in Lagos. He added that Amina had promised to help him buy the property through the First Lady.
The property was said to have been part of those under the Presidential Implementation Committee on Lease of Federal Government Properties.
"She used the false identity to evade protocol and security scrutiny, thus gaining unauthorised access into the villa and particularly the residence of the First Lady and Wife of the President, Hajia Aisha Buhari," he said.
"She took advantage of the fact that personalities of first ladies, ministers and certain categories of officials are not known through rigorous protocol and security checks at the Villa posts.
"Investigations have shown that this unholy enterprise is not to the knowledge of the First Lady. What Amina simply did was to use the First Lady's name and office as bait to lure and defraud her victims."
He advised members of the public to be wary of individuals or groups that drop names and offices of high government officials, as it could be an attempt to defraud them. 
However, when Amina was about to be paraded before journalists, she refused to face the camera; she started crying and raining curses on the First Lady. She said Maryatu, Aisha Buhari's sister, and former Secretary to the Government of the Federation, Babachir Lawal were involved in the racket.
Video of Suspect Indicts Aisha Buhari's Sister, Babachir Lawal In N50m Fraud
Suspect Indicts Aisha Buhari's Sister, Babachir Lawal In N50m Fraud
Suspect Indicts Aisha Buhari's Sister, Babachir Lawal In N50m Fraud…
"Your sisters are involved in this business. It is not true; I cannot be a fraudster. I cannot accept this allegation. Former SGF Babachir is involved in this fraud. Maryatu, your sister, is involved in this fraud.
"Chicason has been buying government property and he has been doing it. All the directors who collected bribes before bidding would be out. Chikason knows the process. Entering villa is not just by fraud but Maryatu, the First Lady's sister, is involved."
When asked if the DSS would investigate those indicted in the matter, Afunaya said that investigations were ongoing on the matter.
Corruption
CRIME
News
AddThis
: 
Original Author
: 
SaharaReporters, New York
Disable advertisements
: 
target=_blank>Anti-Nigerian Forces May Have Infiltrated Afenifere, Say Northern Elders
The Northern Elders, Professionals and Stakeholders' Forum (NEPSF) has faulted a recent call for the sack of service chiefs by the pan-Yoruba socio-cultural group, Afenifere.
At a meeting held at the residence of its foremost National Leader, Rebeun Fasonranti in Akure, Ondo State, Afenifere had called for the removal of all the service chiefs after the attack on soldiers in Metele, Borno State by Boko Haram.
See Also
Sahara Reporters
Afenifere Asks Buhari To Sack Service Chiefs Over Latest Boko Haram Attack
0 Comments
5 Days Ago
However, a communique by Simon Shango, National President of the NEPSF obtained by SaharaReporters after a stakeholders' meeting, noted that the military had been giving its uptimum best to the war against insurgency in the country and lauded President Buhari over his effort in ensuring the terror group are routed out of Nigeria.
The communique read: "We perused some of the recent outbursts, the latest emanating from Afenifere, the Pan-Yoruba socio-political group. We disappointedly discovered to our dismay that these anti-Nigerian forces may have infiltrated their ranks.
"To say, we were shocked that the Afenifere enlivened the campaign for the sack of the incumbent service chiefs is to put it politely. But the infusion of a political tone into an otherwise mournful comments by praying God to '…give us a leadership that is more than equal to the challenges we face', grassed the partisanship of the group on the matter.
"And smarting from this mindset, Afenifere besmirched every effort made by your administration in the past three years, which has given respite to Nigerians, especially the communities in the Northeast, where the furnace of Boko Haram insurgency burned very hotly. Indisputably, Afenifere is not blind to the commendable result-orientated selfless efforts of your Chief of Army Staff (COAS) and leader of the counter-insurgency operations, Lt. Gen. Tukur Yusufu Buratai, in the war against insurgency.
"The welfare of troops is his topmost priority. And in spite of his tight schedule reflected in the supervision of troops all over the country, Gen. Buratai regularly visits the theatre of operation in the North-East. It has been his commitment and cardinal focus since he became leader of the counter-insurgency operations.
"Nigerians with untainted hearts have seen and felt the victories of our gallant troops against Boko Haram terrorists a countless times. And the determination of the Nigerian troops to sustain the winning streak against insurgents has remained unbroken and staunch."
Boko Haram
Insurgency
Military
News
AddThis
: 
Featured Image
: 
Original Author
: 
SaharaReporters, New York
Disable advertisements
: 
target=_blank>Press And Prejudice: Nigeria's Media Bias Favor Buhari And Atiku By Bayo Oluwasanmi
"The media needed to wear its conscience at this time not to be looking for money. The money that the big political parties or the legacy parties are giving you, they were not the money that they made themselves. They were money stolen from the public." – Omoyele Sowore, AAC Presidential Candidate
The media plays an important role in society. It sets the stage for political news, manages their agenda, sources and controls information. It's a window to the outside world. It possesses the ability to shape and share public knowledge, attitudes, and behavior. 
As we approach countdown to 2019 presidential elections, the role of Nigeria media becomes more critical and indispensable to mediate fairly, honestly, and truthfully by giving equal coverage to all presidential candidates of all the major political parties. Sadly, the Nigeria media is still in denial in their reporting as if we have only two political parties – APC and PDP. 
Few days ago, Omoyele Sowore, African Action Congress (AAC) presidential candidate took on Nigeria media on the issue of bias coverage. Sowore accused the media of not reporting campaigns and political events of AAC but instead devote its time to covering Buhari and Atiku presidential candidates of APC and PDP respectively. 
In a rare chastisement and raw indictment of Nigeria media, Sowore didn't spare the journalists. Here's Sowore in his characteristic bluntness without mincing words: "The Nigeria media must wear its conscience. Gentlemen, we cannot continue to reward people whose only career has been only to fail Nigerians from time to time within the political circles. It is time for people who have the capability, who have the ability, who have the exposure and also the capacity to run this country. The media needed to wear its conscience at this time not to be looking for money. The money that the big political parties or the legacy parties are giving you, they were not the money that they made themselves. They were money stolen from the public. You have a duty to cover people who have messages and not people who have money."
"You're not talking to the real people. You're still talking to the talking heads in the society and they're becoming fewer and fewer and less influential… I warned the media several years ago that their relevance and influence is going to wane based on their GREED (mine emphasis). That's exactly what happened in 2015. Don't forget while all of you guys are sitting in Kogi State and the candidate who won the election had died, you couldn't report it because the media wasn't prepared for that kind of style of reporting. The news of Audu's death, remember, and all the media were there. We, for example, were in Kano a few days ago and we had a massive rally. The media didn't report it. When I arrived Nigeria from the US, I think a few days ago, there was a massive rally at the airport and the media didn't report it. But you're reporting somebody who is in Dubai on holiday, Atiku, you're reporting the president who didn't physically attend the rally in Kano. This is what we're talking about. You're not reporting what the society need, you're reporting what you think the society should hear. You guys are my colleagues I cannot lie to you, you're failing the society."
Time and time again, Nigeria media has proven that they are not true watchdog of the Fourth Estate of the Realm. If I were to do a content analysis of news coverage of Buhari, Atiku, and Sowore, the result will show that more column inches were given to Buhari and Atiku than Sowore. The fact that Sowore is a unique candidate with a unique political revolutionary message, at a unique time in our political history, coupled with his willingness and audacity to say and do things that have never been done before by any presidential candidate of our era, things that other candidates would never dream of saying or doing, should make Sowore inherently appealing for generous coverage.
Journalists who are assigned to cover presidential candidates and their campaigns in my view should go for workshop on political reporting. At Temple's top rated Journalism School, my professor of news writing and investigative reporting drilled into our heads some important elements of good journalism discussed below. Nigerian journalists covering the presidential race will find these elements instructive for fair, accurate reporting and balanced coverage for all the presidential candidates of the major parties. 
Journalism's first obligation is to the truth. Reliable and accurate facts must be put in a meaningful context. Media's first loyalty is to citizens. Journalists must strive to put public interest and the truth above their narrow selfish interests. They must show ultimate allegiance to citizens. Journalists must adhere to a discipline of verification. They must be neutral, impartial, unbiased. They must scrutinize their information, seek out multiple sources, and ask various sides of information. Discipline of verification separates and differentiates journalism from all other forms of communication such as propaganda, advertising, fiction, or entertainment. 
Journalists must maintain independence from those they cover. In journalism, independence is a cornerstone of reliability. Journalists must not be seduced with money, sources, or intimidated by power, or compromise their professional ethics. They must posses intellectual fairness and ability to inform not devotion to a certain group or person. The media must serve as an independent monitor of power. Journalists posses the unique capacity to serve as watchdogs over those whose power and position most affect citizens. 
The media also serves as the voice of the voiceless. The media is a carrier of public discussion. It must provide an outlet for discussion. It must elevate and improve the quality of debate. It must strive to keep the significant interesting and relevant. Journalism is a story telling with a purpose. Journalists must keep the news comprehensive and proportional. Journalism creates a map for criticisms to navigate the society. Journalists must exercise their personal conscience. Journalism involves one's moral compass and demands a personal sense of ethics and responsibility.
Let's go there!
bjoluwasanmi@gmail.com
 
Opinion
AddThis
: 
Original Author
: 
Bayo Oluwasanmi
Disable advertisements
: 
E2%80%99s-desperate-visa-bid-and-embedded-issues-peter-claver-oparah target=_blank>Atiku's Desperate Visa Bid And The Embedded Issues By Peter Claver Oparah
Last week, there was heightened political altercation between supporters and opponents of former Vice President and PDP's presidential candidate in the coming 2019 election, Atiku Abubakar. The slugfest centered around Atiku's efforts to secure an American visa and travel to that country after 13 years of travel ban over issues that border on corruption. To the supporters of Atiku, travelling to the United States will boost his presidential dream especially against the taunts and unending jeers of his opponents who say that he can only travel to the United States at the risk of being arrested for a corruption case that led to the jailing of a US congressman, William Jefferson. It was therefore natural that they put on their Christmas best, rolled out the drums and oiled their trumpets in anticipation of the trip. 
To Atiku's opponents, the strange case of a presidential candidate who was a former Vice President being a fugitive from the world's bastion of democracy for over a decade is a serious indictment that disqualifies Atiku from even aspiring to govern a country and suggests that his candidacy is mired in corruption, which many posit, is at the very root of the developmental problems straddling third world countries. They feel that if Atiku cannot pass an integrity test in any part of the world, he reserves no right to govern a country like Nigeria, trying desperately to free itself from the clutches of institutional corruption many suggest, has decremented the country and empowered the Atikus and their cohorts. They, therefore, did not share in the gaiety of Atiku's supporters and rather raised a frenzied demand that the United States should not suddenly break Atiku's travel ban by issuing him with a suspicious visa and allowing him to come to the country after 13 good years. 
Understandably, to Atiku's supporters, his inability to travel to the United States has become an embarrassing glitch to his aspiration to rule the country and as such, everything humanly possible must be done to break this shameful jinx and position him as qualified to rule Nigeria. This position is shared by Atiku who has not been able to articulate a coherent reason for his inability to travel to America for a long period of 13 years. He therefore must have committed himself to doing everything to address this dark patch that poses a serious threat to his desire to replace President Muhammadu Buhari in 2019. This singular dent has formed the themes of unending cat-calls and taunts with which his opponents prove his many alleged misdemeanors and state emphatically that he does not stand a chance of being elected the president of the country. Much more damning was the position of Atiku's principal, Olusegun Obasanjo, former president and his dedicated foe, who has suddenly turned to a supporter of his presidential dream after Atiku paid him a placatory visit. Obasanjo has both in his book, My Watch and in a widely circulated interview with a foreign journalist, said pointedly that Atiku's name was among the names of some Nigerians the American government sent to his government for probe on cases that border on corruption and has asked the journalist to tell him the reason why Atiku had not visited the United States since the wee days of their regime. This was a clear taunt on Atiku and a mockery on him for which he and his supporters feel that a trip to the United States will deal with. 
So, to clear this heavy badge of shame, Atiku, after his emergence from the PDP primary, was reported to have hired the same lobbyist that worked for President Trump during the American election and placed him on a hefty monthly salary of $90,000 to work for his presidential dream. The main brief of this lobbyist was reportedly to soften the ground and secure a travel visa for Atiku as a way of removing the huge dark spot he had been carrying for 13 years and show his opponents that he can indeed travel to America! He also got his enemy-turned-endorser, Obasanjo to lead another lobby to get him an American travel visa and that one obliged to this in the hope that his efforts will advance the grudge war he has with President Buhari and further Atiku's chances in the presidential election.
So the frenzied activities that were reported last week centering around Atiku's application for American visa and the heat this generated amongst his supporters and opponents were in tandem with the controversy around Atiku's status as a fugitive from the United States for more than a decade and the desperate means to address this embarrassment especially in view of its debilitating effect on his presidential dream. We have heard that Atiku had gone to the US embassy for thumb-printing and that the Buhari government has asked the American government not to grant him a visa so as to quell the suspicion of a tacit support to a dented candidate in the coming election. Some news media have reported that the visa had been granted while some said he had been denied of the visa. Even more curious was the report of the abortion of his travel plans which revolved around securing an assurance from the American government that he won't be arrested on the ground of the pending corruption case for which he had been banned from the country. There is a wild report that Atiku returned back to Nigeria from London from where he was reported to have planned to travel to US on the failure of the US government to guarantee he would not be arrested if he steps into the country.
But besides all these cocktail of reports, what should worry all especially Atiku and his minions who have been noticeably upbeat over this visa thing is; how much does a visa really cost? What processes does issuance of a visa take? Does the processes involve all the intrigues, melodrama and tension which Atiku's US visa is generating? Does it involve hiring world-class lobbyist, paying huge amounts in foreign currencies and marshalling several dance troops for the issuance of a visa? Does getting a visa entail a former President being made to eat his public vomit and engaging in humiliating somersault so as to help his newfound ally procure a visa? Does visa issuance involve such giddy thumping as we are seeing in Atiku's case? Does it involve all the political brickbats and salvos we are seeing in this case? 
I don't care whether Atiku gets an American visa or not. I don't care if he travels to America or not. I don't even know what political capital he can spring from such uneventful venture. But by allowing the simple issue to be played to such high octave as it had been done, Atiku and his supporters open themselves up for more embarrassing scrutiny. If Atiku gets a visa and mounts a wild orgy over it, what then are the issues that made him not to get such visa for a hefty 13 years? Granting Atiku the visa opens him to more questions as to his scruples. The visa drama will open him to deeper indictment about his suitability and moral qualification to rule a nation. The whole thing will throw more light on why he had not been to the US for 13 years even as a former Vice President. It will beam the klieg lights on why he had been avoiding the US until now when he feels he had to act to remove a badge of shame and advance his presidential ambition. But more than anything, the visa drama digs far deeper into Atiku's huge decrepit etiquette and moral impairment. It reminds of the ethical cripple he is and the many malfeasances that have dogged his personality and conduct in public office. 
So, to me, the issue is not whether Atiku gets a visa or not or whether he travels to the United States or not but more with what made him to be denied a visa for a whole 13 years in the first instance. Had those factors that made him a fugitive in America for these huge number of years not vitiated his own suitability to preside over the affairs of Nigeria? Does issuing him such a costly visa mitigate the acts of misdemeanor that procured the ban on him? Does this controversial visa address the huge question of his moral hollowness, which earned him the US ban in the first instance? Does this in anyway remove the widely held belief amongst Nigerians that Atiku is the poster boy of corruption and avarice as generously marshalled by Obasanjo? 
At the end of the day, Atiku and his supporters have opened up wider holes in the integrity content of his candidacy by the desperate bid to secure an American visa and the orgy they mounted to celebrate such inane issue. From their euphoric slants last week, they must have intended it as a big plus to their waning campaign for the 2019 presidency but it is turning out a terrible blunder that will deepen their woes. The best option could have been for Atiku to continue to act unperturbed by the huge taunts of his not being able to travel to America for 13 years and pretend it doesn't matter. Sure, by bluffing that he doesn't need to travel to America, Atiku even when he wouldn't be improving his chances, would have succeeded to keep the issue down. But by unintelligently swallowing a bait that will finish off what remains of their chances in 2019 by the extensive, expensive and hugely controversial bid they made to secure an American visa for Atiku, they have inflicted more deadly wounds on the issue thereby making his indictment in the United States a real issue in the coming election. By that desperate spurt of unintelligent action, they have landed on themselves the big poser of 'why was Atiku banned from the United States in the first instance?' It is a question they will never answer and which will inflict an unhealable gash on Atiku to secure the Nigerian presidency in 2019 even if he succeeds in going to the United States.
 
Peter Claver Oparah
Ikeja, Lagos.
E-mail: peterclaver2000@yahoo.com
Opinion
AddThis
: 
Original Author
: 
Peter Claver Oparah
Disable advertisements
: 
target=_blank>BREAKING: Police Arrest 'Small Doctor' For 'Unlawful Possession Of Firearms'
Small Doctor being paraded for possession of illegal firearm
Small Doctor being paraded for possession of illegal firearm
SaharaReporters Media
The Lagos State Police Command has arrested Adekunle Temitope, popularly known as Small Doctor, for unlawful possession of firearms and for allegedly threatening to shoot a police officer.
Edgal Imohimi, Lagos State Commissioner of Police, revealed this to the press on Monday while parading the musician along with three other persons.
Small Doctor was arrested on allegations that he threatened a Police officer who was on traffic duty along Oshodi, Lagos.
"It was alleged that some unknown men, four of them, in an unregistered green SUV had brought out a gun and threatened a policeman that if he does not leave the road, they will shoot him," Imohimi said.
"Believing that they were armed robbers, I sent out my men and fortunately, with the DPO in charge of Shogunle division, they were able to intercept them and the men were arrested and were brought down to the headquarters for interrogation.
"It was then discovered that one of them is the same Adekunle Temitope, a.k.a. 'Small Doctor'. They were arrested in possession of a functional rifle, cartridge and some of their personal belongings."
According to the commissioner, 'Small Doctor' had earlier been involved in a similar offence and is currently under investigation for firing live ammunition at the Agege stadium after a show on November 27.
He said: "Adekunle Temitope, a.k.a. 'Small Doctor', was arrested and taken to the state CID for questioning. He was alleged to have fired a gun; the pellets from the gun injured four people who were rushed to the hospital."
'Small Doctor' will be charged to court for prosecution.
CRIME
Entertainment
Police
Breaking News
AddThis
: 
Featured Image
: 
Original Author
: 
SaharaReporters, New York
Disable advertisements
: 
target=_blank>Fake News, Hate Speech And The 2019 General Elections – The Redemptive Role Of The Nigerian Media By Ayobami Ojebode
The text of the 13th Annual Federal Radio Corporation of Nigeria (FRCN) Lecture presented by Professor Ayobami Ojebode, Department of Communication and Language ArtsUniversity of Ibadan, Ibadan.
A vignette:
A friend of yours confided in you that she intends to drop out of school to get married. Write a letter to her giving, at least, three reasons why she should stay in school. (WAEC, English Language; Paper 1, 2011) Word length = 450
That was how we all started. This or similar instructions confronted us in our examination halls, and uncorked our creative impetus. If truly you had a female friend, she most likely did not intend to drop out of school. If she intended to, it probably was not because she wanted to marry. If it was because she wanted to marry, she probably had not told you so. If she had told you, you probably did not have three explanations to give her. But now within the period of 50 minutes, you must create this friend of yours. She must be a female teenager who is a student. She must be a nice girl, brilliant in school with a most promising future. You must also create her husband-to-be, possibly a good-for-nothing paedophile. And you must create three reasons that she should not drop her ambition and follow this daniska of a man. Those who pass the essay question are only those who could call into graphic existence such non-existent things as these. Do you now realise how long ago you started writing fake news?
PROTOCOLS …
Introduction
To say that it is an honour to be asked to give this year's FRCN lecture is indeed trite. A sheer review of those who have stood here in the last few years attests to the importance of this lecture: in 2013 this lecture was given by Prof J. I. Elaigwu, world-renowned professor of Political Science; and in 2014 the legendary Alhaji Maitama Sule took the podium; in 2015 this lecture was by Governor Owelle Rochas Okorocha, Executive Governor of Imo State; in 2016 Dr Obadaiah Mailafia, Deputy Governor of the Central Bank of Nigeria delivered this lecture. Last year, it was one of the best Nigeria has in investigative journalism, Mr Dan Agbese, who stood on this podium. So I stand here with some measure of trepidation imposed by history, as I try to extend the conversation from where Mr Agbese left it a year ago.
I cannot imagine any topic that is timelier than the one chosen by the organisers of this lecture. As we move towards another round of electoral rituals, the periodic legitimisation of our rights to be called a democracy, there is widespread fear across the nation that merchants of hate would deploy the tools of information technology to mislead voters and ignite violence. The fear is not only widespread; it is also justifiable. There is already clear evidence of chaos produced by misinformation. For instance, about two months ago, the Police Public Relations Officer, Plateau State Command, Mr Tyopev Matthias stated that the Jos massacre in June this year was actually ignited by photos shared on Facebook, most of which were fake (Adegoke & BBC Eye, 2018). In another instance, as soon as Alhaji Atiku Abubakar picked his party's nomination, hackers created a fake Twitter account in his name and used the account and name to thank an imaginary Nigerian gay community for their support. Many were misled. Worse still, two reputable newspapers believed the news and published it as major news stories. One headline ran: "2019: LGBT movement endorses Atiku; gives reason".
The handwriting is clearly on the wall, and it is indeed important to discuss fake news and hate speech at such a time as this.
Fake News and Hate Speech: What are they?
There is a huge amount of confusion around the definition of these deceptively simple terms. And, surprisingly, those who are smart are capitalising on this conceptual confusion to foster their agenda. I shall return to this soon. But now, what is fake news?
Fake News
In academic presentations, scholars raise the profile of their presentation by, almost all the time, claiming that there is not one definition of the concept they are writing about. Driven by an aversion for whatever is simple, they (that is, we) often prefer to complicate everything to the point that the world is looking up to us to tell them what to think. While it would be an extreme to claim that all concepts are simple, it is indeed an extreme to insist that no concept is simple.
There are many definitions of fake news but they all come to two: the definition that we know, and the one imposed on us by politicians. Fake news is an account that did not occur. It is the product of a person's imagination for purposes that may or may not be mischievous. And this is why someone observed that the term "fake news" is an oxymoron since news is supposed to be factual (rather than based on imagination or opinion) (Kershner as cited by Tandoc, Wei Lim and Ling, 2018). All the same, the term "fake news" has come to stay. Any story, presented as news, but which does not reflect what happened, or which reports what did not happen is fake news.
The second definition of fake news, that is, the definition imposed on us by politicians, is the Trumpian definition of fake news. Any news that does not support the views and ambitions, the methods and the ends of a given politician is fake news – in the views of that politician. This is not a Nigerian malaise or invention. While we should not credit President Donald Trump the honour of being the exponent of this aggression on our collective intelligence and profession, we cannot deny him the reputation of being the fieriest fanatic of that view. Every news item that suggests that President Trump might be wrong is fake news.
If politicians would define fake news in their terms and from their own profiteering standpoint, and leave journalists and the rest of us to adhere to the definition of fake news that we know, there would be little worry about the consequences of fake news. Fake news would be benign. Rather, they define fake news, and proceed to impose that definition on the rest of us. You could almost imagine a conversation between Jamal Khashoggi and the vultures that tore him to pieces:
"You have been spreading falsehood about our Kingdom and about our leader."
"I swear that I write nothing but the truth."
Here in Nigeria journalists undergo tutoring and re-tutoring daily in the hands of the men and women in power. It is especially bad at the state levels where we have emperors. The year 2017 recorded an upswing in the arrest of journalists in Nigeria many of which went down to what constituted fair reporting and fake news. The difference between "many people were killed" and "people were killed" accounted for the arrest and detention of Audu Makori – even after he retracted and apologised. In essence, "people were killed" was right news; "many people were killed" was fake news. The reason for Aku Obidinma's arrest and 60 days in detention, last year, essentially boiled down to this fundamental difference in definitions. The list of such people and events is long (Paradigm Initiative, 2018).
We shall return later to what I consider the proper response to this conceptual colonisation which has become an excuse for the expression of totalitarian tendencies. But I must quickly say that many Nigerians are blindly guided by this opportunistic definition of fake news. I belong to a WhatsApp group of about 250 people, a group created to discuss "politics". You need not spend up to an hour with us to realise that most of the visible members have fully subscribed to the politicians' definition of fake news: it is any news that does not favour the methods and objectives of my preferred candidate – even if that news is accurate. It usually follows this manner:
A: BREAKING: Nigeria records fall in maternal mortality … B: Fake news! APC lies
A: But this is UN data …
B: Which UN? Anything is fakeable by these people
A: But you believe the Jibril Sudani story
B: That one has been proved…
And soon, the person who discredits the data returns with:
B: Fire guts EFCC office; all vital documents, computers, microchips, everything destroyed!
A: Fake news! Only a few discarded files were burnt.
Now where do we begin? A couple of years ago, even those who disregarded the positivist approach to research held some respect for hard core data, and would at least, contemplate it before discrediting or discarding it. We have lost all of that, and quickly within a short time. We entered the post-truth era and nothing is sacred any more. It appears data no longer has value once it does not serve our purpose. Telling the truth no longer matters, and respecting the truth when told no longer matters. What should worry us is this: when we close our eyes to the truth long enough, we become totally blind to it.
Having dispensed with the politician's definition of fake news as inexcusably intolerant and predatory, we must turn to a discussion of hate speech.
Hate speech
The United Nations Committee on the Elimination of Racial Discrimination (2013:4) noted that hate speech includes:
(a) all dissemination of ideas based on racial or ethnic superiority or hatred, by whatever means;
(b) incitement to hatred, contempt or discrimination against members of a group on grounds of their race, colour, descent, or national or ethnic origin;
(c) threats or incitement to violence against persons or groups on the grounds in (b) above;
(d) expression of insults, ridicule or slander of persons or groups or justification of hatred, contempt or discrimination on the grounds in (b) above, when it clearly amounts to incitement to hatred or discrimination;
(e) participation in organizations and activities which promote and incite racial discrimination.
One important point that this broad definition or description misses out is religion as a basis of hate speech. It notes race, colour, descent, and national or ethnic origin but sadly misses out religion.
Hate speech emerges from a deliberate act of reducing the humanity in a person or a group, a process of making them a thing, an object of much little worth. It follows a process of essentialisation: collectively sizing up a group of people, selecting what annoys us most about them, and tagging it on their forehead as their name or identity or word by which they should be known. This tagging is then fuelled by relentless repetition until it sticks.
Hate speech comes in two clear forms. One is the clear spewing out of bad and demeaning words. Cockroaches, mosquitoes, snakes, rats, infidels, unbelievers, monkeys, baboons, barbarians, bush meat and many more are the demeaning and bad expressions that have been used to describe people in Nigeria, and by Nigerians. Nigeria itself has been called a zoo and those citizens from five of the six geopolitical regions have been referred to as animals. This brash shearing of people of their humanity occurs in casual conversations, in songs and recitations, in official communications and even books and treatises. Unfortunately, it also occurs on the disciplined traditional media, even in editorials.
Let us step back in time a little to 1964.
Prodigal sons with unyielding contempt by reason of their treachery, double
dealings and deliberate hypocrisy
(Eastern Nigeria Outlook describing Midwest Democratic Front in March, 1964)
And this …
… an impressive assembly of intellectuals…in display in Kano…But they are intellectuals who are good in political jingoism and rhetoric but useless in council. We are referring, of course, to the strange characters, wolves under the cloak of gentility who are attending the NCNC convention which opened in Kano yesterday … irresponsible and irrational, a conclave of disunited people, a pack of rebels, carpet-crossers and crooks". Nigerian Citizen, 1964 (23 Feb, 1964)
These archival examples illustrate the fact that hate speech is an old phenomenon, and may have been behind some of our interethnic woes in the country. The first sample is from the Eastern Region newspaper and the second is the Northern Region newspaper: hate speech cut and cuts across Nigeria.
The other form of hate speech is far more subtle and dangerous. Bad and demeaning words may form the major vocabulary of hate speech, they are not the only expressions of hatred. More dangerous than these are words that are ordinarily pleasant but have overtime attained a demeaning status. Examples are: aboki (ordinarily, friend), onye ofe manu (the one whose soup has oil); Nyamiri (give me water). How does the look of a person's soup become an expression to insult her or him? The process of essentialising is indeed a complex one. It is euphemistic and yet caustic.
So we need to be alert, and I think we already are. Nigerians understand what the word "friend" means in the expression "Police is your friend", and they react appropriately when they hear or read that. Not all harmless words are indeed harmless. This is why we must create a national directory of hate speech, to be constantly updated and reviewed. Those who are in doubt as to the hate content of an expression can at least conduct a check.
When fake news meets hate speech
How many of us still remember our girl friend, the young teenager who informed us that she would drop out of school and follow her dream man? What all of that pedagogical experience was meant to accomplish was to sharpen our creativity and nurture our imaginative ability. These are the very skills that are deployed by writers of fake news. Should we throw away the baby, the bathwater with the sponge and the soap?
Not all fake news or instances of misinformation are malicious. Stand up comedians, writers and children generally create vivid scenes that if well structured along the 5W's and H would qualify as faultless fake news. We need to pay closer attention to the variants of news so that we know what to tackle.
When we cross writer's intention with content integrity, we have nine variants of news in our current information ecosystem. And when we examine the undercurrents of these nine variants, we will see where hate speech and fake news meet.
There are three possible intentions of a today's news writer in the post-truth environment: to amuse the audience, to amass traffic and thereby money, or to attack, demean or scare a person, group or organisation. The content of a piece of fake news may be factual, twisted or completely fabricated. The chart that follows summarises the possibilities.
A piece of factual information may be meant to amuse. For instance, many of the reports as the jollof rice war between Ghanaians and Nigerians belong here. That terrific war began in 2015 and is still on, three years after. It was reported in the major newspapers including even the BBC (See BBC, 2017). The Honourable Minister of Information and Culture and the Vice President were gallant on the battlefield while the battle lasted (See, for instance, The Cable, 2017; The Vanguard, 2017). When Nigeria's Atinuke Ogunsalu won the first global jollof rice competition held in the United States in 2017, we thought the battle was over and we should embark on post-war efforts. But it was not. This year, the Gambians won the war.
A piece of factual information can also be meant to amass followers, clicks, votes and money. Political marketing and Public Relations are examples of this. The aim is to make profit. When a piece of factual information is designed to hurt, that we call, for lack of a better term, "vicious truth". It is truth driven by hate. The quick point here is that not every factual and accurate news is harmless or noble.
A piece of twisted or exaggerated information may be designed to simply amuse people. Satires belong to this category – there is usually some truth in them but the truth is always extended or exaggerated or twisted. When driven by profit and greed, they become unethical marketing and Public Relations. They manifest in the form of massaged statistics, twisted logic when driven by hate.
When a piece of fabricated or contrived news is designed to amuse, you have tainted humour in there.
CONTENT
BREAKING: The Minister of Information has apologised on behalf of the Federal Government for the failure of harmattan to kick off as scheduled. Speaking after the Federal Executive Council meeting, he assured Nigerian that this year, there will be enough harmattan to go round so that they will have a wonderful Christmas.
This is certainly fake news, but it is not meant to do harm. Silly as it is, it cannot be regarded as malicious. It is driven by the human craving to amuse and be amused. When such a piece is driven by greed, it is a different product that you have. Unethical marketing and political Public Relations fall within that box. When fabrication is driven by hate, then we have the worst product that we can imagine.
What is the reward of this academic exercise? Several, I would say. With this basic mapping that we just did, we now have a clear idea of where the landmines are. No one should worry much about factual information designed to amuse. Who would really have a sleepless night over jollof wars? If all wars were like that, I would be a soldier. In a recent interview, Professor Wole Soyinka, after expressing his known disdain for all the frivolities on social media, acknowledged what he called "the partnership of technology for freeing or freezing the imaginative function" (Chutel, 2017). If we discredit and forbid all forms of fabrication, we will be doing injustice to the creative mind, and by a short extension, humanity.
What we should worry about are twisted or fabricated contents driven by greed. And what we should gang up against are factual, twisted or fabricated contents which are meant to harm and are driven by hate. In the campaign towards the 2015 elections, we had a barrage of such contents from all strata of our leadership.
They came from expected quarters, such as from a militant:
There will be no peace, not only in the Niger Delta, but everywhere if Goodluck Jonathan is not president by 2015
And from politicians:
It is going to be rig and roast. We are prepared not to go to court but drive them out…
Sadly, they came also from unexpected quarters, such as from a traditional ruler:
On Saturday, if anyone of you, I swear in the name of God, goes against my wish … the person is going to die inside this water…
From a cleric:
It is a sin to vote for someone who cannot lead you in prayer, and you will be punished for it. Anyone married to a kafir cannot lead you in prayer.
From another cleric:
… if you see anybody here kill him! Kill him and spill his blood on the ground. I am saying that to you, what nonsense, what devil.
From a former minister:
They are collectively unlettered, uncouth, uncultured, unrestrained and crude in all their ways…Money and the acquisition of wealth is their sole objective and purpose in life
From a governor:
Those who want to take power through the back door will die. They will die.
And if you still think women are the weaker s** and compassionate mothers, listen to this:
Anybody that come and tell you change, stone that person… What you did not do in 1985, is it now that old age has caught up with you that you want to come and change…You cannot change rather you will turn back to a baby.
The human proclivity for hatred and falsehood does not respect age, religion, gender or ethnicity.
Yet, producing or spreading fake news and hate speech is not reflex action. It is a deliberate and calculated attempt to mislead, intimidate, demean and defeat a person or a group of people. In fact, it is like warfare. No wonder that the most virulent peddlers of hate speech in some parts of the North call themselves sojojin baka – soldiers of the mouth or those who fight with mouth. Wherever there is a fight, there is always a weapon but there is also always casualty.
Fake news and hate speech together form a weapon, a deadly one, in the hands of merchants of hate. These merchants of hate come in various forms. There are massive online influencers whose merchandise is hate and fake news, and they have large following. How does one resist the urge to mention a person like Idris Ahmed who sits in the comfort of his rented flat in Coventry, United Kingdom and gush out hot hatred on Facebook on a daily basis? On October 3, he wrote on Facebook:
The Berom terrorists are in a class of their own. They are the worst savage barbarians Africa has ever produced. We must WIPE-OUT the Berom terrorists, by whatever means necessary. (See Adegoke & BBC Eye, 2018)
And that is not the worst he ever posted. And the comments of his followers were even worse. His notoriety has earned him repeated blocking by Facebook.
The number of Nigerians spewing hate across the Atlantic is on the rise indeed. Crawling all over the cyberspace, they produce and circulate videos, audios and texts calling people to arms. The Diaspora once remitted home only money; now, some of them remit much more.
Professional commentators are the second group. These ones comment on every news story on newspaper websites – some of them draw wages from their principals for the job of spreading hate among principals' political opponents. Hiding under the anonymity provided by the Internet, they deceive, demean and dehumanise people and ethnic groups.
The third group of hate merchants operate offline and "below the line" exploiting cheap technology. The sojojin baka, earlier referred to, and other groups like them compose hate narratives and hate songs. Some even produce cheap CDs for the wide circulation of their gob of slime. This is really lethal because these people target the least literate segments of the society who do not use the Internet. These are people who cannot fact check, even if they wish to, and have not been trained on the use of the critical faculty.
When fake news meets hate speech, the consequences can be devastating. We have been witnesses of massive destruction of lives and property linked to fake news, and hate speech.
It begins in a schoolroom,
on a street, in the market, at a shop:
Inzoka, inyenzi. (Snakes, cockroaches)
You are animal—
you deserve to be killed.
It requires no training,
merely a lifetime to learn.
To commit genocide,
simply forget your victims are human.
Forget you are human as well
(Laura Apol, Genocide I begin to Understand)
In this short poem, Apol tells us that violence and destruction have subtle origins. They begin as jokes, aliases, and harmless banters. They begin in the unlikely places – schoolroom, market, and shop. They begin slowly and grow overtime. Like the frog in the boiling frog hypothesis, we adjust our psyche, we shift our standard, we expand gradually and become insensitive to the heat. She also tells us that linguistic violence always goes before physical violence. At the end, both victims and perpetrators of hate lose their humanity: simply forget your victims are human; forget you are human as well.
But this does not always have to happen. In addition to big workshops aimed at media organisations, militant groups and other adult citizens, suppose we begin to integrate critical and reflective thinking in our primary and secondary school curricula. Suppose we begin to teach kids not just the language of love but also the skills to detect and respond to falsehood and hate speech. Suppose each parent, each uncle, each aunt, each neighbour takes it upon himself or herself to teach a child a day on the dangers of hate speech and the skills for detecting fake news. That way we would be building a sure bulwark against the next genocide. As a fragile and conflict-affected state, our fragility sets up for repeated conflagration, but we can and should do a lot about it.
The Redemptive Role of the Media
If 2015 was our all-time low in hate speech and fake news for electoral purposes, does 2019 promise to be better? Government agencies, security agencies, media houses, and non-governmental organisations have rolled out an all-out campaign against fake news and hate speech especially as the elections approach. Yet, the rate of fake news and hate speech does not seem to be abating.
For the media to lead or support the fight against fake news and hate speech, it must first redeem itself. Within the last one year, the National Broadcasting Commission (NBC) has recorded and sanctioned 260 cases of hate speech on radio and television. It has sanctioned 347 cases of unverifiable claims, which is a cousin of fake news. A few examples will illustrate the need for the traditional media to address its own recalcitrance on this subject. On 03 February, this year, the NBC warned TVC (Lagos) for hate speech; barely a month after, TVC got a second warning for the same offence. About a week after the second warning, it erred again and was fined N500,000. Express FM (Kano) was fined for hate speech on 12 September, 2018. It was fined again for the same offence on 16 September, and again on 17 September. Therefore, for the media, charity must begin at home. Physicians, heal thyself.
It is important for the traditional media professionals to realise that many Nigerians in search of authentic information turn to them. In the coming elections, as they have done in the past, people will roam from website to website and from blog to blog, in search of sensations. After that, most people will turn to their television, radio and newspaper (online or offline) for the real news. Nigerians are getting wiser – many now know that these thousand websites that spring up shortly before elections and disappear after are not to be taken seriously. They know that anyone can tweet anything or post anything on Facebook. They are expecting that the good old gatekeepers in the media industry will again serve them well in the 2019 elections.
The National Broadcasting Commission, the National Press Council, the News Agency of Nigeria, and other stakeholders should lead us in the compilation of a national directory of hate words and expressions. This should be updated constantly and be made available to the public. A Europe-based organisation is currently doing this in 25 languages none of which is a Nigerian language. We should compile our own directory. Then those who will have committed hate speech in error will have a guide to consult. I have the word of the Deputy Vice Chancellor (Research, Innovation and Strategic Partnership) of the University of Ibadan that our expert lexicographers in Ibadan and the University of Ibadan Management are willing to participate in this project.
Traditional media – offline and online – should resume their role as agenda setters. In the fake news of the gay community and former Vice President Atiku Abubakar, one wondered: why would The Nation and Vanguard be led by online sources whose existence is shifty and character dubious? Who should depend on whom for leadership? As traditional media return once again to the basics of journalism, they would be immune to the onslaught of fake news and hate speech. The basics of "if in doubt, leave out" and "if in doubt, find out" should be more strictly observed in the coming elections. Only a redeemed media can redeem the nation from drowning in the turbulence of malicious misinformation and hate mongering that is already gathering.
Part of that redemptive role in the coming general elections would be working as a counterforce to fake news and hate speech. Media organisations could have an item on their website menu named "FAKE NEWS", like a flying banner where citizens in search of truth can check and find the latest fake news. Countering fake news should be news. And as we zoom in on the elections, we should realise where fake news and hate speech will cluster: you will find them around campaign issues, voting schedules, distribution of voting materials, disruption of voting, and election results. Traditional media should specifically vet any reports around these "flash points" of fake news. And when they are sure that the result is genuine, they should vet again.
There is need for partnership across media platforms and organisations for truthful and hate-free reporting in the coming elections. Premium Times Centre for Investigative Journalism has been at the forefront of this kind of partnership with its dubawa.org. Dubawa works with other fact-check organisations to debunk false claims and fake news. On its website, one would find scores of fake news and how they are debunked. Dubawa.org also allows citizens to interact with it thereby becoming part of the debunking partners and collaborators in sanitising the society. We need to broaden this kind of partnership and set up an alert system to which all partner media houses can subscribe. Once a fake news item or hate speech "breaks" the alert informs every subscriber to the outbreak. Even INEC should be a partner on this.
Finally, and this is to my constituency: beyond the 2019 elections, our communication curricula must be urgently reviewed to better equip our products with the skills and sensitivity implied in the foregoing discussion. Such a review must address not just the skills, but the heart and the head.
The topic of my lecture restricts me to the role of the media in the coming elections. I must however say that fighting fake news and hate speech is more than what the media alone can do. The government, political parties, civil society organisations, the academe, and every citizen have interwoven roles to play. Fighting fake news and hate speech is not about information; it is about our very survival.
 
References:
Adegoke, Y. and BBC Africa Eye (2018) "Like. Share. Kill. Nigerian police say false
information on Facebook is killing people" Nov 13, 2018
BBC (2017) West Africa steams over jollof rice war BBC Trending 26 August, 2017 br /> Chutel, L. (2017) "Wole Soyinka is worried about the threat of fake news but thinks technology will still help us" QuartzAfrica Nov 4, 2017. well-its-creative-potential-anyway/
Paradigm Initiative (2017) Digital Rights in Africa Report.
in-africa-report/ Accessed on 17 November, 2018
Tandoc E. C., Wei Lim, Z & Ling, R. (2018) Defining "Fake News", Digital Journalism, 6(2):137-153
Opinion
AddThis
: 
Featured Image
: 
Original Author
: 
Ayobami Ojebode
Disable advertisements
: 
target=_blank>UNILAG Begins Three-Hour-Daily Rationing Of Electricity To Medical Students
The electricity supply at the College of Medicine and Faculty of Pharmacy, University of Lagos, has taken a major hit as the school management has disclosed that electricity supply will be rationed.
According to a memo to that effect, the students will get one hour of electricity in the morning, and two hours at night.
This is coming a year after some engineering students of the school launched a project to generate electricity outside the national grid for rural communities.
The memo, signed by the Principal Assistant Secretary (Students) of the College of Medicine, A.O. Adeyemo, dated November 30, 2018, reads: "This is to inform all the students of the College of Medicine and the Faculty of Pharmacy that with effect from 1st December, 2018, power supply in the hostel will until further notice be rationed as follows: Morning: 7am to 8am – 1hr; Evening: 7pm to 10pm – 2hrs".
SaharaReporters gathered that a slight disagreement occurred between the Vice Chancellor and the Provost of the medical college.
The Provost was said to have initially proposed an increase in hostel accommodation fee, which was rejected by the VC in a meeting held late November.
"There were reports earlier that the provost was trying to increase the hostel accommodation fee, but the provost met with the VC and he (the Vice chancellor) refused to approve the hike in accommodation fee," a source said.
"For like a week, everything was on hold until the 30th of November when students received this memo showing the time the students should expect power supply, which depicts a mere three-hour supply. The students protested last night."
A student of Unilag's College of Medicine and Faculty of Pharmacy, who spoke with our correspondent, said the students will ensure the reversal of the rationed electricity supply.
"There was a little protest yesterday to show our rejection of the new power supply ration," he said. "The protest was also to show our dissatisfaction with the unconducive learning environment."
Academic activities are currently on hold due to the ongoing Academic Staff Union of Universities (ASUU) strike that commenced on November 4, 2018.
The UNILAG chapter of the union confirmed its compliance with the strike action on November 7.
"We have achieved 100 per cent compliance with the directive handed to us by the union's executives," Dele Ashiru, chairman, ASUU UNILAG chapter, had said.
Education
Human Rights
News
AddThis
: 
Featured Image
: 
Original Author
: 
SaharaReporters, New York
Disable advertisements
: 
target=_blank>Vote Christ-Like Candidates, Not Christians, Says Sowore
Omoyele Sowore (right) greeting Pastor Adeleke Samuel at the close of service
Omoyele Sowore, presidential candidate of the African Action Congress (AAC), has likened himself to a Moses that has come to liberate Nigeria from the wicked Pharaohs that have held the country captive.
Speaking at the Jesus General Assembly Church in Oworonshoki, Lagos on Sunday, Sowore called on Christian faithful and all Nigerians to vote for Christ-like candidates, rather than candidates who just carry the label 'Christians'.
He recalled that the disciples in the Bible were referred to as "Christ-like" because they emulated the lifestyle of Jesus Christ.
"Jesus did not have a religion while on earth. He didn't identify as a Christian," he said.
"It was the disciples who emulated his lifestyle that were described as Christ-like. We have had many Christian, Muslim and religious leaders who ruled Nigeria and we're godless, which is why we are here today."
He charged the congregation to "vote people whose lifestyle is consistent with that of Jesus", stating that he is a man of integrity who cares for his followers.
He continued: "When the Israelites were to be liberated from the hands of the wicked Egyptians, God raised a Moses to deliver them. But because of murmuring and complaining and disobedience, a journey that was supposed to last 40 days lasted 40 years in the wilderness.
"Nigerians, we are faced with a similar situation today. You have in me a Moses that has come to liberate Nigeria from the wicked Pharaohs that have held Nigeria captive. If we keep complaining and do not do the right thing by voting a young person with fresher ideas, it may cost Nigeria another 58 years before they enter the Promised Land."
Describing himself as the right man for the highest office in the land, Sowore said: "I may not be a deer but I'm visionary. I may not be a missionary, but I am mission-driven, so I urge you not to look elsewhere because the person who will take Nigeria is standing right here in front of you."
Elections
Politics
News
AddThis
: 
Featured Image
: 
Original Author
: 
SaharaReporters, New York
Disable advertisements
: 
Twenty-six aspirants for the Ogun State House of Assembly have defected from the All Progressives Congress (APC) to the Allied Peoples Movement (APM).
Lamidi Olatunji, spokesperson of the lawmakers, said they "have come to inevitable conclusion to actualise their ambitions in APM".
According to Daily Trust, the aspirants would join Adekunle Akinlade, a favoured candidate of Ibikunle Amosun, Govenor of Ogun State, who had also defected to APM last week.
Akinlade had lost the APC governorship ticket to Dapo Abiodun.
Speaking on the defection of the aspirants on Monday, Olatunji said: "We also wish to acknowledge the fatherly role of President Muhammadu Buhari in seeking to sustain the tenets of democracy, fairness and equity in the resolution of the crisis in Ogun APC.
"We regret that Mr President's efforts were frustrated by the forces that are hellbent on taking the South-West back to the dark age of slavery, where unelected kingpins direct the affairs of the people."
He directed their supporters to move into APM as "the new vehicle for the development of Ogun State".
Two serving Commissioners, Dayo Adeneye (Information and Strategy) and Modupe Mujota (Education, Science and Technology) were among the defectors.
Elections
Politics
News
AddThis
: 
Featured Image
: 
Original Author
: 
SaharaReporters, New York
Disable advertisements
: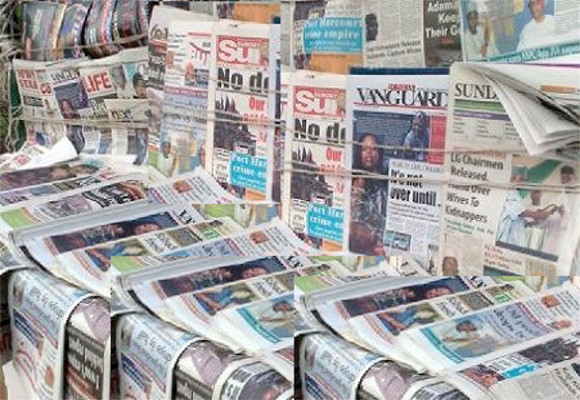 You can also check Sahara Reporters Newspaper Headlines Today