Sahara Reporters Latest News

Monday 3rd December 2018

Sahara Reporters Latest News Today and headlines on some of the happenings and news trend in the Country, today 03/12/18

Read also Leadership Newspapers News Today Monday 3rd December 2018
target=_blank>Buhari: Those Who Thought I Was Dead Begged Osinbajo To Make Them His VP
President Muhammadu Buhari has spoken on the rumours of his death, while he was on medical vacation outside the country in 2017.
Speaking on Sunday in Krakow, Poland, during an interactive session with the Nigerian community in the country, he said his deputy, Vice-President Yemi Osinbajo, who was acting president at the time, received a lot of embarrassment because people came to him (Osinbajo) to lobby for the vice-president position during the said period.
Buhari stated this while responding to the question on if he was cloned.
His words: "One of the questions that came up today in my meeting with Nigerians in Poland was on the issue of whether I've been cloned or not. The ignorant rumours are not surprising. When I was away on medical vacation last year, a lot of people hoped I was dead.
"Poor Professor Yemi Osinbajo, even he had to deal with the rumours — some people reached out to him to consider them to be his Vice-President because they assumed I was dead. That embarrassed him a lot; we discussed it when he visited me while I was convalescing.
"I can assure you all that this is the real me. Later this month, I will celebrate my 76th birthday. And I'm still going strong!"
President Buhari is in Poland to attend the United Nations Climate Change Conference.
Politics
News
AddThis
: 
Featured Image
: 
Original Author
: 
SaharaReporters, New York
Disable advertisements
: 
target=_blank>Children Kidnapped By Maid In Lagos Found At Seme Border
The Lagos State Police Command has rescued the two daughters of Mr. and Mrs. Aneru Mutana of Gbagada Phase 2, Lagos, who were kidnapped by their maid on November 26, 2018.
The children, aged six and three, respectively, were found along Seme border in Benin Republic on Sunday.
The maid, identified simply as Busayo, had gone to pick the children from school on the said date, but rather then take them home, she kidnapped the children.
The statement read: "Investigation so far revealed that Busayo is a member of a kidnap syndicate who gives her out as househelp to unsuspecting parents. 
"When she finally lands the job, she warms her way into the children's hearts and wins the trust of her employers. Once she gets to this stage, she bares her fangs.
"The Commissioner of Police, CP Edgal Imohimi, warns households interested in engaging the services of domestic servants to beware of whom they are dealing with. He reiterates his earlier warning that employers ought to carry out a background check of persons they are bringing to homes, and profile them in order to make investigation easy for the Police should the need arise.  
"The Command reasonably believes that Busayo may not be her real name. However, it wishes that Nigerians should take cognizance of her face and alert the nearest Police formation of her location and, if possible, arrest and hand her over to the police."
CRIME
Police
News
AddThis
: 
Featured Image
: 
Original Author
: 
SaharaReporters, New York
Disable advertisements
: 
target=_blank>Afenifere, Akeredolu, Mimiko, Mourn Fasehun
Governor Rotimi Akeredolu of Ondo State has described the demise of the founder and National Leader of the Oodua People's Congress (OPC), Dr. Federick Fasehun, as shocking and a great loss to Ondo State and the entire country.
83-year-old Fasehun died in the early hours of Saturday at the Lagos State University Teaching Hospital, Ikeja.
See Also
News
JUST IN: OPC Founder Frederick Fasehun Is Dead
0 Comments
1 Day Ago
A statement issued at the weekend by the goveronor's spokesperson, Segun Ajiboye, noted that the late Fasehun would be greatly missed by the people.
The statement read: "Ondo State governor, Arakunrin Oluwarotimi Akeredolu (SAN), mourns the founder of Oodua People's Congress, Dr. Federick Fasehun who died December 1, 2018.
"Governor Akeredolu describes the late Fasehun as a disciplined citizen, nationalist to the core and intelligent medical practitioner who used his energy and other resources to fight for the interests of the common man.
"As a politician, the governor is of the opinion that the late Fasehun's argument for egalitarian society where merit and equity are made parametric conditions for selecting leaders or people's representatives will continue to dominate socio-political discourse."
Akeredolu also noted that social scientists will remember Fasehun as a detribalised Nigeria "whose place in the nation's political history cannot be wished away".
Also, former Governor of Ondo State, Olusegun Mimiko, described the death of the OPC leader as the departure of a committed patriot and a worthy elderstatesman with love and passion for the progress of the nation.
A statement by Mimiko read: "Death took Baba Fasehun away at a time the nation needed him to help provide workable contributions to the restructuring of Nigeria, now that majority of the people have seen the need for restructuring, which is one of his utmost agitations.
"While his death will rightly be seen as a great loss to his immediate family, the people of Ondo State and the nation at large, it will no doubt create a vacuum in Yorubaland and the nation."
Meanwhile, the Yoruba socio-cultural organisation, Afenifere, on its own described Fasehun's death as "shattering news".
Yinka Odumakin, the Afenifere Publicity Secretary, said the deceased would be greatly missed.
"He was a prominent Yoruba and Nigerian citizen who dedicated his entire life to the service of humanity. We will surely miss his great works, which will continue to speak for him forever. He lived for the cause of the poor. May God be with his family at this period and comfort them," he said.
Politics
News
AddThis
: 
Featured Image
: 
Original Author
: 
SaharaReporters, New York
Disable advertisements
: 
E2%80%94-buhari-speaks-poland-being-cloned target=_blank>'This Is The Real Me' — Buhari Speaks in Poland On Being Cloned
President Muhammadu Buhari has responded to speculations on being cloned.
He spoke on the subject on Sunday in Kraków, Poland, according to Bashir Ahmad, his Personal Assistant on New Media.
A factcheck published by AFP on Friday, November 30, 2018 had disproved speculations that Buhari had died and been replaced by a look-alike.
Speaking on the speculations, Buhari said a lot of people had hoped for his death when he was sick, but he remains strong.
He was also optimistic on celebrating his birthday; he will be 76 years old on December 17, 2018.
The post on his response to being cloned was published in a tweet that read: JUST IN: "A lot of people hoped that I died during my ill health. It is real me… I will soon celebrate my 76th birthday and I will still go strong." — President @MBuhari this evening in Kraków, Poland. His response to a question of him being cloned". JUST IN: "A lot of people hoped that I died during my ill health. It is real me… I will soon celebrate my 76th birthday and I will still go strong.†— President @MBuhari this evening in Kraków, Poland. His response to a question of him being cloned. pic.twitter.com/JL9QfUF3PL— Bashir Ahmad (@BashirAhmaad) December 2, 2018
Politics
News
AddThis
: 
Featured Image
: 
Original Author
: 
SaharaReporters, New York
Disable advertisements
: 
target=_blank>Niger Deltans Suffer More Than Anyone Else In Nigeria, Says Group
The Niger Delta Support Group (NIDSG) has lamented the state of underdevelopment of the region, stating that candidates and their political parties are paying "lip service" to the issue of restructuring in the wake of the 2019 elections.
While clamouring for a critical stakeholders' forum to address the issue of restructuring, the group called on the federal and state governments to declare a state of emergency on the economy in the Niger Delta region.
Leading a protest on Saturday round some major streets of Warri, Delta State, the convener of the group, Vincent Udume Odogbor, noted that the call for a critical stakeholders' forum to address the issue of restructuring and a call for the state of emergency became imperative "given that it is the fundamental ill upon which other ills such as marginalisation, corruption and underdevelopment of the Niger Delta rests".
Bearing placards with various inscriptions such as 'Niger Delta Support Group Demands for Justice, Equity and Fair Play'; 'We Demand True Fiscal Federalism'; 'Provide Jobs for our Graduates'; 'Corruption is Killing Nigeria'; Probe $2billion NLNG Missing Fund', among others, lamented the state of neglect and unemployment in the region.
In his address, Odogbor said: "The word restructuring has become a political slogan of those contesting for the office of the president. The truth is, we are not swayed by this rhetoric because restructuring does not mean privatisation or commercialisation. Handing resource control and management to the original owners of such resources is the truest definition of restructuring.
"We are all witnesses to never-ending news of stolen or missing oil and gas money without any proper accounting for the monies and without consequence as nobody has been sanctioned or prosecuted for these grave crimes against people's future. We in the Niger Delta suffer more than anyone else in Nigeria — the brunt from the life-threatening environmental hazards from oil and gas exploration, but the oil wells are owned mostly by our neighbours from the North who have dominated Nigeria's political landscape since 1960.
"The abnormalities in the political structure of Nigeria ranging from economic, political and security cannot continue to remain. The ethnic minorities of the Niger Delta have been taken for a ride for too long and it is now an act of provocation. We demand a fair share of the returns from our oil and gas resources and 13% is not the fair share we need. We demand a return to the principles of derivation and need as revenue sharing formula given the extreme despoliation of our environment and its effects on our livelihoods today and in decades to come. 
"We are convinced that if oil was produced in the Northern or Western regions of Nigeria, they will not be in the state the Niger Delta is today in terms of the environment, economic and political development. The bottom line is, if this present administration really desires to fight corruption, it should be willing to restructure Nigeria and grant resource control to the Niger Delta region, given its contributions to the national income and GDP of Nigeria.
"Corruption is also perpetuating social and economic injustice which is reflected in the oppression of the goose that lays the golden egg of Nigeria and in the nepotism of this government in terms of core appointments. And if the Peoples Democratic Party presidential candidate and other party candidates are sincere and serious about restructuring, they should as a matter of urgency put machinery in place to engage the stakeholders in the region and this is not limited to PANDEF and the Chief E.K. Clark dynasty."
Speaking on the peculiarities of the region, he continued: "Niger Delta is bigger than what one individual or group will decide for. We have tons of ethnic groups such as the Isokos, Urhobos, Ijaws, Itsekiri, Ikweres, Anioma, the Efiks, Calabar, Binis, Kalabari and the Igbos across Abia and Imo states. We also have civil society groups in the region, the NANS zonal body, youth organisations such as the Not Too Young To Run, women groups, traders union, civil servants, religious bodies, the oil and gas sector, professionals, entrepreneurs and, of course, the political class.
"If we truly desire change, there is an urgent need for a critical stakeholders meeting to re-strategise and change the way we have handled the issue of resource control and, by extension, fiscal federalism. Restructuring is not just a statement of convenience, but a deliberate move to ensure justice is served and the scale of inequality deposed.
"Any agenda short of this, will definitely make us become exasperated and to continue in our quest through every legal means to extinguish the mercantile rule of a kleptocratic political class who use ethnicity and religion to perpetuate their ignoble rule. We remain resolute to our earlier call for restructuring to a true fiscal federal state, as well as the creation and implementation of state police to ensure effective communal protection of lives and property.
"We want the country restructured so that true fiscal federalism can be implemented. We don't want lip service on the issue, so we are challenging all presidential aspirants and the federal government to a critical stakeholders' meeting to discuss the issues before 2019 elections. More region wide protests loom if no concrete arrangement is put in place for restructuring.
"The Federal Government does not waste time in declaring state of emergency whenever there is a threat to its national security in the region as we have in recent times seen in the securitisation actions such as Operation Crocodile Smile 1 and 2 and Operation Python Dance 1and 2. In the same vein, it should declare an economic state of emergency because from a human security perspective, poverty is the highest level of insecurity that threatens the people of the Niger Delta more than armed conflict and war.
"The  deplorable state of the region and its people ought to be the major concern of the Federal Government and the political elite, if they are sincere with the 'One Nigeria' project. What we see instead is a deliberate attempt to strangulate and snuff out the economic oxygen of the region by undermining the economic potentials of its ports for example.
"The NNPC and NLNG have become like bullion vans for transferring wealth from the region to unknown destinations outside it. This is evidenced in recent news of missing $1.05bn from NLNG a week after another $1.151bn was reported missing. Sadly, these corrupt practices are happening right under the watch of President Buhari who happens to be the Petroleum Minister, itself another evidence of the lopsided economic structure of the country."
Human Rights
Niger Delta
News
AddThis
: 
Featured Image
: 
Original Author
: 
SaharaReporters, New York
Disable advertisements
: 
target=_blank>JUST IN: Arrested NURTW Boss 'Names' Sponsors Of Attack On Ondo Lawmakers
Rotimi Akeredolu, Governor of Ondo State, with Jacob Adebo a.k.a., 'Idajo'
Rotimi Akeredolu, Governor of Ondo State, with NURTW Chairman, Jacob Adebo a.k.a., 'Idajo'
Jacob Adebo, the Chairman of the National Union of Road Transport Workers (NURTW) in Ondo State, has named those who sponsored the attacks by himself and other NURTW members on the Ondo State House of Assembly.
He has also been released from Police custody, SaharaReporters just learnt.
Adebo, popularly known as 'Idajo', was released on Saturday evening, after spending a night at the Force Criminal Investigative Department, Alagbon, Lagos State where he was briefly detained and quizzed by the security operatives.
The Ondo State NURTW boss was arrested on Friday by security agents who stormed Akure, the Ondo State capital after a petition was written against him about an attack on lawmakers of the Ondo State House of Assembly.
See Also
CRIME
BREAKING: Idajo, Ondo NURTW Chairman, Arrested And Whisked To Lagos
0 Comments
2 Days Ago
Confirming his release on Sunday, an official of the NURTW said Adebo was released after he was "thoroughly quizzed" over his role and involvement in the attacks on lawmakers of the Ondo State House of Assembly.
The official, who preferred not to be named, explained that the NURTW boss confessed to leading members of the NURTW to the Assembly and mentioned the names of those who had been sponsoring him on such similar attacks in the state.
He revealed further that despite the release, the Ondo NURTW boss was also instructed to report back to the FCID on Monday in continuation of the case.
"He (Idajo) was released on Saturday after sleeping over at FCID office in Alagbon, Lagos where he spent one night following the petition written against him by some people in the state. The Police detectives interrogated, and asked him questions which were mainly on his role in the recent attack at the State House of Assembly," the source said.
"In fact, he was faced with evidence — audio — on how he instructed his boys from the union to invade the House of Assembly and and kill anyone in sight. When he was shown the evidence, even with video and pictures of him and his boys destroying properties at the Assembly, he confessed the names of those who sent him and footed his bills for the attack.
"Already, he (Idajo) has mentioned the names of some politicians who have been sponsoring him, and four of them are close to the incumbent Governor Rotimi Akeredolu and one is a popular politician in Akure. I am aware he would report back to the FCID in Alagbon, Lagos for the continuation of the case and he is likely to go with two persons who are his boys and had also been fingered in the attack."
Meanwhile, SaharaReporters learnt that there is palpable fear among members of the NURTW in the state following Adebo's arrest by security operatives.
Some union members, particularly the executives who are very loyal to the NURTW boss, have already fled Ondo State over possible arrest by the Police on the ongoing case.
An source loyal to Adebo, who spoke to our correspondent on Sunday, said some of those implicated have also fled the state.
"Some of us fled because we heard the Police would surely come after us over this ongoing case and some other cases which include the attack on a radio broadcaster, who was almost lyched at the park by some thugs sent by Idajo.
"I was told that the Chairman (Idajo) was just confessing like a bird when he was threatened with jail terms at the FCID in Alagbon, Lagos where he has mentioned many names of those sponsoring him. Even, the Ondo State Chairman of the APC has been implicated in the case because there was consistent phone interaction between him and Idajo with some of the union boys.
"For me, I have been given the best advice which is to leave the state for now, and I know two others who have also fled because of the fear of an impending arrest. We cannot spend our Christmas and New Year in jail."
CRIME
Politics
News
AddThis
: 
Featured Image
: 
Original Author
: 
SaharaReporters, New York
Disable advertisements
: 
target=_blank>Sanwo-Olu Avoids Question On Tinubu, Tells Lagosians To Focus On Real Issues
Babajide Sanwo-Olu, Lagos State governorship candidate of the All Progressives Congress (APC), has told Nigerians to focus on real issues rather than ask questions on his relationship with 'Bourdillon'.
He stated this in a video he posted on Twitter on Sunday, where he attempted to address questions fro Lagosians on his plans for the state if he is elected Governor.
The first question he responded to was from @Deolububble, whom he repeatedly referred to as 'Double Bubble'.
@Deolububble's post read: "Sanwo-Olu Bawo? Where this one come from? Na so dem bring pesin wey no know anything about government to run Lagos."
Responding to the post, Sanwo-Olu said: "Actually, Double B, I've been in government since 2002. Once Commissioner for Establishments, Training and Pensions. Before then, Special Adviser, Commissioner for Commerce and Industry. I've also been Commissioner for Establishment, Training and Pension and finally, I've also been MD of LSDPC. Look, it's obvious to me, Bubble, that you can use Twitter. So, I believe that you can also Google my resume and you can find a whole lot on me."
The question on Bourdillon came from @jimidisu, which read: "Can Sanwo-Olu speak for himself if not helped/pushed from Bourdillon?"
In his response, Sanwo-Olu said: "Well, Jimi, I realise this may be of concern to you and a few other people, which is why I have various interactions in the coming weeks online and offline.
"I have started all of these things even before now and in various locations. I have started conversing, I have started meeting various stakeholders, and in fact, if there's anything you would like me or you wanna ask about me, about my plans for this great state, then meet me today for a live chat and we can take all of these things up.
"Let's deal with real issues. Let's deal with things that concern Lagosians; let's deal with things that will take people out of poverty; let's deal with things that would make our Lagos, your Lagos, our Lagos and we will take it to a much higher lever. Thank you very much, Jimi."
Bola Tinubu, National Leader of the APC, Sanwo-Olu's godfather, has been known as Lion of Bourdillon for ages, a title further entrenched by a so-named, controversial documentary aired by Africa Independent television (AIT) about his political life in the buildup to the 2015 elections.
Elections
Politics
News
AddThis
: 
Featured Image
: 
Original Author
: 
SaharaReporters, New York
Disable advertisements
: 
target=_blank>BREAKING: Rivers Gov Aspirant Lulu-Briggs Dumps APC For Accord Party
Dumo Lulu-Briggs, an aspirant for the Rivers State All Progressives Congress (APC) governorship ticket, has dumped the party for Accord Party.
During the APC primary in September, he had opted out of the race, citing the lack of transparency in the process. He had also accused Rotimi Amaechi, the Minister of Transportation, of imposing candidates on the party. 
Speaking on his decision to defect from the APC, he said: "I am 100% Rivers just as you, and so I trust that we shall keep our friendship and possibly realign if and when we feel the need.
"I bear no grudge or malice and I implore that you take none towards me. What is obvious is that I have to continue my quest to help liberate our state by advancing my vision on another platform.
"I take from the experience valuable lessons, and from you, I took warm memories. I pray that God keeps us healthy and able to rescue Rivers State and elect a governor who will give Rivers people quality leadership and service.
"Once again, I reiterate that it is about Rivers people and my doors are open, praying that we find ourselves in ONE ACCORD."
Elections
Politics
Breaking News
AddThis
: 
Featured Image
: 
Original Author
: 
SaharaReporters, New York
Disable advertisements
: 
E2%80%99t-go-us-anytime-soon-despite-lifting-travel-restriction%E2%80%99 target=_blank>EXCLUSIVE: Atiku 'Won't Go To US Anytime Soon' Despite Lifting Of 'Travel Restriction'
Atiku Abubakar, presidential candidate of the Peoples Democratic Party (PDP), does not intend to travel to the United States "anytime soon".
As reported by SaharaReporters on October 31, Gbenga Daniel, Director-General of the Atiku Presidential Campaign Orgsanisation (APCO), had said Atiku had received "signals from American officials" to apply for visa and it would be granted.
See Also
Breaking News
BREAKING: 'US Officials' Have Signalled Atiku To Come For Visa, Says Gbenga Daniel
0 Comments
1 Month Ago
On Saturday, TheCable reported that the visa had been granted, and even added that Atiku had travelled to the UK, from where he would proceed to the US to spend some time.
Atiku's spokesman confirmed in a tweet that although the former Vice President indeed travelled to the UK, he had since returned.
SaharaReporters now understands that the US trip is not on the cards anytime soon.
According to a source very close to former President Olusegun Obasanjo, who played a big role in the securing of the visa, the former Vice President will be busy back home for a while.
"The ban has been lifted but it doesn't mean he is travelling like today or anytime soon," the source said. "The restriction has been lifted, which means he can travel anytime he wants. But he's not planning a US trip soon."
A second source familiar with Atiku's campaign itinerary said ordinarily, it would be impossible for the presidential candidate to travel to the US at a time when full-fledged campaigns are kicking off.
"His campaign kicks off in Sokoto tomorrow, Monday, which means there's an official cover for his decision to stay back in Nigeria," said the source. "However, if you look at how much of an issue his US avoidance has been in his campaign so far, you would understand that Atiku won't mind taking a few days off to make that trip to the US to prove that he is not wanted for corruption, just to give his campaign that massive anti-corruption lift."
Atiku hasn't stepped on American soil for well over decade dating back to his Vice Presidency, allegedly due to the belief he would be arrested for allegations of corruption, including one by US congressman Williams Jefferson that part of the $100,000 cash found in his refrigerator was intended as bribe for Atiku for his role in helping American firm iGate secure a contract to expand broadband in Nigeria.
Corruption
Elections
Politics
Exclusive
News
AddThis
: 
Featured Image
: 
Original Author
: 
SaharaReporters, New York
Disable advertisements
: 
A group, Igbo for Nigeria Movement, has described the calls for the sack of the Service Chiefs by Ohaneze Elders as a deliberate attempt to distract the ongoing efforts in the fight against insurgency.
In a statement issued in Akure, the Ondo State capital, Ifeanyi Igwe, National President of the group, maintained that the calls for the sack of the service chiefs were not only "baseless but also in poor taste and with sinister motives".
The statement read: "It is, therefore, consequent to state that since 2015, the business of kidnapping for ransom has been reduced to its barest minimum due to the presence of military personnel carrying out military operations in many parts of the country including the South East region.
"The Ohaneze Elders should be wary of been used as a conduit by some overzealous Igbo officers to advance their agenda for personal gains. Instead, it should dwell on promoting the unity of Nigeria"
"The Igbo for Nigeria Movement is in the know of the plot, and wishes to advise the members of the unsuspecting public of the plot orchestrated by some overzealous Igbo officers in the military who are bent in whipping up ethnic sentiments in the buildup to the general election.
"We, at this moment, wish to inform the Ohaneze Elders that such calls are not within their purview and as such, they should concern themselves with the business of their socio-cultural activities.
"We wish to state in emphatic terms that the call for the sack of service chiefs is at best the hands of Esau and the voice of Jacob, and as such, it should be disregarded by the relevant political authorities."
Boko Haram
Insurgency
Military
News
AddThis
: 
Featured Image
: 
Original Author
: 
SaharaReporters, New York
Disable advertisements
: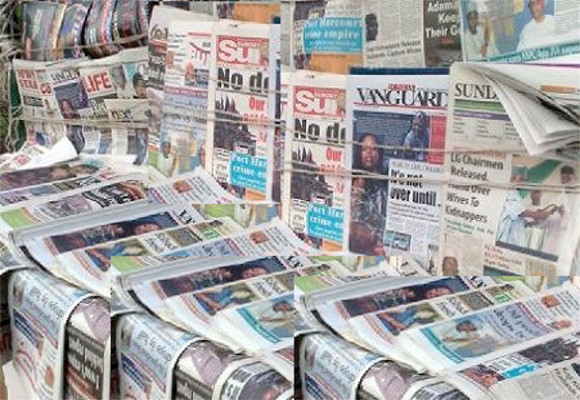 You can also check Sahara Reporters Newspaper Headlines Today