Sahara Reporters Latest News

Friday 30th November 2018

Sahara Reporters Latest News Today and headlines on some of the happenings and news trend in the Country, today 30/11/18

Read also Leadership Newspapers News Today Friday 30th November 2018
target=_blank>At Funeral Service, Family, Friends Pay Tribute To Tosyn Bucknor
The remains of Oluwatosin Bucknor, popularly known as Tosyn Bucknor, has been laid to rest in Lagos at a private internment attended by family and friends on Thursday.
Before the interment, a funeral service took place at Harvesters International Christian Centre, Lekki. The service started with a choir ministration and had in attendance Ali Baba, Banky W, Ebuka, among others.
Her husband, Aurélien Boyer, took the first reading from 1st Thessalonians 4: 13-18, after which he paid tribute to her. According to him, Tosyn's death has given him a rethink into taking his religious life more serious.
The sister of the deceased, Funke Bucknor, took the second Bible reading from 1st Corinthians 15: 35-50. She went on to pay tribute to her sister.
In his sermon, Bolaji Idowu, Pastor of Harvesters International Christian Centre, said the late OAP was in a better place and has begun her journey to eternity. 
News
AddThis
: 
Featured Image
: 
Original Author
: 
SaharaReporters, New York
Disable advertisements
: 
target=_blank>UNESCO Recognises Reggae As Cultural Heritage Worth Protecting
The United Nations Educational, Scientific and Cultural Organization (UNESCO) has recognised reggae music as a cultural treasure that should be protected.
Reggae is a genre of music made more popular by artistes such as Bob Marley, Toots and the Maytals and Peter Tosh.
According to the BBC on Thursday, UNESCO acknowledged that reggae's "contribution to international discourse on issues of injustice, resistance, love and humanity underscores the dynamics of the element as being at once cerebral, socio-political, sensual and spiritual," noting that "the basic social functions of the music — as a vehicle for social commentary, a cathartic practice, and a means of praising God — have not changed, and the music continues to act as a voice for all."
Reggae music is an expressive art form in the Nigerian entertainment scene and artistes such as the late Ras Kimono, Majek Fashek, Patoranking, among others, have tapped into its style to create timeless music.
Entertainment
News
AddThis
: 
Featured Image
: 
Original Author
: 
SAHARA REPORTERS, NEW YORK
Disable advertisements
: 
target=_blank>Those Seeking Political Gains From Soldiers' Deaths Are Shameless, Says Group
Voice of Nigeria
A group, the Patriotic Youths in Nigeria (PYN), has berated those seeking "political gain" from the recent attack on soldiers in Metele, Borno State, statng that "this is downright shameful to say the least".
The group urged the soldiers not to be deterred but instead, re-double their efforts aimed at ending activities of the Boko Haram sect.
At an event in Ondo on Thursday, Blessing Atawodi, National President of the PYN, stated that the Metele attack was "saddening and regrettable".
Atawodi also encouraged Nigerians to rally support for the Nigerian Army and other security agencies coordinating the anti-terrorism units in the bid to end insurgency.
His words: "The recent attack on the military in Metele, Borno State is highly regrettable; many officers and Nigerian soldiers lost their lives as admitted by the army. It was indeed a very sad event.
"We, the Patriotic Youths in Nigeria (PYN), find it really appalling that in the midst of this calamity, some mischievous and unscrupulous persons have sought to make some political gain from it. This is downright shameful to say the least.
"War is always unpredictable and we all can agree that anyone can start a war, but nobody can ever tell how it will go or when it will end. As sophisticated as the United States of America is, the US Army suffered the hugest recorded casualty — in men and machinery — in Afghanistan, nine years after the anti-terror campaign started i.e. in 2010, when they lost as much as 499 soldiers.
"Note that the number is just one less than 500 US Army soldiers lost while fighting in the same locale after nine years! Similarly, they lost 418 soldiers in the following year 2011.
"Why did we have to bring out all this statistics? We did this to show to all who may be genuinely concerned, that a setback in a war does not mean a defeat. Whilst it is not our desire that such occurrence should happen again, it is important we put things in proper perspective.
"At this critical time, the army needs our support more than ever before. This should not be a time for partisan politics.
"The desire of the terrorist group Boko Haram is to divide us further by any means and when we begin to help share their propaganda video, we are ignorantly and maybe maliciously propagating their evil narratives."
Boko Haram
Insurgency
Military
News
AddThis
: 
Featured Image
: 
Original Author
: 
SaharaReporters, New York
Disable advertisements
: 
target=_blank>We Don't Have 70,000 Staff And We're Not Probing Their Performance, Says NNPC
The Nigerian National Petroleum Corporation (NNPC) has said it has neither 70,000 staff in its employ, nor is it embarking on a staff performance probe.
The clarification was made folloing reportsthat the corporation has a staff strength of over 70,000, and was about to conduct a performance audit of staff across its operations globally.
A statement by Ndu Ughamadu, the Corporation's Group General Manager, Group Public Affairs Division, on Thursday, noted that "NNPC has never at a point in its history maintained a 70,000-staff strength".
"NNPC is not embarking on any staff performance audit. What we said in the press release that was apparently misrepresented in the media was that the Chief Operating Officers (COOs) of the various Autonomous Business Units signed performance bonds with the Group Managing Director, Dr. Maikanti Baru, as part of efforts to ensure that all the units deliver on their mandates in the upcoming year. There was nothing in that statement that indicated that NNPC would carry out a performance probe of staff," Ughamadu said.
He urged journalists to always adhere to the ethics of the profession and seek clarification whenever they were not sure about any information contained in press statements.
NNPC
News
AddThis
: 
Original Author
: 
SaharaReporters, New York
Disable advertisements
: 
target=_blank>Lai Mohammed Warns US About The Implications Of Granting Visa To Atiku
Lai Mohammed, Nigeria's Minister of Information, has urged the United States to exercise caution in granting visa to Atiku Abubakar, presidential candidate of the Peoples Democratic Party (PDP).
According to the Minister, this is necessary to ensure that the US doesn't appear to favour one candidate over another in the 2019 general election.
According to NAN, Mohammed stated this at an interactive session with media executives in Abuja on Thursday.
Noting that the Federal Government was aware of the visa issue regarding the former Vice-President, Mohammed urged the US to be mindful of the timing.
His words: "We understand and appreciate the fact that it is the prerogative of the US to grant a visa to anyone who applies. However, we want the US to be neutral and be wary of taking any decision that will give the impression that they are favouring or endorsing one candidate over the other.
"Impression must not be created that the US government is endorsing one particular candidate over the other. I am sure you will all recall the Jefferson's case and the cold $90,000 in fridge.
"We are not unaware that Atiku has engaged the services of some lobbyists to persuade the US to issue visa to him. Our position is that if the former Vice President is seeking the US visa we have no problem about it. However, we want the US government not to create the impression that it is endorsing one candidate over the other."
Politics
News
AddThis
: 
Featured Image
: 
Original Author
: 
SaharaReporters, New York
Disable advertisements
: 
target=_blank>EXCLUSIVE: Lack Of Aircraft Forces Dana Air To Suspend Flight Operations
Barely two weeks after celebrating its 10 years of flight operations in Nigeria, Dana Air has suspended flight operations.
The airline, which has over the past four years been struggling with two its two McDonnell Douglas MD-83 aircraft, suspended flight operations last week.
A source close to the airline confided in our correspondent that the airline, which had a fatal crash on June 3, 2012, killing about 159 souls onboard and on the ground, is currently going through recertification of its Air Operators' Certificate (AOC) with the Nigerian Civil Aviation Authority (NCAA).
The recertification exercise is carried out every three years, but while the exercise goes on the airlines don't necessarily suspend flight operations.
It was gathered that the airline also suspended operations because of the inadequate number of aircraft in its fleet.
In September, the airline's leased aircraft from ASKY Air Boeing 737 had to be grounded by NCAA after barely 24 hours of flight operations, as the regulatory body accused it of violating civil aviation rules with its partnership with the airline.
According to a source close to the agency, the airline alleged that it wanted to use the aircraft for fifth freedom flight, which is not acceptable in Nigeria.
The suspension of operations of the airline, coupled with the currently reduced fleet by other airlines across the country, is causing chaos in the system.
For instance, operations of Med-View Airline were downgraded to just one flight daily — Lagos-Abuja — by NCAA, while Air Peace withdrew some aircraft from its fleet for C-check abroad.
The source said: "There is massive chaos in the industry at the moment. Most of the passengers are stranded because of inadequate equipment to work with by the domestic flight operators. Dana Air, for instance, had to suspend its operations, citing its ongoing AOC recertification with NCAA.
"But, Dana Air is not the only airline that has gone through recertification with NCAA. Other airlines did and still do. However, the airline has to suspend operations because of lack of aircraft in its fleet. Let's just hope that it comes out of its current situation.
"Already, Med-View has been downgraded to non-schedule. Also, Arik Air and Aero Contractors, despite the takeover by the Assets Management Corporation of Nigeria (AMCON), are not doing well."  
Meanwhile, Corporate Communications Manager, Air Peace, Mr. Chris Iwarah, said in a statement on Thursday that the airline would rescue the stranded passengers across the country.
Iwarah hinted that the airline would soon deploy more aircraft to service destinations currently experiencing air travel difficulties.
He also pointed out that the fleet of the airline had dropped by five aircraft in recent times, but a source close to the industry confided in our correspondent that no fewer than 10 aircraft had been withdrawn from the fleet of Air Peace in recent time.
It was learnt that most of the aircraft, including the recently acquired Boeing 777-200, are on checks abroad.
Iwarah explained that the airline was concerned about reports of shortage of scheduled flights across the country and was ready to do everything within its capacity to ease the pain of air travellers.
He also confirmed that the nation had been facing air travel difficulties since it reviewed its flight schedule downward on account of the five aircraft it pulled out of service and sent abroad for C-check.
He said: "In the last few weeks, we have been inundated with demands for flights by members of the public who wish to travel, but could not secure seats as almost all our flights on major domestic routes are fully booked. We are genuinely concerned about the plight of the travelling public and sincerely empathise with them.
"The situation became dire after we recently pulled out five of our aircraft from service for maintenance abroad and had to necessarily review our flight schedule downward to avoid delaying our valued customers. A check on our reservation platform indicates that almost all our flights are fully booked till the end of the year.
"We, however, are aware of the role we play in ensuring seamless air travel in Nigeria and are not going to let down our dear country and members of the flying public now that they need us the most. We urge members of the flying public not to entertain any fear.
"Beginning from Sunday, most of our aircraft that went for C-check will start to return to join our operations. We are soon going to schedule more flights and deploy more aircraft across our domestic routes."
Business
Economy
Travel
News
AddThis
: 
Featured Image
: 
Original Author
: 
SaharaReporters, New York
Disable advertisements
: 
target=_blank>Remembering Michael Anyiam-Osigwe On The Memorial Of His Fourth Anniversary At Immortality By Michael Igaga Jr
Michael Anyiam-Osigwe
Michael Anyiam-Osigwe
My boss, my friend and brother, Michael Chibuzor Anyiam-Osigwe, today November 29, 2018 completes four years when the crude brutality of your death left us with an alluvion of tears and a philosophical puzzle on the antinomy of life and death. Deriving from the ineptitude of the Nigerian State, armed robbers brought you down in a rain of bullets on a sunny afternoon. The country had no project for your security and never found the vendors of that horrendous assault on a national asset as you. That is still the state of the nation even today.
Driven by the magnetic prowess of fate, we met in 1999 and discovered that we were predestined as two souls that share a vibrational frequency to explore creative progress and historic leap for humankind. The rudder of our work resided in the thoughts and perspectives of your father, which made our task easier. As we set out to work, you impacted on me the higher yield that comes with the synergistic potentials of the larger whole. You integrated our efforts into the Group Mind paradigm of the Anyiam-Osigwe clan. Together with the rest of the family, we set to work. With you as the coordinating skipper of the secretariat, we commenced the process of unveiling the thoughts and perspectives of Emmanuel Onyechere Osigwe Anyiam-Osigwe and subjecting them to wider intellectual evaluation.
His life and times eased our mission. His thoughts were complete and better ordered beyond our own imagination. Being convinced of my sincerity of purpose in the enterprise of evolving a Better World Order, you granted me access to the hidden treasures called Papa's diaries. From then on, we became partners in identifying those aspects of his diaries we felt could be understood by society.
From 1999 to your inevitable transition in 2014, we gave up all we have and dedicated all our time to locating, arranging and packaging Papa's diaries into volumes of works under his various titles and sub titles. We worked outside conventional schedule. In our commitment, we had no consideration for our wellbeing. That singular factor helped us immensely in sustaining our vision. At the middle of our onerous task, I woke up to a phone call in November 30, 2014 confronted by the fact that the pang of death has put us apart forever. The shocking impact of that moment remains permanent in my psyche unto this day.
Today, four years after your transition, I have been able to transcend maledictions against your assailants as I am comported by the ingenious regulation of the natural order. Although, your transition delivered a devastating cataclysm on my mental state, but drawing from the limitless capacity of my meta-conscious to intuit and apprehend the abstract, I see you when my mind and consciousness desires; and even now as I write this piece, I see you Michael. I am not talking about imagination. I am defining the capacity of my inner prodding to intuit into your consciousness as I continue in our work. Drawing from the innards of the subconscious, we are still working together as we worked while you were physically here.
In the midst of my nostalgia, I stand resolved on the alter of theodicy glorifying God from everlasting to everlasting; for good will forever triumph over evil. As I intuit into the metaphysical construct of the number four, I can understand that in your dwelling in immortality – the realm of absolute bliss – you are wholesome in the ground and essence of the moral arc. Here, integrating into the metaphysical construct of the number four, we are witness to the harvest of your values in the outcome of the most decisive work you undertook. While still with us physically, you efforts glorified your father with a professorial honour by his conferment with the Odera Oruka award, being the first acknowledged authentic natural philosopher from Africa.
Still deriving from the articulation and arrangement of your father's work, his philosophical works has earned course titles at the Masters levels of one of our tertiary institutions. All these achievements reflect the predictive outcome of your psychic component. Your focus, conscientiousness, methods, pragmatism, honesty, certainty, loyalty, dedication to the job at hand, your capacity to be conservative and protective, your disposition to patience, service, persistence, hard work, dependability, trust worthiness, has immensely delivered on the success of the family and the Foundation.
In your worthy contribution to family and institutions in your earthly life, your record of completion, wholeness and fullness instructs us on how precisely a successful life ought to be lived. We remain sustained in the vision you left with us – your students and co-sojourners in the waters of earthly experiences. We hold forth against all tempests pursuant to sustaining the task your physical absence leaves us to complete. Adieu boss. Bonne nuit. Adieu our Icon; the apostle of value laden life, MICHAEL CHIBOZOR ANYIAM-OSIGWE.
 
Michael Igaga Jr, the Administrative Secretary of the Osigwe Anyiam-Osigwe Foundation wrote in honour of the founding Coordinator General of the Foundation Michael Anyiam-Osigwe to mark the fourth anniversary of his transition from this earthly plane to eternal glory
TRIBUTE
AddThis
: 
Original Author
: 
Michael Igaga Jr
Disable advertisements
: 
target=_blank>BREAKING: Wike Kicks As Army Uncovers 'Illegal Militia Training Camp' In Rivers
The Nigerian Army says its personnel of the 6 Division have discovered an illegal militia training camp at Nonwa Gbam (NYSC Orientation Camp) in Tai Local Government Area (LGA) of Rivers State. 
This is barely 72 hours after the Ogoni Elders Forum accused the Federal Ministry of Environment of deploying troops to Ogoni communities ostensibly to provide "security services" for the clean-up and remediation.
Aminu Iliyasu, a Colonel and Deputy Director of Army Public Relations, said the soldiers discovered the camp during a routine surveillance of the area.
"The troops met over 100 recruits undergoing military-type of training," he said.
"Preliminary investigations into the discovery have commenced in conjunction with sister security agencies in the state to fish out the sponsors of the militia and the training camp."
He added similar illegal militia training camps were discovered and disbanded in Benue and Taraba states earlier in the year, and measures were promptly taken to forestall breach of security and safety of citizens.
Meanwhile Governor of the state, Wike Nyesom, has reacted to the development, saying the Nigerian Army are now a political weapon against defenceless Nigerians.
He stated that the Army's disruption of the training camp in Rivers State meant for Neighbourhood Safety Corps Agency Training programme is the worst act of irresponsibility, aimed at instigating insecurity in the State.
"The Army is not concerned about the killing of soldiers in Borno. They are only interested in creating insecurity in Rivers State," he said.
"If you don't want Rivers State to be safe, then Nigeria will not be safe. They want to use their guns against us."
The Governor said that Zamfara and Kogi States have vigilante outfits, which were commissioned by the Army and the APC-led Federal Government. He wondered why the Army would stoop so low to disrupt a legal training exercise.
"All they are doing is to intimidate people for political reasons. When you fight a state blessed by God, you will crumble. Nobody can intimidate us in Rivers State."
Wike said the state government worked with the Police, the Department of State Services (DSS) and other federal agencies to ensure that only law-abiding citizens are recruited by the Rivers State Neighbourhood Safety Corps Agency.
Insurgency
Terrorism
Breaking News
News
AddThis
: 
Featured Image
: 
Original Author
: 
SaharaReporters, New York
Disable advertisements
: 
target=_blank>ASUU: A Personal Voyage Around A Strike By Pius Adesanmi
I don't know. There are too many warring emotions in me about this subject: the crisis in Nigeria's higher education. After all, the tragedy of the Nigerian University system is why I nearly lost my life is why my left leg was nearly amputated is why my right hand was nearly amputated is why I still have a slight limp is why I am still in therapy! 
Strange-winding musical sentence? I know. I am a writer. I am allowed to perform orthopedic surgery on English syntax to paint the colour of my intense feelings; of the intensely personal dimension of this ongoing strike by the Academic Staff Union of Universities for me.
It is personal because I nearly died but those directly responsible for this comatose situation are still in office. In fact, they are campaigning because it is political season. The education of Nigeria's children is a secondary issue. In fact, students being away from classes is a boon! More idle social media warriors for politicians whose children are studying for exams here abroad!
So, every new day is another ordinary, normal day for oppressor and victim. But I refuse to be part of this culture of normalcy. Even if the owner of the head says nothing spoil, I will be the lone busybody bearing the pain of the headache he says he doesn't have. I am not going to accept like the rest of Nigeria that a single day of University closure because of a strike is just another normal day in the life of the country. 
An ASUU strike that has already claimed the lives of eleven students – and that is what we know o – is just part of a culture of national insouciance: the Minister of Education is still in office; all the policy makers in Nigeria's higher education sector are still in office. The whole country is shrugging and behaving like nothing spoil. No, I cannot accept that reality. We cannot all collectively lose the capacity to say: it ain't right.
I said this is personal because intervention to contribute my bit part to the Nigerian University system nearly cost me my life this year. For nearly a decade now, my point of intervention in African higher education has been the training and mentoring of the next generation of African scholars and researchers. The training and mentorship of African PhDs, postdocs, early-career, and mid-career University lecturers has become almost a missionary calling for me. 
That is why you see me junketing across Africa every summer from Ghana to Nigeria to South Africa via Kenya. I work with international stakeholders and local Universities in various training programs for junior and mid-career lecturers and researchers.
With specific reference to Nigeria, my point of departure is that we cannot continue to complain about the abysmal quality of our undergraduate students if we don't invest in the training of the lecturers who teach them. Where there are willing Vice Chancellors, we can take the training that junior and mid-career colleagues would normally come to acquire abroad to them in Nigeria. 
Professor Abdulrasheed Na'Allah, Vice Chancellor of Kwara State University, is one such visionary Vice Chancellor who enabled Professor Adeleke Adeeko of the Ohio State University and yours truly to design a platform for the annual training of lecturers in his school and in the Kwara State catchment area: the Abiola Irele School of Theory and Criticism was born in 2015. Professor Adeeko and I were given KWASU Professorships and appointed Director and Deputy Director of the School respectively.
And so, every year since 2015, we have headed out to Ilorin to train these lecturers in intensive seminars covering a wide range of research and theoretical competencies: publications, grants, interdisciplinary research in the humanities and the social sciences, how to better supervise undergraduate long essays, enhancing your skills in supervising post-graduate students, broadening your bases in the global knowledge economy. 
Every year, KWASU assembles about 40 lecturers to take these seminars. Unilorin lecturers join. Lecturers from private Universities in the environ register. Polytechnic and Colleges of Education lecturers sign up. We teach for three weeks and bond with these energetic colleagues.
The photos in this essay are from this year's seminars back in July. In fact, they are from my last day of teaching in Ilorin. As soon as I finished teaching the class you see in these pictures, I bade farewell to everyone because I needed to head out to Lagos to catch a flight to Dakar that evening for a consultative meeting convened by the African Union. Well, I never made it to Lagos, let alone Dakar. I had a horrific car crash between Ogbomoso and Oyo. I had no other business in Nigeria than to help the lecturers who teach your children.
I am familiar with all the arguments for and against ASUU. I know all the frustration. I know that after nearly three uninterrupted decades of this annual ritual of multiple strikes, the utility of strikes as a productive praxis is now being called to question.
However, the way I see it, ASUU and the students and the frustrated parents are all collective victims of the tragic and colossal failure of leadership in Nigeria. This point is not limited to the current irresponsible administration of President Buhari. The one before and the one before and the one before this administration were all equally irresponsible.
The point is: the 21st century pedagogical and epistemological skills that we go to disseminate in our seminars require certain enabling conditions for the lecturers to transmit them to their own students. Those conditions are never there. 
I am very sympathetic to our colleagues because in these seminars, I spend three weeks bonding with them and listening to horror stories of the conditions in which they have to deliver. There are times when those of us who go to train lecturers at the aforementioned program at Kwara State University feel like Catholic priests listening to confessions of horror.
Yes, we encourage innovation, initiative, and resourcefulness in the context of the benumbing strictures in which they work. We actually design practical seminars in how to stay networked with international research communities despite the limitations of their contexts (I am particularly proud of a lecturer who won a USD30, 000 research grant from an American funder two years ago because I encouraged her to prepare the entire application on her phone when she complained that her computer had broken down, no light, no this, no that). We teach that contextual strictures are no excuse for lack of productivity in this age of the democratization of knowledge. 
However, we cannot expect colleagues to mistake palliatives for the solution and not to put pressure on those singularly responsible for the situation: the country's leadership. If I were a Professor in the Nigerian system, I'd be on strike too to press home only one demand: the children of ordinary Nigerians in Nigerian Universities deserve to be educated in the conditions that Nigeria's irresponsible leaders send their children to enjoy in the University campuses of Euro-America.
I salute the courage of Nigerian lecturers!
I salute the resilience of Nigerian students!
I salute the patience of long-suffering Nigerian parents!
Pox on the leaders of Nigeria and their generations!
Pius Adesanmi
Column
AddThis
: 
Original Author
: 
Pius Adesanmi
Disable advertisements
: 
A Nigerian man, Harry Best Moradayo, has allegedly married "the first love of his life", music.
In a post on Instagram on Thursday, Harry revealed that he got married to music on Wednesday. 
According to him, music has always been his first love and he decided to marry it, because their marriage will not end in divorce.
The post read: "Yesterday, 28th November, 2018, was a beautiful day. I #married my 1st #love Music. Music has been the biggest love of my life, even before i could speak. I would literally DIE without it in my life. We've had many ups and downs, in fact more downs than ups. But I'm happiest when I'm with music. It makes me happy, makes me laugh and cry. Apart from my family, it's the most important thing in my life. A close second is #manchesterunited, three friends, a dish of Jollof rice with plantain, chicken or fish.
"You may think I am crazy, but this is the most SANE THING I'VE EVER DONE [sic]! This is one marriage that definitely won't end in divorce. Music and I have many kids already. Now, we are off to make many more!"
Entertainment
News
AddThis
: 
Featured Image
: 
Original Author
: 
SaharaReporters, New York
Disable advertisements
: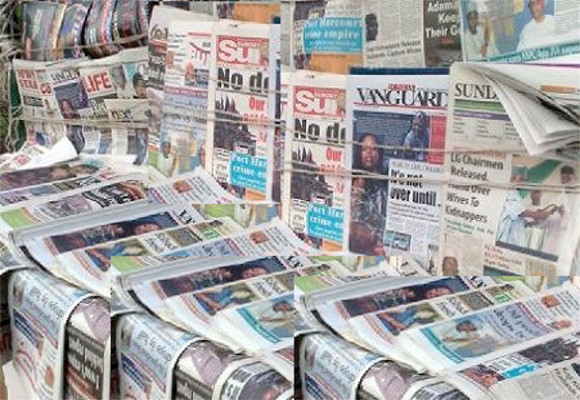 You can also check Sahara Reporters Newspaper Headlines Today