Sahara Reporters Latest News

Wednesday 28th November 2018

Sahara Reporters Latest News Today and headlines on some of the happenings and news trend in the Country, today 28/11/18

Read also Leadership Newspapers News Today Wednesday 28th November 2018
target=_blank>Two Witnesses Die After Making 'Crucial Statements' Against Nyako In N29bn Fraud Trial
Former Governor of Adamawa State, Murtala Nyako
Two witnesses who gave evidence in the trial of Murtala Nyako, former Governor of Adamawa State, have died mysteriously.
Adekunle Odofin, a detective with the Economic and Financial Crimes Commission (EFCC), disclosed this while appearing before Justice Okon Abang of the Federal High Court in Abuja on Tuesday.
According to NAN, Odofin said the two witnesses made "crucial statements" during the investigation into a N29billion fraud case, noting that the two persons were very vital to the prosecution of the case.
Nyako is being prosecuted alongside his son, Senator Abdul-Aziz Nyako, Abubakar Aliyu and Zulkifikk Abba, on a 37-count charge of criminal conspiracy, stealing, abuse of office and money laundering to the tune of N29billion.
Five companies that allegedly served as conduit pipes for the illegal diversion of the funds — Blue Opal Limited, Sebore Farms & Extension Limited, Pagoda Fortunes Limited, Tower Assets Management Limited and Crust Energy Limited — were equally charged before the court as the fifth to ninth defendants.
Testifying as the 20th prosecution witness, Odofin, who started his testimony on June 23, 2018 and tendered documents which were admitted in evidence, told the court on November 26, 2018, that one Mohammad Maj Iro, who was the General Manager, Zenith Bank Plc, the Regional Manager in charge of North-East, and the Account Officer of Adamawa State's 200 accounts, domiciled in Zenith Bank, died after making "crucial statements", at the time of filing the case in the court.
Led in evidence by the prosecution counsel, Rotimi Jacobs (SAN) on November 27, 2018, the detective told the court that the Commission also extended invitation to one Dalhatu Abdulmalik, who was Nyako's cousin.
The commission invited the Director of Ameak Investment Limited, Kirkelly Investment Limited and Pilkola Engineering Limited, who also died after giving his statement.
Odofin said Mohammad Major Iro pulled out over N800million from the Adamawa State account, and credited it to Crust Energy Limited, the 9th defendant in the case, taking orders from Nyako.
He explained that the pattern of two accounts belonging to the State (Special Service Department, SSD, and Secretary to the State Government, SSG) drew the attention of the EFCC.
"The behaviour of these accounts, showed how money was being withdrawn in multiples of ten million Naira on different dates, running into billions of naira, by late Mohammad Maj Iro. The question is, why did Maj Iro withdraw money from Adamawa State account, without being a staff of the state government?" he queried.
Investigations revealed that memos originated from permanent secretaries of the SSD, Mohammed Ibrahim Jidado and that of the SSG, Emmanuel Ibrahim.
"Having generated these memos, same were forwarded to SSG for transmission to the number one citizen of the state, the governor. Upon the approval of these memos, same came back to the SSG."
He explained that vouchers were raised after the approval of the memos, in the name of the Permanent Secretary, the Accountant and cashier as the same and now taken to Maj Iro.
"Having received these cheques, Maj Iro, being a seasoned banker, pulled out these monies from the two accounts (SSD and SSG) and he starts crediting various individuals and corporate accounts, most especially, without the knowledge of the account owners," the witness added.
"Maj Iro credited Zenith Bank accounts of the 5th to the 9th defendants (Blue Opal Limited, Sebore Farms & Extension Limited, Pagoda Fortunes Limited, Tower Assets Management Limited and Crust Energy Limited), out of the money he pulled out from Adamawa State accoun. Part of the money Maj Iro transferred to Tower Asset Management Limited, the sum of N678,000,000 (Six Hundred And Seventy Eight Million Naira) was transferred to Crust Energy on different dates.
"Maj Iro also transferred N160,000,000 out of the money he pulled out from Adamawa State account to a company called Maxion Option Limited. Maxion Option Limited transferred same to Crust Energy Limited Zenith Bank account".
The witness further told the court how Maj Iro disbursed millions of naira to the companies used to launder state funds.
"Maj Iro also transferred sums of money on different dates to Sabore Farms Limited. Out of the money transferred to the company by Maj Iro, the sum of N20million was transferred to Mainstream Energy Limited. Another N20million was transferred from same Sabore Farms to one Sanni Hello of Mainstream Energy Limited. Another N10million was transferred to Crust Energy Limited," Odofin said.
Statements made by Maj Iro at the Commission were tendered and admitted in evidence by the court.
According to the court, "Statements made by Maj Iro on June 21, 2014; June 24, 2014; July 2, 2014; July 10, 2014; July 15, 2014; July 22, 2014; July 23, 2014; August 29, 2014 and October 22, 2014 admitted in evidence as LL40-1 to Ll40-9, respectively". Also, statements made by Dalhatu Abdulmalik were tendered and admitted in evidence.
The matter was thereafter adjourned to November 29, 2018 for continuation of trial.
Corruption
Legal
News
AddThis
: 
Featured Image
: 
Original Author
: 
SaharaReporters, New York
Disable advertisements
: 
target=_blank>'SpongeBob SquarePants' Creator Dies At 57
Stephen Hillenburg, the man behind the popular cartoon character, SpongeBob Squarepants, has died at the age of 57.
In 2017, Stephen disclosed that he had been diagnosed with Amyotrophic Lateral Sclerosis (ALS).
According to the the National Institute of Neurological Disorders and Stroke, USA, ALS is a group of rare neurological diseases that mainly involve the nerve cells (neurons) responsible for controlling voluntary muscle movement.
In a statement by Nickelodeon, the cartoon channel Stephen worked with in creating Spongebob, the cartoonist passed away on Monday night.
The statement read: "We are incredibly saddened by the news that Steve Hillenburg has passed away following a battle with ALS. He was a beloved friend and long-time creative partner to everyone at Nickelodeon, and our hearts go out to his entire family. Steve imbued 'SpongeBob SquarePants' with a unique sense of humor and innocence that has brought joy to generations of kids and families everywhere.
"His utterly original characters and the world of Bikini Bottom will long stand as a reminder of the value of optimism, friendship and the limitless power of imagination."
Stephen was born in August 21, 1961 at Fort Sill in Lawton, Oklahoma. He started his career in animation in 1987. Before diving into this field, he was a marine biology teacher. In 1993, he began working with Nickelodeon as a director and writer on a series, 'Rocko's Modern Life', after which he began working on a series that eventually became 'Spongebob Squarepants'. Its first episode aired on May 1, 1999.
Entertainment
News
AddThis
: 
Featured Image
: 
Original Author
: 
SaharaReporters, New York
Disable advertisements
: 
target=_blank>Ladoja: Adedibu Plotted My Impeachment Because I Refused To Give Him Oyo's Security Votes
The 11-year-old trial of a former Governor of Oyo State, Chief Rashidi Ladoja, for alleged N4.7bn fraud came to a close on Tuesday after the ex-governor testified in his own defence before the Federal High Court in Lagos.
The Economic and Financial Crimes Commission (EFCC) has been prosecuting Ladoja alongside a former Oyo State Commissioner for Finance, Waheed Akanbi, since 2007.
The anti-graft agency accused Ladoja and Akanbi of conspiring to divert N4.7bn out of the funds realised from the sales of Oyo State shares in some banks.
The defendants pleaded not guilty to the charges.
On Tuesday, Ladoja mounted the witness box in a bid to convince the court of his innocence.
Led in evidence by his lawyer, Mr Bolaji Onilenla, Ladoja said his travails began in 2005 when his political godfather, the late Lamidi Adedibu, demanded that the security votes for the state should be handed over to him.
He said following his refusal to hand over the Oyo State security votes to the late Adedibu, the late strong man of Ibadan politics organised some members of the Oyo State House of Assembly to impeach him.
"The group that called for my impeachment was led by the late Alhaji Lamidi Adedibu. The politician believed he had a right to security votes because he was securing the state but I thought otherwise," he said.
"It was a running battle until I later found out that the Presidency was involved. Some members of the state House of Assembly were promised a lot of things by Adedibu. I later got to know that mydeputy was also involved in the plot to remove me."
Ladoja said following his removal from office, one of his aides, Chief Adewale Atanda, advised him to leave the state to avoid a threat to his life and he left for Lagos.
The ex-governor said the shares, which proceeds he was accused of diverting, were purchased by his administration.
He said contrary to the allegation by the EFCC, proceeds from the sale of the shares were used to finance the 2006 budget of the state after his impeachment was nullified by the court.
He continued: "On our return to office, we found out that most of the items we had in our budget in 2006 were not touched. We were then looking for money and the second defendant, who was the Commissioner of Finance, was saddled with the responsibility of looking for the money. He then came up with the idea of selling the shares.
"We later called functionaries at the Ministry of Commerce, but they told us that the shares had been tied down to the purchase of rice. We then found a way of freeing the shares; and at that point, the second defendant made his submissions to the State Executive Council on the sale of the shares and it was approved.
"A memo was later raised by the Commissioner of Finance and I approved it. I had no dealings with either the portfolio manager, Fountain Securities Ltd, or its Managing Director, Chief Kola Daisi."
Justice Mohammed Idris adjourned till January 18, 2019, for final written addresses after which a date would be fixed for judgment.
Corruption
Legal
News
AddThis
: 
Featured Image
: 
Original Author
: 
SaharaReporters, New York
Disable advertisements
: 
target=_blank>Afenifere Asks Buhari To Sack Service Chiefs Over Latest Boko Haram Attack
Afenifere, the Pan-Yoruba socio-political group, has called for the removal of all the service chiefs following the killing of over 100 Nigerian soldiers in Metele, Borno State, by the Islamic sect, Boko Haram.  
Afenifere made the position known on Tuesday in a communique it issued after its monthly meeting held at the house of its leader, Pa Reuben Fasoranti in Akure, the Ondo State capital. 
Yinka Odunmakin, Publicity Secretary, who read the communique, also demanded the probe of what happened to the funds the Federal Government claimed it had expended on security in the country since the beginning of the current administration.  
Odumakin said the service chiefs were already in their retirement years, and wondered why they were still being kept in service by President Muhammdu Buhari.
He said the decision to keep them in service had killed morale in the Armed Forces, as three sets of officers had had their careers stagnated.
"The sack of the service Chiefs should be followed with a probe of what has happened to defence allocations as we, as a people, cannot reconcile our extremely vulnerable troops and wailing solders in the forest with the heavy spending the government claimed it has committed to security," he said
Afenifere noted that the massacre of the soldiers deployed to the north-east region to counter terrorism raises more concerns about the state of the Armed Forces and its combat readiness. 
According to the group, despite the $1bn that the Federal Government claimed it disbursed few months ago to equip the military, Boko Haram still attacks soldiers freely.
It decried the consistent media propaganda being deployed by the Federal Government in the war against the insurgency and the insensitivity to the plight of soldiers on the battlefield.
"First, it kept quiet for six days after the incident and when it found its voice, there were no soothing words for the bereaved families," the group said.
"It had hardly made the bland statements before descending into the gutter of political quarrelling over the killings at a time a more sensitive leadership should have declared national mourning for the high casualties recorded which many countries never matched in wars that lasted for several years.
"Our hearts go to all bereaved families and officers and men of our armed forces at this grievous moment. It is our prayer that God will comfort them and intervene in the affairs of our country and give us a leadership that is more than equal to the challenges we face."
Boko Haram
Insurgency
Military
News
AddThis
: 
Featured Image
: 
Original Author
: 
SaharaReporters, New York
Disable advertisements
: 
target=_blank>First Draft, ICIR Train Journalists On Tracking Fake News And Fighting Misinformation
As the general election in Nigeria draws near, First Draft, a New York-based non-profit organisation that uses research-based methods to fight misinformation globally, has partnered with the International Centre for Investigative Reporting (ICIR) to train Nigerian journalists on how to address misinformation, fake news, and other information that can negatively impact the 2019 elections.
The two-day verification training aims to provide technical and digital support for journalists on verifying information in public domain.
The Mass Communication Department of the University of Lagos will be involved as a research partner to help test interventions and conduct computational research.
Speaking on the training, Dayo Aiyetan, Executive Director of ICIR, noted that journalists must always verify information by politicians.
He added that journalists must be well-equipped to fact-check the claims to avoid misleading the public.
"Facebook, Twitter and WhatsApp have become avenues for politician to spread misinformation, rumour, falsehood and fake news," he said. "Journalists need to learn the skills to verify and fact-check such misinformation and debunk them before they mislead people or cause harm."
Aiyetan, however, stated that no newsroom could unilaterally curb circulation of fake news in Nigeria.
jenni Sargent, Managing Director of First Draft, reiterated the commitment of her organisation to training training Nigerian journalists on how best to use technology in verifying information and curbing misinformation before it circulates.
She said First Draft had developed a technology targeted at verifying information and it has already been put to use in France and Brazil.
Media houses involved in the Nigerian Verification Project include SaharaReporters, Daily Trust, The Guardian, Punch, The Sun, Tribune and The Nation. Others are Channels Television, Premium Times, The Cable, ICIR, News Agency of Nigeria (NAN), Africa Check, AFP and West Africa Service.
ICIR and First Draft will launch a CrossCheck platform on Wednesday.
Elections
Journalism
Politics
News
AddThis
: 
Featured Image
: 
Original Author
: 
SaharaReporters, New York
Disable advertisements
: 
target=_blank>Corpses Of Soldiers, JTF Members Killed By Boko Haram Still Not Evacuated
The corpses of dozens of soldiers and civilian Joint Task force (JTF) members killed by Boko Haram in Metele, Borno State, have still not been evacuated, SaharaReporters has learnt.
More than 120 soldiers, including five officers, were killed and about 200 others are still missing after Boko Haram insurgents attacked a battalion station in Metele, Mobar Local Government Area, on the outskirts of Lake Chad Basin.
Troops sent to evacuate the dead soldiers two days later were also attacked.
According to a soldier who escaped from the follow-up attack, the evacuation team suffered high casualty as they fled, abandoning their operational vehicles at Metele then trekking 50 kilometers before getting to cross Kauwa, in Kukawa Local Government Area.
"It is devastating. More than 120 killed, including civilian JTF members who used to assist our men," he told SaharaReporters.
"We have recovered close to 120 corpses. The terrorists came in large numbers to attacks them from every angle. They tactically backed out; many are yet to return from the troops who went on the evacuation mission.
"The corpses of both soldiers and civilians JTF are yet to be evacuated. We can't ascertain the numbers but certainly up to a battalion, which comprises hundreds soldiers and also with civilian JTF, the death toll might be higher than a hundred. We are waiting for more information from those who escaped. But it is a tragedy for the entire Nigerian military, not just the Army."
As a consequence of the tragedy, President Muhammadu Buhari is set to visit Borno, having cancelled a casual leave he was supposed to embark on from November 27 till December 2.
Boko Haram
Insurgency
Military
News
AddThis
: 
Featured Image
: 
Original Author
: 
SaharaReporters, New York
Disable advertisements
: 
target=_blank>DESOPADEC Director 'Orders Arrest And Detention' Of Woman Who Led Naked Protest Against Unpaid Entitlements
Askia Ogieh, Executive Director, Finance and Administration, DESOPADEC
For participating in a protest over non-payment of their 13 months' bonuses and other entitlements, the Executive Director, Administration and Finance, Delta State Oil Producing Development Commission (DESOPADEC), Askia Ogieh, is said to have ordered the arrest of one Mrs. Doris Ogbor.
SaharaReporters gathered that Ogbor, a mother of three, is currently being remanded at the Okere Maximum Prison, Warri, Delta State.
In January 2017, aggrieved workers of DESOPADEC protested naked over "maltreatment and refusal to pay their 13-month' bonuses and other entitlements".
One of Ogbor's colleagues, who asked not to be named while speaking with SaharaReporters, said: "The arrest and trial of our colleague resulted from the protest by workers of the DESOPADEC over the non-payment of our 13 months' bonuses and other entitlements".
According to a staff member of the commission, "among all those who participated in the protest, Mrs. Ogbor was singled out by Ogieh and was arrested and charged to court in Warri over trumped-up charges. Doris is reported to have been remanded in the Okere Maximum Prison in Warri.
Some senior management staff of the commission who confided in SaharaReporters stated that all efforts to pacify Ogieh were rebuffed, as the Executive Director was said to have claimed that Governor Ifeanyi Okowa was aware of the issue and was in support of the arrest and court case.
"For the past one week also, we have tried all we could to pacify the Executive Director, Administration and Finance, (DESOPADEC), Askia Ogieh, to drop whatever trumped-up charges he has against Mrs. Doris Ogbor, who is also from the same ethnic group with him. But Askia told us pointblank that he was not afraid of anything, that Governor Okowa was fully aware of the arrest and the court case," a senior member of staff of the commission said.
"He said to our faces that the he has the Governor's full backing on the issue and Doris will rot in jail. After the arrest of Mrs. Doris Ogbor, she was first charged to the customary court. After a time, Askia Ogieh withdrew the case and to the surprise of everyone, he took the case again to the High Court in Warri with trumped-up charges and she was finally remanded last week in Okere Maximum Prison, Warri." 
Speaking on the development, a director in the commission who preferred not to be named, expressed disappointment and sadness over the action of his colleague, Ogieh.
"We have all condemned his action. Askia's name is synonymous with trouble. Since the inception of the board, he has continued to give the commission a bad image," the director said.
"He is so arrogant, corrupt and fraudulent. Askia used his closeness with the governor to intimidate management and staff. He inflates contracts, collects kickbacks from contractors, uses fictitious company names and cronies to grab contracts from the commission."
Meanwhile, management and staff of DESOPADEC have called on the Governor to intervene in the matter so that Ogbor can get her freedom and reunite with her family.
Contacted on the issue, the Chief Press Secretary (CPS) to the Governor, Mr. Charles Aniagwu, expressed shock over the linking of the Governor to the issue, saying: "Of course, you know the Governor cannot order the arrest of any innocent person."
Aniagwu promised to find out what was happening.
All efforts to reach Ogieh for comments proved abortive, as several calls and messages put to him were not responded to as of press time.
SaharaReporters reliably learnt that come December 4, 2018, Ogbor will be brought to court for continuation of the case.
Free Speech
Human Rights
LABOR/WORKERS' RIGHTS
News
AddThis
: 
Featured Image
: 
Original Author
: 
SaharaReporters, New York
Disable advertisements
: 
*-marks-lecturer-remain-prison-bail-application-fails target=_blank>OAU 'S**-For-Marks Lecturer' To Remain In Prison As Bail Application Fails
The Federal High Court sitting in Osogbo has refused to grant the bail application of a former lecturer of Obafemi Awolowo University, Professor Richard Iyiola Akindele.
The court declined the bail application filed by his lawyer, Francis Omotoso, after it was opposed by counsel to the Independent Corrupt Practices And Other Related Offences Commission (ICPC), Kehinde Ayantoye.
At the previous sitting, Justice Maureen Onyetenu had directed Akindele's lawyer to file for bail application.
ICPC's Ayantoye filed a counter affidavit deposed to by a detective, Afolabi Oluwatoyin, to the bail application of Akindele.
Justice Maureen noted that claims in the counter affidavit are weighty, as she ordered Ayantoye to provide evidence to back the claims in the counter affidavit.
She ordered that Akindele be remanded in prison custody till December 17, 2018.
CRIME
Legal
News
AddThis
: 
Featured Image
: 
Original Author
: 
SaharaReporters, New York
Disable advertisements
: 
target=_blank>TRIBUTE: Ikeogu 'Oke Is Okay', NLNG Prize Winner Who Wrote His Epitaph Two Months Before Dying
"The time you won your town the race
We chaired you through the market-place;
Man and boy stood cheering  by,
And home we brought you shoulder-high.
To-day, the road all runners come,
Shoulder-high we bring you home
And set you at your threshold down,
Townsman of a stiller town."
Those quoted lines above were not written by Ikeogu Oke; they were actually culled from the poem 'To An Athlete Dying Young', one of the poems in A.E. Housman's collection: 'A Shropshire Lad'.
However, they capture and encapsulate the life of Ikeogu Oke, winner of Nigerian Liquefied Natural Gas (NLNG) Prize for Literature in 2017 who died on Saturday, at the age of 51.
Perhaps they speak of man, too, and the ephemerality of the glory he expends his time and energies to pursue. Oke died barely a year after winning the prestigious NLNG prize.
His Early Life and Campus Years
Ikeogu Oke, a native of Abia State, was born in Jos on May 23, 1967. He attended Wilcox Aba Memorial Secondary School. He finished his secondary school education in 1984 and proceeded to the University of Calabar where he earned Bachelors of Art Degree in English and Literary Studies in 1997. Though a voracious reader, Oke did not live a lopsided lifestyle while on campus. He refused to sacrifice the joy of living a 'holistic' life on the altar of bookishness. He dabble in campus politics and vied for the post of President of the Department of English and Literary Studies. The lyrical poet in him was at the work and he flagged off his campaign using the slogan 'Okey is Okay'. Although he lost, the ever charming Oke took the defeat in his stride and moved on with his llife. But like a patriotic citizen that he was, he changed tack from trying to have the reins of power to writing to right societal ills. He turned to column writing in various newspapers across the country. He kept doing this till he succumbed to death. In fact, his piece 'Reliability and the Pendulum of Carpet Crossers' sent to The Punch newspaper a week before his death was published on Monday, November 26, 2018, two days after his death.
A Lover of Words and Custodian of Culture
Anywhere Oke went in his lifetime, his pouch was always brimming with words. He was always weaving and weaponizing words, depending on the demand of the occasion. Charming by nature, Oke became ebullient whenever the subject of discussion was poetry or literature in general. He was a performing poet that often deployed the antiphonal call-and-response style when on stage. Often dressed in his trademark traditional Igbo garb with a matching cap whenever he was performing on stage, Oke would draw from the inexhaustible well of rich lore of his Igbo people to fulfil the dictates of his Muse. He was a patriotic Nigerian who was also unabashedly Igbo.
Oke Wrote His Epitaph
Poets over the years have always been venerated — not just for their writing prowess — for having prescient ability similar to that of a prophet. Oke was no exception. Ikeogu pared down his life and living in a post 'My Epitaph', written on September 16, 2018, on his timeline on Facebook. The poet wrote:
"Here lies a man who loved virtue and art,
And gave to both his fortunes and his heart"
Ikeogu  Oke
(1967-  )
Many people may ascribe the writing of his epitaph to the debilitating effect of pancreatic cancer on his once-strong body. It is said that Oke had been fighting a secret battle with pancreatic  cancer for some time; the battle which he supposedly lost on Saturday.
That NLNG 'Award-Clincher' Book
Having silently worked his fingers to the bones in the recesses of his room, the capstone of his literary career came in 2017 when he won the prestigious $100,000 NLNG Prize for Literature. With his collection of poems 'The Heresiad', he beat Professor Tanure Ojaide, the author of 'Songs of Myself: Quartet', and Ogaga Ifowodo's 'A Good Mourning' to the prize. As it is often the wont of writers who strive for stylistic perfection — think of the great Gustave Flaubert of Madam Bovary's fame — Ikeogu spent 27 years on 'The Heresiad'. He started writing the poem in 1989 and finished it in 2016!
In his acceptance speech for the 2017 NLNG prize, Ikeogu said: "Give all you have to what you do and love it with your heart. Do it with your whole heart, with integrity, seeking first the kingdom of excellence for which other things should be added for you".
He continued: "Time is too precious to waste doing something you do not love, even it brings you fortune".
Time is not just too precious, it is too short for the fulfillment of all humans' desires and aspirations. And a year after winning the prize, he chose to be a legend rather than a decrepit monument. He didn't leave to outlive his fame, he left the stage when the ovation was loudest. On Saturday night, Oke's boisterous spirit was stilled by the grave reaper, his sizzling dreams doused by the cold hands of death, leaving the living with its hissing sound. However, it is a sound that will continue re-echo and resonate through the ages. Ikeogu has earned his rest, having worked tirelessly on this side of the cosmos. He is survived by a wife and three children.
Sleep on brilliant bard. Adieu!
Arts
TRIBUTE
AddThis
: 
Featured Image
: 
Original Author
: 
SaharaReporters, New York
Disable advertisements
: 
Gboyega Oyetola, Governor of Osun State, has been sworn in as Governor of Osun State.
The ceremony was attended by leaders of the All Progressives Congress (APC), including Adams Oshiomhole, National Chairman and Bola Tinubu, National Leader.
Details later…
Elections
Politics
Breaking News
AddThis
: 
Featured Image
: 
Original Author
: 
SaharaReporters, New York
Disable advertisements
: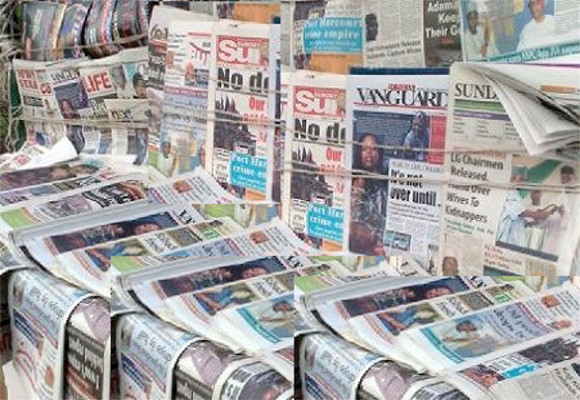 You can also check Sahara Reporters Newspaper Headlines Today